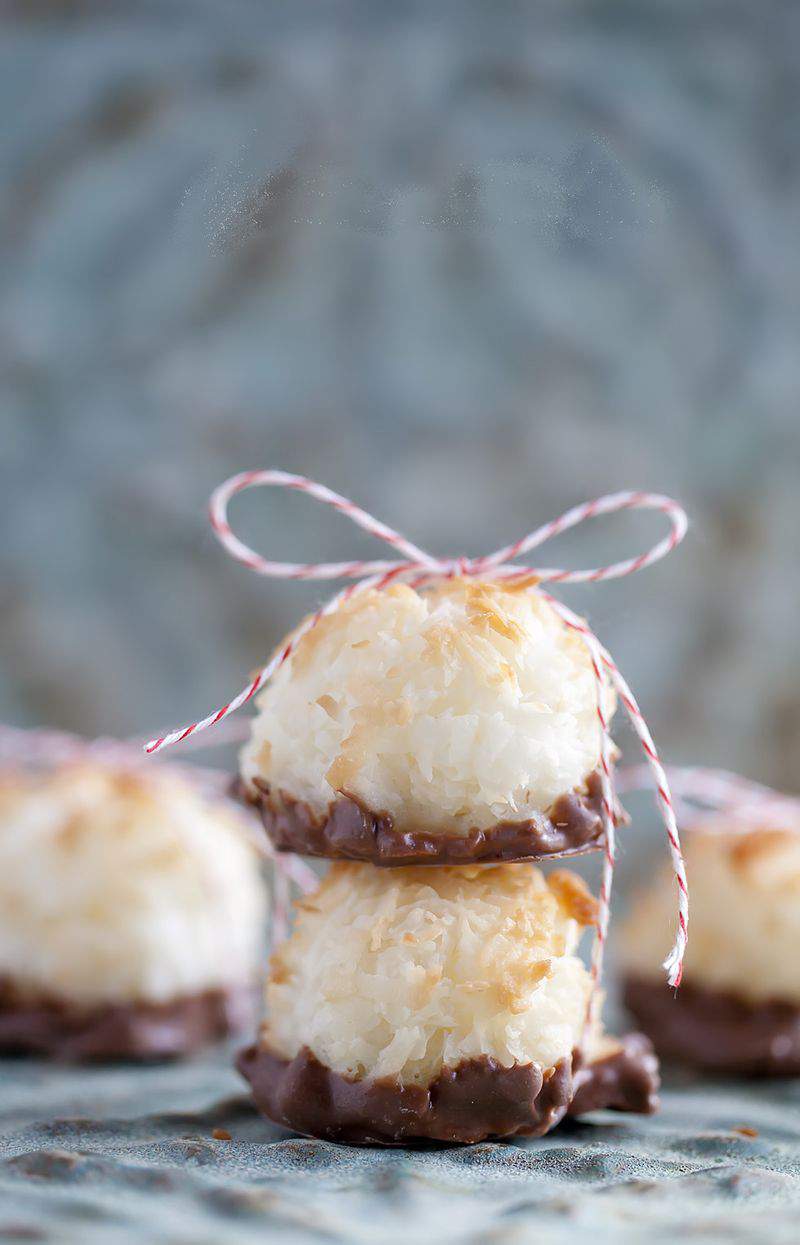 A
re you ready for something sweet?  Let's face it, this is the season for all kinds of sweet, yummy eats and drinks.  We all have to pace ourselves when confronted with so much delicious goodness, right?
Welcome to Day 13 of my 22-Day COUNDOWN TO CHRISTMAS HOLIDAY SPECIAL with a look at coconut macaroons.

These macaroons (not to be confused with French Macarons which have one "o" and are super hard to make at home) are actually quite simple to whip up.
They're sweet, bite sized and if you opt to dip them a little chocolate, I think you'll love them even more.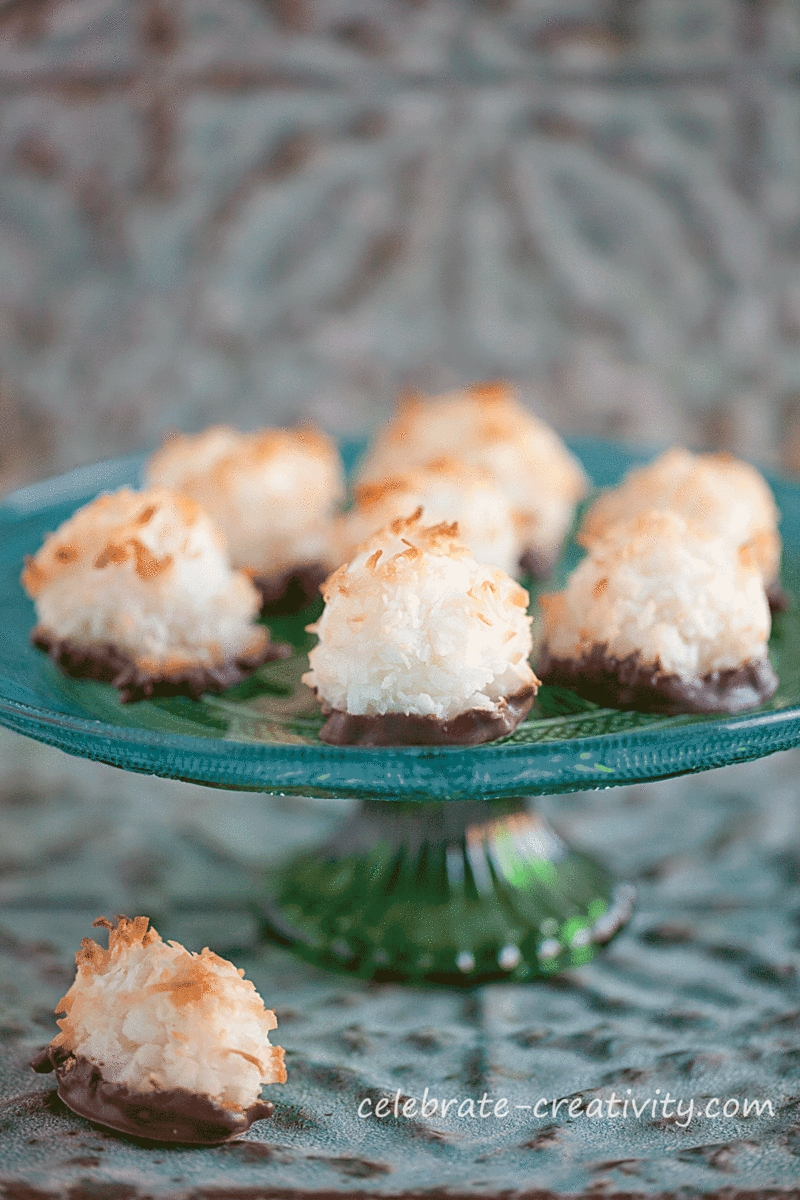 Here's what you'll need for this recipe.
1-1/3-cups of sweetened, shredded coconut, 1-1/3-cup of sugar, 1/8-teaspoon salt, 2-egg whites (room temperature), 1/2-teaspoon of vanilla extract and milk chocolate for dipping (optional).
VERY IMPORTANT NOTE: You must use ROOM TEMPERATURE egg whites for this recipe.  Allow the egg whites to sit out for at least 2 hours (or overnight) before whipping or your macaroons may become flat during baking.
ANOTHER NOTE: Turbinado sugar is show in the photo below but you should use granulated white sugar. Read a more detailed explanation of this further down in this post.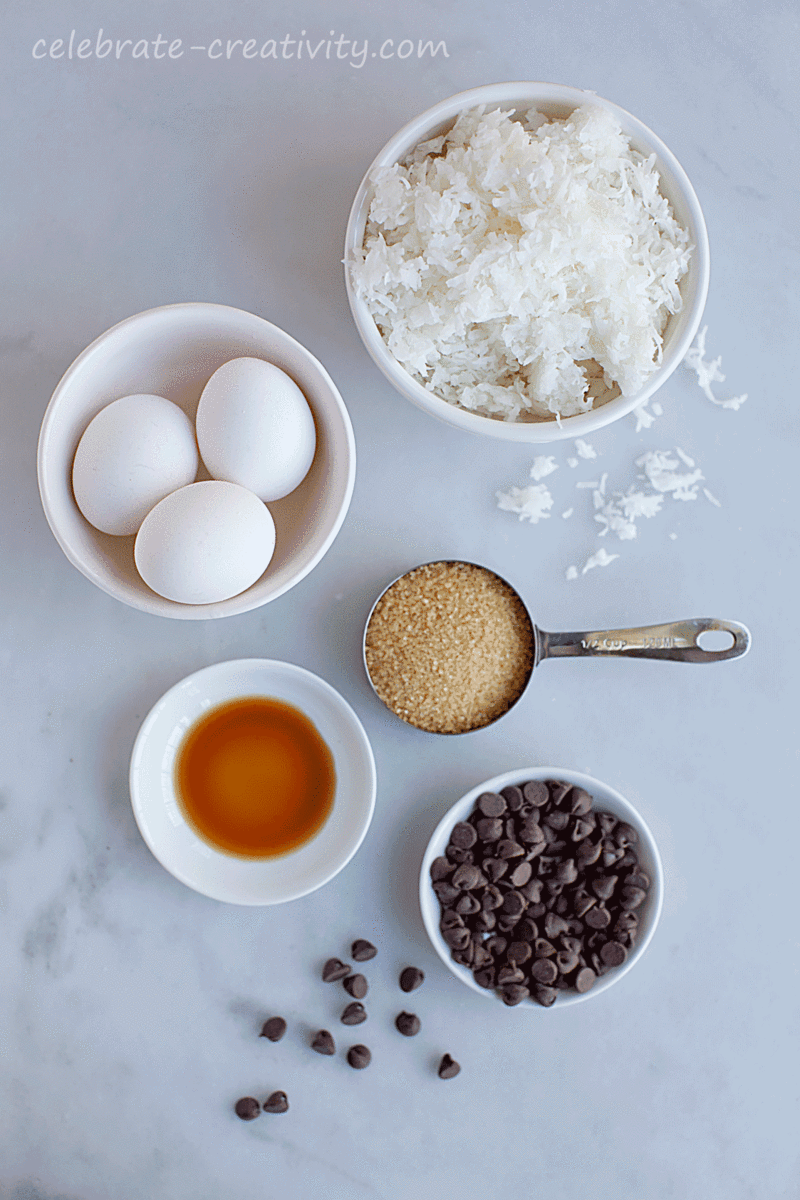 Whip the room temperature egg whites until they have a fluffy consistency but not too stiff.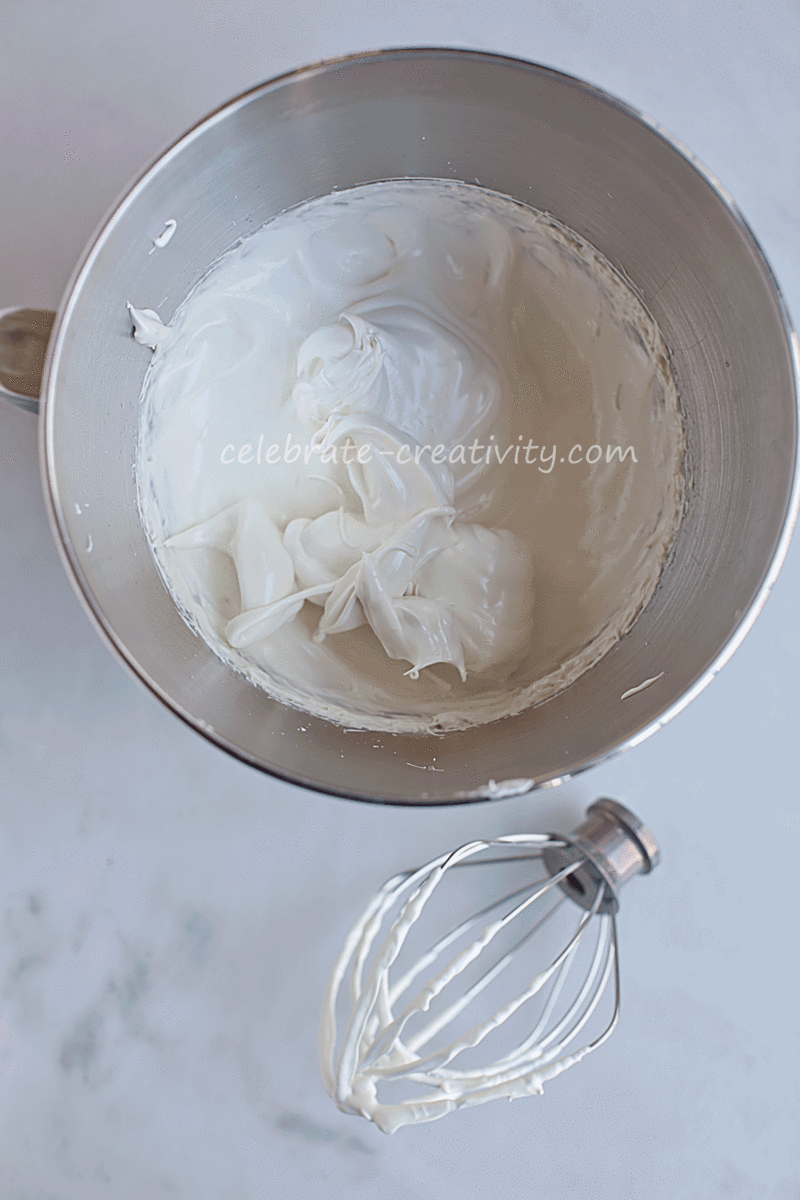 Add the salt, coconut, sugar and vanilla.
Mix thoroughly.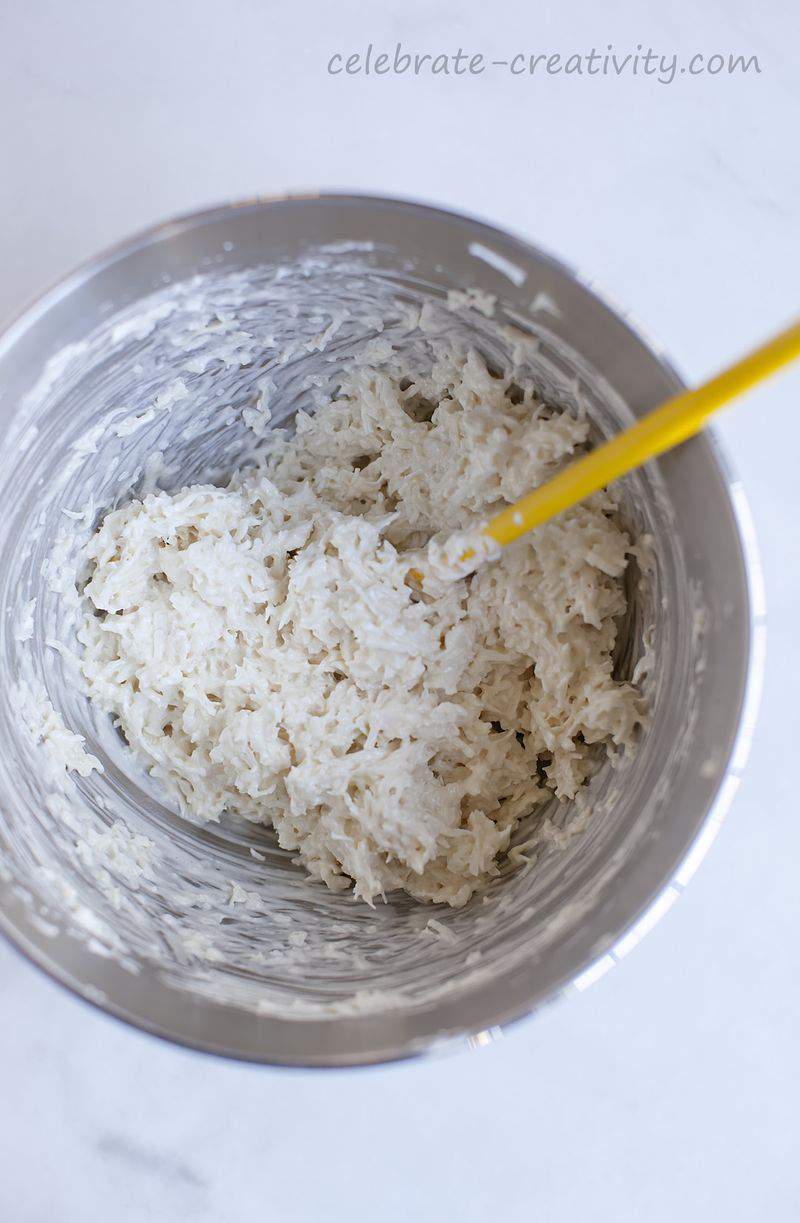 Use a scoop or tablespoon to spoon even mounds of the mixture onto a parchment paper-lined baking sheet.
If not using parchment paper, lightly spray the baking tray with cooking spray.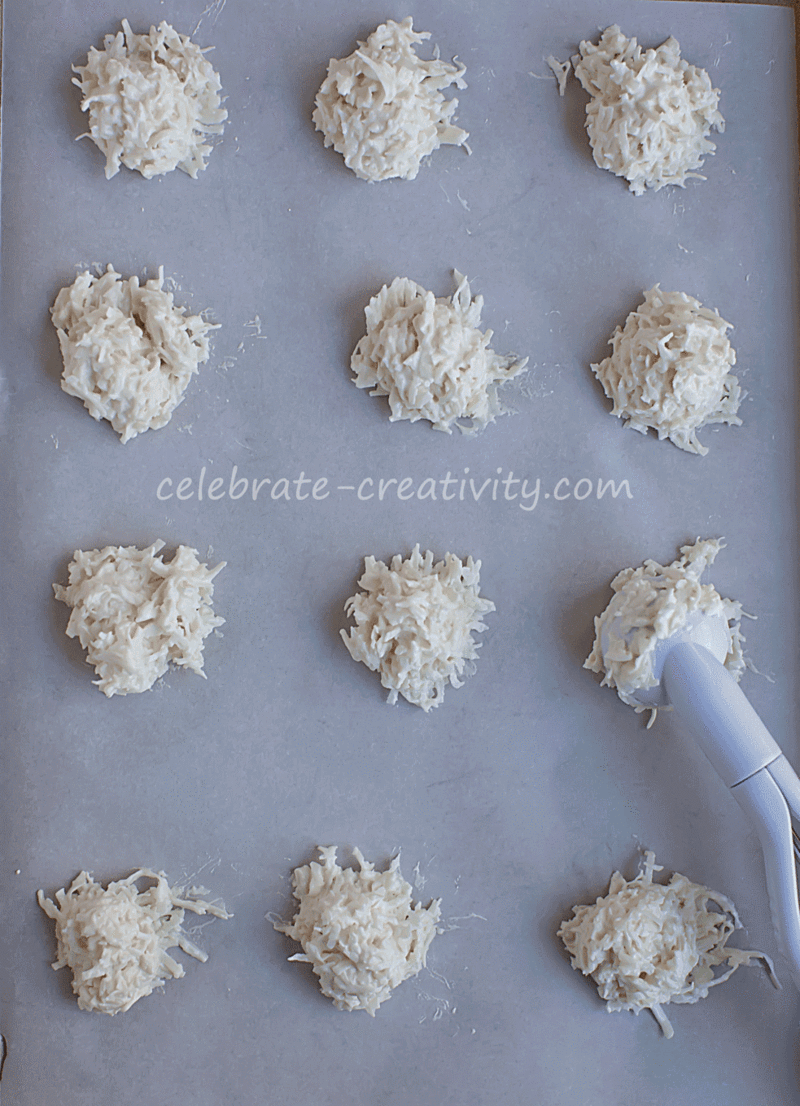 Bake in a 325-degree oven for about 18-minutes or until lightly golden.
Watch the oven carefully so you don't over-bake because the coconut can burn quickly.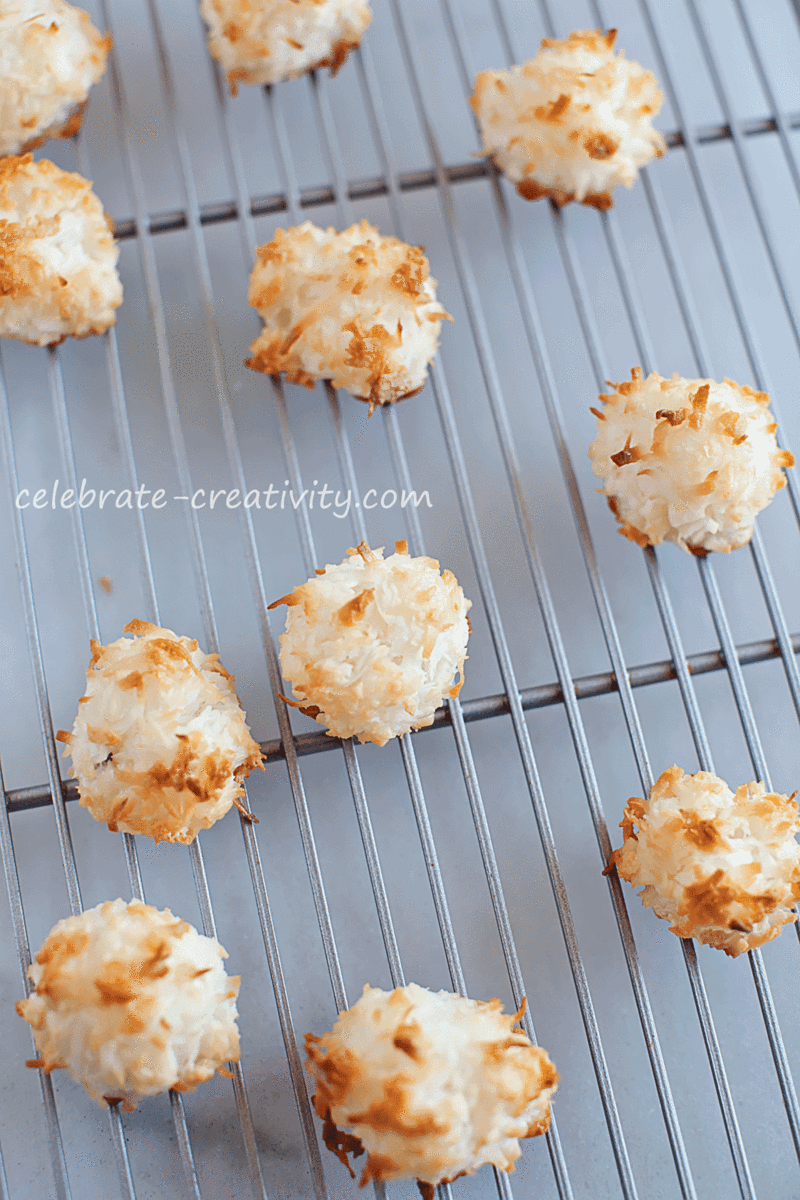 Here's something else I learned while making these.  They look best if you use regular granulated, white sugar.
I thought I'd make some using that darker Turbinado sugar but as you can see from the comparison below, the Turbinado sugar leaves the macaroons looking a little too muddy.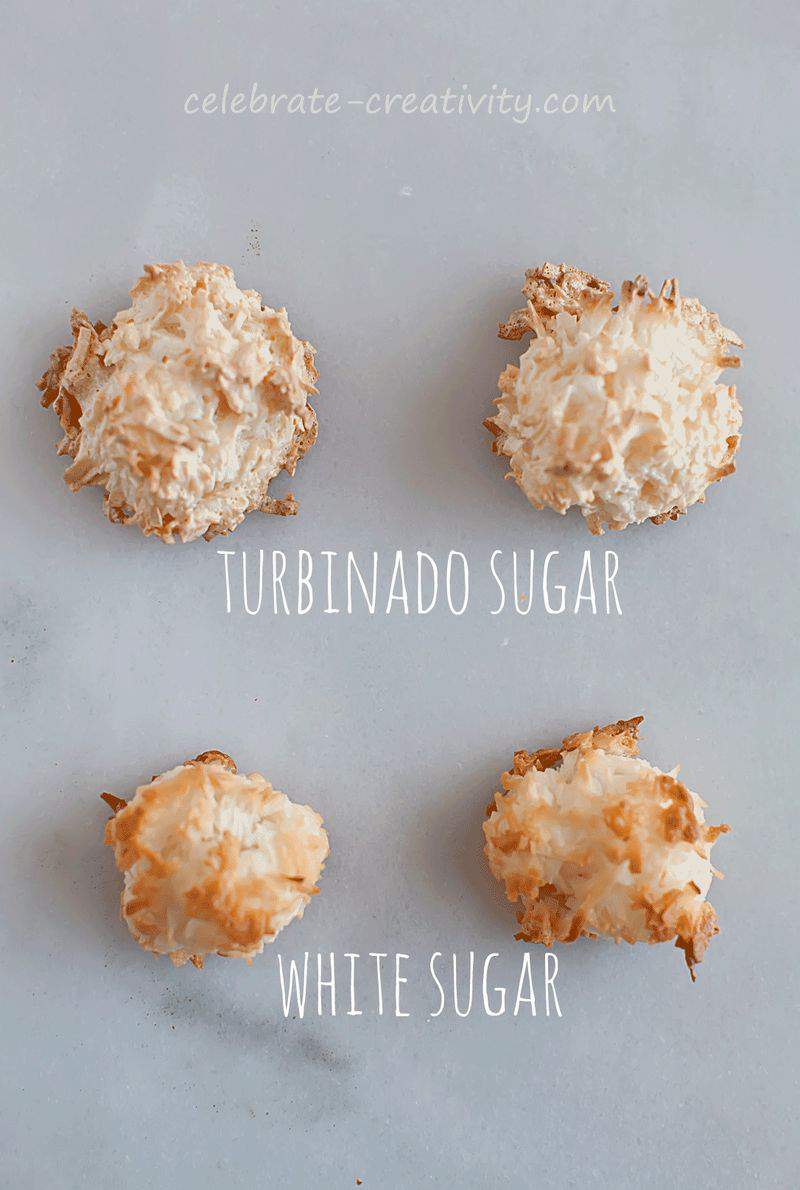 If you want to add a little more sweetness to this already-sweet treat, lightly dip the macaroons in melted milk chocolate.
By the way, this recipe will yield about 15-20 macaroons depending on how large your scoops are.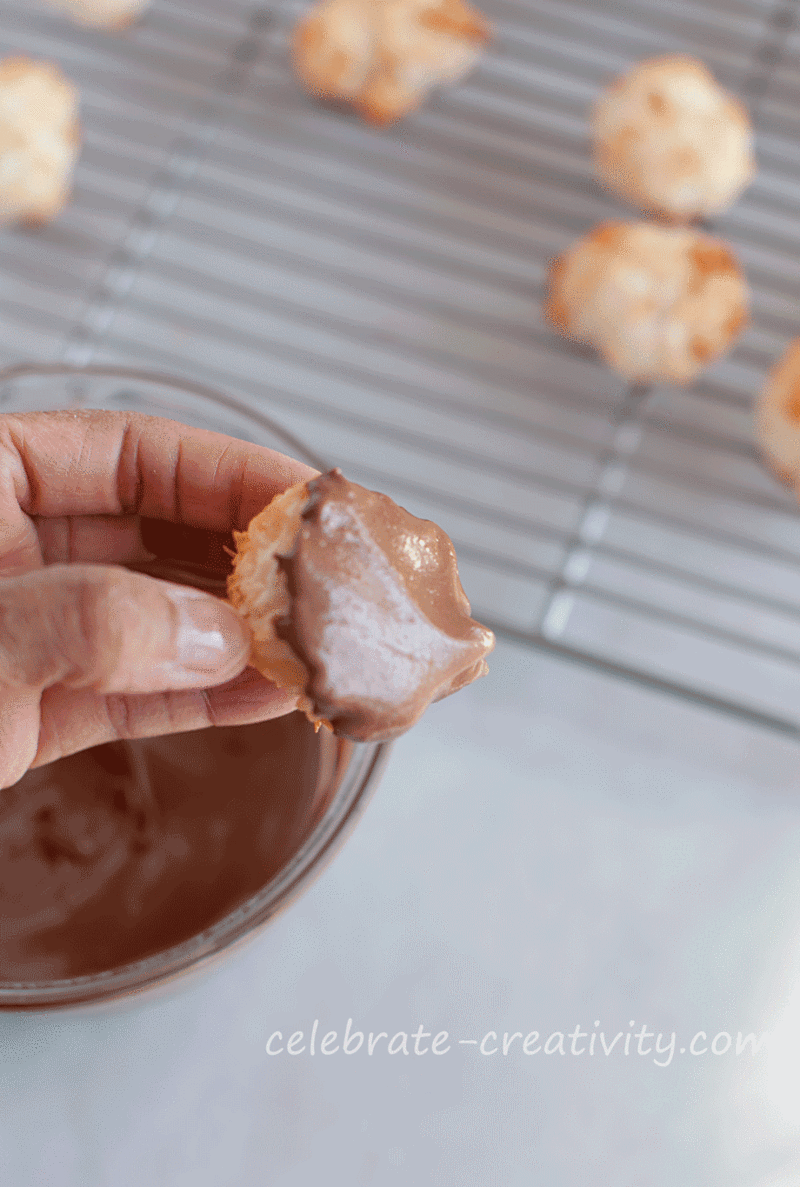 Sit the chocolate-dipped macaroons on a piece of wax paper and allow to set.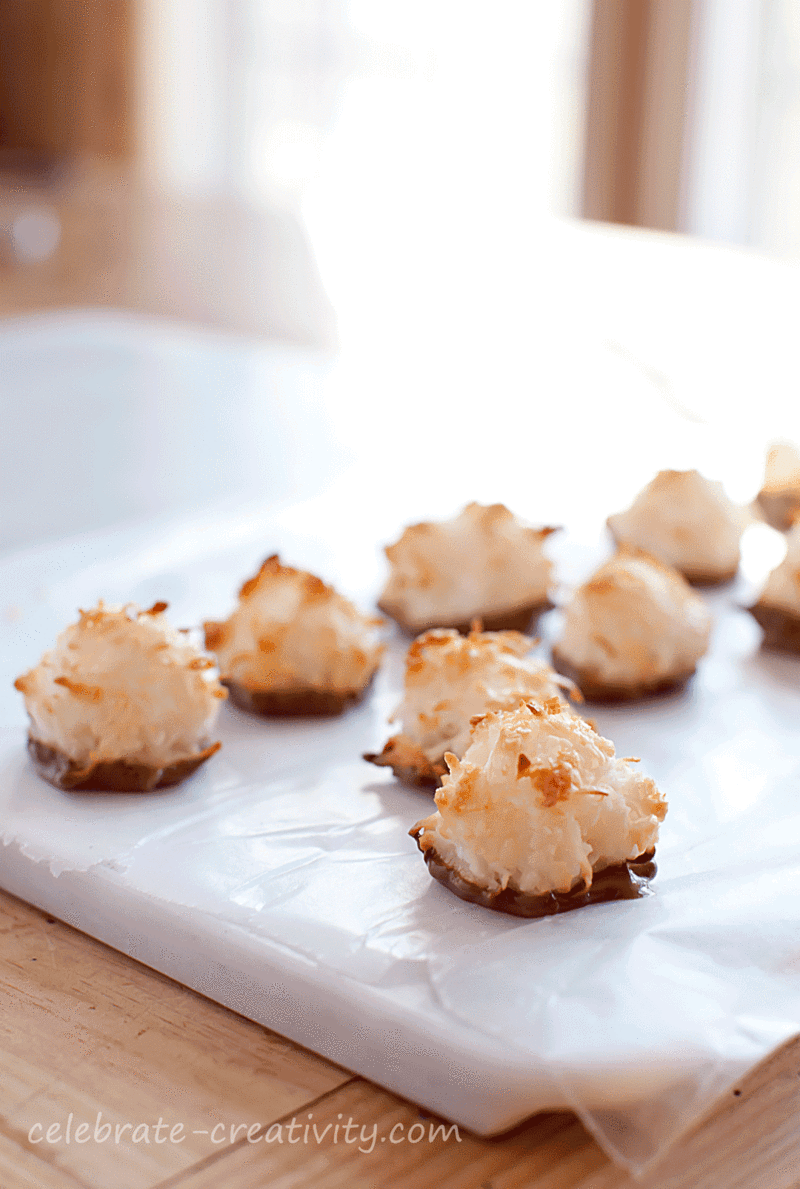 Display on a dessert dish and serve up to the delight of your holiday dinner guests.
These treats would also make a wonderfully tasty gift too.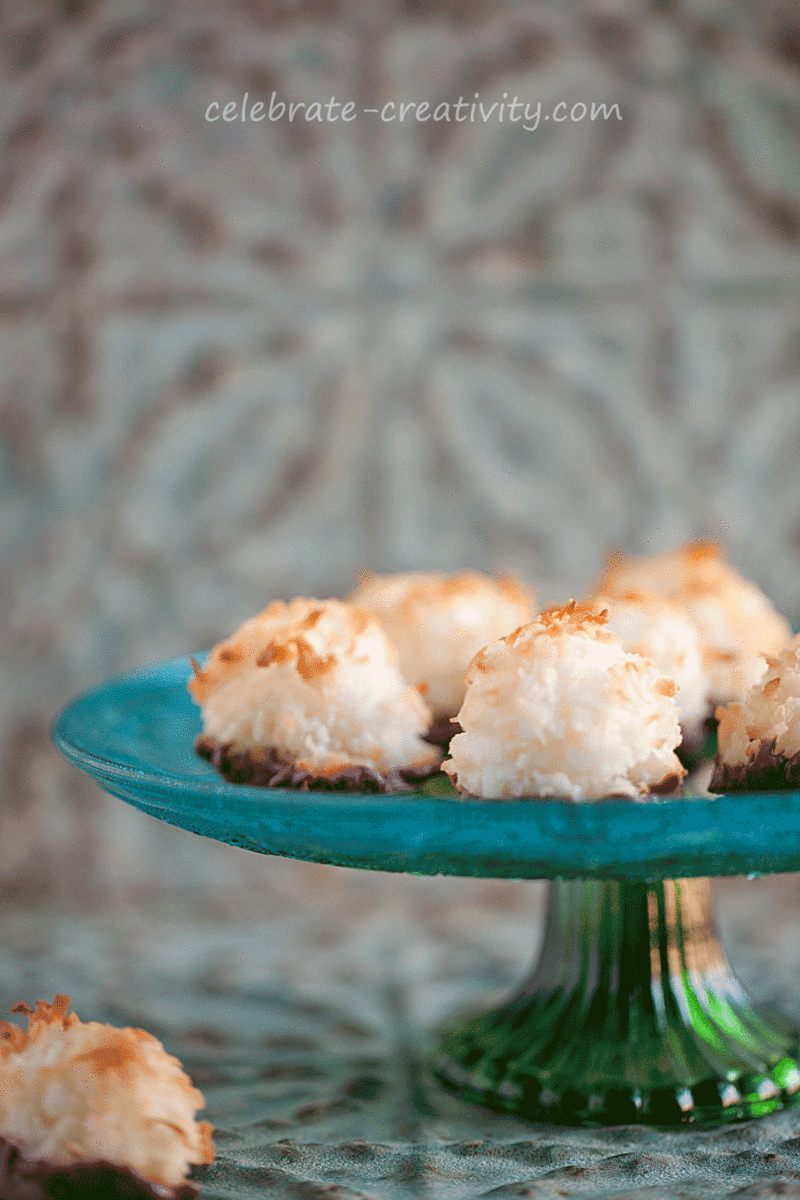 If gifting, here's an idea for some festive packaging.
Pull out that oh-so versatile peppermint-colored baker's twine, a few candy boxes, small sheets of wax paper and a few tags and hearts.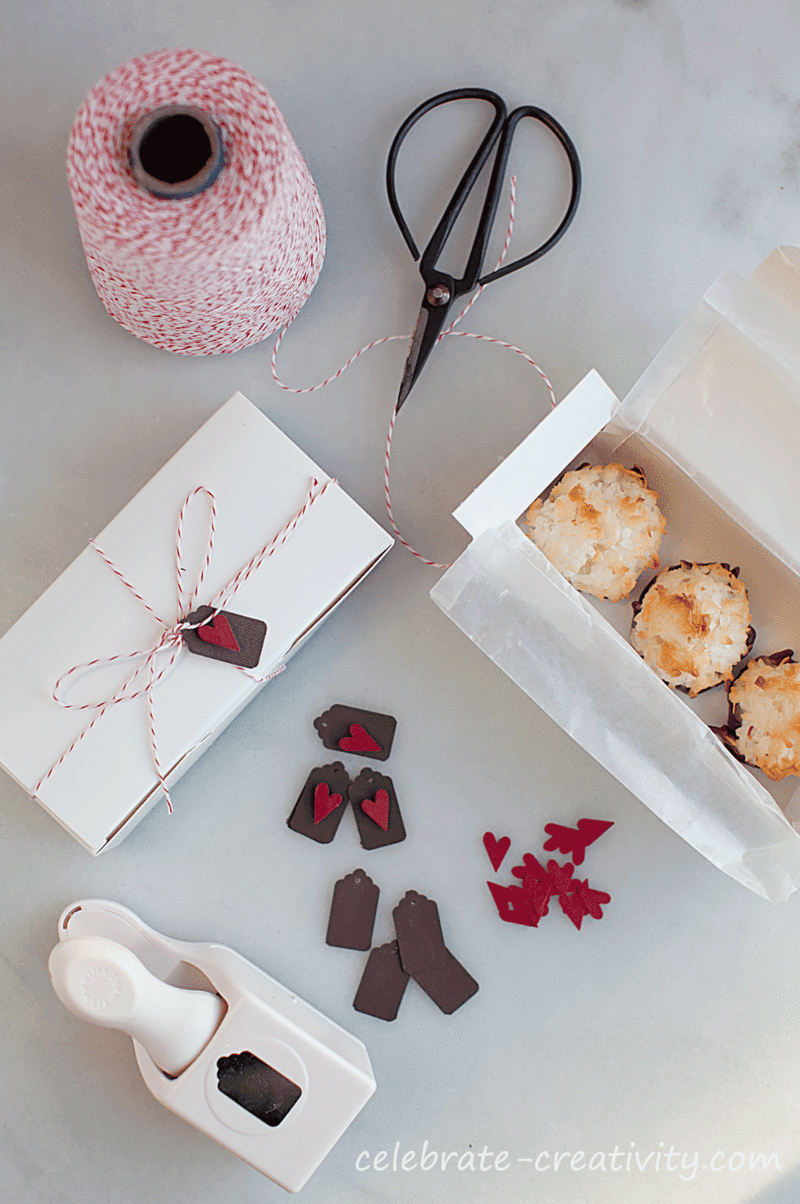 Cut the wax paper to fit the box, place a few macaroons inside and tie the baker's twine around it.
Top the box off with a few heart-clad tags and you'll have a great look edible gift to offer this holiday season.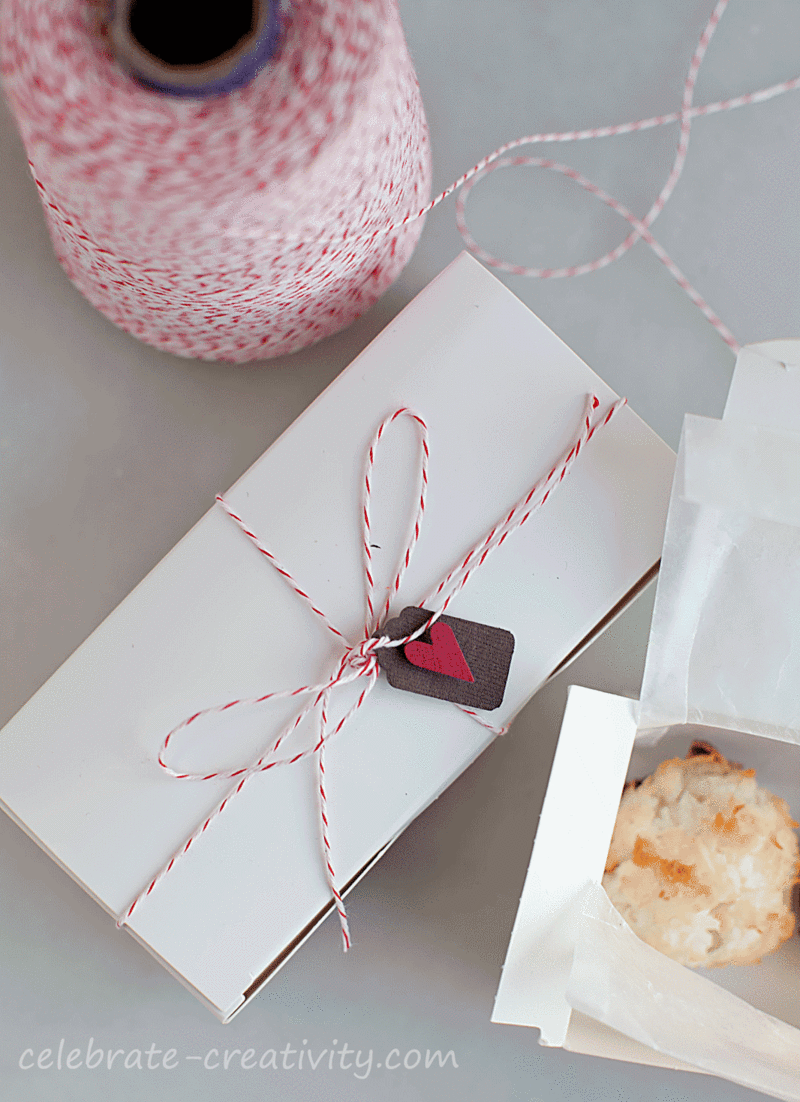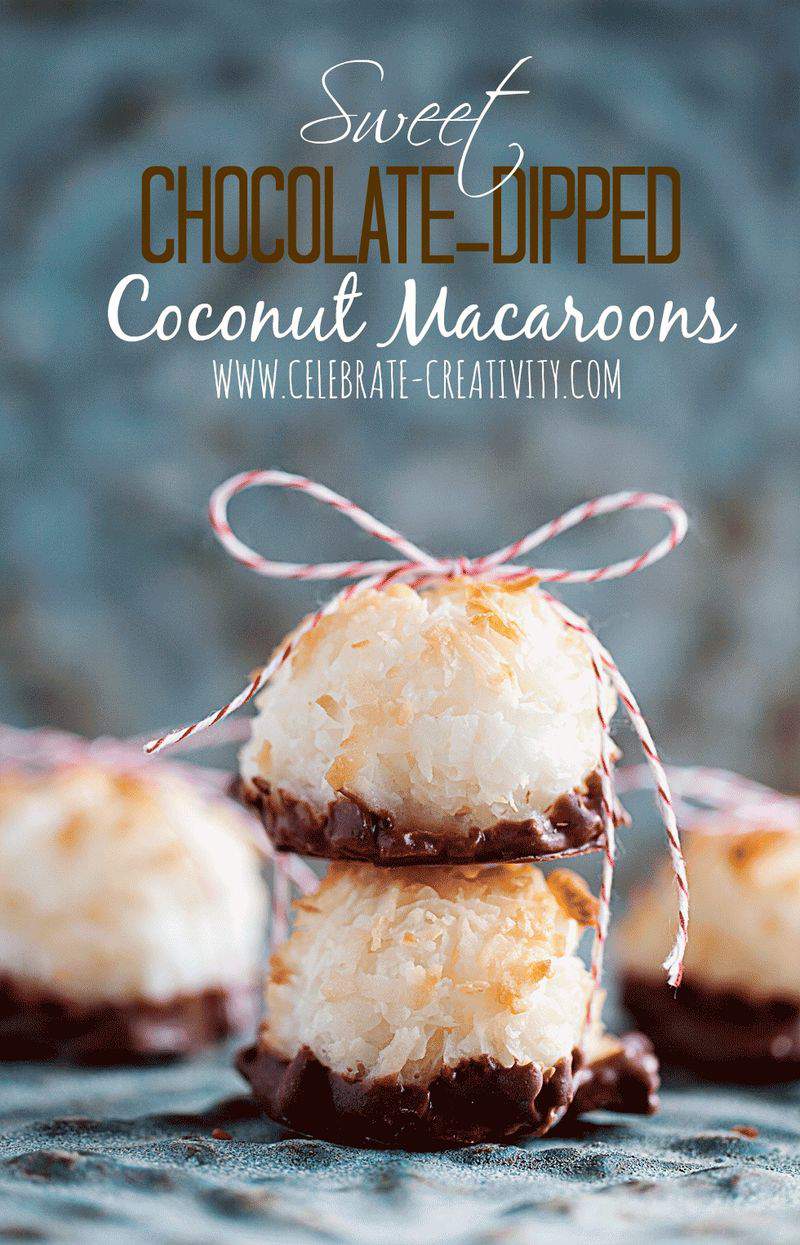 Thanks for popping by.
 See you right back here tomorrow for Day 14 of my
COUNTDOWN TO CHRISTMAS HOLIDAY SERIES. ♥
In cased you missed any ideas in this blog series, here's a look at:
Day 1|Day 2|Day 3|Day 4|Day 5|Day 6|Day 7|Day 8|Day 9|Day10