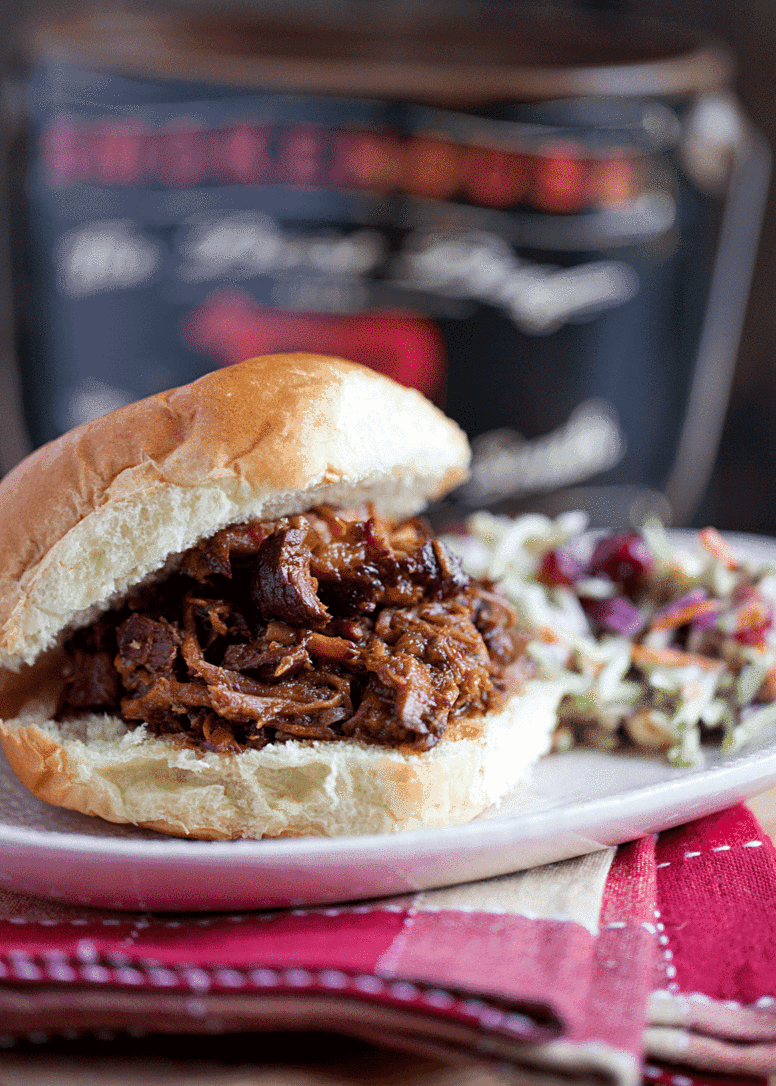 Not too long ago, I bought my very first slow cooker. Better late than never, right?
When I bought it, the saleslady raved about a particular pulled pork recipe and she insisted I wouldn't be sorry if I tried it. Boy was she ever right.
I've made the barbecue recipe several times over the last few months and I love it and I think you will too.
Now this is what barbecue is supposed to look like…. and taste like too.
This recipe creates a super tender meat that practically melts in your mouth with just the right combination of barbecue tang and slightly rustic, smokey-flavored sweetness.
I used a Williams-Sonoma recipe (only slightly tweaked it) and I've included a recipe below that you can print out for your convenience.
This recipe calls for 4-pounds of boneless pork shoulder. For some reason pork shoulder was hard to find in my neck of the woods.
No problem, Pork butt or rump (seen here) is a worthy substitute… despite it's unsavory-sounding name.
Cut the pork in multiple pieces and saute in canola oil until well-browned on all sides.
Remove the meat and place in the slow cooker.
Drain all but about a tablespoon of the oil from the pan.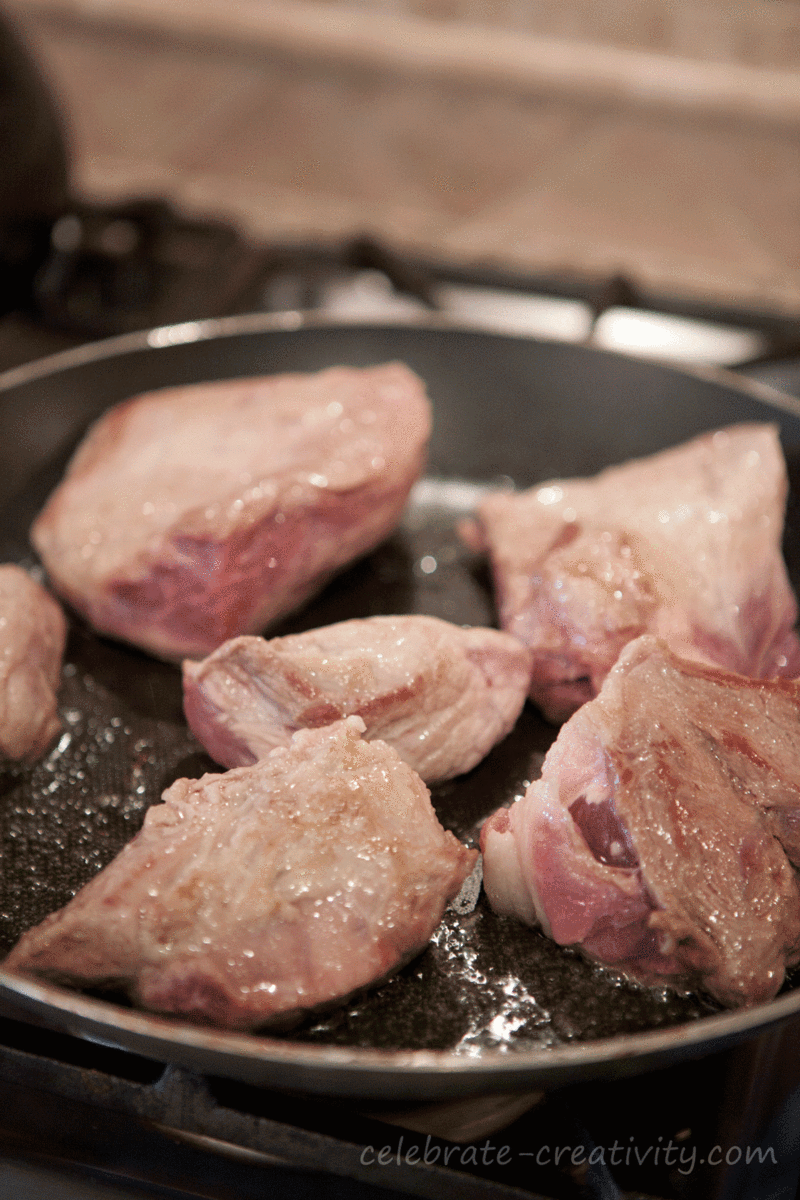 Saute onions in the remaining oil.
Add all other ingredients to the slow cooker including vinegar, tomato ketchup, brown sugar, light molasses, red pepper flakes, Worcestershire sauce, dry mustard, kosher salt and ground pepper.
Give everything a good stir to make sure everything is coated.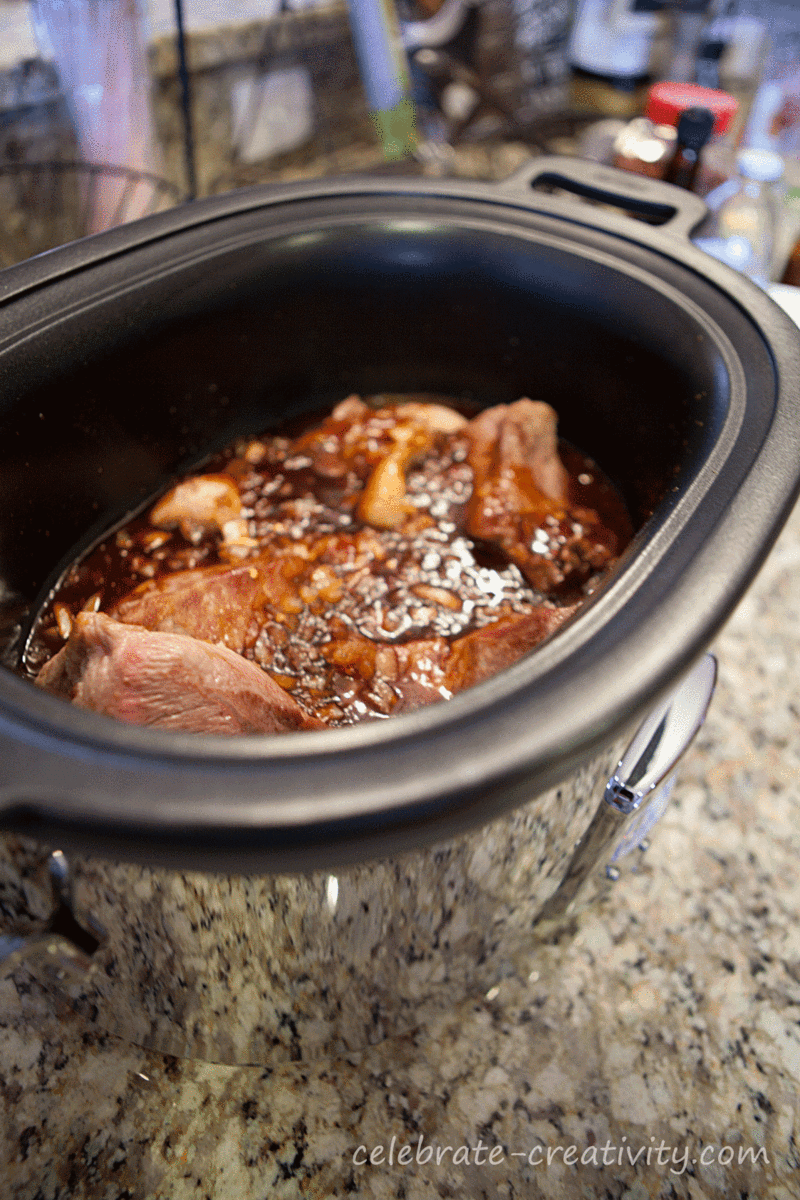 I love that you can just toss all these ingredients into the slow cooker and just walk away and get on with the rest of the day.
My barbecue cooked for about 8-9 hours on low heat (but make sure you double check your manual for cooking recommendations for your specific appliance.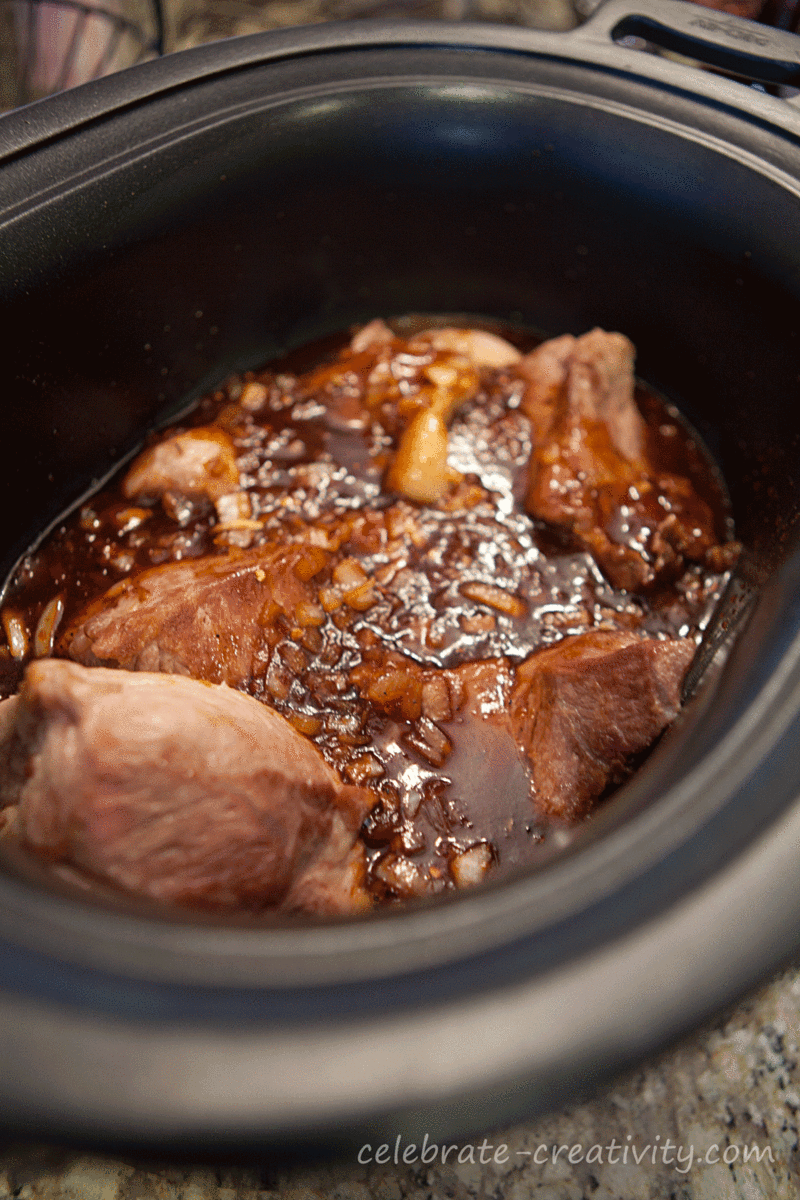 At the end of the cooking cycle, the meat chunks will be tender but still mostly intact. Remove the meat from the slow cooker and pull it apart using two forks.
This step is so easy because the meat is soooo tender at this point, only needs a light touch to shred it.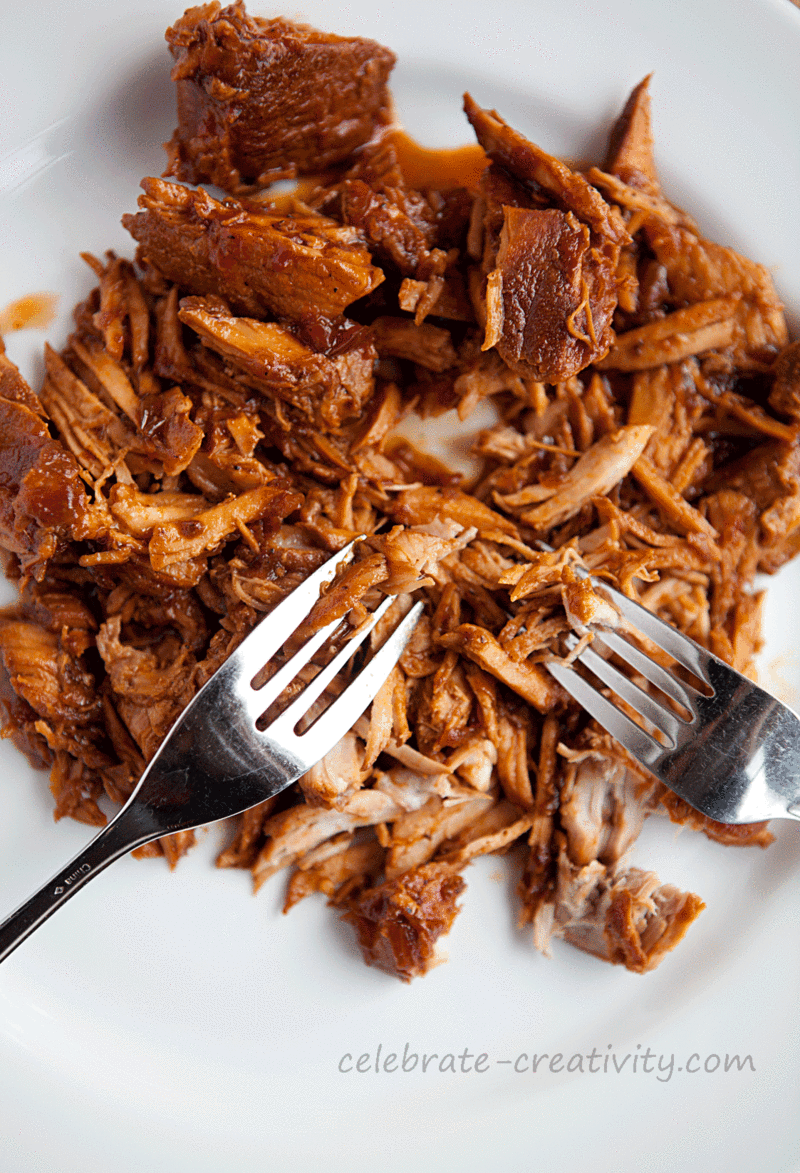 Most slow cookers will shift into a warming mode once the main cooking cycle is complete.
Return the pulled pork to the sauce and give everything another good stir to incorporate.
Keep setting on warm while serving.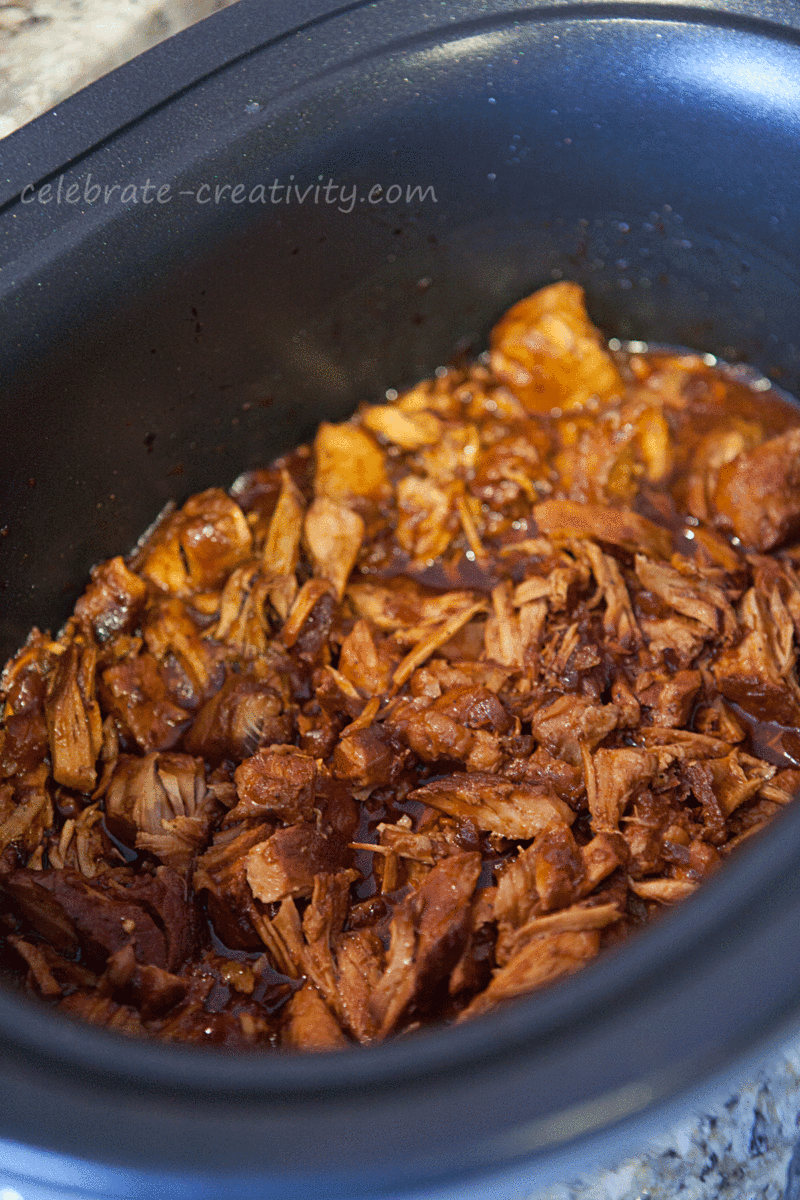 Try using fresh burger buns from your grocer's bakery for sandwiches.
Pop the buns in the oven and lightly toast the bread just before you're ready to serve to family, friends and guests.
Hey, how'd you like to take a bit out of this?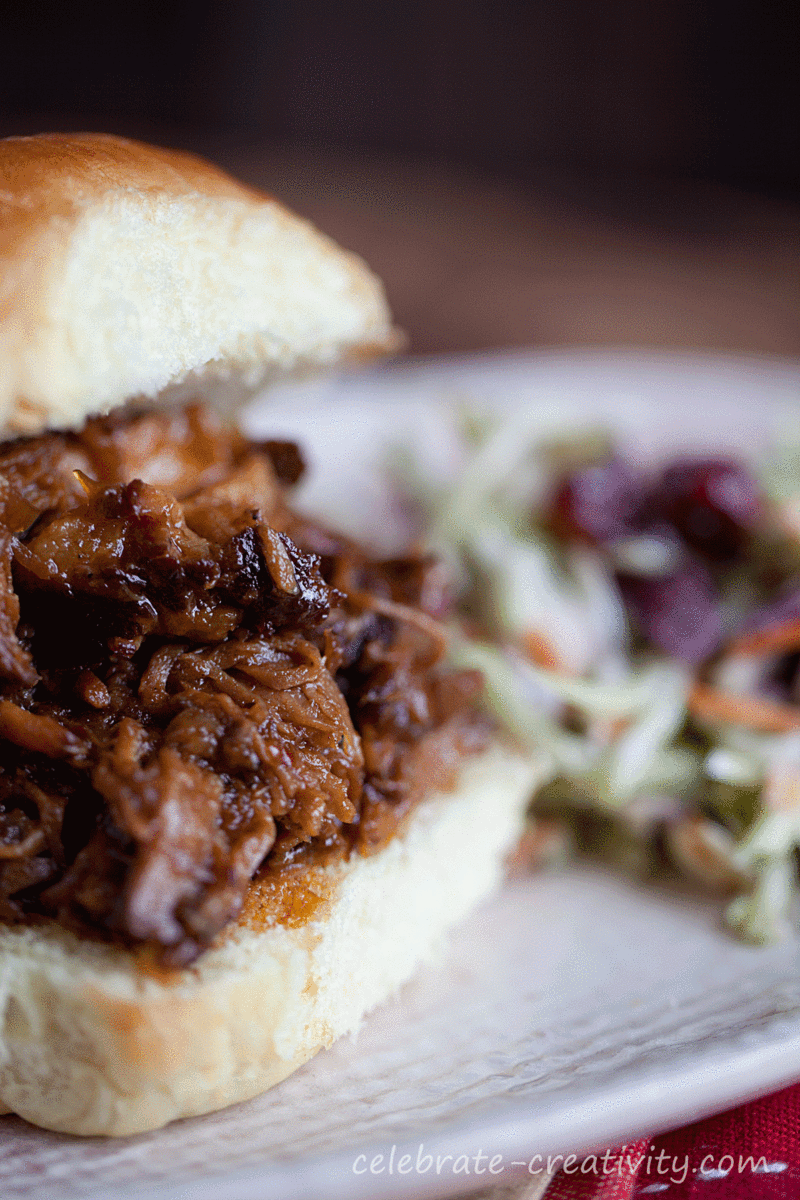 Pulled pork barbecue is fantastic when topped off with a delicious side of Cole slaw.
I love the combo of ingredients in this cranberry and broccoli recipe. So many yummy ingredients in this including carrots and poppy seed dressing.
I've tried (unsuccessfully, so far) to duplicate this Fresh Market recipe but until I figure out the right mix of ingredients, I'll just have to continue buying it from the deli department.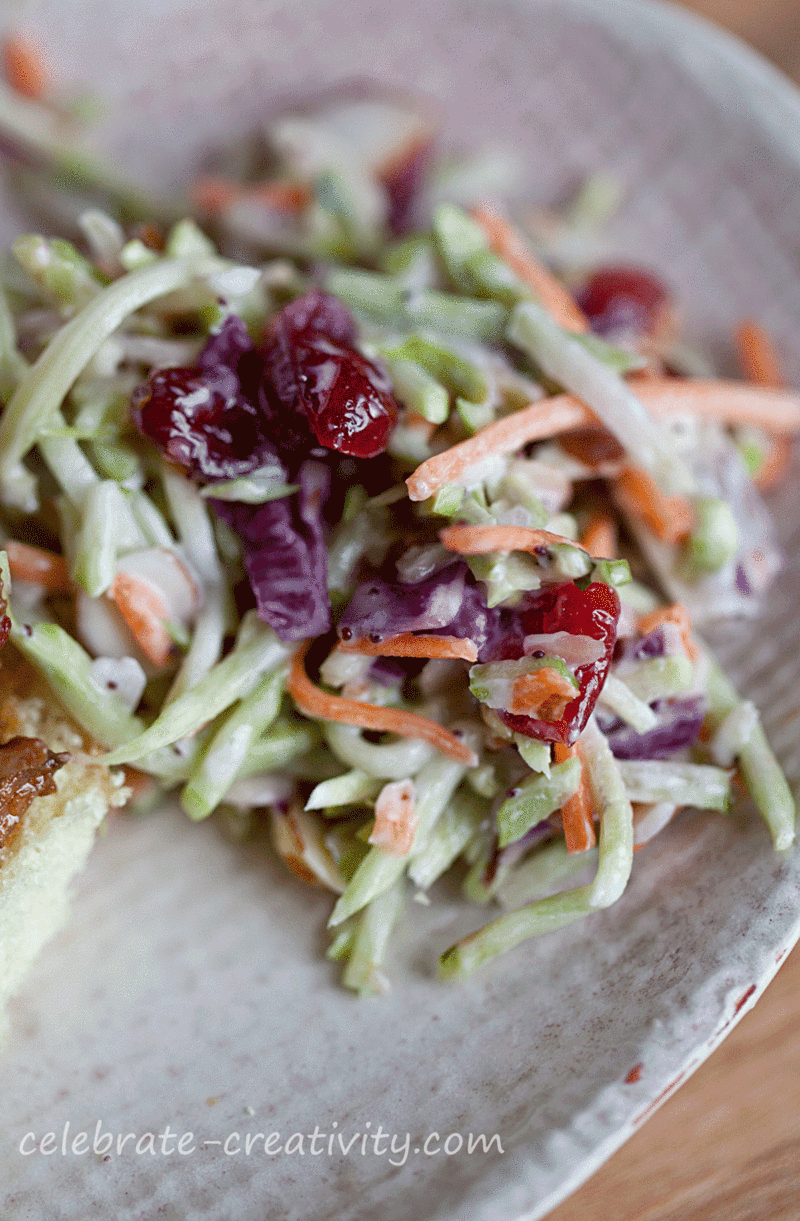 Consider using this pulled pork as a pizza topping.
Just skip the pepperoni on your next homemade pizza and substitute this homemade pulled pork for a barbecue pizza your guests will remember.
Print the recipe below for your convenience.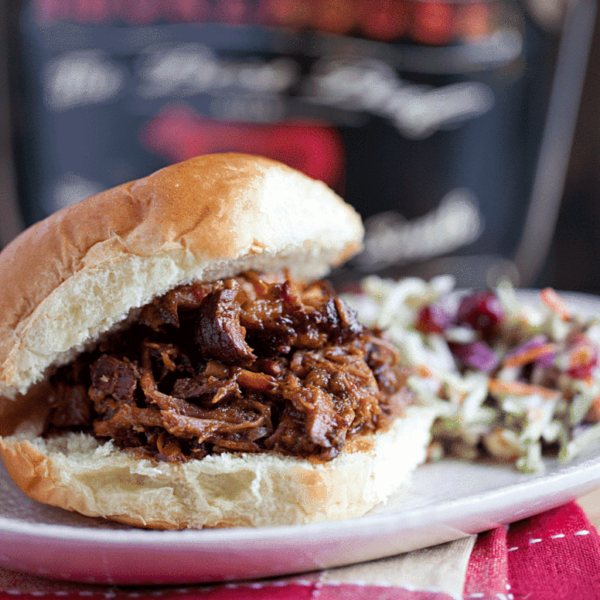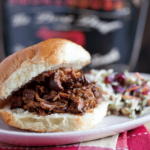 Pulled Pork Barbecue
Savory pulled pork barbecue. Add ingredients to slow cooker in the morning, come home to dinner in the evening. Serve on toasted bun with cole slaw side.
Ingredients
Ingredients
4- lb boneless pork shoulder
1 onion chopped
3- Tablespoons canola oil
3/4- cup cider vinegar
¾ cup tomato ketchup
One-third cup brown sugar
¼- cup light molasses
1- teaspoon red pepper flakes
2- tablespoons of Worcestershire sauce
1- teaspoon dry mustard
1- teaspoon kosher salt
1- teaspoon ground pepper
Instructions
Cut the pork shoulder into four pieces. Heat canola oil in fry pan and brown the shoulder on all sides. Once meat is well-browned remove the pieces and place into the slow cooker. Juice from the meat will have developed. Remove all but about 1-tablespoon of juice from the pan and continue to cook on medium-high heat. Add the chopped onion and continue to saute until golden brown. Add the vinegar and scrape the bits from the bottom and edges of the pan. Add ketchup, firmly packed brown sugar, molasses, red pepper flakes, Worcestershire sauce, dry mustard, salt and pepper. When the mixture begins to bubble, remove from heat and pour over the pork in the slow cooker. Cook the meat and mixture about 4-5-hours on high or about 8-10-hours on low.

Once the meat is cooked, remove the chunks of meat and shred each piece using a pair of forks. Remove any large, visible pieces of fat and also skim off any excess fat from the sauce. Return the shredded (or pulled) pork to the slow cooker and stir to combine with the sauce.

Keep slow cooker on warm cycle through servings. Serve on toasted sandwich buns along with rustic coleslaw.

This recipe services 6-8.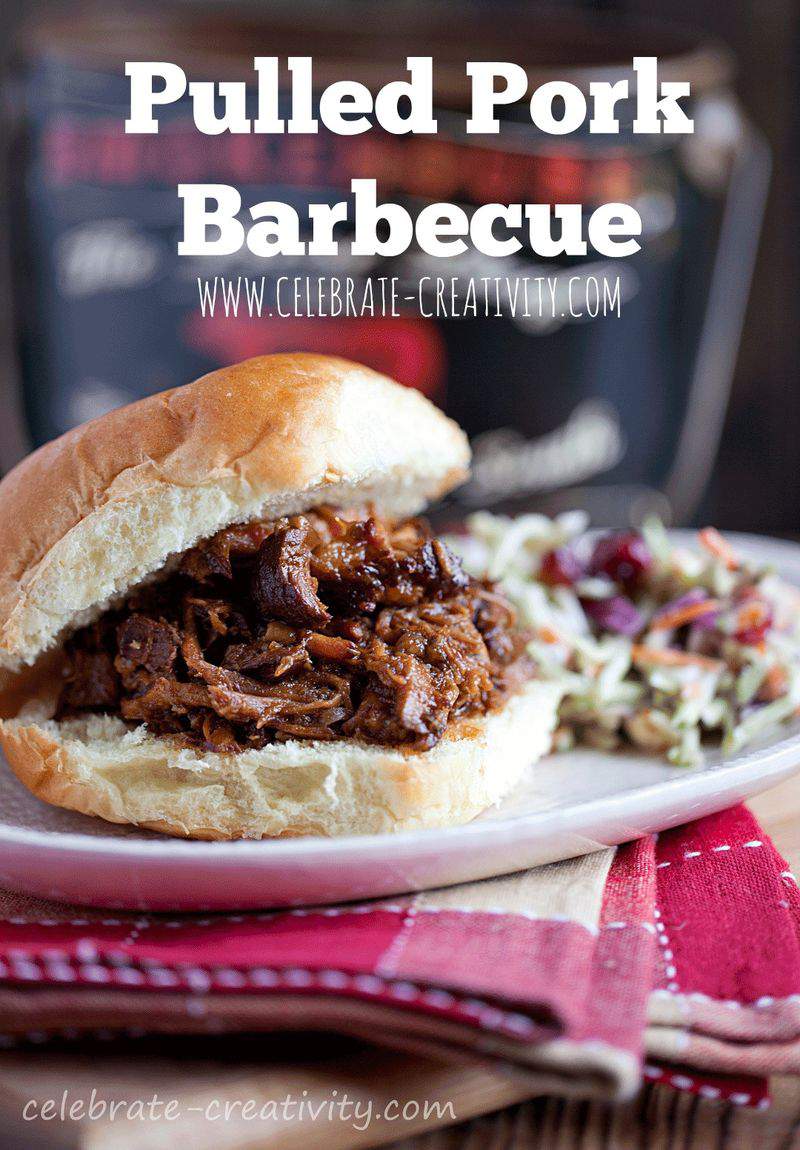 Tempted to make your own pulled pork barbecue now?
Hmmm… I thought so. Oink, oink. ♥