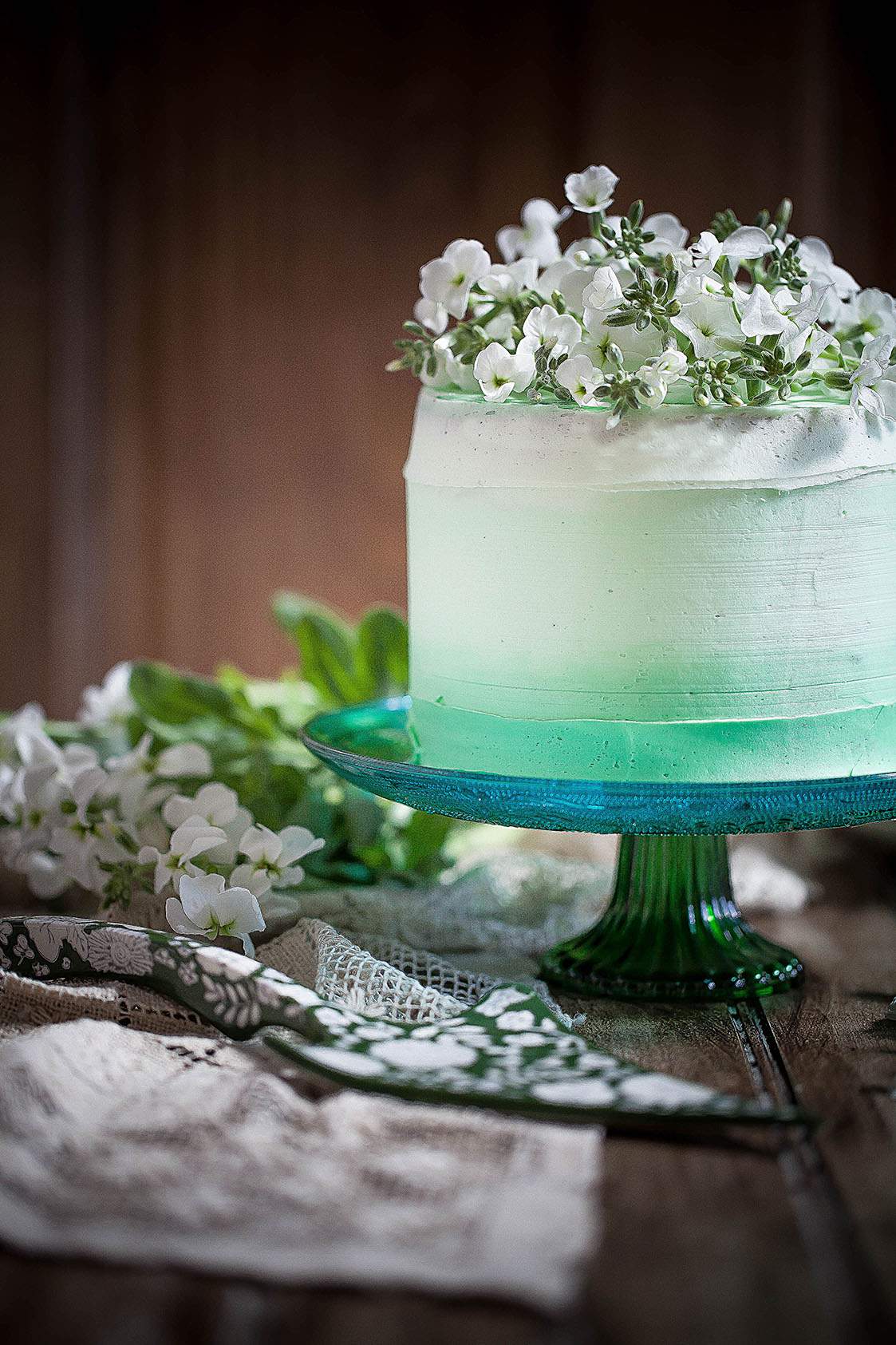 It's hot out there but cake may be the best way to beat the summer heat.
Yes, cake.
This heat wave is all the more reason to find cool INDOOR activities… like practicing cake frosting techniques.
Now that my cool-down secret is out of the bag, allow me to show you how to make an Ombre cake.

I know, I shared a cake last week.  Forgive me. I just couldn't help it but I think you'll like this technique.
The beauty of this cake lies in the multi-colored frosting or ombre, which means shaded color in French.
Each shade has a soft and subtle gradient that gives this dessert its dreamy appearance.
I started with a simple box cake mix and I used the easy buttercream recipe below.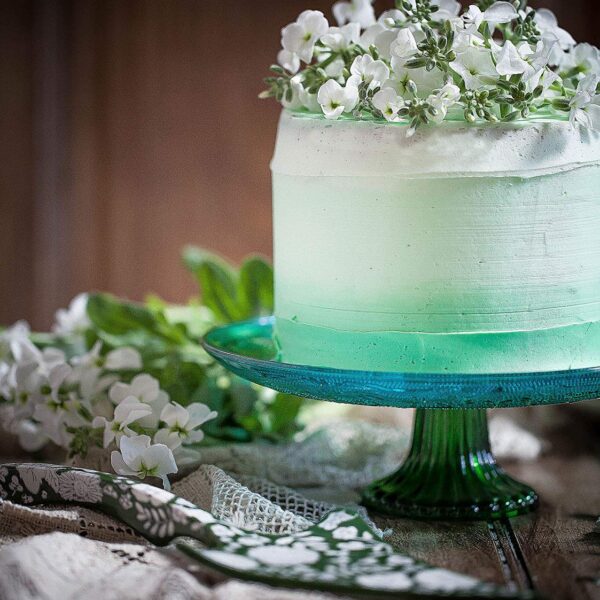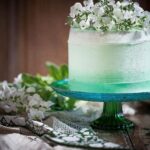 Buttercream Frosting
Sweet and simple frosting for covering any cake or cupcake.
Ingredients
3 cups confectioner's sugar
1 cup softened butter
2-4 tablespoons heavy whipping cream add one at a time, as needed for desired consistency
1 teaspoons vanilla
Gel coloring
Instructions
Mix softened butter, vanilla in stand mixer until soft and fluffy.

Slowly add confectioner's sugar and continue mixing.

Once all sugar has been added mix until light and fluffy.

Add a small drop of gel coloring and mix. Repeat if necessary to achieve desired shade.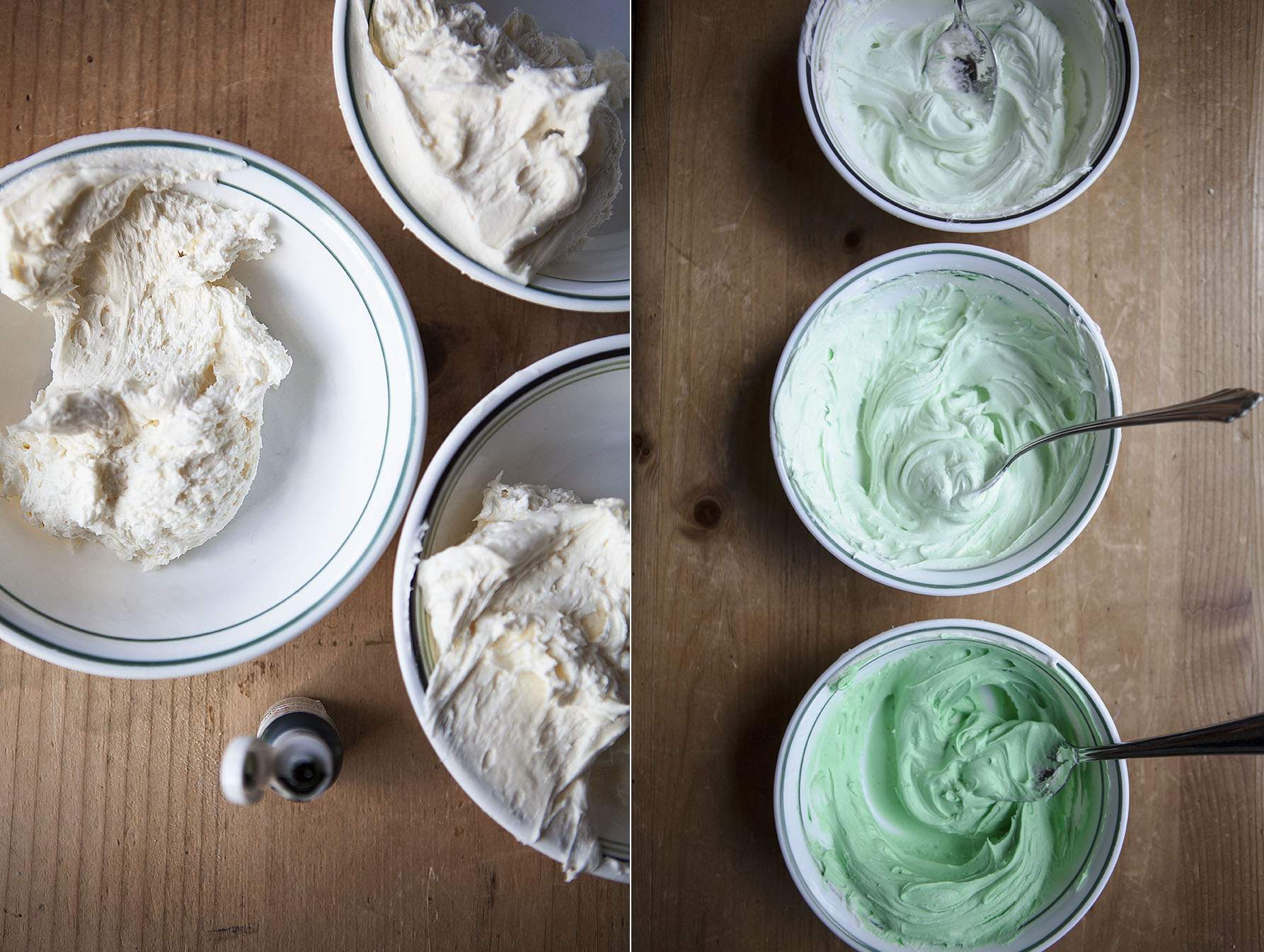 A little gel food coloring goes a long way.
So, start with a small dab of coloring and then add more coloring to each bowl to darken each bowl as you go.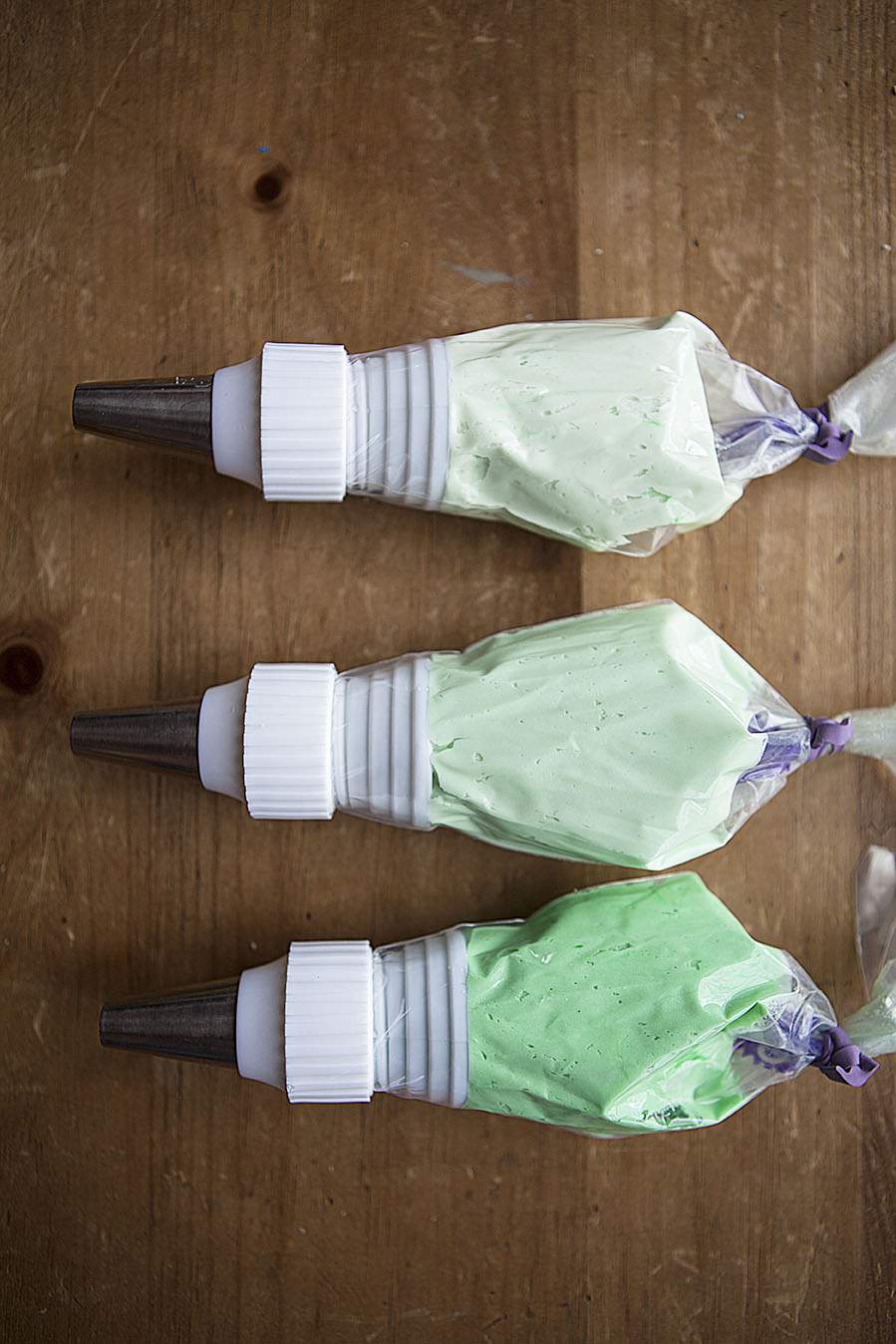 If the color is too light, just add more coloring.
If the frosting is too dark, adding more plain frosting may help.
Once you have the shades you like, load each bowl into its own piping bag.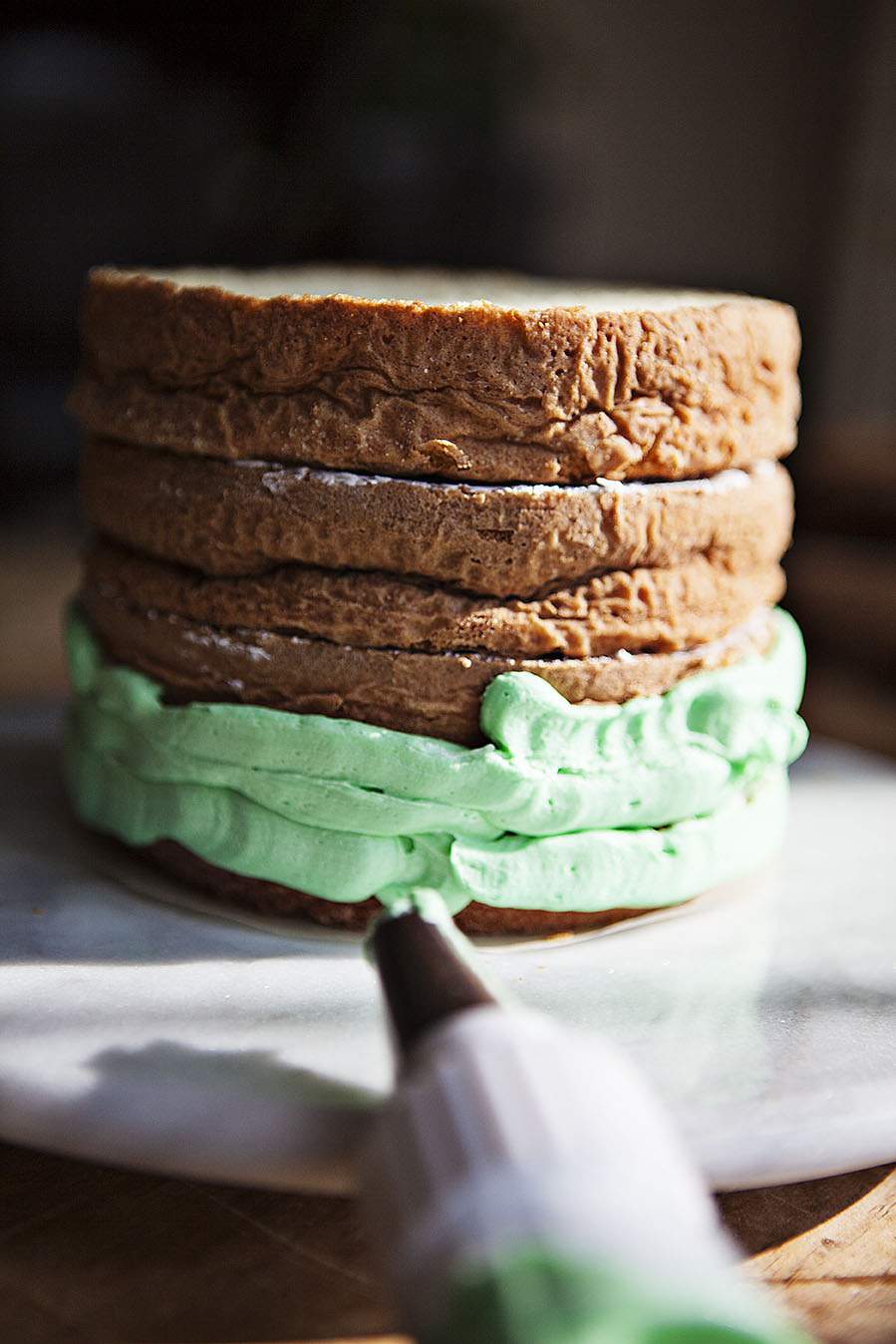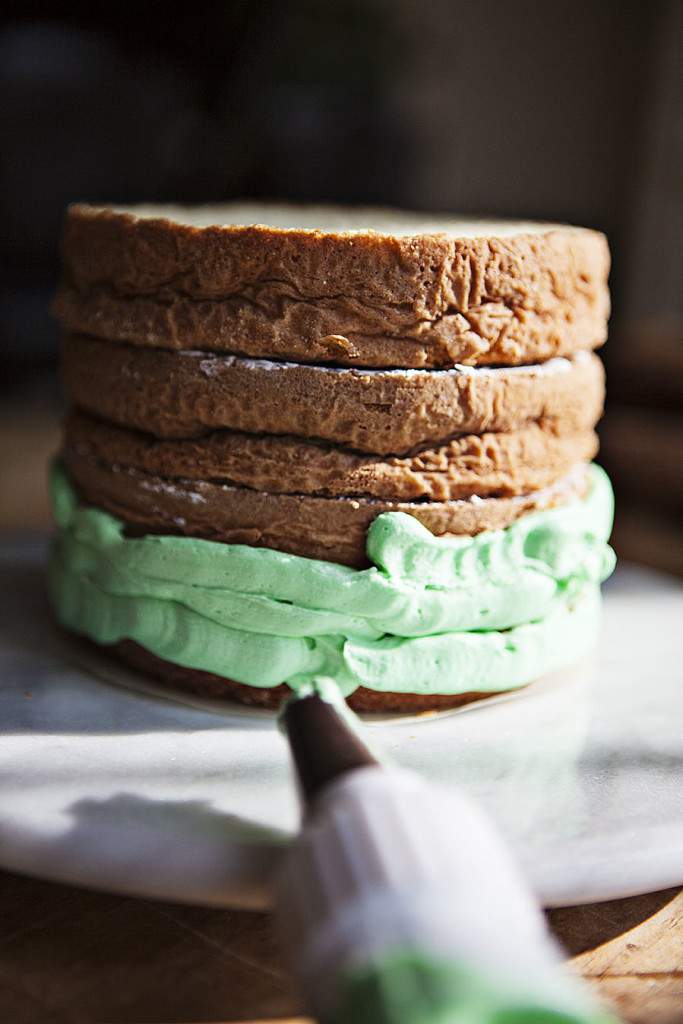 I used two, 6-inch cake pans for this cake and I cut each one in half which gave me four layers.
Pipe several rows of the darkest frosting along the lower portion of the cake.
Cover about 1/3 of the cake.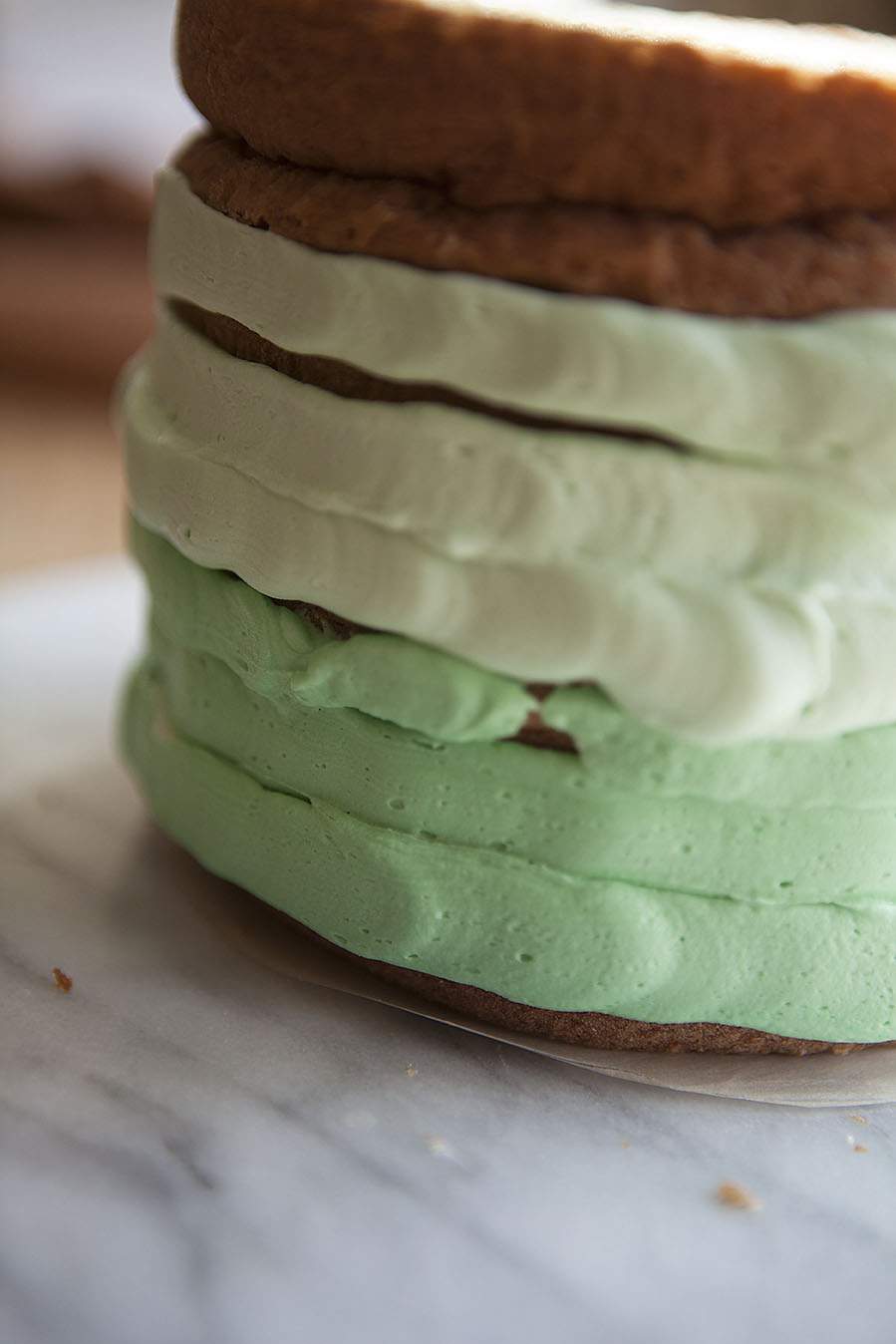 Repeat the steps and cover the middle part of the cake with the medium shade of frosting.
Finally, add several rows of the lightest frosting around the upper, remaining layers of the cake.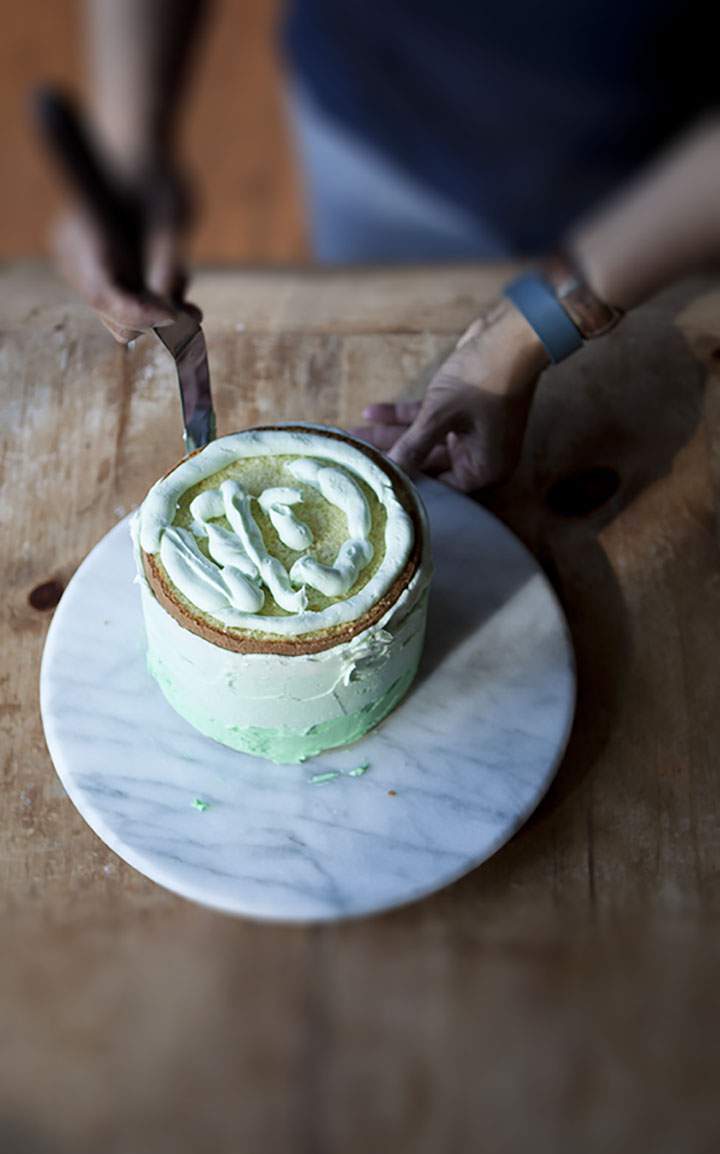 Use an off-set spatula to gently smooth the icing around the entire cake.
Pipe out icing on top of the cake and then, smooth that over as well.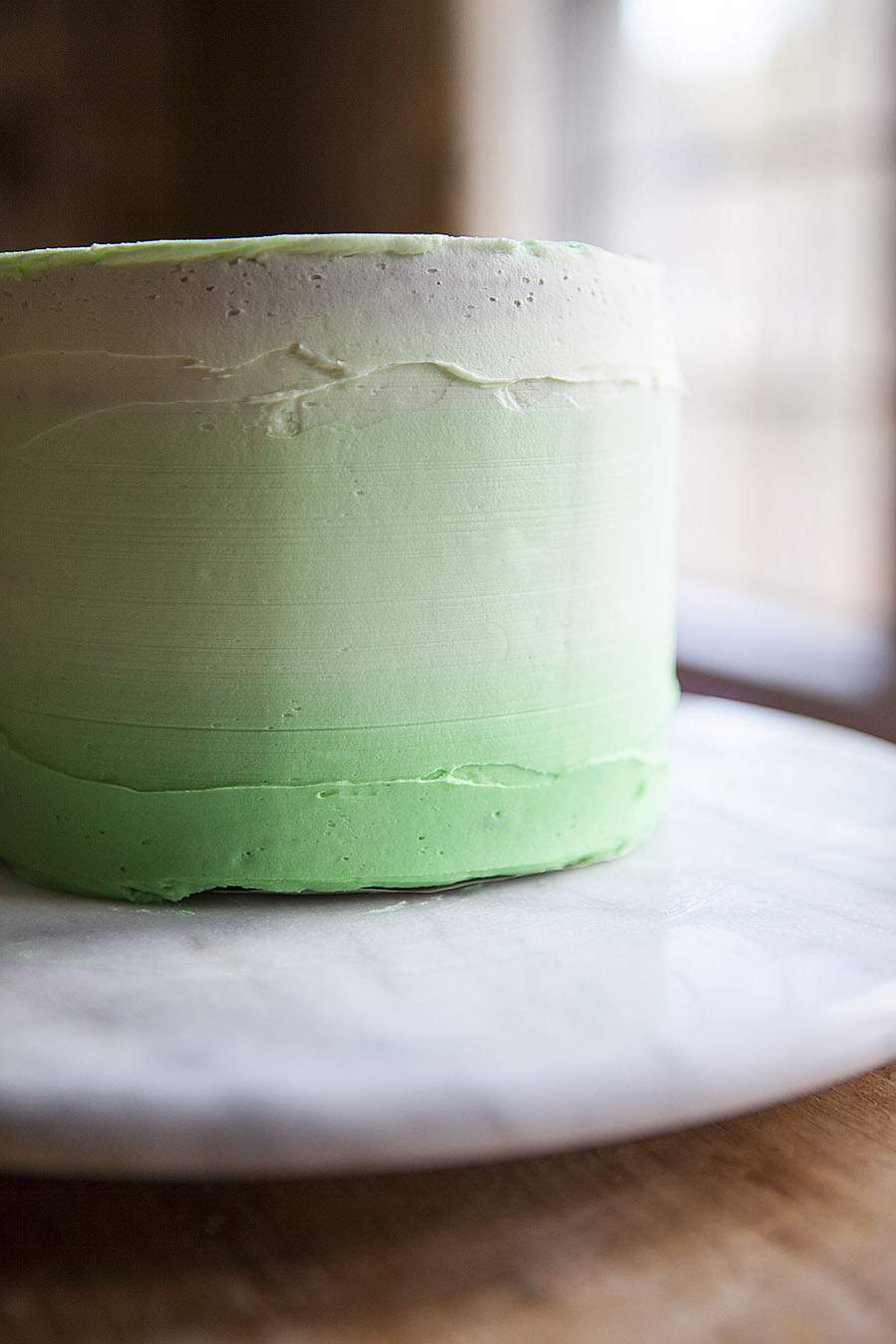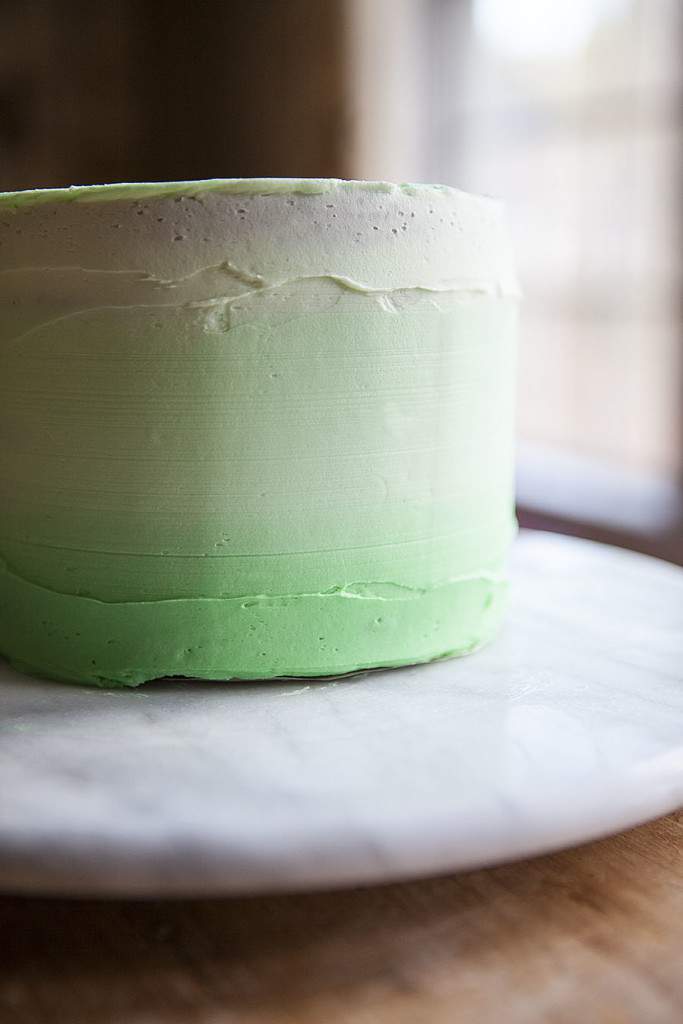 It may take several passes with the off-set spatula to get the smooth effect.
It also wouldn't hurt to run the spatula over warm water, wipe off the water.
The warm offset spatula will also help smooth the buttercream.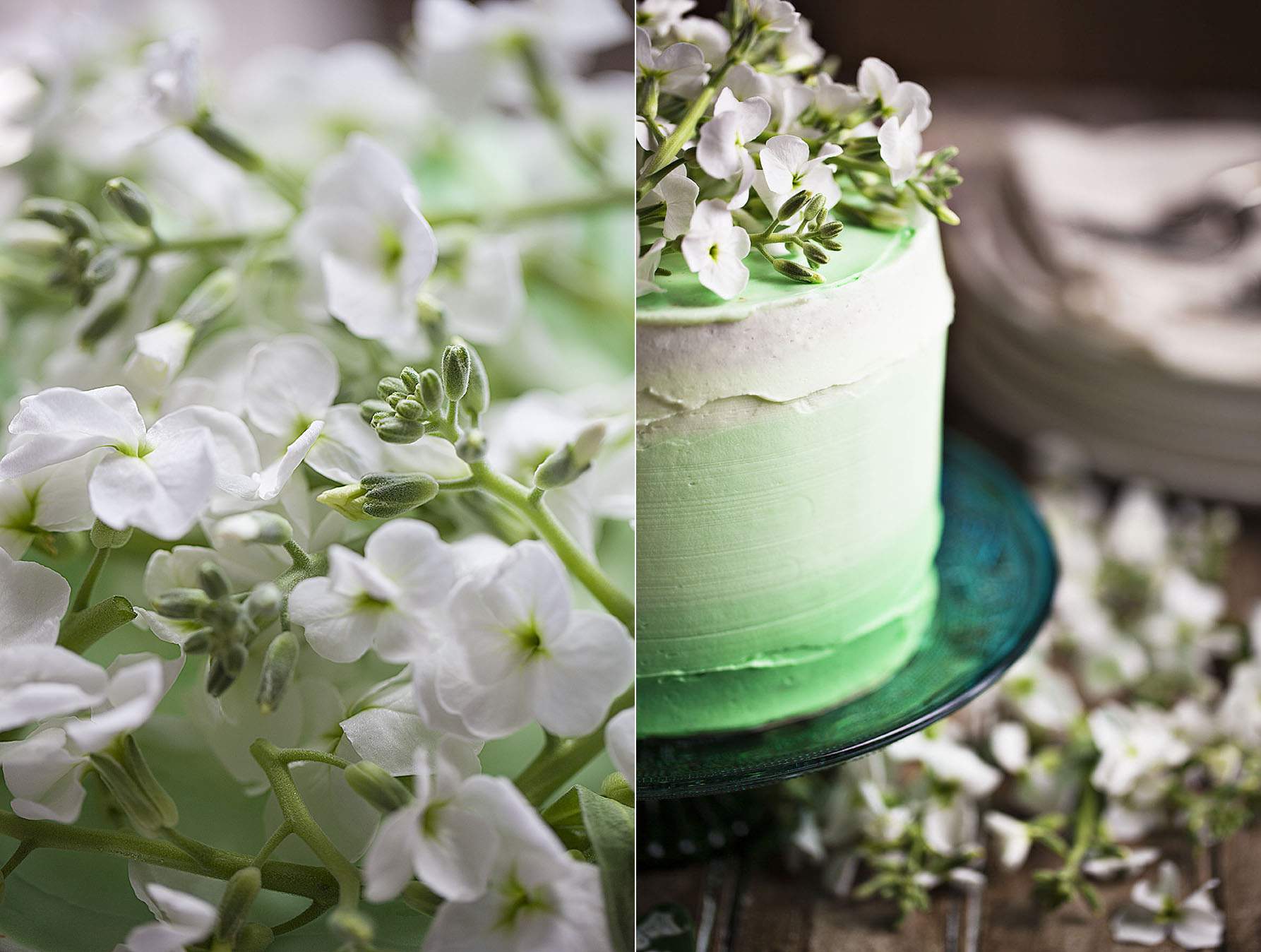 You can leave the top of the cake smooth or add floral elements for a more decorative presentation.
Or you could add buttercream peonies which you can see how to make HERE.
I personally like the the look of floral toppers.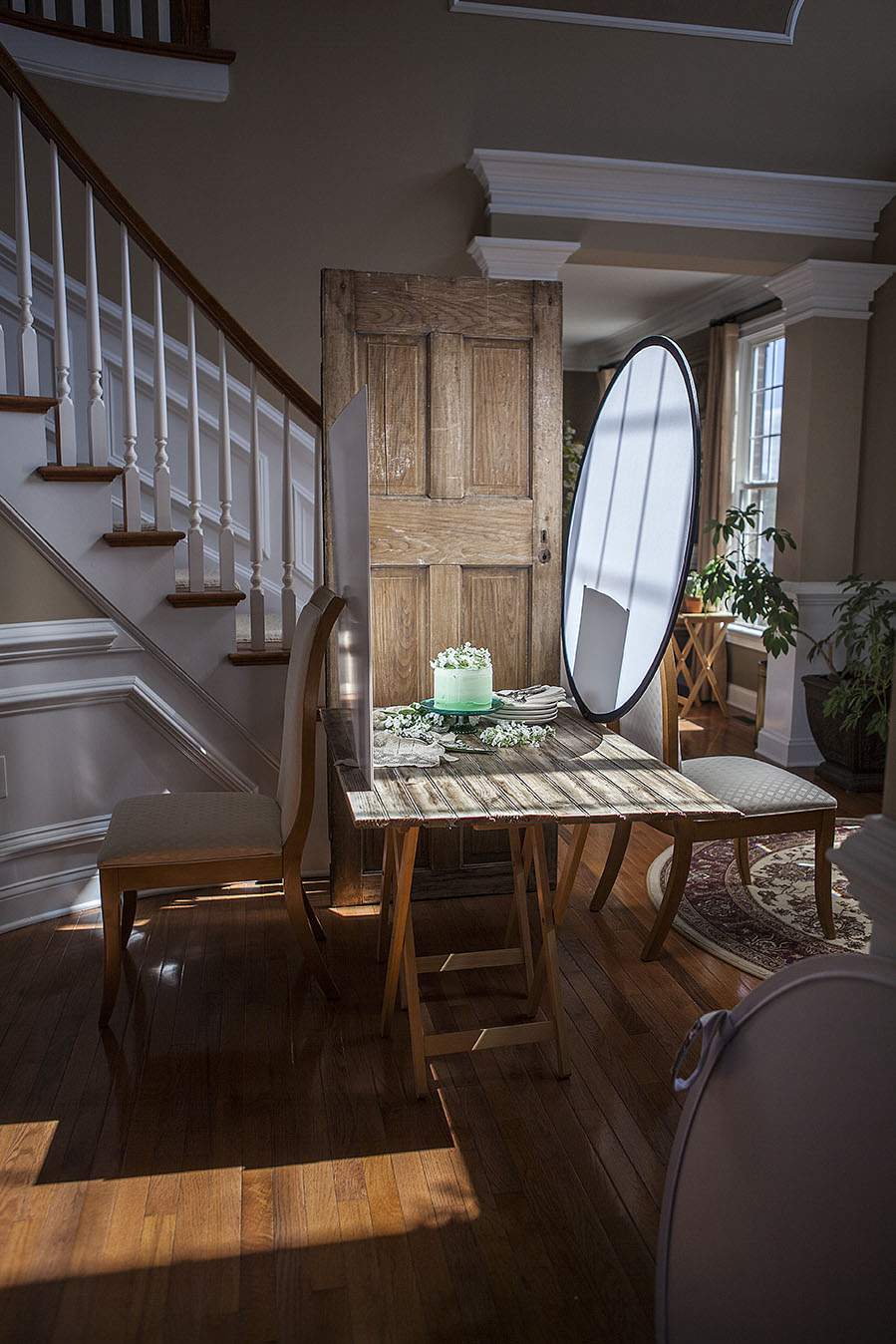 This is another photo shoot that I conducted in my well-lit foyer.
I love setting up props and experimenting with various textures and backdrops.
As much as I love the setup… I hate the take down and cleanup.
It's kind of like how I feel about grocery shopping. Love putting things in the cart, hate having to put everything away when I get home.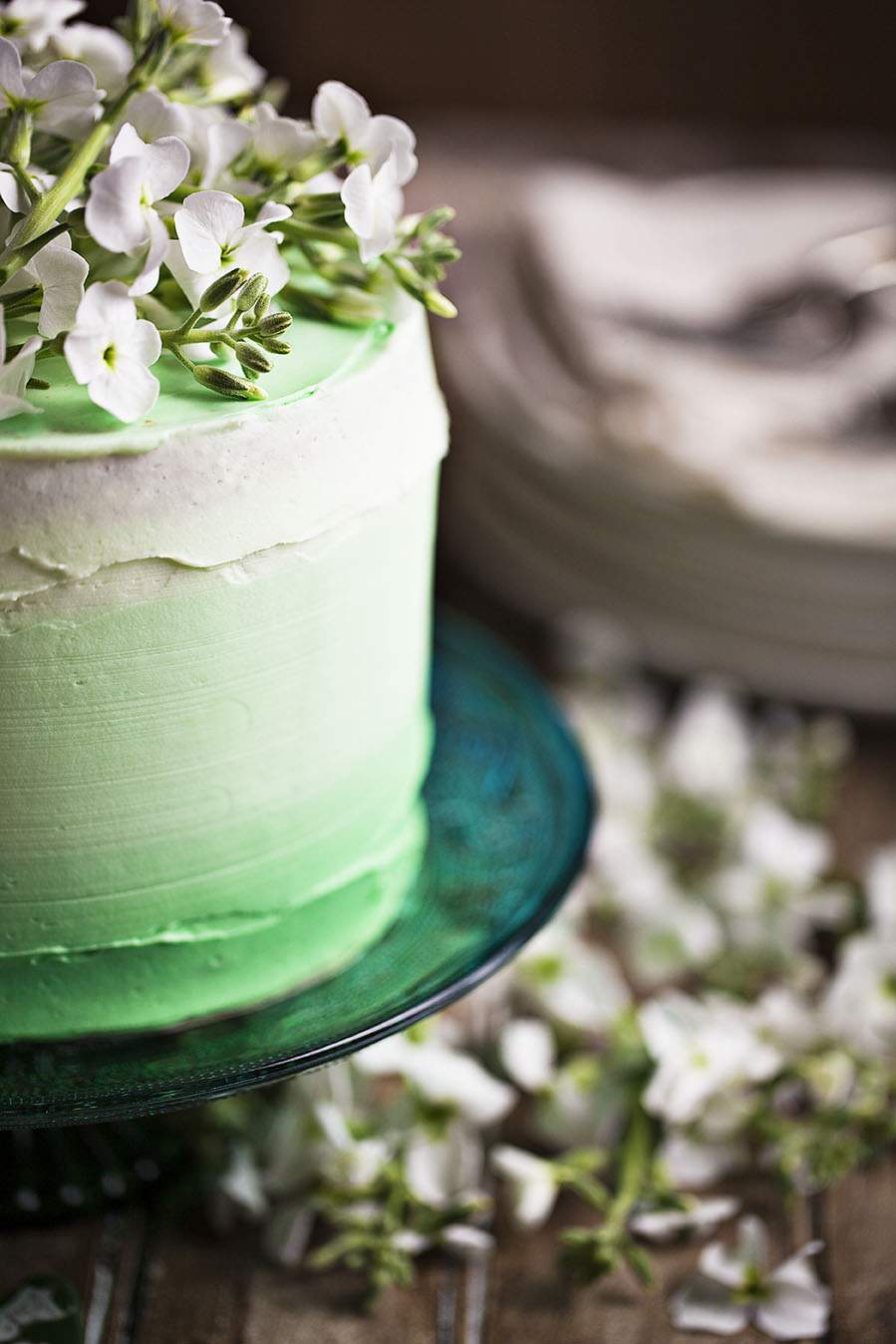 If you've never used 6-inch cake pans, you should give them a try.
The cake is smaller but it's also taller and I think it's much more elegant.
It also slices beautifully.
I've been on a bit of a cake making and frosting binge this year for sure.
You can revisit a few of my other cakes from earlier posts, you can see them HERE, HERE and HERE.
If you're inspired to make and ombre cake, I'd love to know how it turns out for you.
In the meantime… stay cool… and make cake.
Thanks for stopping by.
See  you back here next time. ♥