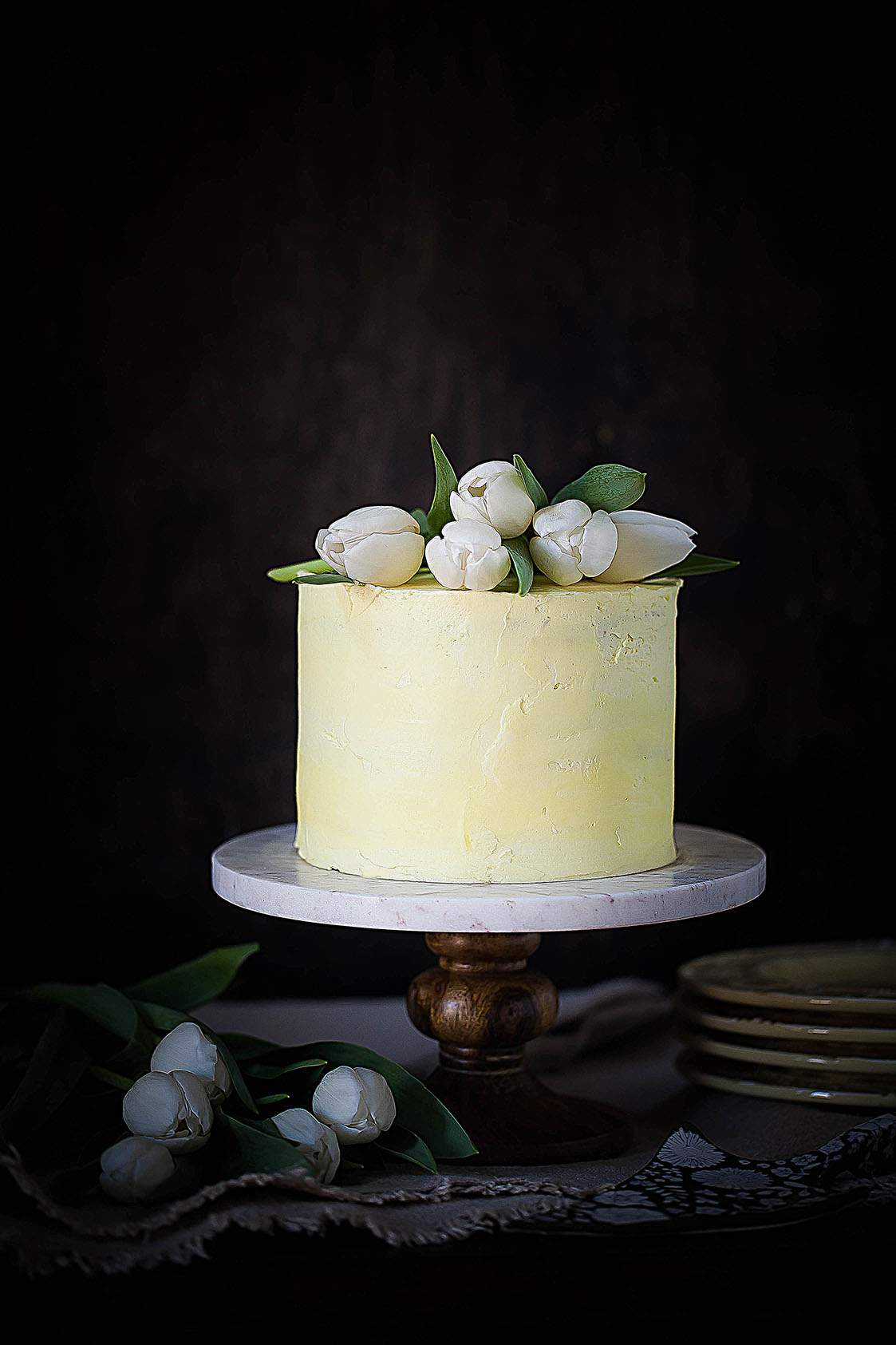 How many times have you walked passed a bakery window and been wowed by an elegant cake that was impeccably frosted?
That happens to me all the time and that's the big reason I was so eager to learn how to frost a cake so that it resulted in that ultra-smooth icing that I've admired for so long.
Well, I finally figured out how to duplicate the look and I thought you'd enjoy seeing the steps too.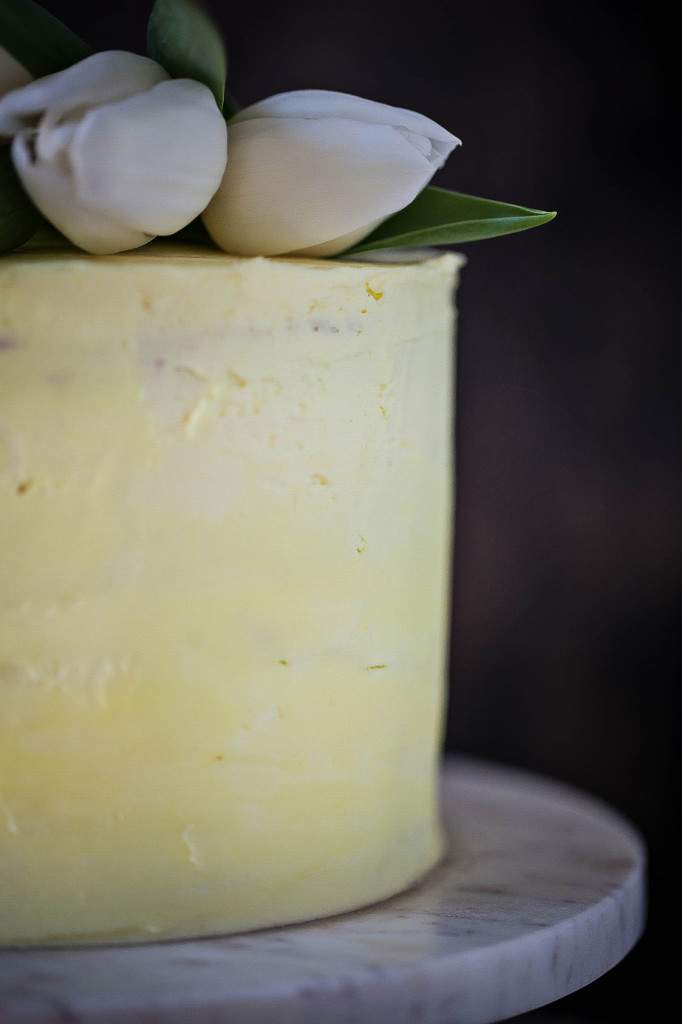 It's so much easier than I thought, I'm not sure why I didn't figure it out before.
I recently ran across a 15-second video on Instagram (of all places) that made the frosting technique so much clearer to me… and there's no stopping me now.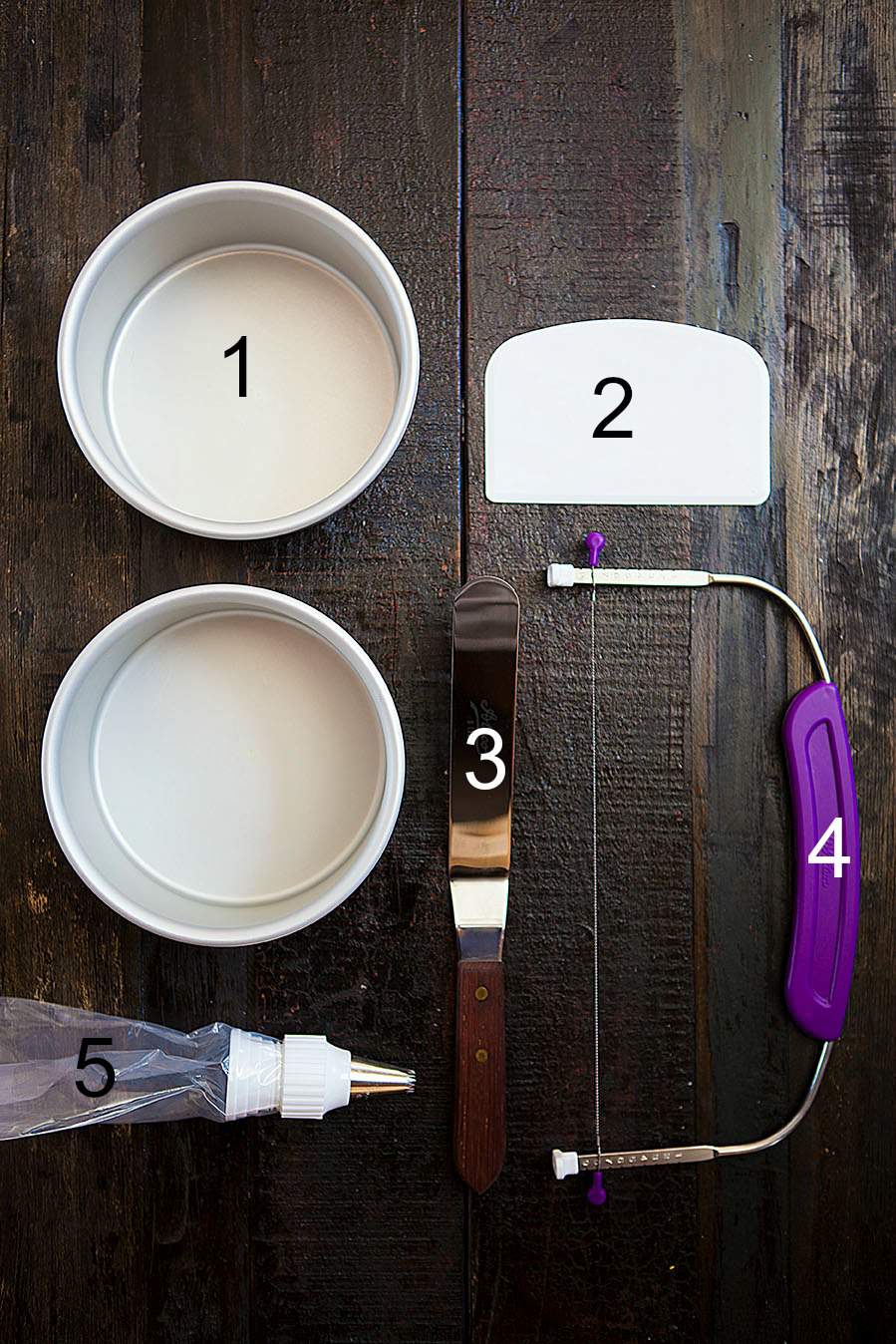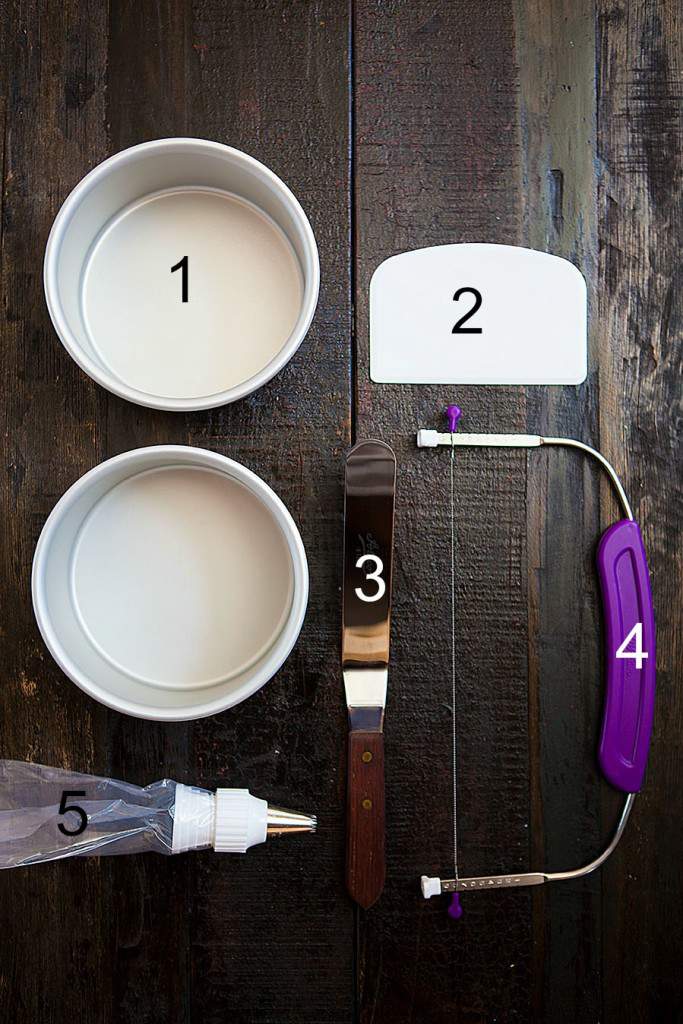 Let's start with a few basic tools.  I'm still a novice so this advice is based on what works for me. Professional bakers may have other suggestions.
(1.)  6″ baking pans-I'm not sure I'll ever make a 9-inch cake again. This is the perfect size because the cake layers stack up for an ideal height. This size also looks so much more elegant and fancy. Don't forget to always grease AND lightly flour your pans before adding batter so the cake won't stick to the pans.
(2.)  Plastic scraper-Use this at an angle to help smooth the icing across the top of the cake. You can find plastic scrapers at most kitchen and crafts stores in the baking aisle.
(3.)  Off-set spatula-Another tool used for smoothing the icing around the side and top of the cake.  They come in various lengths. It's best to get one that is as long as your cake is tall. This way you'll be able to make single swipes across the cake while smoothing.
(4.)  Cake leveler-This is so much easier to use that a long knife to separate cake layers. It has a thin wire that runs from one end to the other with an adjustable height so that all cake layers can be uniformly sliced in half.
(5.)  Piping tip and pastry bag-You'll need a pretty wide piping tip. This is what you'll use to actually apply the icing to the cake before smoothing.
You should be able to find all of the tools I just listed, at your local crafts store in the baking aisle. OK, let's take a look at how I put everything to good use.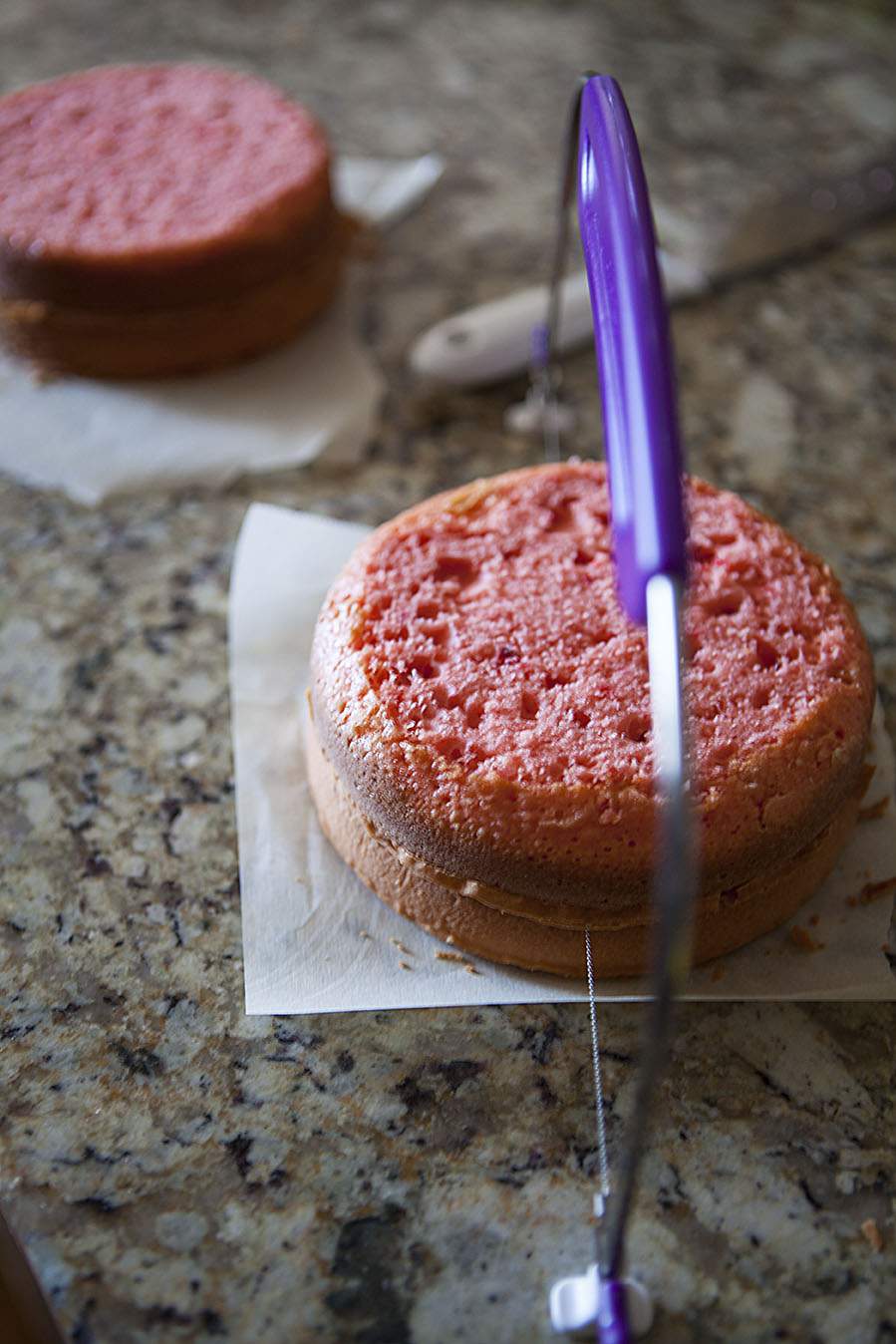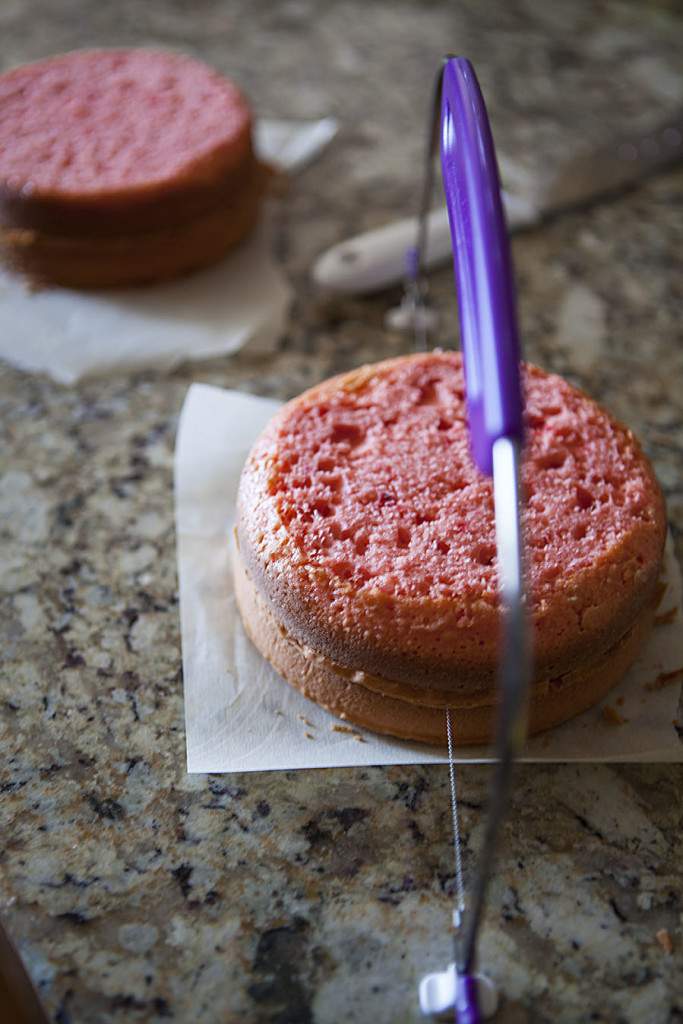 Most cakes bake up with a little dome on top.
After the cake cools, carefully slice that doom off of each layer to get a flat top.
Then use the leveling tool to cut the layers in half.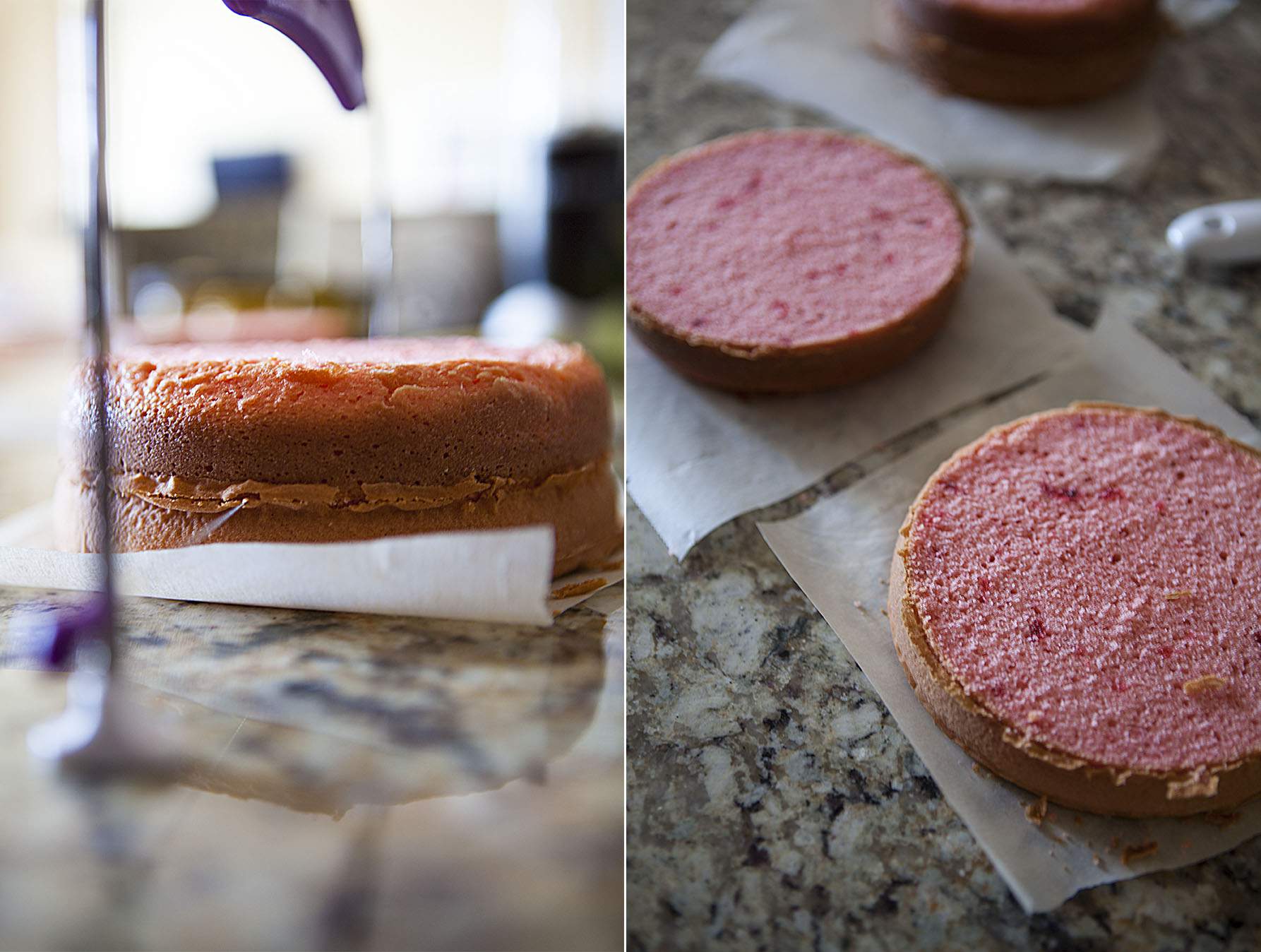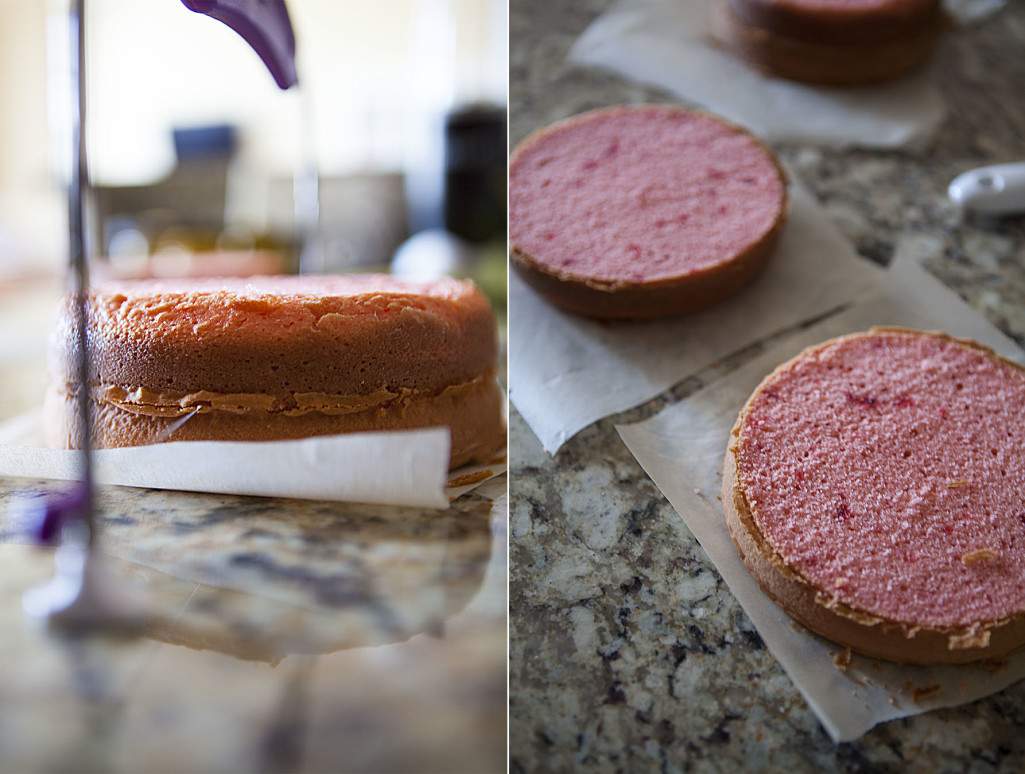 The little wire that's attached to the leveler cuts through the cake slices like butter.
There's no way I could have cut such even layers in half using a regular knife.
Brush off any excess crumbs and baked pieces from each layer.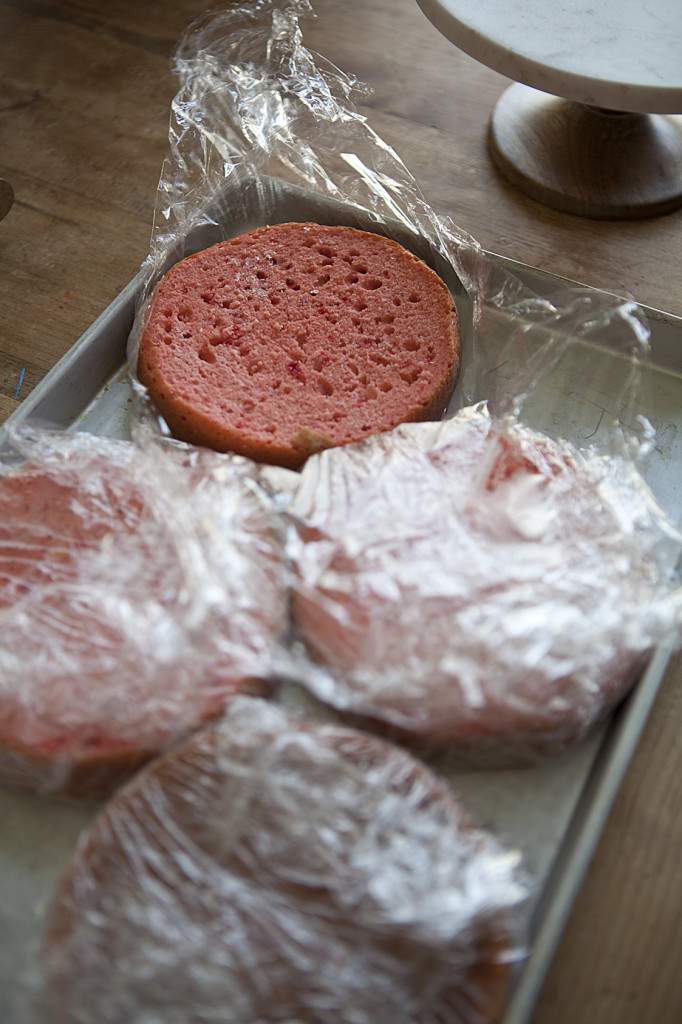 One way to help cut down on cake crumbs getting caught up in your frosting is to freeze the slices.
Wrap them loosely in plastic wrap and freeze overnight, if possible before adding the frosting.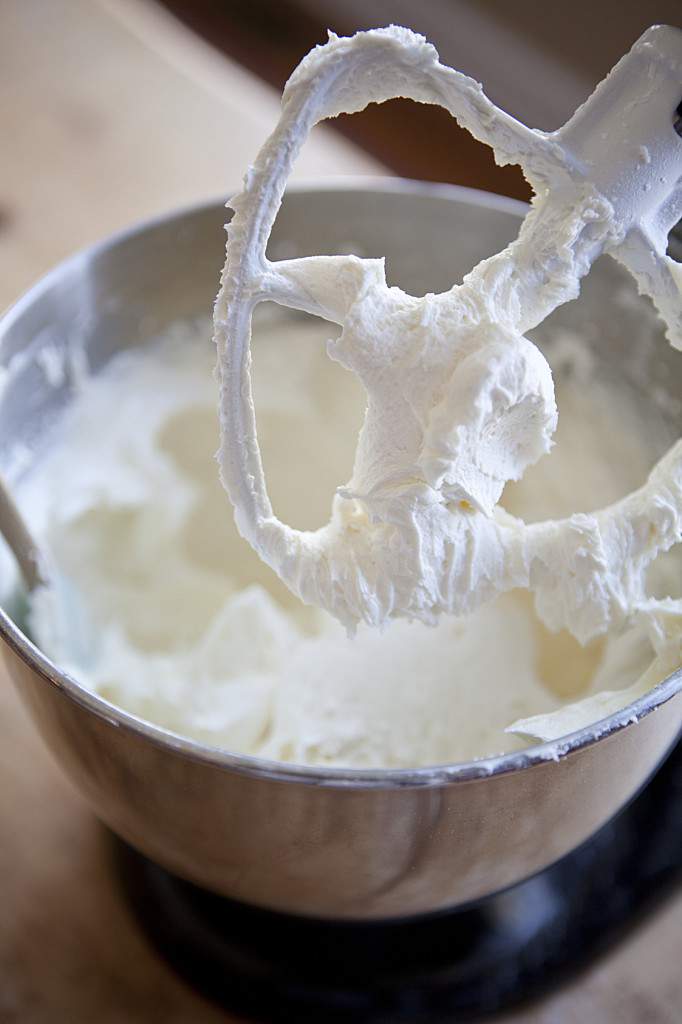 Whipped buttercream is light and airy and super easy to make. The recipe is below and requires only a handful of ingredients.
I decided to frost in-between the cake layers with the plain frosting and frost the outside of the cake with a tinted frosting.
After making the frosting, just separate half and add a drop of gel food coloring to get the shade you want for the outer coverage.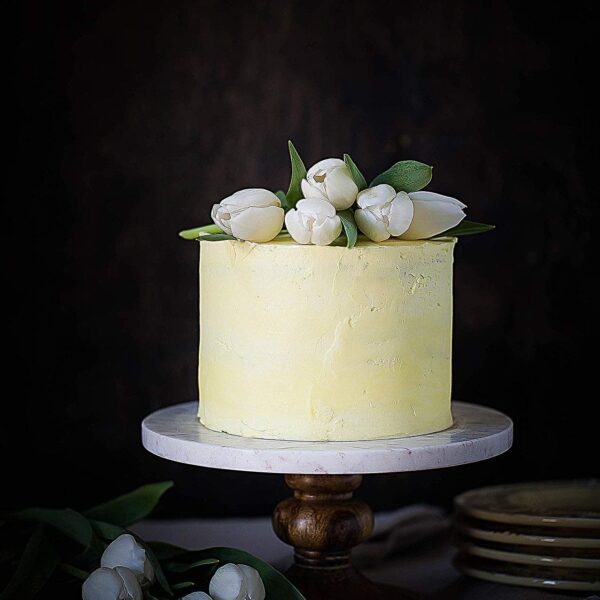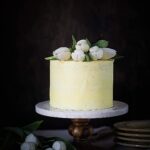 Buttercream Frosting
Sweet, and delicious buttercream frosting with a handful of ingredients for a delicious result.
Course: Dessert
Servings: 3 -4 cups
Ingredients
3 cups confectioner's sugar
1 cup softened butter
2-4 tablespoons heavy whipping cream
1 teaspoons vanilla
Gel coloring
Instructions
Mix softened butter, vanilla in stand mixer until soft and fluffy.

Slowly add confectioner's sugar and continue mixing.

Add 2-4 tablespoons of whipping cream as needed for desired consistency.

Once all sugar has been added mix until light and fluffy.

Add a small drop of gel coloring and mix. Repeat if necessary to achieve desired shade.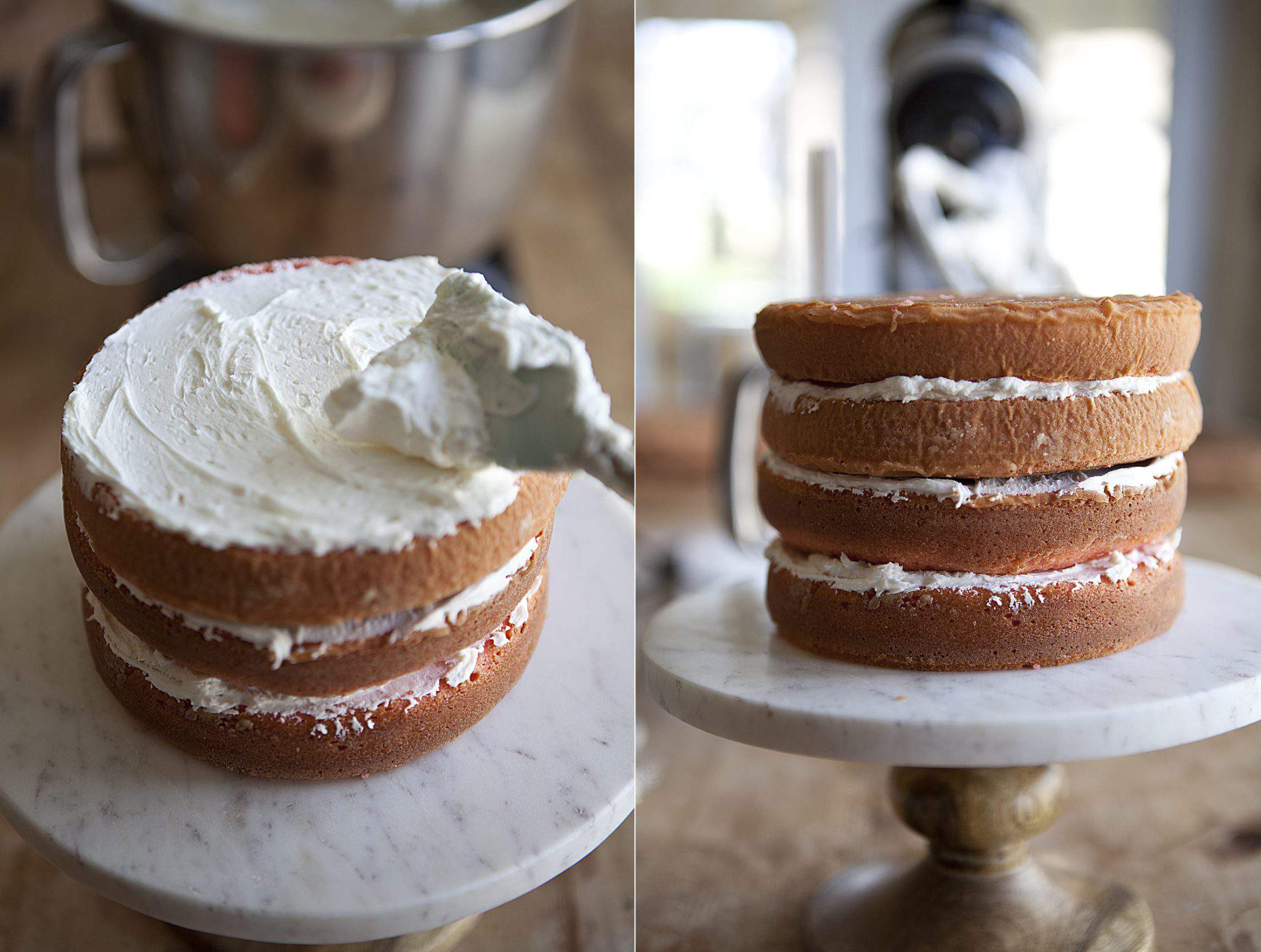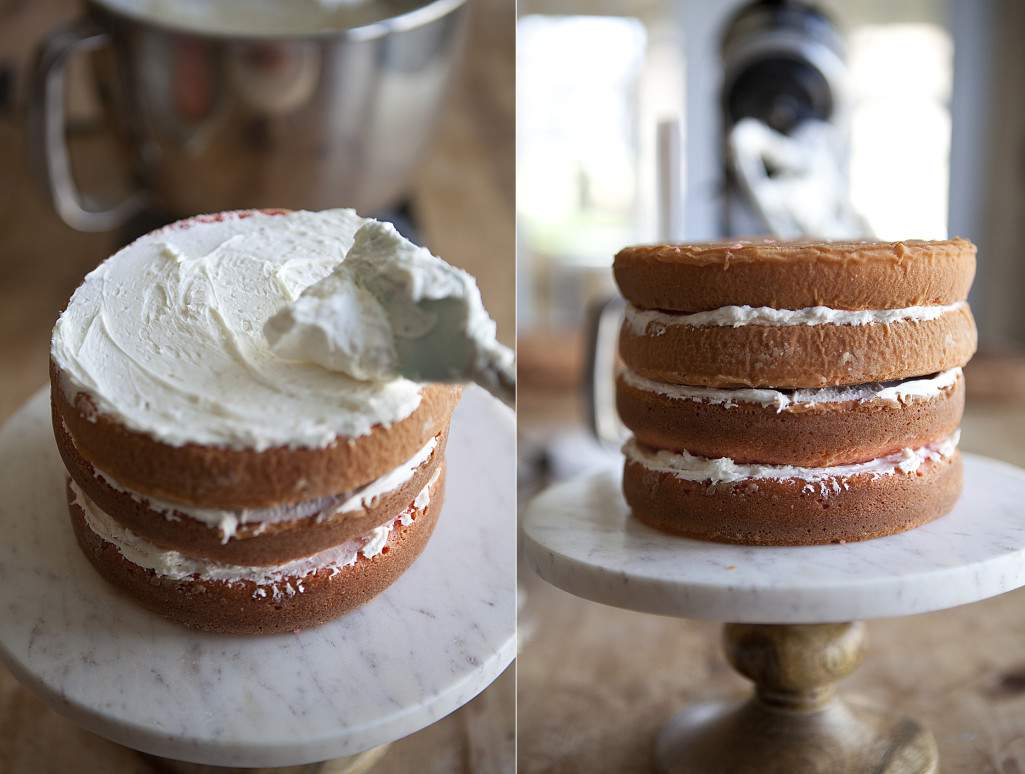 Before frosting, do a test stack of the four cake layers to find the best fit and arrangement for the cake tower.
Add frosting between each layer, leaving the top layer blank, for now.
A swivel or even a cheese board with a turntable is helpful in turning the cake while you frost it.
I always used to scoop up a heaping amount of frosting with a spatula and start spreading it over the top of the cake and the sides and I could never understand why I couldn't get the frosting to look as smooth as I had seen in various magazines and online.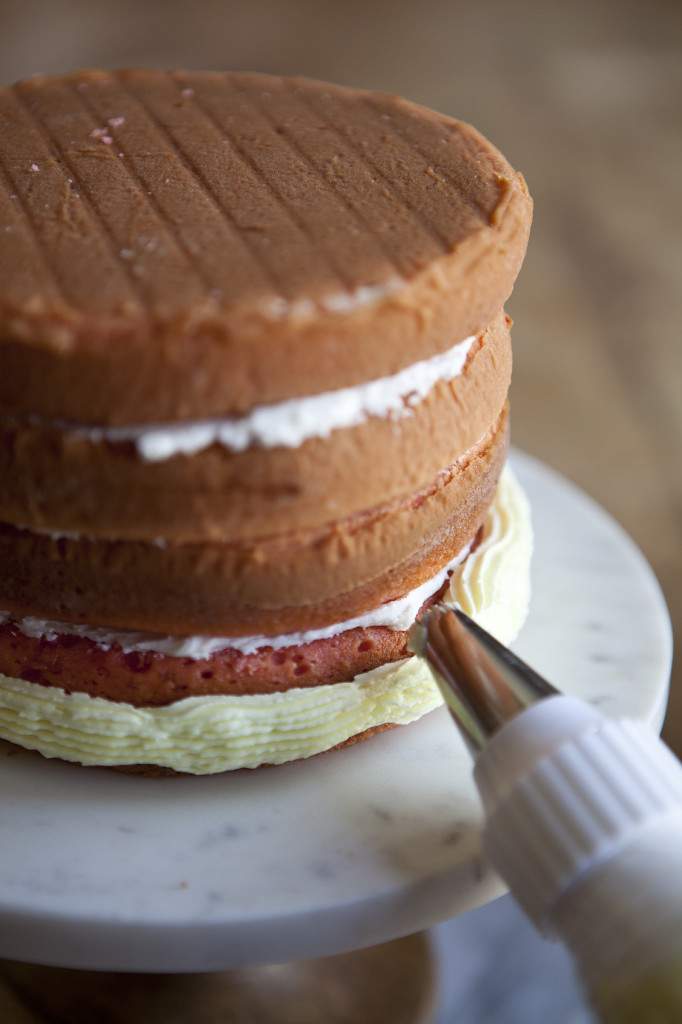 Instead of adding the frosting using a spatula… use a piping bag to pipe thick rows of icing onto the cake on all sides.
That makes so much more sense but it just never occurred to me before that this was a better way to get a uniform amount of icing on the cake.
Use a large opening metal tip if you can.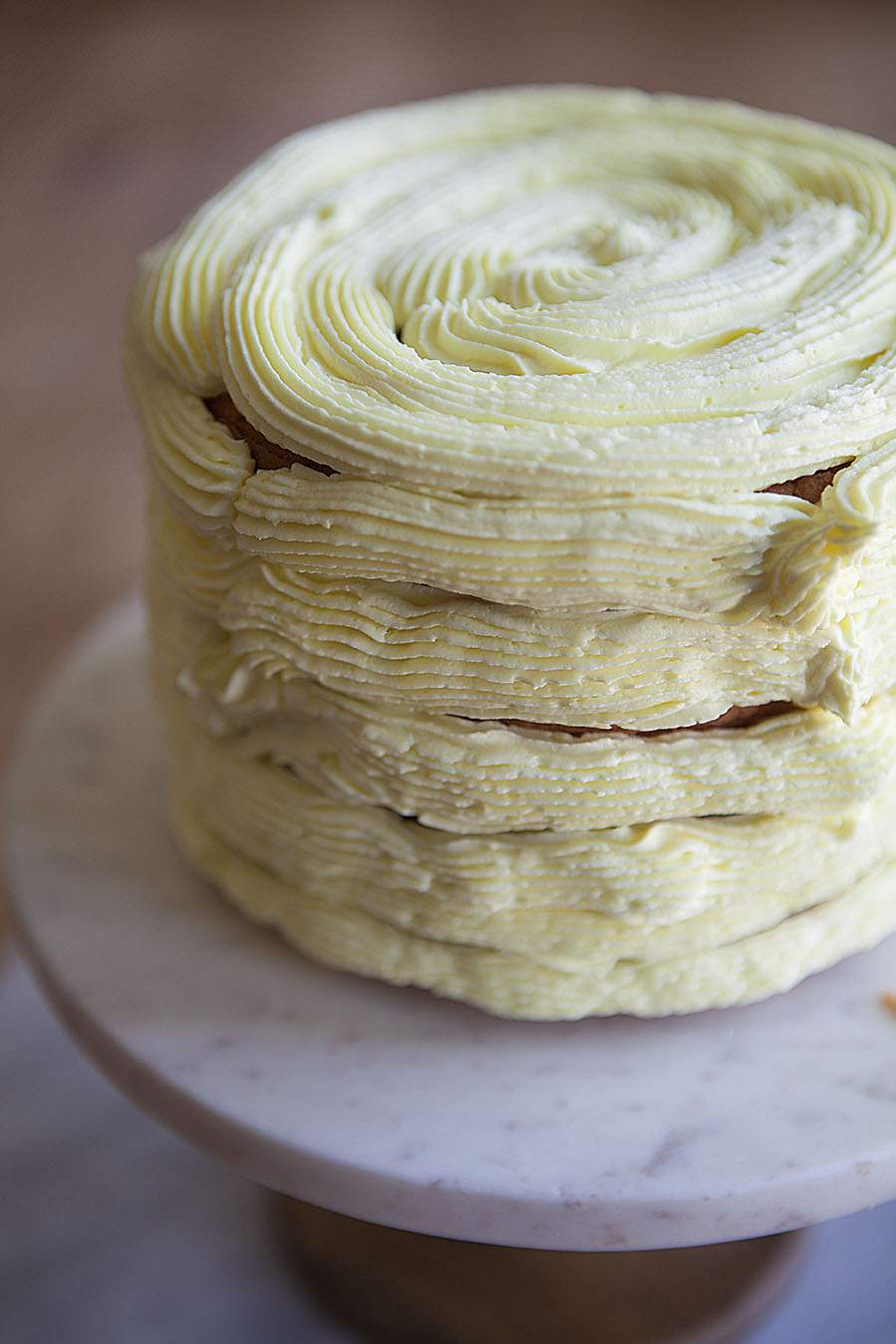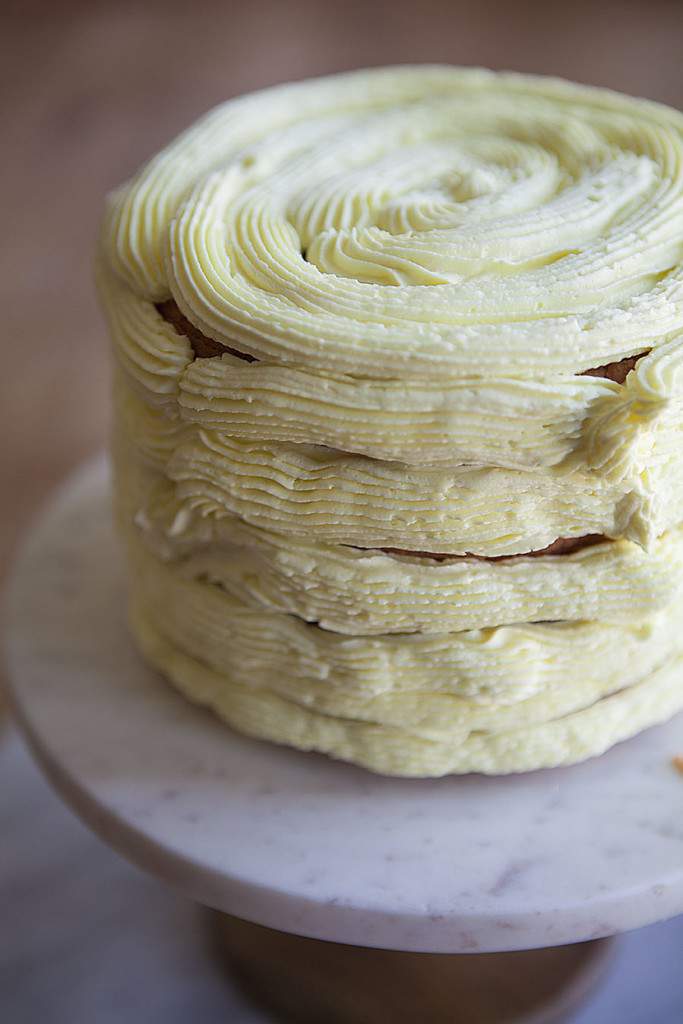 I ended up using a tip that causes ridges and if that's all you have on hand, no big deal.
Don't worry, these ridges will get smoothed over in the next step.
The main thing is that piping the frosting onto the cake gets a nice thick coat into place evenly.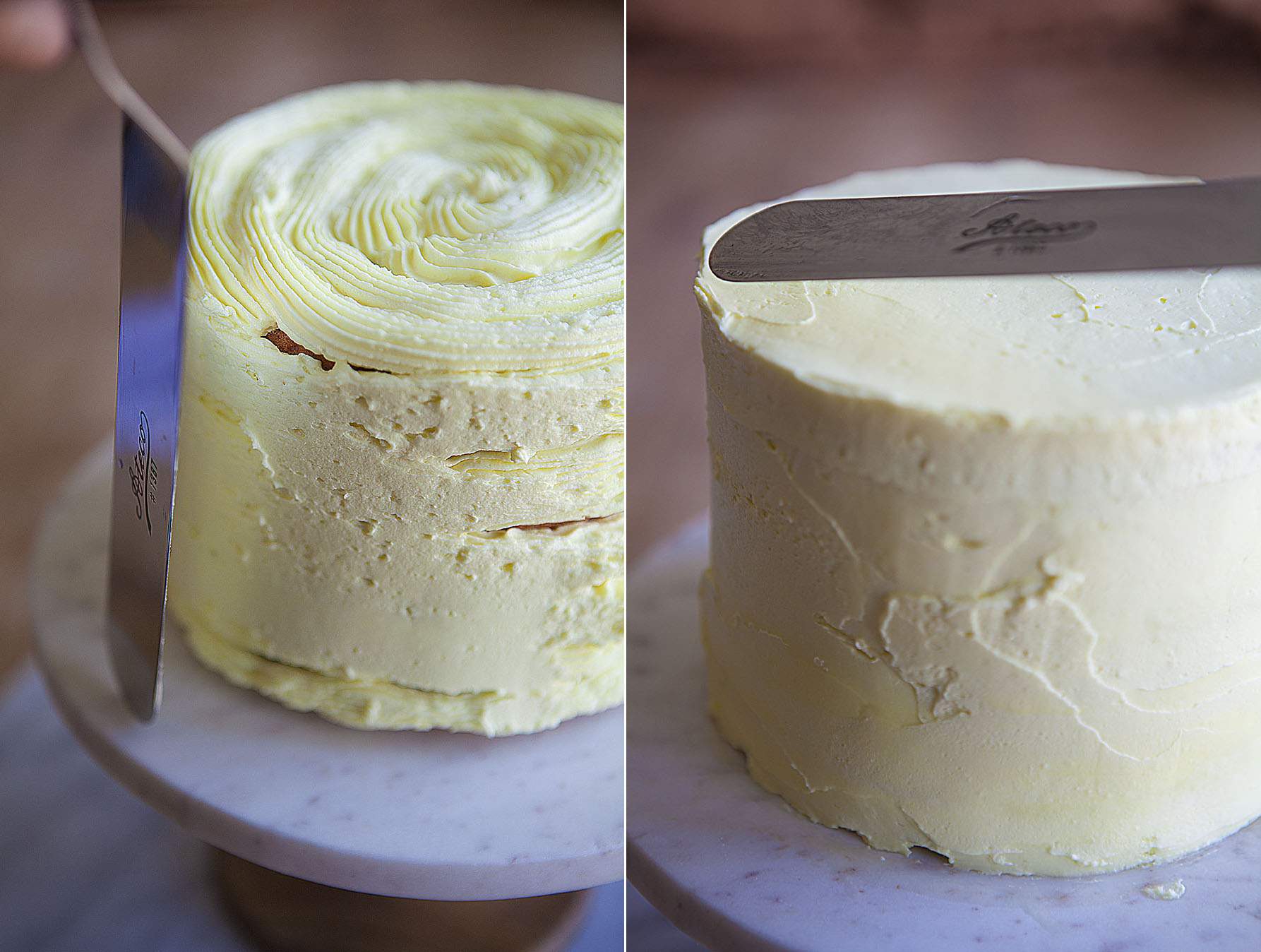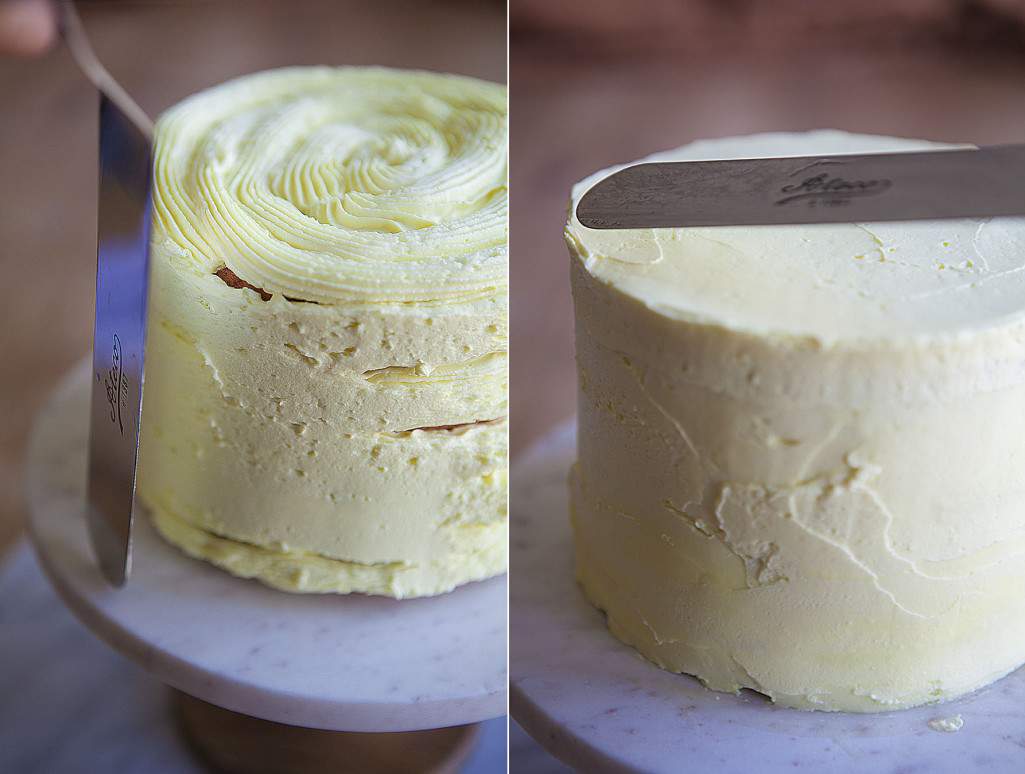 Use the off-set spatula to smooth over those ridged rows of icing.
It may help if you run the spatula under hot water and tap dry it.  The subtle heat from the blade will also slightly melt the buttercream as you're smoothing it.
Once the sides are smooth, just drag the off-set spatula over the top of the cake to smooth the frosting.
When this frosted cake is refrigerated the butter in the buttercream solidifies giving the cake a firm outer shell which creates a clean surface which makes it easier to top with decorative elements or florals without getting messy.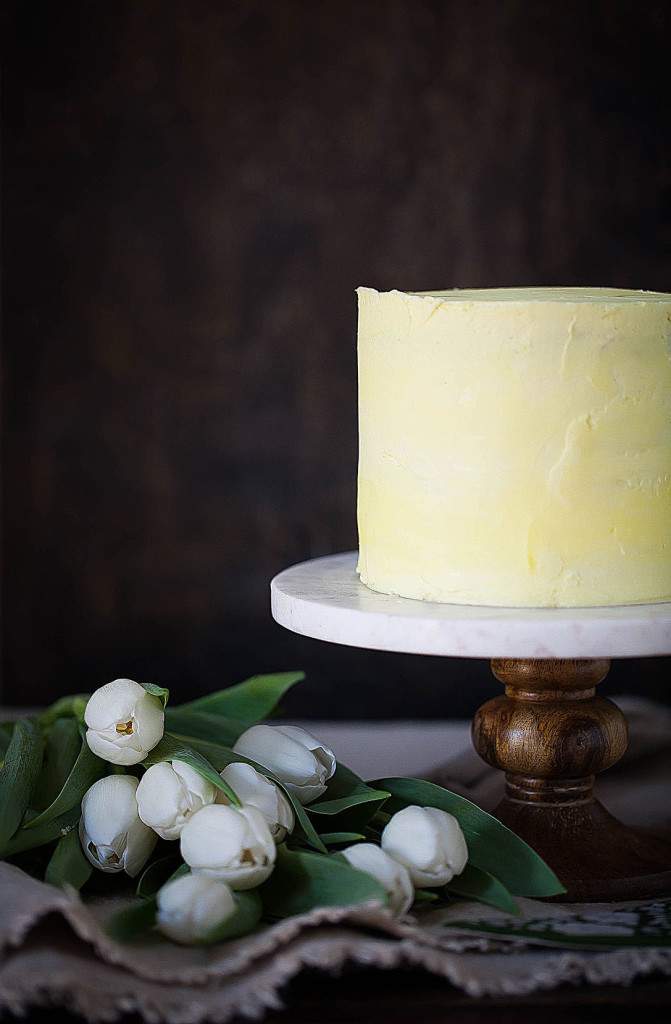 When my twin sister, Paula saw this picture she said I definitely needed a second coat of icing.
I have spotted a trend in cakes like this lately with more rustic, uneven frosting coverage.
You could go either way and I'm personally, I'm not bothered by the slightly transparent frosted areas.
If you want thicker coverage, refrigerate the cake for about 30-minutes and then pipe additional rows of frosting and repeat the smoothing steps.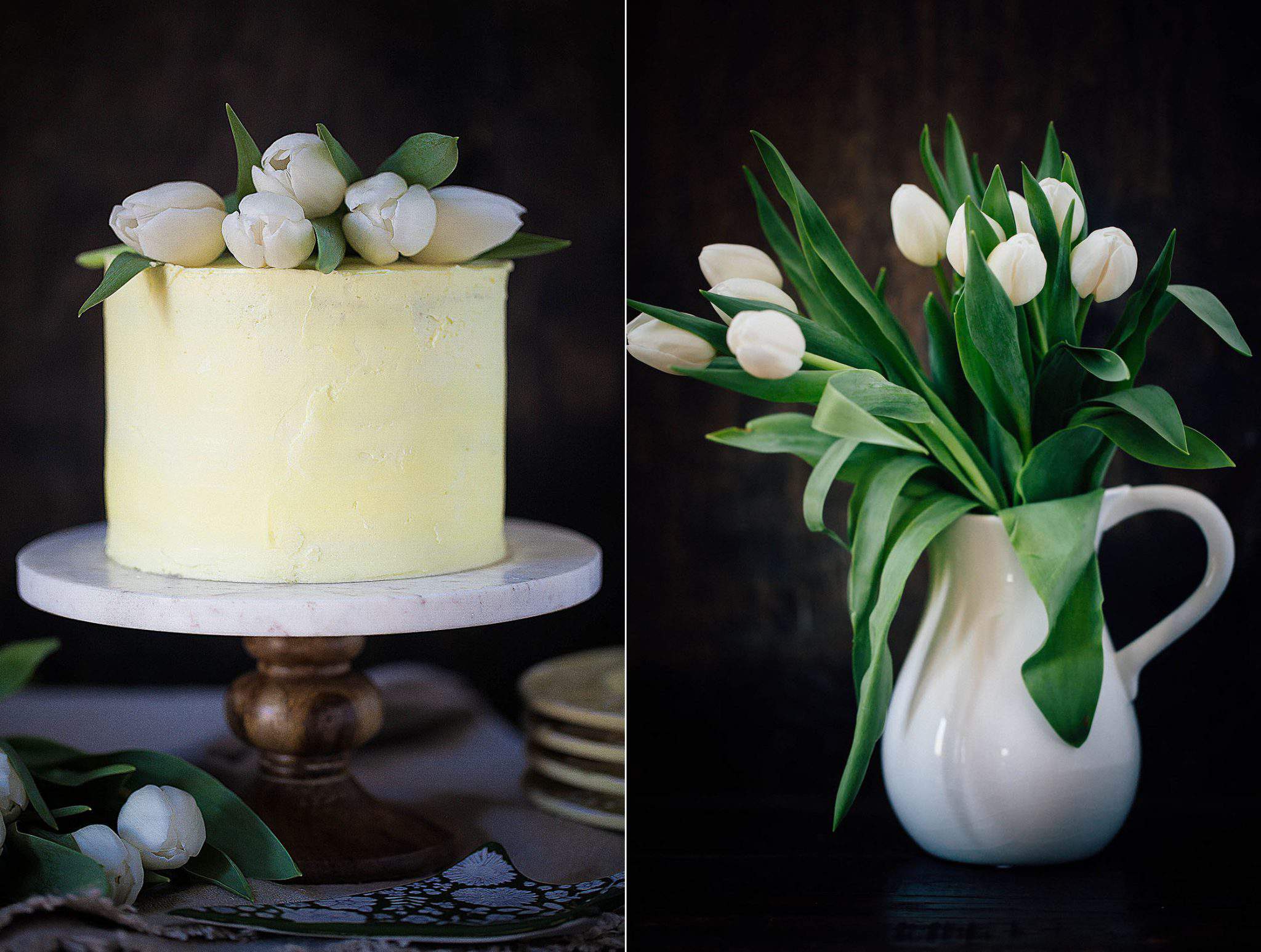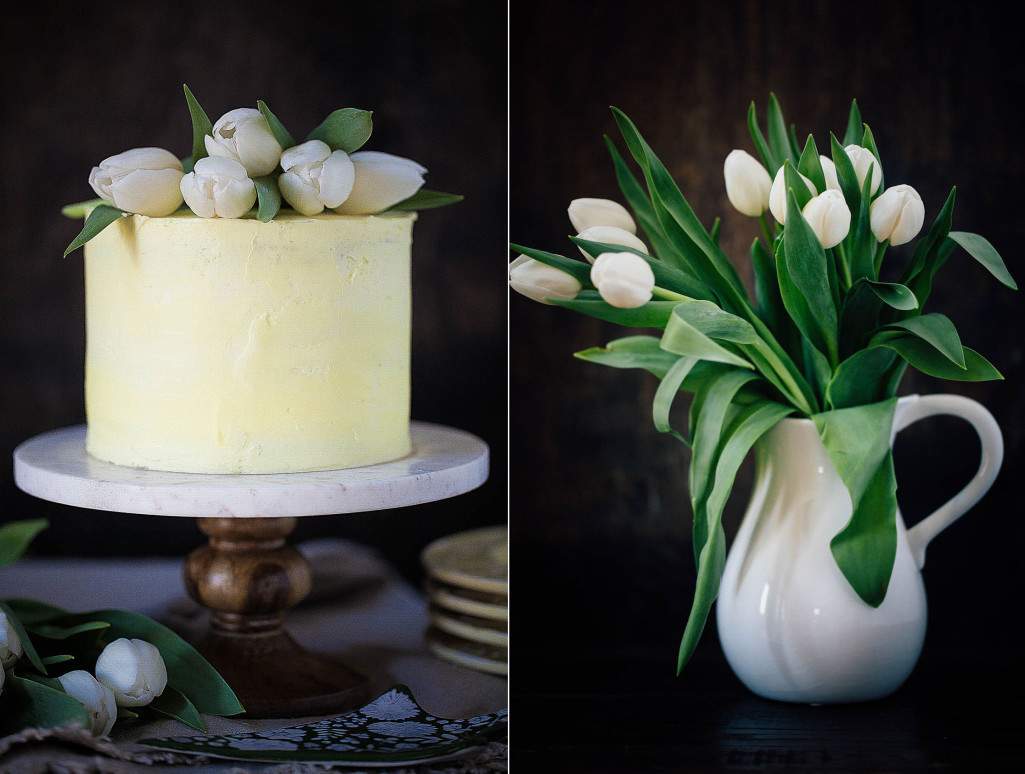 I'm sure there area ton of techniques to apply frosting and professional bakers (and others) may have other ideas about how this should be done.
This is how I approached it and I'm thrilled with how this cake turned out.
It's safe to say, I'm pretty hooked on frosting cakes right now… so, you'll be seeing much more of these beautiful desserts around here.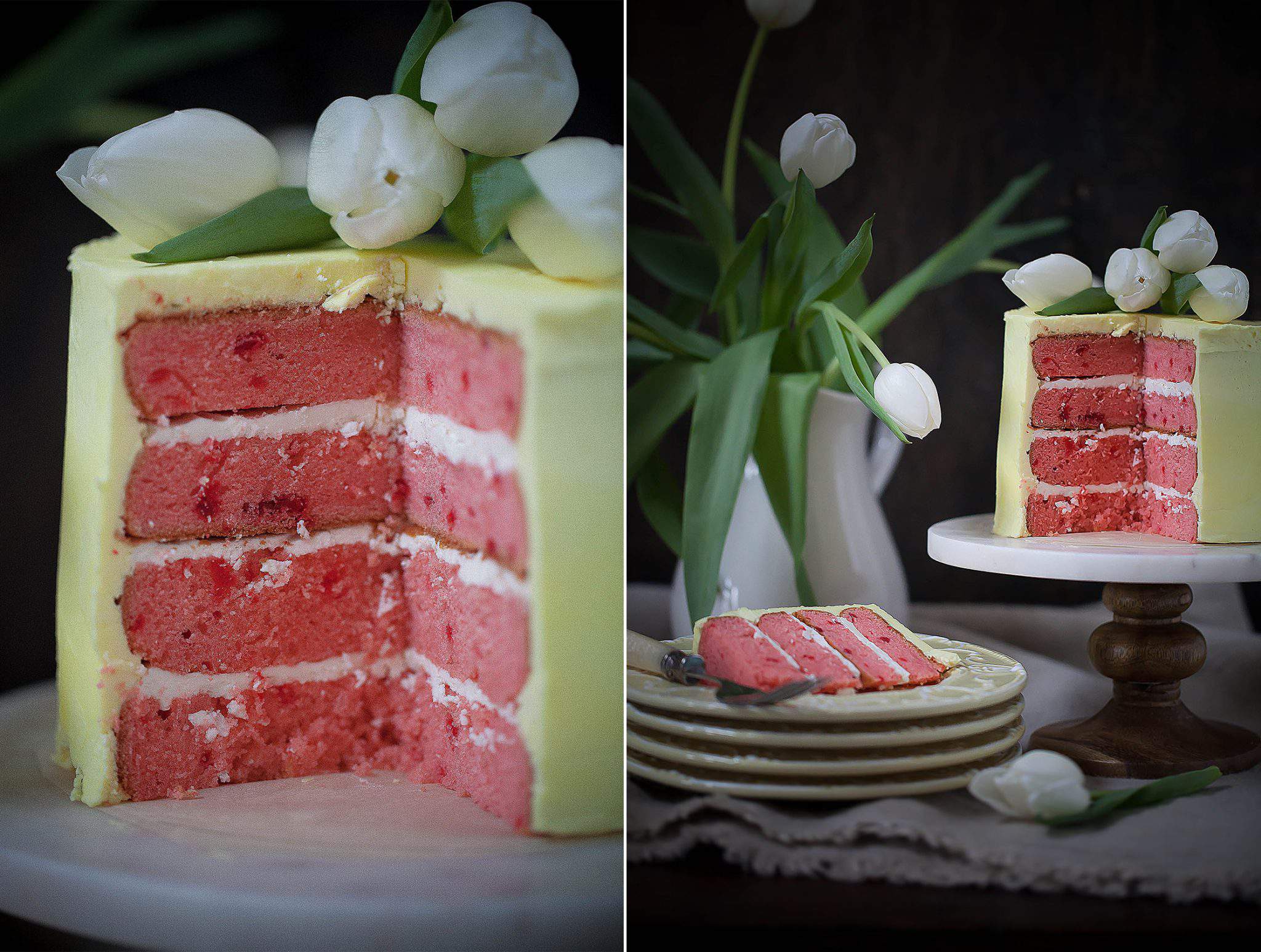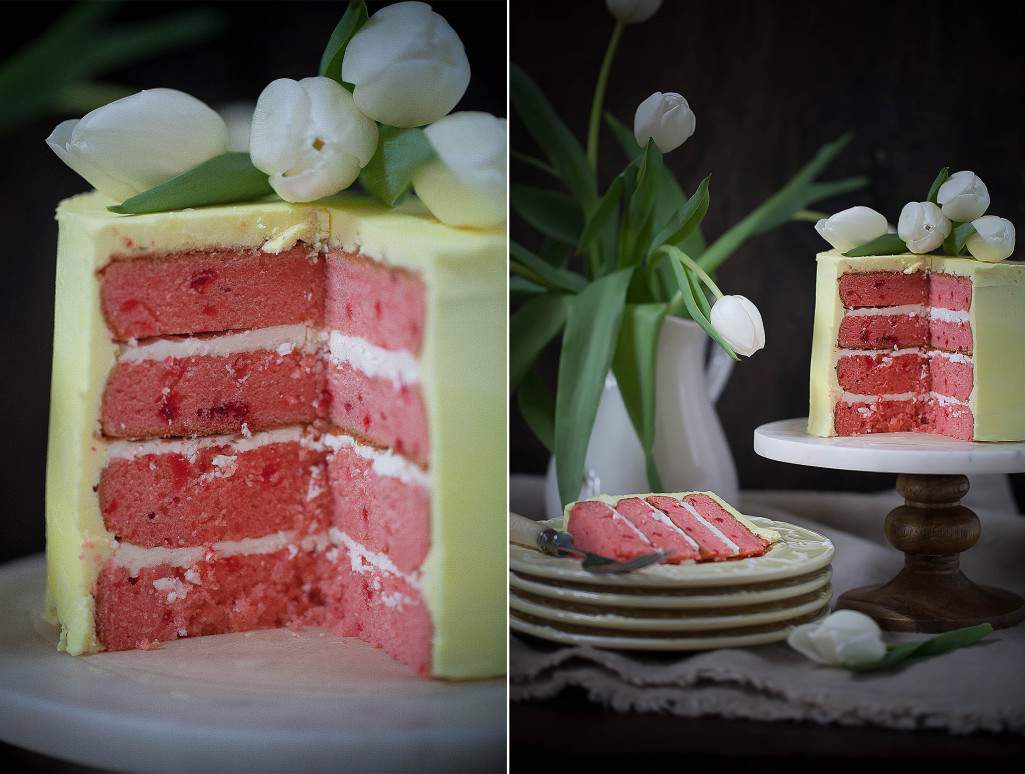 You could easily serve this cake up at a baby shower, special dinner or some other special event.
From my perspective this cake looks almost as good as a pricey cake from an upscale bakery.
Now that I know how to frost a cake and make it look like this… I may never buy a store-bought cake again.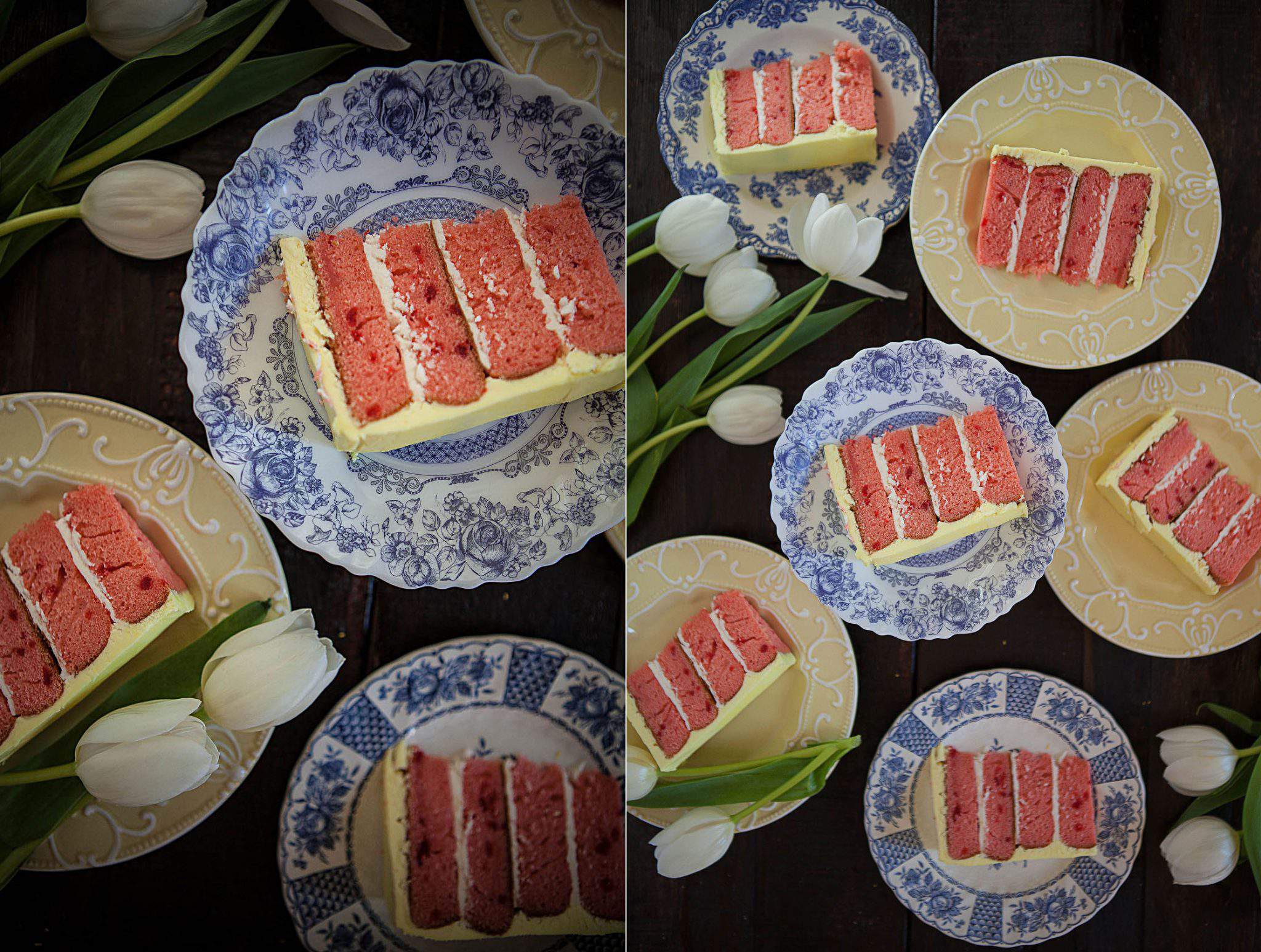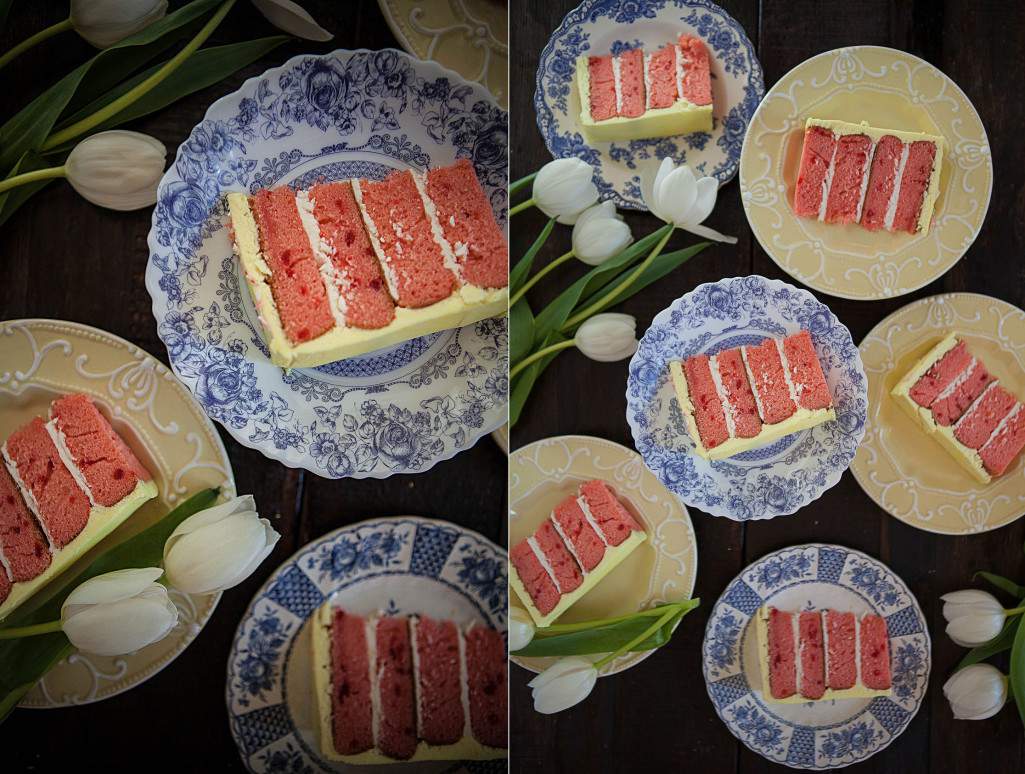 I can't end this post without sharing a look at the inside of this strawberry-infused, quadruple layer cake looks like on the inside.
I'm so excited about this new technique, don't be surprised to see a lot more cakes pop up around here as I perfect the process even more.
Really makes you want a slice, doesn't it?
Thanks for stopping by.
See  you back here next time. ♥