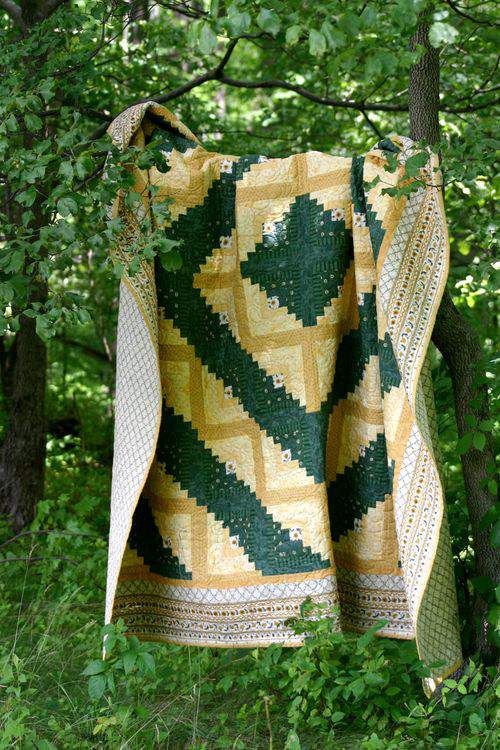 Happy New Year!  Hard to believe we're already into a brand new year.
Before embarking on the next 12-months of colorful crafts, projects, quilts and occasional recipes, I thought it would be fun to share a quick recap of the year that was.
Perhaps you missed a few projects from this blog last year.  Here's a rundown with thumbnails and links that will get you caught up on everything from celebrate CREATIVITY 2009. ♥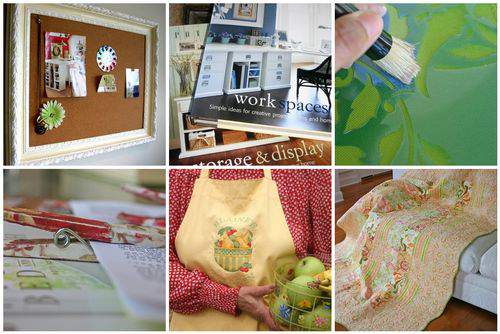 Stick a Pin in It Talk about a beauty makeover.  Turn a drab old picture and frame into an elegant bulletin board in no time at all.
Where Women Create Need to get more organized in the New year?  I think we can all relate.  Read a quick review of some great organization books that are helping me whip my own work space into tip-top shape.
Savvy Stenciling Transform a plain-Jane storage box into a fancier one with the addition of stenciling.  I share easy tips and techniques to make your stenciling project a success.
Hang Papers, Not Clothes Why use wooden clothes pins to hang clothes when you can use them to clip loose papers?  This easy decoupage project not only yields a pretty result, it will change the way you look at clothespins forever.
Apronology Aprons look fab on everyone.  Take a look at my sweet apron collection and also read a special introduction to Nana Banana (my mom).
Spring is in the Air After a dreary and cold winter, this Spring quilt will warm you up in quick order.  Scrumptious, colorful fabrics and a super easy quilt pattern make this a great weekend project for any skill level.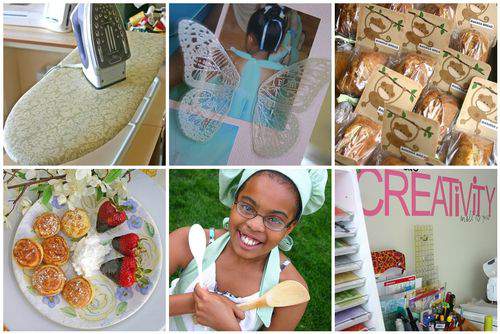 What is Old is New Again It's amazing what a yard of Damask canvas and a staple gun can accomplish.  Finally, a reason to be excited about ironing as you'll see with this easy ironing board makeover project.
Pretty Details and Butterfly Wings  Beautiful scrapbooking is often all about the little details.  That and a couple of butterfly wings.  Check out the elements that can make for a great scrapbook page and a tutorial on how to make translucent, winged embellishments.
Monkey Business Have a bake sale coming up?  The addition of these fun recipe cards will guarantee your baked goods will fly off that fundraising table.  Great project for kids to help out with.
Mom's Day Every mom deserves a special breakfast.  Your mom will love this Mother's Day dish which is so yummy, you can practically taste it through the computer screen.
Hats Off to the (little) Chef This cute chef hat tutorial is easy and the finished product will get anyone looking like the real deal in the kitchen.
Wordplay Create attractive, vinyl words and phrases for your wall to make a statement in any room in the house.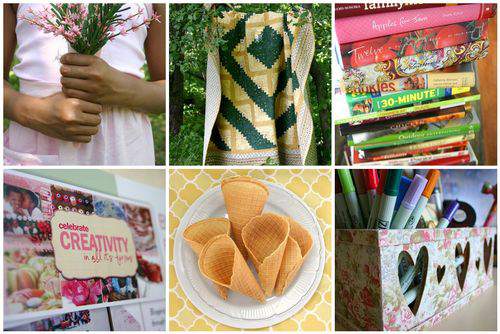 Pretty in Pink It's the color every little girl loves.  Take a look at how I turned a favorite old child's dress (that I couldn't bear to part with) into an adorable apron.  You'll love the finished project but you may end up having to cut a deal with your daughter to keep the new garment for yourself.
Quilts, Gardens and a Day in the Country A trip to the country turns into a fun day of fresh air, veggie gathering and a visit with Nana Banana.  It's also the backdrop for a great quilt project that will remind you of basket full of garden goodies.
Plentiful Cookbooks, Photography, Julia Child and Pistachio Pudding I love cookbooks and not just for the recipes.  They're great inspiration for improving my photography for this blog.  Take a trip through my cookbook collection for a look at where I get some of my photo inspiration.
Blogging for Bliss If you've ever thought of starting a blog or improving an existing one, this book with blogging tips and strategies is for you.  My blog (along with dozens of other must-visit sites) is also featured and my blog banner graces the back book jacket.  How cool is that?
Sweet September You haven't really tasted a waffle cone until you've made one by your own hands.  Your kids will also enjoy making these sweet treats.  Check out this post which includes an assortment of ideas on putting these cones to good use and really good taste.
Decorative Desk Decor Even a work desk needs pretty decor.  Here's another easy project to create a fashionable-looking storage container, mini notebooks and decorative clips to help keep those scattered desk items in place.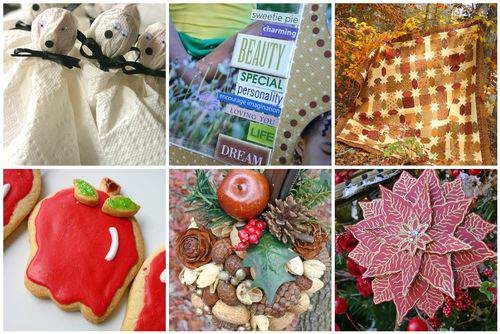 Boo to You Fall fun, scary scrapbooking and sweet treats are just some of the features in this Halloween roundup of projects and activities.
End of an Era A look back at Memory Makers scrapbooking magazine. Production on this long-running, popular magazine ended this year.  Also, get a close up look at some of my favorite layouts that were picked up by MM for publication.
Autumn Harvest  As the Fall season rolls in, you may want to warm up with this pretty Autumn quilt.  See how the easy quilt blocks are constructed with my step-by-step and download a PDF pattern to make it yourself.
A Bushel of Apples  You may be amazed at all the things you can do with a bushel of apples.  This fun post starts out with a visit to an apple orchard and ends up taking a bite out of half a dozen apple-themed projects that you can easily make yourself.
The Kissing Ball Like mistletoe, a holiday kissing ball will get you a few smooches.  This holiday decoration is not only a blast to make but legend has it that good fortune will befall anyone who walks under one.
The Pleasure of Poinsettias Nothing symbolizes the holiday season like Poinsettias.  Enjoy this step-by-step tutorial for a beautiful 3-D Poinsettia holiday medallion that can be used for much more than just cardmaking.
 ♥  ♥  ♥  ♥  ♥
So, that's a look back at the year that was.  Do you have a favorite project (or two) that was featured here last year?  I'd love to know which post stands out to you and why.
Also, throughout the next several months you may notice a few changes around here as I continue to tweak this site to make it a more informative, navigable and pleasant visiting experience.
A huge thanks to all of you for your interest and enthusiasm in my handiwork and I look forward to more fun, inspiration and loads of creativity in 2010.
Happy New Year! ♥