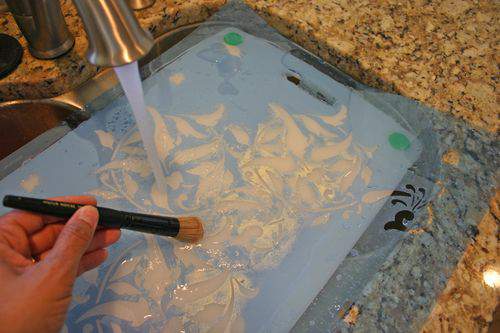 I must admit, I have a weakness for pretty storage solutions.  Of course, when it comes to storage it must be practical and useful above all else.  However, I've always thought storage options should be attractive as well.
Case in point?  This pretty storage box, which is not only fun to dress up-but a cinch to makeover.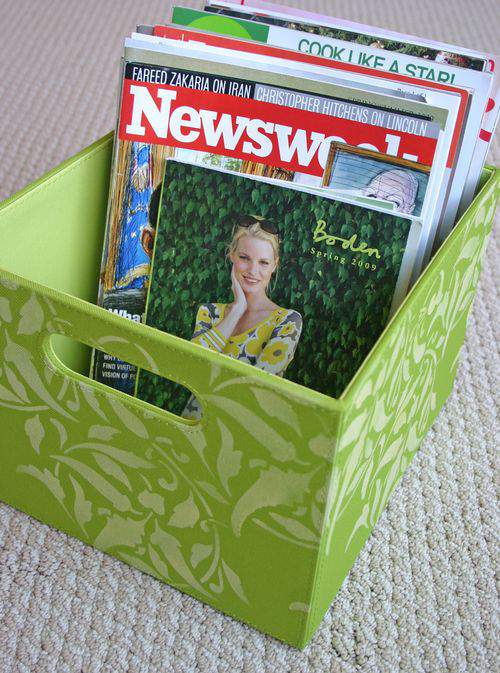 Start the project with any plain canvas storage box.  I'm sure I've mentioned that green is one of my favorite colors and this particular apple-green shade reminds me that spring and warm weather are not too far off.  
While this green tone is delicious "as-is", I still wanted to spice the box up a bit. That's where stenciling comes in.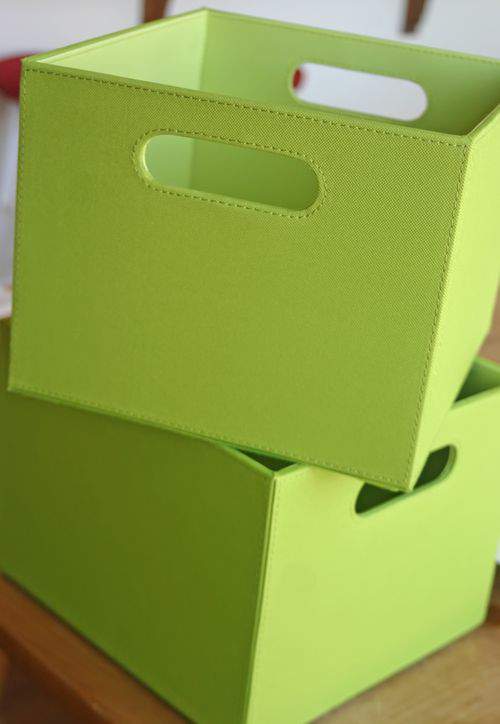 When stenciling, the brush is the most important tool.  Stencil brushes come in various sizes but they all have one feature in common.  The bristles on stencil brushes are short and blunt.  They remind me of a crew cut.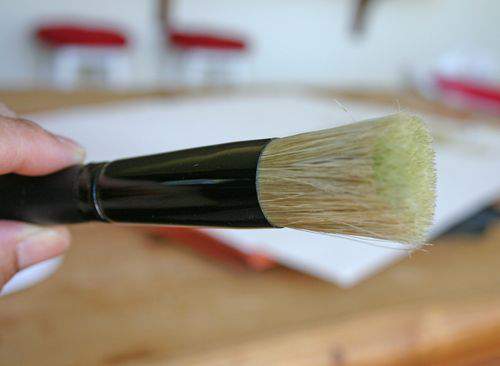 Acrylic craft paint is just fine for a project like this.  I love to use acrylic paint because it's water soluble and that makes for a super easy cleanup.   
That's especially important when it comes time to cleaning the actual stencil too.  More details on cleaning your stencils further down in this post.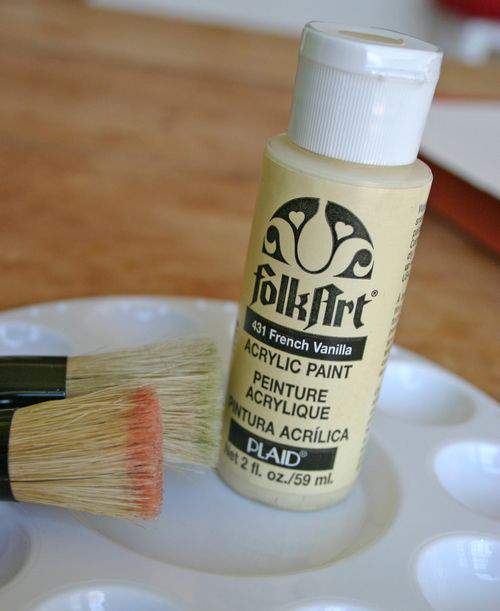 The stencil I used for this project is called Interlacing Leaves.  It's manufactured by a company called Royal Design Studio which has some of the prettiest and intricately designed stencils I've ever seen. 
The Royal Design website also features loads of stencil ideas, tips, tutorials and techniques.  I think it's a really good stencil product and information resource.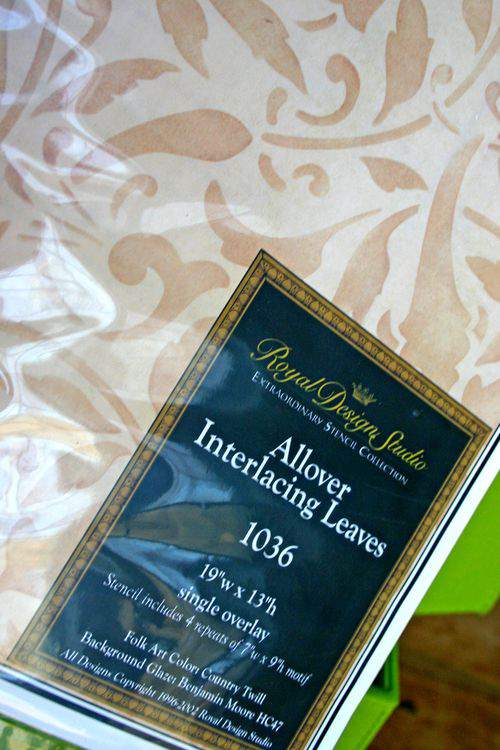 The stencil itself is made of Mylar which is like a thin, flexible plastic.  Make sure you handle your stencils with care because these more intricate designs can be very fragile and can be easily damaged. 
A damaged stencil is a total drag to work with and will almost certainly impact the smooth image transfer, giving you a less-than-desired result.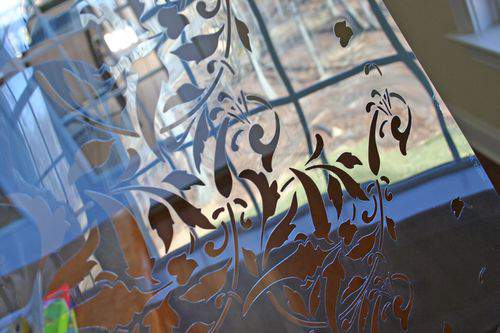 By the way, this stencil is the same one featured on the cover of the Winter 2009 issue of Creative Home magazine.  Look closely and you can see how the artist used this stencil design on the wall in the cover photo below.  The furniture in the cover photo is also stenciled and I think the artist did an amazing and inspiring job with the entire room.
One day, (when I'm feeling particularly adventurous) I may try this allover technique on my dining room wall and perhaps even on some furniture.  Now that would really be a grand post, wouldn't it?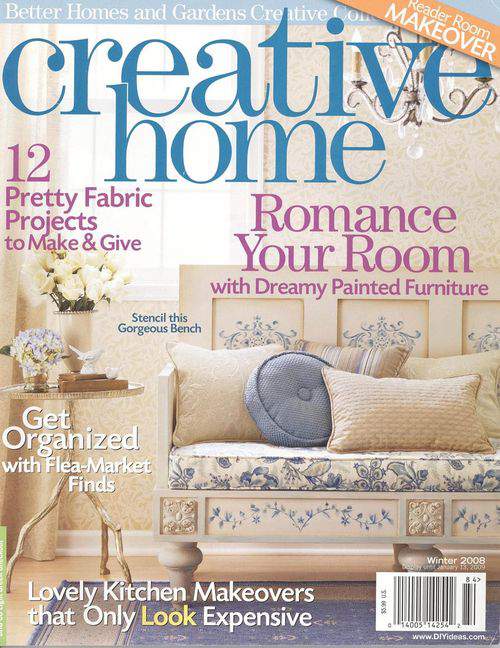 When stenciling, you only need a very small amount of paint.  After dipping the flat part of the brush in the paint you then have to "offload" the paint.  This just means you rub most of the paint off, onto a paper towel.  The brush will seem dry but that's just how little paint you need.
The offloading technique prevents you from using too much paint which would seep down behind the stencil.  You actually build color and shading in a design by slowly adding more and more individual "dry" layers of paint.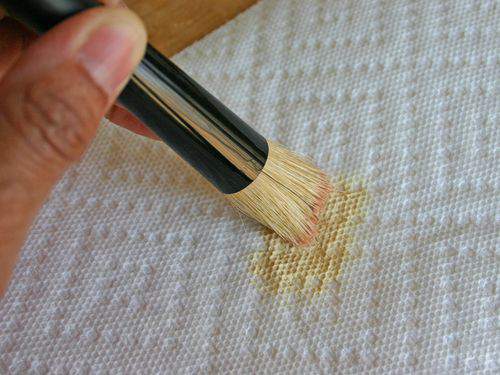 Gently rub the brush in a small circular motion across the cut-out areas of the stencil.  Generally, the stencil would need to be taped down if applying the image to a wall or very large surface. 
However, in this case because the side of the box is so small, I was able to simply hold the stencil in place as I brushed.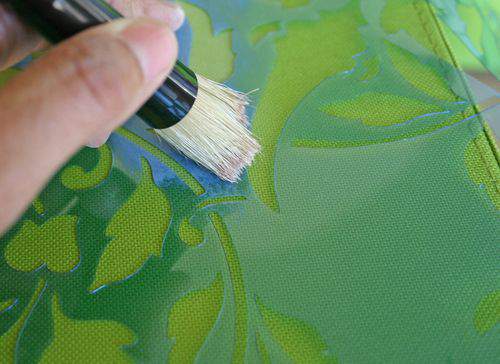 Once the entire area is covered, lift the stencil off the surface and see the image created as in the photo below.  If there are blank areas that you want to fill in, just reposition the stencil and add more designs to the project. 
If you were using this design on a large wall or surface, you would use registration marks, (which are guide marks cut into the Mylar) to help you line up the design for an even and consistent allover image placement.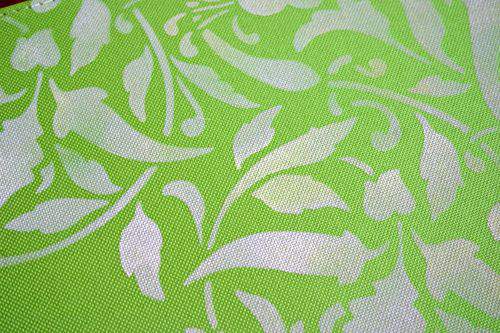 I love this French Vanilla paint color but imagine how subtle the pattern would have been if I had used a green color just one shade off from the color of the box. 
A monochromatic approach with the paint is a good way to get a more subtle and understated appearance.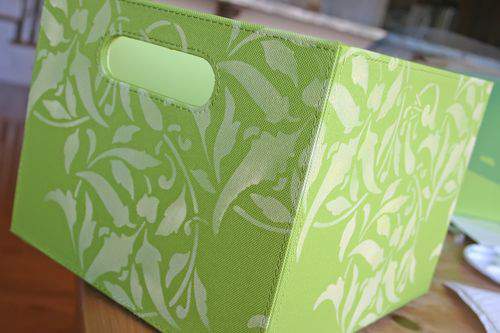 The various shades in stenciling are created by slowly building up layers of paint.  It can be time consuming but that little bit of extra time results in more dramatic coloring of the finished image.
The photos below are examples of the slight shading that can be achieved in stenciling.  I stenciled these grapes and leaves onto poster boards just for practice.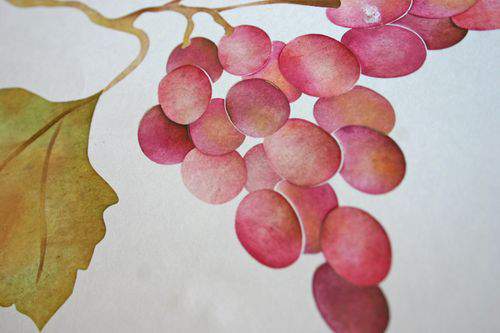 If you plan to stencil a very large surface, I think it's a good idea to practice on a poster board first.  That's a really good way to get the hang of color building and shading before actually tackling a wall or other large area.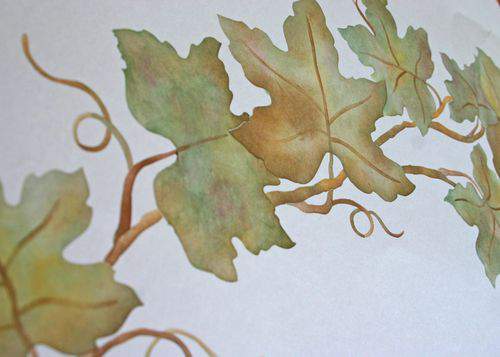 A small fine-detail brush can also be used to add more free hand elements to the completed stenciled image, which is what I used for the leaf veining here.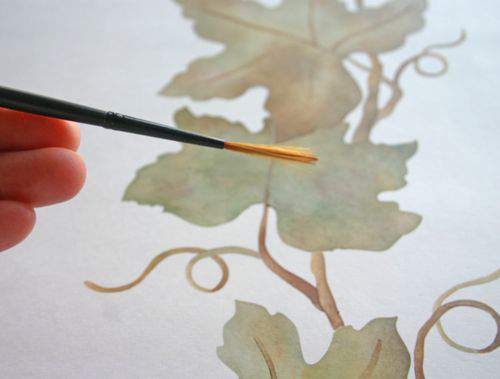 For a quick blast from the past, the next three photos below represent one of my very first stenciling efforts ten years ago.  I stenciled this picket fence mural across my daughter's bedroom wall as part of a garden theme.
I used several metal "L" brackets to attach real birdhouses to the stenciled posts for a 3-dimensional look.  The stencils used for this project are from a company called Designer Stencils.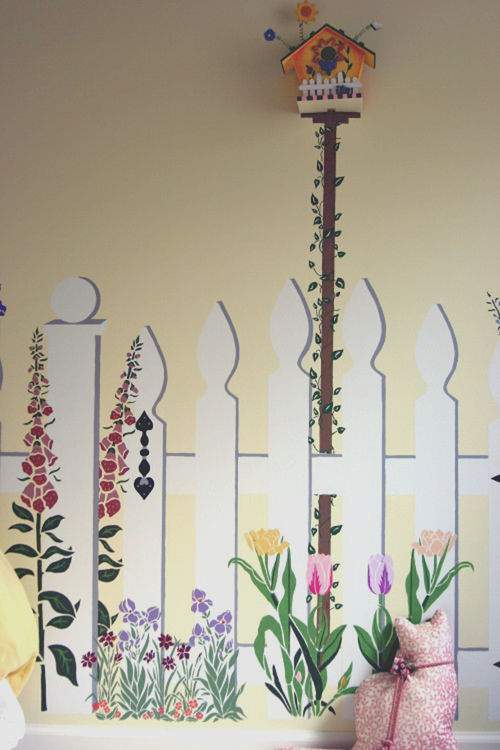 This wall mural was a pretty ambitious project for me at the time because I tackled it when I was about 8 1/2 months pregnant.  
My tummy kept restricting my flexibility and physical comfort, so I didn't do all I could have in terms of stenciling technique.  Also, because I was just learning to stencil I didn't fully understand the enhanced impact that shading and color building can have on the result.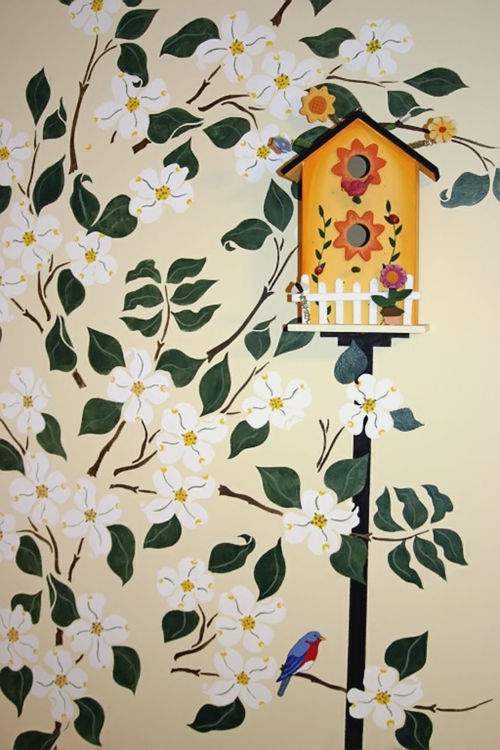 I remember being so anxious to get the room finished before the new baby arrived, that I took on the project without giving any thought to taking extra time to do any color shading. 
I do think it turned out nicely, but I would definitely approach a project like this differently today for a more translucent and realistic look.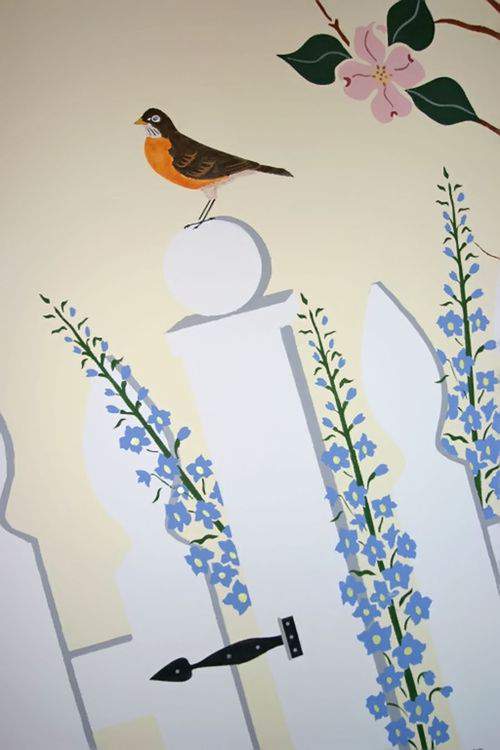 Here's a fun and easy twist on stenciling that I applied to my son's bedroom wall using blue painter's tape.  
To do this, use the painter's tape to mask off the lighthouse area and to create the diagonal lines. Then simply paint between the taped lines.  Let dry and peel the tape off for a clean look.
I used the same tape masking technique to mark and create the small windows, roof and flag.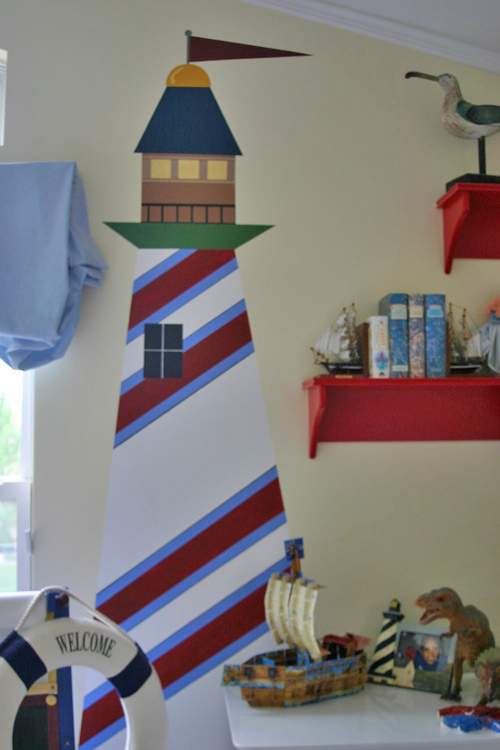 Getting back to more traditional stenciling, here's another image I practiced on poster board.  I love this pretty kitty surrounded by lush ferns and flowers.  I'll share the project using this cute cat later in an upcoming post. 
These stencils are from Buckingham Stencils which also has a fantastic book which features this fine feline.  The book is called Stenciling on a Grand Scale: Using Simple Stencils to Create Visual Magic and it's one of my favorite stencil publications because of all the pretty projects and fancy techniques included.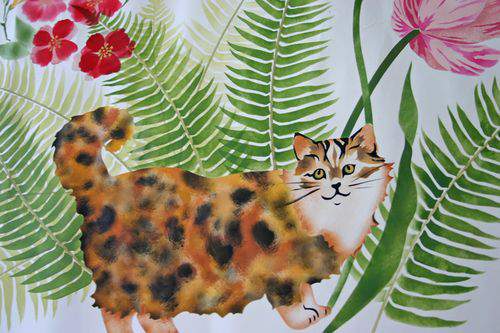 I was really eager to practice the technique of layering stencil upon stencil.  This stencil-layering is a really beautiful technique and it gives the image depth and the appearance that some ferns are actually sitting behind other ferns and that the cat is standing in front of all the fauna. 
As you can see the ferns are not so flat.  Instead, they have a more translucent appearance.  I'm still practicing this stencil-layering technique which can be applied to virtually any stencil.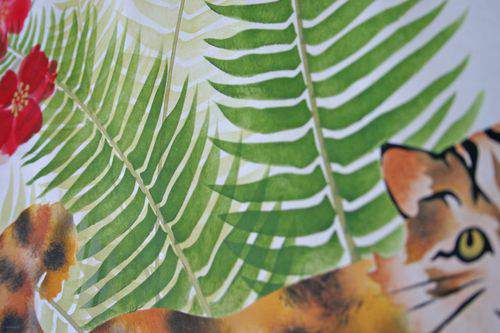 While cleaning stencils is not always necessary, I think it's a good idea to clean them of built-up paint whenever possible.  
Many areas of the stencil design are very fragile so you must take great care when cleaning them to prevent damage to the Mylar.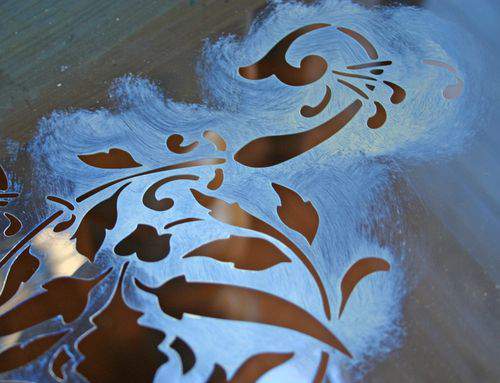 Here's my stencil cleaning tip:  Lay the stencil over a plastic cutting board for support and then place the cutting board over the sink.  Run warm water directly onto the stencil and then using the stencil brush or a small soft-bristled fingernail brush, gently rub the dried paint off the Mylar. 
Set aside to dry completely 
It's a good idea to store your dry stencils flat so the Mylar won't bend out of shape over time.  I keep all my stencils in large paper portfolios that I picked up from an office supply store.
I also have them organized by manufacturer so I can find what I want right away.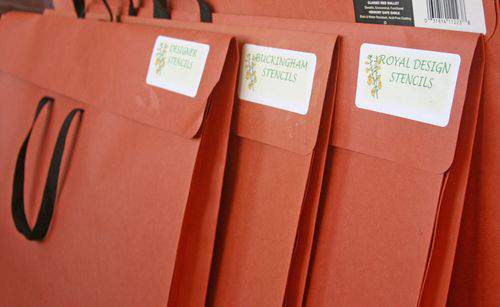 There are tons of really good stencil books available.  It's fun to browse through so many pretty projects and see all the great work that other artists have created. 
Flipping through these wonderful books is also a good way to not only learn new techniques but also find inspiration for your own projects. 
By the way, you'll also notice that the word stenciling can be spelled with one "l" or two.  According to Webster's dictionary either spelling is correct.
As you can see there is a world of stenciling possibilities.  As for my new apple-green storage box, it's now home to all my favorite current magazines. 
It's much easier for me to keep up with the publications I haven't read yet when they're all in one place.  Of course, a pretty box never hurts.
I think stenciled boxes would make a wonderful gift for someone special. 
Consider a personalized children's box featuring a stenciled name and fun, brightly-colored images.  Fill it with toys or pretty new clothes and that would make a great offering for any youngster. 
Come to think of it, add some savvy stenciling and I think a lot of grownups who would also enjoy a goodie-filled box like that.