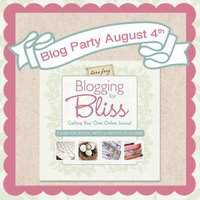 I've been blogging now for two years and every now and then I still get a familiar question, "Lisa why do you blog?"   Well, I could certainly go on and on about that but perhaps the simplest answer has to do with Blogging for Bliss.
That also happens to be the title of a new book that I think you'll love.

The eagerly-awaited Blogging for Bliss by Tara Frey is now available at a bookstore near you.  It's a delightfully, wonderful guide for "crafting your own online journal".
This book is not just for beginner bloggers either.  Even seasoned bloggers will find useful information that can be applied to their blog right away. 
Blogging for Bliss is a fantastic resource for anyone interested in blogging.
The book is broken into 7 chapters including Why Blog for Bliss, Tools of the Trade, Learning the Ropes, Beauty and the Blog, Traffic School, Finding Business in Bliss and If Emily Post(ed). 
There's a little something for any blogger in these chapters which touches on a bit of everything you'll need to jumpstart a new blog or just get busy spicing up an existing site.
You may recognize author Tara Frey from her blog called Typing Out Loud, as well as her columns and contributions to various home decor magazines.  
With this book, Tara definitely takes her writing talents to a new level with a thoughtful, well-organized and aesthetically pleasing guide through the blogging world.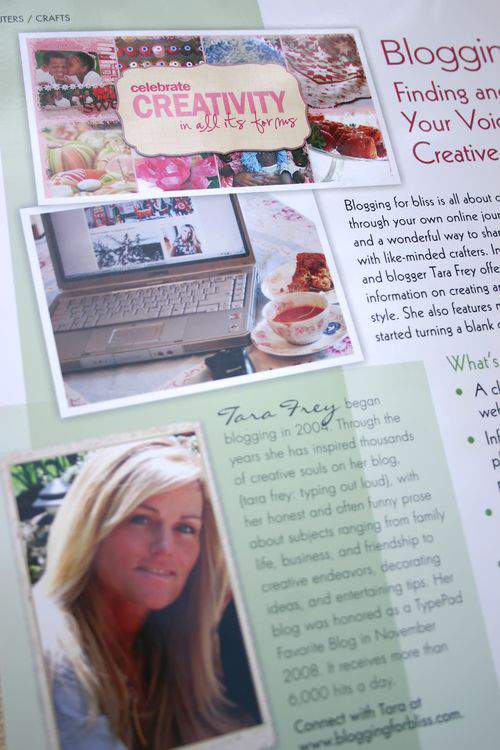 I really appreciate the honor that comes with the inclusion of my blog banner on the back cover of the book.  How cool is that? 
Many of you may remember when I re-designed and replaced my old banner last year with this new one.  I had a very particular look in mind with specific photos and fonts and the talented Sara Duckett from Sadie Olive Design was able to execute my vision exactly the way I wanted.  Sara's beautiful blog is also featured in Blogging for Bliss. 
Blogging for me has been a wonderful way of connecting with like-minded crafters from all over the world.  Those connections to blogging buddies have been a pretty amazing aspect of blogging. 
I remember when I first started blogging I just wanted to share a few projects here and there.  Now, my blogging efforts have evolved into full-fledged tutorials with a news you can use approach that I hope gets those creative juice flowing in everyone who pops in for a visit.
Blogging for Bliss is a visual feast that guides you through many (and often overlooked) elements of blogging.  If you're like me, you like pictures with your instruction.  The delicious photos in this book help to clearly illustrate the content and makes learning about blogging that much more fun and easy to understand.
For example, if you're just starting out, Tara walks you through the various platforms available by actually showing you what the different options look like. 
I personally like the Typepad platform because it has really allowed me to totally customize the appearance of my site.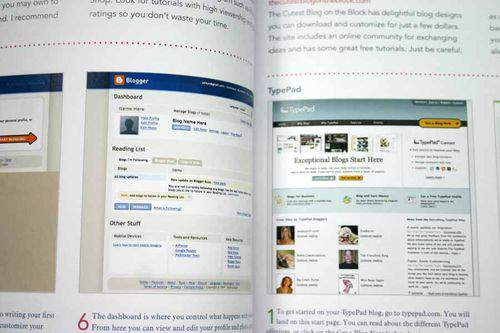 Blogging for Bliss is loaded with useful information that can help you find your blogging voice, style and so much more. 
If you're interested in improving the pictures in your blog posts, consider adding frames to your photos.  Tara doesn't just tell you how to do it, she shows you. 
These kinds of visual-based lessons are throughout the book.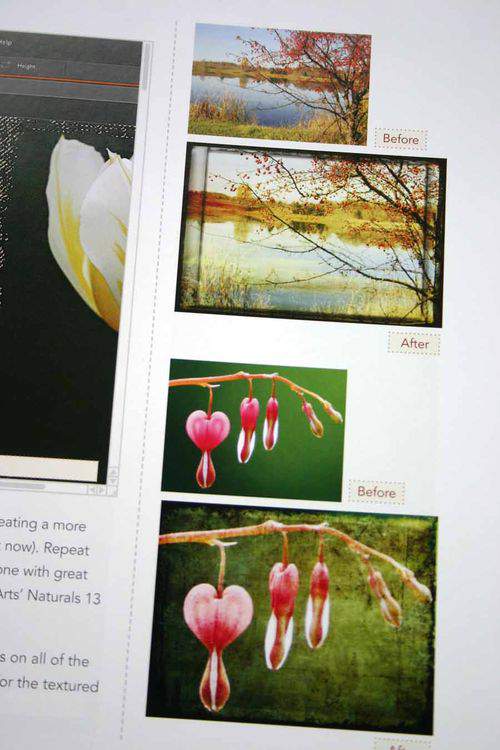 You'll also find loads of gorgeous screen grabs from many talented bloggers with plenty of inspiration to improve your own photography for blog posting or otherwise.
Additional tips are beautifully incorporated into the sidebar throughout many pages of the book. 
Get ready to soak in a lot of eye candy.
Among many other special tid-bits, you'll enjoy reading a fun list of definitions for many of those oft-used, cyber-acronyms that dot the blogosphere.  Now, you'll know as much as your kids do about cyber-speak.
I've seen many of these letter combinations around and it's nice to finally know what some of them actually mean-LOL.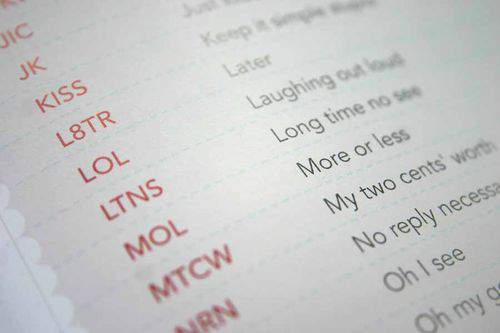 Also sprinkled throughout the book are dozens of "Meet the Blogger" segments which spotlight various bloggers who discuss their unique approach to blogging.
I'm thrilled to be included with such a talented group of bloggers who are taking the blogosphere by storm with their colorful, fun and creative sites.
Many of the bloggers highlighted in this book are participating in a book-release party on August 4, 2009 over at Kara's of Arsty Mama whose fun and crafty blog is also featured in Blogging for Bliss. 
You can pop in and join the fun if you click here.
In the meantime, to celebrate the release of this wonderful book (and my second blogiversary), I'm giving away a copy of Blogging for Bliss.  
Just leave a brief comment sharing why you blog for bliss (or visit blogs for bliss) between now and Thursday August 13, 2009 at 9 AM EST. 
I think everyone will enjoy reading the fun responses and maybe in the process we'll also inspire some folks to start their own online journal.
I'll pick a name at random from all the entries.  Please don't forget to leave your name and e-mail in your comment so I'll be able to contact you if your name is picked for a copy of the book.  
I'll post the winner's name here.
Until then, continue celebrating your own creativity and Blogging for Bliss.