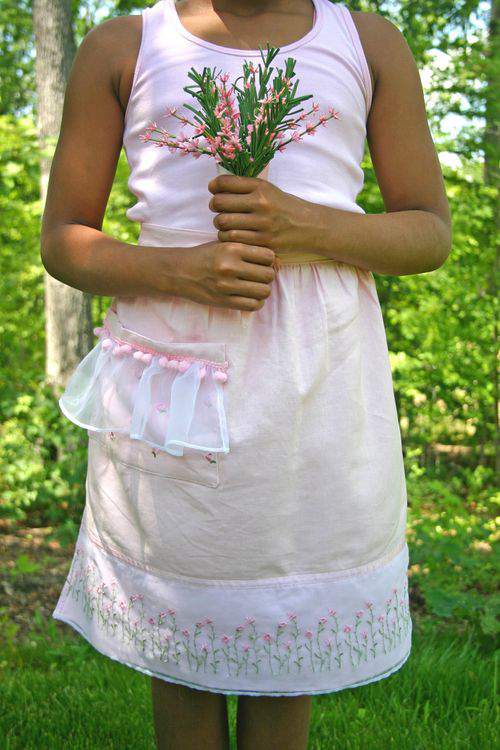 If you're like me you can never get enough of a great apron project.
I love the look of my latest apron with its sheer fabric and complimentary crisp, pink cotton.  It's a perfect combination of soft textures and subtle color.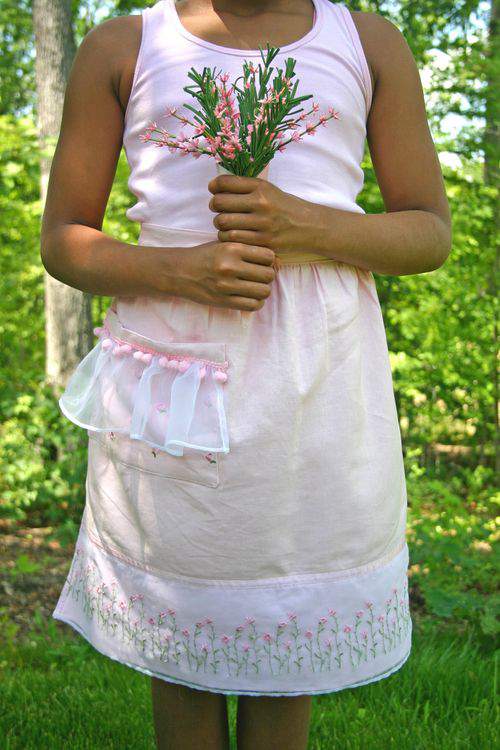 This project is another fun example of how you can take something very old and turn it into something new-giving it new life and new function at the same time.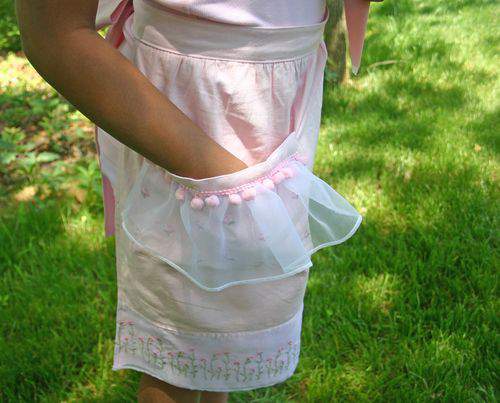 Take a look at the photo below to see what this pretty pink apron used to look like.
Yes, once upon a time, this apron was a dress  I bought the dress for Cameron to wear for a school picture when she was six years old, four years and half ago.  Wow, time flies.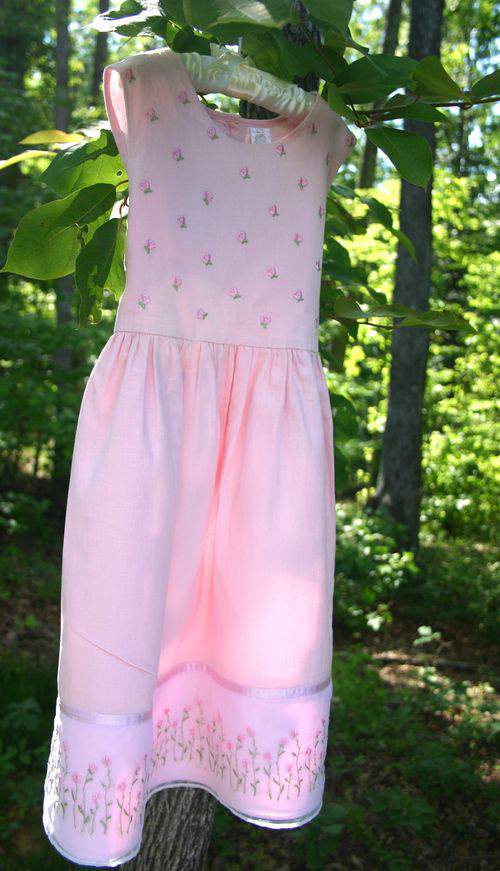 The class photo was adorable and I ended up creating this scrapbook page out it.  The layout was published by Memory Makers magazine a few years ago and it was nice to have such a special printed keepsake of the sweet frock and Cameron's sweet smile.
Despite the published keepsake, I still hung on to the dress which eventually got lost in the closet amidst more current attire.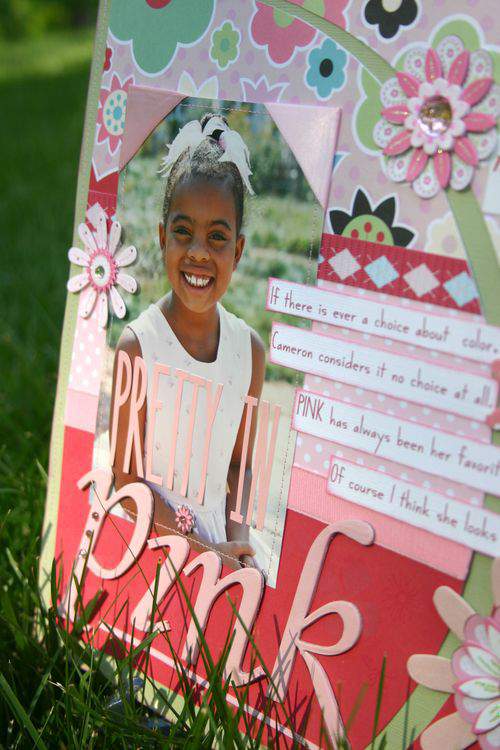 I recently came across the dress while cleaning out Cameron's closet and once again, couldn't bear the thought of giving it away.
How could anyone consider parting with a dress this gorgeous?  As I admired the beautiful blooming trim and fabric combinations, the idea of turning this into something else popped in my head.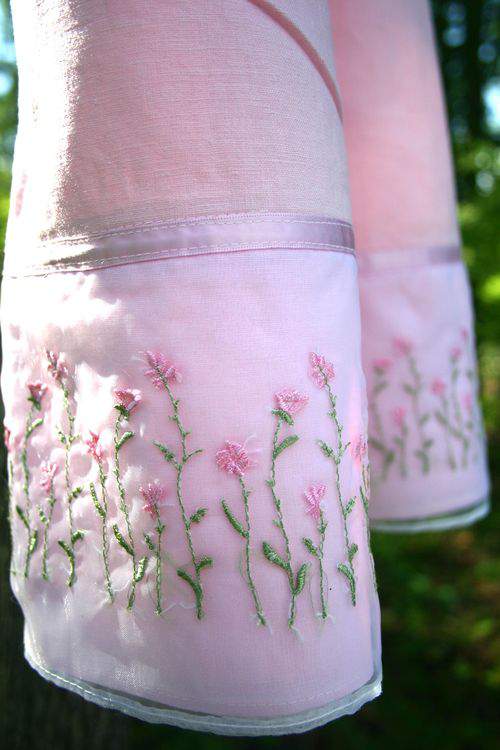 You may know by now how I feel about re-purposing. 
First step was to de-construct the dress by carefully opening up every seam with a seam-ripper.  I laid all the pieces out on the floor to get a good look at what I had to work with.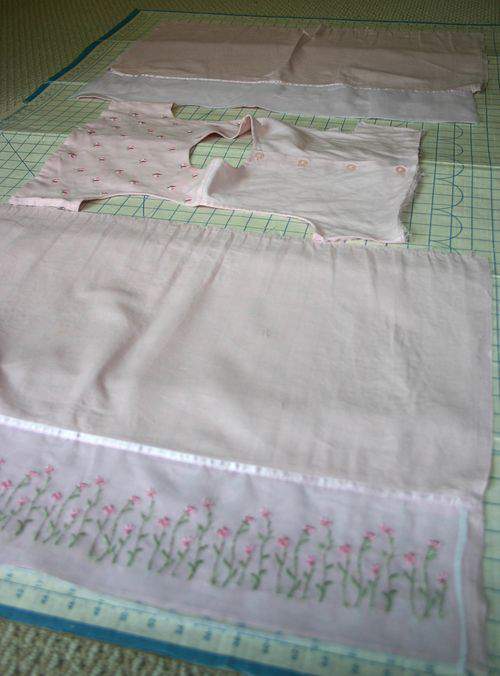 Since the front part of the apron was pretty much already intact, all I had to do was gather the top edge of the panel and then finish off the edges by turning over 1/4-inch (twice) and top-stitching. 
It was easy enough to cut a waistband from the dress' back panel.  After attaching the waistband, I'm halfway there.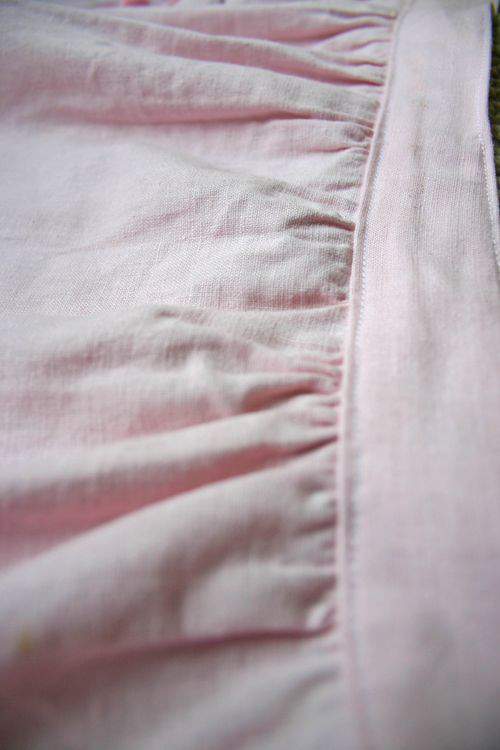 I initially thought I might need to go find some matching cotton to make the ties but there was actually more than enough fabric from the back panel of the dress which didn't have any embroidery across the bottom.
After creating the ties, I stitched a small pleat at the base of each one before attaching them to the waistband.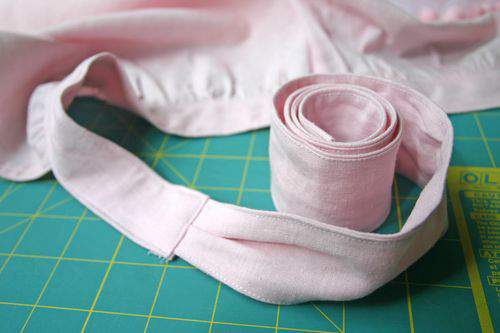 I loved the look of the pretty little pink buttons in the back dress bodice.  While I ended up not using this pocket for the apron, I wanted to share it here anyway because it really illustrates how every part of the dress can be used.
I'll hang on to this pocket for a future project.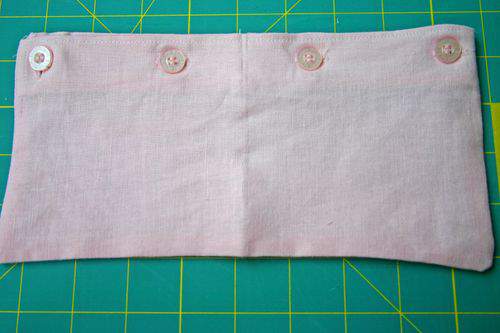 While looking for a nice way to top-off the apron pocket I did decide to use, I discovered this wonderful pink ball fringe. 
Ball fringe is such a fun-looking embellishment and it's great for use on pillows, dolls and endless other projects.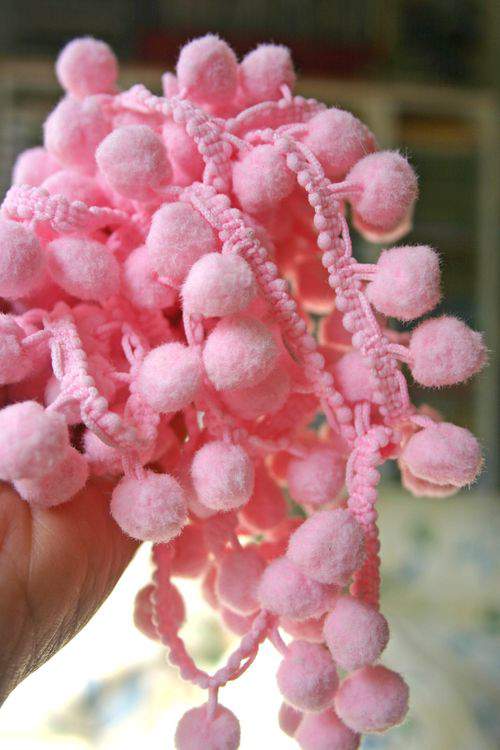 Before attaching the fringe, I gathered a small amount of the plain sheer fabric from the back panel of the dress.
Then, I stitched the sheer fabric under the pocket that I made out of the rose-embroidered dress bodice.  After securing the sheer fabric, I top stitched the edge and then added the ball fringe.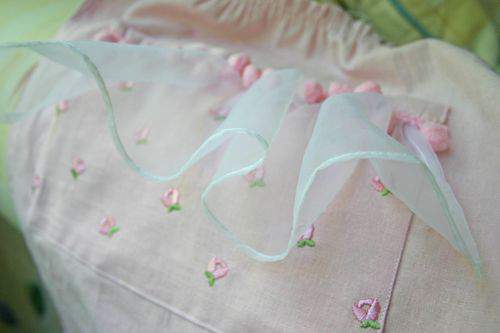 Here's how the pocket looks attached to the apron.  I like the way the sheer fabric in the pocket ties into the sheer fabric across that runs across the bottom of the apron.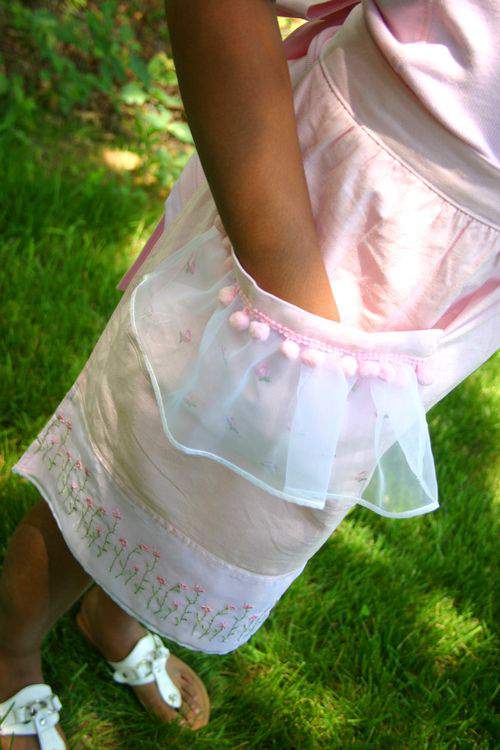 For this photo shoot, we actually had to work pretty quickly in my backyard to get the shots we needed because the mosquitoes were pretty ferocious on this day for some reason.
Cameron was a real trooper, despite a few swipes and bites.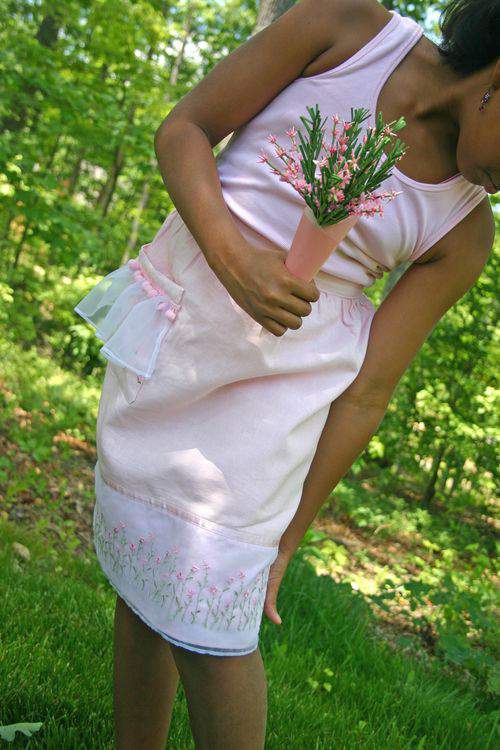 Thought I'd share this photo because even though it doesn't show the full apron project, I just love how Cameron's little hands look holding the flowers.
Props like this are fun to incorporate into a photograph and can really add a nice element to any photo shoot.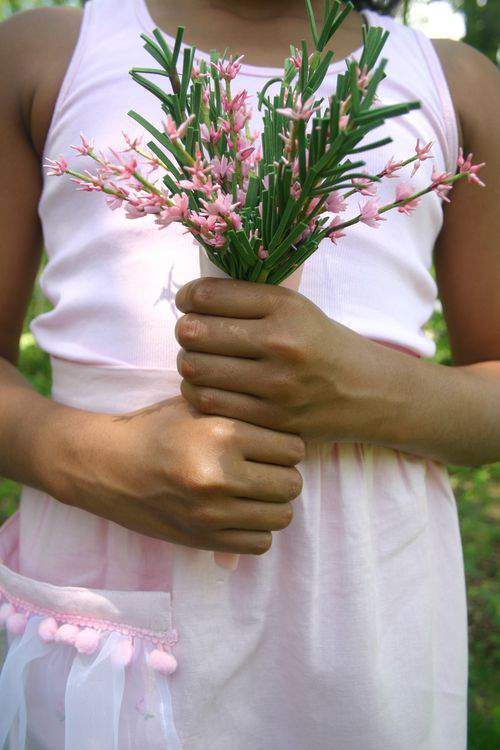 Perhaps, it's worth taking a second look at some of those old garments tucked away that your little ones are no longer little enough to wear. 
You may be surprised by the possibilities.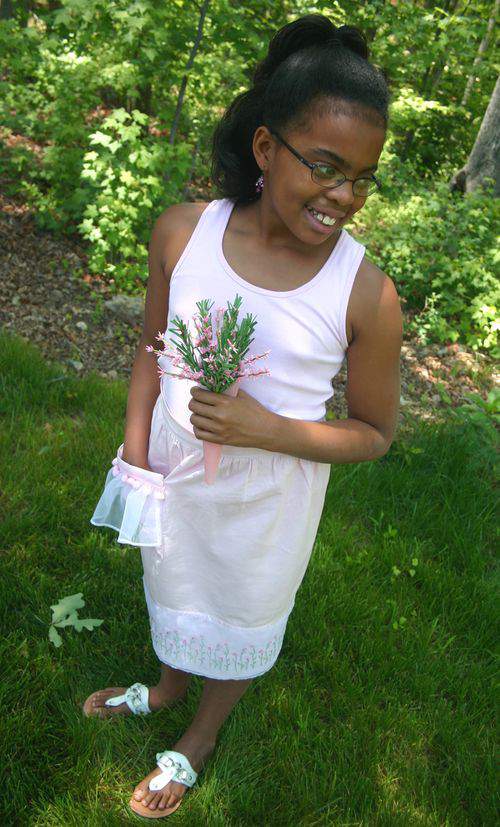 While this is certainly a great re-purposing project, in some ways I suspect it's also my way of hanging on to a part of a little girl who all of a sudden seems to be more of a little lady. 
Wow, Cameron is growing up fast and as you can see she's perfectly pretty in pink.