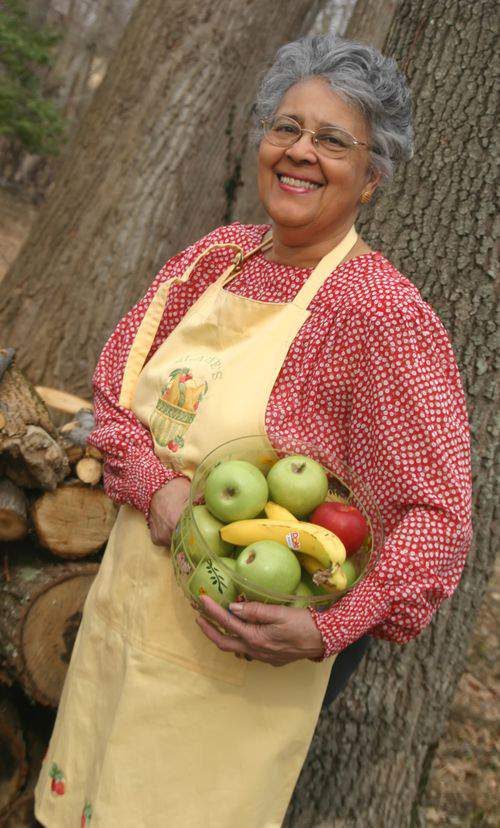 Who doesn't love a beautiful apron?  Modern aprons do more than just keep your clothes clean.  These days, aprons often reflect the personality of the person who made them as well as the person who wears the garment.
As you read this tribute to aprons, stay tuned to the end of this post for more on this pretty yellow apron in the photo below as well as a special introduction to the lady wearing it.
Since we're talking about aprons, let me start by telling you about a fantastic new publication that may get you thinking about aprons in a way you never have before.
The magazine is called Apronology.   The editors define Apronology as the "study of the art of the apron".  This premier issue by Stampington and Company is loaded with dozens  of  "aprons with attitude" and a ton of amazing ideas to spark your own creativity.
My multi-tiered, sheer, pink cocktail apron in the photo below is featured in this issue, in one of the Spotlight articles.
I have some fun plans in the works centering around this apron design so this definitely won't be the last time you see this pretty garment.
It's really great to see my creative efforts recognized in print this way.  The magazine editors gave my apron a nice double page spread that includes my thoughts on being an "apronologist" as well as a short essay I wrote.
Take a second look at any original aprons you may have in your closet because Apronology editors are now considering submissions for their 2010 Apronology issue.  The deadline for submissions is September 15, 2009.
One of the things I love about aprons is how wonderfully varied and versatile they can be. I know this floral apron in the photo below may look more like a skirt but it really is an apron.
Actually, I made this apron for me but my daughter quickly swiped it for herself.  I figured since she helped cut it out and sew it , she could have it.  It's too long for her now, but she'll grow into it.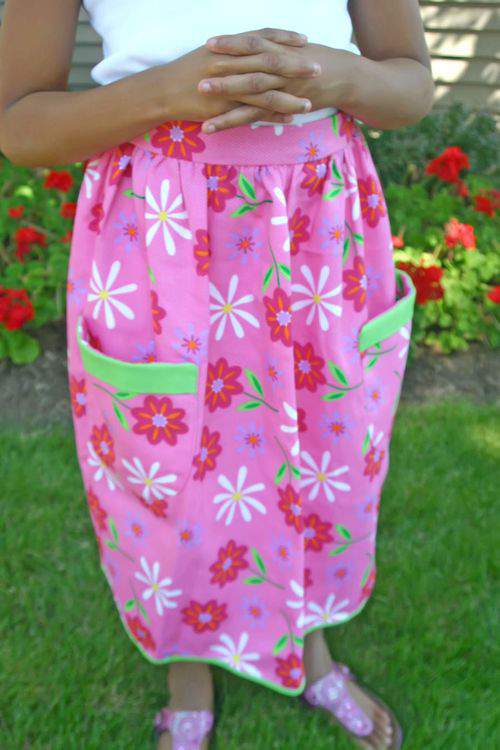 Of course, you don't always have to make an apron from scratch.  A little embroidery can go a long way when applied to a ready-to-wear apron.  I bought these plain canvas aprons and spiced them up with embroidered images and personalization for teacher gifts.
You can never go wrong with personalization and these aprons were a big hit.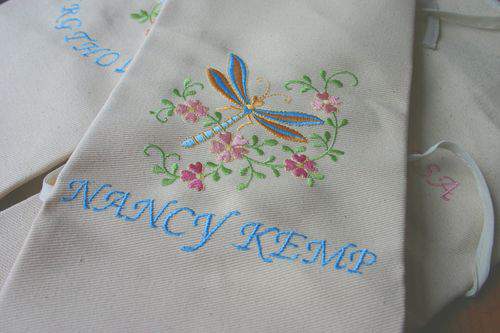 Here is another take on embellishing a store-bought apron with beautiful embroidery.
This embroidery technique is called Cutwork and involves stitching out an outline of the image and then cutting out portions of the fabric within the image before resuming the embroidery process.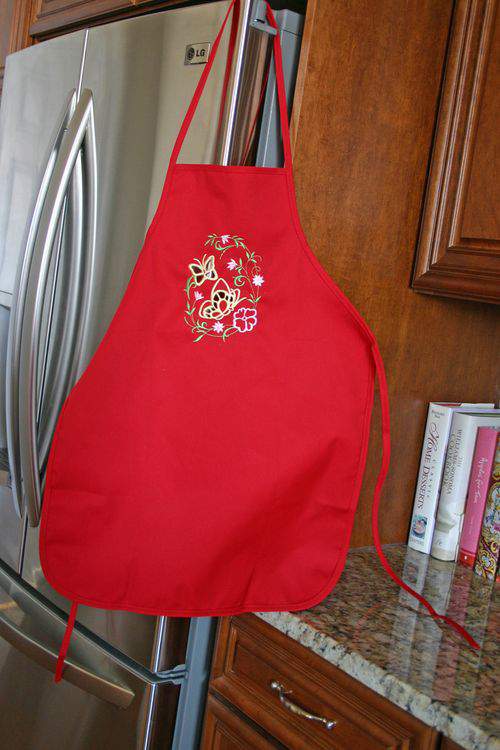 Here's a closer look at the cutwork detail on this apron.  As you can see, there are areas within the butterfly designs which are cut out for a really nice see-through effect.
I'll share some more pretty cutwork embroidery projects later in an upcoming post.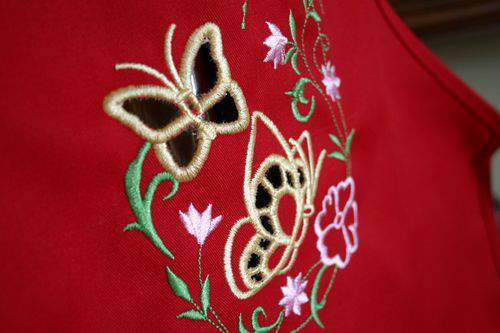 Often, the fabric you use helps make the apron that much more spectacular.  I made this bibbed apron a while back out of fabric from designer Amy Butler's Belle collection.  I just can't get enough of Amy Butler's vibrant and coordinated fabrics.
My friend Beena, modeled this apron for me a while back.  Her adorable baby girl is now two years old.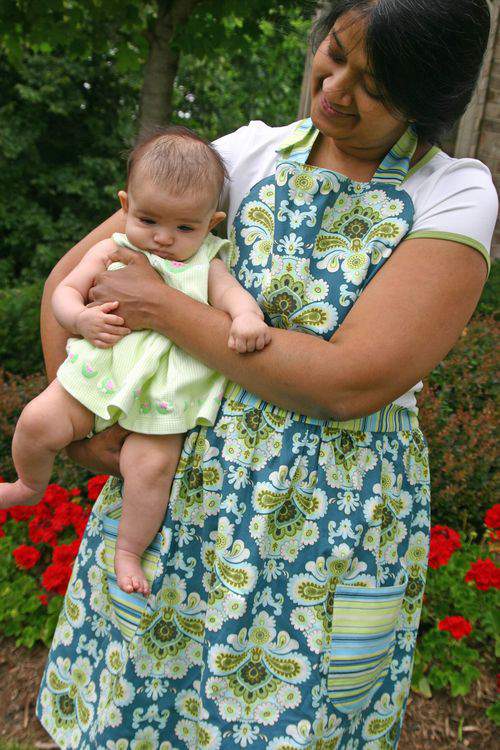 Of course, so-called apronologists come in all ages.  Enter my 10-year old daughter again.  She really enjoys whipping up aprons (and other items) on my old Singer sewing machine that my parents bought me when I was about her age.
I've been working with Cameron on learning to read sewing patterns but she often prefers to design and sew her own unique ideas.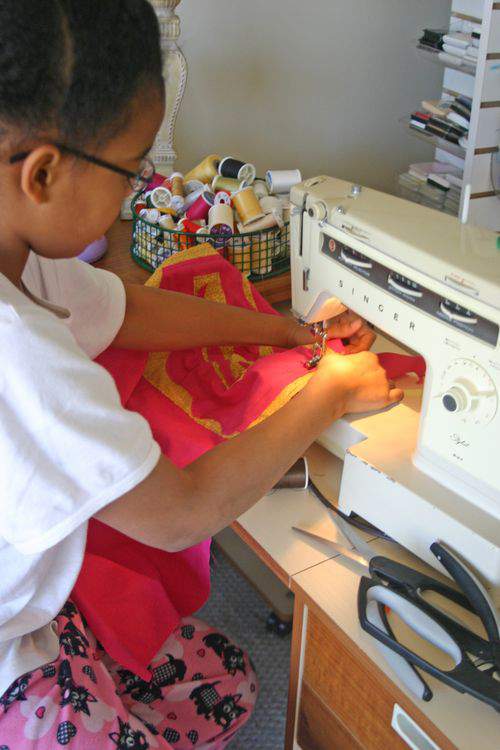 Cameron is always happy to show off her handiwork too and I think her apron is quite imaginative.  Check out that scalloped bottom.
Like mother like daughter when it comes to scallops (my scallops are typically on quilt edges).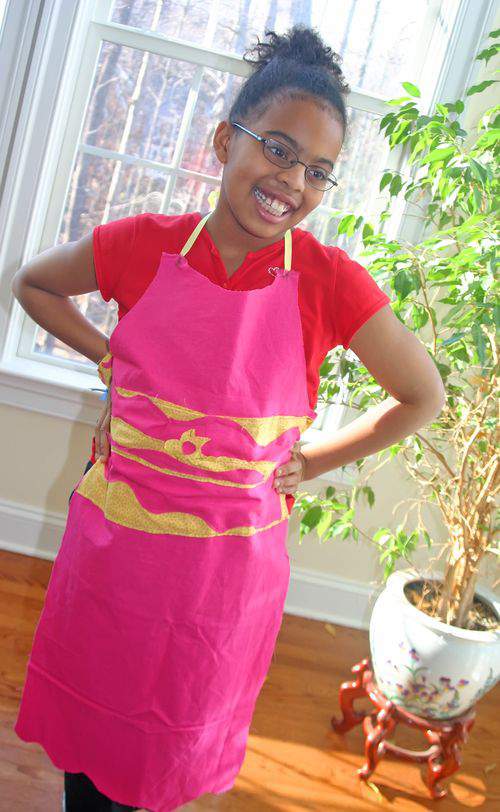 Cameron is a quick study and while I still supervise her use of the sewing machine, she's getting better and better at flying solo.
She's also very focused and conscientious about every project she takes on.  Good qualities to have.
(Noteworthy:  Cameron is also quite the budding photographer.  She snapped the photo of me in the orange sweater that is located in the left sidebar on this blog's homepage.)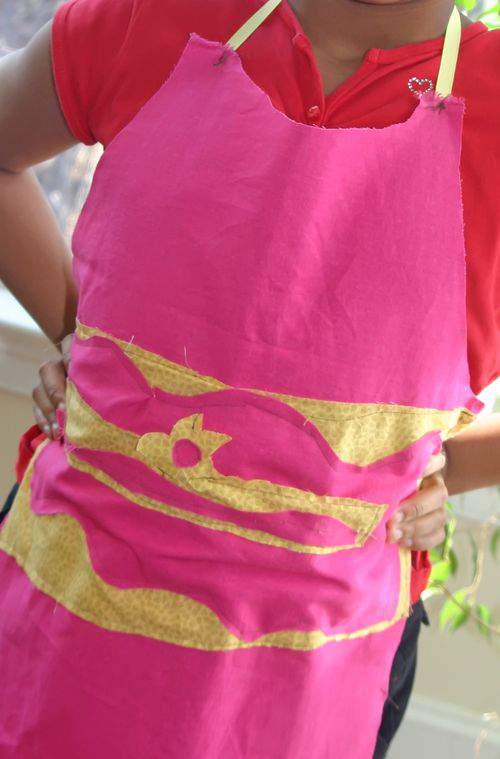 Aprons do seem to be all the rage lately and they all have such flair and whimsy.  There are plenty of apron books and patterns available with a project to fit just about any taste.
I think the simplicity of most apron patterns makes them very accessible to sewers of every skill level.  If you're a beginner sewer, an apron would be a great first project to build confidence.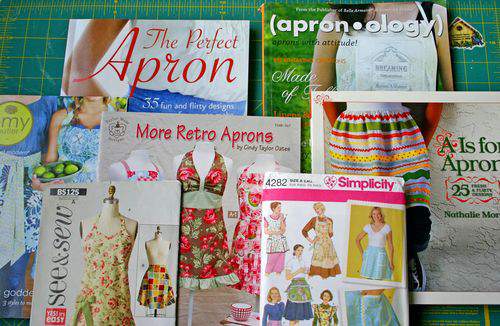 Meantime,  here are a few more photos of the apron you saw at the very top of this post.  I embroidered this apron as a personalized gift for my mom, Elaine.
She enjoys being called Nana Banana and I think this banana-yellow apron suits her perfectly.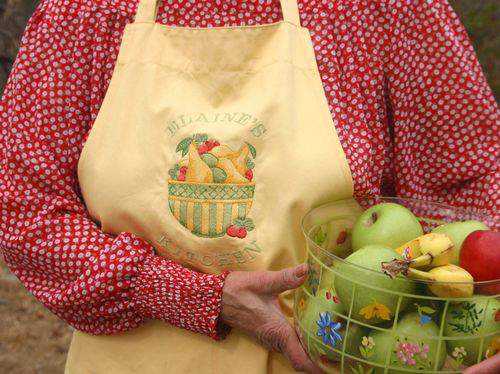 I wanted you to meet Nana Banana, because this is who I inherited my creative instincts from.  As far back as I can remember my mom has always encouraged me and my siblings to sew, paint (sometimes on the walls) scrapbook, make our own gifts and holiday ornaments and use our hands in creative ways.
I'm so pleased my mom can see for herself how I put all those early lessons to good use, not only through this blog and other outlets but also with my efforts to foster the same love of creativity in my own children.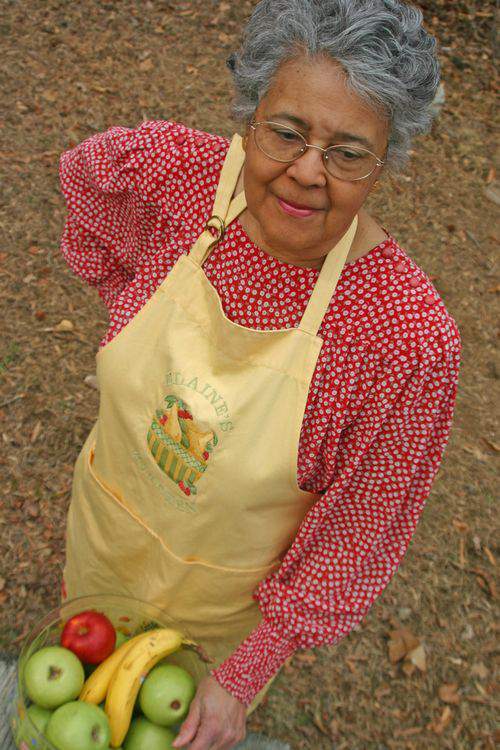 By the way, for Nana Banana's apron I added a border of embroidered strawberries for additional color.  I love this splash of red.
Now, this gives me a taste for real strawberries (dipped in chocolate, of course).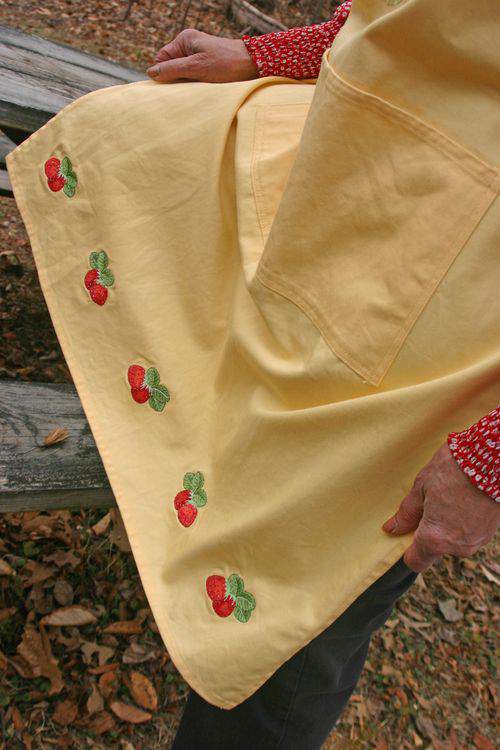 I think one of the things that makes aprons so wonderful is that they are not only functional but also fun to wear.
Aprons can add a delightful element to a day's activities and aprons also happen to look fabulous on anyone who wears one.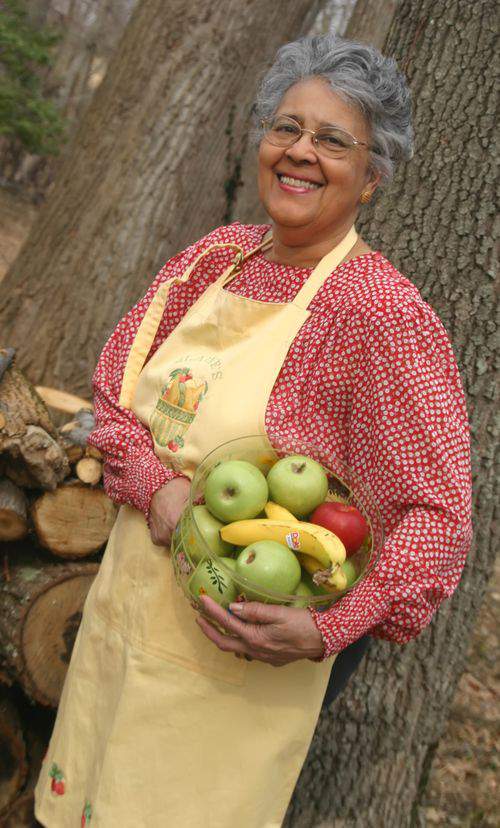 I'd like to give a special thanks to my mom for agreeing to model her apron for me so I could use it in this post.
Of course, I'm even more thrilled to finally have a chance to introduce all of you to the special person who set me on my early path to creativity.
Thanks Nana Banana-for everything!