Let me first take an opportunity to thank everyone for your support of my creative efforts this past year.  I look forward to sharing loads of new projects in 2009 that I hope will inspire and also help get those creative juices flowing.
Speaking of creative juices, have any of you spotted this wonderful new publication called Where Women Create ?  It's a wonderful magazine, which features photos of the creative spaces of artists, designers and crafters from all over the country.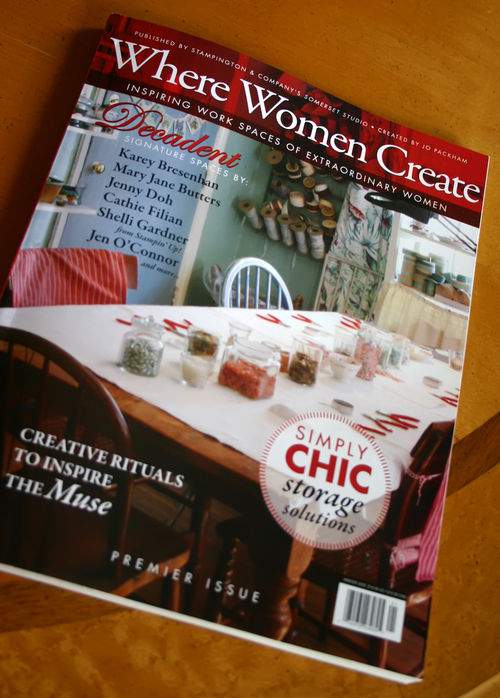 This new quarterly magazine is based on the popular book of the same name.   The original book, Where Women Create  by Jo Packham is a stunning collection of workspaces and crafts rooms. 
I think it's a must-have hardcover for any crafter's personal library and I just love the cover photo.
The original Where Women Create book along with the new Where Women Create magazine are a wonderful combination to review, as I'm now faced with transforming a new space into my own personal creative sanctuary. 
We just moved into a new home in November and I'm super excited about one room in particular.
My "soon-to-be" favorite room in this house is a walk-up attic, which I immediately claimed as my own.  I may put a sign on the door that reads, "crafters and creative spirits only".
However, before I can create anything in this room, I'll first have to find my way through all these boxes.  This is a real organizational challenge.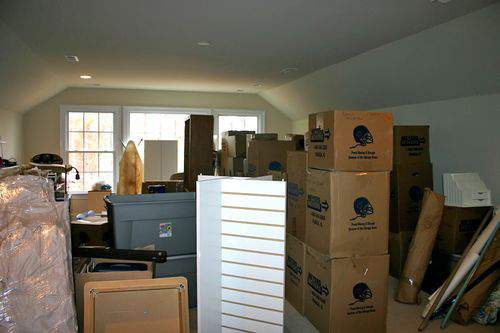 Of course, I am totally grateful the movers were so careful in their packing but it also means that every single item from the previous space is layered and layered in heavy-duty paper for protection.  It seems to take forever to unpack one box.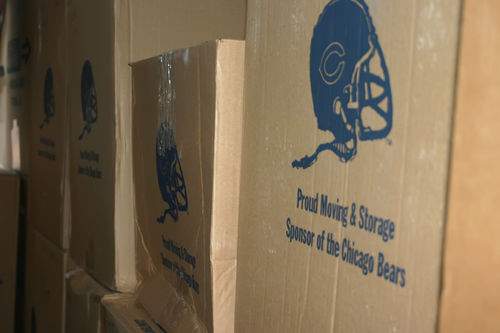 The photo below shows my old space in the basement of our previous home.  It took a long time to get this area organized in a way that really suited me and it was tough to watch all my organization get totally dismantled for the big move.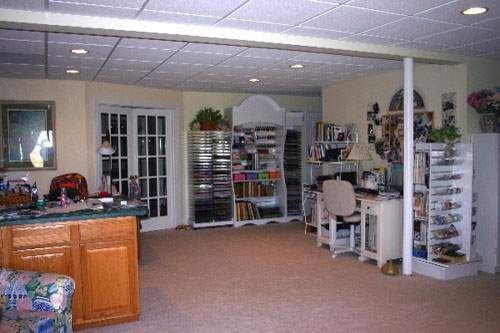 One of the features I loved most about my old basement space was this large custom kitchen island which was not only a good storage unit on both sides, but a roomy work table top to boot. 
Some people may look at this and see (organized) chaos, but trust me I knew exactly where everything was and it was all at my fingertips.  Fellow crafters know exactly what I mean.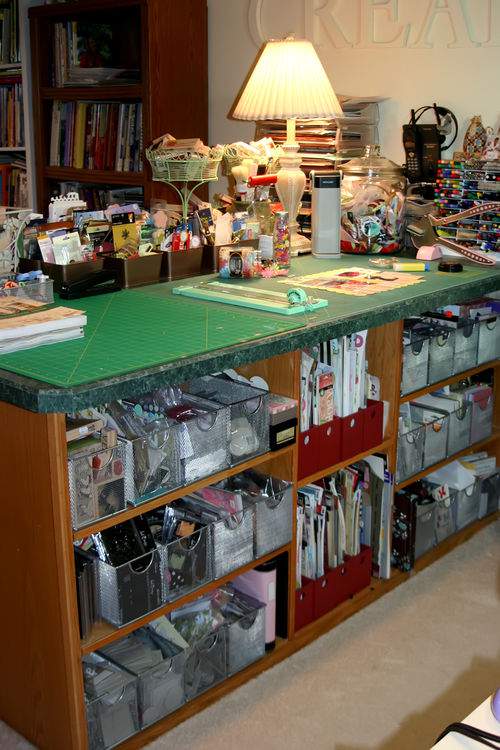 Lately, I've been collecting great organizational inspiration wherever I can find it.  I really like the casual elegance and clean lines combined with the warmth and usability that the Pottery Barn designers come up with.  
Pottery Barn's Storage and Display and Workspaces are two of my favorites in the PB library series.   
Organizing Your Craft Space is another wonderful book by Jo Packham.  This book is loaded with fun, useful tips on organizing your stash and there are loads of unusual storage solutions too.
I've always enjoyed seeing how other people organize their supplies.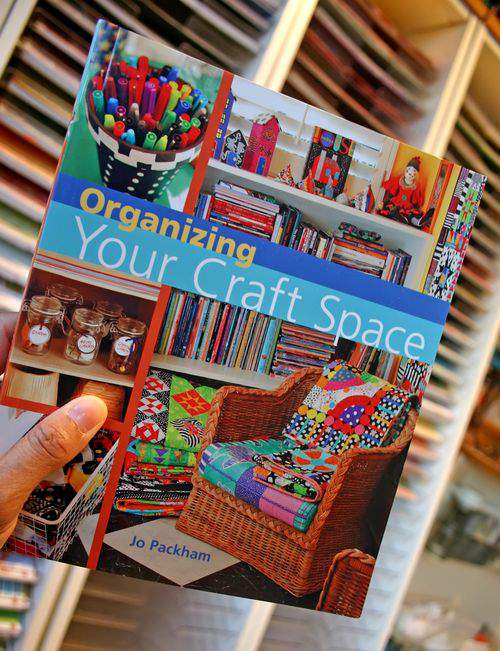 Another visual treat can be found in the pages of A Room of Her Own by interior designer Chris Casson Madden.  This book is filled with really nice photos and reflections of the personal spaces of some well-known and not so well-known ladies. 
While most rooms in this book are not crafts areas, the book is beautifully presented and a pleasure to get lost in.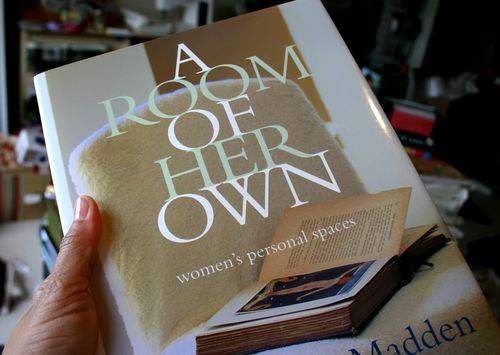 Need a few more ideas for organization?  Check out this recent special issue by Memory Makers magazine called Get Organized.  It's a really helpful resource for anyone trying to get their supplies and stash in order. 
There are multiple articles and tips covering such topics as;  products to keep you clutter free,  scrap more-search less, and purging and rearranging your supplies.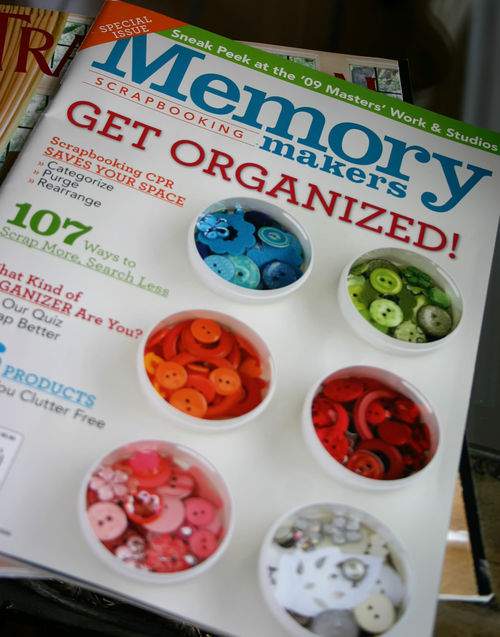 My former craft island is also featured in this special "Get Organized" Memory Makers issue along with inspiring organizational ideas from other Memory Makers Masters, editors and readers. 
I don't have an island yet for the attic but I'd love to find a large vintage-looking one that will work well in this area.  
One nice feature in this space that I didn't have before, is a wall-mounted TV.  With the television now on the wall and off the floor, that will definitely free up valuable floor space.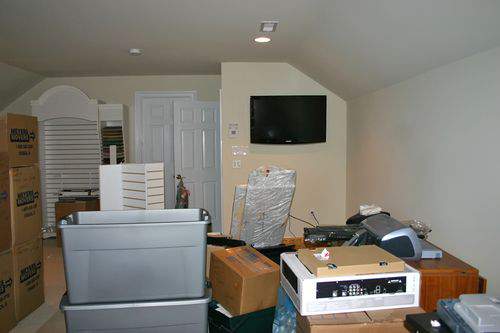 This mechanical room sits just off of the attic.  It's unfinished but I still think it will be perfect as extra storage space.  I'm keeping my eyes peeled for some sturdy metal shelves to use in this bonus area.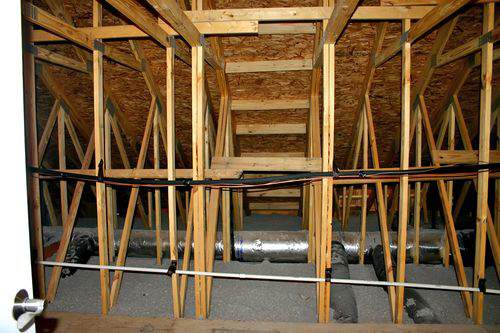 The attic windows provide a nice vantage point for spotting the deer that live in the area and frequently stroll through these woods early in the morning and late evening. 
I envision a day when all the clutter and packed boxes are gone and I can sit at this window and peacefully work away at my desk, which is already parked nearby.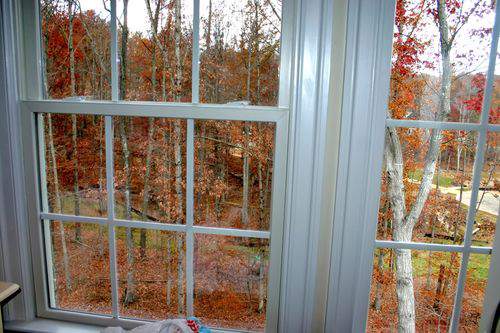 My husband used to call our old basement space the "Bat Cave" because it's where I would disappear for hours.  Since I'll soon be regularly disappearing into the attic , I decided to nickname this new space "The Belfry".  Not that I'm batty, but isn't there a popular expression referencing "bats in the belfry?"
Anyway, I'm happy to say in the few weeks since I first started writing this post, I have made some organizational progress in The Belfry, as you can see in the photo below.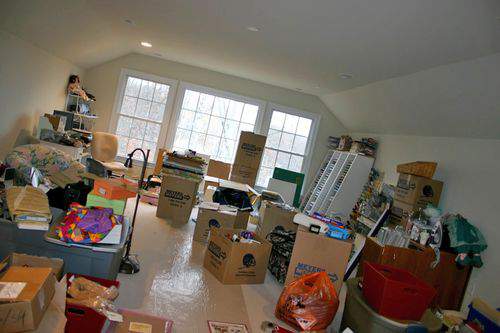 Looks better, but there is still much to do before there is any real sense of order here. 
Wish me luck in that effort and stay tuned for photos of a newly organized "Belfry" down the road in an upcoming post.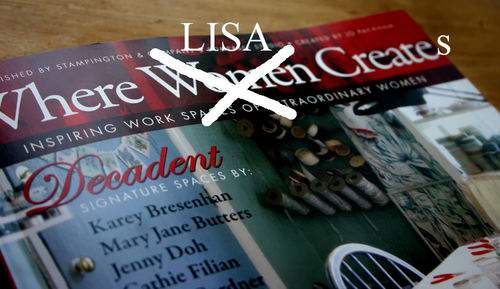 Meantime, whether you create at a kitchen or dining room table, the corner of a spare bedroom or a large dedicated work space, I think the most important thing is that you are CREATING. 
You are doing what you love and finding fulfillment in the simple act of making things with your hands-and that's something we can all celebrate in this New Year.
Here's to a happy (and creative) 2009!