W
elcome to Day 24 of my 25 Days of Christmas holiday series.  I can't believe the series is coming to an end.  This was my first-ever holiday blog series and while it was a lot of fun, it was a lot of work too.
I actually learned several things about planning a series and I thought it would be fun to wind down the series with a closer look at the 10 things I will keep in mind for next year.
 #1-BE PREPARED FOR MILD BUT SUSTAINED CHAOS
This is pretty much how my dining room table has looked for the last six weeks. There was just no way around it. 
Even though I have an attic work space that I tried to work in, it just turned out to be much easier to work from this area which is so closer to everything else going on in the house.`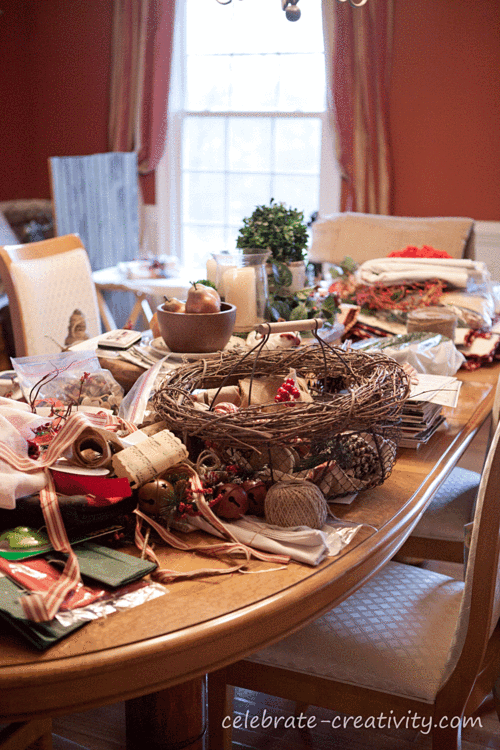 #2-IF POSSIBLE CONTAIN THE CHAOS IN ONE ROOM
With a daily post and project to pull together every day for 25 days, it would have been simple for this chaos to spread to other parts of the house.
I resisted the tempation to allow it to migrate to other areas and I'm happy to say I was able to keep the creative process confined to this one room… much to the delight of my tolerant family.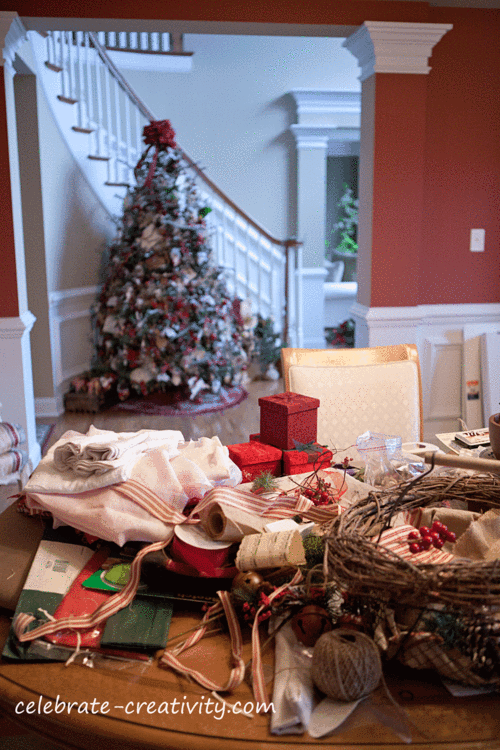 #3-MAP OUT A PLAN AND SCHEDULE POSTS

The first thing I did when I decided to tackle a 25-day series was to jot down all the possible projects that could work for a holiday series of posts.
Then, I penciled them into a calendar which actually kept changing every few days or so depending on what projects were actually completed.
This turned out to be a good way keep track of everything and also helped me to stagger the projects and categories.
I also made sure each post was finished the night before and scheduled it to go LIVE at 6AM each day so readers would know exactly when they could see a new offering.
#4-BAKER'S TWINE VERSUS BUTCHER'S TWINE
In almost all of my holiday projects in this series, I used what I referred to as Baker's twine. 
It wasn't until mid-December that I realized that what I had been touting… was actually Butcher's twine.
Both twines (source links above) are peppermint-colored but there is a big difference in the width of the twine. 
As you can see in the photo below, Butcher's twine is much thicker (24-ply) than Baker's twine (4-ply) but they're both wonderful to work with. 
Ahem, from now on I'll be sure to correctly identify my twine.
#5-MAKE RECIPES THAT WILL ACTUALLY GET EATEN
(your family will love you for it)
This is another way of saying, skip the fruitcake unless your family just loves fruitcakes. 
I made and photographed many of the recipes in this holiday series during the week of Thanksgiving. 
At the time my husband's family was visiting so we had plenty of extra people in the house to eat up all my creations.
My kids loved the extra treats because it meant they got to enjoy dessert on more than just one night (they typically only get dessert once a week on Thursday nights). 
I definitely had to make dessert night exceptions during this holiday series.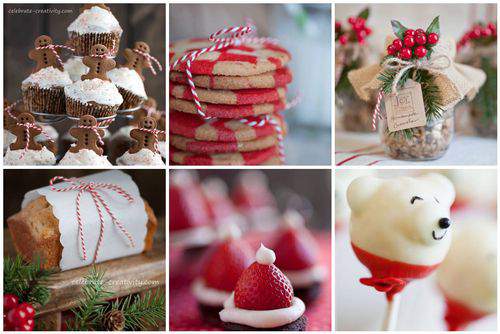 #6-DON'T SWEAT THE SMALL STUFF
As much as I like this photo of my candle project, the fact that one of the ribbons was slightly askew really bothered me.  My eye kept going right to the top of the ribbon that is not lined up with the music staff.
I was rushing when I shot this because I was losing the day's light and this candle post was slated to go LIVE the next morning.
When I spotted the crooked ribbon in the photo, I just didn't have time to re-shoot it.
Of course, no one seemed to notice the imperfection but me.
Throughout this series, I had to keep telling myself, "Don't sweat the small stuff, Lisa".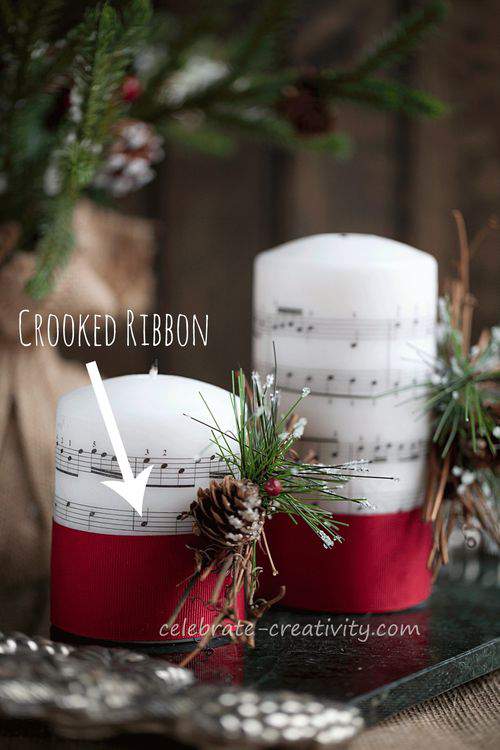 #7-DON'T BE AFRAID TO RE-VISIT OLD PROJECTS
When I first started the series, I felt like every single project had to be never-before-seen. 
Over the weeks, I changed my view on that.  I think if you have great holiday projects from seasons past, there's nothing wrong with re-visiting them. 
After all, old projects (like my Polar Bear Cake Pops and Button-Shaped Sugar Cookies) are new projects to the people visiting my blog for the first time.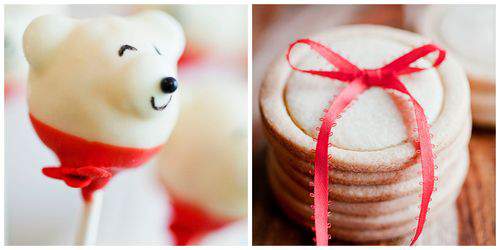 #8-MAINTAIN A PHOTOSHOOT CORNER
Here's a look at my photo shoot corner. This table has been in place since I started the series and now I think I may actually end up keeping it here.
I've mentioned here before how much I struggle with natural lighting and this corner in front of a dining room window turned out to be the best location to shoot almost all of my projects for this holiday series.
It was super convenient and a real time saver to just leave this set up right here.
NOTE: If you like this wood background, check out my previous post on how to make photo backdrops, here.   I'll also have more on how I've learned to use stained/painted boards and backdrops to improve my photos in several upcoming posts in the new year.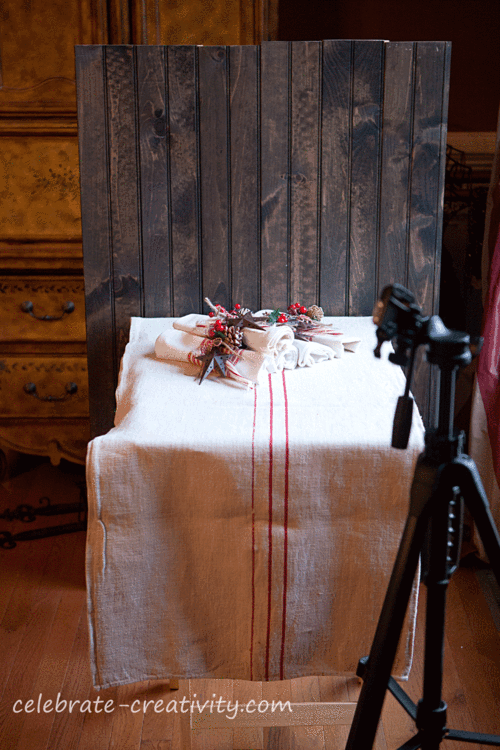 #9-USE MATERIALS YOU ALREADY HAVE ON HAND
Early on, I decided that I wanted to use as many tools and supplies for this series that I already had on hand and it was a lot easier to do that than I initially thought it would be.

With the exception of fresh ingredients for the recipes and one jumbo snowflake cookie cutter (hint for tomorrow) every project featured in this 25 day series was put together with materials and supplies that I already had on hand. 
It was great to use materials from previous sewing, scrapbooking, past Christmas projects and holiday decor.   That's a money saving strategy indeed.
With a little tweaking and creativity, I was able to use many of my supplies (pine needles, wired stamens, butcher's twine, assorted fabric, holly berries, jute and tag punch, etc.) over and over again resulting in completely different presentations.
You don't have to spend a ton of money to be creative especially when you use what you already have.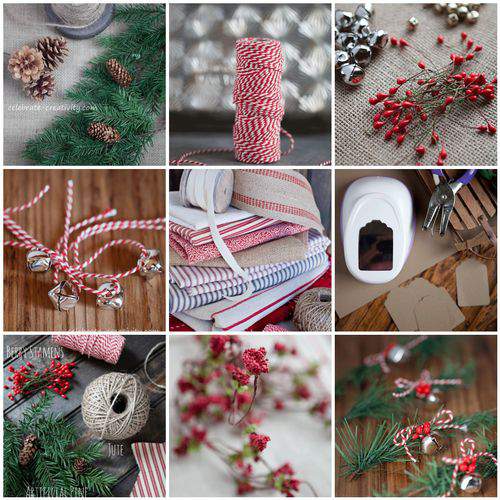 #10-HAVE FUN AND TRY NOT TO STRESS OUT

I have to admit, the "try not to stress out" was much easier said than done.  I did stress a bit while putting the series together mostly because of what I mentioned in line item #6 when it comes to sweating the "little stuff".

Looking back this series was a definitely a fun undertaking and I'm glad I tackled it.  It's was exciting (and rewarding) to see my early plan take shape and to come together in the way it did. 
I love knowing that my creative efforts have inspired so many others to try my projects too.
This holiday series was a wonderful way to end a creative year.

Day 24 down 1 final day to go and if you missed any project in this series just click below:
Day 1|Day 2|Day 3|Day 4|Day 5|Day 6|Day 7|Day 8 |Day 9|Day 10 |Day 11|Day 12|Day 13|Day 14|Day 15|Day 16|Day 17|Day 18 |Day 19|Day 20|Day 21 |Day 22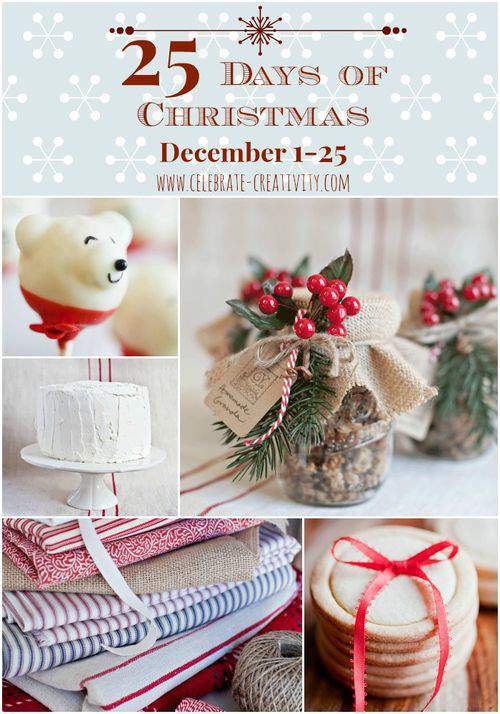 See you back here again tomorrow (12/25) for the final day of my 25 Days of Christmas holiday series. ♥