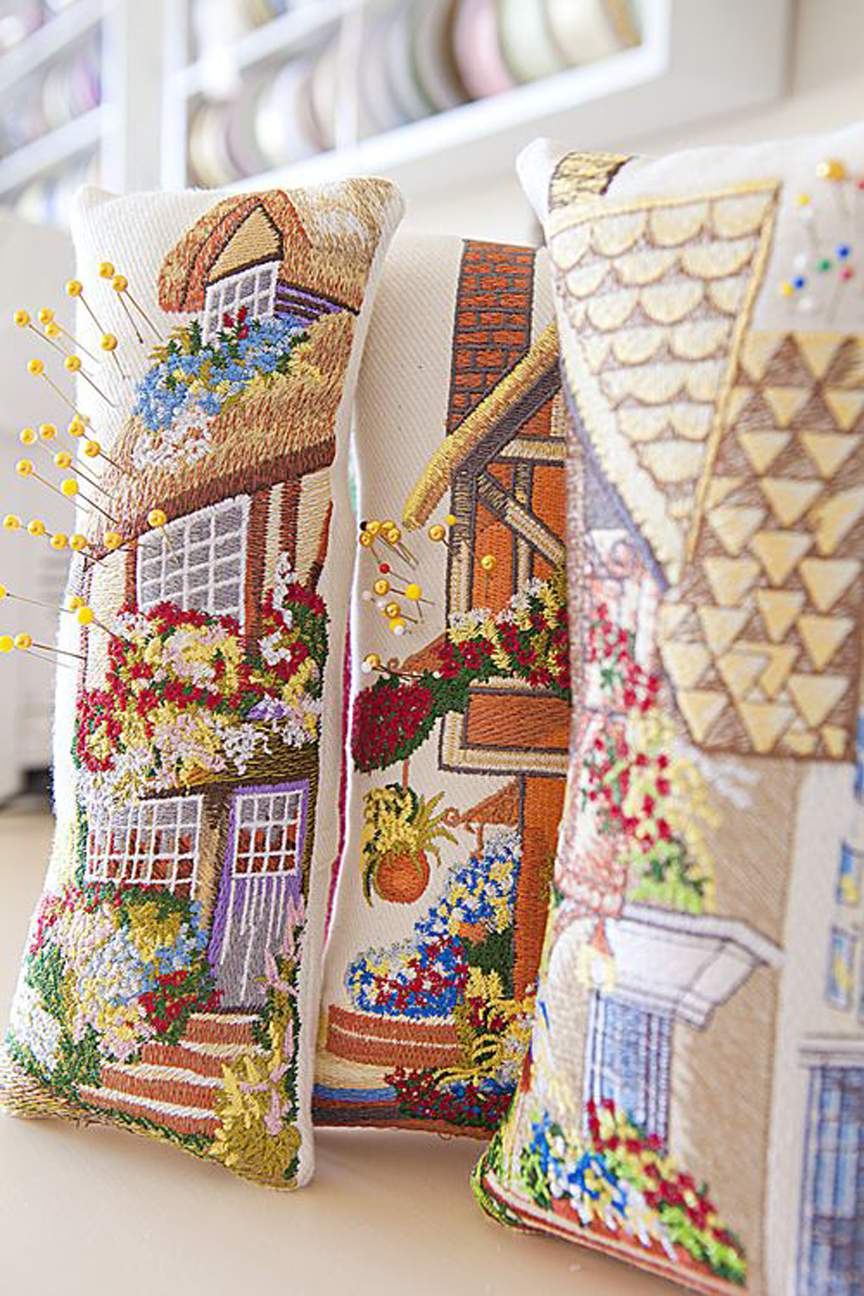 I've got a thing for pincushions, all kinds when they're handcrafted.  They can be apple shaped, pear shaped, pumpkin shaped or even teacup shaped, it matters not.
I have loads of handcrafted pincushions because they're so much fun to make and even more fun to gift.
Inspired by old fashioned dwellings, check out these lovely cottage pincushions.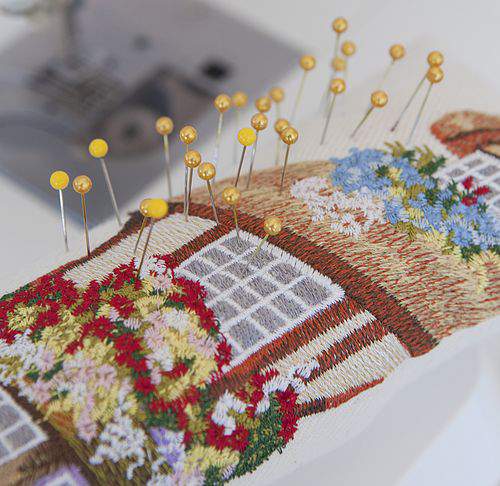 The design was created using an embroidery machine, but with some patience you can also achieve a similar result using hand embroidery.
Whether embroidering by machine or by hand, I suggest selecting a design that has very dense, tight embroidery elements to produce a fine, needlework appearance that will read like tapestry.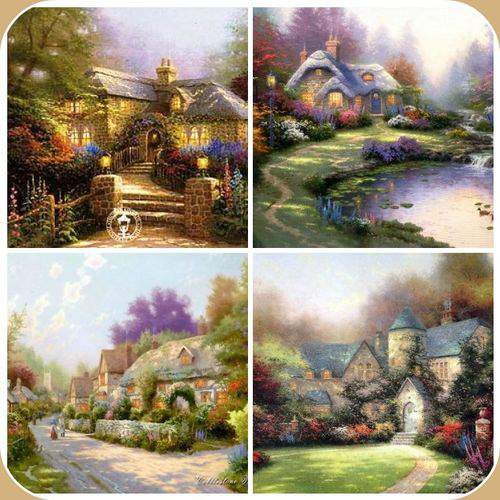 Before I share the details of this project, allow me to share the inspiration behind it.
While flipping through some pop, art books recently, I came across some work by Thomas Kincaid and his work reminded me of some old cottage-themed embroidery discs that I had tucked away.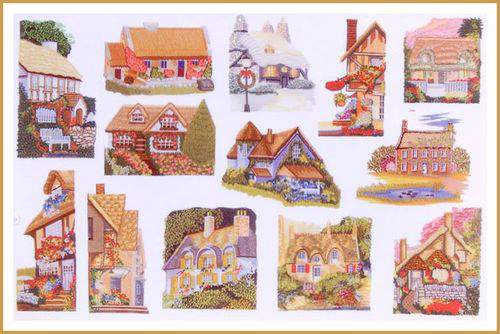 The designs featured on my rectangular pincushions are from an embroidery collection called Cottage Scenes.  I've had this disc for at years but never got around to using it.
One of the many things I love about writing a crafts/lifestyle blog is that it forces me to dig up, dust off and actually use supplies and software that I've collected over time.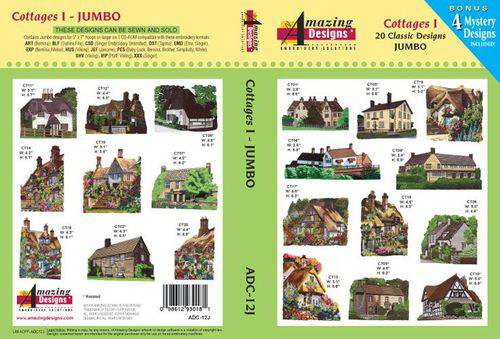 Here's another cottage designs collection that I used for a similar but smaller, square pincushion.
You can see the square version further down in this post.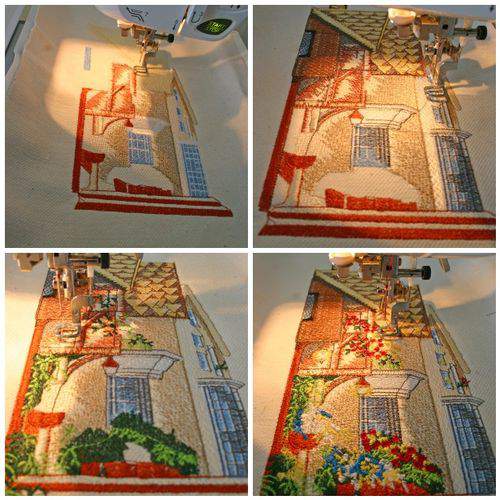 Perhaps I've mentioned before that I never get tired of seeing an embroidery design stitched out by machine.  It's always amazing to watch the design come to life.
I love how the splashes of color build upon each other with every change in thread color.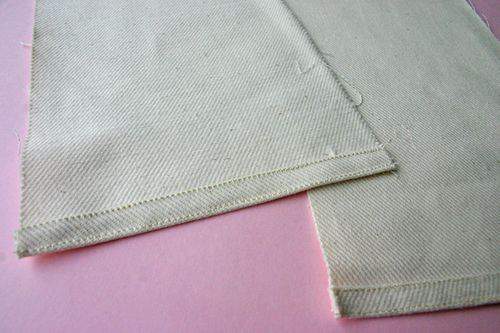 My pincushions have an overlap, back flap, which is easy to construct.  You'll need two pieces of canvas cut in equal width as the embroidered section.  Each piece will measure @ half the length of the embroidered section, plus @ 1/2-inch.
On one end of each piece, simply fold over 1/4-inch and press, fold another 1/4-inch and top stitch.
Your pieces will look like the photo below.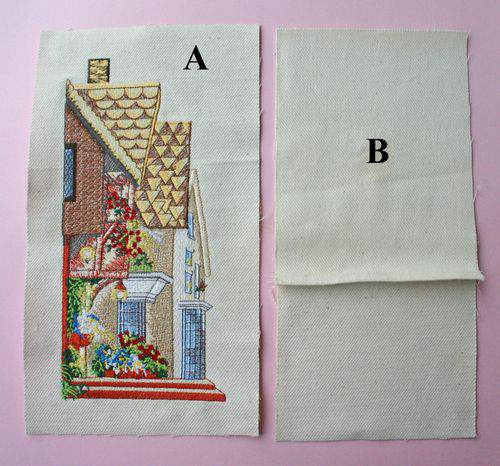 Overlap one piece over the other about 1-inch with raw edges facing the outside.  Pin at center to hold in place.  Match up the length of back section (B) with the length of the embroidered section (A).  Trim raw edges if necessary to match lengths.
Pin both back pieces over the embroidered portion and stitch together using 1/2-inch seam.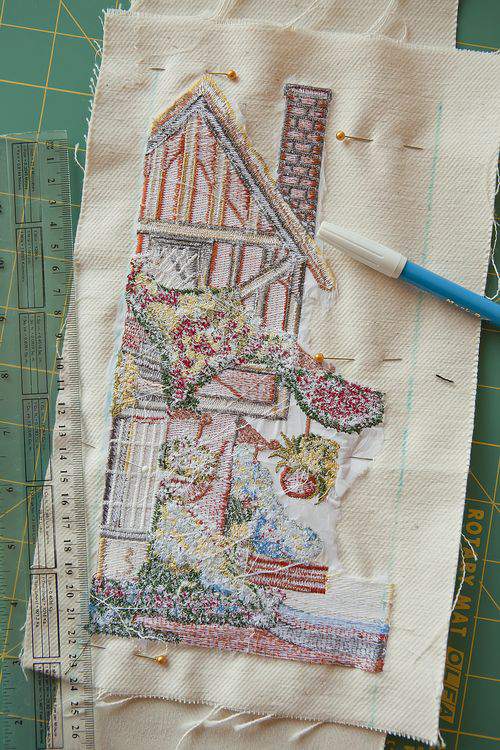 Once the design has stitched out, pin right sides together and stitch all the way around. Again, you'll need to trip the excess so both A and B match up lengthwise.
Stitch all the way around the rectangle.
Ordinarily you would need to leave an opening in the seam to turn inside out.  However, this open back-flap technique eliminates the need for that.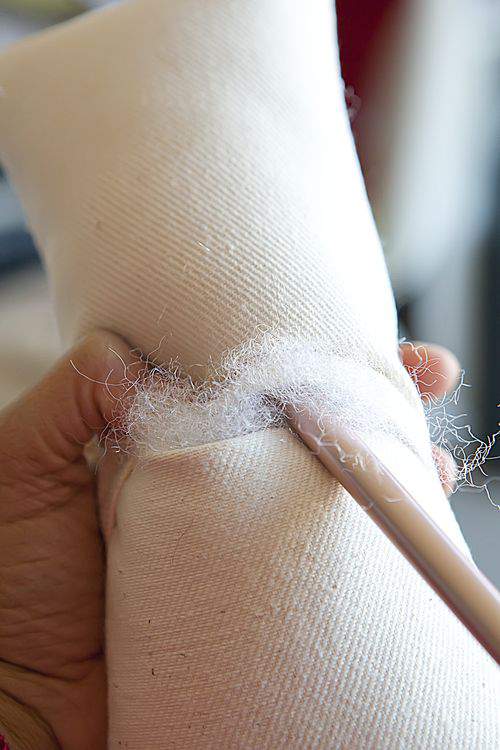 Once the piece has been stitched all the way around, simply turn the project inside/out through the overlap back flap opening.
Tightly stuff the pincushion with cotton.  You can use the point of a knitting needle to push the cotton into the corners.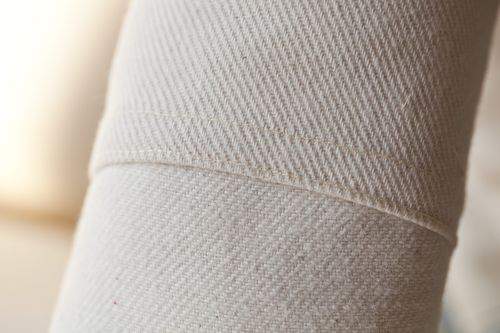 Here's a look at the back of the stuffed pincushion.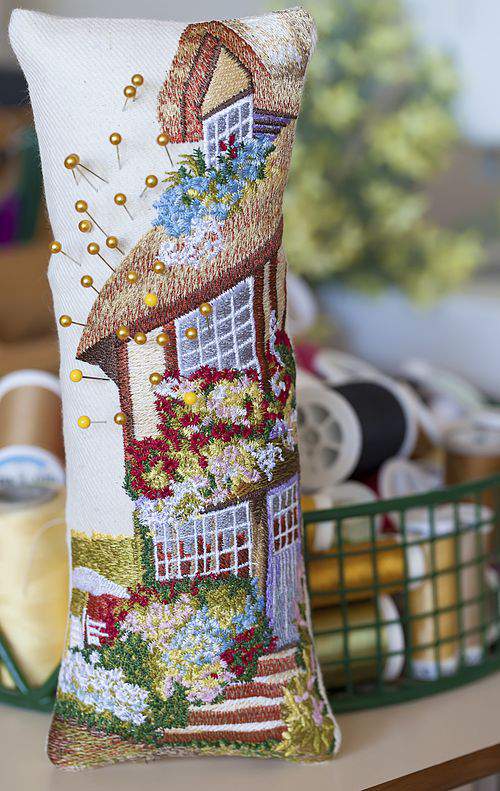 All stuffed and ready to be adorned with pins.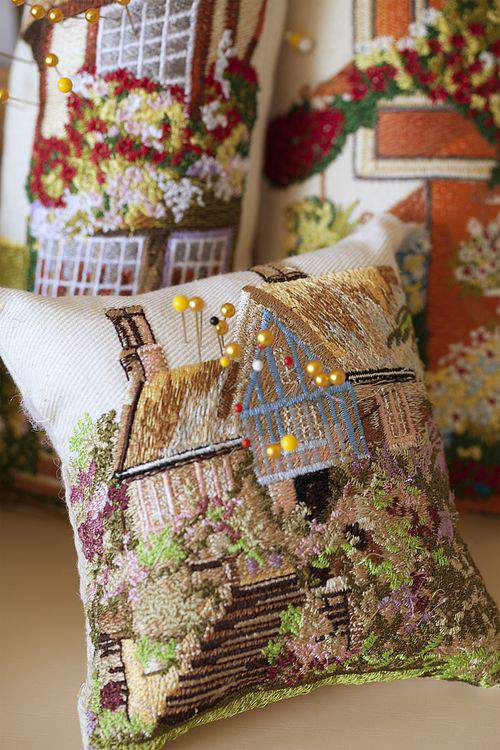 Ultimately, the size and shape of the pincushion is dictated by the size and shape of the finished embroidered design.
Here's a look at a square version of this project using a smaller embroidered image.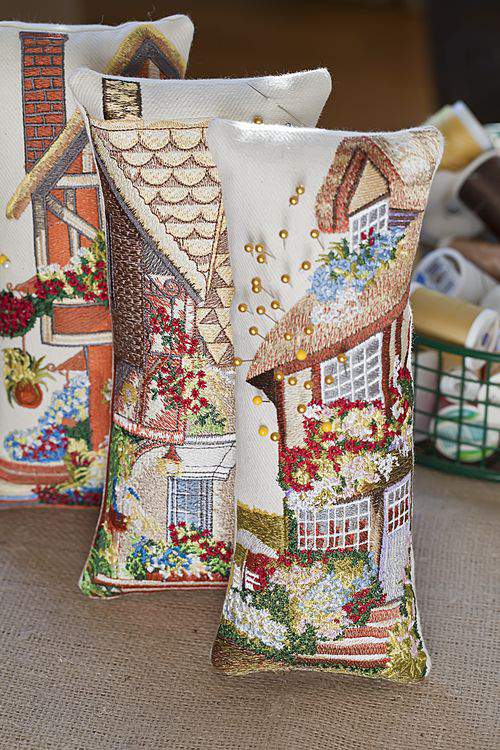 I love the "folksy" cottage look of these pincushions and I think they'll make great gifts for my friends who are sewing enthusiasts.
My mom, Nana Banana has already laid claim to one of them.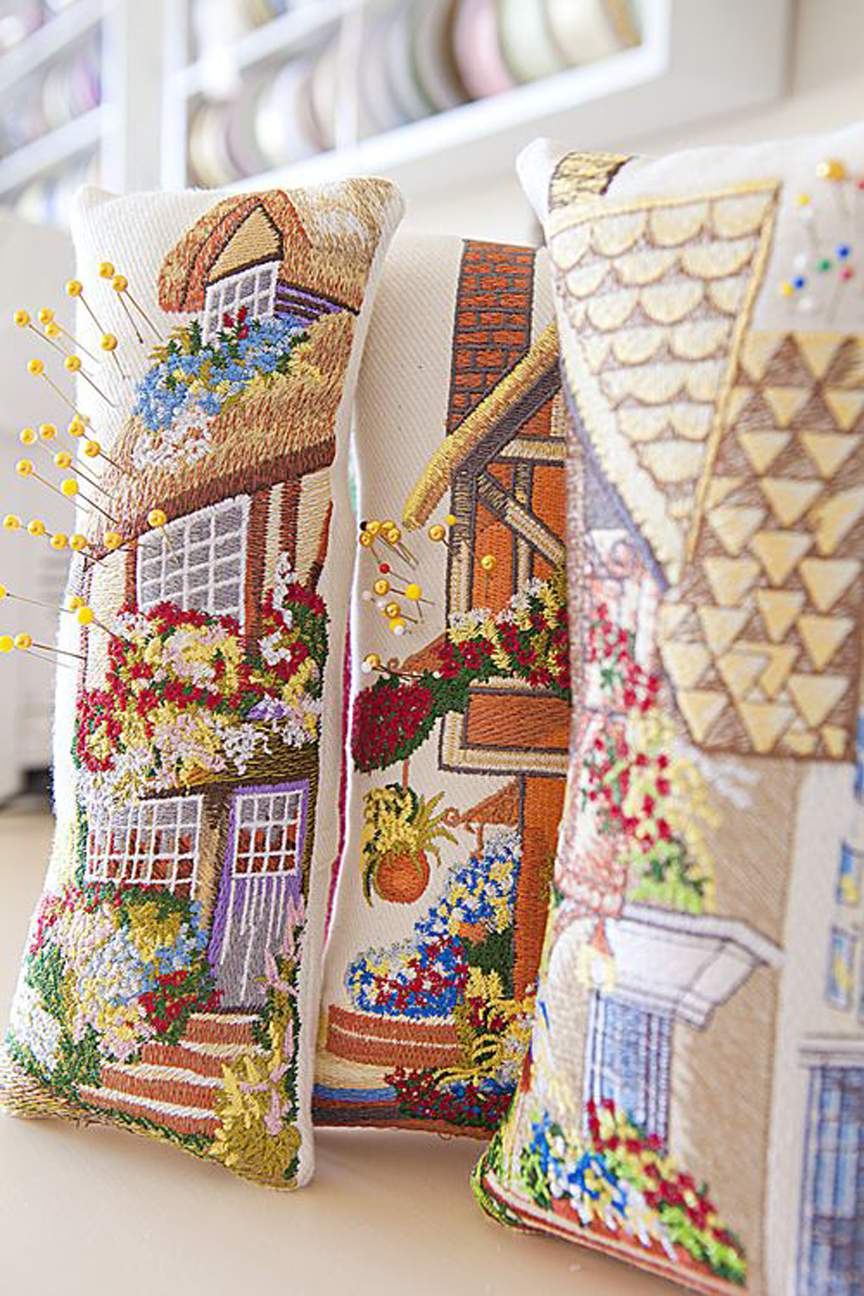 Thanks for stopping by.
See  you back here next time. ♥