Everyone who loves fat quarters raise your hand. I'm raising both of mine on that one. Fat quarters are indeed fabulous. To my friends and visitors who aren't into sewing (yet), a fat quarter is a measurement of fabric that generally runs about 22 inches X 18 inches which is a nice "fat" square to work with.
You'll typically find fat quarters folded in neat little squares like the ones lined up in the picture below.  These fat quarters are from the Freshcut line by fabric designer Heather Bailey. They're so delicious looking, I almost want to eat them. OK, not really, but if you're a fabric addict like me, then you know what I mean.
This fabric makes me scrap happy and inspire.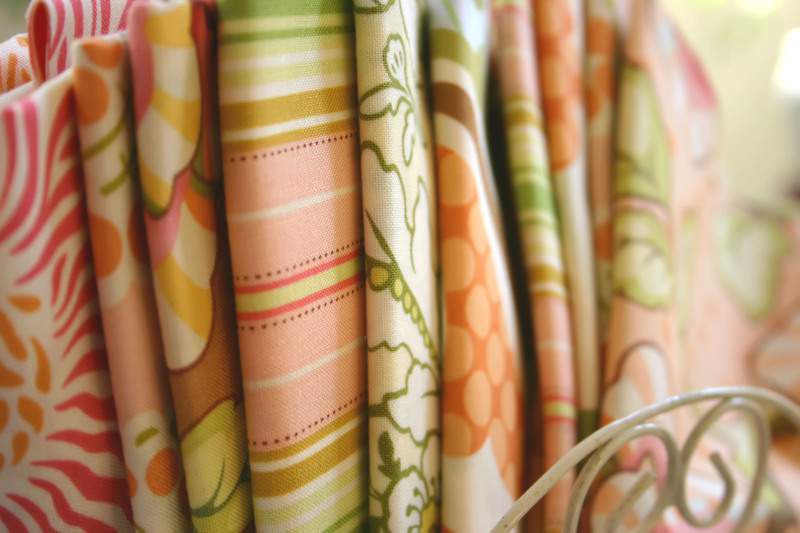 I've actually had a longtime fabric addiction and love to browse through quilt and fabric shoppes just to see what's new.
The great thing about fat quarters is that they provide you with a decent amount of fabric to work with, without having to buy a whole yard.
It's also a great way to sample an entire fabric line without having to pay a bundle for all that extra yardage.
There are loads of wonderful quilt and sewing books available that are specifically devoted to fat quarter projects.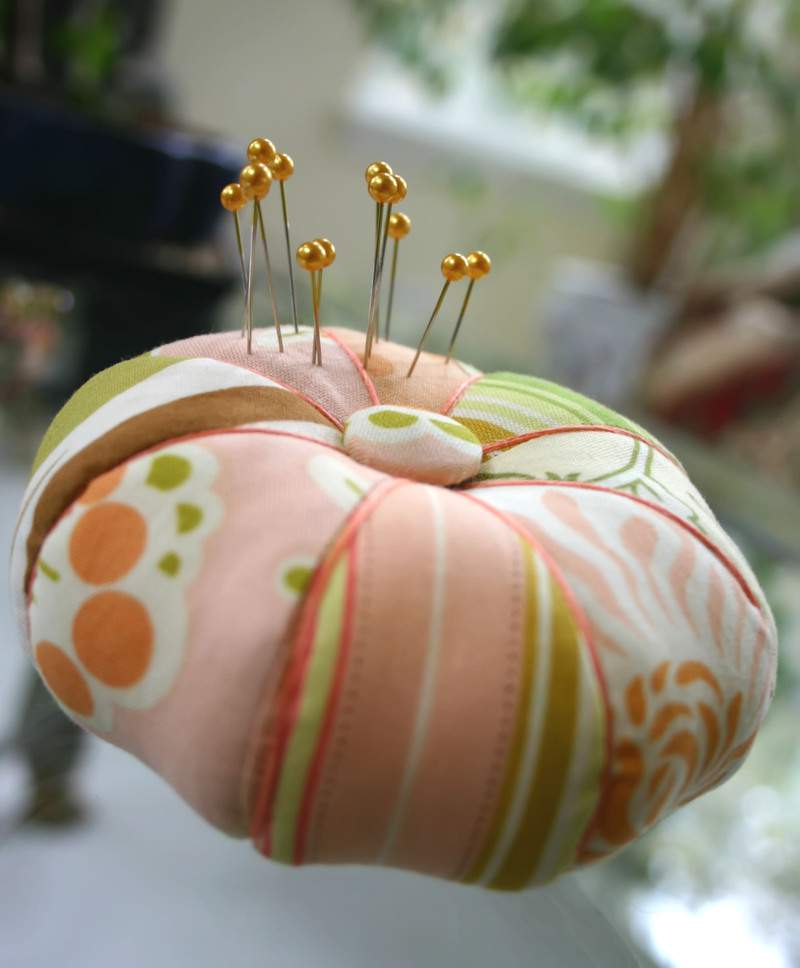 I've already cut out the project pieces from these fat quarters for a new quilt I'm working on. However, since that project is still in the works, I thought it would be fun to share an example of the big value that can be found in scraps.
That's right SCRAPS.
Take a look at the fun pincushion below that was made out of fabric scraps that might otherwise have been thrown away.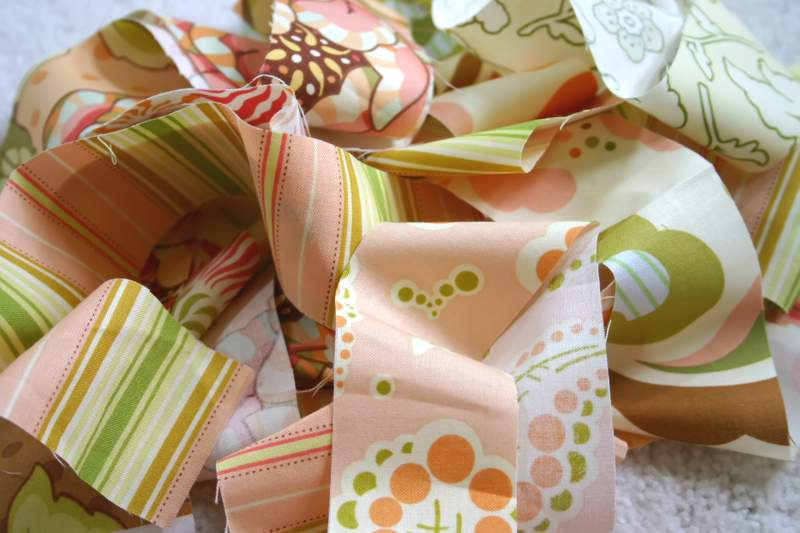 When I cut fabric I love, sometimes it's pretty hard to throw away the scraps. You probably know the feeling. Scrapbookers go through the same thing too with patterned paper scraps. After cutting out your main project, you often end up with scraps (like the fabric strips below) that are just too small for anything major and too big to simply toss into the trash basket.
To make the pincushion, eight small folded triangular pieces were cut out of the scraps and sewn together, alternating the fabrics as you go. It took only minutes to sew all the required elements together to get the pincushion shape.
A small opening was left in one seam for the stuffing.  Don't over stuff, but once the pincushion is firm, close the seam with a slip stitch.
Use a dollmakers needle to carry the embroidery floss through the top center and out the bottom center of the pincushion and wrap the coordinating floss around each seam.
Voila! Talk about fast. Each pincushion took about 30-40 minutes to complete start to finish.  If you're going to make multiples, I suggest you do all your sewing first, assembly-line style.
You can stuff, slipstitch the opening and do the embroidery floss wrapping later, perhaps while watching TV or waiting for your kids to get out of an extra-curricular activity.
You only need a minimum of supplies including fabric scraps, embroidery floss and soft stuffing. The original pattern doesn't call for self-covered buttons but I added them for a cute center.
This pincushion project comes from the book Last-Minute Patchwork and Quilted Gifts by Joelle Hoverson.
I love the little stuffed birds sitting on top of the stack of fat quarters on the book cover.
You can count on seeing those in a future post of mine for sure. Anyway, the book is filled with beautiful, color pictures and easy to understand patterns for super quick projects.
Also Joelle's Purlsoho website and Purl bee blog are fantastic sewing resources that are loaded with lots of useful information and tips.
While I'm still working on the quilt project that provided these scraps, the photo below is a sneak peak of my 15″ X 15″ quilt blocks from these Freshcut fat quarters.
It may be a while before I actually complete this quilt but you can look for this finished project later, in a different post.
I think it's great when you're able to start out with one project in mind like a quilt, and end up getting several more out of the deal like these pincushions.
My mom has already asked for a couple of them.  Hmm, don't you think these would make cute holiday stocking stuffers?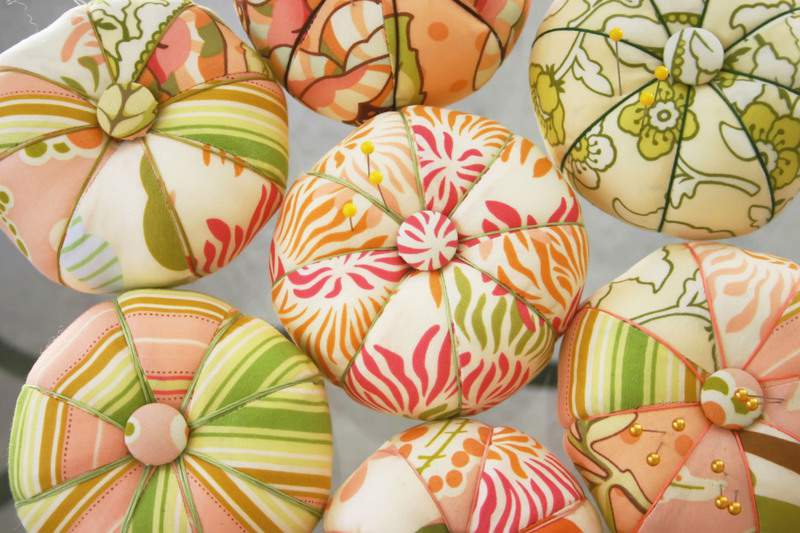 So, remember the next time you get ready to toss that big pile of fabric scraps, you may want to take a second look at what you're pitching.
You never know if your next wonderful little project may be hiding in the pile somewhere, just waiting to be discovered.
Thanks for stopping by.
See you back here next time.