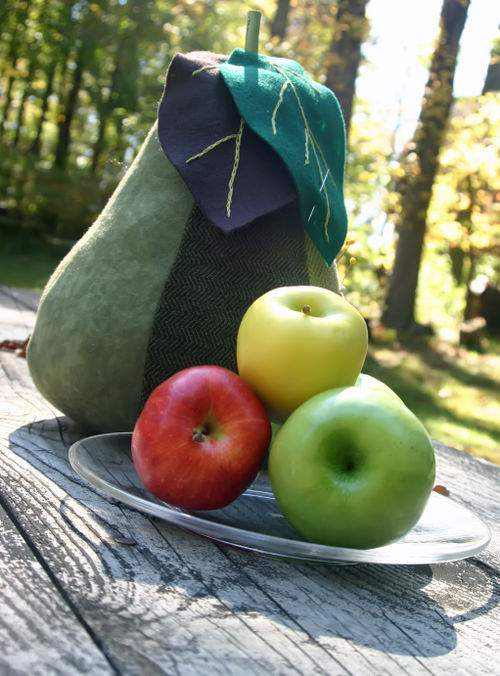 This isn't the kind of pear you can actually sink your teeth into but it's still a yummy-looking piece of fruit. 
You can never go wrong with a great pincushion like this.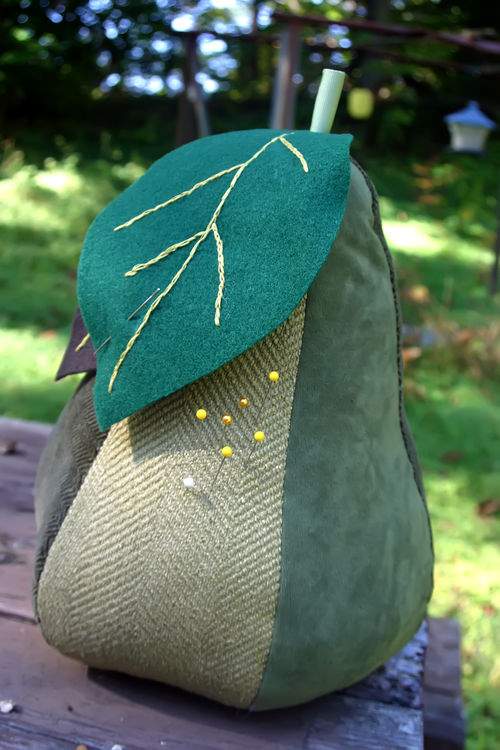 The pretty pear reminds me of a fun fruit by fabric designer Heather Bailey whose little pear pincushions look adorable at about 5-inches tall.  Textile artist Lucinda Ganderton also features a similar irresistible, tiny pear pincushion in one of her popular books.
I thought a bigger version would be fun to make and even more fun to use, so I created a super duper one.  My jumbo pear is close to 14-inches tall and 9-inches wide.  You definitely won't lose this in your sewing area.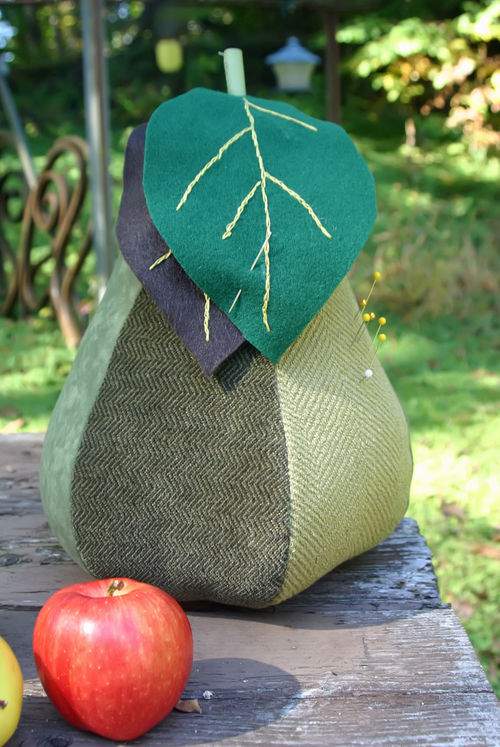 I included these photos of average-sized apples just to give you a visual perspective of just how large this pear pincushion turned out. 
I could take a bite out of one of these delicious looking apples right now.
Of course, the leaves on this jumbo pear deserve equally over-sized leaves which are made out of felt.  While the pear body holds loads of loose straight pins, these large leaves are perfect for storing needles.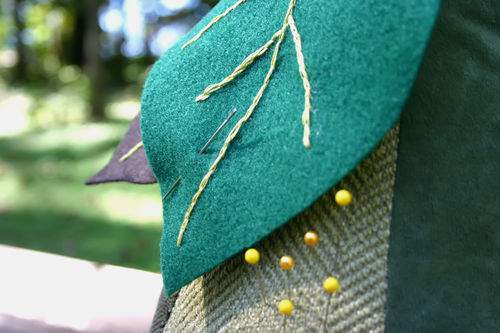 The leaf veins are a simple embroidery backstitch.  While I do a lot of machine embroidery, I'd love to improve my hand embroidery skills for other smaller projects, so this was good practice.
I recently learned how to make a beautiful embroidered French Knot and tried to use some of the pretty stitches on this project.  However, I ended up having to cut the little knots off the felt because on this particular project the French Knot stitch with its dotted appearance, looked more like some sort of leaf infestation on the felt.  
I'll have to save my newly-discovered French Knot stitches for another day and another project.  In the meantime, this backstitch works fine.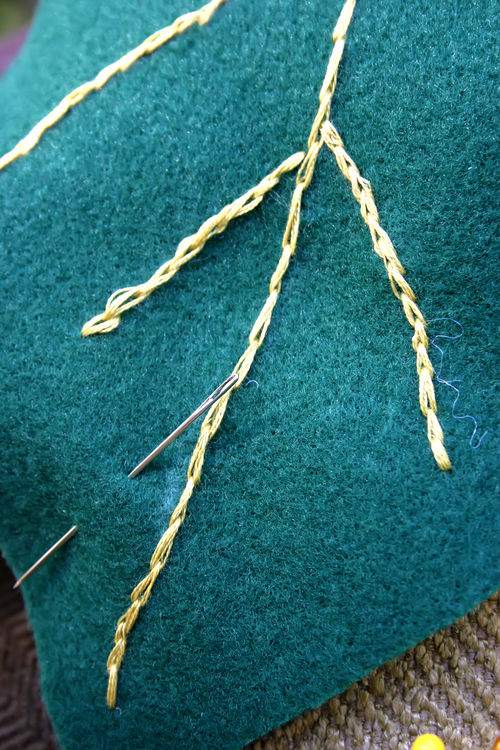 Meanwhile, I really fancy the look of this old, weathered picnic table in my parents' backyard which I used for this outdoor photo shoot.  I love the faded wood and its rustic texture. 
Looking at this wonderfully-worn table, reminds me of days growing up here in the country and climbing trees, many of which are still standing today. 
How lucky is that, to be able to grow up with an opportunity to climb trees?  Those are good memories.
My mom loved this pear project too and she sat outside and kept my company as I snapped these photos.  While I clicked away, we chit-chatted about a little bit of everything; kids, politics and various crafts projects.  What a great way to spend a fall day. 
I can't wait to sit this jumbo pear in my sewing space and fill it with all my wayward pins and needles. 
I think a jumbo pear pincushion like this would also make the most delicious holiday gift for that special friend or loved one who sews.  With dimensions like this, just think of all the pins this plush fruit could potentially hold.  
Of course if you make one to give as a gift, you must also pick a pear for yourself.  After that, perhaps… eat an apple.