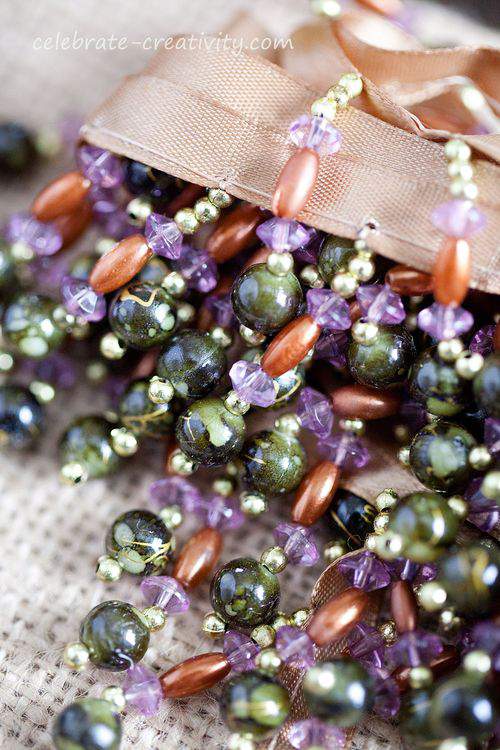 C an you believe we're only a few short weeks away from the official start of Spring?  It won't be long before we'll all be trading in heavy winter coats in exchange for much lighter attire and that's where denim jackets come into play.
I love denim jackets (I have several) and this year I decided to give one a pop of color with a small makeover fit for Spring.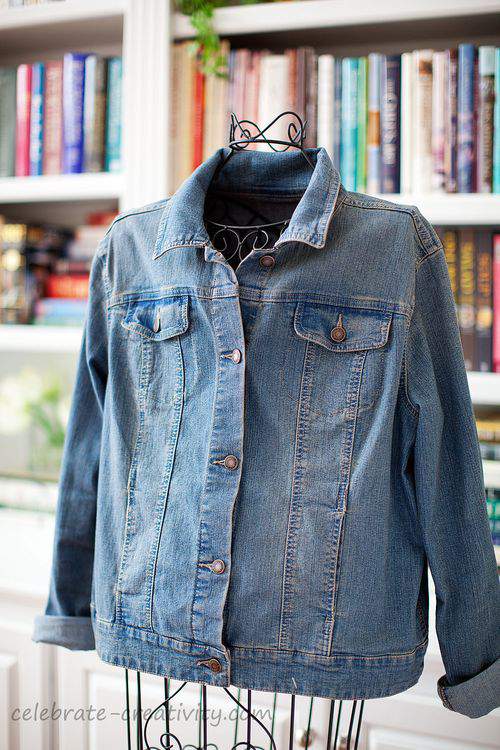 Before I walk you through this simple jacket makeover, allow me to share the inspiration behind this project.
While browsing through the fashions recently at Anthropologie (one of my favorite stores), I spotted these cute jean jackets on sale for $48 (original price $148). 
I didn't buy it but something about this jacket definitely caught my eye.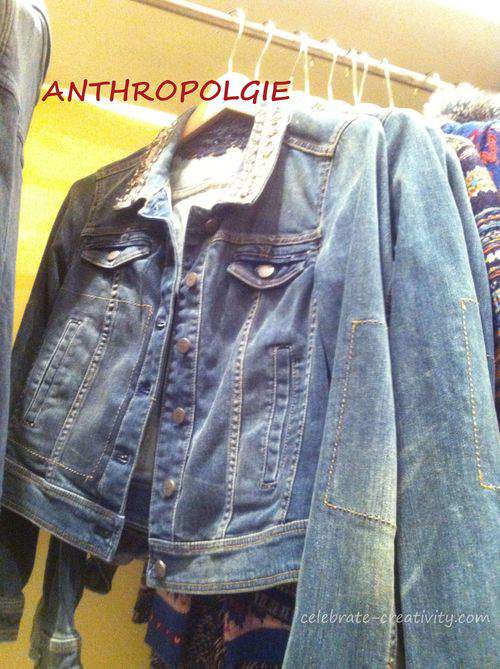 No doubt, the original $148 price was due to this beaded trim around the collar.
Upon closer inspection this fab feature is nothing more than two great looking strips of beaded ribbon sewn very close together for a jazzy presentation.
I immediately had one of my "I can do that moments".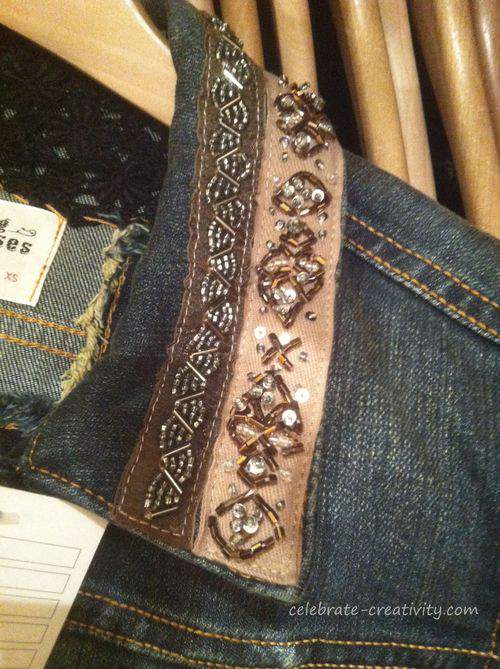 Now, this is one of those fashion fixes that is just too easy to pass up especialy since and I already had the supplies on hand left over from a previous project.
You won't need much to pull off this makover.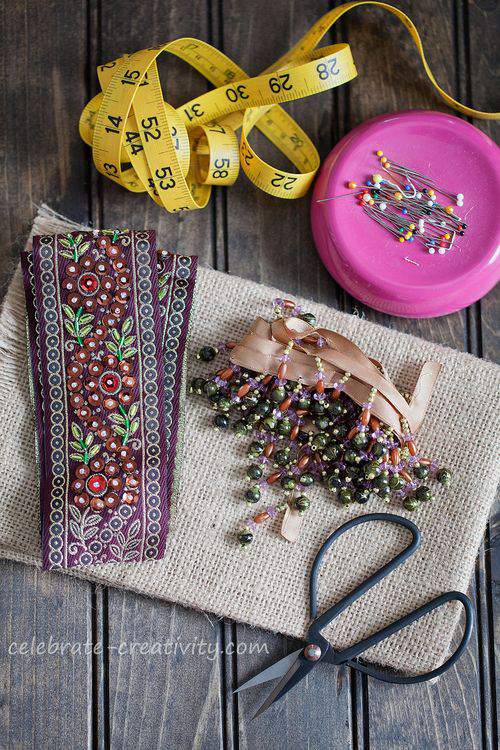 The distinct topstitching on jean jackets is perfect for a project like this because it provides a guide for lots of different kind of beading applications.
Line up the beaded trim with the topstitching and use it as an attachment guide.  That way there's no need to use marking pens or chalk markers.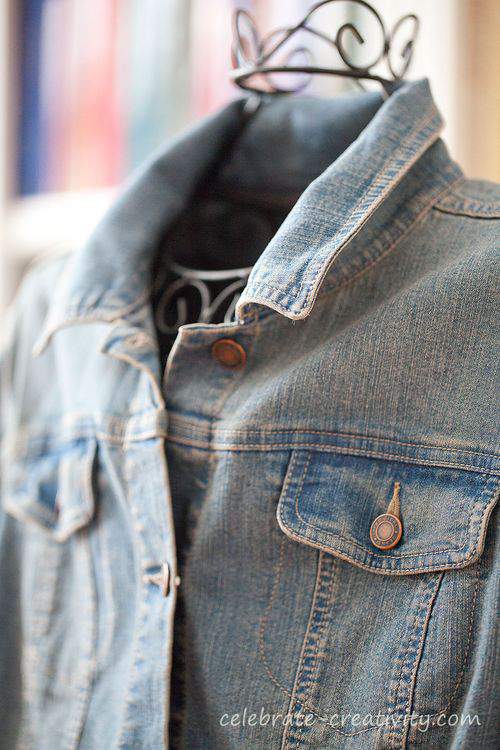 Here's a closer look at the double topstitched edge of the collar.
There are a few ways you can go with this.  You can attach your trim along the very edge of the collar (as in the Anthrologie jacket) or you can attach your beaded trim just under the topstitching so the original stitching remains visible.
Pin your beaded trim both ways before you stitch to see which look you like better.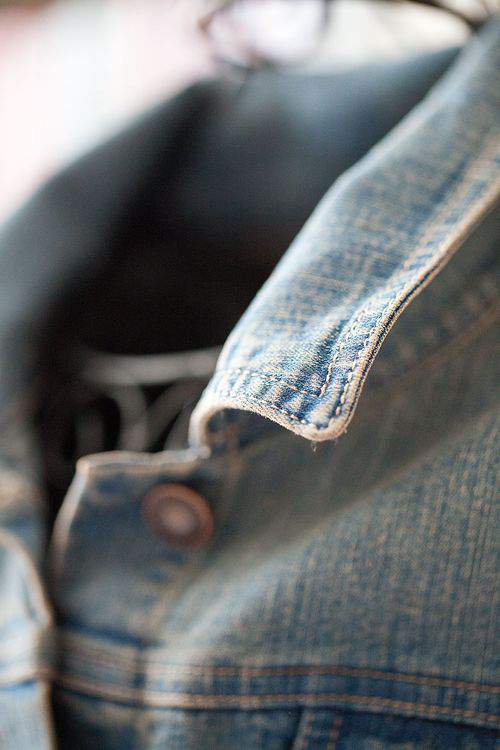 If you browse the beaded trim section of any fabric store, you'll find a ton of options.
Of course, you can use multiple strips of beaded ribbon or one large strip of ribbon which is what I decided to use.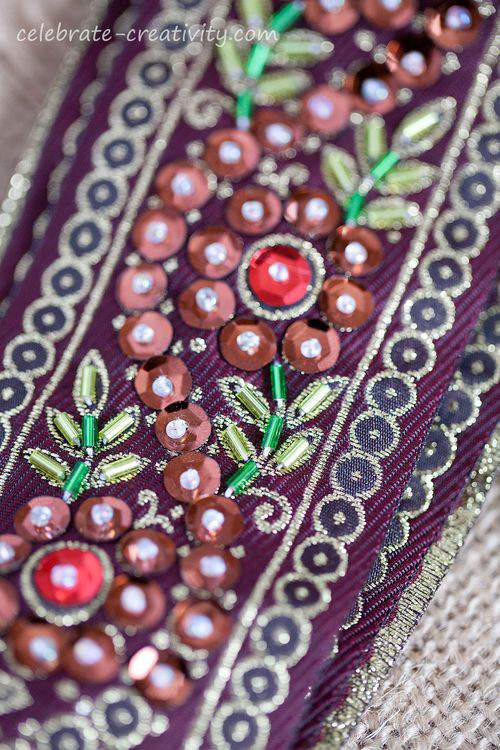 Beaded fringe is also a fun and colorful embellishment.
You can find fringe like this already packaged or on spools which allows you to buy as much or as little as you like. 
I decided to keep the original topstitching on the jacket visible.
Pin the one edge of the beaded ribbon to the collar as close to the original topstitching as possible without covering it.
NOTE: The beaded trim on the original Anthropologie jacket was sewn beyond the topstitching which created a new collar edge.  I think either placement works, it's just a matter of personal preference.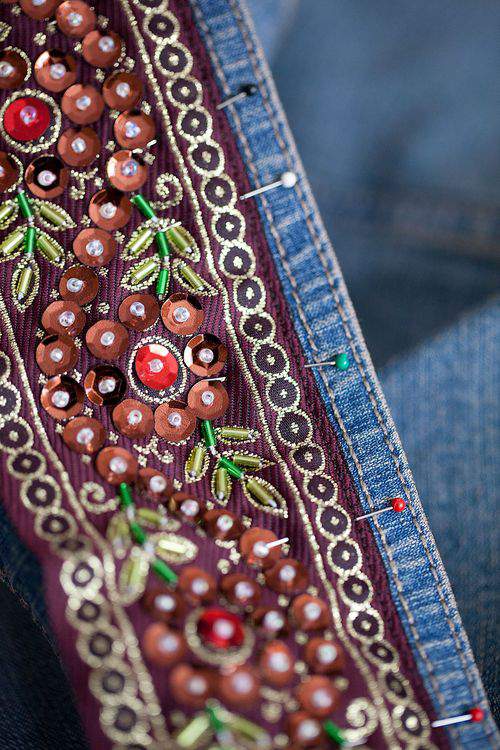 Once the outside edge of the ribbon is secure, stitch the opposite edge.
You'll also need to turn the end of the ribbon over just a bit and at an angle before sewing.  This way you'll be able to match the points in the collar.
NOTE: Depending on the bead placement, you may need to use the zipper foot on your sewing machine for easier access to the edge.  Always sew slowly and carefully around any beading to prevent sudden machine needle breaks.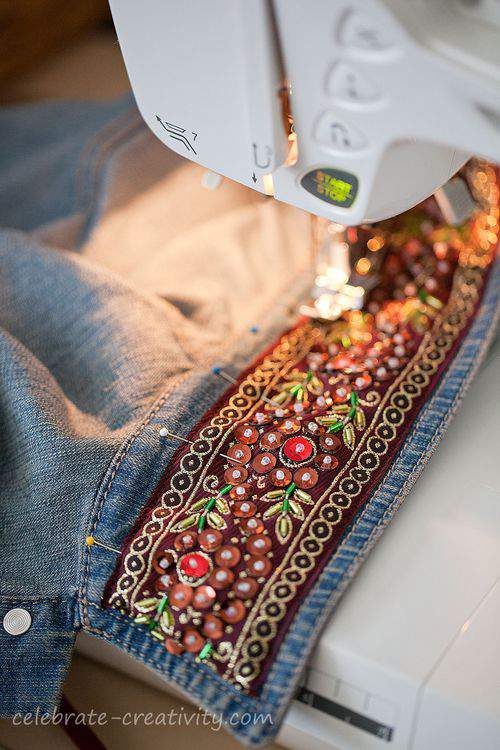 Here's how the collar looks now.
Ooh-la-la.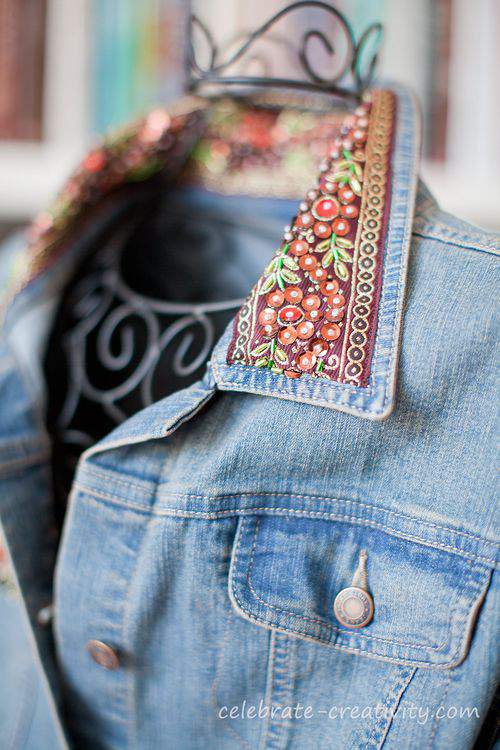 Want more?
If you want to get even more fancy, consider dressing up the plain jean jacket pockets with some more colorful beading. 
This is where you can add the beaded fringe.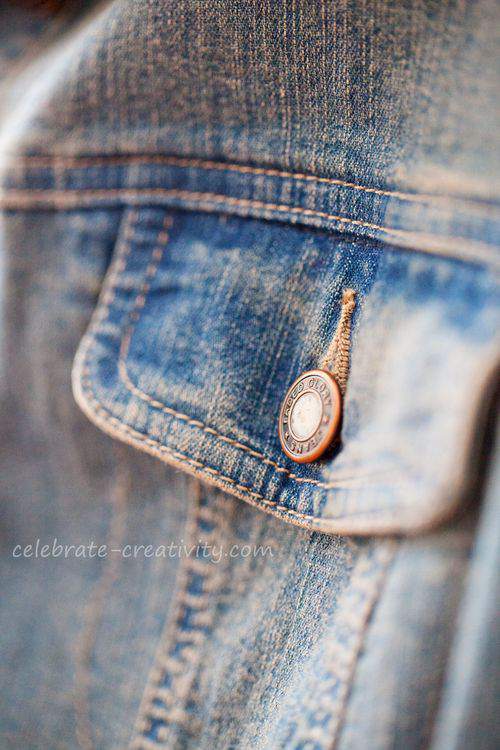 Adding beaded fringe to the pocket can be a tad tricky because you'll need to stitch the fringe from the FRONT of the garment instead of the back so that you can stitch along the existing topstitching.
First, pin the beaded fringe in place on the back of the pocket.
Then, turn the pocket over to the front and slowly stitch along the original topstitching along the bottom of the pocket.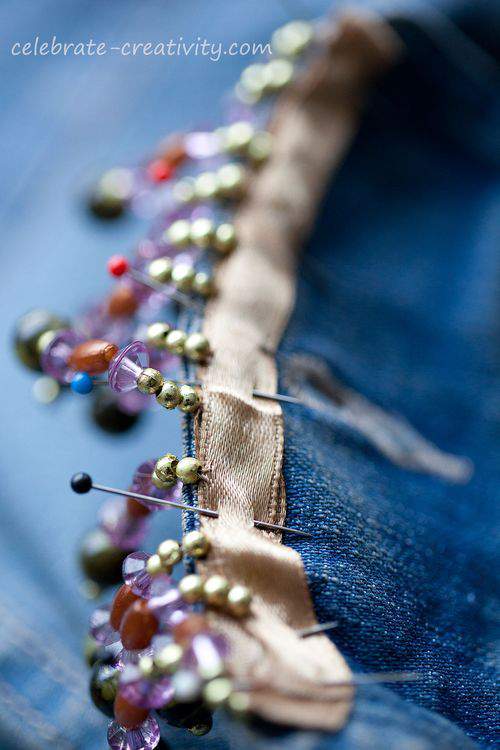 You'll need some thread as close to the original topstitching thread as possible.
I keep a few shades of this tobacco colored thread on hand and primarily use it for hemming or altering blue jeans and other denim items where this color is often prominant.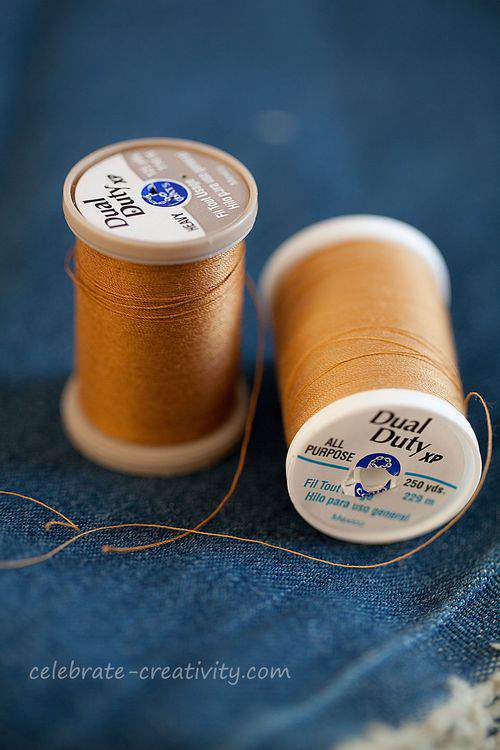 The additional stitching won't be all that noticable to anyone else but if you look closely, you can see where I attached my beaded fringe.
See how important it is to use the same color thread as the original stitching?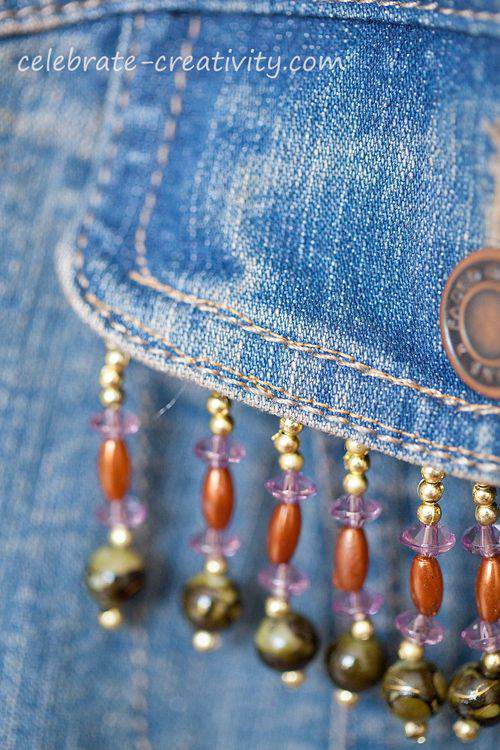 Here's another reminder of what the original jean jacket looked like before I added any beaded embellishments.
Just a run of the mill, typical jean jacket, right?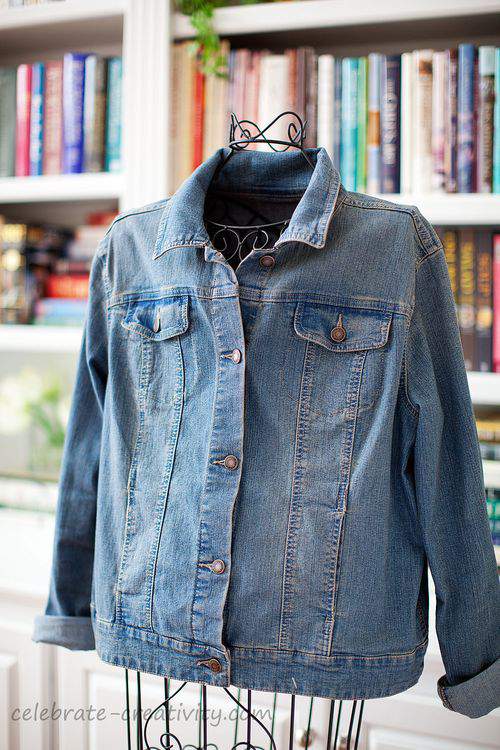 Here's a look a the jacket now.  
I decided to only put the fringe on one pocket because seeing how it looked on both pockets reminded me too much of a country western jacket (not that there's anything wrong with that) and that wasn't the look I was going after.
In this case, I think a little less is more.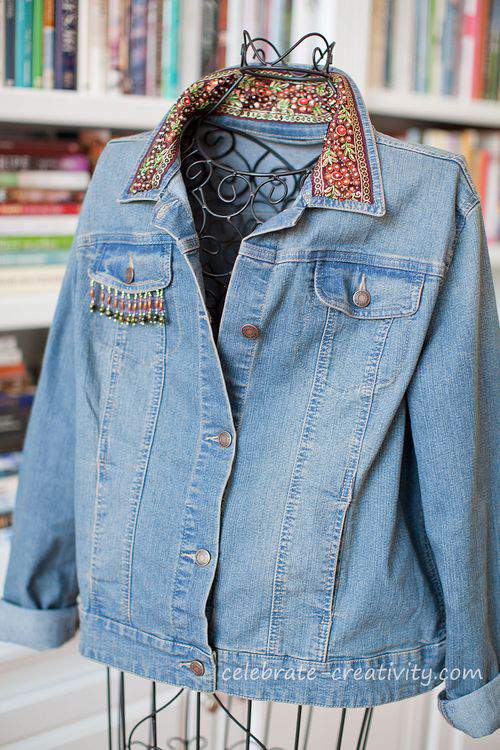 This was not only a super simple garment uplift it was a pretty economical one too.  The beaded ribbon and fringe cost me about $8 and the jean jacket was a $14 Walmart buy. 
For that price you can embellish more than one jacket (one for you and one to gift to a friend) and you also beat the sale price for the Anthropologie version.
I'm going to keep my eyes peeled for strips of more unusual beaded trim for a few more denim jacket makeovers.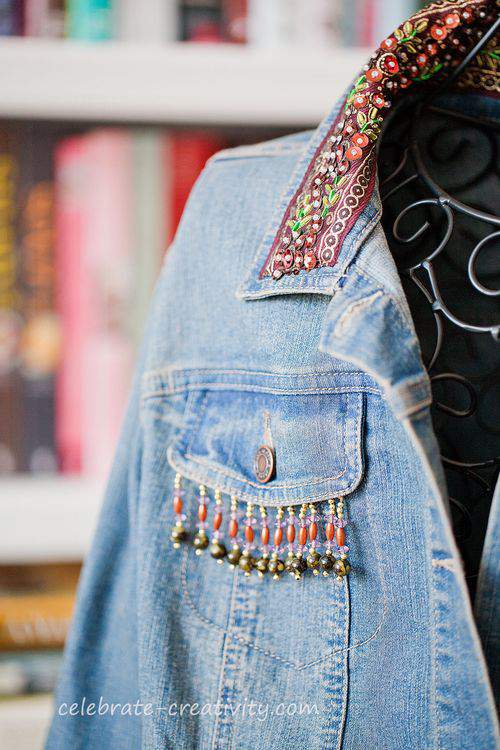 So, are you on your way out the door now to buy some beaded ribbon and/or trim?  
Do you now view denim jackets from Walmart in a whole new light?  ♥
WANT MORE DIY INSPIRATION?
Pop over to Bonnie and Trish's soiree over at Uncommon Designs for a look at more great projects.  Don't miss Beth's party over at Home Stories A to Z for tons of creativity from the hands and hearts of fellow bloggers.  Be sure to visit Kim's soiree over at Savvy Southern Style for even more beautiful ideas, recipes and DIY projects.  You'll love the creativity on display over at Kristyn's at Lil' Luna link party too.
COMING UP ON MONDAY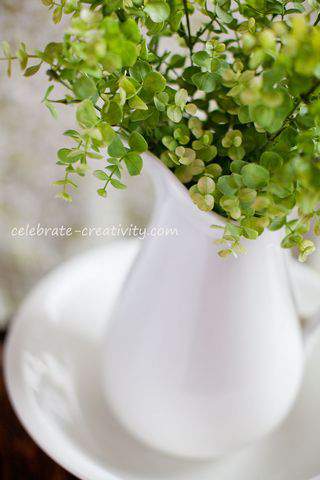 Everywhere you look, there are small signs that warmer temps are definitely on the way. 
Coming up on Monday (3/18), look for the latest edition of my regular column, AROUND TOWN with a Spring twist.   
I'll share a closer look at some of the great Spring-related projects I've stumbled across by fellow bloggers around blogland.
Hope you stop by again next week for  SPRING GREENS.
 See you then.