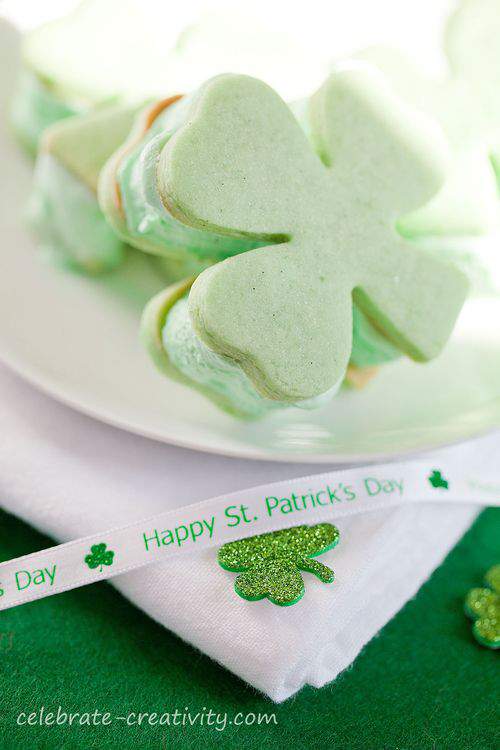 T he Luck O' the Irish has never been so delicious and you certainly don't need to be Irish to enjoy these shamrock shaped frozen treats.
Ice cream and sugar cookies will go hand in hand for the upcoming St. Paddy's Day observance and throughout this post, you'll see just how easy these Shamrock treats are to make.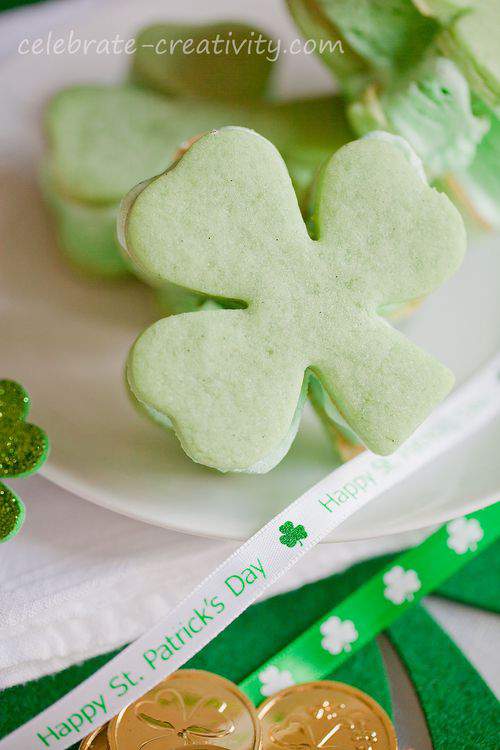 Go ahead, admit it.  Don't you wish you could take a bite of the computer right about now?
Yes, this tastes just as good as it looks.
To make my shamrock cookie sandwiches, start with a block of vanilla ice cream and give it few chops to break it up a bit.
This way, the ice cream will fit easier into an electric mixing bowl.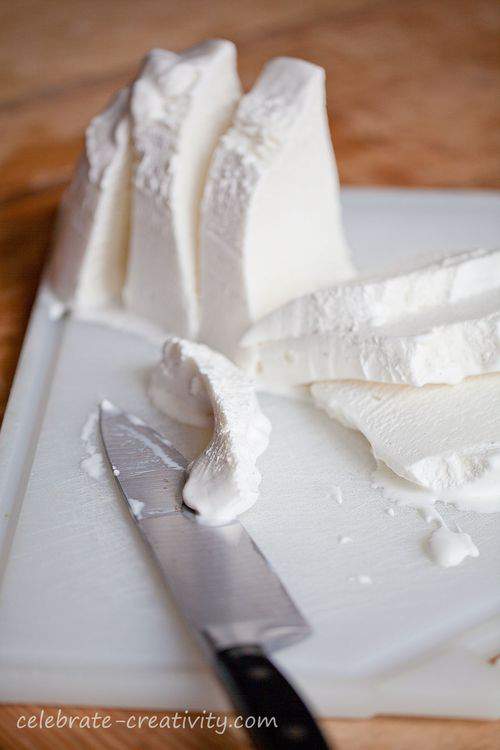 Add a few drops of green food coloring to give it that distinctly Irish shade.  Add a small amount of coloring at a time and continue to add small drops to obtain the desired shade of green.
If you prefer, you could use mint or pistachio ice cream which are already green.
NOTE: If you plan to serve to guests or visiting kids, keep potential nut allergies in mind when selecting what ice cream to use for this recipe.
Blend the ice cream and food coloring in the mixer.
This process will also soften the ice cream so that it can be easily poured into another dish.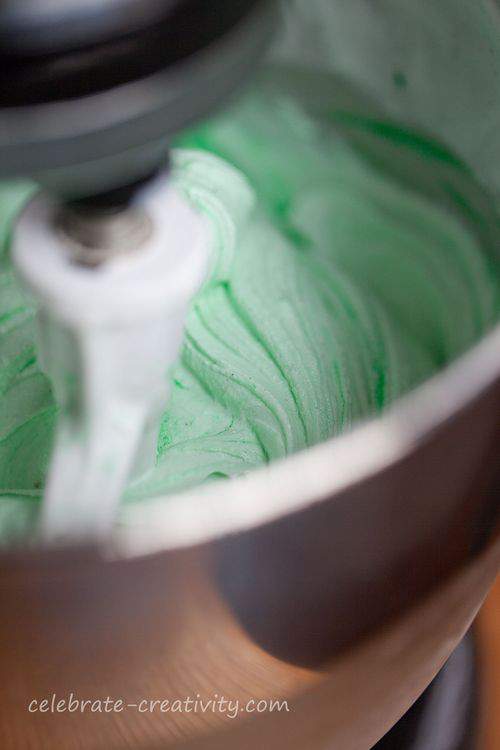 Once the ice cream is soft, spoon it evenly into a large baking dish, cover with plastic wrap and re-freeze for 4-6 hours or overnight.
IMPORTANT NOTE: Pyrex dishes can be frozen but make sure the dish has returned to room temperature before running it under warm water to clean.  Sudden extreme temperatures (from very cold to very warm) can cause the some glass dishes to break unexpectedly.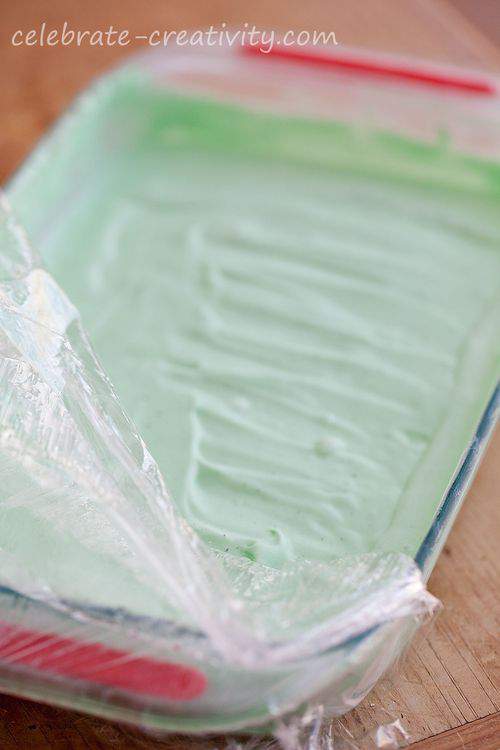 Use your favorite sugar cookie recipe to make a batch of dough.
Don't forget to add the green food coloring to the dough after all other ingredients have been mixed thoroughly.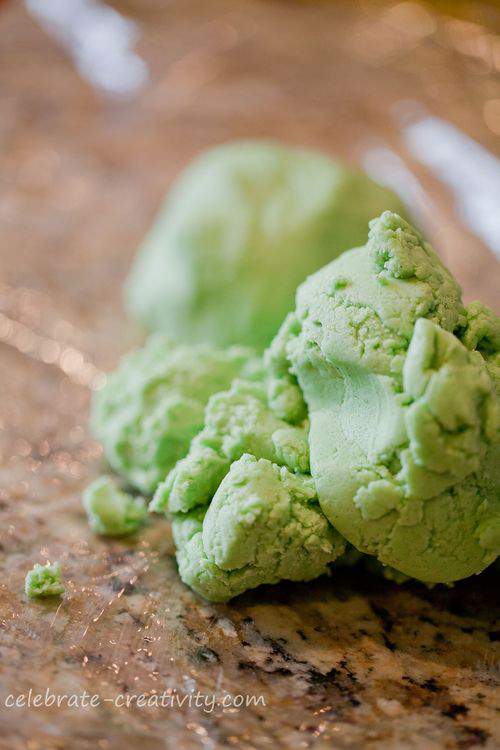 Roll out the green dough just as you would for any other sugar cookie.
I think the idea of biting into a green cookie makes this treat even more fun to eat.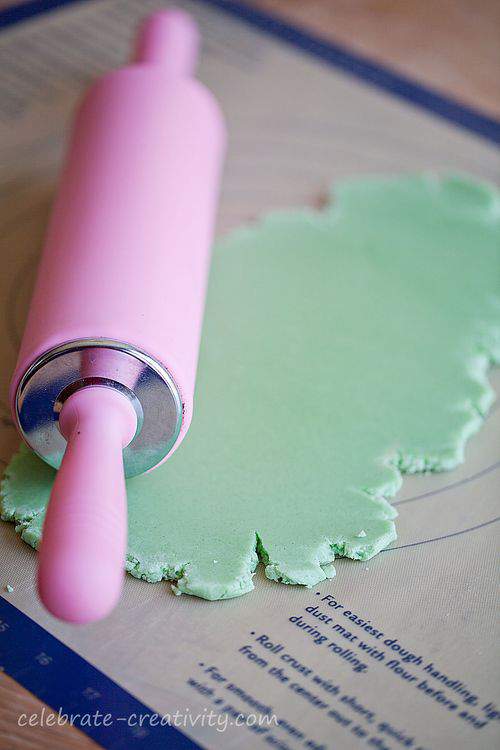 Use your shamrock shaped cookie cutter to cut multiple cookies.
I found this .99-cent shamrock cutter at Michael's crafts in the baking supply aisle.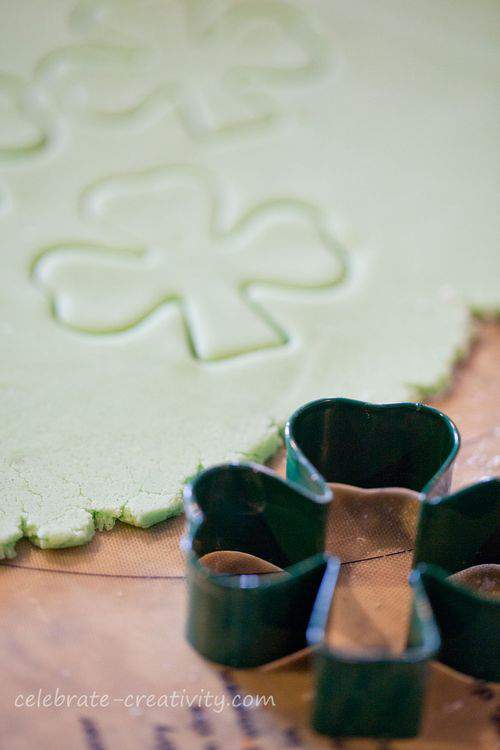 All lined up and ready for baking now.
Be careful not to overbake because the cookie will begin to turn golden brown around the edges and distract from what should be an all-green cookie.
Make sure baked cookies are completely cooled before adding the ice cream.
By the way, watch out for swipers in your household who may snatch a cookie or two before you can get them filled with ice cream.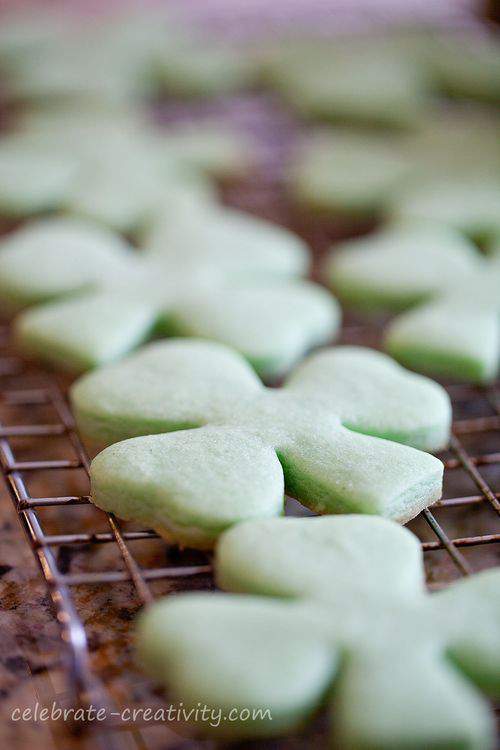 Don't remove the ice cream dish from the freezer until you are ready to construct your ice cream cookie sandwiches.
Lightly spray the cookie cutter with cooking spray to prevent the cutter from sticking to the ice cream and ruining the shape.
Use the cutter to cut the ice cream into the shamrock shape.
Work quickly because the ice cream will melt pretty quickly.
Place the shamrock ice cream shape on top of a shamrock cookie making sure you line up the shape.
Top each one with another cookie to create the sandwiches.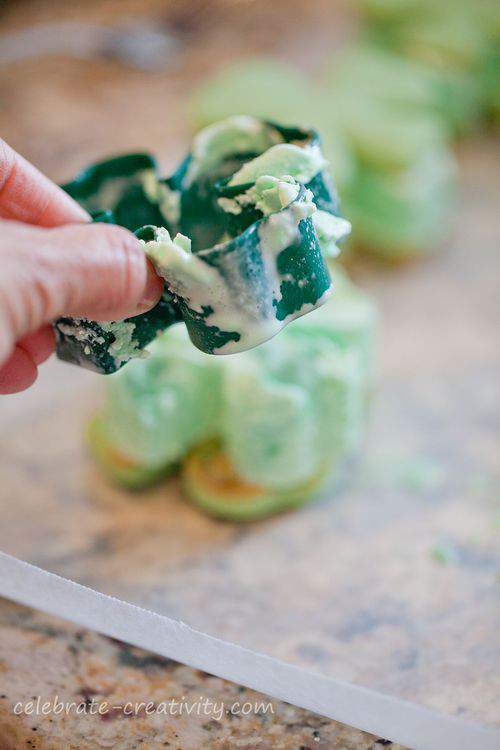 I suggest you kave a tray ready in your freezer and place each finished cookie in the freezer right away as you make the rest of them.
You don't want the ice cream to melt and lose the shamrock shape before you have time to finish constructing all the sandwiches.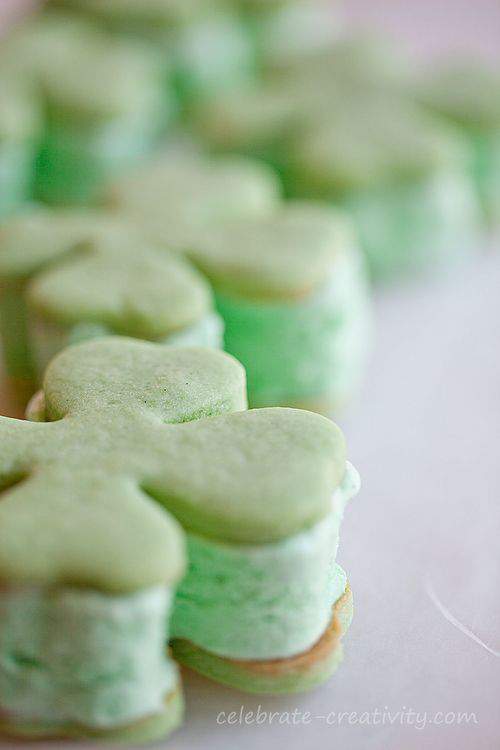 Serve frozen cookies when ready.
Of course, these ice cream cookies will put a smile on the face of any little leprechaun in your house.
Have you noticed that Jordy is always eager to help me with blog photos like this?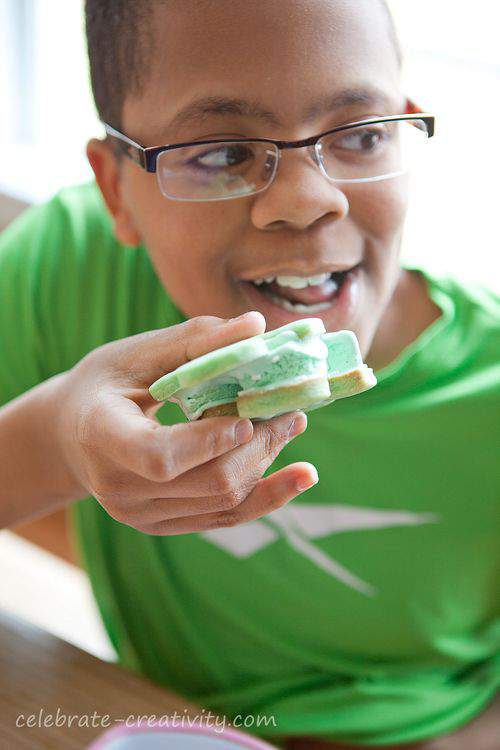 This shamrock ice cream sandwich concept can be adapted to suit any occasion and any cookie cutter.
Consider applying the same steps using your bunny cookie cutters for Easter, star shaped cutters for the 4th of July or gingerbread cookie cutters for Christmas.
I'm sure you can think of even more ideas to fit the cookie cutters in your kitchen collection too.
Thanks for stopping by.
See you back here next time. ♥
I'm linking this Shamrock Treat post to the following: