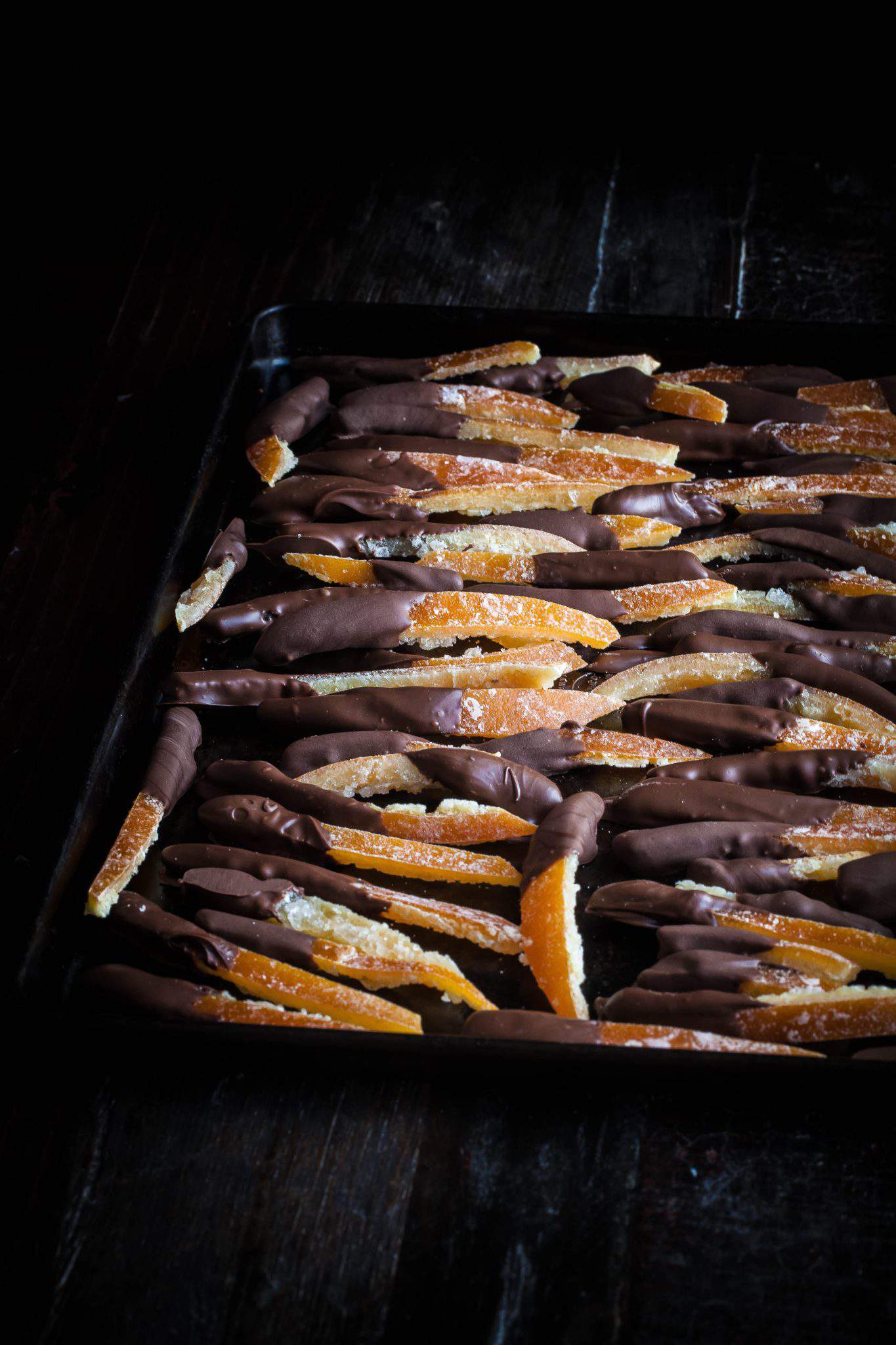 Candied fruit has long been a staple of various old-fashioned cakes and desserts but these candied orange peel strips are perfectly good as a stand-alone treat.
As simple as these chocolate-dipped goodies are to make they do take a few weeks to cure before serving.
But believe me, they're definitely worth the time it takes to make them.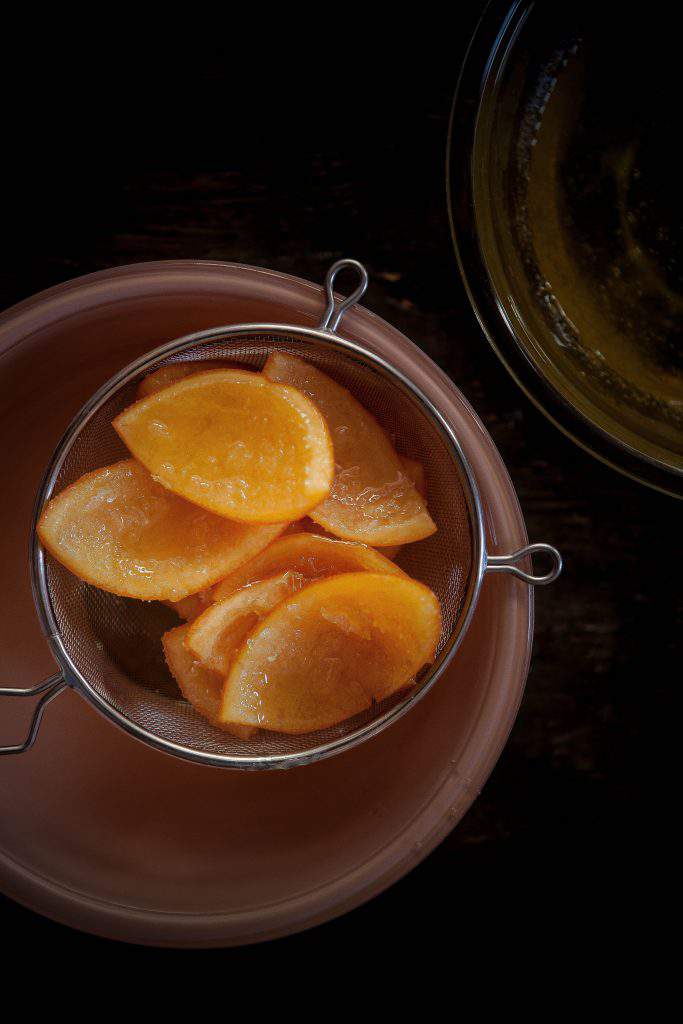 When I first came across the recipe in the pages of one of my favorite magazines, there was no mention of what to do with the delicious insides of the orange.
I suggest when you decide to make these treats, you first make a fruit salad to put the orange flesh to tasty use.
Then, prepare the orange peels.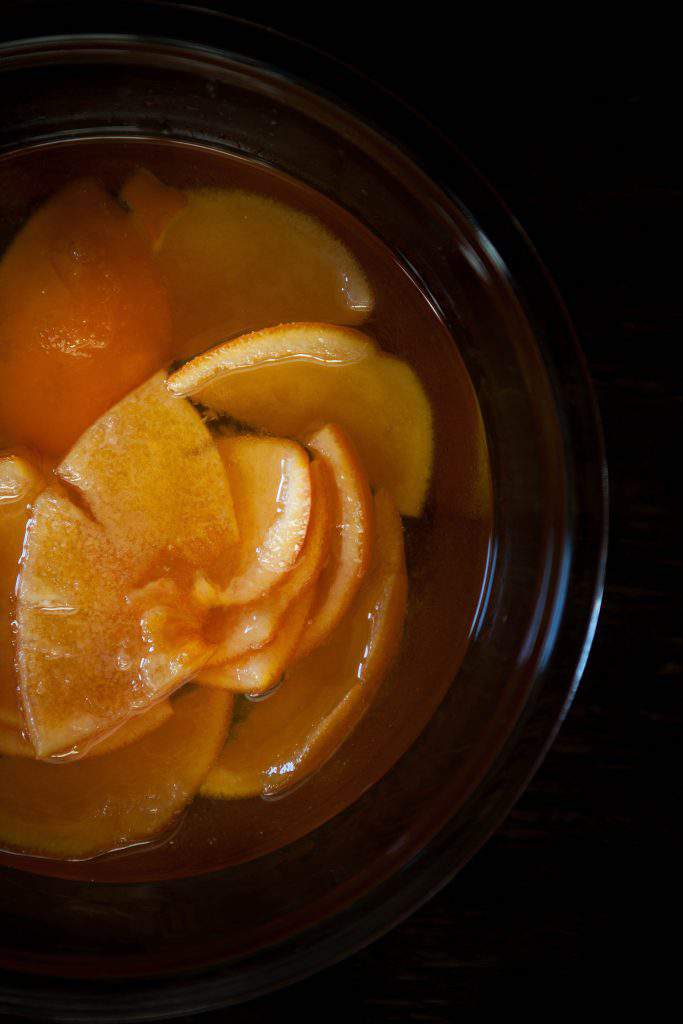 This is the first time, I've made candied fruit before and it was interesting to watch the peels transform from their natural state into sweet, crystallized pieces.
You'll have to plan ahead to make these because there are quite a few tops and rests throughout this recipe.
It takes almost two weeks for the peels to fully dry before they can be served.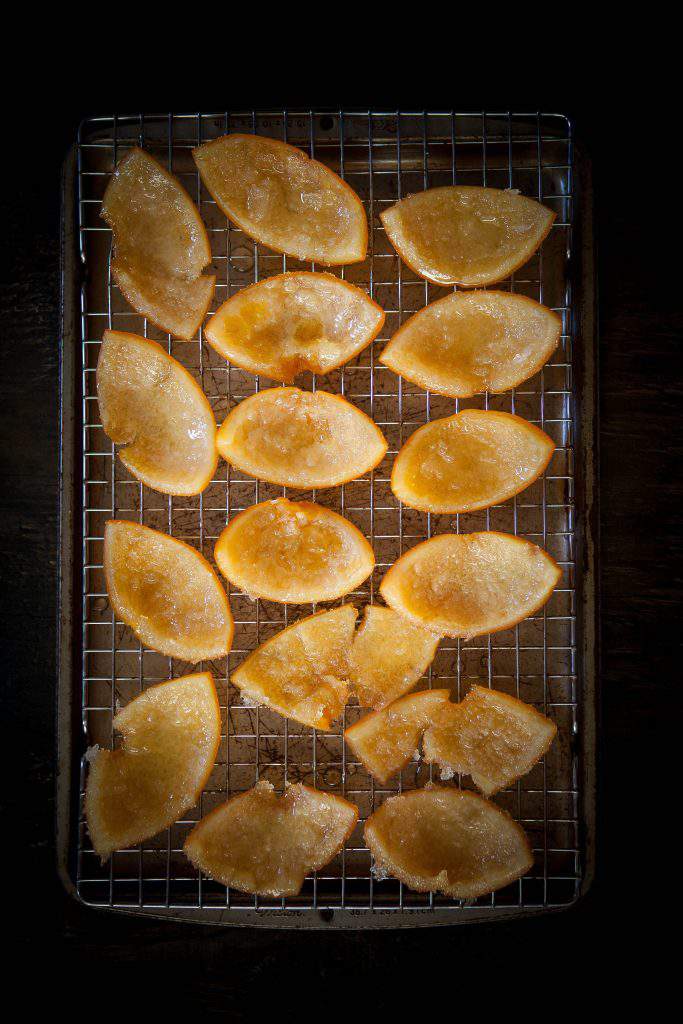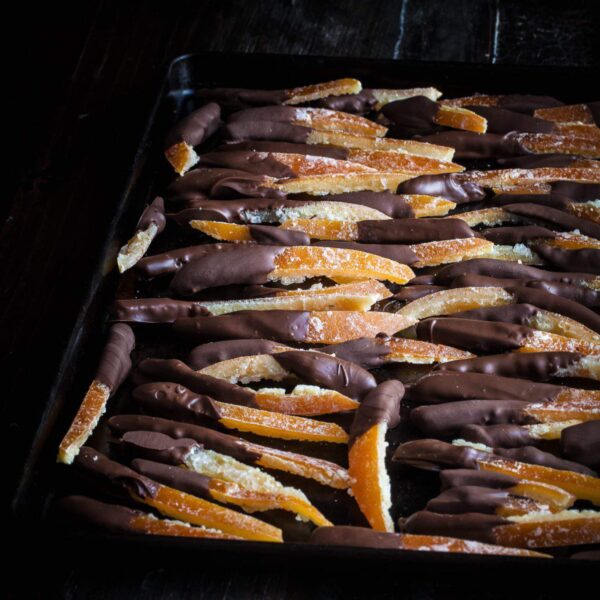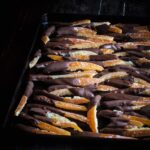 Chocolate-Dipped Candied Orange Peel Slices
Ingredients
6-7 oranges
35 ounces granulated sugar you'll use two measurements at different points in this recipe.
5 1/2 ounces of gourmet dark chocolate
Instructions
NOTE: Preparation includes 2 week rest period for peels to dry.

Slice the oranges into quarters and remove the delicious flesh.

Boil the peels in 6 1/2 cups of water.

Turn down the heat and simmer for 1 hour.

Remove orange peels from the water

Save 2 1/2 cups of water and add 1 cup of the granulated sugar.

Heat until dissolved and then boil for 1 minute.

Pour the boiling water over the peels in a bowl, cover and let rest for 24 hours.

Strain the peels from the syrup. Pour syrup in saucepan, add remaining sugar.

Dissolve, bring to a boil and cook for another minute.

Pour this sugar water over the peels in a bowl, cover and rest for another 24 hours.

Place peels and syrup back in saucepan and boil reduce heat and simmer for an hour.

Peels will be lightly translucent.

Place syrup and peel into a clean bowl and once again, cover and leave for 4 days.

Drain the peel and throw away the liquid.

Arrange the peels on a wire cooling rack and rest in a cool place for 1 week.

Peels will not feel tacky when fully cured.

Slice the peels into strips.

Melt chocolate and dip orange peel strips half-way into chocolate.

Place on parchment paper to cool and harden.

Package in plastic gift baggies, twist tie to keep them fresh and top with pretty ribbon or twine.

Gift to friends and loved ones.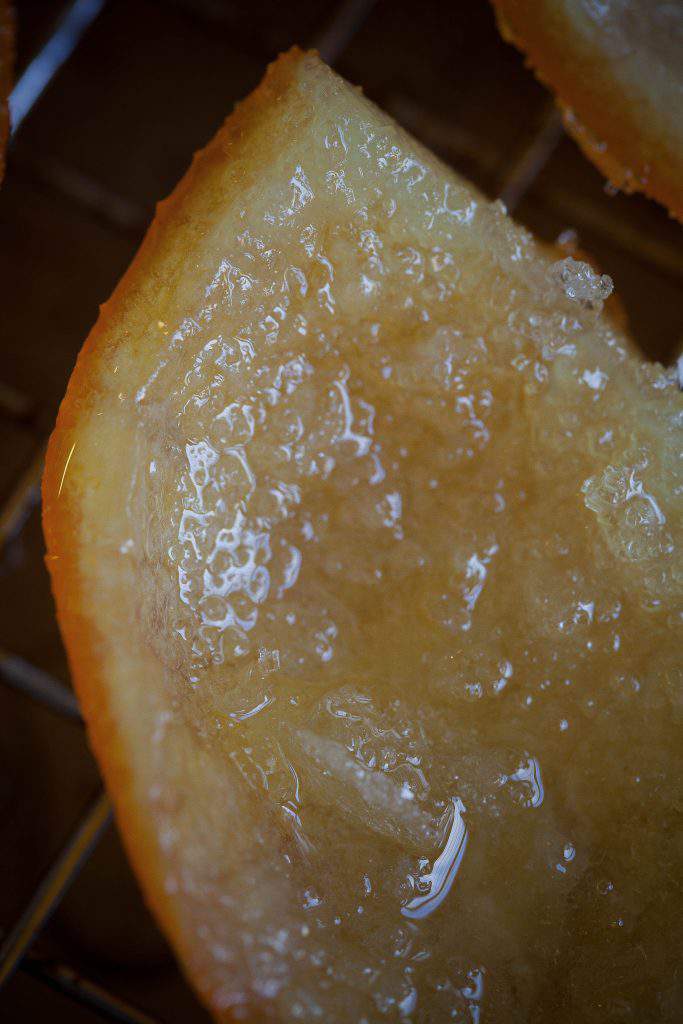 Halfway through the process, a thick sugary coating develops over the peels.
They're quite pretty at this stage.
Try to resist the temptation to taste because the peels really need the full time to cure and for the taste to fully develop.
Refer to the recipe above for all the steps.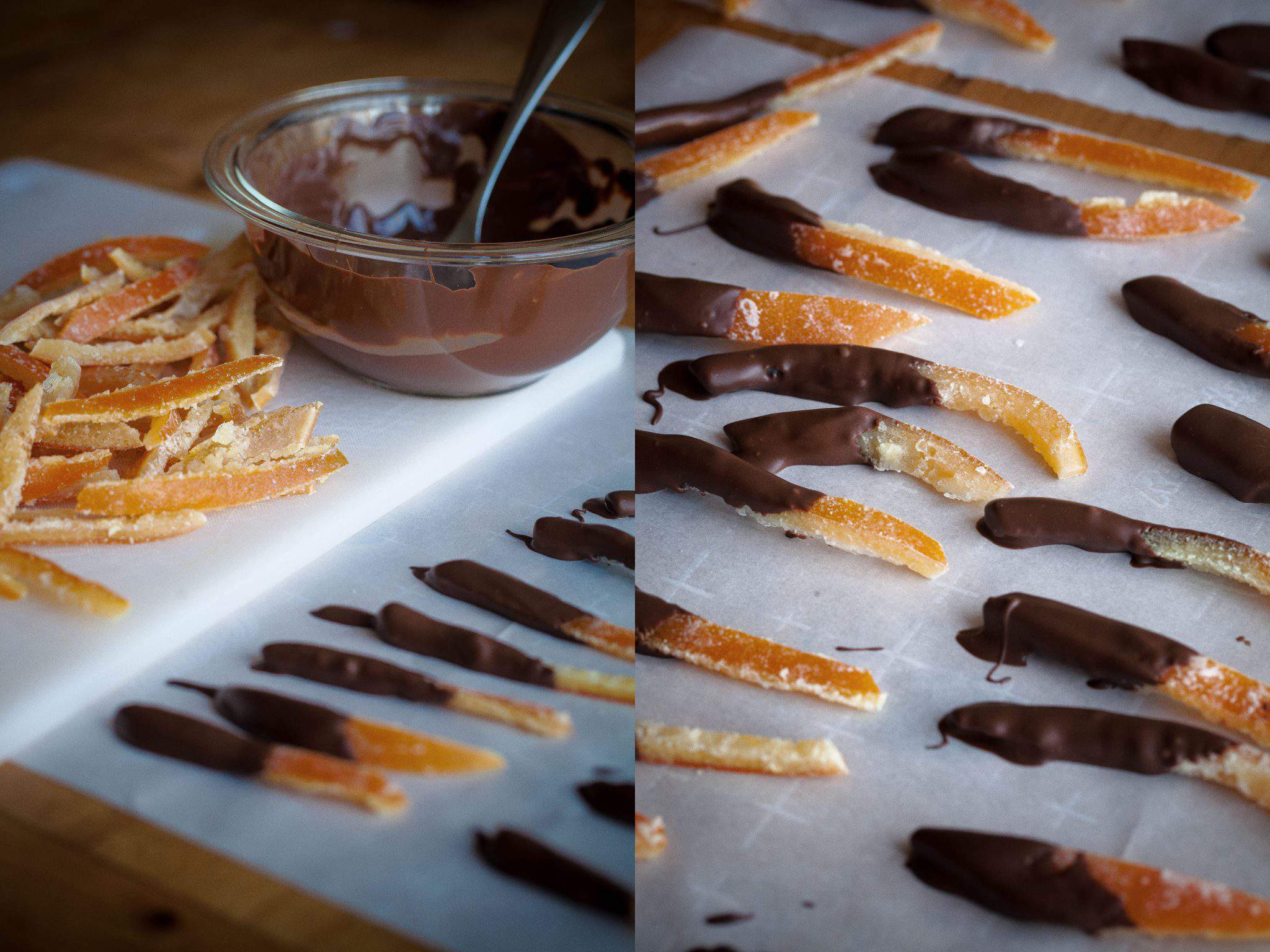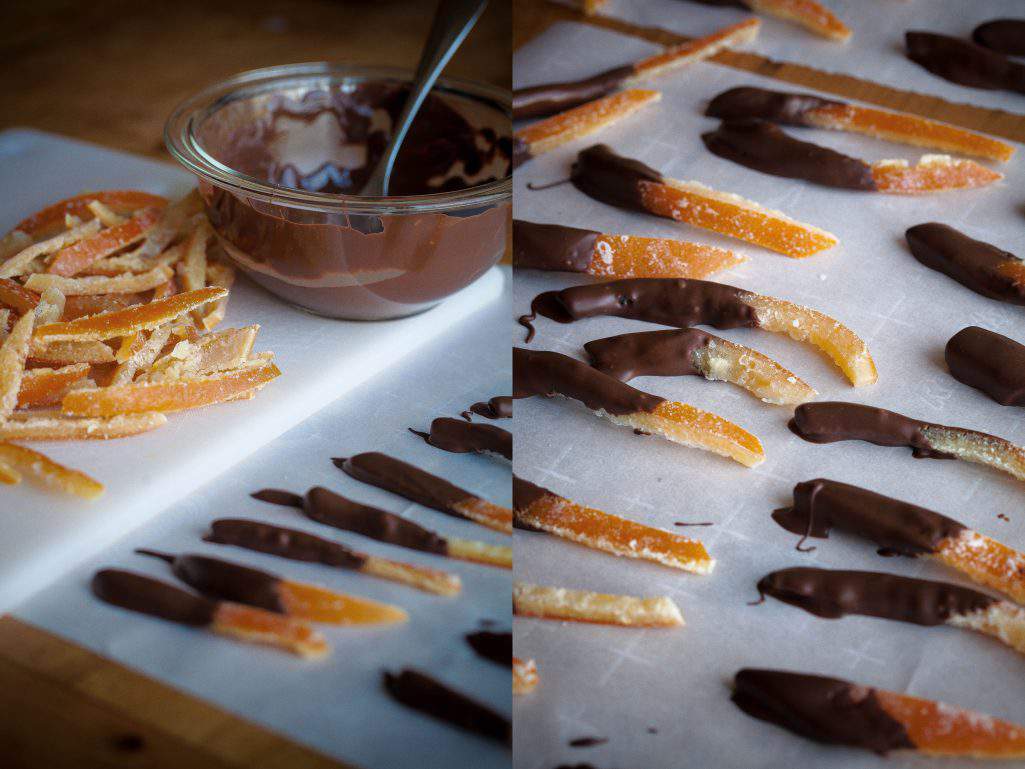 Once the strips are fully dried, slice them into 1/4-inch strips.
Melt the chocolate and dip the strips so that they're halfway covered.
Place chocolate-dipped strips onto parchment paper to dry and slightly harden.
The rich chocolate and the citrusy (is citrusy a word?) flavor of the peel is a delicious combination that is both sweet and tangy at the same time.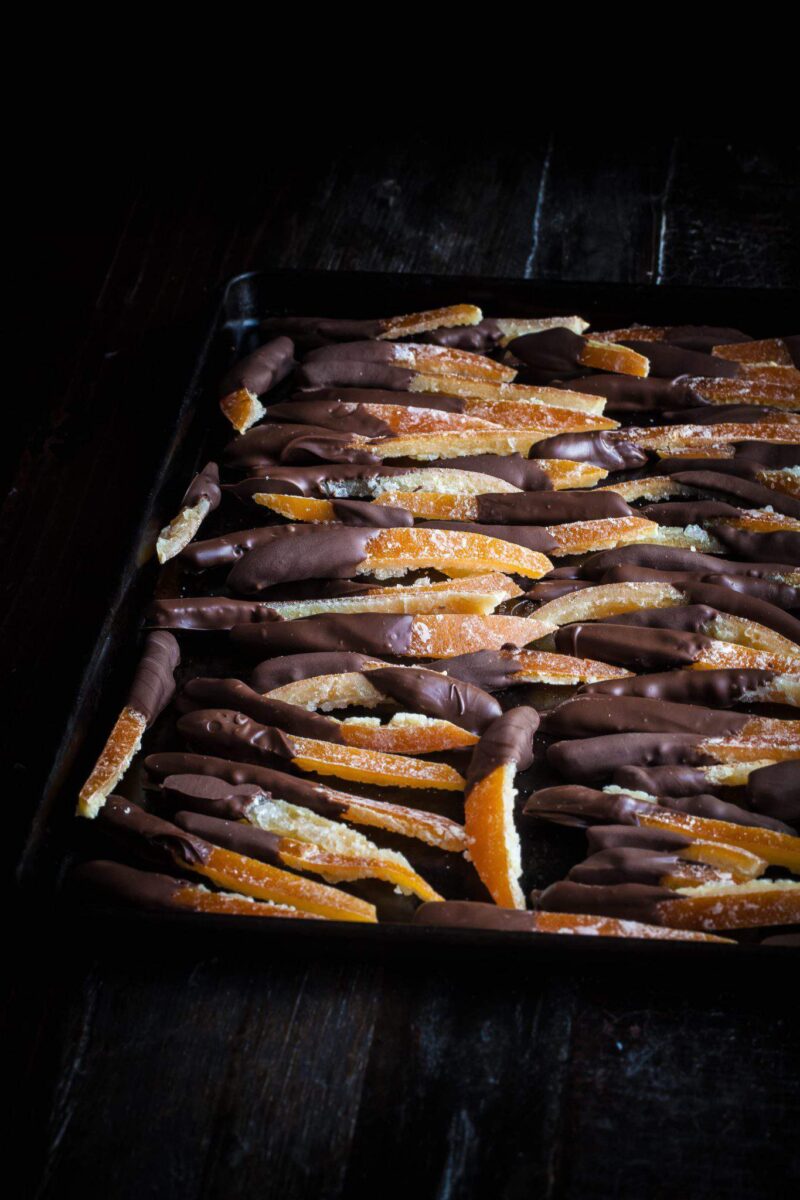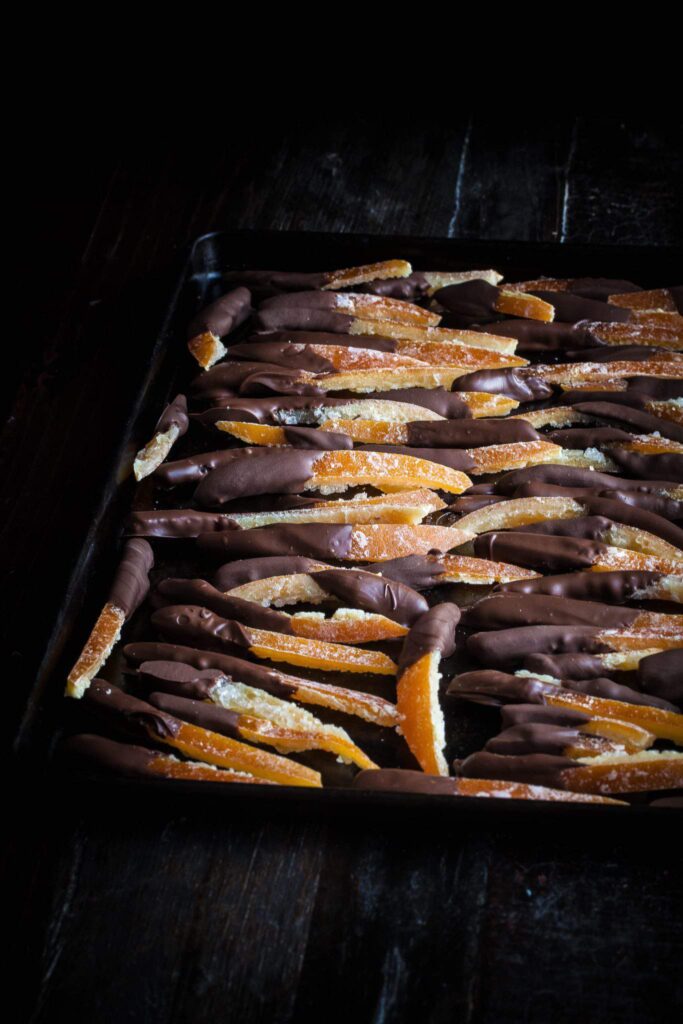 Once the orange peels have been dipped in that sweet dark chocolate, they all look so pretty piled up on a tray.
These also make for a lovely gift.
Just package them up in little gift baggies, twist tie them closed and top the baggie off with a pretty ribbon or bakers twine.
I think you'll enjoy these and your gift recipients will too.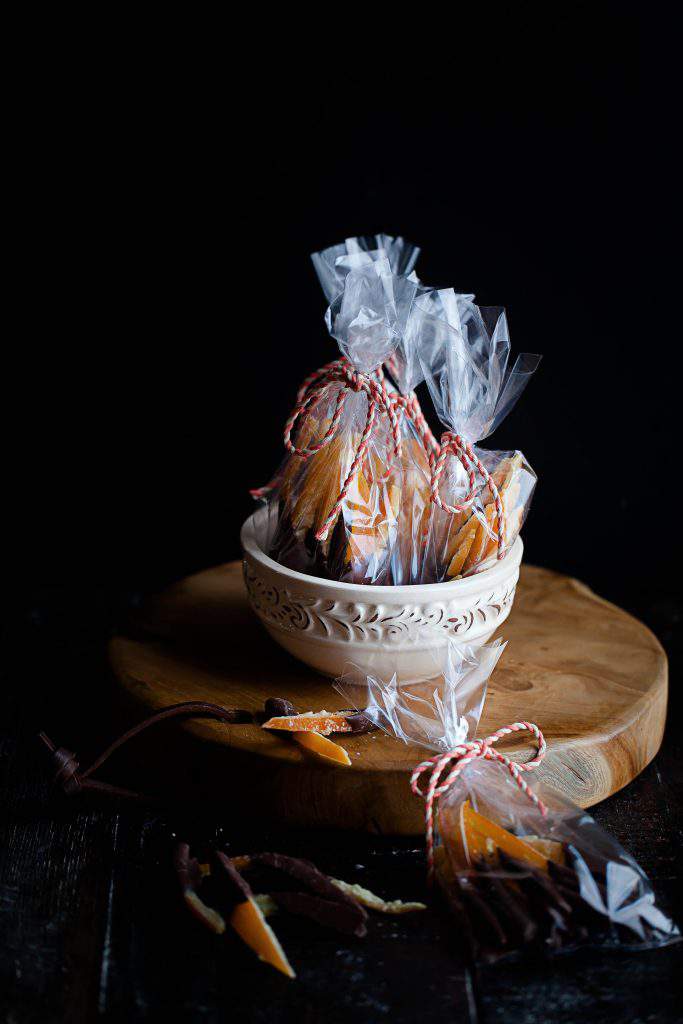 Thanks so much for stopping by.
See  you back here next time. ♥