L ook what the postman dropped off.  This is definitely not something most people would expect to see when they open a box.
I'll be the first to admit, I'd never expect to fall in love with a heifer head but I just couldn't resist.
OK, this is an unusual looking photo but before you think this is some weird, bovine take on the horse head scene from the original Godfather movie, allow me to explain how this ended up getting delivered to my front door.

This stone yearling just may become a new home decor focal point.
You're probably wondering why, right?
Well, to be perfectly honest, I'm not sure but there's just something about this heifer head that I like and it has a lot to do with the first time I saw it displayed on another blog.
I first spotted the stone heifer head last year over on Miss Mustard Seed's blog.   She has a really fun blog loaded with great ideas on home decor, DIY projects and painting ideas that stem from her own line of milk paint.
Anyway, Miss Mustard Seed featured the heifer head on her site as part of a holiday decorating post.
I thought the stone head added such an interesting and unexpected element to the chalkboard wall in her kitchen and the decorating choice really stuck with me.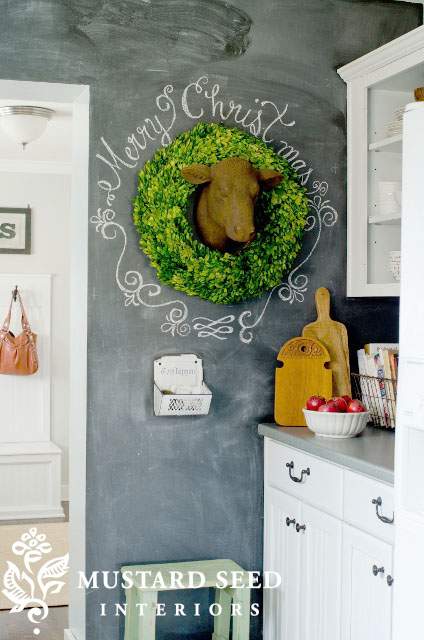 Above photo source: Miss Mustard Seed blog
Then, not long after first seeing it, the same heifer head was for sale through an on-line site called Decor Steals.
NOTE: Decor Steals is another great site which features home decor deals-of-the-day that are in limited supply and oh-so hard to resist.
There must have been quite a few others with similar intent because the stone heifer sold out almost right away but not before I snagged one for myself.
Now, my home decor is not really country, it's no where near western and I don't have a chalkboard wall but this stone yearling really appeals to me so I thought I'd try to incorporate it somehow and somewhere in my home decor.
There's a blank wall in my kitchen that runs into my kitchen staircase and so I decided this could be a good spot for the heifer head.
Still not totally convinced this could work, I decided to poll my mom and twin sister who are my most trusted advisers on all things potentially controversial and/or quirky (among other things).
I'd say, a heifer head as home decor definitely falls under quirky in my book.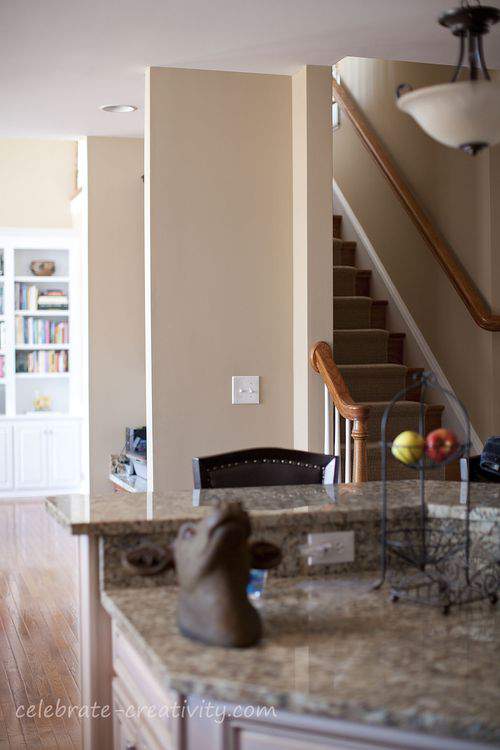 First, I sent photos of the yearling in the box to my sister Paula (I call her PT).  I also included a photo of the Miss Mustard Seed's heifer head so she could see where I drew my inspiration from.
Here's our e-mail exchange:
LISA:  "PT, what do you think of this calf head.  I'm thinking about hanging this in my kitchen.  Check out the inspiration on this chalkboard wall.  Pretty cool, right?".
PAULA: Wow, I'm stunned.  I'm sure you see something great here but I don't get it.  Bleeeeeech, I think your calf looks much better in the box"
OK, one adviser down, one to go.
Surely my mom (Nana Banana) would appreciate my bovine vision.
Ahem, here is our e-mail exchange.
LISA: "Mom, I'm going to hang this stone yearling heifer head in my kitchen.  What do you
think. Too creepy?"
NANA BANANA: "Too creepy?  Uh huh.  In fact it's scary looking.  I can't imagine where this could be
displayed". 
If you had a Time Out room you could use it when the kids are naughty.  You could paint white dots in the eyes of the heifer and hang the head in the Time Out room and that would certainly elicit good behavior.  Other than that, I don't know where you could put it. 
Please don't put it in the guest bedroom (shudder)".
Despite the opinions of my trusted advisers, I decided to press ahead.
Hmm, I may have to just live with this for a few weeks to see how I really feel about it.
I wonder what the kids will say about this yearling on the wall when they get home from school.  Or Boris?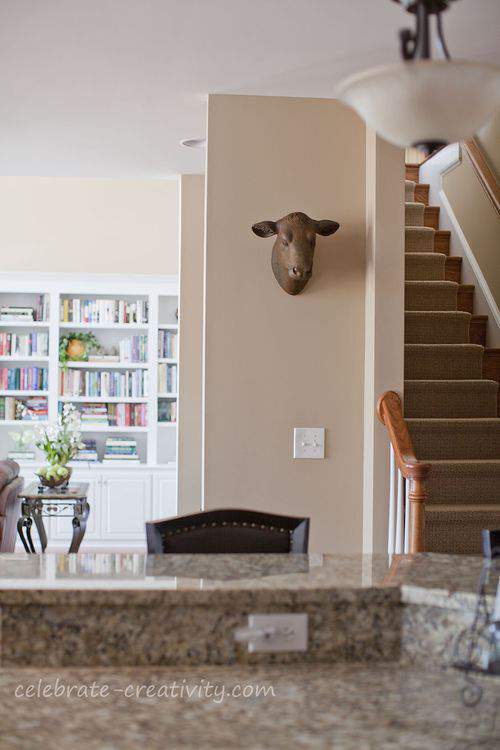 So, what do you think about the heifer head?  Do you think I'll ever be able to convince my family that this yearling should stay and not be put out to pasture?
Do you have a particular home decor item that you love but everyone else questions?  I can't possibly be the only one. ♥
COMING UP ON FRIDAY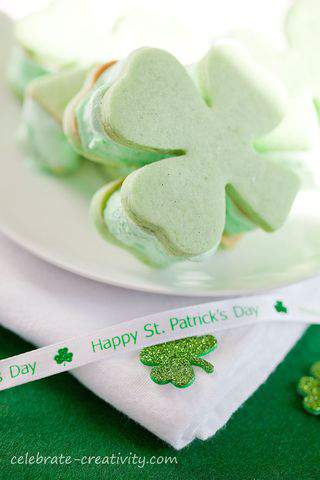 The Luck O' the Irish has never been so delicious but you don't have to be from Ireland to enjoy these frozen treats.
St. Paddy's Day is just a few weeks away (March 17th) and with that upcoming observance in mind, I'm serving up Shamrock ice cream sandwiches.
These tasty, mint-colored sugar cookies are super easy to make and the ice cream is even easier to shape.
Hope you stop by this Friday (3/8) for my latest edition of THE FRIDAY FOODIE with a look these frozen Shamrock goodies.