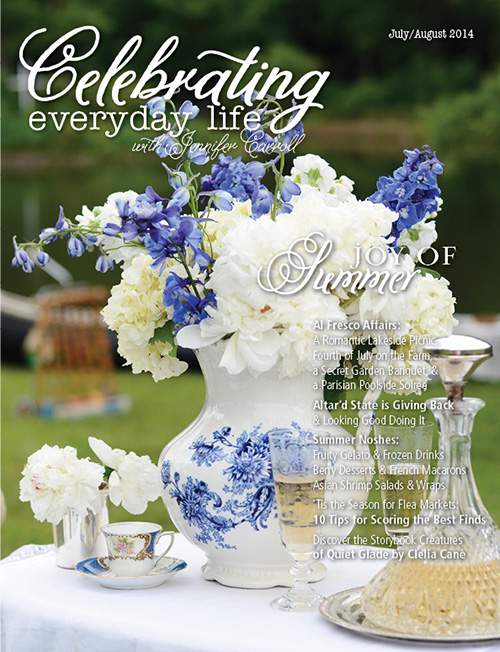 T
here are just some magazine cover photos that take my breath away and make me want to dive right into the issue right away.  That's how I felt when I first saw the latest digital issue of Celebrating Everyday Life with Jennifer Carroll.
The soft blue and white flowers pouring out of the pretty etched vase are such a lovely focal point with every other element perfectly arranged.
This is a cover photo that sweetly invites its readers to relax, turn the next page and lose yourself if just for a while in simple beauty.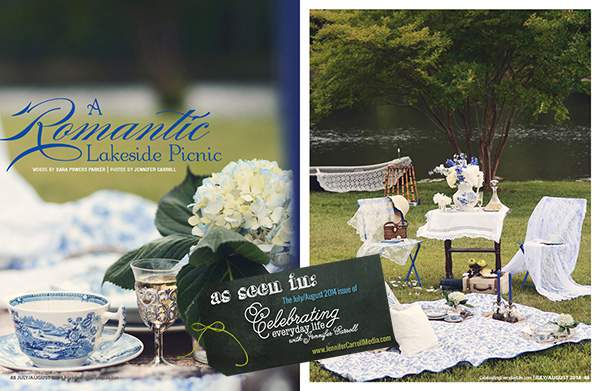 The cover is part of a Romantic Lakeside Picnic and its one of my favorite features in this July-August issue.
The serene and elegant styling (executed by Jennifer) is just so stunning.  Every detail is so well thought-out and arranged, it just makes me want to pull up a lakeside seat myself and indulge in all the goodies here.
I absolutely love being a regular contributor to CEL and in this issue, I share how to make my beaded beverage bucket which you're going to love.
Believe me, your chilled drinks will taste so much better when pulled from this colorful and festive container with its handcrafted attachments.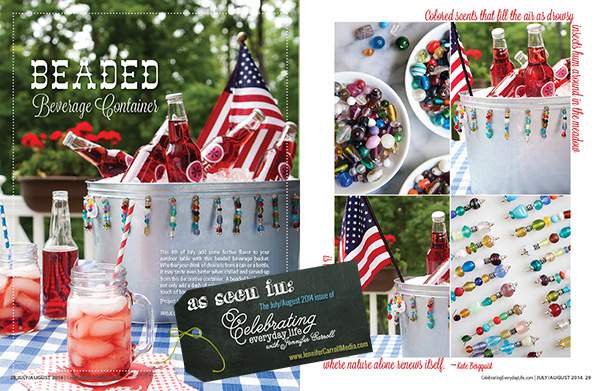 This July-August issue is filled beautiful DIY projects, home decor ideas, delicious recipes and so much more eye candy on page after page after page.
Speaking of recipes, I was particularly drawn to this article on French Macarons because I'm knee-deep myself in my 10th attempt at making these popular (but very finicky) desserts.
I'm finally figuring it out and I'll share my own macarons with you later in an upcoming post.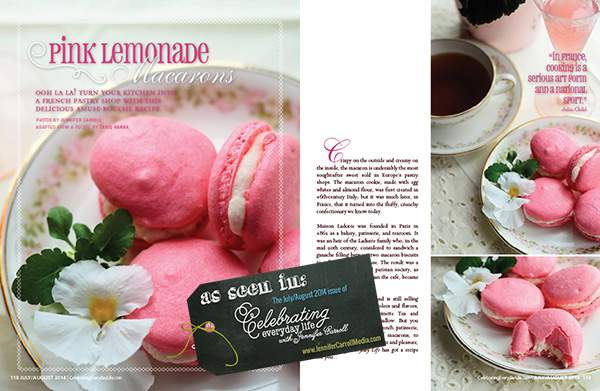 Every page is as delightful as it is inspiring as Jennifer and her contributors share ideas for heart and home.
I hope you pick up a copy of Celebrating Everyday Life, find a quiet spot to yourself with a cool breeze and an equally cool beverage and soak up this extraordinarily beautiful issue.  You'll love it.
Click HERE  to buy and enjoy your copy today. ♥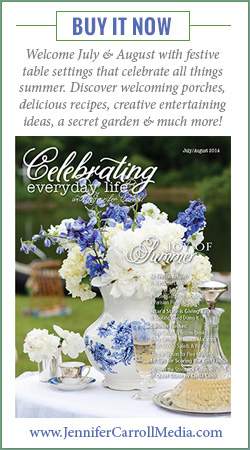 Thanks for stopping by.
See you back here next time.