I think butterflies in the air are such a beautiful summer sight.
I love to see these winged creatures floating effortlessly on top of a warm breeze.
Butterflies are free and have never looked better when created out of embroidery.
I think you'll enjoy seeing them come to life in the form of embroidery.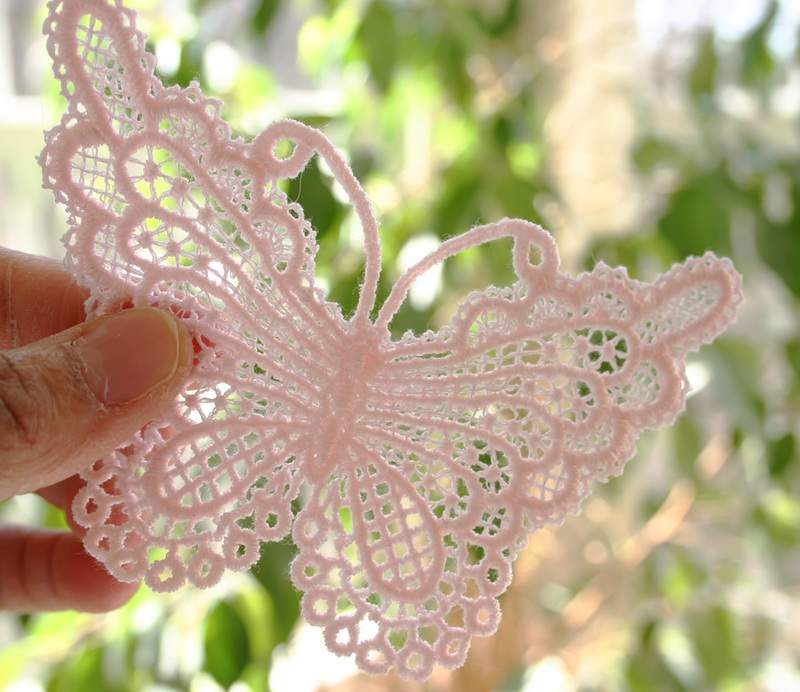 There are so many designs available that lend themselves to this fun and elegant applique technique.
Throughout this post, I'll share a range of applique projects as well as some examples of how these pretty appliques can be used.
First, let's start with the how-to. You'll need a sheer fabric like an organza, tulle or another light netting. This kind of fabric comes in lots of beautiful colors and you can pick it up at most fabric stores.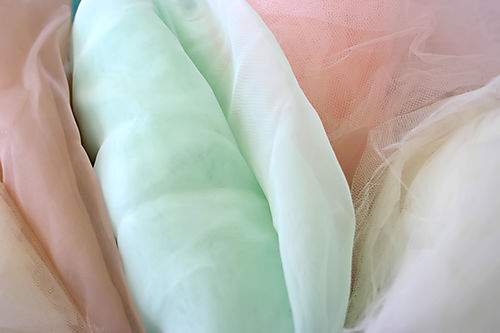 You will also need some water-soluble stabilizer. Stabilizer holds fabric in place in an embroidery hoop while the design is stitching out. It can be completely washed out. Stabilizer can be found at most sewing shoppes and it typically comes in a roll like in the photo below.
Make sure you always store your water-soluble stabilizer in air-tight plastic so it won't be affected by moisture in the air over time.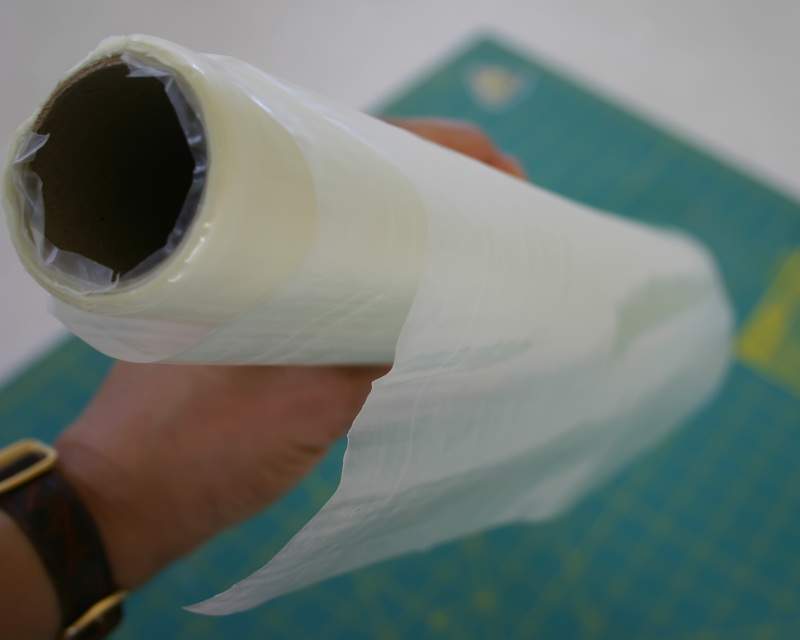 Of course you'll need a great thread color. You can always mix up your thread shades for a more colorful look on your project. Since I used a pale pink tulle for this illustration, I just kept it simple with a matching pink blush embroidery thread.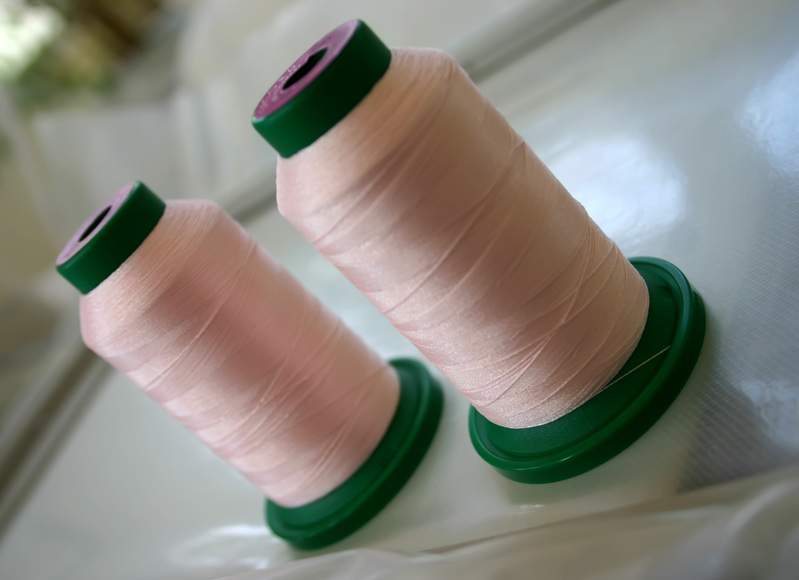 When setting up your embroidery hoop for the project, sandwich your netting fabric between two equal sizes of water soluble stabilizer. Place all three layers into your embroidery hoop.
Remember, netting in the center and stabilizer on top and bottom.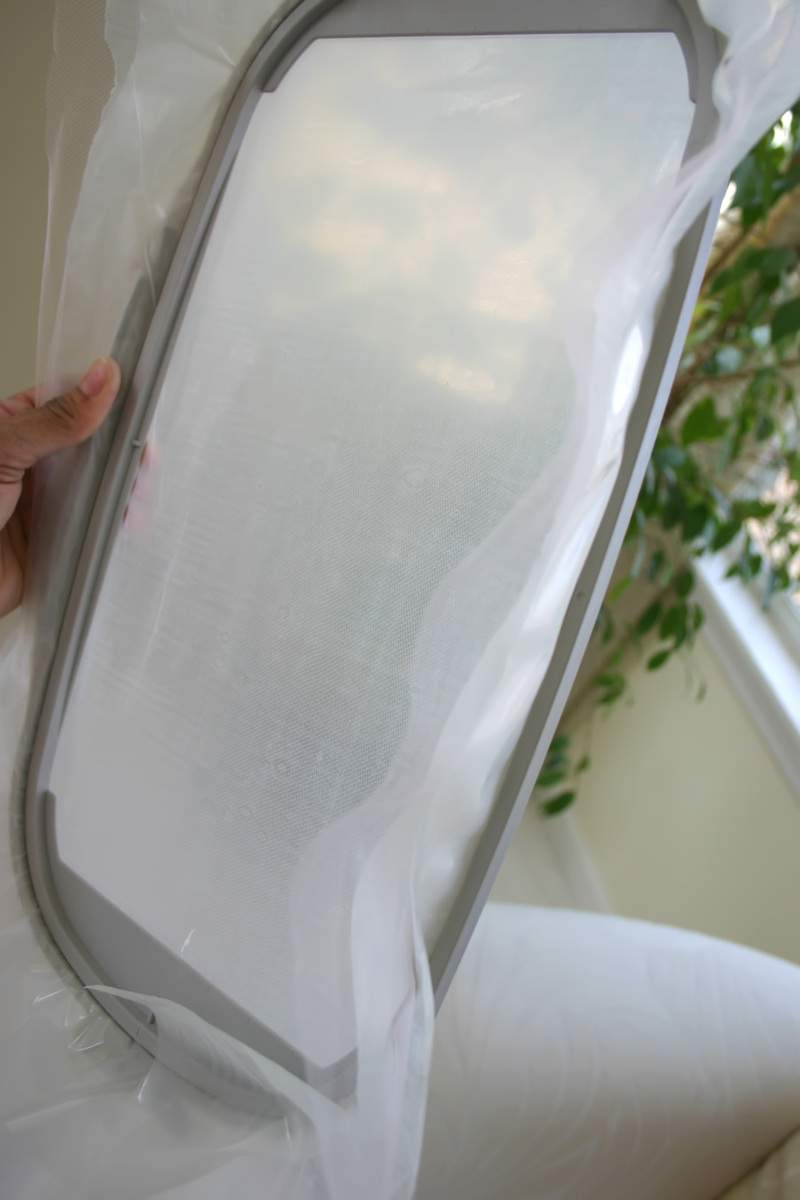 You must select an embroidery design that has a continuous stitch like the butterfly pattern above or the flower and leaf pattern in the photo below.
The flower/leaf design is completely stitched-out here and you'll notice that no part of the design is separate from any other part of the design. That's a critical factor in creating a successful embroidered applique.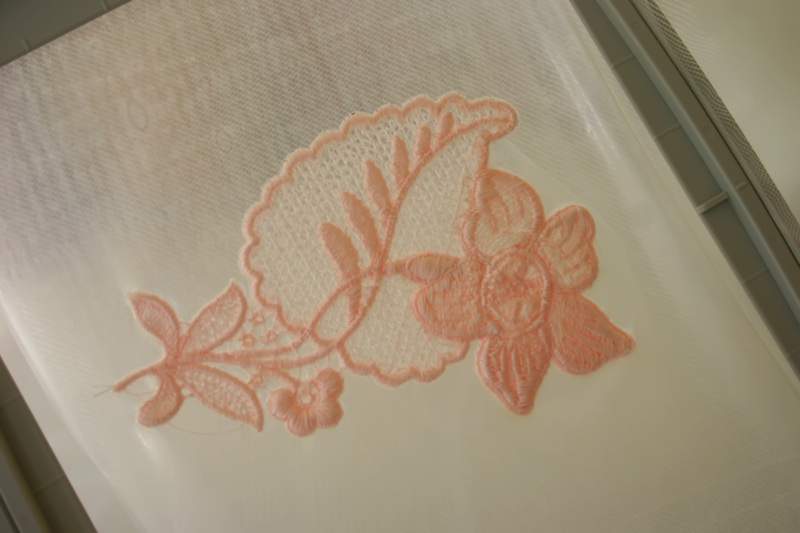 The no stitch-separation rule is important because once the design is stitched out, all the embroidery stitches must connect at some point in order to stay in tact.
If even a small stitch element is not connected to the overall design, you will lose that element after rinsing the stabilizer out because it will not be attached to the rest of the embroidered design.
The stabilizer completely dissolves in water. After rinsing all the stabilizer out of the project, you're left with a beautiful design stitched onto netting.
You can see the design stays attached to the netting because all the stitches connect in some way.
Press the damp appliques flat with a paper towel and set aside to dry completely. Later, just trim the excess netting from the design for a perfect embroidered applique.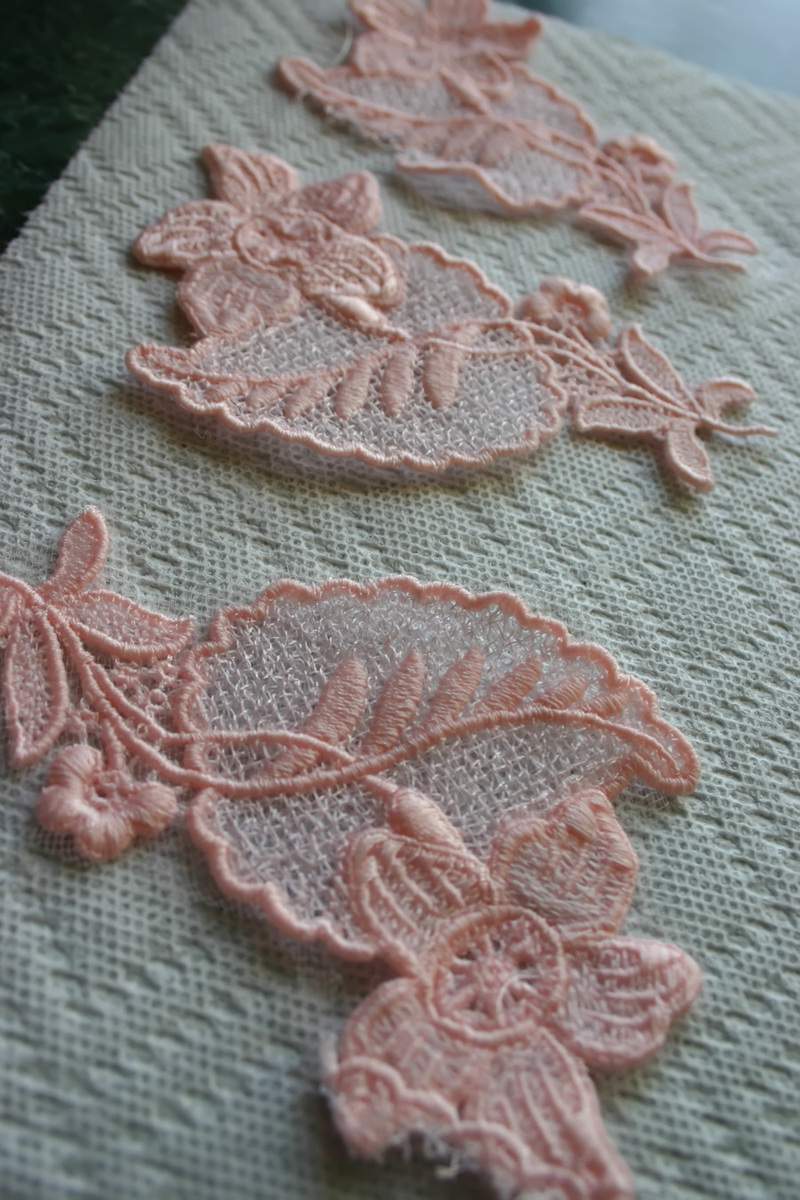 The butterfly design at the top of this post and the flower and leaf design are both from an embroidery collection by Jenny Haskins called Victorian Lace.
You may remember I used some of Jennie Haskins' fabulous rose designs for the messenger bag project I posted not long ago.
Jenny has a corresponding book called Victorian Spendor, which is filled with tons of beautiful examples of beautiful projects and suggestions on how these embroidery designs can be used.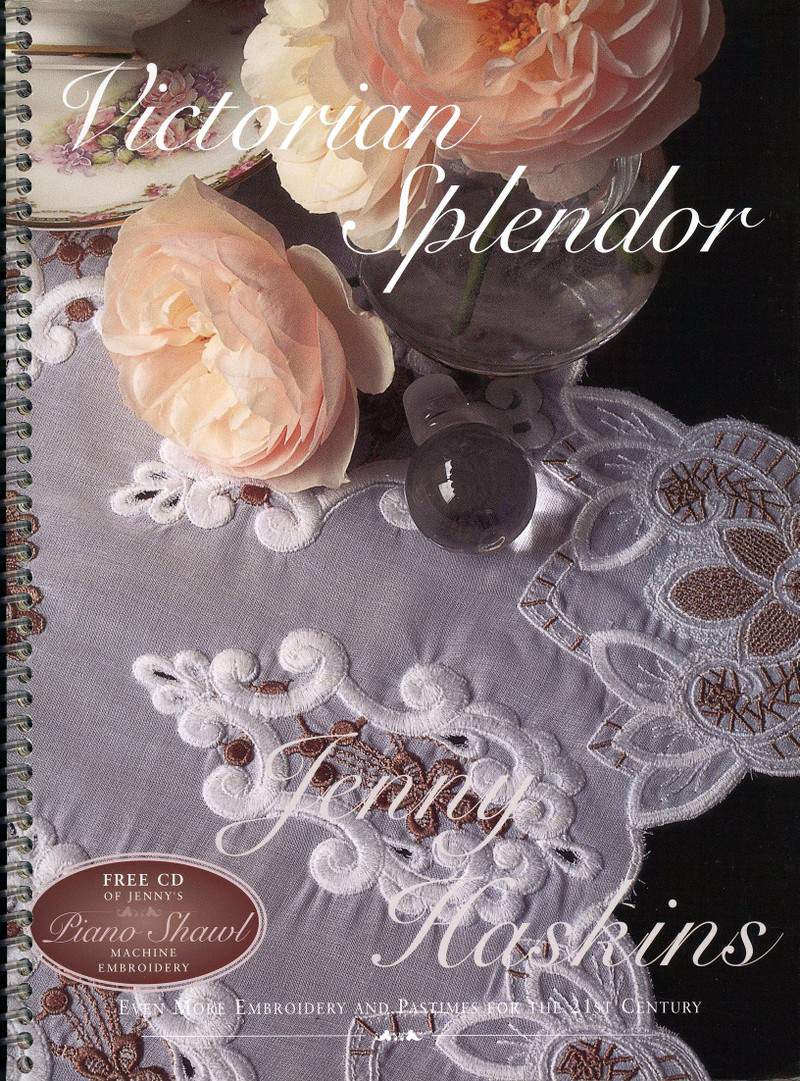 While on the subject of this book, allow me to digress a bit. This book originally came with a very tight binding which made it difficult to keep the pages open while I was studying certain projects and designs.
I took the book to a local office supply store and had the hard binding replaced with a spiral one. Books like this are so much easier to use when you can leave the pages flat and open.
I'll bet you can think of a lot of crafts books in your personal library which could use a spiral binding.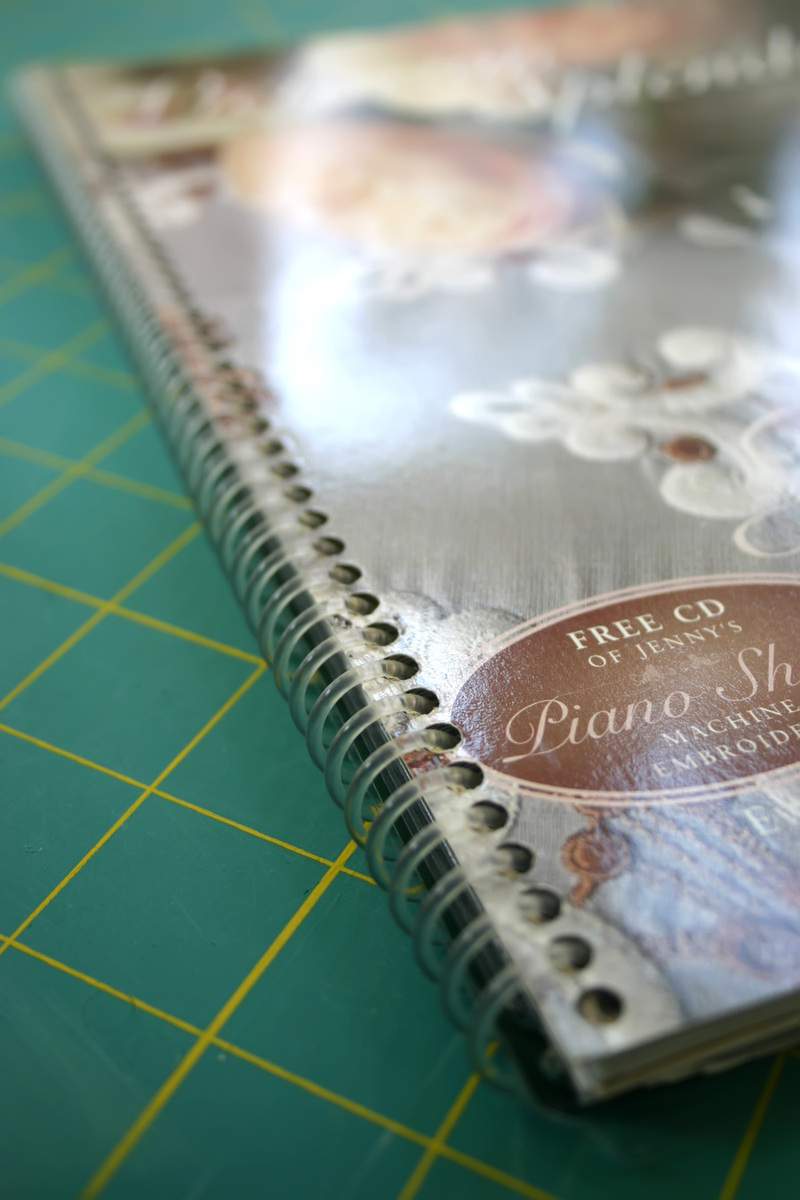 I also had a few clear pocket-folders inserted into the spiral and placed in the back of the book. This is a great way to store accompanying patterns, templates and various work notes.
This spiral binding is inexpensive, does not affect the integrity of the written material and it really does make for a much more user-friendly reference book.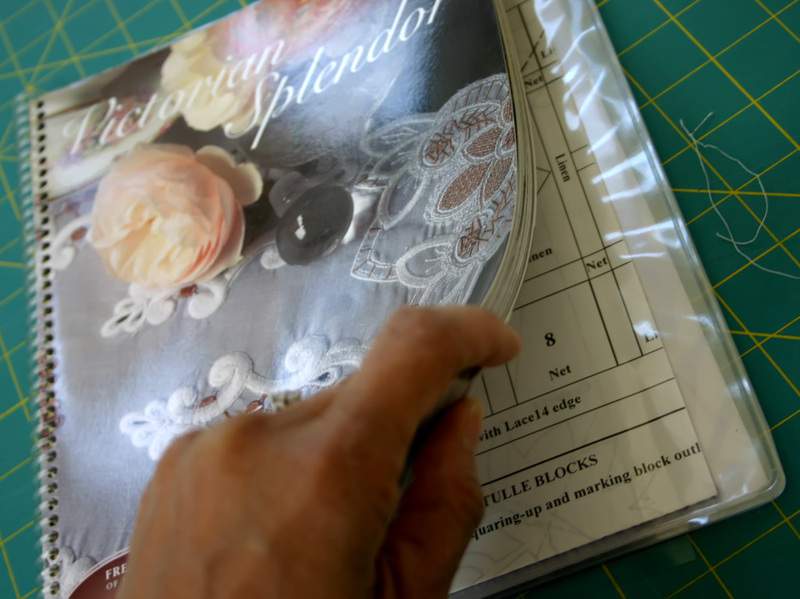 Meanwhile, getting back to embroidery, here's a look at another flower arrangement that I appliqued.
This design was purchased through an on-line embroidery company called Zundt Designs which offers fantastic downloadable designs at reasonable prices.
I attached this yellow floral applique to a cute little green-white polka dot child's purse that I made. The purse along with the adorable tulip-border jumper in the photo below was featured in one of my posts last year called Tiptoe Through the Tulips.
You may also recognize the little girl in this photo from a more recent post. She was the cover girl for a scrapbook layout that I created for Memory Makers magazine a few months ago.
Here are some little heart-shaped flowers that were also very quick and easy to stitch out.
When you have a small design like this you can place multiple designs on one hoop and stitch out several appliques during the same hooping session.
These heart designs are from a collection that is part of an embroidery quilt project called the Bernina Latte Quilt.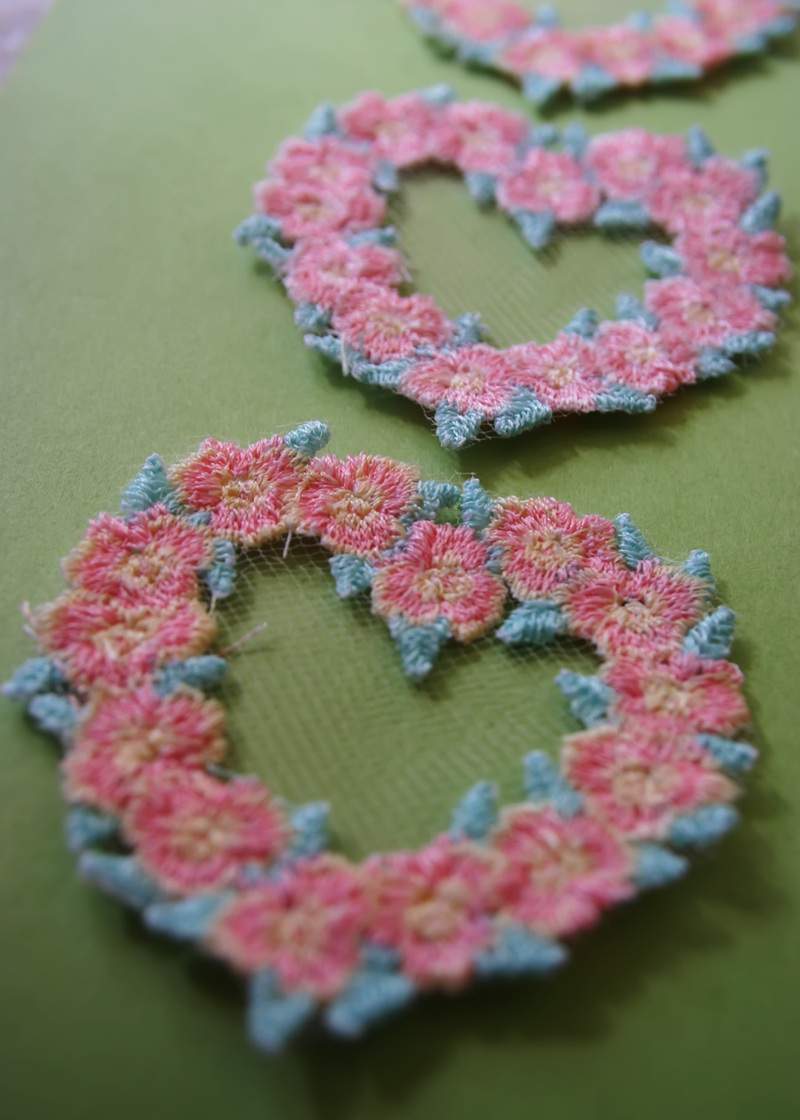 You can see how I used these heart-shaped appliques in the photo below. This is one of the many quilt blocks from my Bernina Latte Quilt project.
I've been working on the various blocks for this Bernina quilt, off-and-on for what seems like forever.
I'll share the entire quilt here when I finish it, but I would like to give you a closer look at this particular quilt block. It has a wonderful series of pearl buttons arranged on a center grid. The lines were created using a technique called cording pintucking.
Cording pintucking requires a special pintuck presser foot which attaches to your sewing machine. You can call your sewing machine manufacturer or check with your local sewing shoppe to find a pintuck foot to fit your machine.
I'll walk you through a pintucking project in a future post but you can see a quick on-line video demonstration of the technique now, if you click here.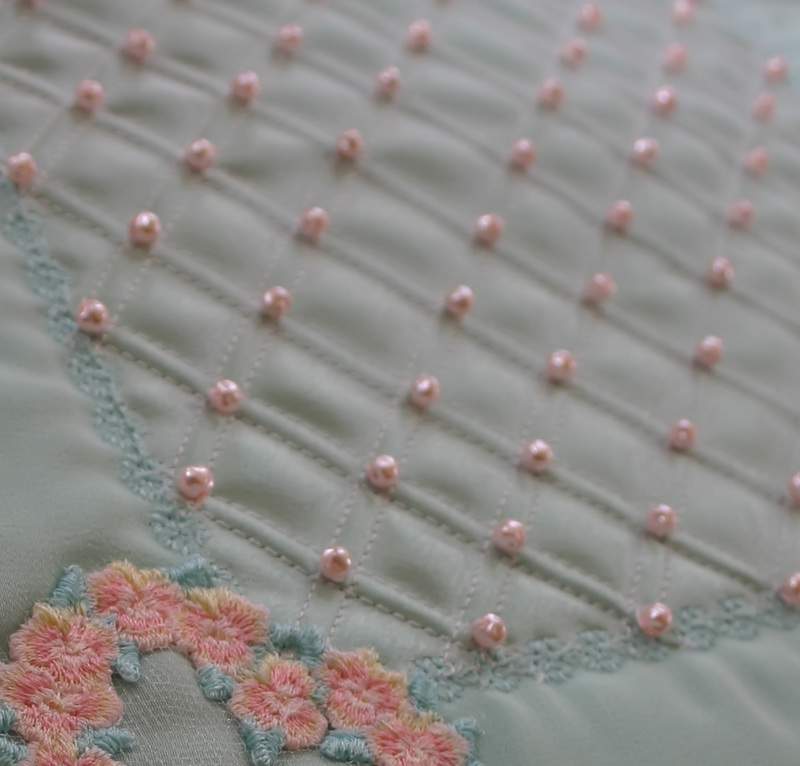 OK, I diverted a bit. Getting back to appliques, here's another example.
These triangular scroll appliques were small enough to stitch them all out in one hooping.
That's such a time-saver.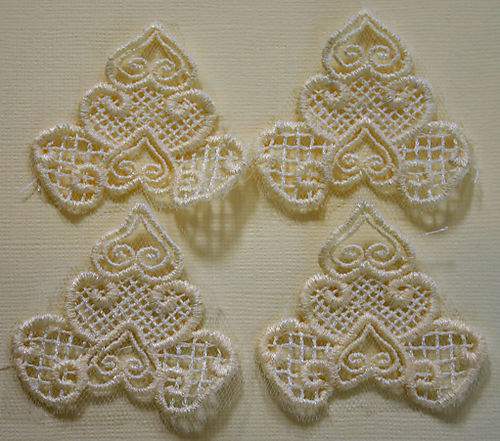 The photo below shows how these appliques work as a bathroom towel embellishment.
These towels were featured in my post last year entitled, "throw in the towel".
The towel set was a gift to my mom. If you'd like to see the entire "throw in the towel" post, just click here.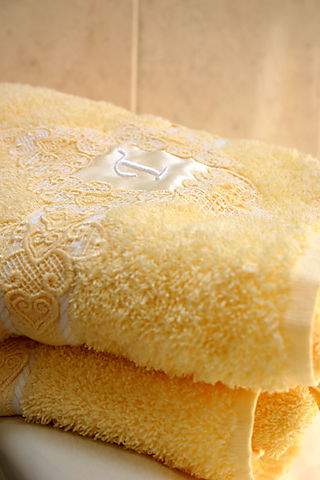 Want more butterflies?
How about some butterflies in flight?
I can think of lots of great places where these little butterflies could be used.
Small appliques like this are perfect for scrapbooking and card-making projects.
There's no rule that says embroidered appliques must be attached to apparel.
Appliques can go wherever you want them to.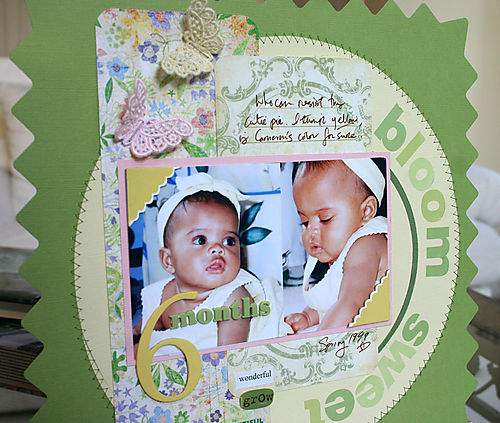 A small staple along the body of these butterflies works fine for the attachment to the scrapbook page.
I think the little pink and yellow butterflies add a perfectly sweet and whimsical touch to the layout
Wouldn't a series of these larger embroidered butterfly appliques look nice on a lightweight pale-colored evening shawl?
I would probably leave the antennae unattached and loose on the shawl for a bit of free-floating whimsy.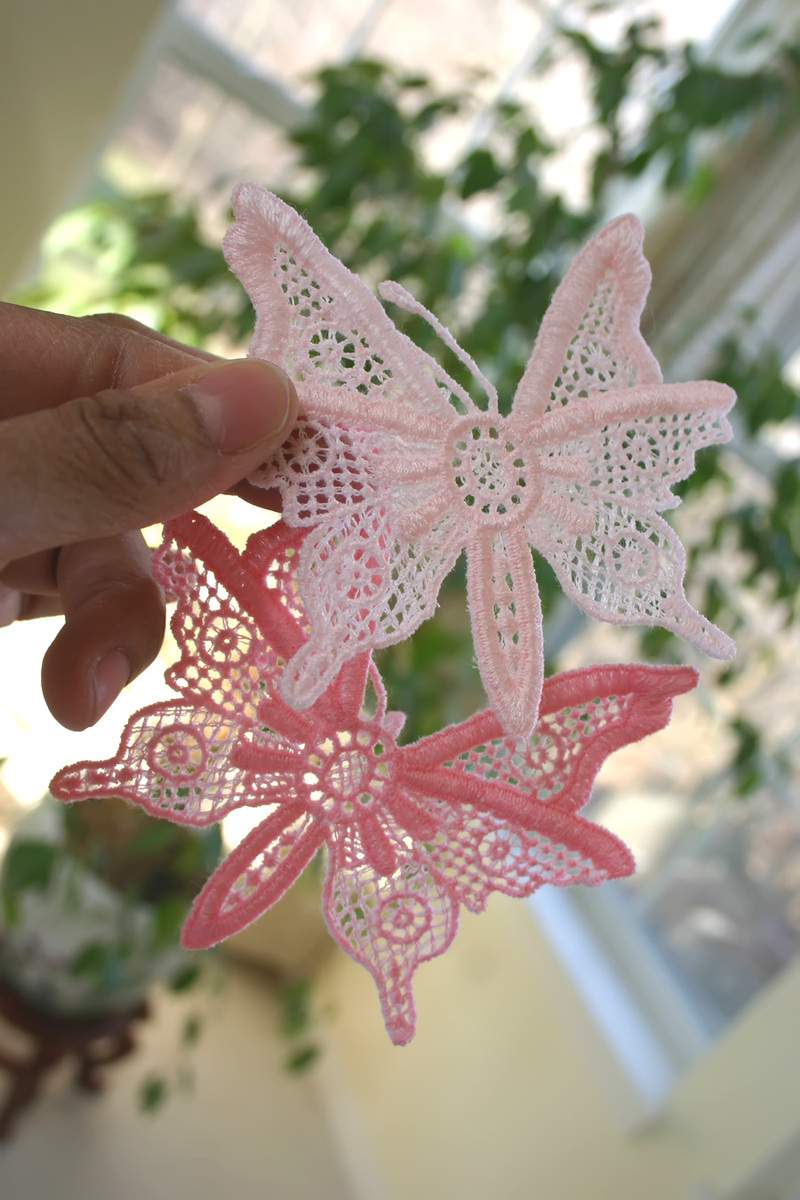 Finally, here's how I ultimately used the flower and leaf designs that were shown in the original applique tutorial.
It's easy to dress up a pretty-but-plain pink linen shell with the addition of embroidered applique.
I love this soft, delicate look for summer, don't you?
If this tank looks familiar, that's because I featured it in a previous tutorial on making fabric covered coat hangers.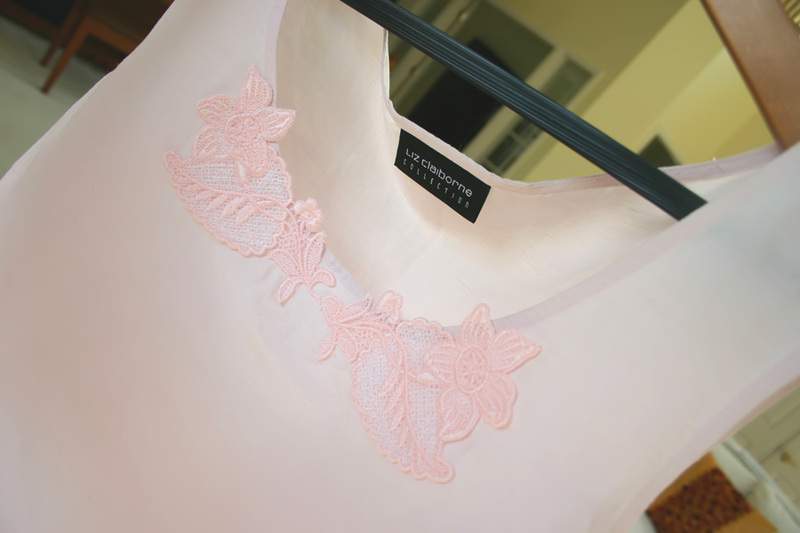 Another benefit of embroidered applique is that you can place the design perfectly (and perhaps precariously) onto apparel.
Notice in the photo below that the tips of the embroidery extend slightly beyond the neckline.
I could not have achieved the same "beyond-the-neckline" design placement by embroidering directly onto this blouse, so applique was a perfect way to successfully put the embroidery exactly where I wanted it.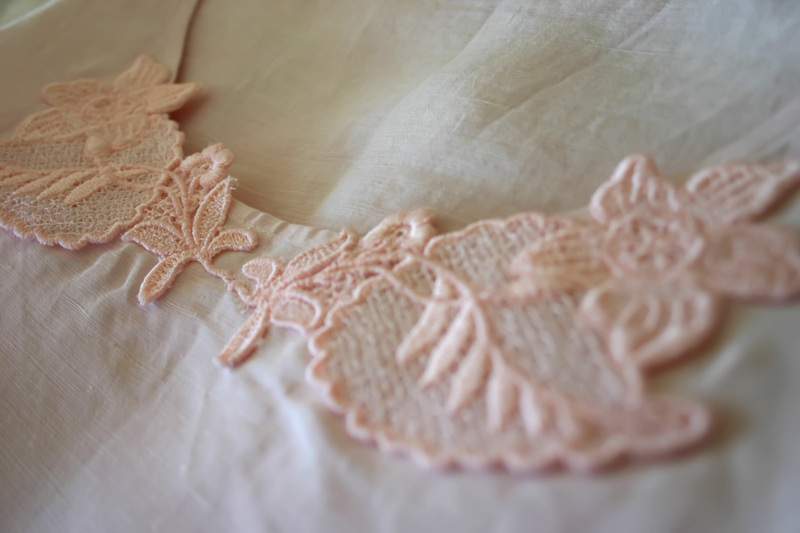 It's a good idea to use "invisible" thread in your sewing machine when stitching soft-colored applique like this onto apparel.
Invisible thread resembles thin clear twine, and spools are available at most sewing shoppes.
You can still use a neutral-colored regular thread in the bobbin, but as the name suggests, invisible thread will make your applique front attachment totally naked to the eye.
I think you can see the beauty and wonderful versatility of embroidered appliques.
The possibilities are truly endless and the results can be so elegant.
I covered quite a bit in this butterflies are free post and I hope there's a little something for everyone.
I think I'll end this post here-and go in search of real butterflies.
Thanks for stopping by.
See  you back here next time. ♥