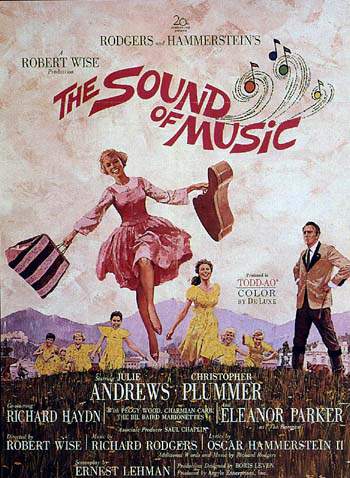 Raindrops on roses, whiskers on kittens, bright copper kettles and warm woolen mittens… I think you know where I'm going with this. 
Of course, these were just a few of Julie Andrews'  favorite things in one of my all time favorite movies, The Sound of Music.   I could watch this movie a million times and I love this legendary song too.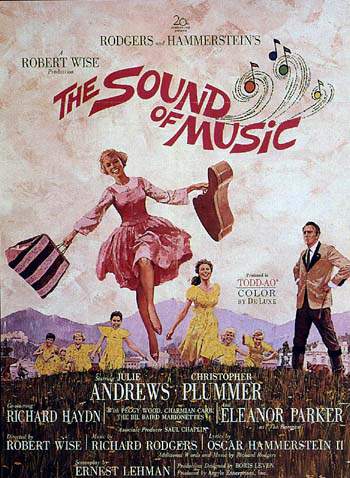 I got a chance to watch this wonderful 1965 movie again recently.  Don't you just love revisiting old favorites?   While my musical ear and prose are hardly on par with the the likes of Rodgers and Hammerstein, I thought it would still be fun to deviate from crafts and do something different this time around by sharing a few of my favorite things.
Now, my list would be far too long if I included family and friends, so I'm just sticking with "things".  So, here they are in no particular order, starting with my porky kitchen resident-Sir Piggy Chef.
When I was younger, I used to see this little green jewelry box sitting on my grandmother's dresser.  I always admired it and remember wishing I had a little china box like this to store my special things. 
My mom mailed me this beautiful box several years ago, not long after my grandmother passed away.  I cherish it and today and it's filled with my own tiny treasures.  Whenever I open it, I think of my grandmother.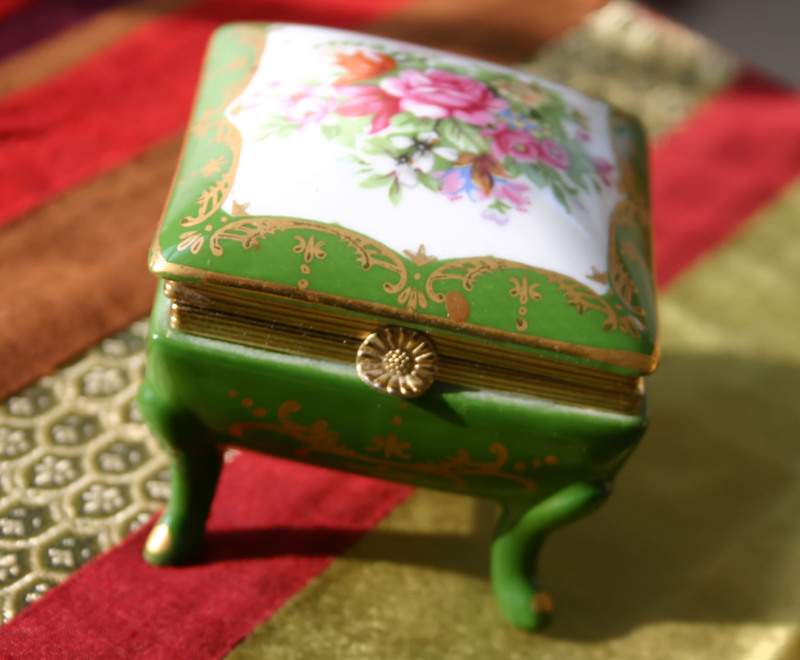 I just love vintage finds and you can count this little beaded bag among my favorites.  While antique shopping one day, I came across this wonderful bag sitting on a bottom shelf covered with lots of other not-so-pretty bags. 
The beaded detail is beautiful.  When I initially picked the bag up to admire it, another shopper behind me said, "oh, that's so lovely, you don't want it do you?"   You can see how I answered that question.
OK, I'll admit it.  I have a weakness for fabric, patterned paper and MAGAZINES.  The picture below features some (but not all) of my favorites, which are always filled with tons of information and inspiration. 
I can't possibly be the only one out there who has a hard time purging magazines, right?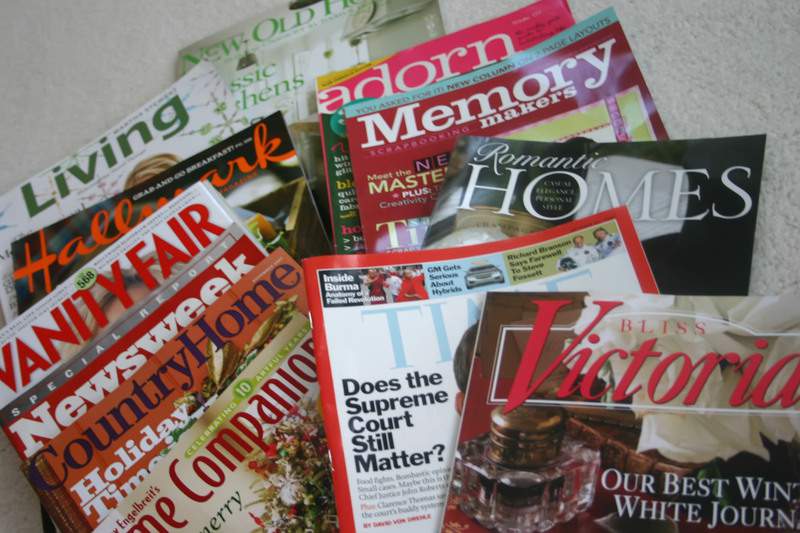 I'm sure these two small wooden dressforms have an ultimate purpose.  I just haven't figured out exactly what that is yet.  Still this duo is on my list of favorites and at the very least I can always find a needle in a hurry if needed.
My mother made this Raggedy Ann doll for me when I was about 7-years old.  I've always loved it and this doll has seen her share of the world too because I've dragged her with me everywhere I've lived.
Perhaps it was this handmade doll that ultimately set me on the path to making my own Raggedy Anns with a jellybean-colored twist, which you can see if you clickhere.   
While this sweet doll in the photo below has obviously gone a little flat over time, that doesn't make her any less special to me.  Thanks Mom!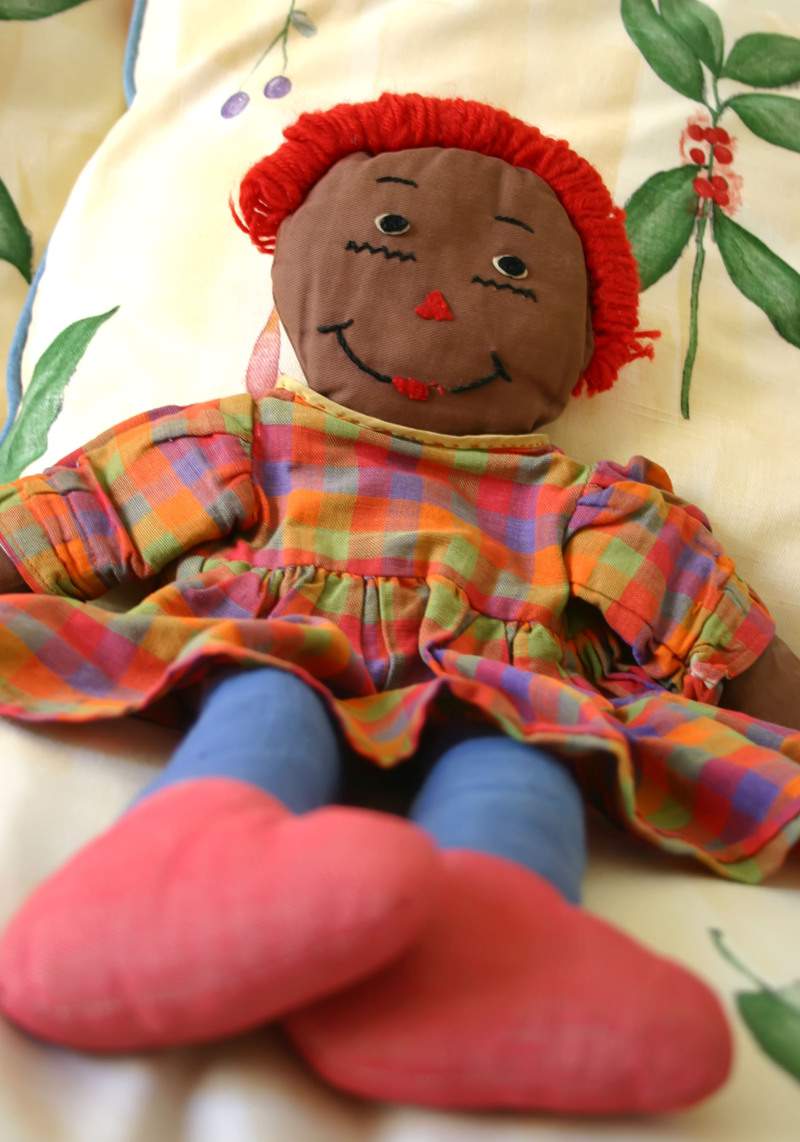 When it comes to old movies, you already know the Sound of Music is up there among my favorites.  Well, you can add these two movies too.   First up, The Parent Trap with Haley Mills.  It's one of those films you just never outgrow. 
I love that scene when Maureen O'hara comes downstairs to meet her ex-husband's new much younger fiance.  Of course, the fiance and her mother are expecting to see a dowdy old matron.  Instead they see a gorgeous, modern mom who deliberately "mistakes" the elder mother for the young fiance. 
That's the funniest scene in the movie and of course, who doesn't love Haley Mills?
Second up, check out Anne of the Thousand Days  for some fantastic Old World drama.  It's a great period film loaded with lavish and Oscar winning costumes.  The movie centers around King Henry XIII's fateful obsession with Anne Boleyn and the movie wonderfully dramatizes their stormy relationship. 
Richard Burton, portrays Henry.  I've always loved his voice.  You can see why Liz married him twice. 
You may remember first meeting the little kitty in the photo below when I shared my log cabin quilt project last year.  Her name is Clarice, and she gets a nod mostly because she's so cute and quiet and she never needs a litter box. 
While house guests always delight in how real she looks, my twin sister says this feline really "creeps" her out.  Sorry animal lovers, Clarice is made of rabbit fur.
Unabridged books on tape are a great way to "read" the book, while you're getting other things done.  Trust me, if you ever get stuck in Chicago rush hour traffic, books on tape really come in handy.   
Below are a few of my favorites including Shopgirl which is written and read by comedian Steve Martin.   Al Gore's, The Assault on Reason is intelligent and thought-provoking and a final favorite is the Da Vinci Code by Dan Brown.  I hated the movie version of the Da Vinci Code, but I love the audio book so much, I've listened to it several times. 
Yes, I do have a sweet tooth and these always hit the spot.  Yummy!  You've heard the saying "a picture is worth a thousand words" right?  I think the picture below speaks for itself.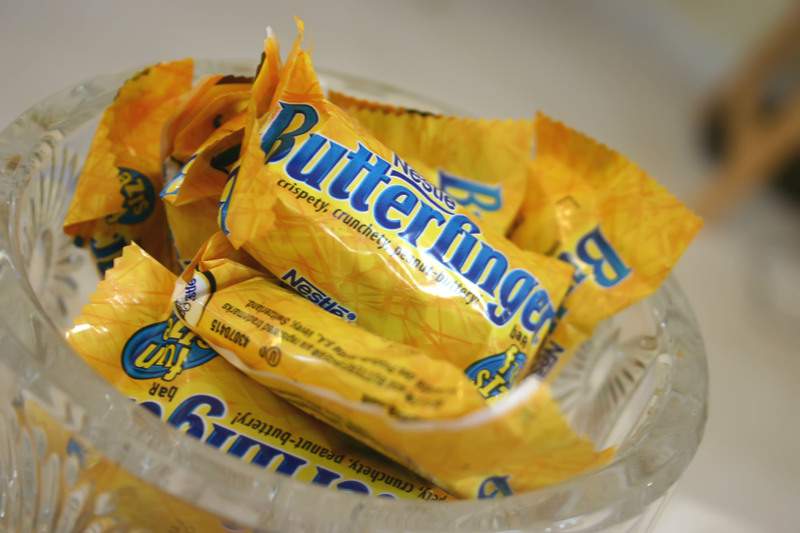 Speaking of sweet.  Aren't these the sweetest little birds?  You may have already noticed, I have an affinity for birds and birdhouses.  I bought these birds many years ago from a mail order catalog called Garden Gate.  Anyone else remember that catalog?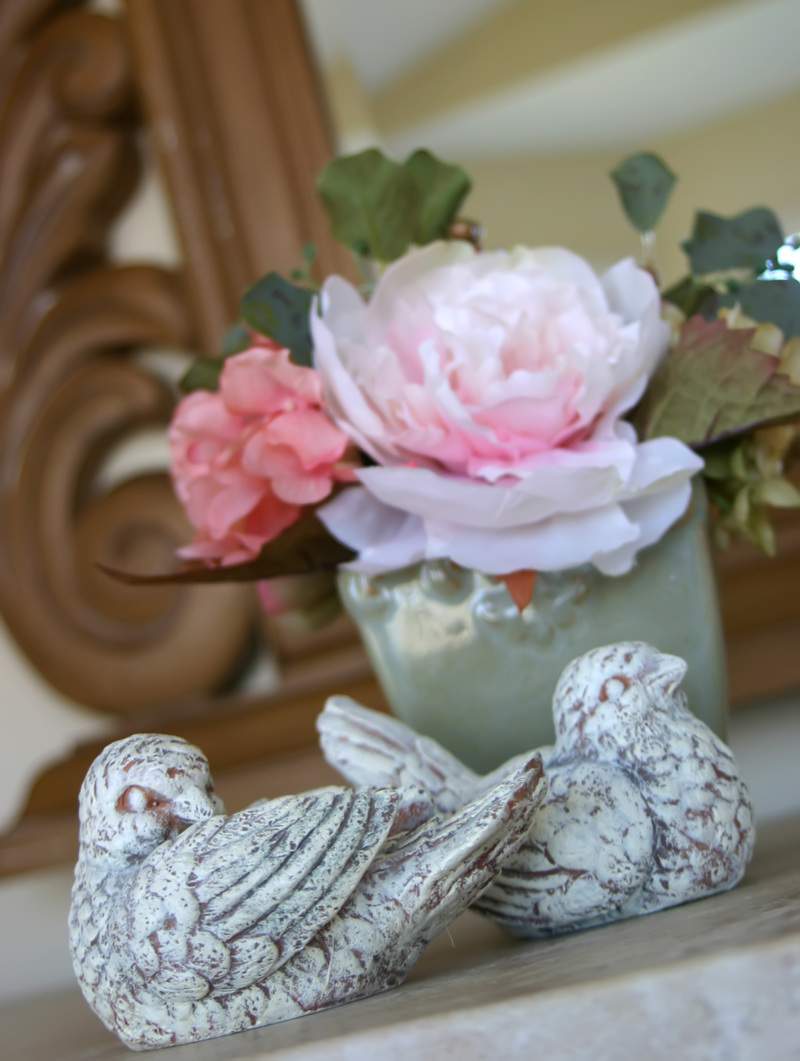 I'm not much into worshiping golden idols, but I have to make an exception with this golden statuette in the photo below.  I won this Midwest Regional Emmy Award for Outstanding Achievement for Individual Excellence for my television news reporting at NBC in Chicago. 
Hey, who needs Oscar-when you have Emmy?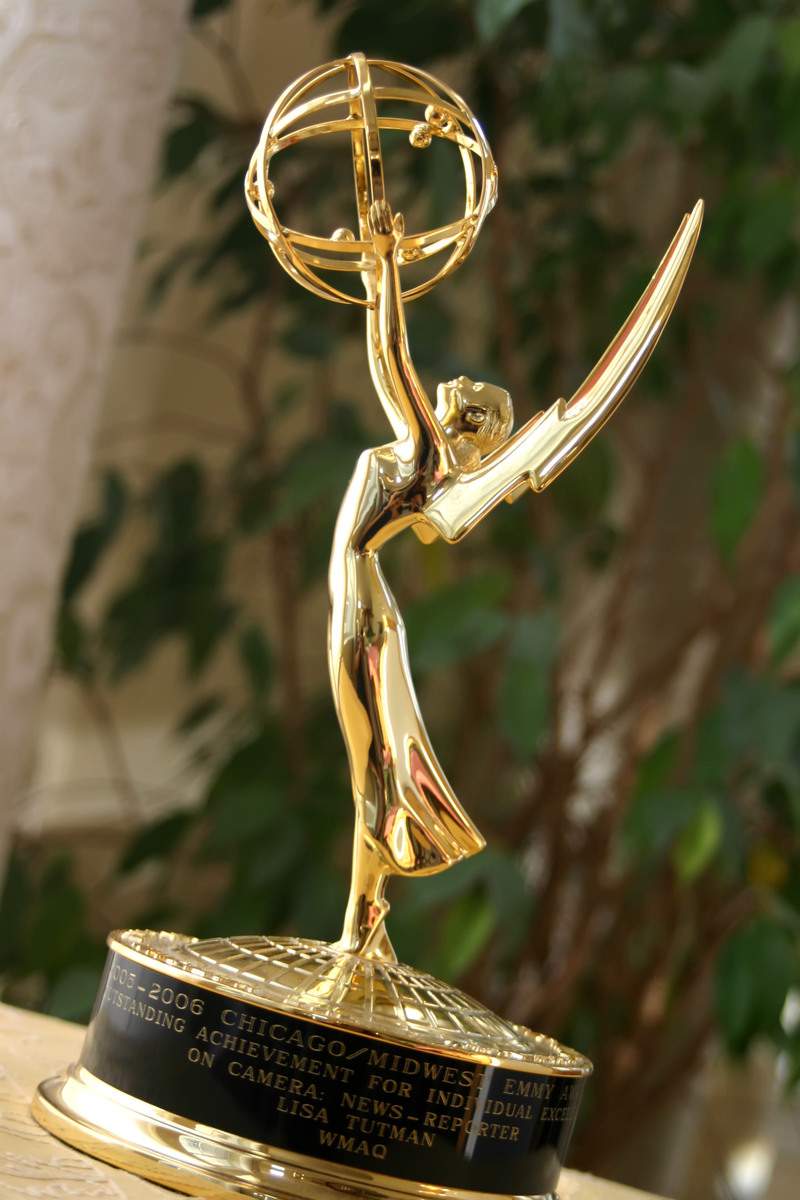 Finally, how many of you have an item of clothing that you just can't part with, no matter how hard you try?  That's how I feel about this white linen sport shirt. Since there was no one else around to take a picture for me on this day, I just snapped this one myself in a mirror. 
I've had this shirt for at least a decade.  Yes, a decade.  Every time I wear it, my husband just shakes his head and suggests the shirt will soon suffer a mysterious demise.  So far, he has yet to make good on that innuendo.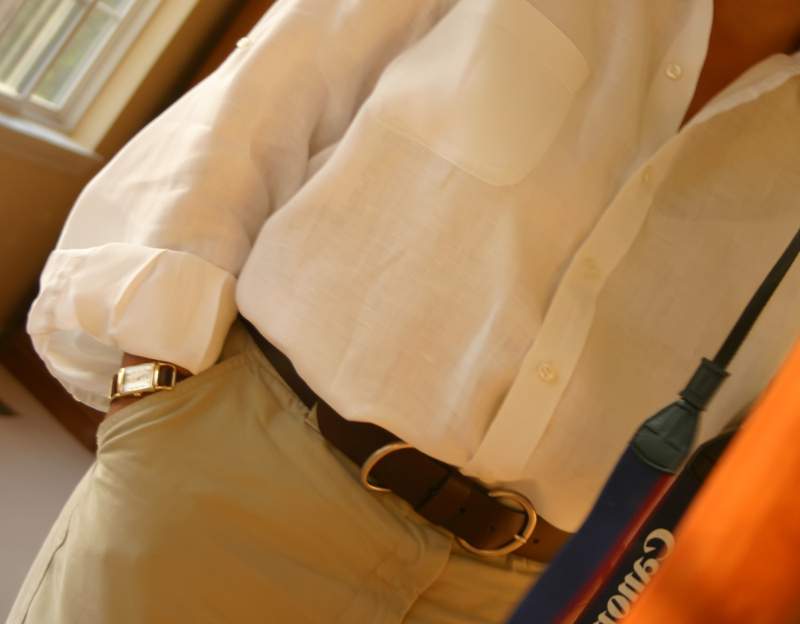 When the dog bites,  when the bee stings, when I'm feeling sad-I simply remember my favorite things, and then I don't feel so bad. 
Here's hoping your world is filled with plenty of your favorite things.
MUSIC UP/SLOW DISSOLVE/FADE TO BLACK.