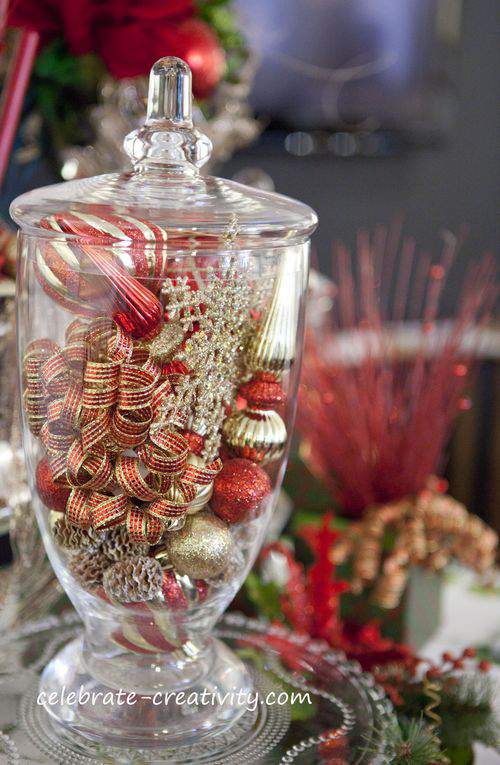 Delight can be found in the most unexpected places.  Have you ever wandered into a shop and discovered much more than you expected?  That's what happened to me recently when I stumbled through the doors of DECOR.
Of course, how could anyone resist an exterior color scheme like this?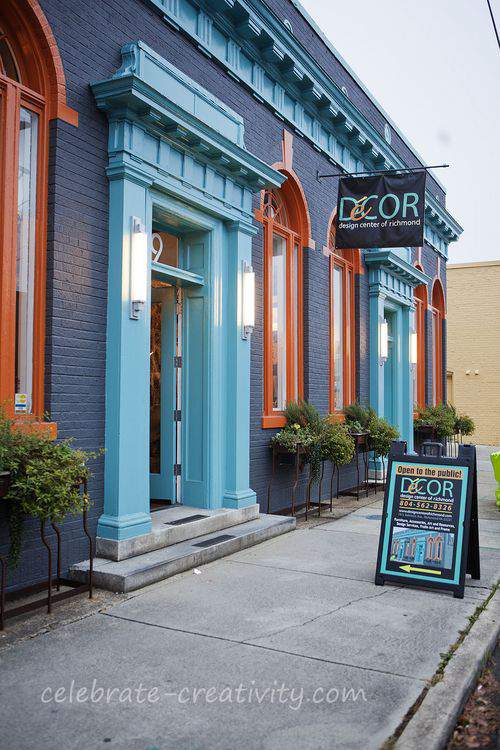 Decor sits in the heart of Richmond, Virginia's historic Cary Street business district.
It's turquoise columned and multi-colored entrance beckons all who pass by to step in and look around.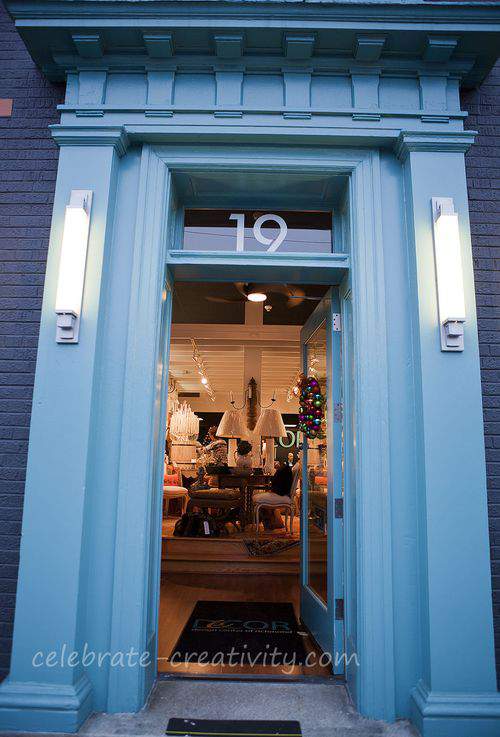 Oh, the home decor goodies and inspiration you'll find once you step inside.
From beautiful lamps, pillows accessories and unique furnishings, this quietly quaint decorating shop has a little bit of everything.
While this premier design center specializes in home decor and design consultation, you'll likely spot a few other unexpected gems on the store floor.
I bought the most amazing faux sable weekender bag here that was just too fantastic (in price and style) to pass up.  I'll share it with you later in an upcoming post in my FUN FINDS column.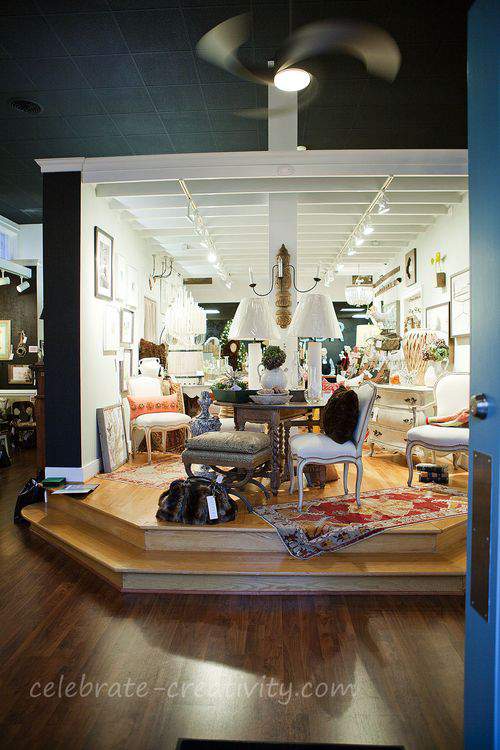 On this particular day, a tablescaping design demonstration was on display on the upper level of the store.
Throughout this post, I'll share a few of these beautiful tables and talk with the designers who created them and were nice enough to share their tips on creating the perfect tablescape.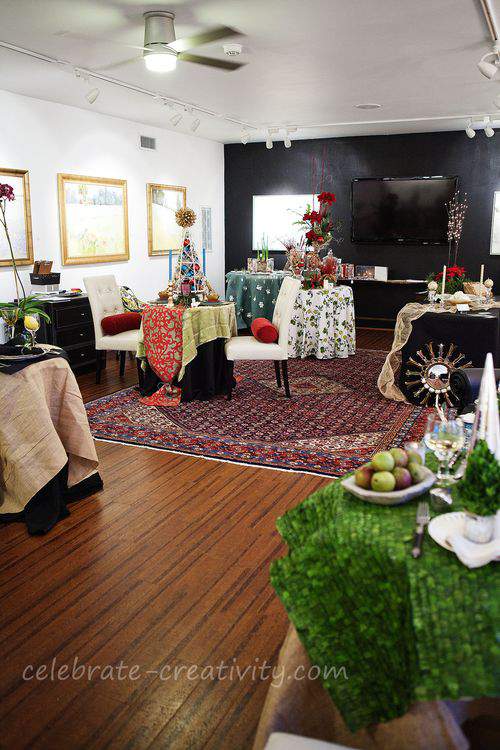 Let's start with this display which is styled as an intimate setting for two.
It may be cold outside but sit at this table and you and your guest will be warmed by all the natural elements brought to bear.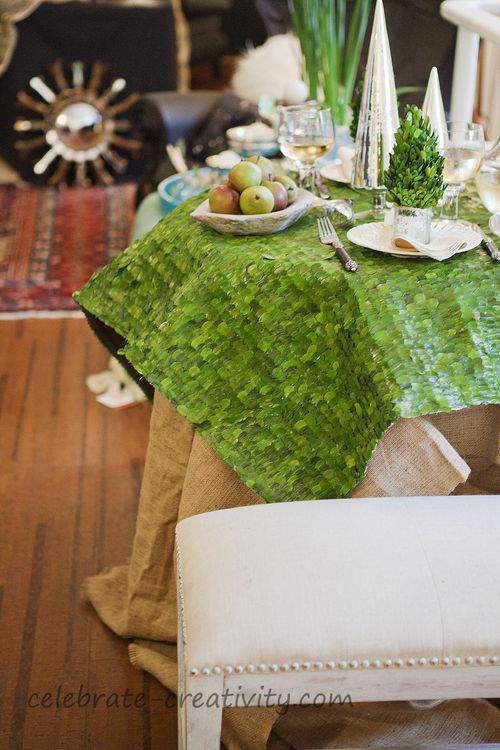 Beautiful, mini-boxwood topiaries take center stage and almost steal the spotlight on this tablescape that speaks to the beauty of incorporating Mother Nature into your dinner plans and plates.
The tablecloth is a beautiful tapestry of artificial boxwood leaves sewn side by side.
NOTE: I'm going to figure out how to make this tablecloth myself. I love it.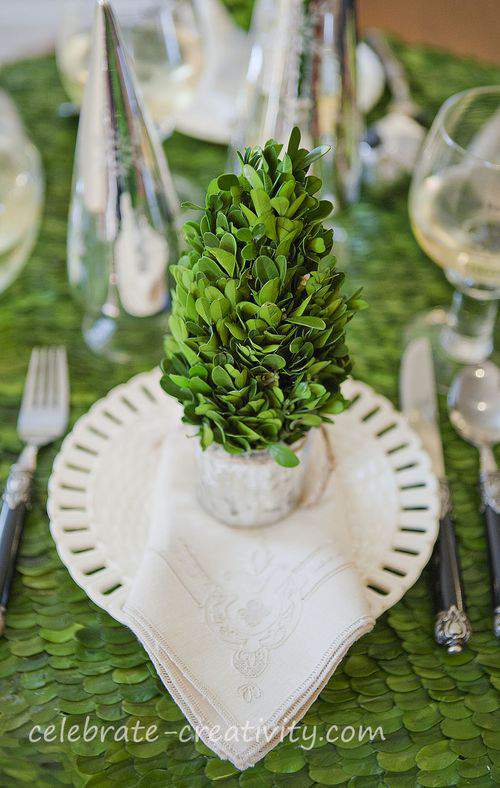 Soft, intracately-embroidered linens add a touch of elegance to this rich, earthy landscape.
Regular readers of my blog already know my penchant for embroidered linens and other embroidered items.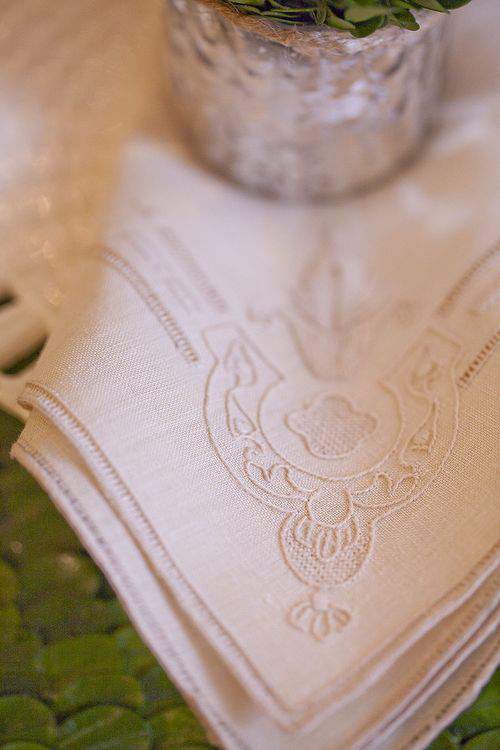 Silver accessories and ornaments don't overpower, rather they add a shiny, festive flair in keeping with the season.
This stone serving dish has an exterior look and goes along with the quiet, garden theme.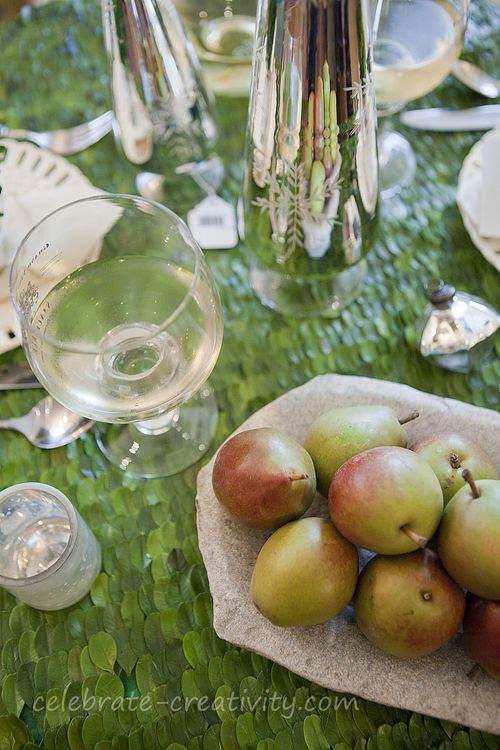 Drawing upon the offerings of nature is nothing new to designer Angela Elliott with Angela Elliott Interiors who put this tablescape together with the great outdoors in mind.
"I like my tablescapes to be very natural and I try to focus on the real meaning of the season and God gave us so much to work with", Angela says.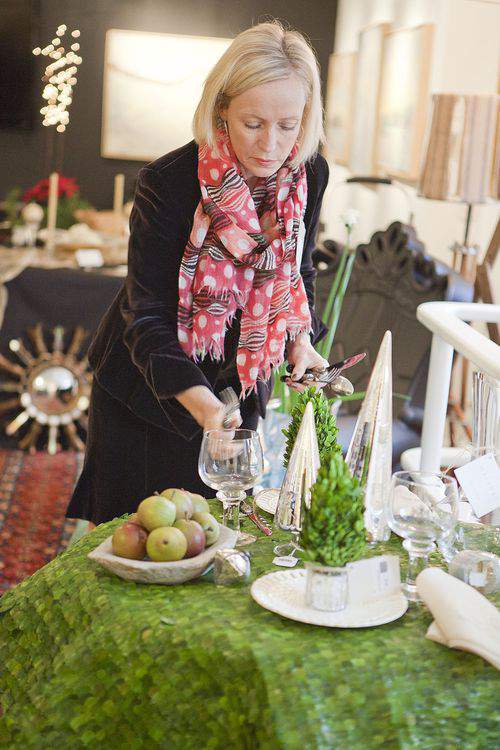 Angela's soft details are designed to bring the outdoors in.  She says, "I often take clippings from trees and decorate with that".
"My advice when working with mostly natural elements is to use a lot of the things you already have.  You may have items from last Spring, just bring it out for the holidays and see if it works".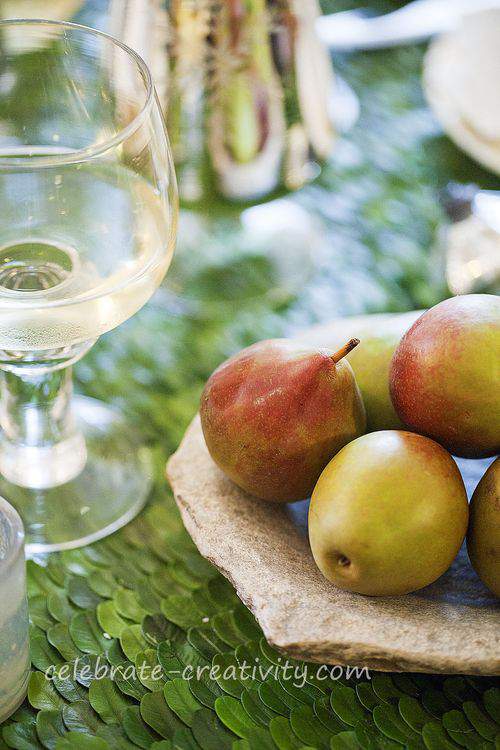 Our next tablescape is all about color with assorted holiday ornaments setting the stage for the festivities ahead.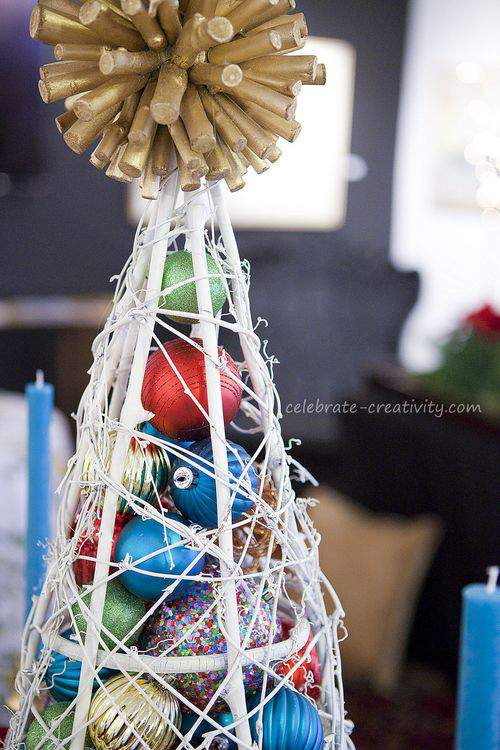 How fun is this, tablescape?
Yes, this is definitely all about color and I think it's a great example of how patterns, textures and colors can work together when cleverly and carefully coordinated.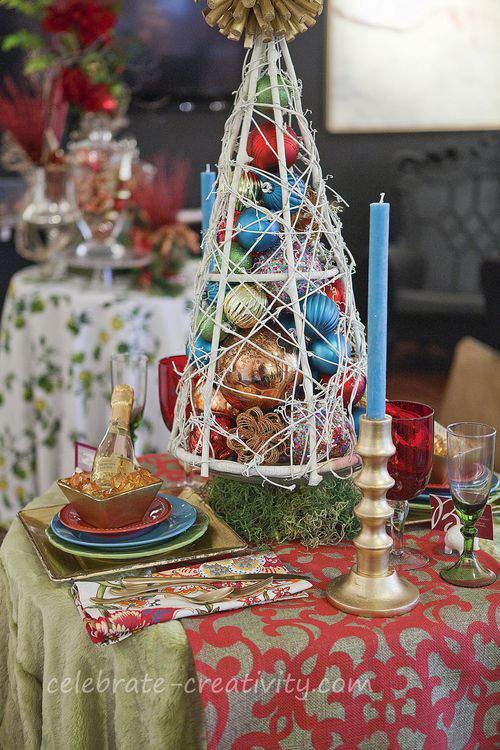 New Year's Eve is right around the corner and before the stroke of midnight, everyone at this table will get their own bottle of bubbly.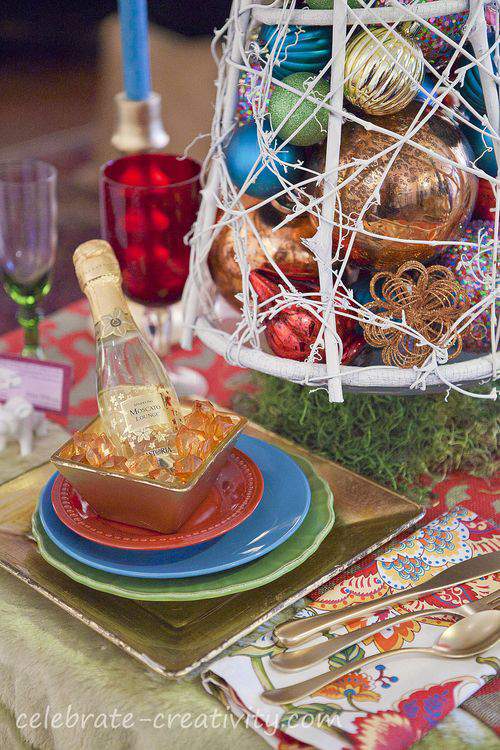 The mini bottles are adorable, aren't they?
Another great idea to make your guests feel even more special.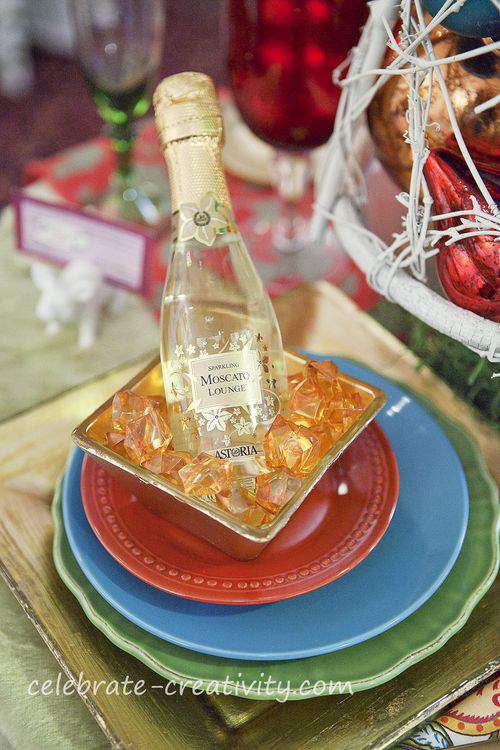 One thing that really caught my eye on this table was the fantastic table runner.
Guess what?  It's hand-stenciled and easier to make than you might think.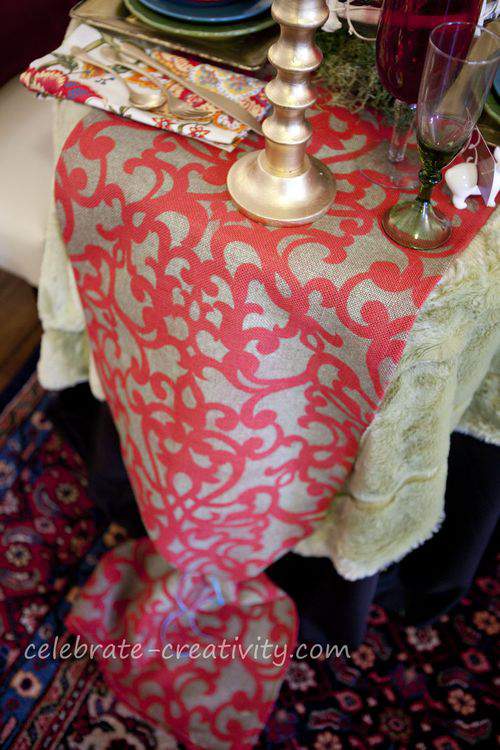 The runner is the handiwork of designer and decorative painter, Diane Williams with Art to Di For. 
I asked her about her fab runner which she says was quite easy to make.  "I bought a yard of jute, cut it, sewed it and chose a pretty stencil that would work with the green of the rest of the tablescape.  Being a decorative painter, I'm always painting on everything".
Diane's sage advice when it comes to tablescaping?  "Don't be afraid of paint".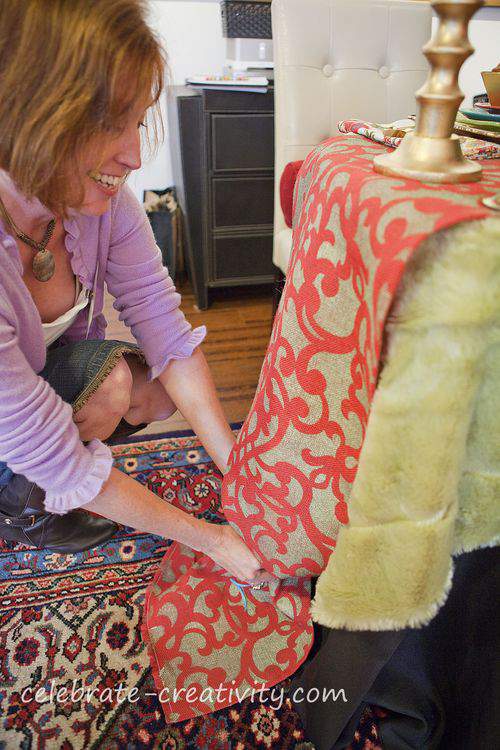 On this particular tablescape, Diane's partner-in-design was Muffy Barden with Barden's Decorating who shared her approach to designing  table decor. 
"When you create a tablescape, look around and see what you have.  It helps me if I look around and move itmes and look at them in a different atmosphere.  Try to repurpose items and bring in a lot of color that you think will make people happy", Muffy advises.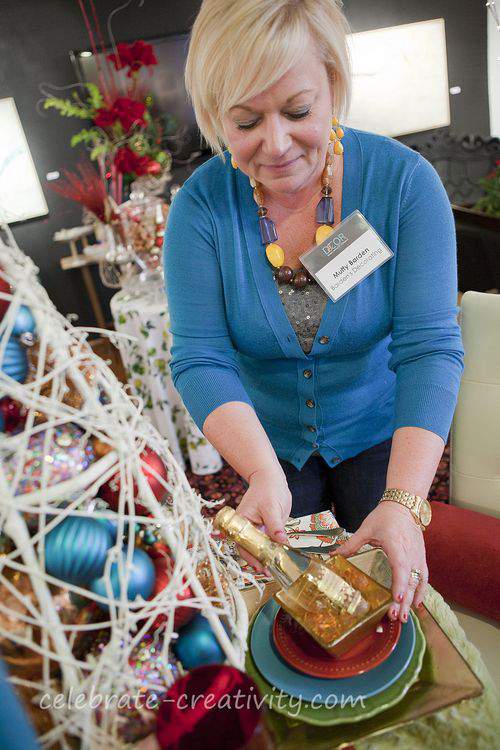 LET THERE BE LIGHT and on this table, light is the star and crowning glory.
Ordinary strands of holiday lights are incorporated into this tablescape giving it deliciously soft and subtle illumination.
Burlap was the fabric of choice thanks to it's porous weave which allows the light to peek through the cloth in all the right places.
The designer of this table says, "I wanted to sort of make a statement about light and this combination makes the table so much more romantic".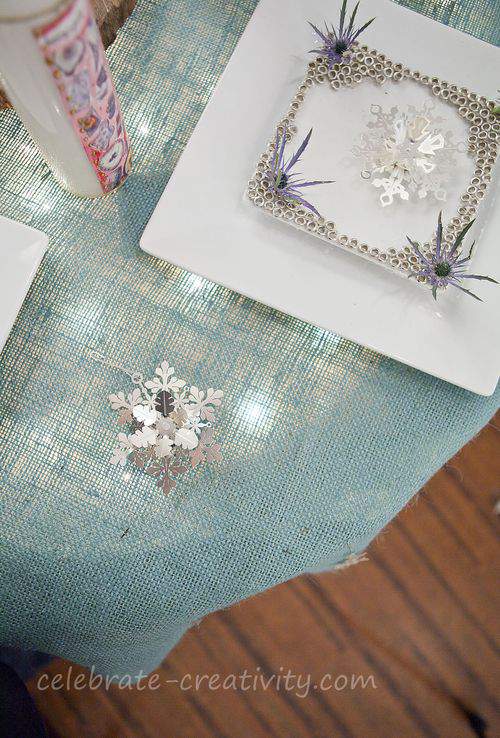 Here's another overhead view of that lovely lighted effect.
NOTE: The light is shining through a glass tabletop.  Just underneath the glass is an open wooden base tructure which holds the strands of light which are strategically arranged so the light is evenly dispersed across the tabletop.
How cool would this tablescape lighting application be at your next intimate dinner party?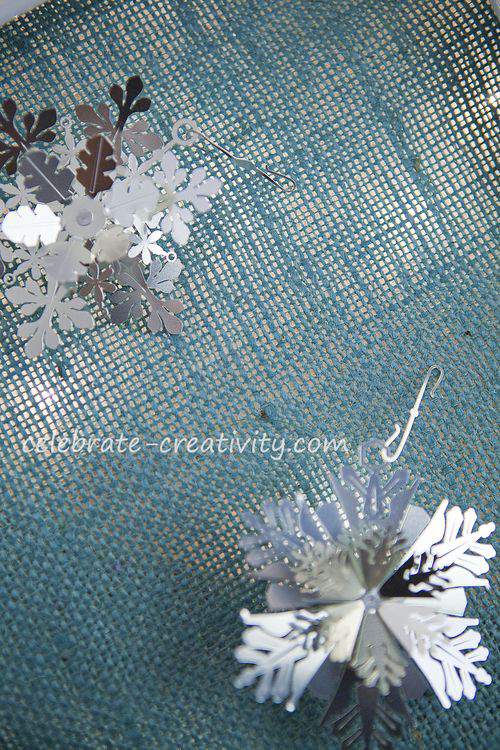 While bathed in soft light above, the sides of this table draping is showered with delicate snowflakes adding reflective charm to the entire presentation.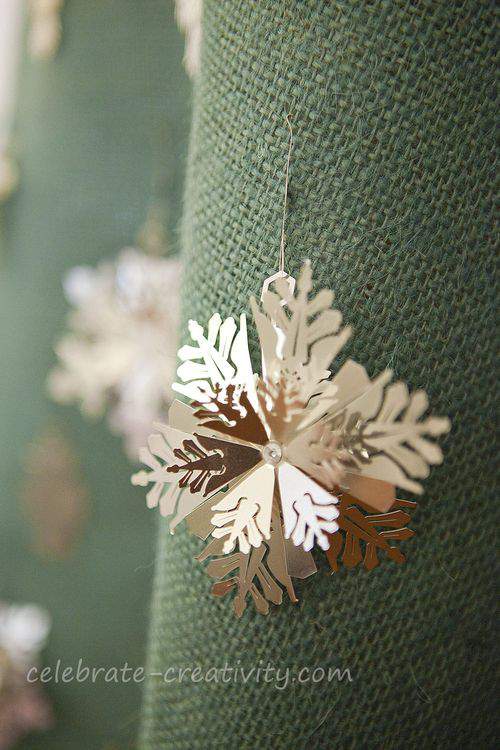 Wendy Umanoff with Wendy Umanoff Designs is the amazing artist behind this tablescape who actually specializes in lighting design.
She's well known for using unfamiliar items in the most unfamiliar and extraordinary ways.
I also love the use of Wendy's Paperwhites here which do seem to seem to be just about everywhere lately.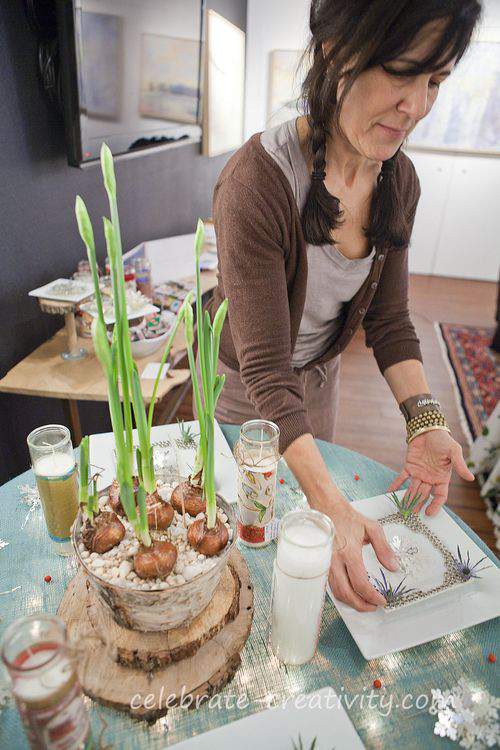 When designing tablescapes, Wendy advises, "you want to draw people in and not make it too dramatic.  If they're sitting at the table, you want them to be comfortable".
"There should be something that is inspiring and maybe compliment the food you're serving and the holiday you're celebrating.  It should all kind of transition and connect to one another".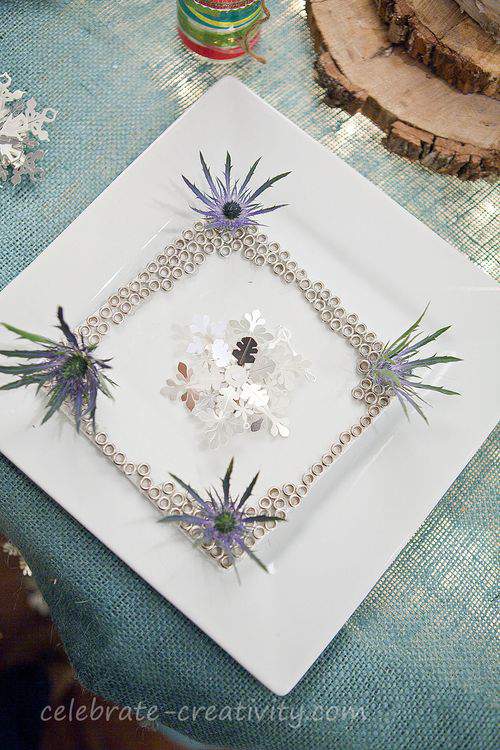 Meanwhile, clear, happy, shiny and fabulously REUSABLE are just a few of the adjectives used by the designer of this tablescape to describe her table creation.
It's festive for sure and filled with wonderful color that is easily found and collected.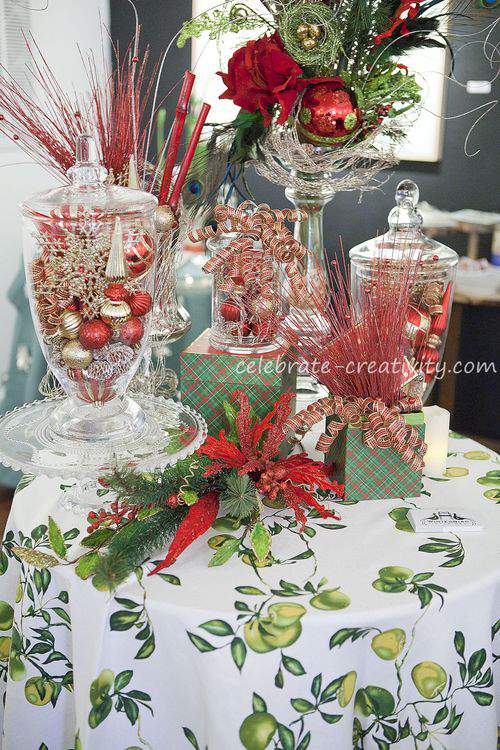 "I use what I like", proclaims the designer.  Her choices include apothecary jars filled with the sights and smells of the season.
These jars sit tall and sleek and help to anchor everything else around it.
In this case, the designer uses varying heights to create the mood.
Boxes of different sizes and shapes along with tall and short glass jars filled with various goodies help to fill out the space and create visual interest.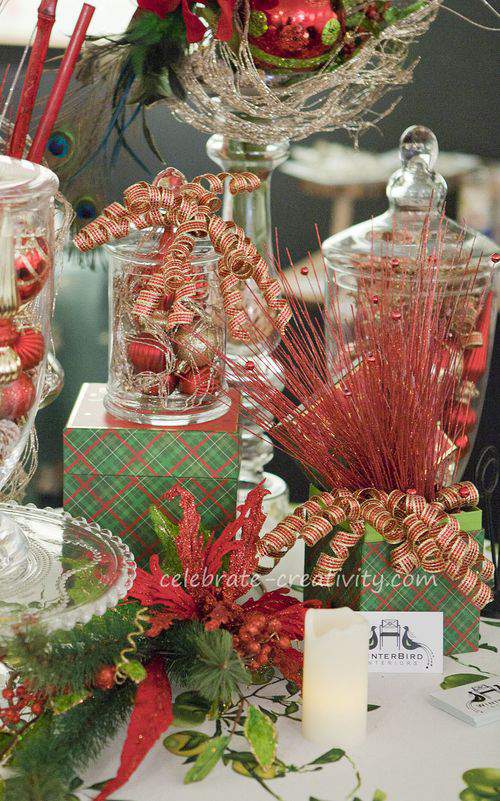 Nancy Hall with Winterbird Interiors believes "the holidays are a license to over-do-it, if you like".
"I like to go high and just fill up the center of the table.  I like to use containers that can also be reused so that I can draft them for just about any season.  The other think I love to do is use cake plates and use them as risers to help give the tablescape height and dimension".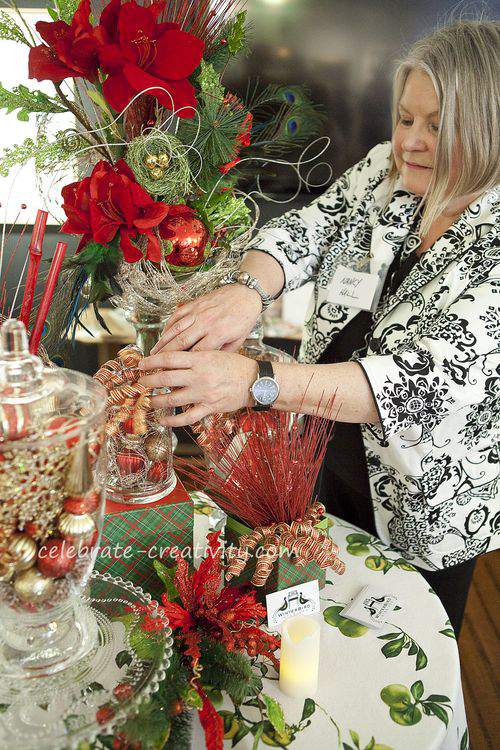 Ever the resuable artist, Nancy also does not use any permanent adhesives when designing her tablescapes.
Many of the elements have clips or ties so that they're easily removed for later use.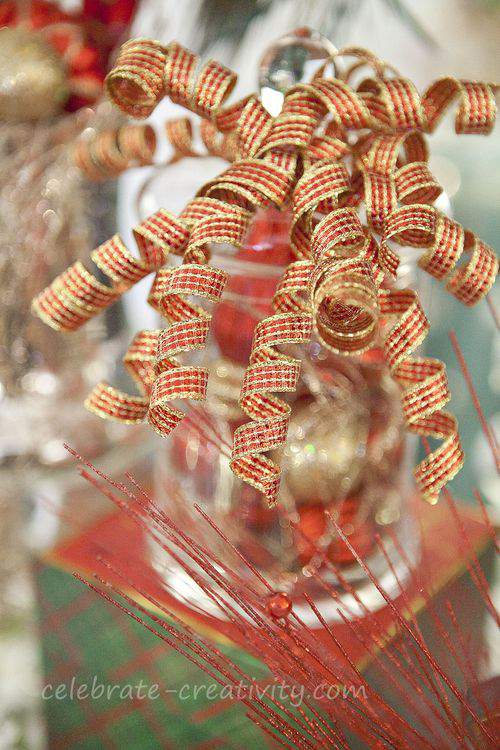 The final tablesape in today's showcase is one that lacks a table… and that's precisely the point.
This "movable" tablescape is put together on a tray and is not only beautiful but also has a very practical side to it (which I'll explain a little further down in this post).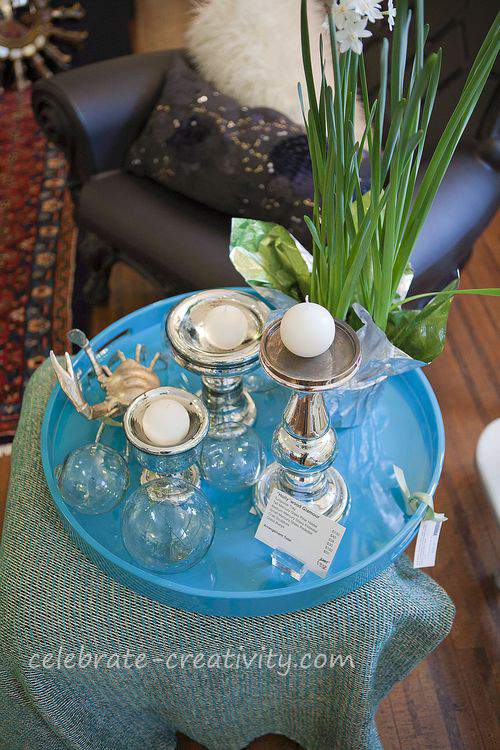 While the bright turquoise represents the deep blue sea, this silver crustacean is the inspiration behind the setting.
The designer told me she loved the crab and wanted to create a beach theme centering around it and all her pieces worked perfectly together once she settled on the direction the tablescape would take.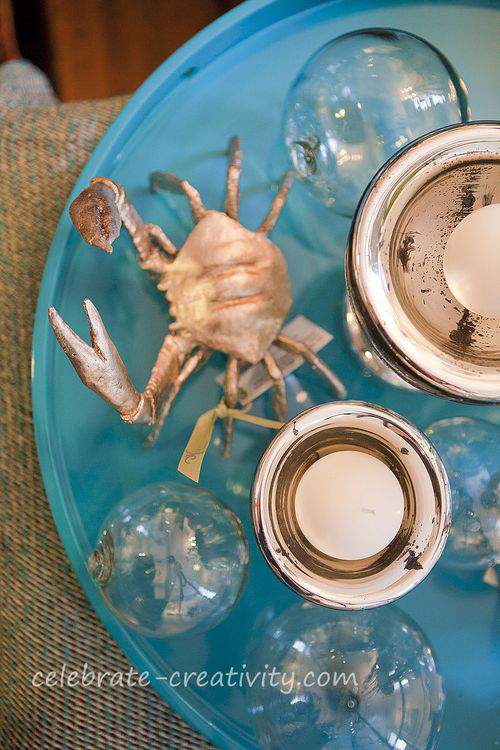 Kathy Corbet with Kathy Corbet Interiors designed this beach-inspired tablescape with the sea in mind and practicality at heart.
She says, "I have a very practical side to me because I'm a busy working mom and I want to be able to move this if I want to.  If we're sitting at the table, I want to be able to lift this move it and put it back again and not think about it".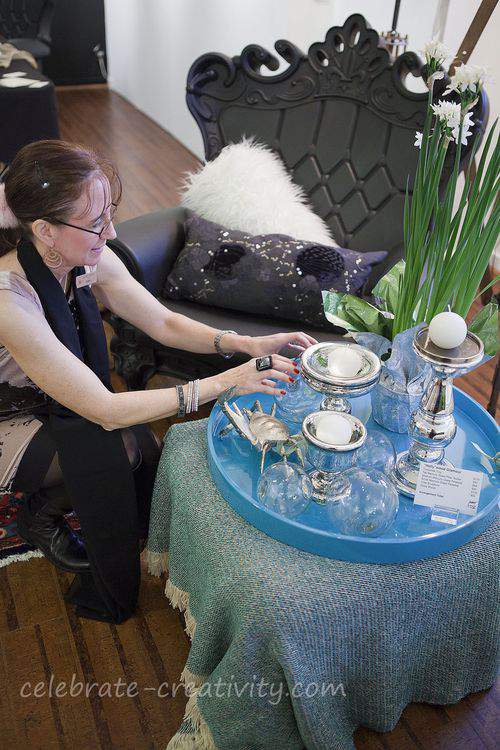 "Don't limit yourself to just a table, consider an ottoman for your tablescaping", advises Kathy.   
"Think outside the box.  A tablescape can be anywhere you like and is not limited to just something that belongs on a table.  This is your realm, do what you love".
As you can see, Kathy's tablescape also features familiar, Paperwhites which can add a dash of fun, casual greenery to any table.
STAY TUNED: I'll have more on growing your own Paperwhites on this blog next week.  
Thanks to designers Angela, Diane, Muffy, Wendy, Nancy and Kathy for taking the time to share a few of their favorite tablescaping tips with me.
Also, a special thank you goes to Marc Cates with DECOR who was nice enough to allow me to drag my camera gear around the store and snap all the photos I wanted for as long as I wanted, right in the middle of business hours.
Happy holidays to all!  ♥
WANT MORE TABLESCAPING INSPIRATION?
I'm continuing to particiapte in various linky parties around blogland.  If you want to see more beautiful tablescaping ideas, pop by Susan's linky soiree over at Between Naps on the Porch for some great table decor and inspiration from fellow bloggers.
COMING UP NEXT MONDAY (New Year's Eve)
It may be too cold and out of season to plant a garden outside but that shouldn't stop you from growing one inside.  
Coming up next week (12/31), I'm trying my hand at growing an indoor Paperwhite garden.  
I started with Paperwhite bulbs and in almost no time at all these babies bloom big and beautiful. Their trademark stems stand tall and straight and are topped with delicate white petals that reach for the light and sky.
Hope you pop by this blog again next week for a little "Spring in Winter".
AND COMING UP THIS FRIDAY 
Get ready for my latest delicious installment of THE FRIDAY FOODIE.
 Coming up later this week (12/28), I'll share a decadently delicious dessert for grown ups.   
I don't want to give too much away but here's a hint;  this chocolate-dipped treats feature a pistachio filling with a hint of cherry liqueur. 
 I'll also tell you about a beautiful new cookbok that's a true tribute to food lovers around the world. 
 See you then.