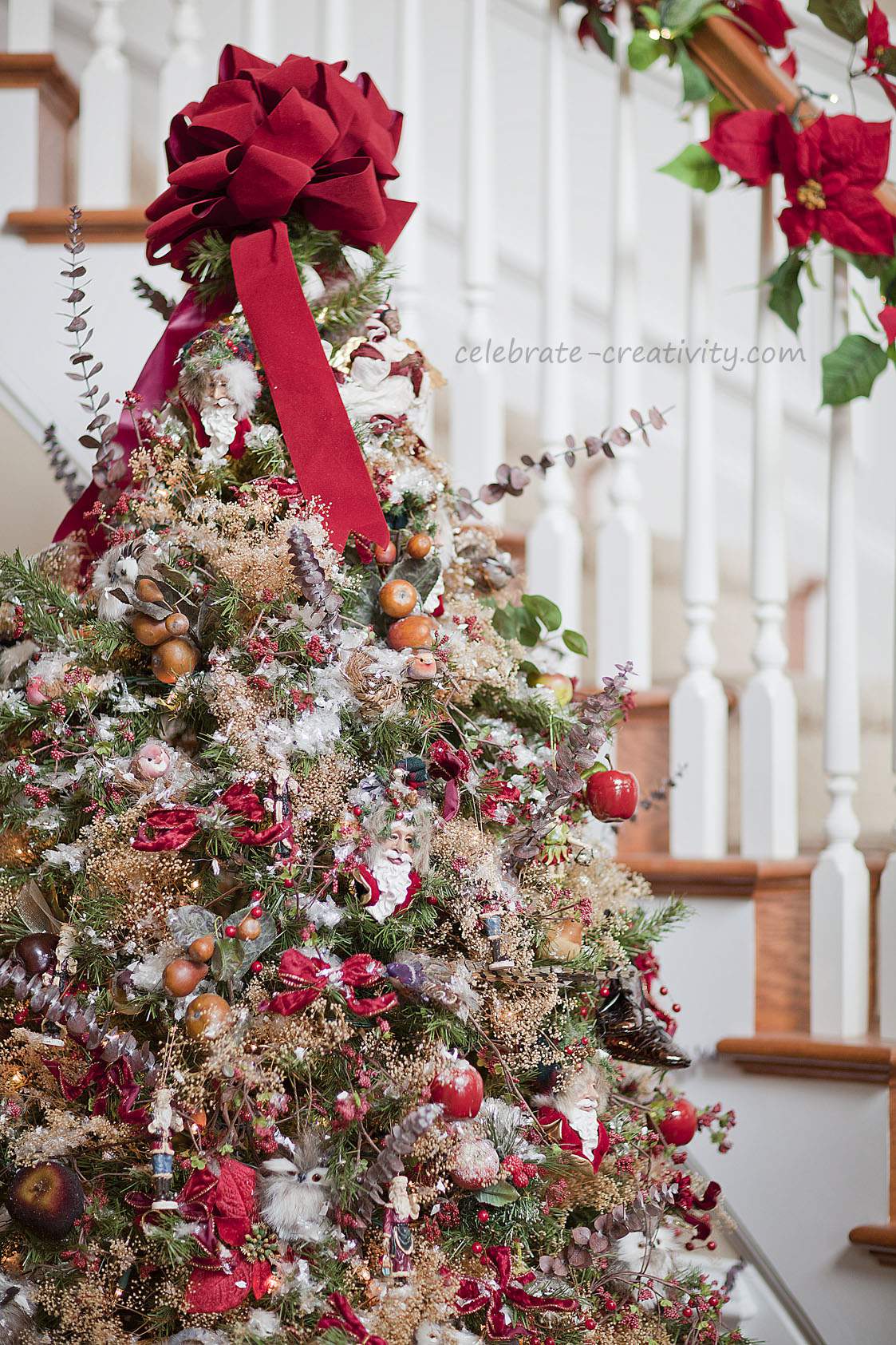 Nothing illustrates the beauty of Christmas quite like a decorated tree.  It is, of course, the iconic symbol of the holiday season.
I love seeing the abundance of creativity that explodes this time of year with holiday trees that are adorned with every theme you can imagine.
My tree has a back-to-nature theme with a twist.
While it's filled with vintage-inspired elements, this tree is also inhabited by creatures you might find in an enchanted forest.
Allow me to introduce you to a few of the magical inhabitants of my tree.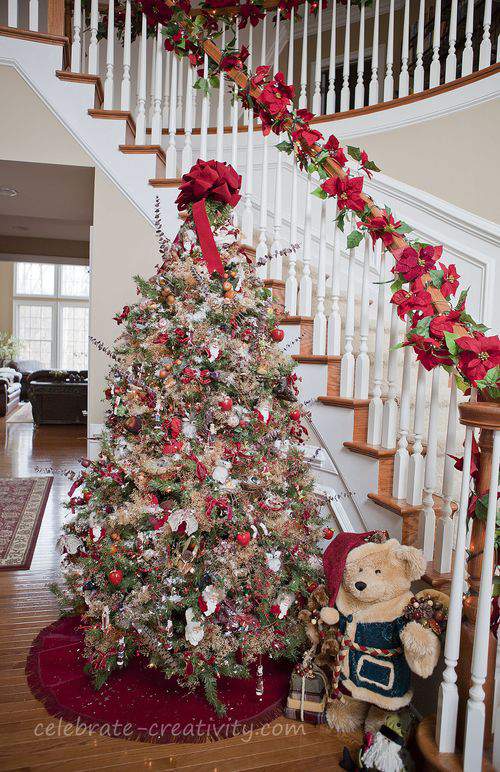 You may have to do a double take.
You see, at first glance the creatures who live in my tree look pretty real.
Assorted feathered friends visit and nest each year.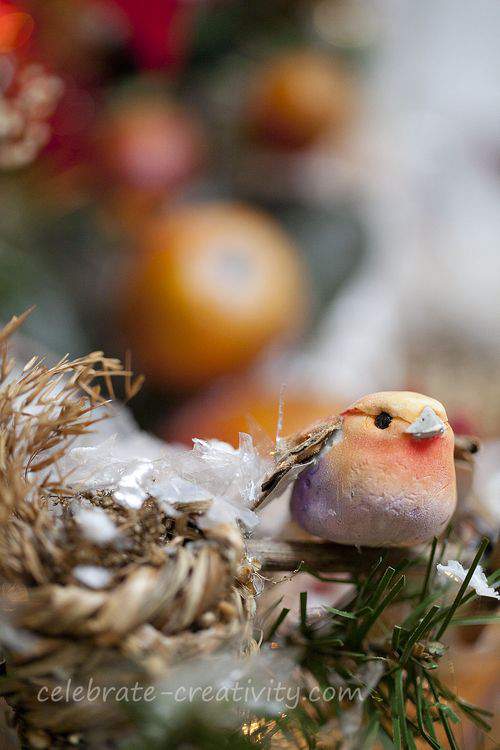 When my feathered friends swoop in during the holiday season they waste no time making my tree their home.
It isn't long before little bright blue and other assorted eggs appear beneath them.
I'm looking for little eggs from this one any day now.
You may not be able to see them very closely from this angle but this mama bird is sitting on a handful of colorful eggs.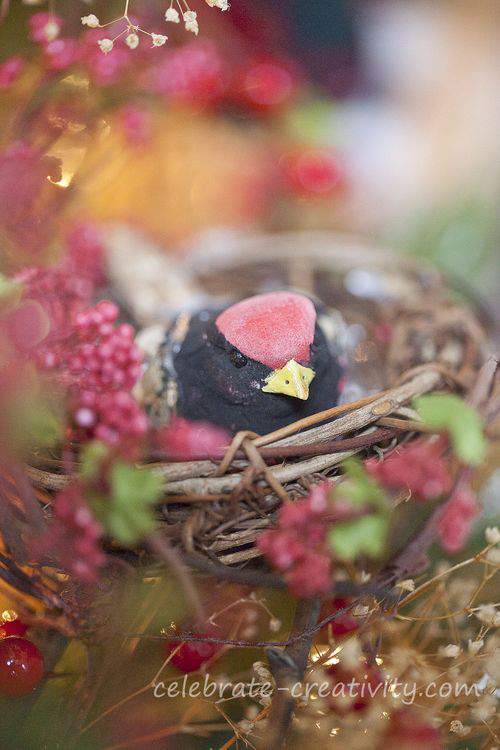 These baby owls are a new addition to my enchanted tree this year.
They seem shy and hesitant right now but I'm sure in no time at all they'll feel welcome and quite at ease.


It's fun to imagine that the tiny inhabitants of my enchanted tree actually come to life each night when we all go to bed.
I never worry because keen-eyed Santas keep a watchful look over all my tree dwellers.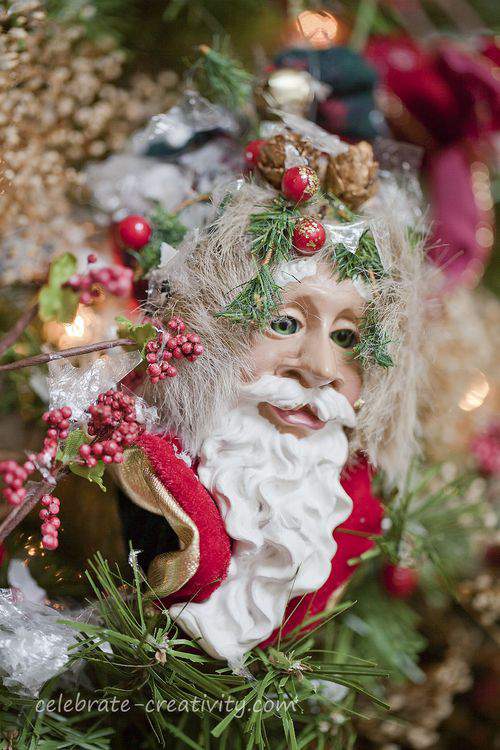 Tiny, top-hatted elves also sprint about the decorations and are able to stand perfectly still when I glance their way.
One day, I'll catch them darting in and out of the pine needles.
I'm determined to catch them moving about.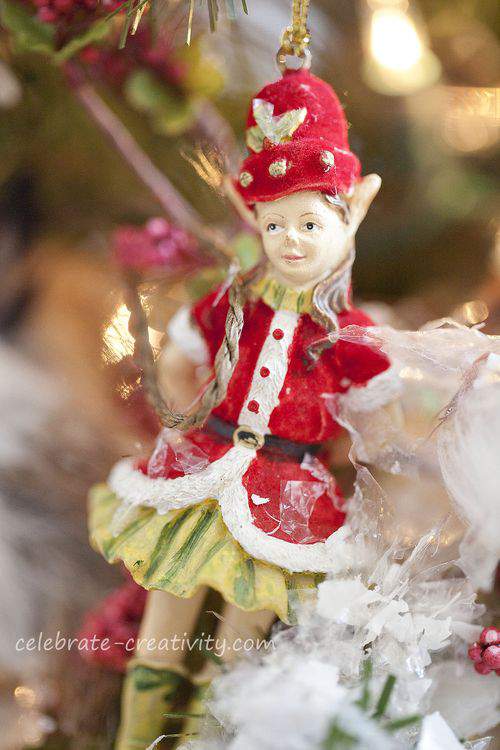 Loads of berries peek through the branches and add a perfect touch of color to the landscape.
These come wrapped as garlands and they're easy to string around the tree right after I install strands of lights.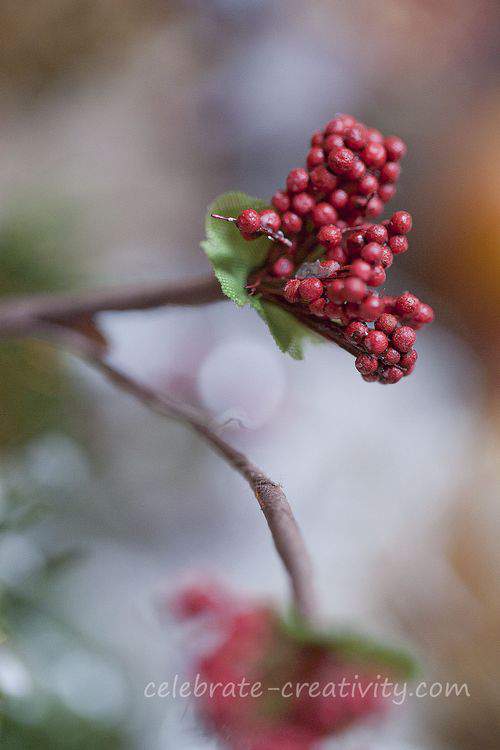 Handfuls of dried baby's breath serves a dual purpose in this enchanted space.
Not only does it contribute a soft, natural-looking element but it also helps fill in the gaps between the branches restoring some of the heft and girth this 17-year old artificial tree has lost over the many years.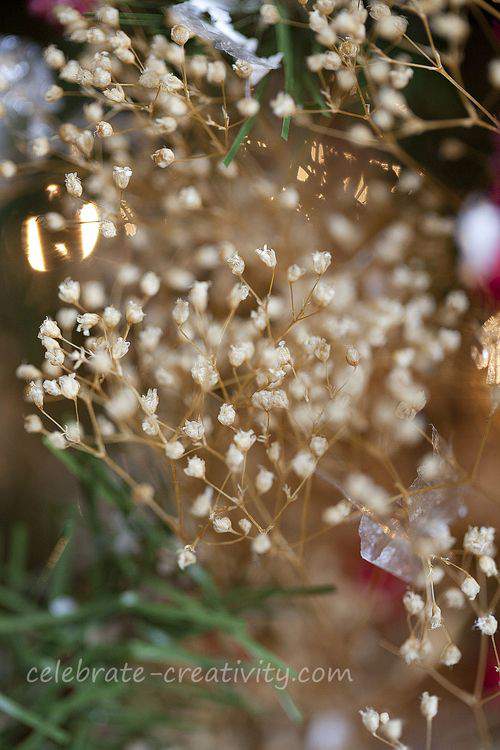 Old-fashioned, gold-trimmed velvet bows are carefully twisted onto the ends of dozens of branches.
I really love these vintage bows.  I've used these for many years too.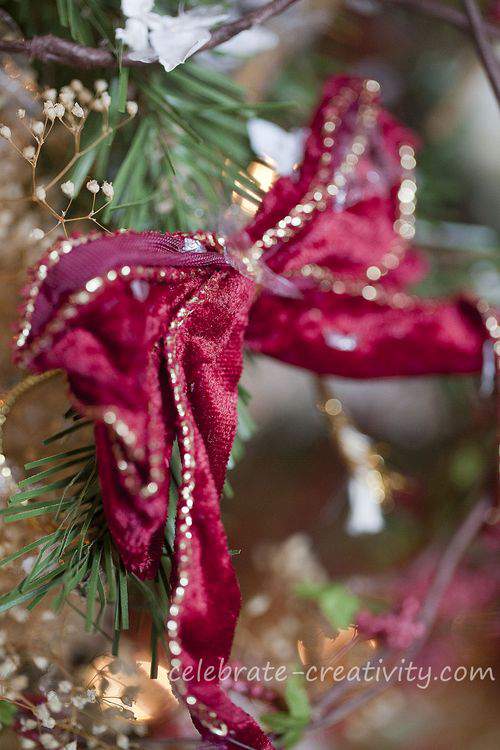 Eucalyptus branches are also in keeping with my back to nature theme.
These branches are strategically placed throughout the tree and not only unexpected interest but also that distinctive "woodsy" scent.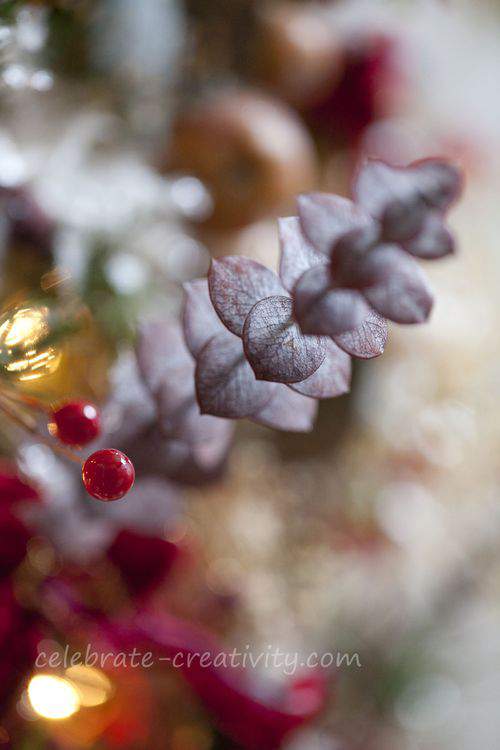 Somehow, it never rains in this enchanted forest but just in case it ever does, there are plenty of velvet and lace parasols to catch the dainty droplets.
Another vintage-inspired touch.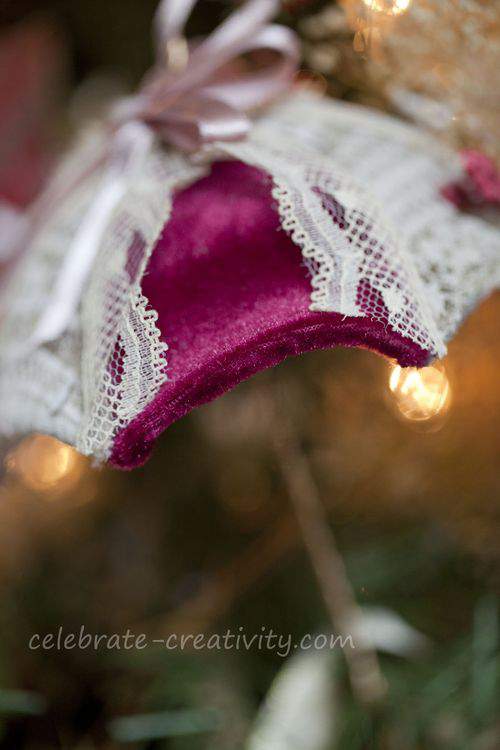 Silent and still, these woodland elves hide behind the branches as well as their beards.
No matter how hard they try to hide, I'm still able to spot them.
Maybe one night, when I'm ever so stealth, I'll also be swift enough to catch these elderly fellows in action along with all the other seasonal visitors in this tree.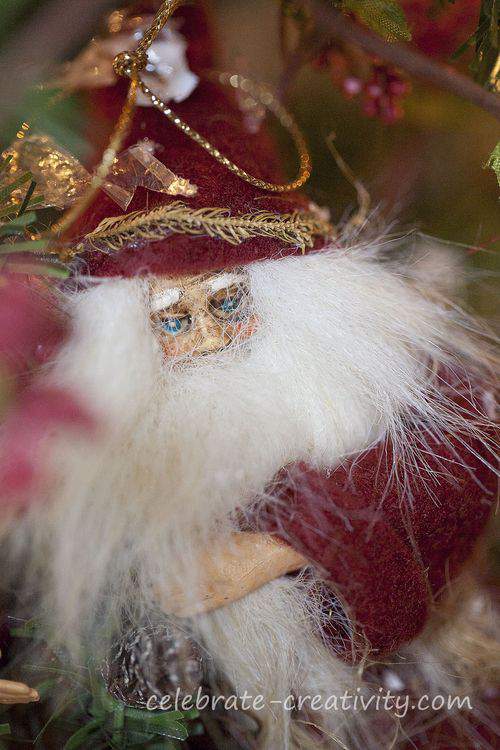 While every ornament in this tree is special to me, nothing quite holds a place in my heart as much as these little snakeskin baby shoes.  They've been on my tree every year now for a decade.
You can read the sweet story behind these little booties in my earlier blog post on my favorite ornaments.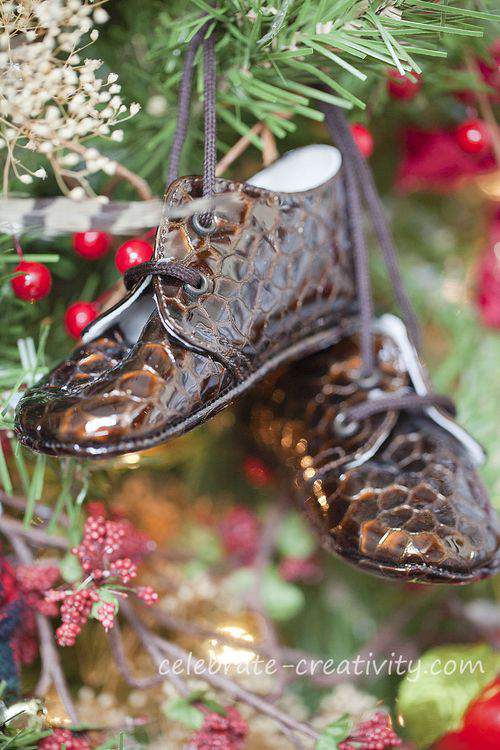 Meanwhile, a sea of Poinsettia petals adorn my banister, greeting all visitors who walk into my foyer.
This splash of color ties in perfectly with the colorful, jewel-toned elements in my tree.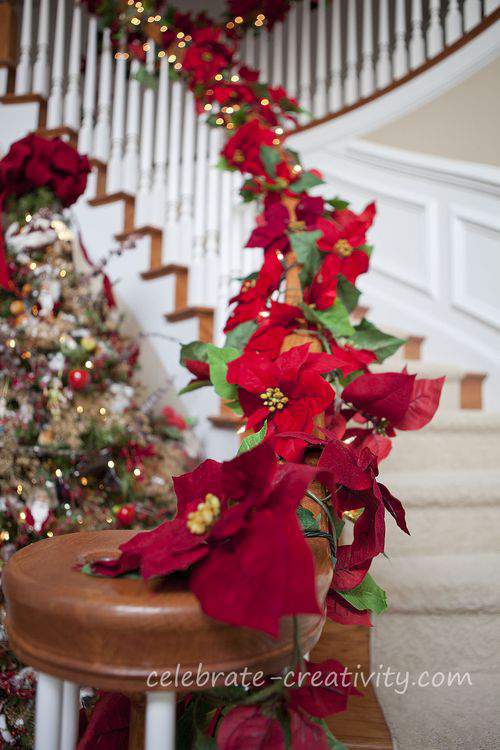 So, that's a look at my vintage-inspired, enchanted forest tree and festive holiday decor.
Hope you have a safe and happy holiday.  ♥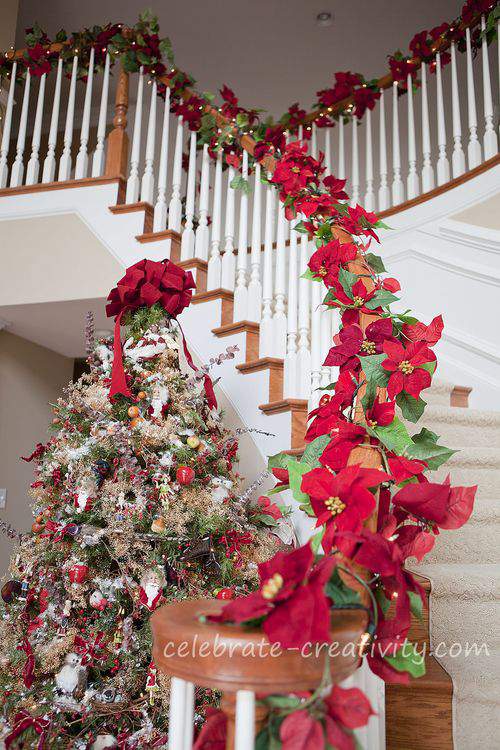 Thanks for stopping by.
See  you back here next time. ♥