B aby it's cold outside.  So Button Up!   Of course you wouldn't use these buttons on an overcoat or jacket but as you can see, they're pretty darn stylish.
 These button shaped sugar cookies are also pretty darn easy to make too.  I like that and you will too.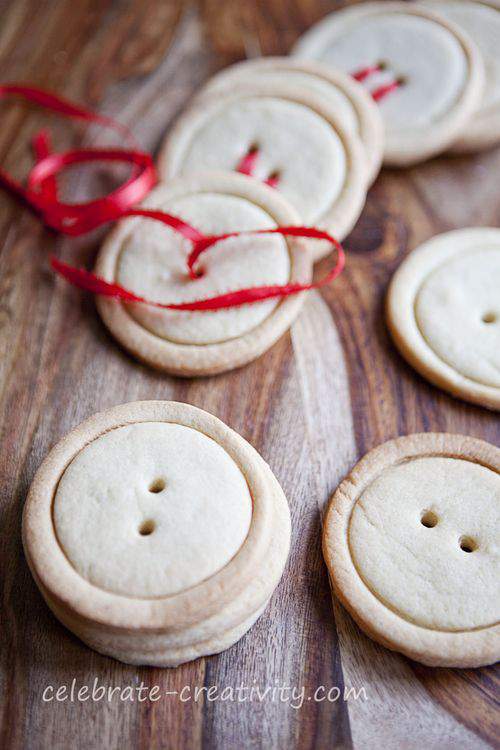 I used a sugar cookie recipe for these treats but you could use any kind of cookie recipe you like.  I think this button hole technique could also produce some really cute gingerbread button cookies too.
So, dig out your favorite cookie recipe, a circular cookie cutter, a drinking straw and some ribbon and you'll be ready to start baking buttons.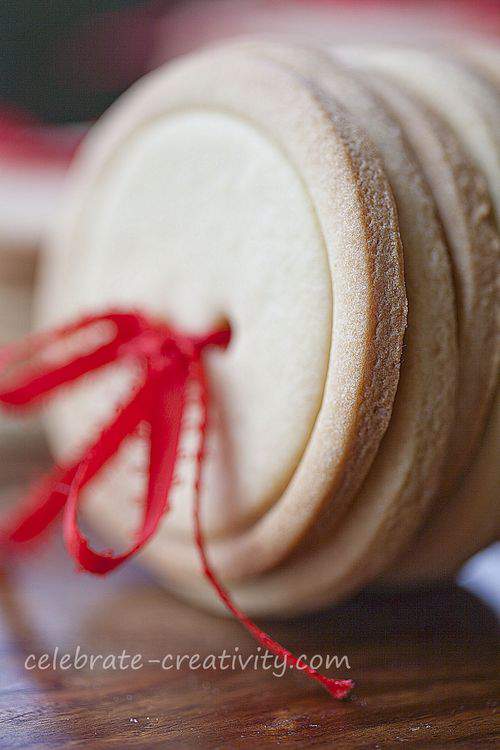 Roll out the cookie dough and use the regular sharp edge of a circle-shaped cookie cutter to cut out the cookies. 
Then, turn the cookie cutter over and use the rounded edge to gently create a circular impression just inside the cookie you just cut to create the button ridge.
IMPORTANT NOTE: Be careful not to create the ridged impression too deep or you'll cut right through the cookie.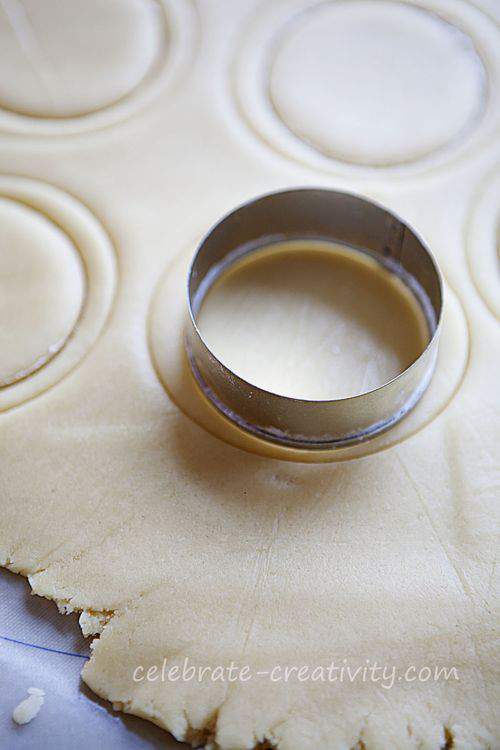 Next, use an ordinary sipping straw to gently push button holes into the cookie dough.
I like the double-button holes but a quartet would be just as cute.  Consider mixing the holes up to create a variety button pack.
Bake according to cookie instructions.  
Hmmm, nice golden brown buttons.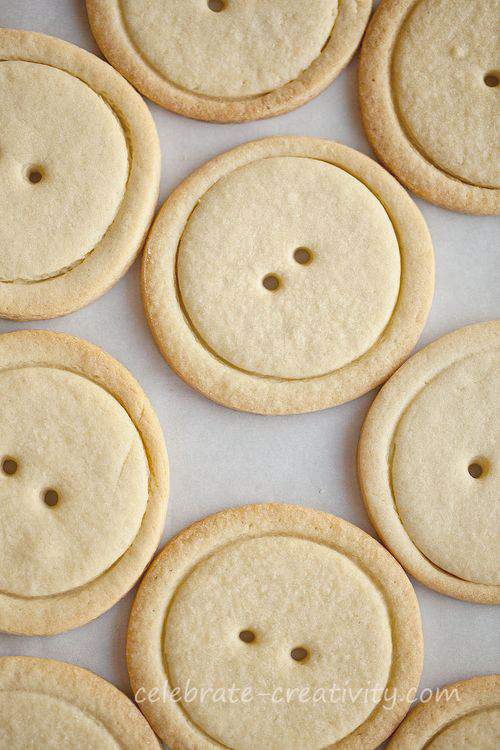 If you plan to offer these button cookies up as a gift, consider threading the button holes for a more festive presentation.
Handle with care.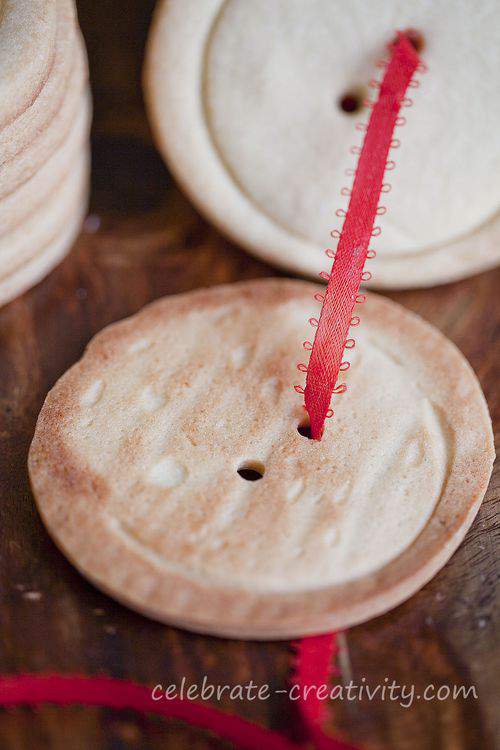 Carefully string the ribbon through the button hole on one side of multiple cookies first and then string the cookies through the other hole on the other side of the cookies.
String your button holes very carefully because they are fragile.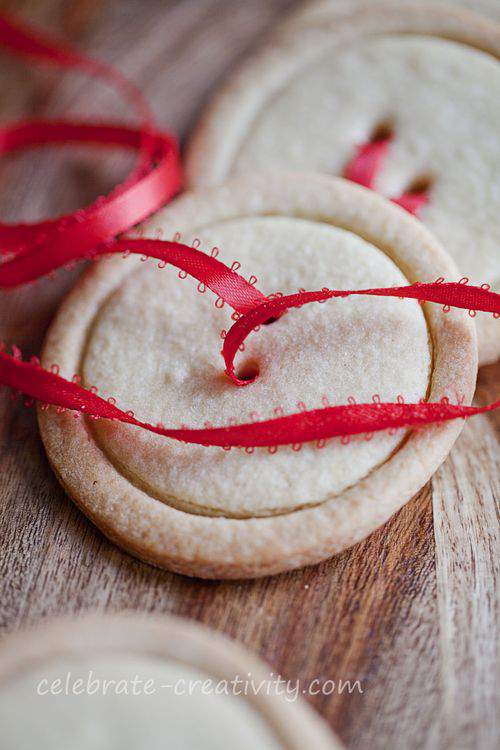 I think a stack of six cookies is good but you could string as many as you choose.  Just remember to cut the ribbon long enough to run up one side of the holes and down the other with room left to tie a bow.
Wrap the button cookies in holiday-colored celophane or box them up for friends and loved ones. 
IDEA: If you box them up, you could craft a label which reads "BOX OF BUTTONS".  Wouldn't your gift recipients be pleasantly surprised to find edible buttons enclosed instead of real ones?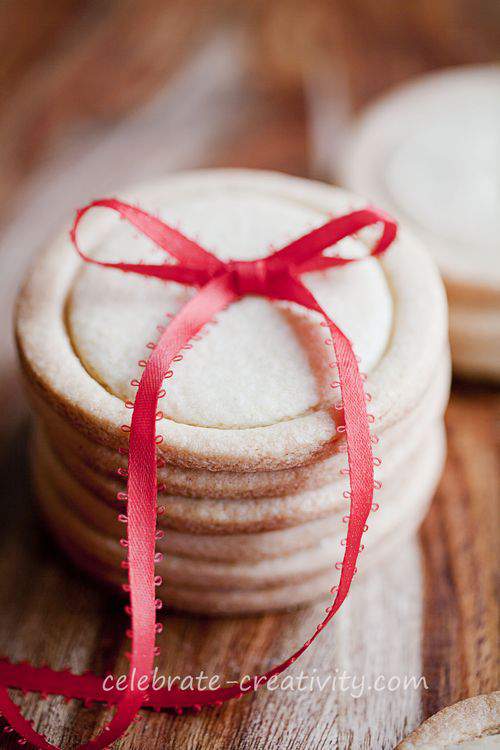 You may not be able to use these buttons for your winter overcoat but why would you anyway?
These are made pitch perfect for your holiday taste buds.
Yum, yum. ♥ 
WANT MORE TASTY INSPIRATION?
I'm continuing to participate in a number of holiday linky parties around blogland.  For more great holiday recipes be sure to stop over at Kari Anne's soiree at Thistlewood Farms.  Also, pop over to Lucy's who's hosting an amazing linky party at Craftberry Bush with loads of great ideas and holiday fun.  You'll also love the creativity and projects over at Shanty 2 Chic's Linky party.  You'll love the gret ideas and inspiration over at Beth's linky party at Home Stories A to Z.
COMING UP ON MONDAY
Hope you stop by again next week (12/17) for a closer look at my Christmas tree which features an "enchanted-forest" theme you're going to love.
Woodland elves, long-tailed pheasants, vintage-inspired wooden Santas and adorable baby owls hide among the eucalyptes branches, baby's breath, fruits and berries and so much more.
Also, on Monday I'm hosting a Holiday Linky Party so you can share your Christmas tree and holiday decor too.
See you back here on Monday.