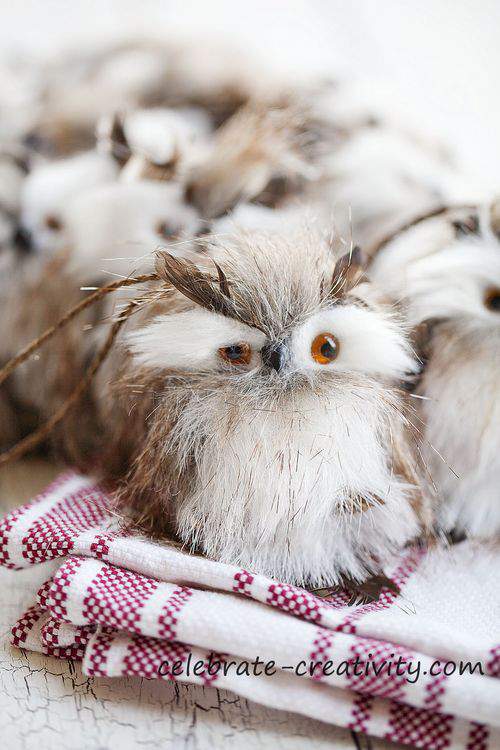 I may be a little late than many of you but I finally started putting my Christmas tree together this weekend.
Even though I love the aroma of a freshly-cut tree, I've stuck with this artificial evergreen over the years just for the convenience of it.
It's actually held up quite well.

I admit, when it comes to decorating the family tree, I'm a bit of a selfish tree trimmer.
My kids have their own separate tree to decorate which leaves me free to adorn our main tree any way I like.
If I had to describe my tree, it would be Woodland Whimsy because it's filled with all the things you might find in a lively, enchanted woodland forest (with the exception of one special ornament I'll talk about later in this post).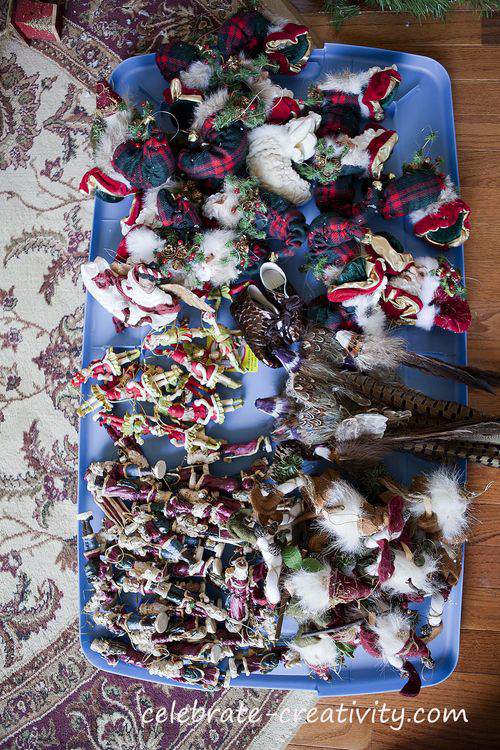 Allow me to start with a few wise old men with more than a twinkle in their eye.
These steely-eyed Santas have glass, inlaid eyes which seem to follow you as you walk around them.
Interestingly enough, that makes them both charming and slightly creepy depending on the visual angle.
Charming wins out though and every year they're assured a spot on my tree.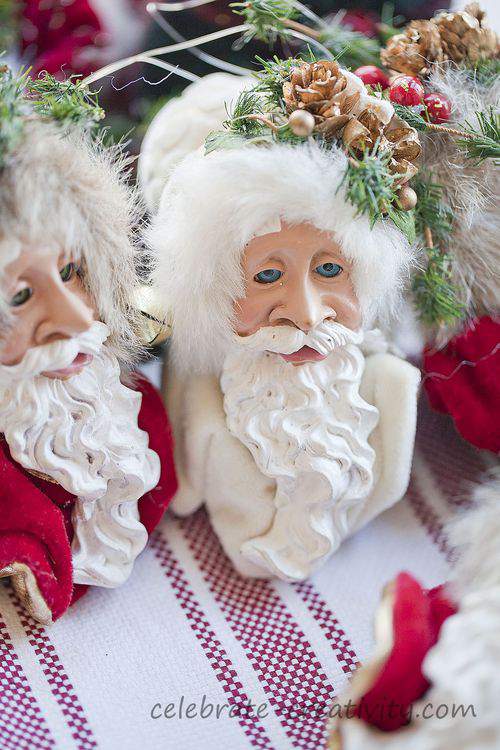 When I first saw these little elves at a small shop in Ohio, I couldn't resist buying the last handful of them on the display rack.
I love that elf holding the red bird in one hand and an egg-filled basket in the other.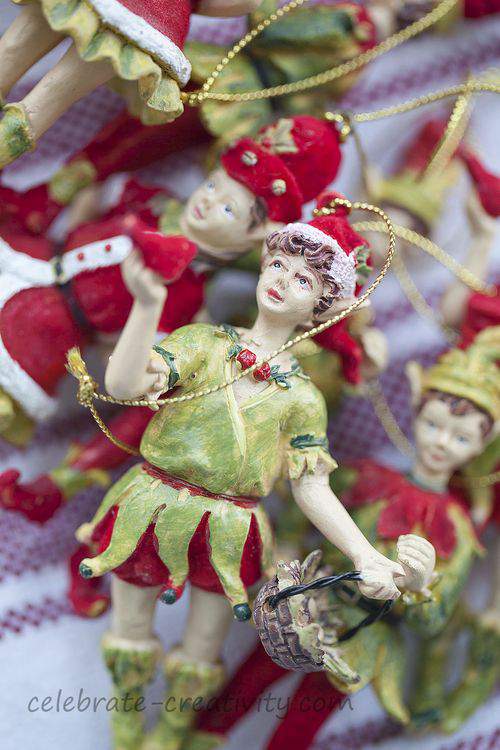 These little woodland owls are new to my tree this year.
I found them at a small local gift boutique and you could almost hear them chirping, "take me home, take me home, hoot-hoot".
They're so sweet and they'll have plenty of company when the meet all the other feathered friends who live in my Christmas tree.
These long-tailed pheasants always look like they just swooped in for a landing on my tree.  I've had these for years too.
The long-time Christmas tree dwellers will certainly be able to show my new baby owls the holiday ropes.
These aren't vintage Santas, but I've always thought they looked like it.
Many of them have picked up dents and dings over the many years that I've owned them but I think that just gives these little guys that much more character.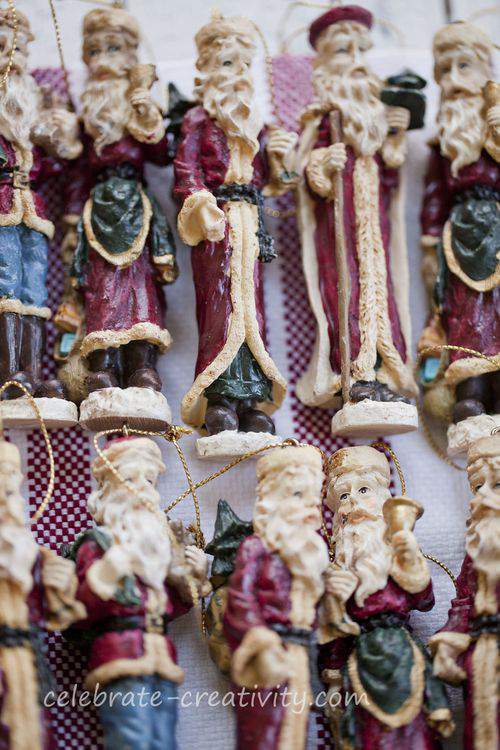 I think these elderly, woodland elves fit in perfectly with my back to nature themed tree.
They have an old fashioned rustic look and I think you can almost imagine them hunting and gathering throughout that "enchanted forest" as they make their way to my enchanted tree.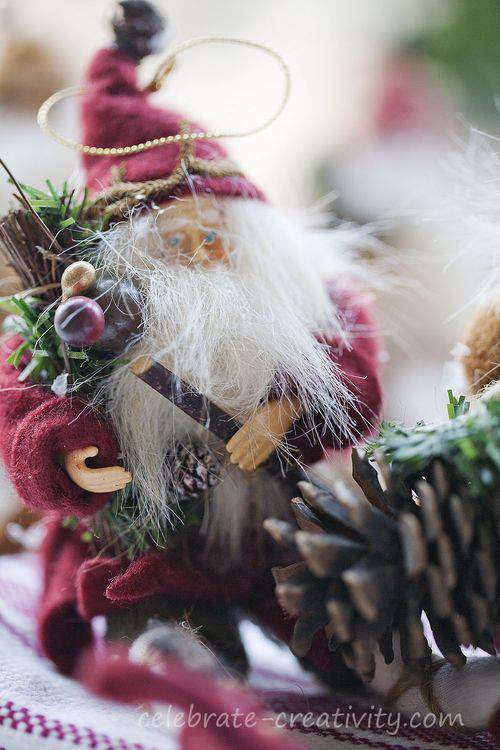 This sweet angel pretty much overseas everything that happens here since she sits near the top of the tree.
She has a sweet face and lovely metal wings and I also love her light, gauzy robing.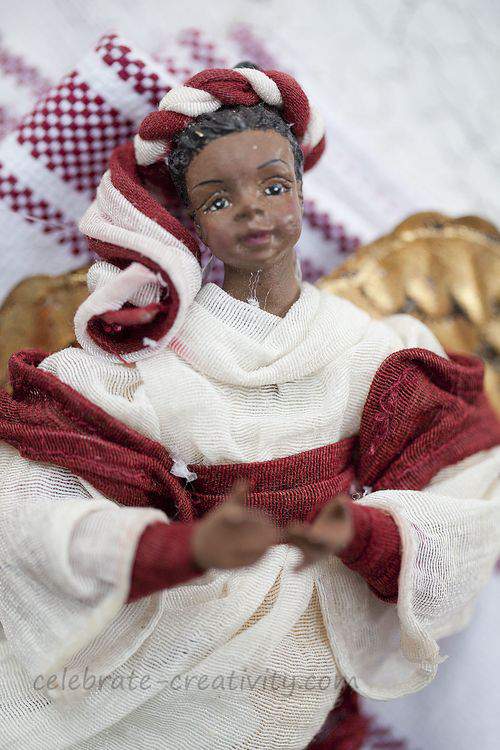 Obviously these little snakeskin baby shoes aren't a traditional ornament but I've used them on my tree for a decade now and there's a great story behind them too.
They were a gift to my son from a co-worker when Jordy was just a baby.  He was wearing them when I took him to the mall for his first official holiday portrait when he was just about five months old.
When I got back to my car to leave the mall, I noticed one of the shoes was missing.  I spent more than an hour scouring the mall floor and re-tracing my footsteps, to no avail.  I was so bummed.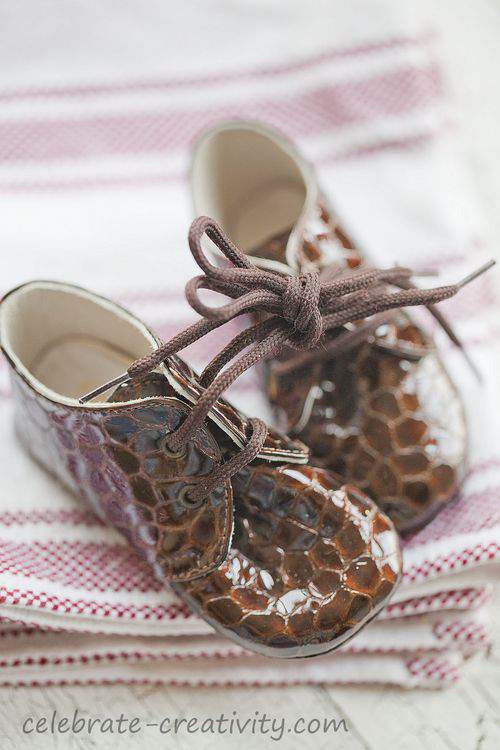 A few days later, the missing snakeskin shoe was still very much on my mind so I called mall security who connected me to lost and found.  My husband, Boris insisted the shoe was lost forever and I was wasting my time with the phone call.
When I described the shoe to the lost and found staffer, she said, Yes, ma'am, it's here and you can pick it up anytime". 
What luck.  When I went to pick it up, the mall staffer told me the woman who found it said, she saw it fall off my baby's foot but between my fast stroller and the holiday crowd, she couldn't catch up with us.
The staffer said the good samaritan also said "this is such a precious little shoe, I had to turn it in.  Any mom would surely want it back". 
Now, how cool is that?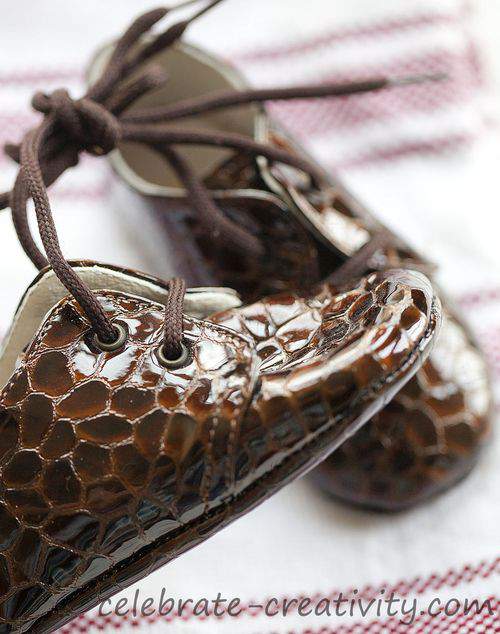 Both shoes have been safely displayed on my Christmas tree every year since then.
They're a special keepsake that also happen to make for a sweet, unexpected ornament as well as a reminder that nothing beats a failure but a try.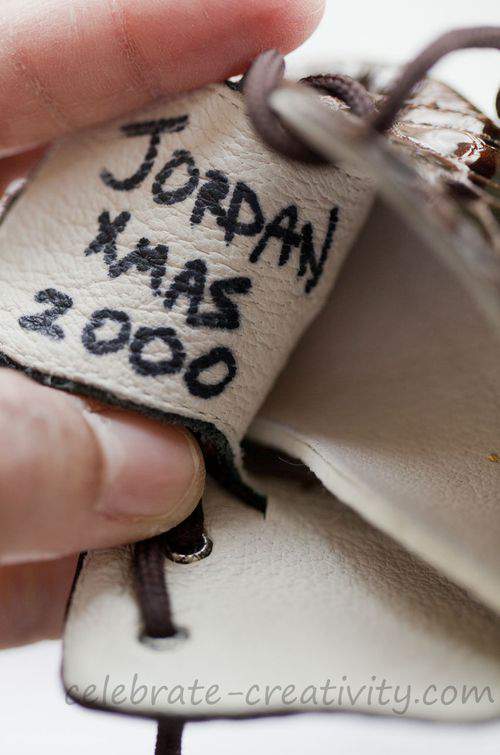 Meanwhile, I'm almost finished putting the finishing touches on my Christmas tree and I'm also decorating my staircase bannister.
Stay tuned for a complete look at my decorated foyer which I'll post here soon.
So, are you still in the midst of holiday decorating or are you already done and way ahead of the game?  ♥
WANT MORE CREATIVITY & INSPIRATION?
There's an abundance of creativity in blogland and I'm continuing to particiapte in various holiday linky parties around town.  Pop over to Angela's at Cottage Magpie for more ideas and holiday projects.  Also, stop by Sarah's over at Thrifty Decor Chic for tons of great holiday fun and seasonal inspiration.
 COMING UP NEXT MONDAY
 If you're still stumped for great holiday offerings, gifts from the kitchen are a great idea this season. 
Coming up next week (12/10), I'll show how how to make and decorate these adorable, old fashioned gift sacks.
They're filled with sugar cookie mix so gift recipients can whip up treats in their own kitchen.
Hope you pop by again next week for my easy sugar cookie gift sack tutorial.
See you then.