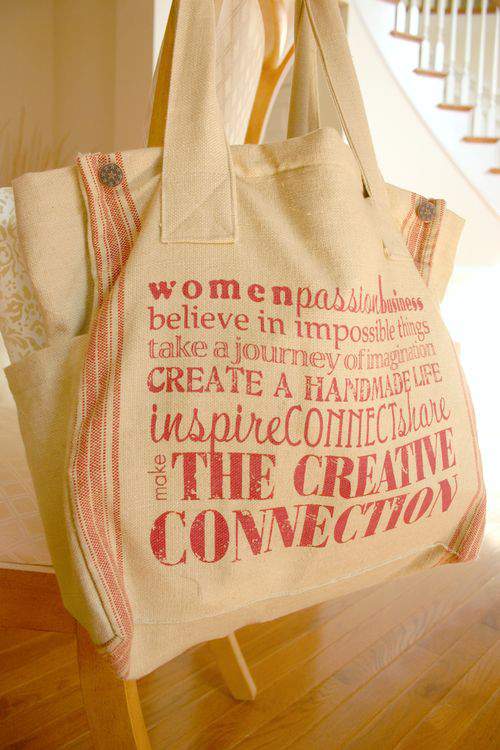 Wow, where do I begin?  I just got back from Minneapolis, MN after attending the Creative Connection Event. 
The photo below is one of two event posters featured at the conference.  Don't you just love that caption?
As I wind down from the trip, I'm happy to give you a recap of the 3-day extravaganza.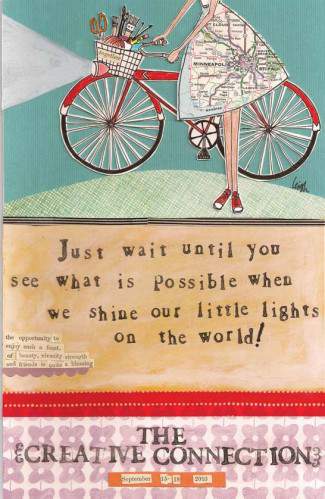 The event brought together, entrepreneurs, bloggers, crafters, artisans, creative industry leaders all in one place for three days of sharing, connecting and learning.
By the way, when you finish reading my recap you can read more play-by-plays and reviews of the event if you pop over to the Creative Connection blog.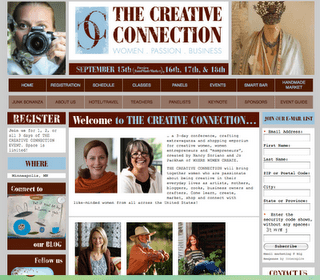 The Creative Connection was the brainchild of former Country Living editor, Nancy Soriano and Jo Packham who many of you probably recognize from her popular Where Women Create book and as Editor-in-Chief of the subsequent quarterly magazine of the same name.
Nancy and Jo were positively giddy with the huge response and they seemed genuinely blown away by the turnout which represented 48 states and Canada. 
They're already planning the Creative Connection Event 2011, which will be held again in Minneapolis, MN.  Hmm, I may have to make this an annual sojourn.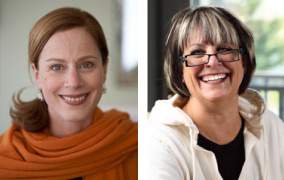 At the registration booth, everyone got to create these cute little make-n-take canvas cases which could be worn around the neck. 
Perfect for storing business cards and keeping them within reach.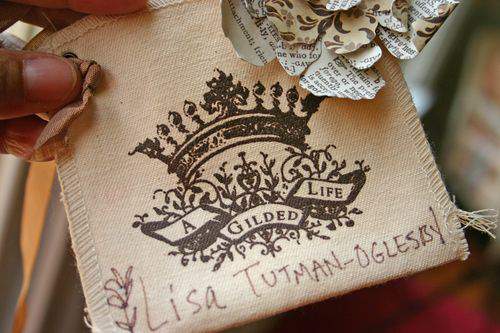 It's a good idea to have contact cards for an event like this, so I created these colorful blogger cards on my computer. 
I put my contact information on one side and my blog banner on the other side.  I struggled with trying to get the banner perfectly aligned on the card and even though it's not totally precise, I'm glad I stuck with it. 
It was worth staying up until 1AM the night before my flight printing them up.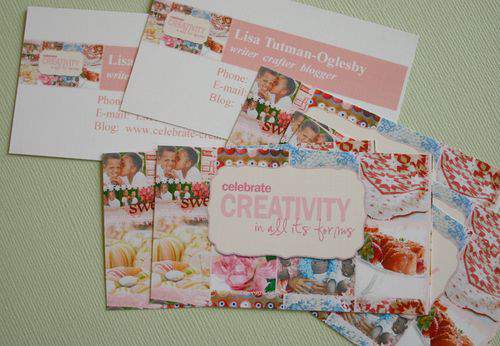 Of course, networking is a huge aspect of an event like this.
It's been fun going through all the different business cards I collected and getting a closer look at everyone's style and creativity. 
I've been following-up with the people I met, via e-mails as well as with visits to their blogs and websites all week.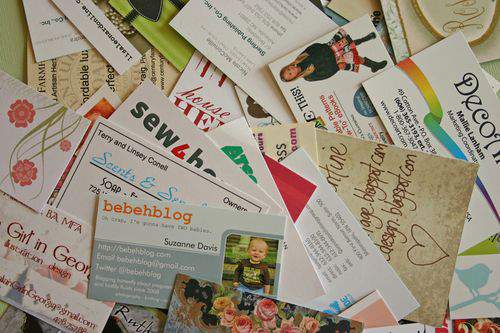 OK, let me get back to the Creative Connection Event.  It was a total whirlwind. 
Every hour was jammed-packed with purposeful, useful info including panel discussions on a variety of subjects ranging from jump-starting a business and improving or starting a blog to using social media to maximize exposure to getting your work published and into the right hands to the future and role of the digital marketplace in today's business environment.
There was much more information exchange but I'll stop with that limited listing.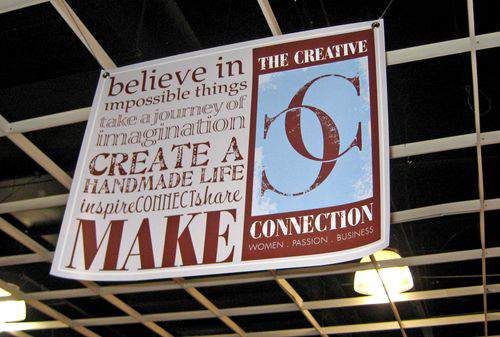 The 3-days were runneth-over with great conversation, fun, fellowship, food, keynote speeches, shopping, classes, giveaways, networking just to name a few coverage areas.
On the subject of keynotes, let me fill you in on the guest speakers.  You'll probably recognize them right away.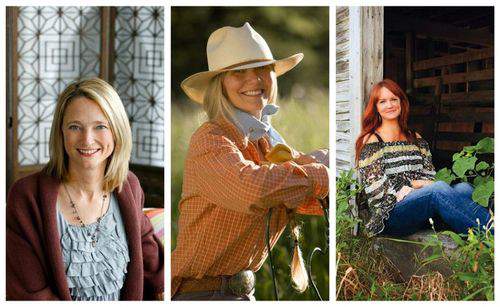 Pioneer Woman, Ree Drummand writes an incredibly popular blog about life on a working cattle farm, her family, recipes, photography and her "Marlboro Man".  She gets more than 20-million unique blog readers a month.  Crazy numbers, right?  She comes across just like she does on her blog; quick witted,  friendly and just a nice person. 
I got a chance to meet Ree face to face the following night for a brief chat.  She was totally approachable and a real pleasure to meet in person.  By the way she said she's been in talks with Sony Pictures to have a movie made about her "love story" possibly starring Reese Witherspoon (who I think we can agree looks nothing like her).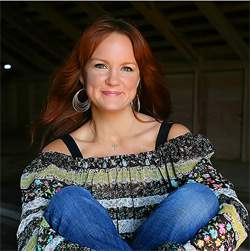 Fabric designer extraordinaire, Amy Butler who is known for her Midwest Modern style and colorful, hip prints and complimentary products was on hand too.  Amy is tall, cool, calm and so much more soft-spoken than I imagined she would be.  She had a beautiful keynote presentation that included pictures of her as a young aspiring designer as well as photos of her family and designs. 
Amy is one of my all-time favorite designers and I have all of her books and nearly all of her patterns.  I'm addicted to her fabrics and I have a huge stash of her prints from almost every line.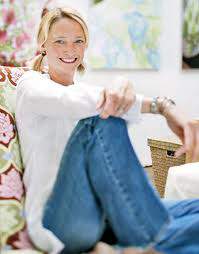 Finally, real farm girls (and wannabees) everywhere are familiar with Mary Jane Butters who has an inspiring back story which includes building a multi-million dollar empire from scratch which now includes a flagship magazine, products and books built around farming, embracing nature and the use of sustainable products.
I chatted briefly with Mary Jane and her daughter after dinner and she was so sweet and genuine you can easily see why she has such a loyal following.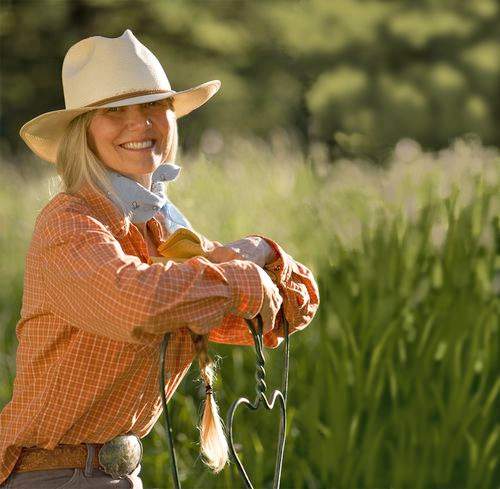 Another fantastic offering at the event (albeit, painful in the pocketbook) was the Handmade Market. 
Ooh, la-la!  Vendors filled an entire hall with handcrafted goods, materials, books, jewelry, vintage accessories and so many categories of shopping I can't possibly name them all here.  
PERSONAL TIP FOR NEXT YEAR:  Pack lightly on clothes you won't need them.  SAVE the luggage space for what you will buy at the Handmade Market. 
 Delta Airlines wanted to charge me $99 dollars for being 12-pounds overweight on luggage on the way home.  $99 bucks, are you kidding me?!!!!  I pulled out the bag I had purchased at the Handmade Market, unloaded a few things from my main suitcase and took the extra items with me as carry on.  I kept that $99 dollars in my pocket thank you very much and so did the lady behind me who had to do the same thing just for being 4-pounds overweight on luggage and she didn't have a Handmade Market purchase to help with her extra load.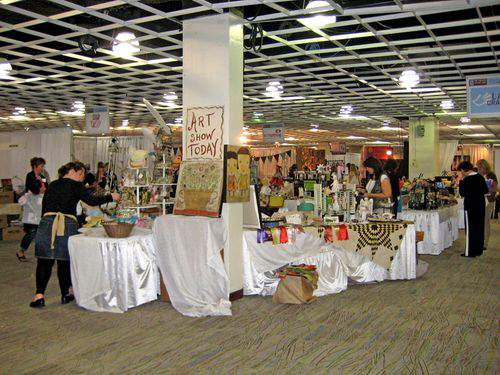 OK, rant over.  Back to the Handmade Market.  Talk about eye candy and creative inspiration.  I was also thrilled to see so many participants supporting these wonderful artisans and crafters who came from all over the country to showcase their wares and creativity. 
It was also a blast to meet people that until now, I've only known through blogging.
That's Etsy shop owner, Charmaine McLaughlin with Pom Poms and Polkadots below on the right and on the left is jewelry designer Jill Schwartz with Elements and Vintage Groove.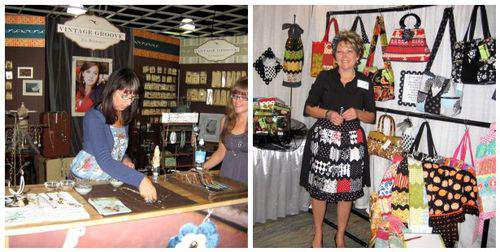 Some of the vendors inside the handmade market also offered on-the-spot mini classes.  I got a chance to learn how to make this adorable wired bird's nest thanks to Heidi and Dani of Oh Sweet Sadie.
This was so much fun to make and easier than it looks too.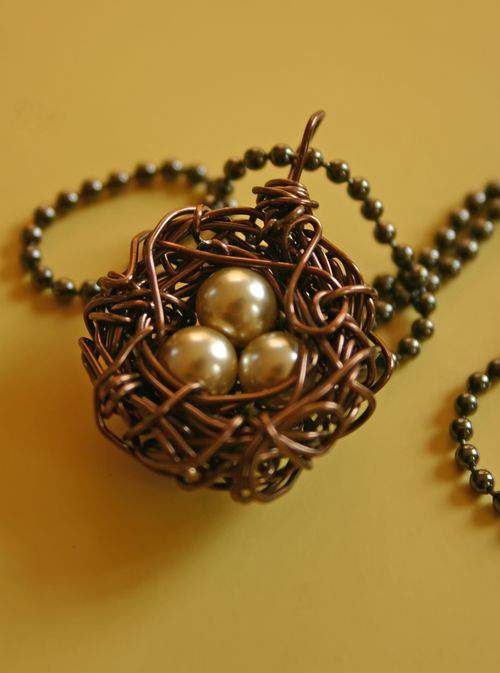 Many of the well-known artists and sponsors also donated special designer items for everyone to enjoy.  This linen bag was custom designed by Moda and made from Kaari Meng's gorgeous French General fabric.  Oodles of goodies and supplies were packed inside. 
Conventioneers love goodies and freebies and this filled-to-the-brim bag was a huge hit with the crowd.
Over the 3-day event, everyone also had an opportunity to take any number of structured technique classes.   
I took three courses including the the Cup O'Joe pincushion, Coiled, Looped and Woven Jewelry as well as the Family Heirloom Necklace class (although I didn't use any heirloom pieces for my necklace).   
Oh, I must share my finished projects with you.  You're gonna love them.
First up is the Betz White's pincushion.  Betz is an author, crafter and textile designer.  She's a really attentive instructor too and she makes sure every student understands every step she demonstrates.
Everyone in class flipped over their finished felted coffee cups including yours truly.  This looks almost good enough to take a sip, right?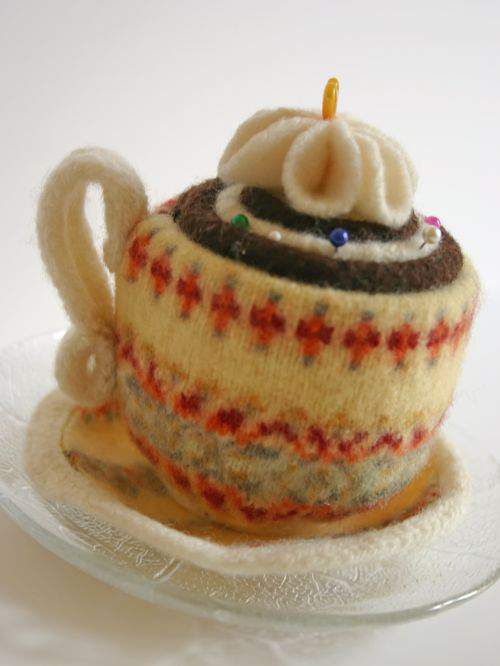 Dollop of felted cream anyone?  Now, I'm not even a coffee drinker but how stinkin' cute is this?
I love this project which is simply made from old felted sweaters.  I'm sure I'll be making a few for upcoming holiday gifts this year.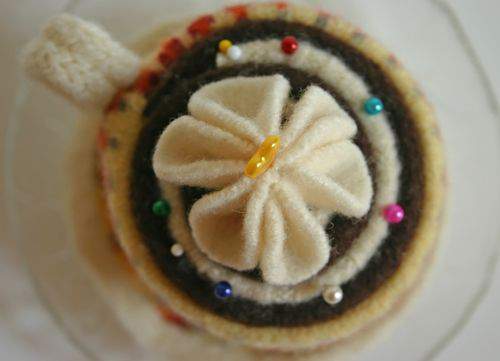 I also learned some really useful techniques in Ruth Rae's class.  She is an awesome instructor with a beautiful smile and a hearty laugh that makes you want to laugh out loud too.  Ruth has a great sense of humor and her class was laid back and totally fun.
I started practicing Ruth's techniques as soon as I got home.  Check out a few of my finished pieces in the photo below. 
I recently ventured into jewelry making so learning these various techniques was really timely.
Now, let's talk about turning trash into treasure.  The Heirloom Family Treasure necklace class was taught by Philadelphia-based, jewelry designer Halligan Norris.   Halligan is a real cutie and has a talented, sharp eye for design and jewelry elements.  Her class was a real eye-opener too, in terms of re-purposing old jewelry and trinkets. 
I made this gorgeous necklace out of some of my old costume jewelry that had been doing nothing but collecting dust in an old chest in the back of my closet.
I don't think I'll ever look at "junk" or costume jewelry quite the same way again and I certainly won't look at it with an eye toward tossing it.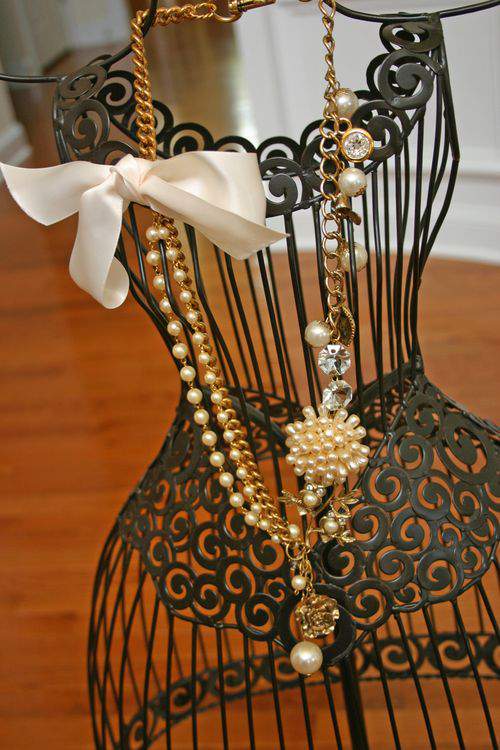 In addition to a few chains, an old charm bracelet, various jump rings and random pearls, I also used this old, owl-brooch and giant pearl-bud earring to complete the necklace. 
Ahem, yes that was an actual kernel-pearl earring that I wore at one time in my life.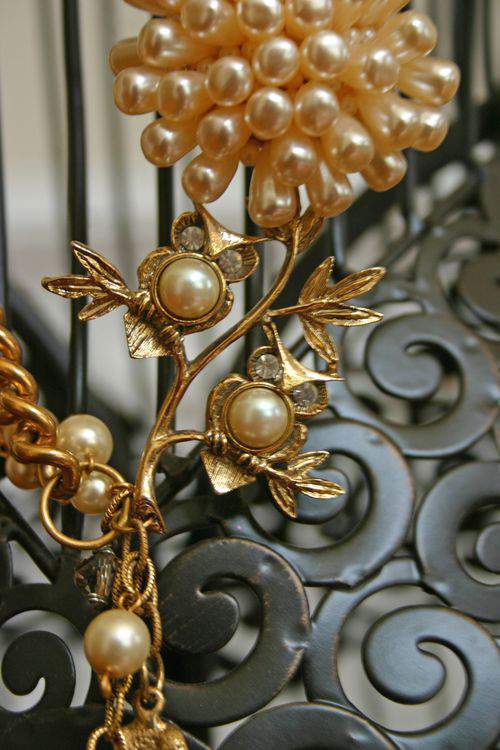 I think the energy that is generated when so many like-minded creative types are in one place is something you can really feel, taste, even smell in the air.  It just washes over you and you feel grateful to be with a group of people who not only appreciate creativity but also totally get what you do.  Corny sounding?  Maybe, but oh-so true.
The Creative Connection was uplifting, affirming, rejuvenating, intense, overwhelming (in a good way) and inspiring all at the same time.  I could go on with more adjectives but I think you get the picture.
I learned a ton and my head is swirling with new ideas, projects, inspiration and motivation.  I even have a few thoughts on tweaking this blog so you'll soon notice a few changes here and there-including more frequent posts.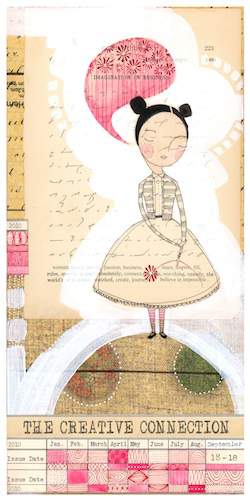 Meanwhile, this keepsake necklace by jewelry designer Lisa Leonard was also one of the gifts everyone received at dinner one night. 
I think the simple inscription says it all.  Don't you?
It's really great to look back on the Creative Connection Event and let all the energy and goodwill I absorbed there, really sink in now that I'm home.  It's actually pretty exhilarating.
It's fair to say, I'm motivated more than ever to continue living an authentic, creative life and doing the best I can to inspire others to do the same. 
So, that's my recap of my fantastic 3-days in Minneapolis or as my husband, Boris called it "Pee-Wee's Big Adventure, without the bicycle".
Happy creating peeps. ♥