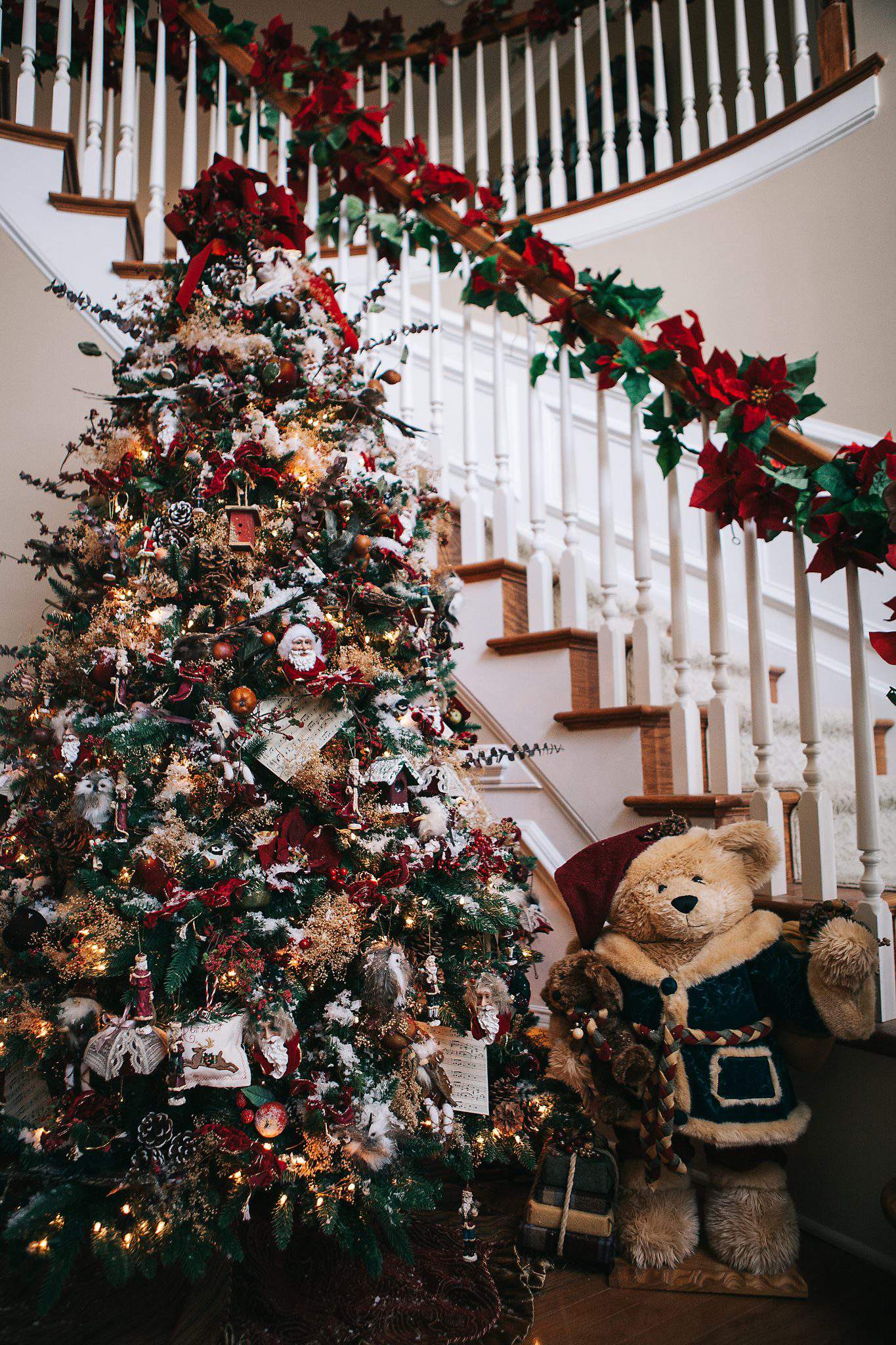 We're just a few weeks away from Christmas and I just can't believe how fast this year has flown by.
Looking back on this year, I've been fortunate to connect with so many wonderful bloggers who have become friends and supporters of my creative efforts.
That's one of the very cool things about the blogging community, isn't it?
With that in mind, I'm participating in a Holiday Tour of Homes event with 25 other amazing and creative bloggers who are opening up their home to all of us with some gorgeous holiday decor and inspiration.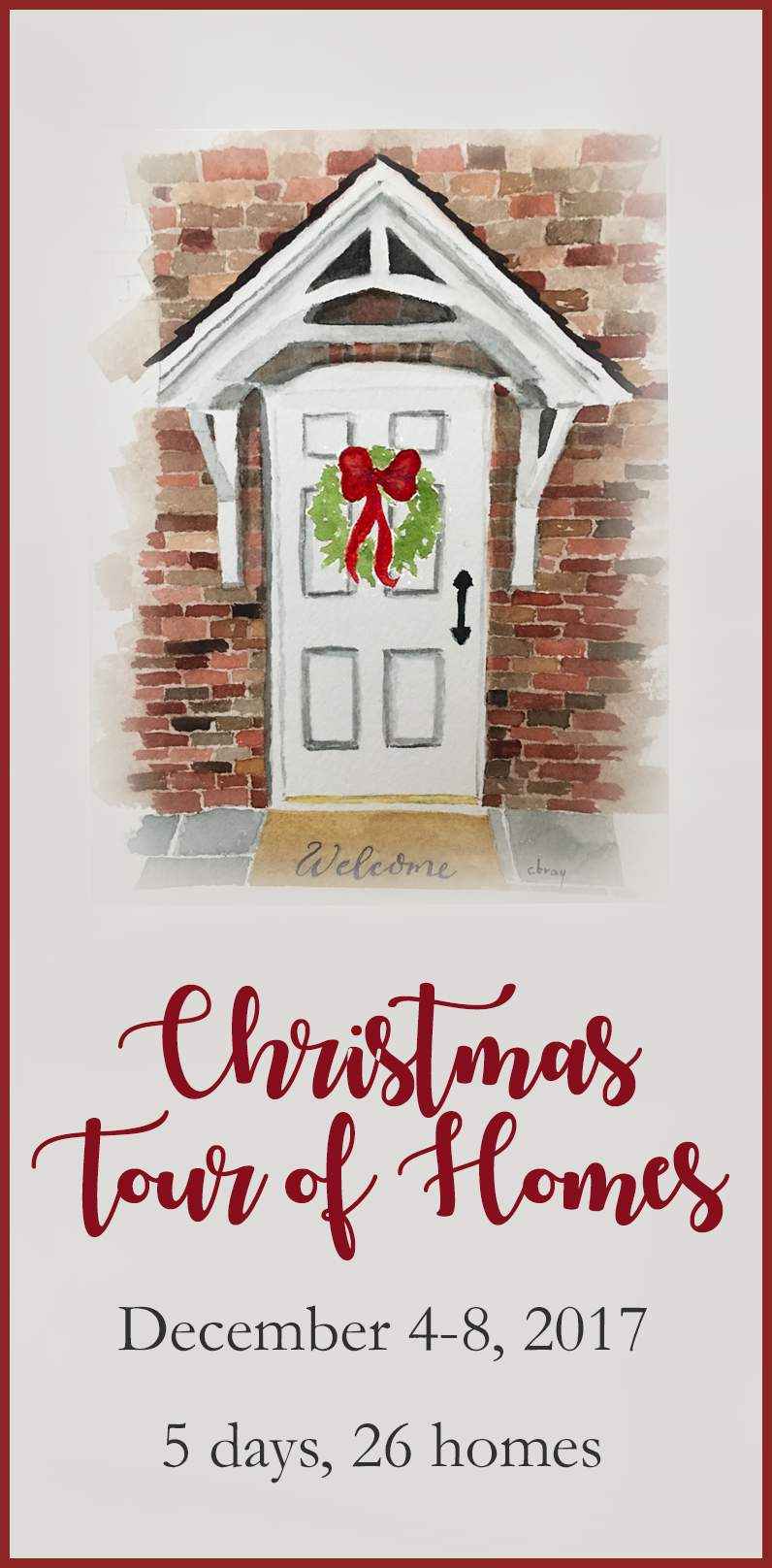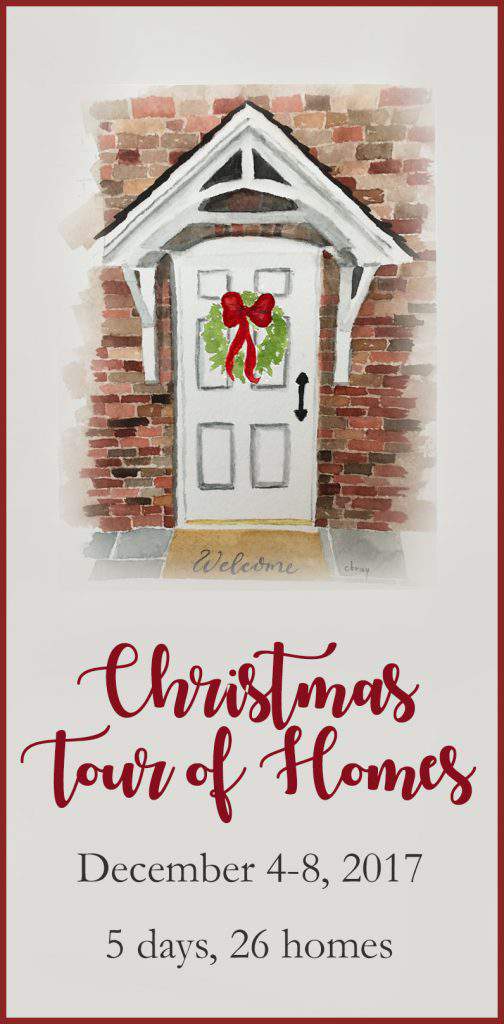 Each day this week, you'll meet a meet a new handful of talented bloggers.
You can find the full list down below at the end of this post.
I hope you take the time to pop over to see their lovely homes.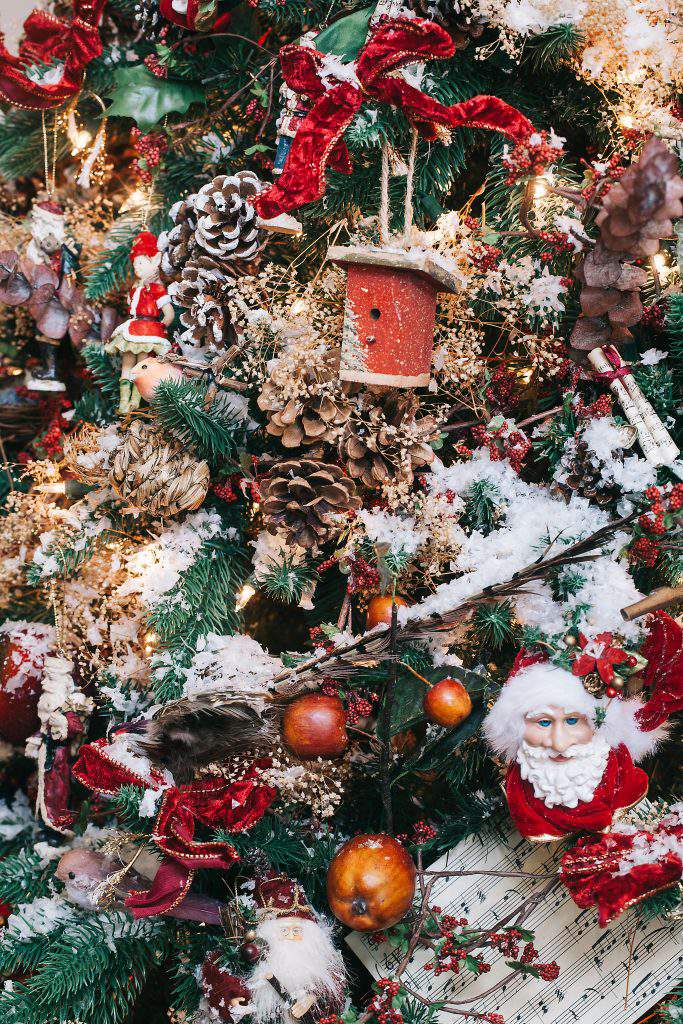 As for me… throughout this post, I'm sharing my festive foyer which includes banister decor along with my Christmas tree.
It's safe to say I have a little bit of everything on this tree including, velvet bows, berries, artificial dried fruit, eucalyptus branches and dried babies breath to help fill out the space between the branches.
I like to call this my "enchanted tree" because of the assorted creatures that inhabit it.
It's quite possible that many of the elements in this tree are playing possum when I walk past it…  and that they all actually come to life when everyone goes to bed.
Well, I like to imagine that's the case.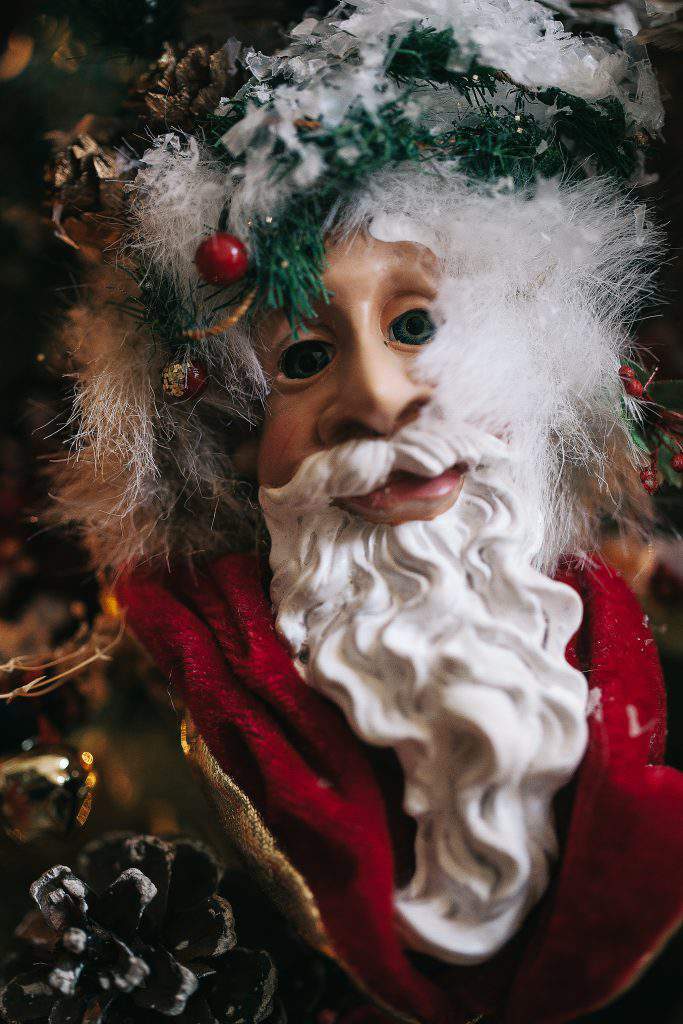 I thought you'd enjoy a closer look at my old fashioned ornaments because they mean so much to me.
It may not be as evident in this photo but these Old St. Nick ornaments have the most brilliant green eyes that have the weird illusion of following you as you walk by.
Ordinarily, I might consider that a little creepy but I give all of them a quick pass because they're so beautifully carved with sweet, old fashioned charm.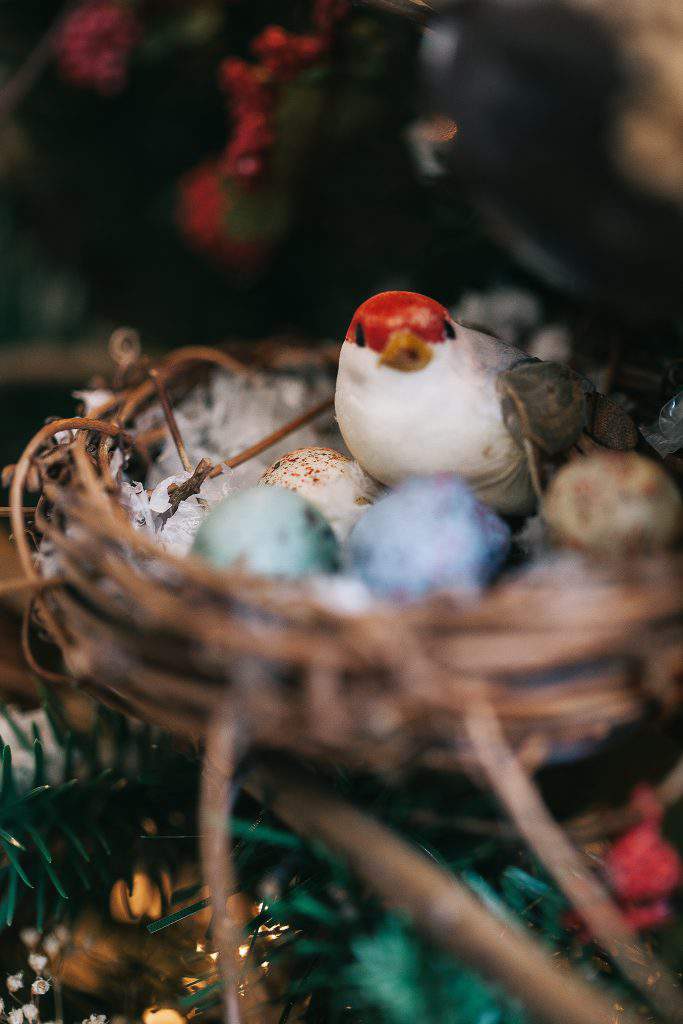 Feathered friends feature quite prominently in my tree with species galore including, tiny finches, cardinals, owls, and long-tailed pheasants just to name a few.
As you can see, I even have a few friends who have yet to hatch.
I'm really watching this nest.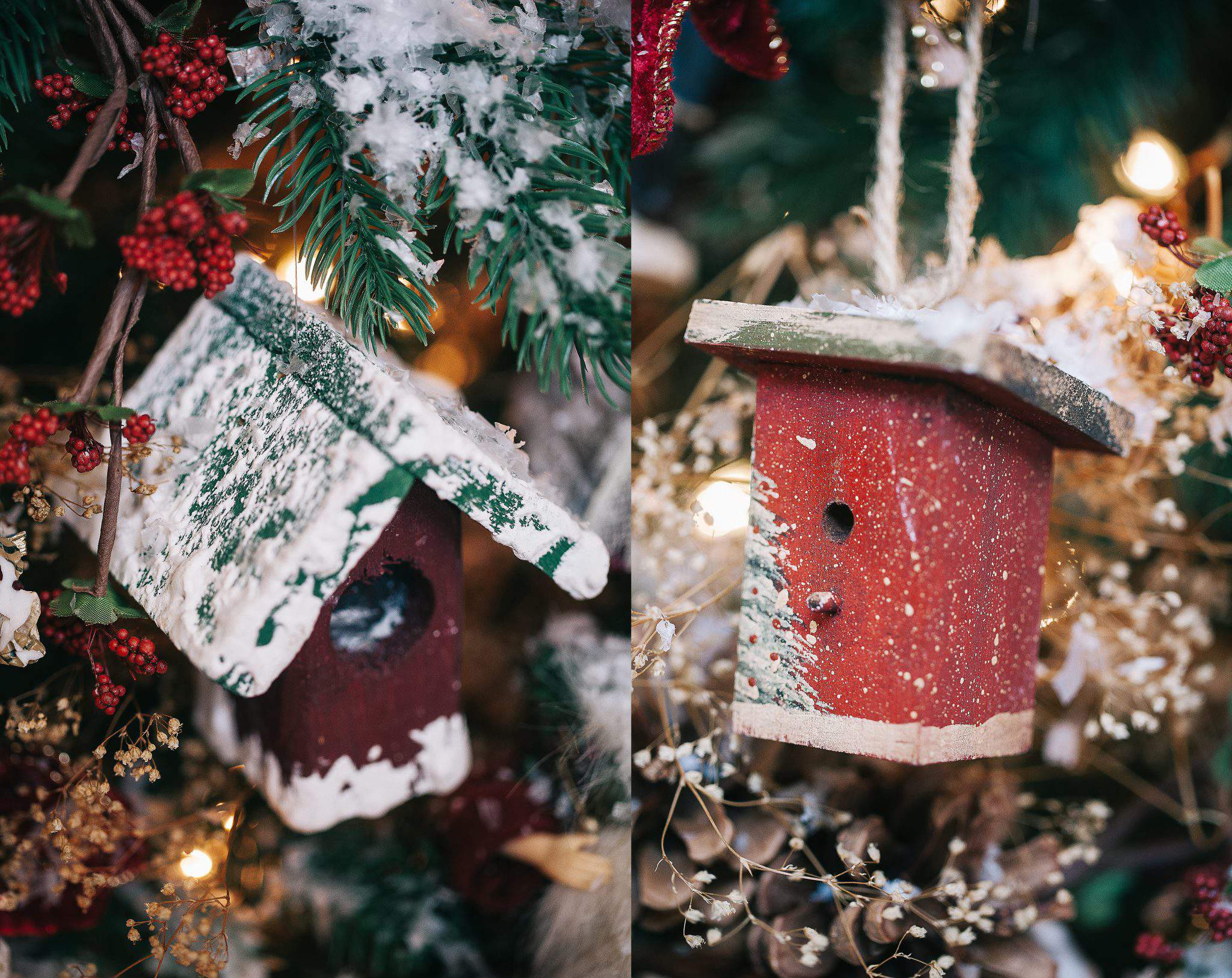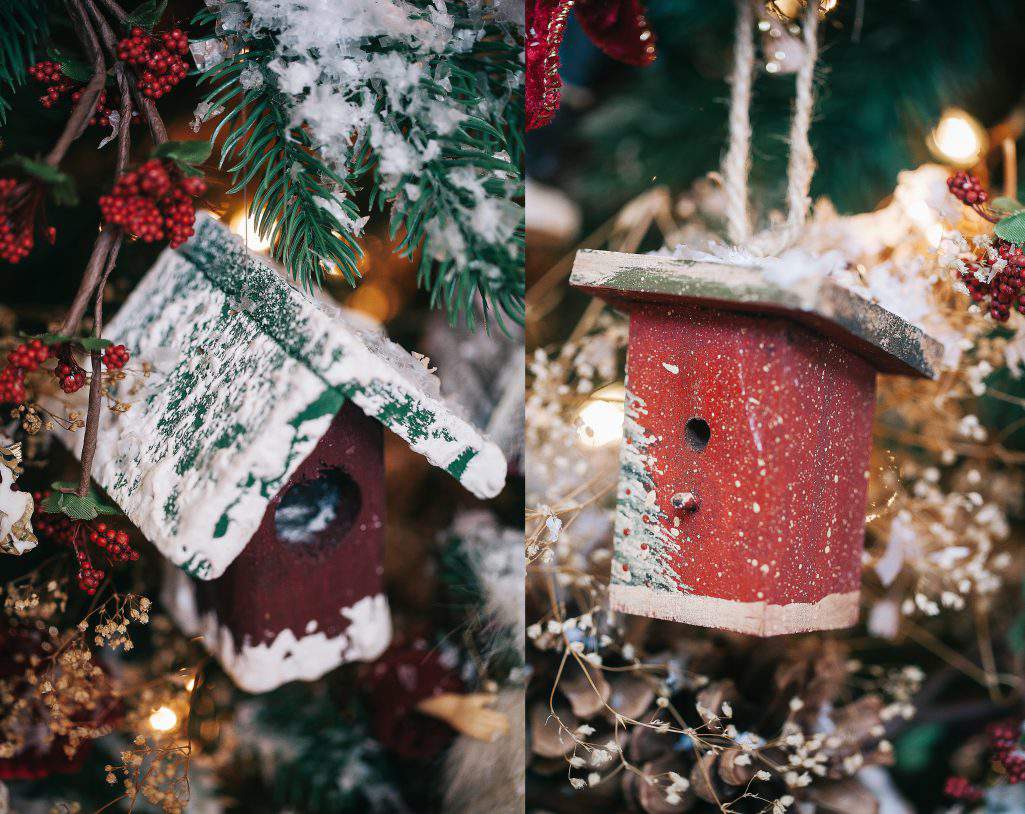 Of course, when you as many winged visitors as I do, you absolutely must provide them with extra shelter… especially this time of year.
Oh, if you're bird friends are relegated to outdoors… be sure to check out my DIY ornament-shaped bird feeders.
You can see my tutorial HERE.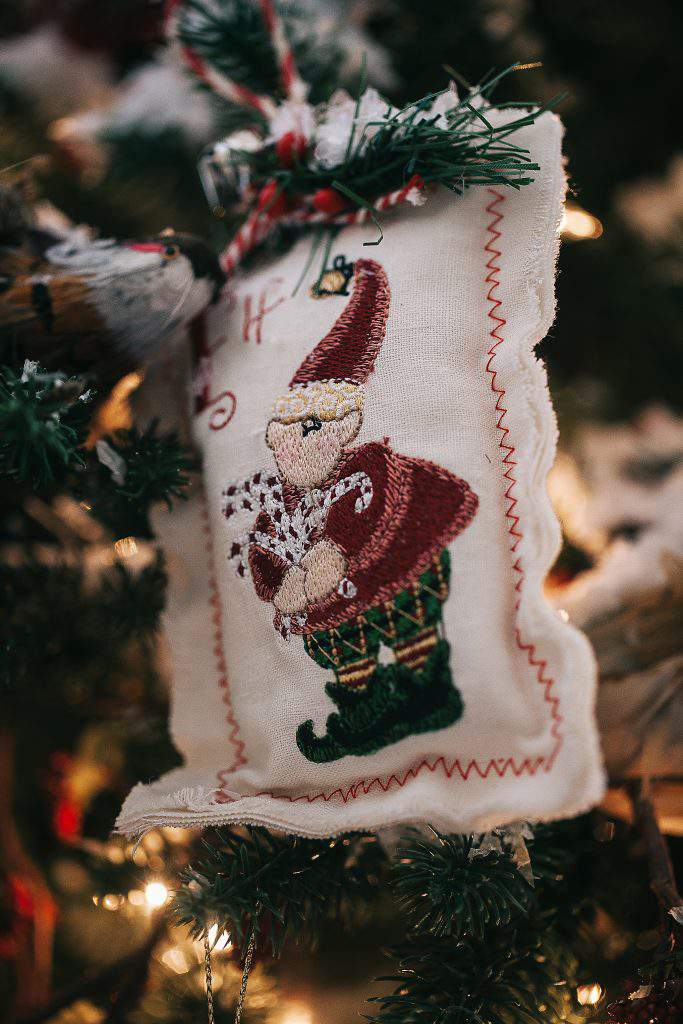 This soft elf ornament is another one of my handmade projects and I wrote an entire post on how I created it.
You can hand embroider the image or use an embroidery machine (like I did) to create a lovely design.
Be sure to check out my embroidered ornament tutorial HERE.
Gift Idea: Ahem, you still have time to add an embroidery machine to your holiday wish list.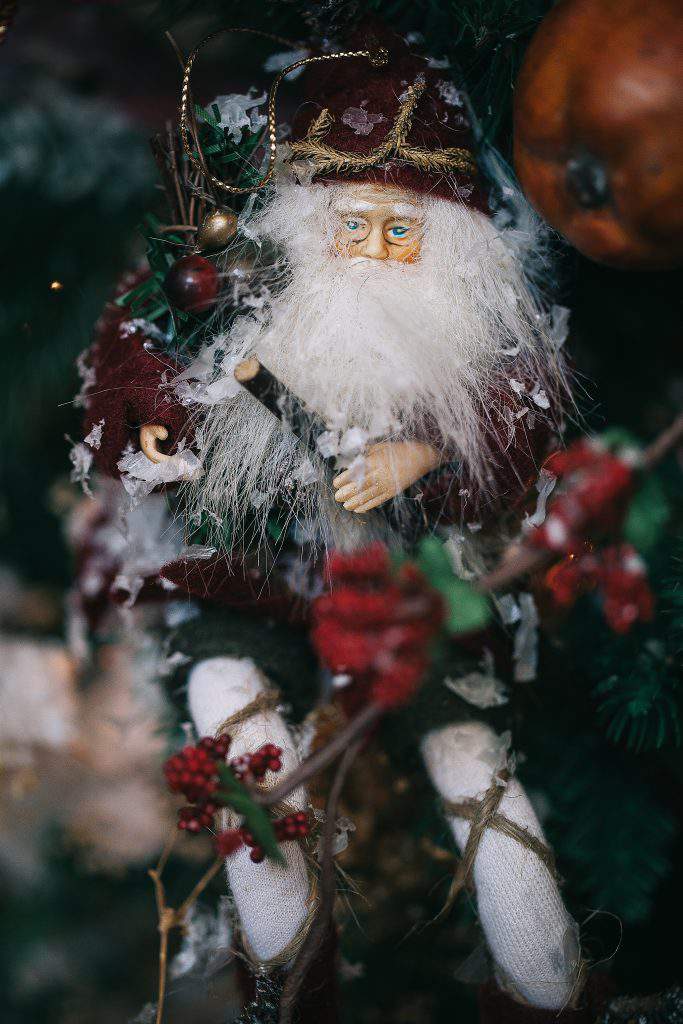 I just love this timeless, elderly elf.
He has wise old eyes, a pointy felt hat, a walking stick and he carries a hobo-styled sack on his back filled with holiday berries and twigs.
He's just so charming and I have 11 others just like him hidden among the branches here and there… keeping an eye on all that moves in the middle of the night.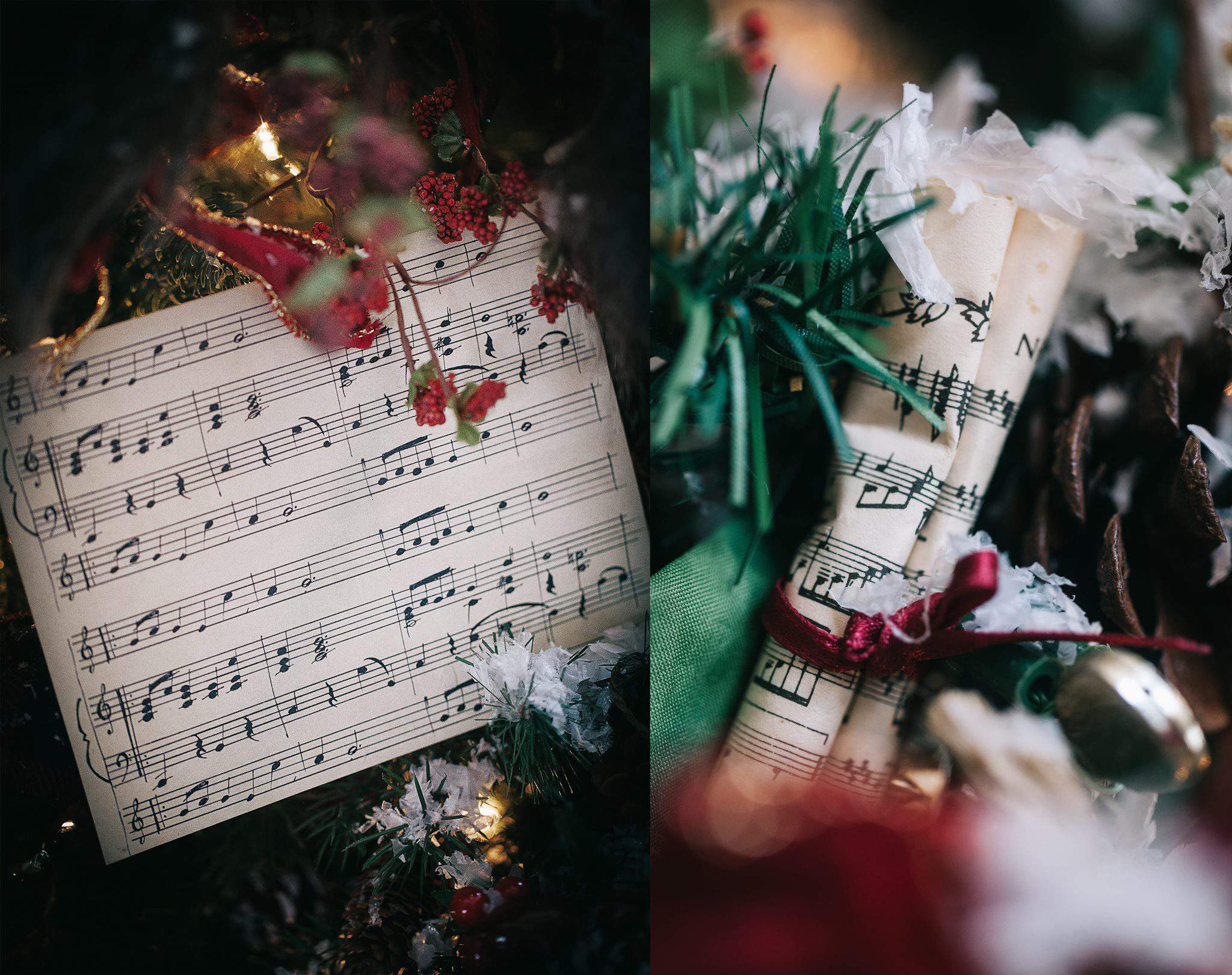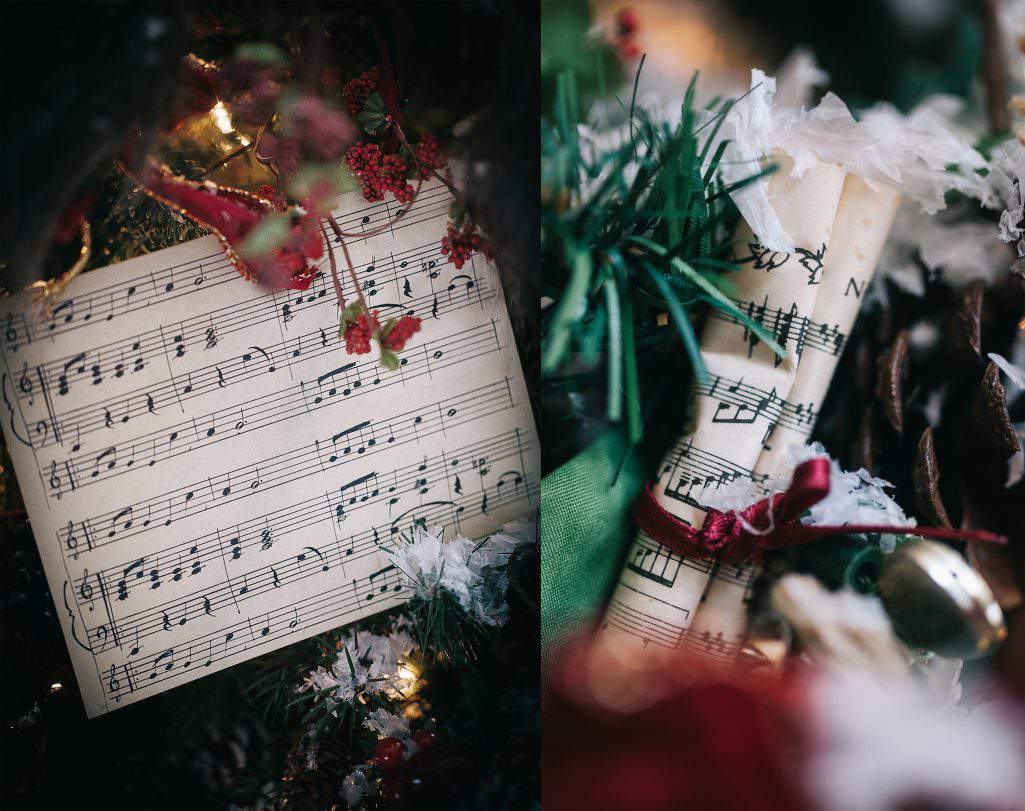 Yes, I have a thing for sheet music too and my tree is filled with hints of classical music notes.
By the way, I used sheet music for a really fun candle project a few years ago and you can see that HERE.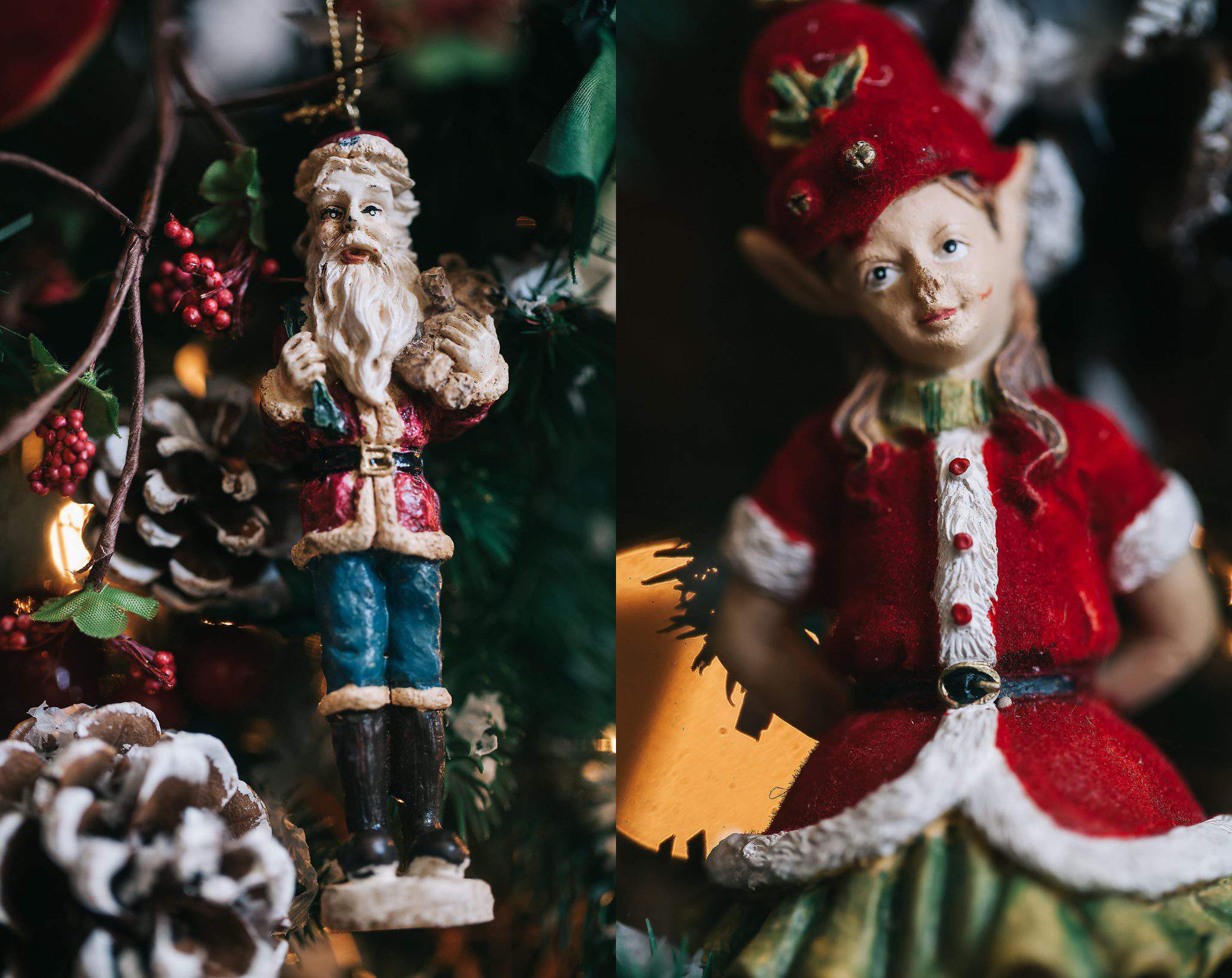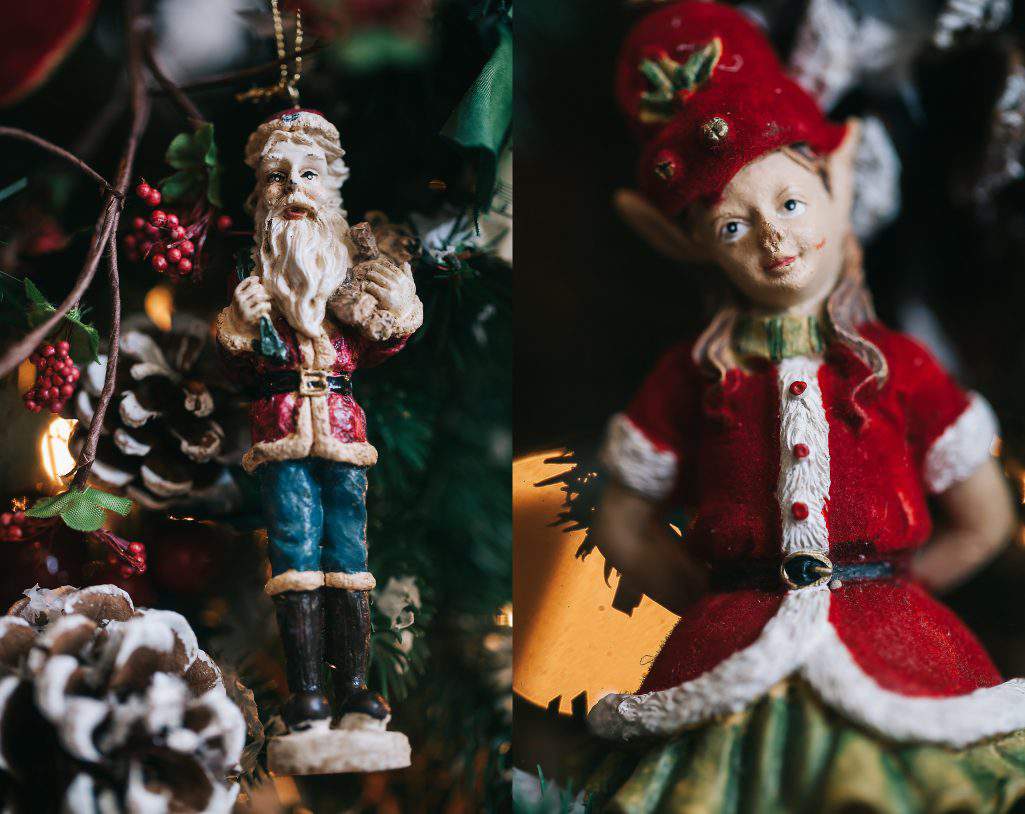 My vintage and rustic sensibilities are definitely laid bare in this type of holiday tree decor.
I feel like everything is so old fashioned and a bit of a throwback and that's what I love about it.
Almost all the decorations on this tree are about 20 years old because that's how long I've been collecting them.
Slowly but surely, these wooden figures are going to end up becoming heirlooms in their own right.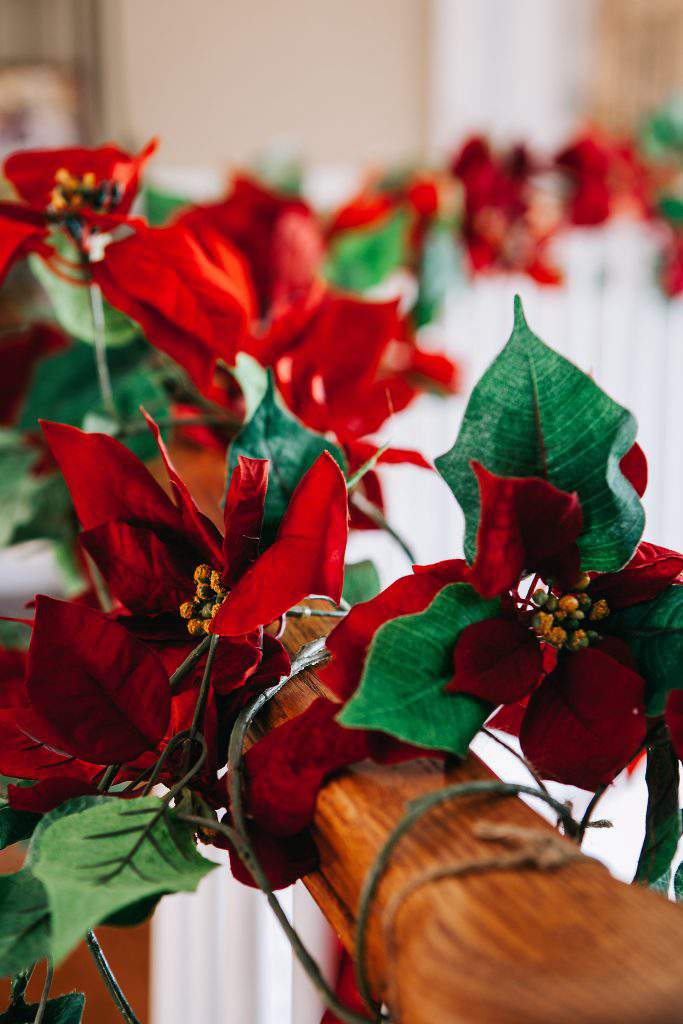 Here's a little more vibrant color in the form of lots and lots of poinsettia garland.
I actually have the worst luck with "real' poinsettia plants. They always drop their leaves far too soon in my care.
So, these artificial stems and blooms are the next best thing.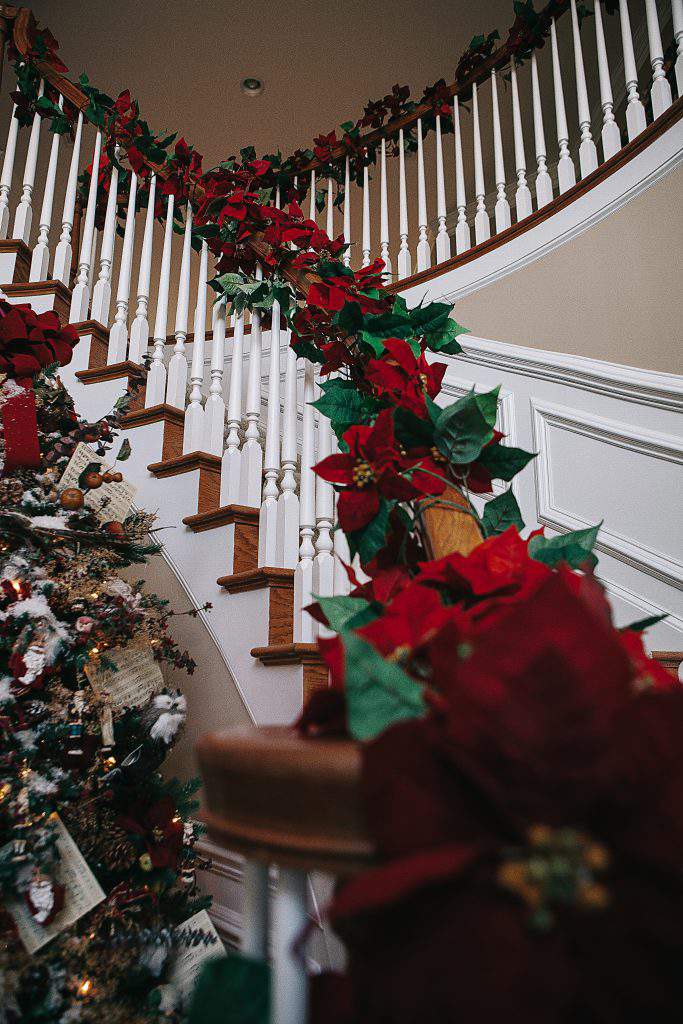 There were several years when I didn't even bother to add any holiday decor to the banister.
These large full flowers add so much to the festive presentation when you first walk into the foyer.
I'm so glad that it's now part of the decorating tradition.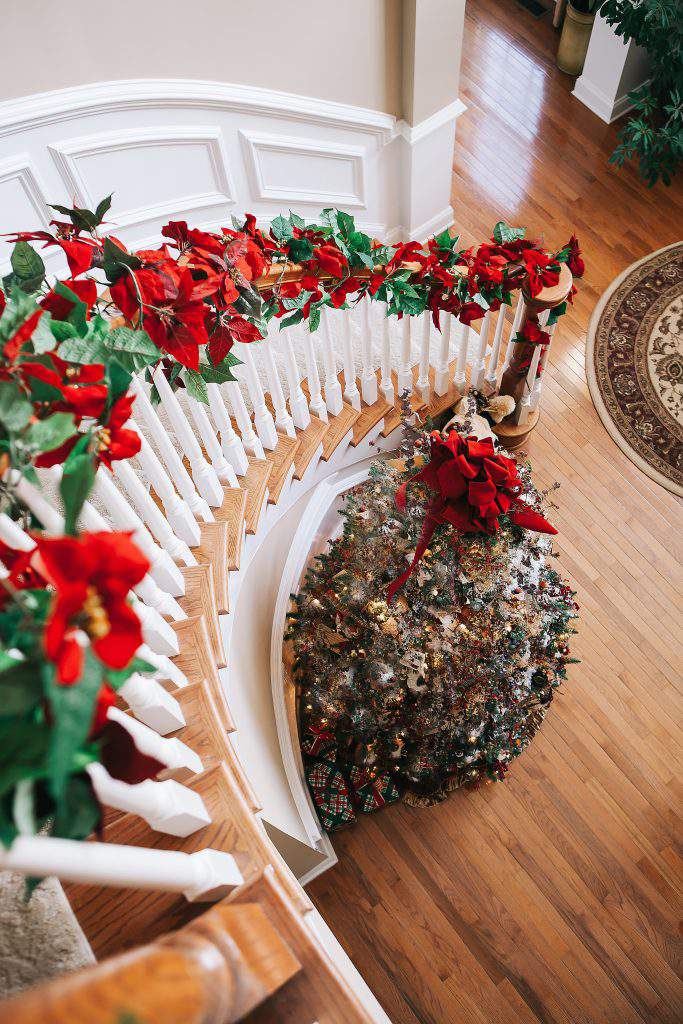 So that's a look at a few of my favorite holiday ornaments and a glimpse of my festive foyer.
I hope you enjoyed the browse.
Don't forget there are more than 2 dozen bloggers on this Holiday Home tour and I think you're going to enjoy their beautiful and creative holiday decor.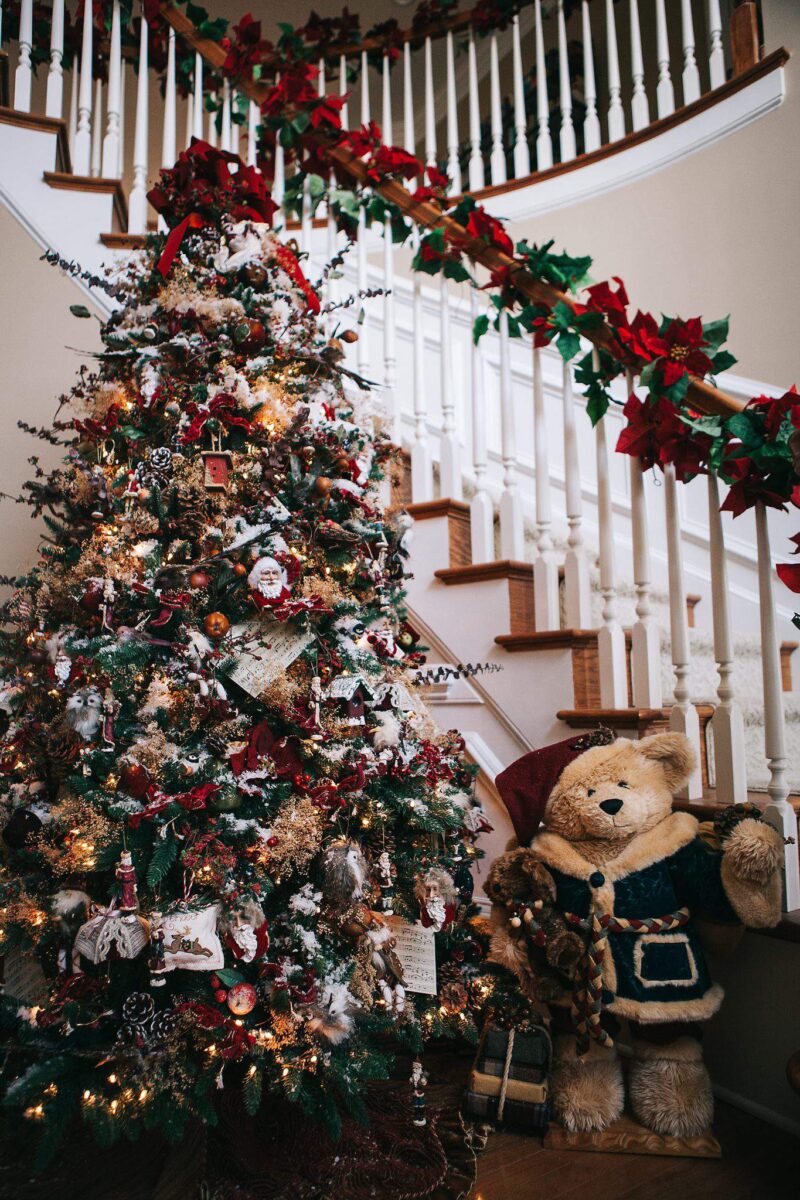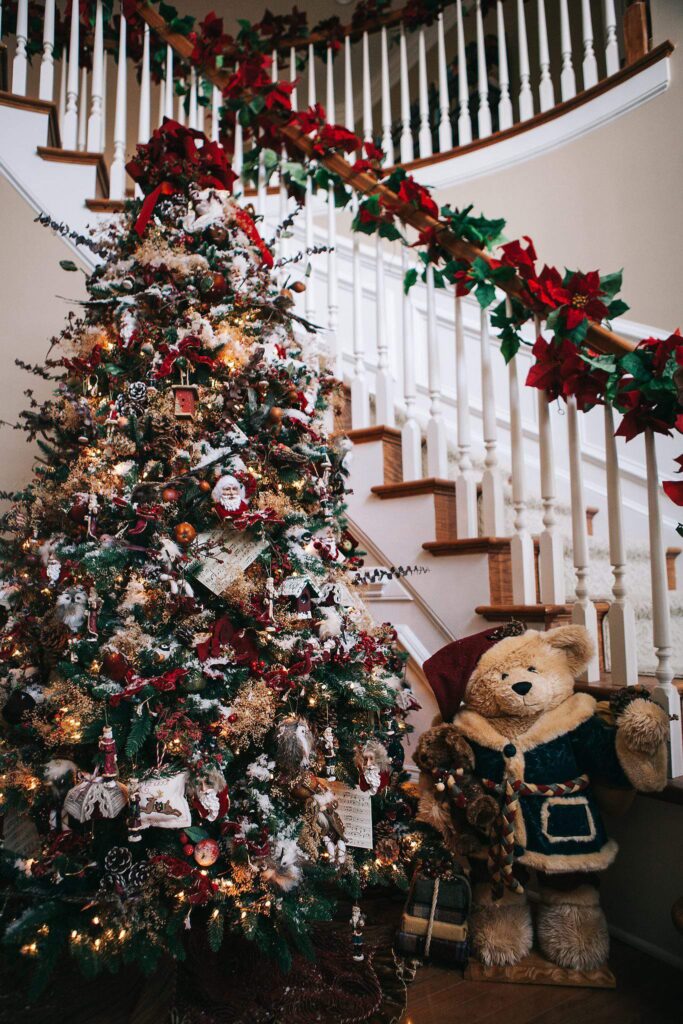 There are so many wonderful fellow bloggers who are taking part in this Holiday Home Tour.
You can see a new post every day this week at the links below.
Be sure to pop over and visit these talented bloggers for holiday ideas, and inspiration galore.
Tuesday
Wednesday
Thursday 
Happy holidays!
Thanks for popping by.
See  you back here next time. ♥