W hen it comes to great finds, I think unexpected ones are always the most delightful.  That was the case when I recently stumbled across this weather-worn table on my family's Maryland-area farm.
Clearly, this table had seen better days but I was still quite taken with it.

Regular readers of this blog know that I'm always on the lookout for interesting props to improve my photos and when I saw this table, I knew right away how I could use it for my photo styling efforts.
While heat, light and other elements from Mother Nature had taken a toll, I just loved the color variety and distressed texture brought on by the longtime exposure outdoors.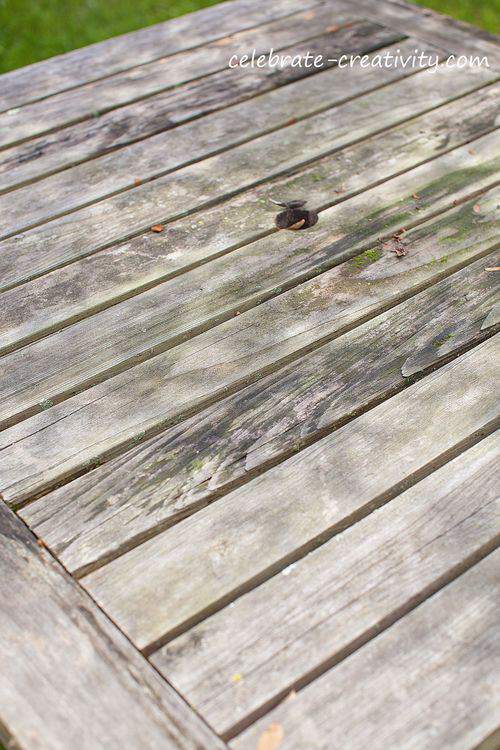 Since I really only wanted the tabletop, I decided to remove the legs to make it easier to fit into my car and transport home.
The attachments were actually so soft and worn, it was easy to simply break the legs right off.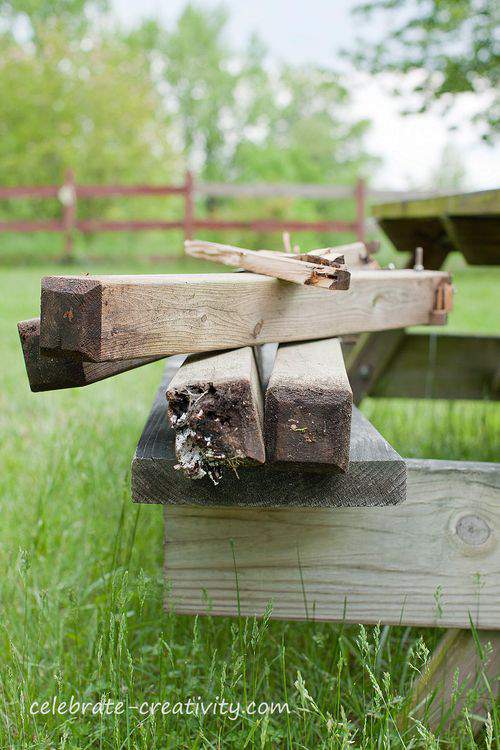 After seeing it flat on the ground like this, I knew I had a true gem on my hands.
I also decided to keep the tabletop in it's natural, distressed state as opposed to sanding it down and refinishing it.
Look at the great looking lines here.
This is going to be a wonderful new backdrop for my food photos.
Can you imagine how this section of the tabletop could be incorporated into a food photo spread?
Now for a few cherry-inspired practice shots.
I think you can see the possibilities here for my new photo backdrop.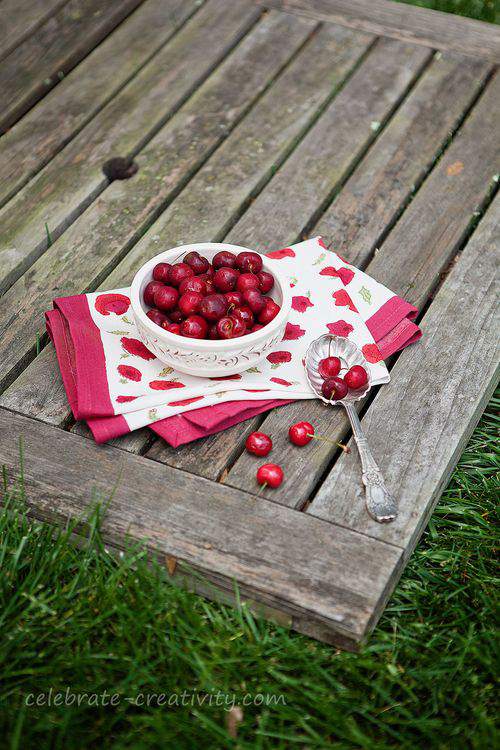 I think it's pretty cool how even the most unlikely items can be used to add visual appeal to photos and I always keep my eyes peeled for such things.
By the way, you can revisit a few of my previous posts on creating backdrops and props for photography at the following blog links:
BASIC BACKDROP BOARDS (PART 1)
TOP SHELF/PROP SHELF, PROPS FOR PHOTOGRAPHY (PART 2)
TREASURE HUNTING, PROPS FOR PHOTOGRAPHY (PART 3)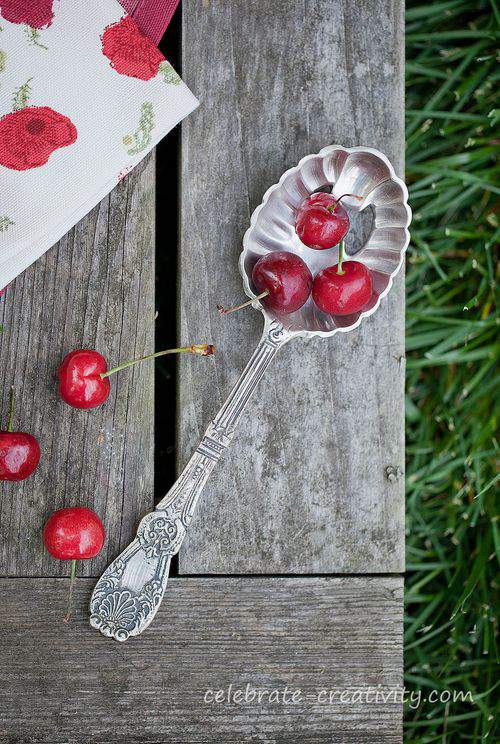 Meantime, I also found these three pieces of weather-worn lumber on a large, scrap wood pile on the farm.
Guess what?  Yes, you guessed it.
Another backdrop is born.
When these pieces are placed side-by-side, the positioning creates a similar tabletop effect which is perfectly large enough to photograph just about any delicious dish.
The boards all have different distressing and effects of weathering and I think they're just as rustic and textured as the larger tabletop (and they have the added benefit of being even more portable).

I can easily bring these small pieces of wood indoors to photograph, whereas the larger full tabletop will most likely have to be used outdoors.
Here's how I set up the three boards on the floor in my foyer which always gets a ton of gorgeous natural light.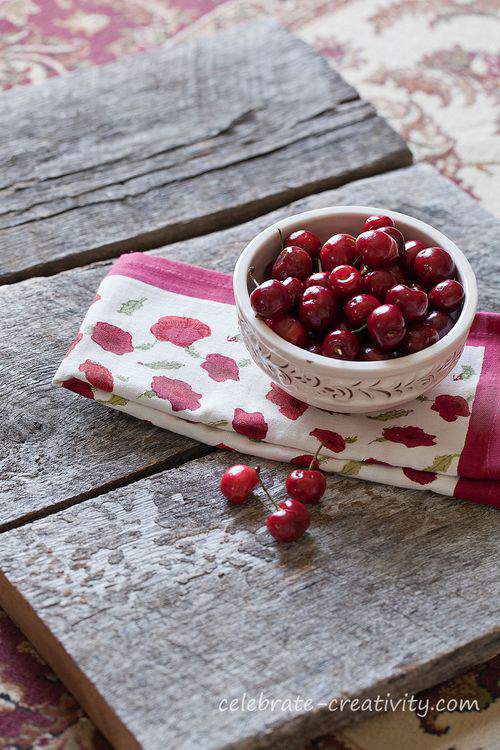 Move the camera lens in close to the subject and even though only a small amount of the wood backdrop is visible, it's enough to add that great looking texture to the shot which makes it more interesting.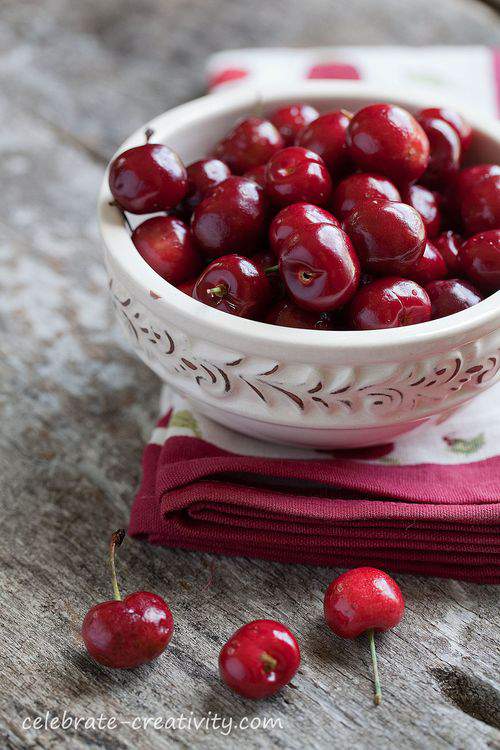 Simple, huh?
As a result, lumber trash is wonderfully transformed into photo prop treasure.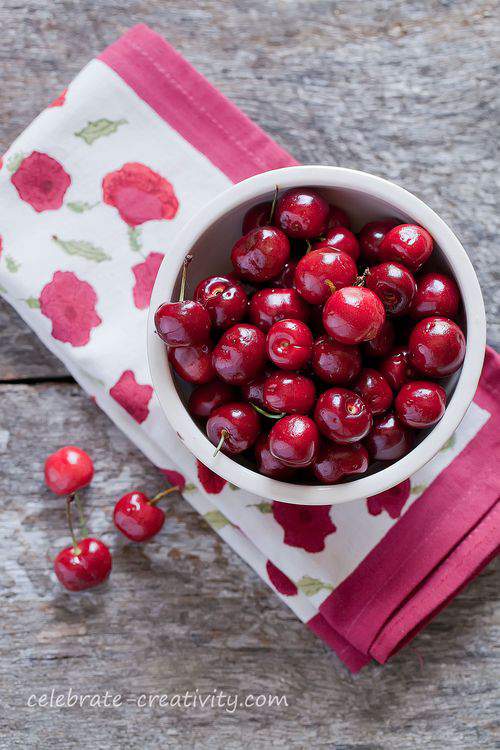 So, keep your eyes peeled for abandoned wood tabletops as well as rustic pieces of old lumber.
You never know, the discovery could end up being just the thing to boost your food styling efforts and photos. ♥
 WANT MORE RE-CYCLING INSPIRATION?
Check out the re-cycled efforts over at KariI Anne's "I Love Junk" link party at Thistlewood Farms.
COMING UP ON FRIDAY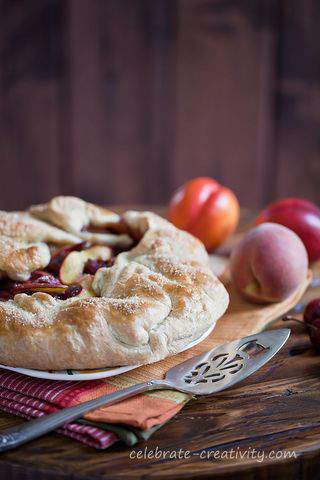 Coming up later this week, I'm putting all the cherries I used in this latest post into my next FRIDAY FOODIE segment.
On Friday(5/31), I'll show you how to make Cherry/Peach Galette which is among the easiest dishes I've ever made.  It's pretty darn tasty too.
Hope you pop by this blog again at the end of the week for a yummy taste of CHERRY-PEACH GALETTE.
See you then.