I f you haven't figured it out from my last few blog entries, I love movies.  All kinds.
In honor of the upcoming Academy Awards ceremony (Sunday, February 24th), I'm continuing with my movie-themed posts that started last week with my reviews of some of my favorite flicks.
This week, I'm tackling DVD home storage and organization.
Now, this project isn't quite finished yet but it's coming along so nicely,  I thought I'd share it with you anyway.

My family members are such movie lovers that we converted space in our basement into a home theatre so we can enjoy big screen flicks whenever we like.
Just about every weekend, we have movie night at home (along with my delicious homemade caramel corn).
NOTE: The wall colors in this room are Lenox Tan (HC 44) and Spanish Red (1301) both by Benjamin Moore.
However, despite the convenience of having a home theatre, finding the movie we want to watch is  not always that easy.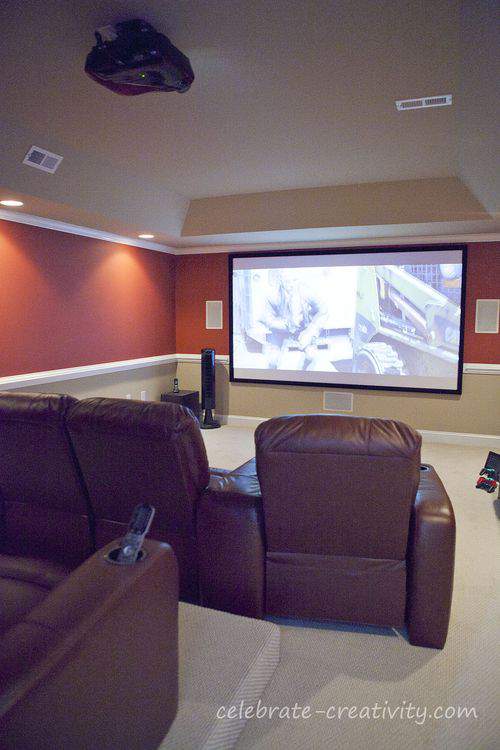 That's because every DVD and VHS (yes, we still have those) we've ever purchased is stacked in an unruly and equally unsightly movie-dump in a basement corner.
Some serious re-organization here is long overdue.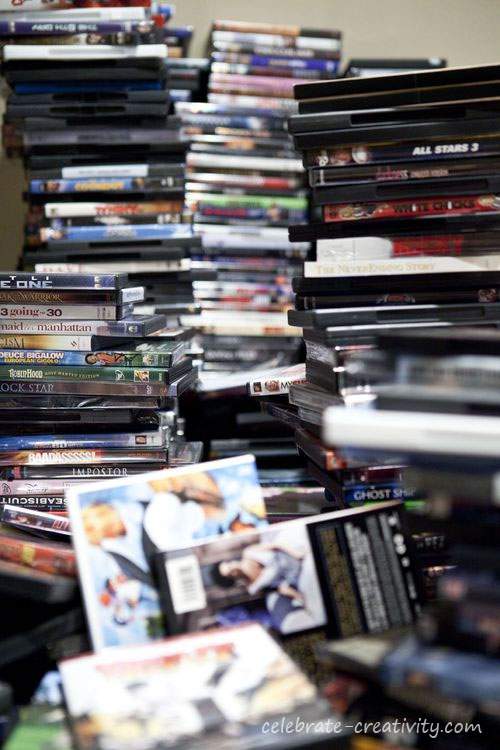 With movie organization in mind, I targeted this basement aisle (which is just a few steps away from the theatre room) as a good spot to set up a home movie library.
Up until now, this short hallway has been totally useless space.  It's too small to be used for seating or a play area and it's just too large to go to waste.
NOTE: Speaking of libraries, you can revisit my previous post on home libraries to see how I tackled a similar problem regarding my unruly book collection.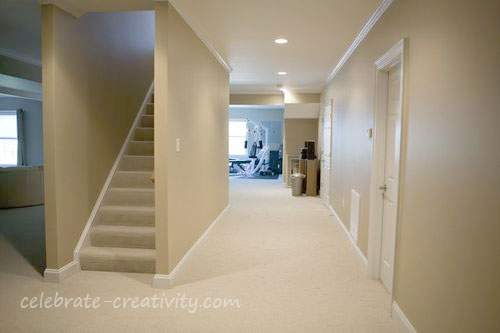 I had been on the lookout for a reasonably priced DVD shelving arrangement for some time, to no avail.
So, when our local Blockbuster video store announced it would soon be closing and all the contents of the store would be sold including the fixtures, I knew I had a possible solution.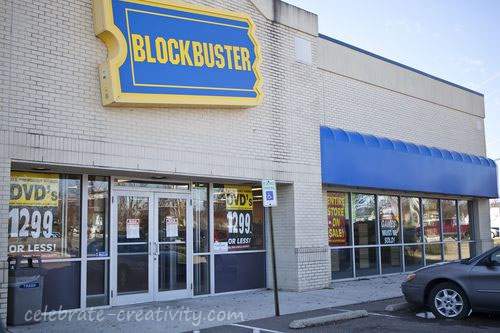 While it's always a huge loss to the community when any store closes its doors for good, it can present a unique opportunity for home storage solutions.
While the floor units in the store were a great bargain, I thought they might look far too bulky for my small basement hallway.
So, I opted for these large, wall-mounted metal shelves which I was able to purchase for just $15 each.
"Whatta bargain".

Meanwhile, I enlisted the help of my live-in volunteer staff to organize all our movies by genre.
Sorting by comedy, drama, horror, animated and family feature will certainly make it easier to quickly find exactly what we want on the shelves.

The wall units were actually a lot heavier than they looked in the store.
Since the wall studs are not aligned with the mounting holes on the shelving units, I had to come up with a way to hang the units safely and securely.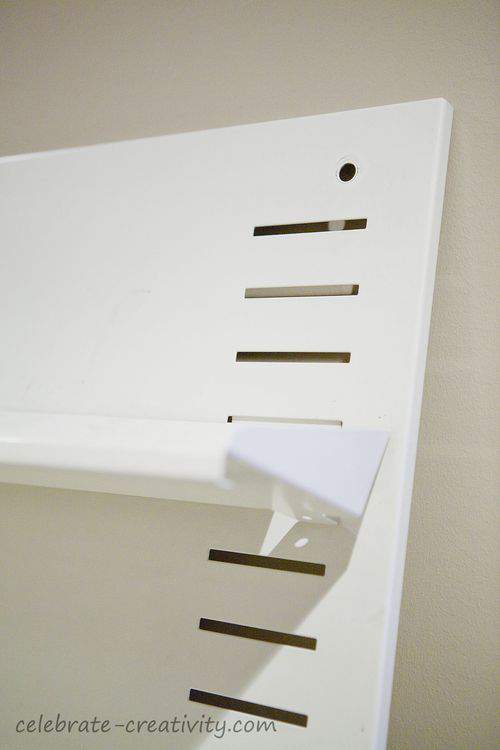 Again, this is still a work in progress but I'll walk you through my intentions.
I plan to paint two pieces of lumber the same Lenox Tan wall color and then cut them the length of the combined widths of the four shelving units.
The painted lumber will be attached to the wall studs in an upper horizontal location as well as a lower location.  This way, I'll be able to attach the metal units to the lumber which will already be securely attached to the wall.
Since the lumber will stretch the width of the wall units, I'll be able attach the units wherever the mounting holes happen to fall.
Make sense?  Well, it looks good in my mind's eye.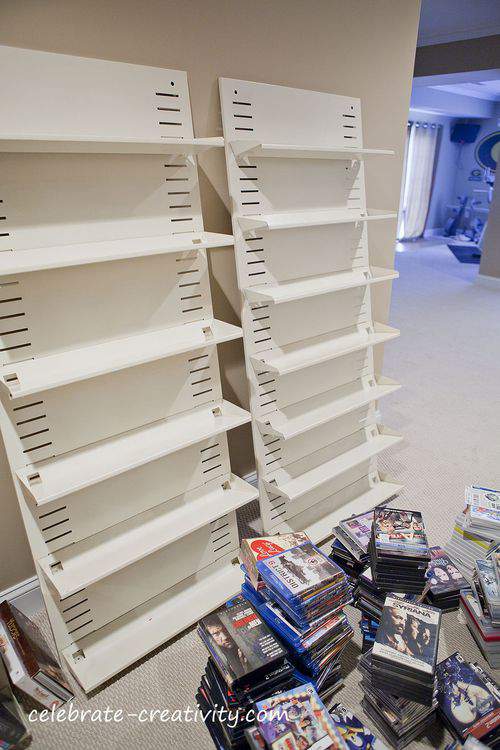 Before mounting the wall units, I also plan to paint them the same color as the wall so they'll blend in more with the space and won't look so uber-industrial.
When painting metal like this, it's a good idea to use a urethane alkyd gloss enamel which already contains a primer and is designed specifically to be applied to metal.
Urethane alkyd comes in a base coat color and your paint specialist can tint it any color you like.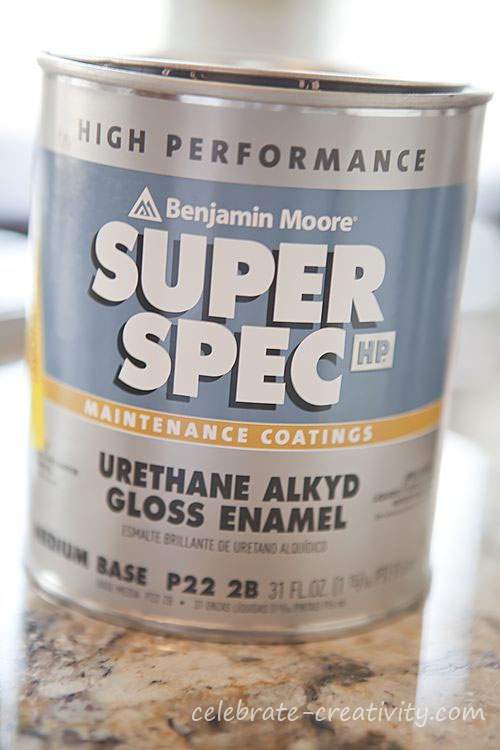 In order to balance both walls in this aisle, I decided to add even more color with a few fun elements.
I've been collecting movie paraphernalia for a little while, which will be hung on the wall opposite the movie wall to give this entire aisle an even greater silver screen-like atmosphere.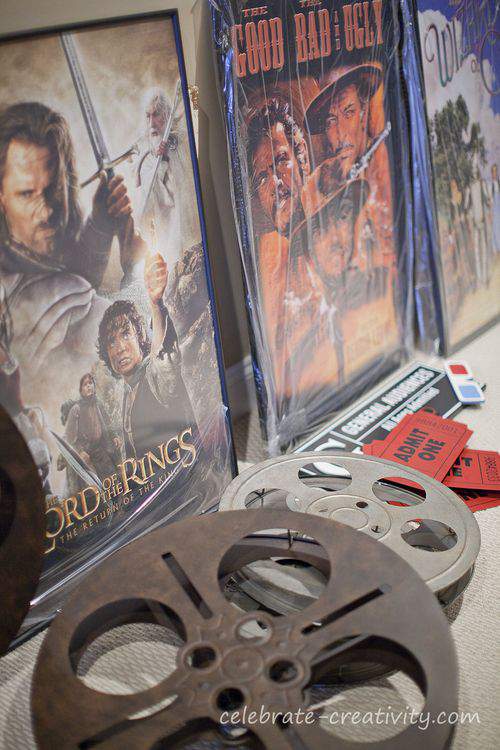 Right now the wall units are simply propped up on the wall until I can paint them.
I couldn't resist stacking the movies on the shelves just to get a sense for how everything is likely to look when I'm done.
This is a good example of how even the most seemingly-wasted space can potentially be transformed into a fun and highly functional area.
This aisle will finally have a purpose.
Our movies have been hidden in an unruly basement pile for far too long.
It will be nice to have a movie library that is neat, organized and catagorized with titles that are also wonderfully accessible.
I can't wait to get everything finished in this space and spend some time browsing new movies and re-discovering old favorites.
I'll be sure to share the finished library in an upcoming follow-up blog post.
So, are you working on any interesting storage projects or storage solutions? ♥
COMING UP NEXT MONDAY
Coming up next week, I'll share a sewing project you're really going to love.
This adorable quilt used to be an equally adorable crib bumper.
Coming up on Monday (2/25), I'll show you how to turn a simple item from babyhood into a keepsake for toddlerhood and beyond. 
Hope you pop by this blog again on Monday to see my super easy tutorial on making a Baby Bumper Quilt. 
See you then.