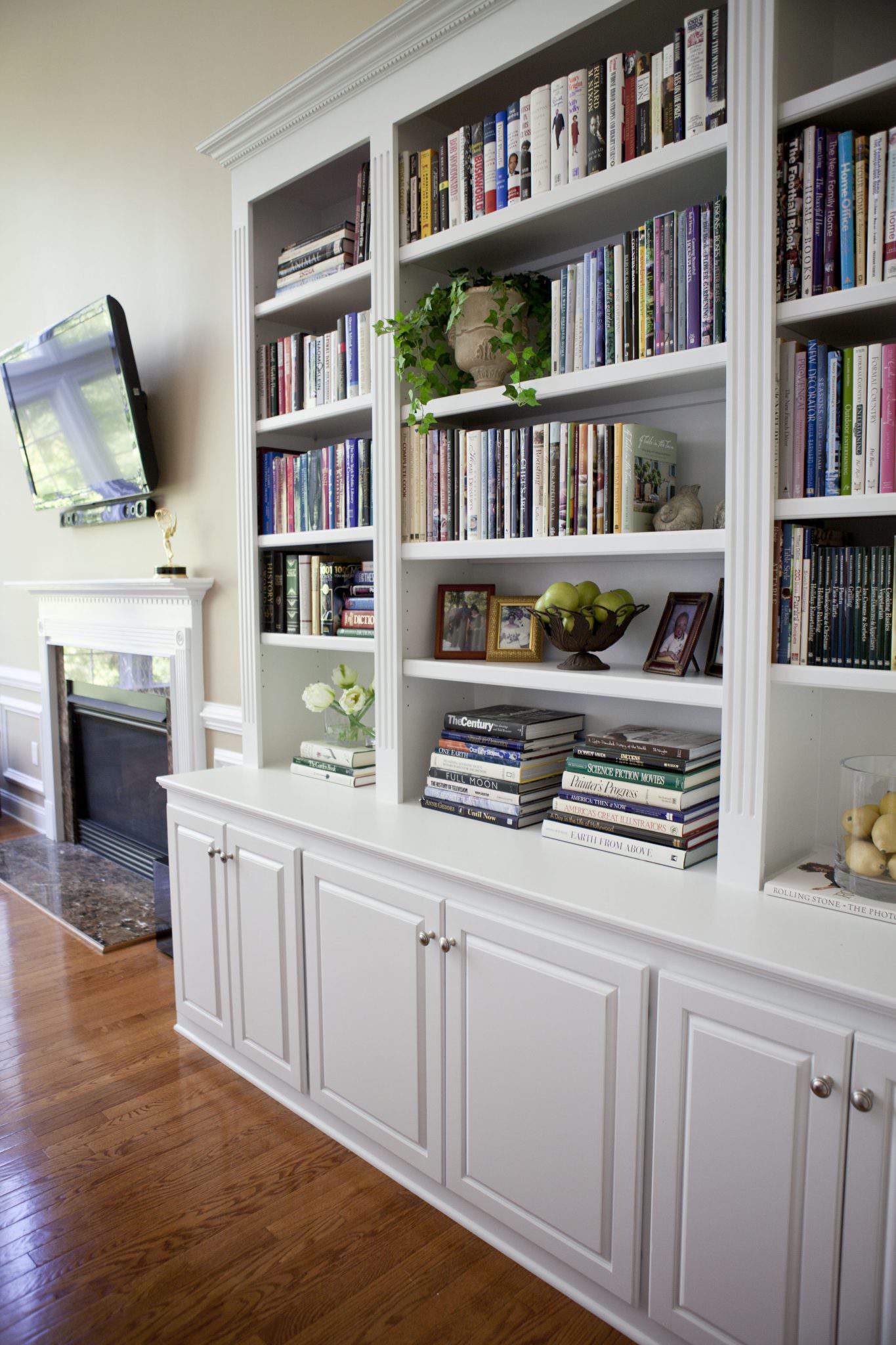 Look in just about any corner of my house and you'll likely find books, lots of books.  Around my house, everyone feels at home with books.
They're everywhere.
In my family room…
In the hallway…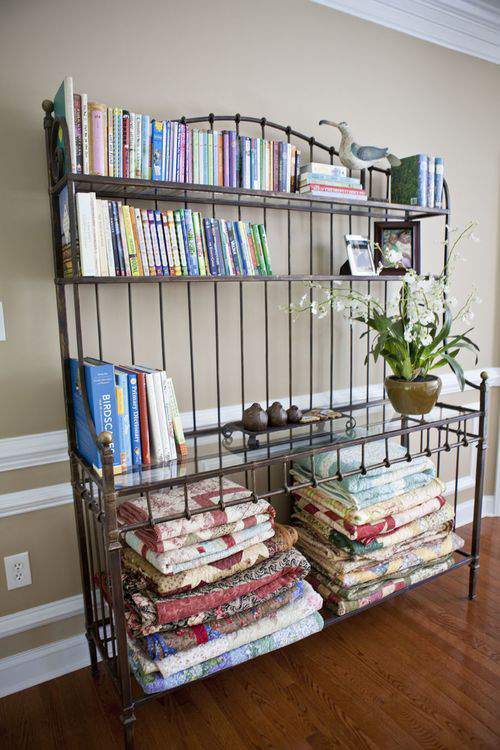 In my kitchen…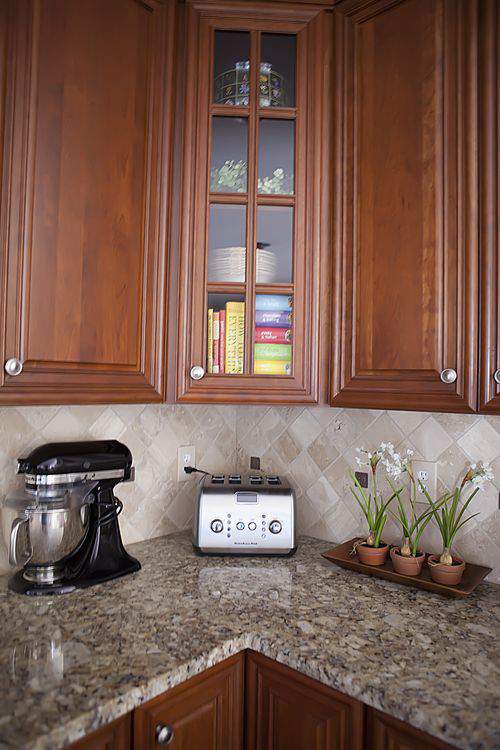 In Boris' home office (along with his Hulk and Conan collectibles)…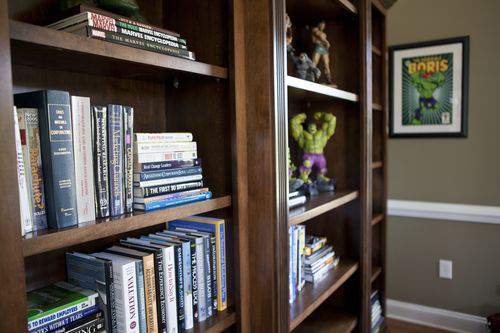 In more kitchen area cabinets…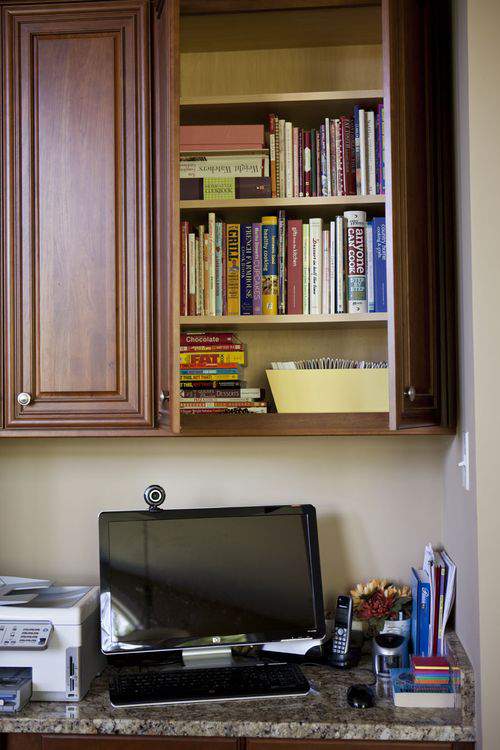 On a loft wall steps below my attic workspace.
Like I said, I have books just about everywhere.
Yes, we're definitely at home with books.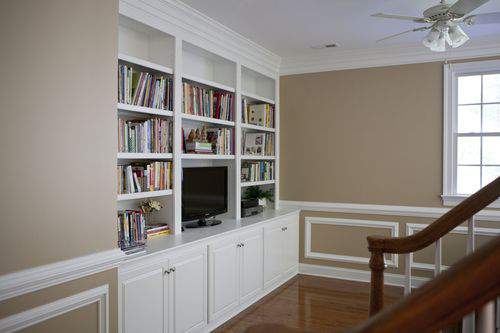 Being a book lover and collector for that matter… runs in my family.   My parents and siblings are the same way, so I certainly got the book bug honestly.
For a long time, far too many of my beloved books were exasperatingly inaccessible because they were in boxes in a basement storage room.
It often seemed the one book I was looking for was always buried deep in a box somewhere.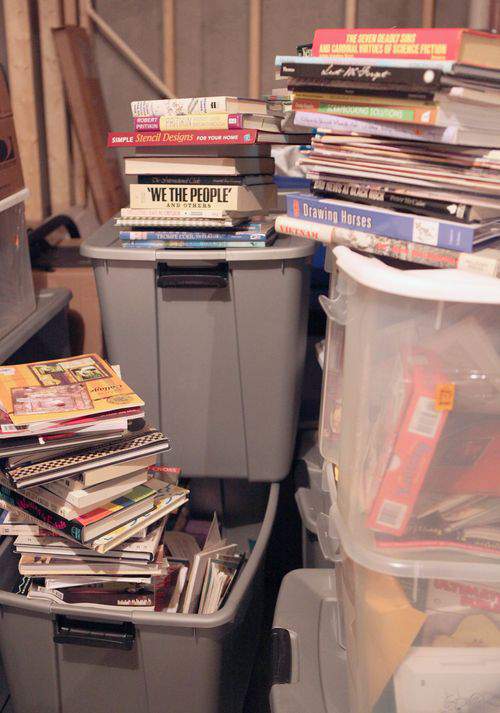 Recently, while digging for one book, I found one I wasn't looking for (but was happy to rediscover).
At Home with Books has beautiful  examples of how book-lovers live with and display their books.
The discovery was not only a reminder that it was time to get all my good books out of boxes and into plain view, but also provided the inspiration behind this blog entry.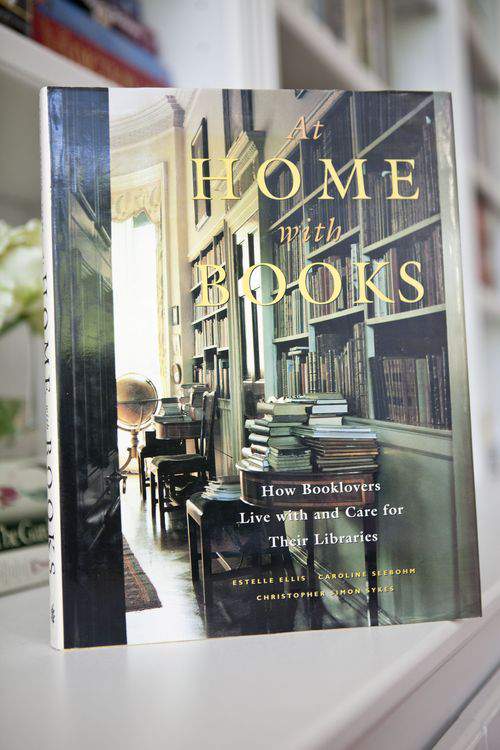 Throughout this post, I'll show you how the integration of built-in bookcases in one room in particular transformed the space from blah to beautiful.
We use this room in the photo below as a music room and as you can see it's pretty neglected in terms of decor.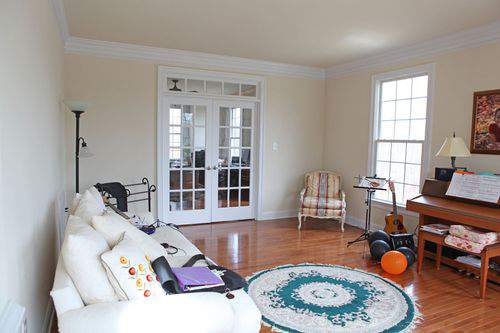 I targeted the two walls on either side of the French doors.  The blank area on both sides of the door has always been dead space.
This room badly needed a pick-me-up.
 Carpenters removed part of the existing crown molding and floor board trim to accommodate the shell of two new bookcases from ceiling to floor.
It didn't take long for the room to begin to take new shape.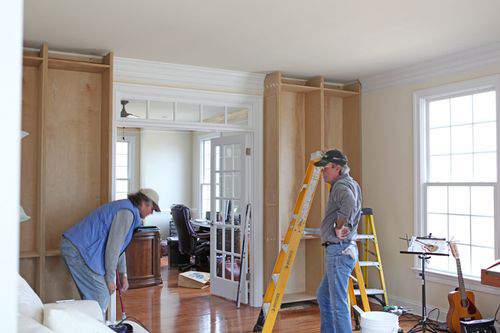 No paint yet, but everything is looking good so far.
The new bookcases immediately bring some character to what was boring and drab wall space.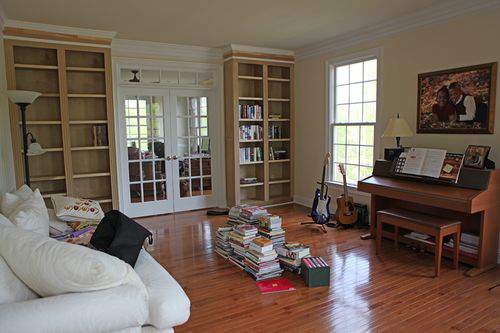 I organized my thoughts surrounding this room by putting together this idea board for color, fabrics and textures I wanted to use.  These idea boards are fun to create.
The background in this photo is just a plain piece of foam core board that I painted using Hancock Grey, by Benjamin Moore.   Hancock Grey is more green than grey and that's the color I settled on for the walls in this room.
By the way, I used the paisley fabric seen here for new pillowcases for the sofa in the music room and I'll share that sewing project in an upcoming post.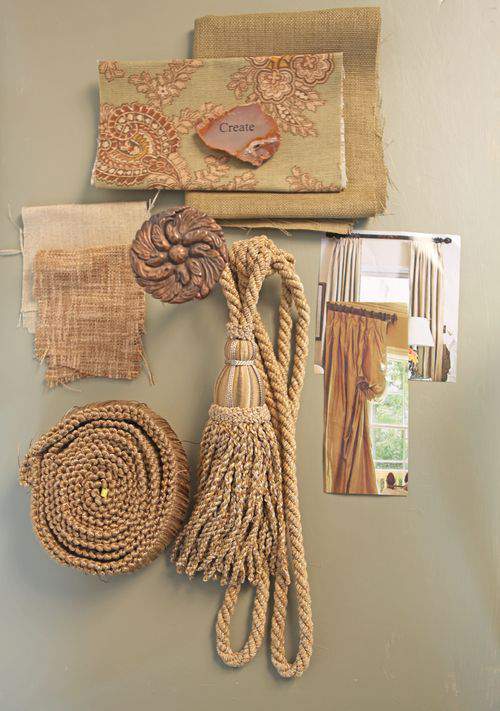 Here's a look at the room after it was painted.
TIP: When planning a room color, pick up a small can of paint (about $6-7 dollars) and paint a piece of foam core for a large, portable color swatch. Foam core is the size of a poster board but it's heavier and more durable. A painted foam core board is a much better color reference than those tiny color strips you get from the paint store.
It took months and months to decide what the heck to finally do with this room and once I settled on a look, it really didn't take long at all to have the bookcases constructed and installed and the room painted.
Before I share the end result, here's one more quick peek at what the room looked like when I started out.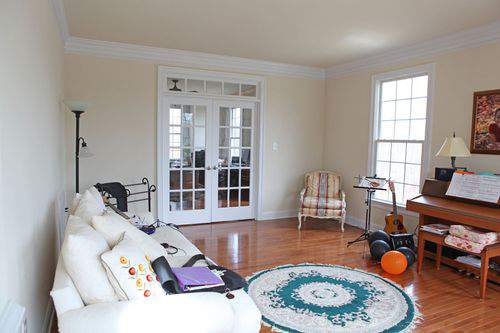 A little white paint on the bookcases and some Hancock Grey on the walls certainly do the trick.
An old area rug and oversize painting that were re-located from another room helps to finish off the transformation.  Don't forget to keep an eye out for my pillowcase makeover coming up soon.
Now this is a dramatic transformation.  Big difference, huh?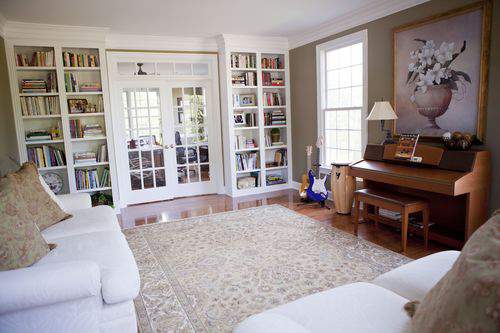 In the meantime, it's a relief to have more of my books more easily accessible now.
Instead of shoving every book on an available shelf, I like to vary the stacking position of books and incorporate a few other interesting or unusual elements here and there for more visual impact.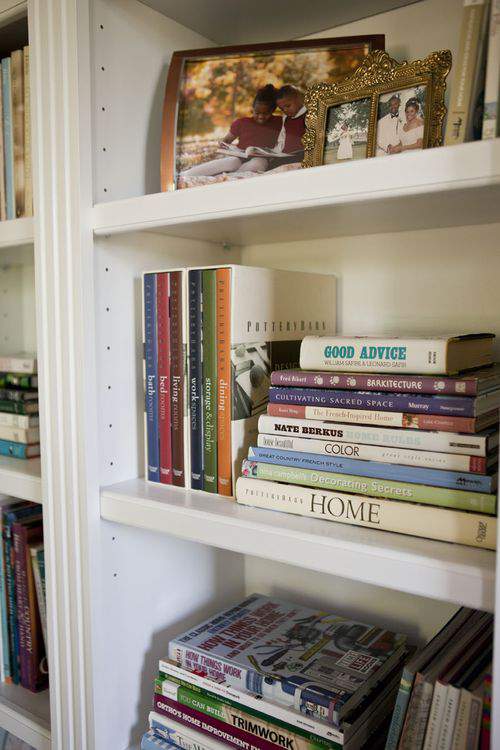 Remember my beaded beverage bucket from an earlier tutorial?
It's great for cold drinks and it's just as nice as bookshelf decor.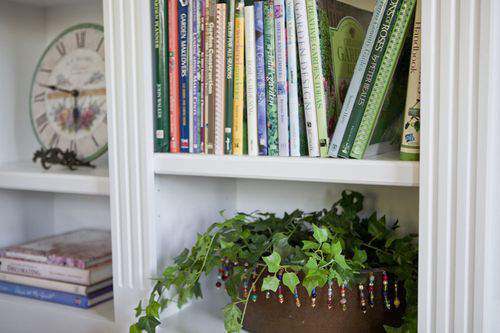 Whatever your personal politics (I keep this blog free of that) you have to admit it's pretty cool to have a picture with the leader of the free world.
The photo with me and President Obama was taken in the NBC makeup room in Chicago when he was still a U.S. Senator and the shot with me and President Clinton was snapped at a White House, holiday press banquet in 1996 (that's Hillary standing over his left shoulder).
If you have pictures like this, you just have to put them on a shelf.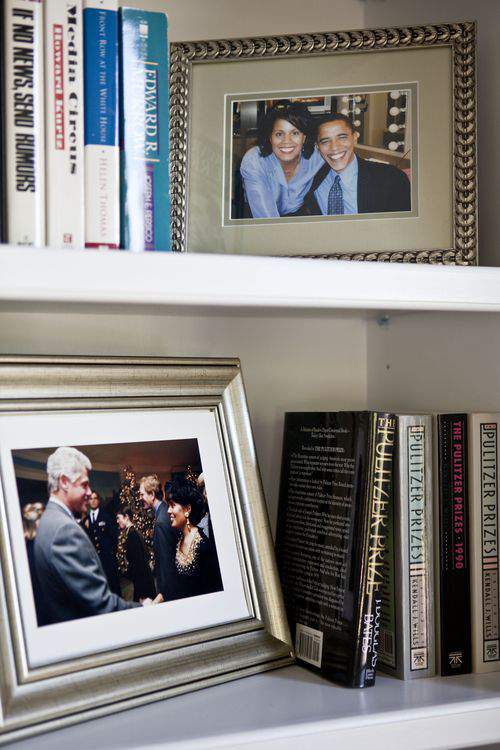 I think bookcases in general bring so much depth and character to a room with added dimension, vertical storage and classic, built-in beauty.  A home without books is missing something.
NOTE: Click here to read a great article from Architectural Record magazine on "Libraries in the Digital Age".  It focuses on the challenges faced by public libraries to remain relevant and viable in our current digital revolution.  Be sure to check out the slideshow which includes some glorious photos of stunning libraries from around the world.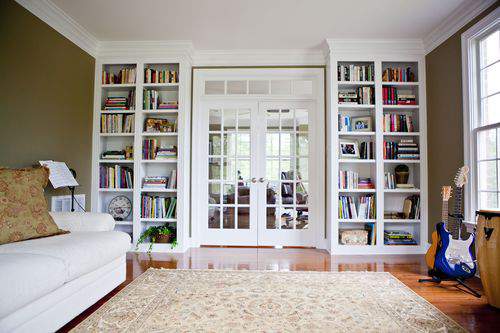 Meanwhile, the changes in this room have transformed this space into a really peaceful reading area (when the kids aren't practicing music).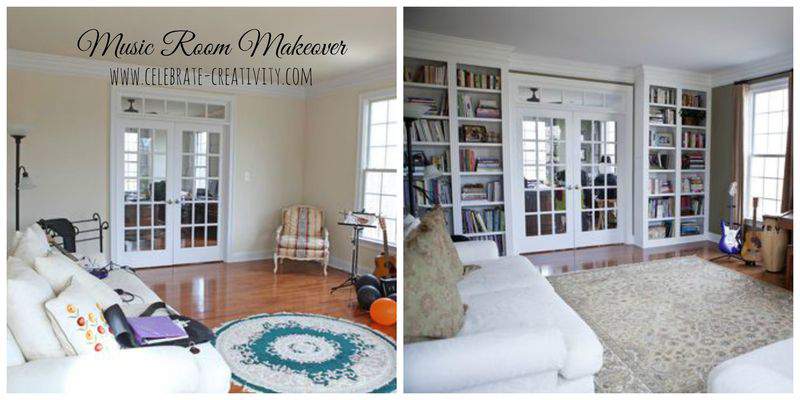 Right now, this is my favorite room in the house… and one more place where I'm totally at home with books. ♥
UPDATE TO THIS POST
I considered making my own window treatments but decided against it, opting to add store-bought panels with rod rings instead.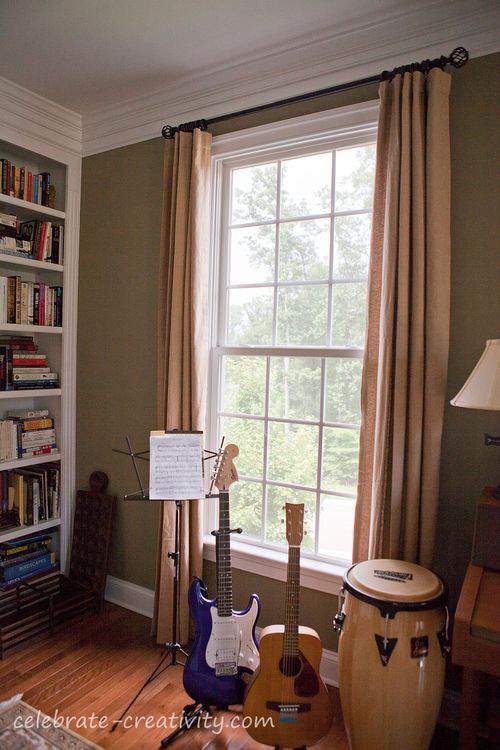 I had trouble finding all the studs during the installation so I ended up using those plastic drywall inserts to secure the hardware. When using those, don't forget to screw them into the wall, as opposed to banging them into the wall with a hammer.  I figured that out the hard way.
NOTE: Keep drywall spackling, fine sand paper and touch-up paint handy.
Meanwhile, here's a look at the same space taken from the opposite side of room.  The first set of window treatments had uneven lengths, so I ended up getting these window treatments (called Peyton) from Pottery Barn and they're perfect.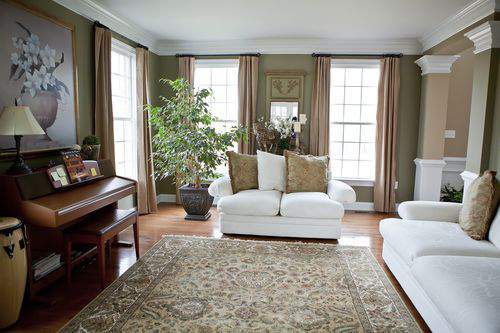 Overall, I'm happy with the way everything turned out and it's still my favorite room in the house.