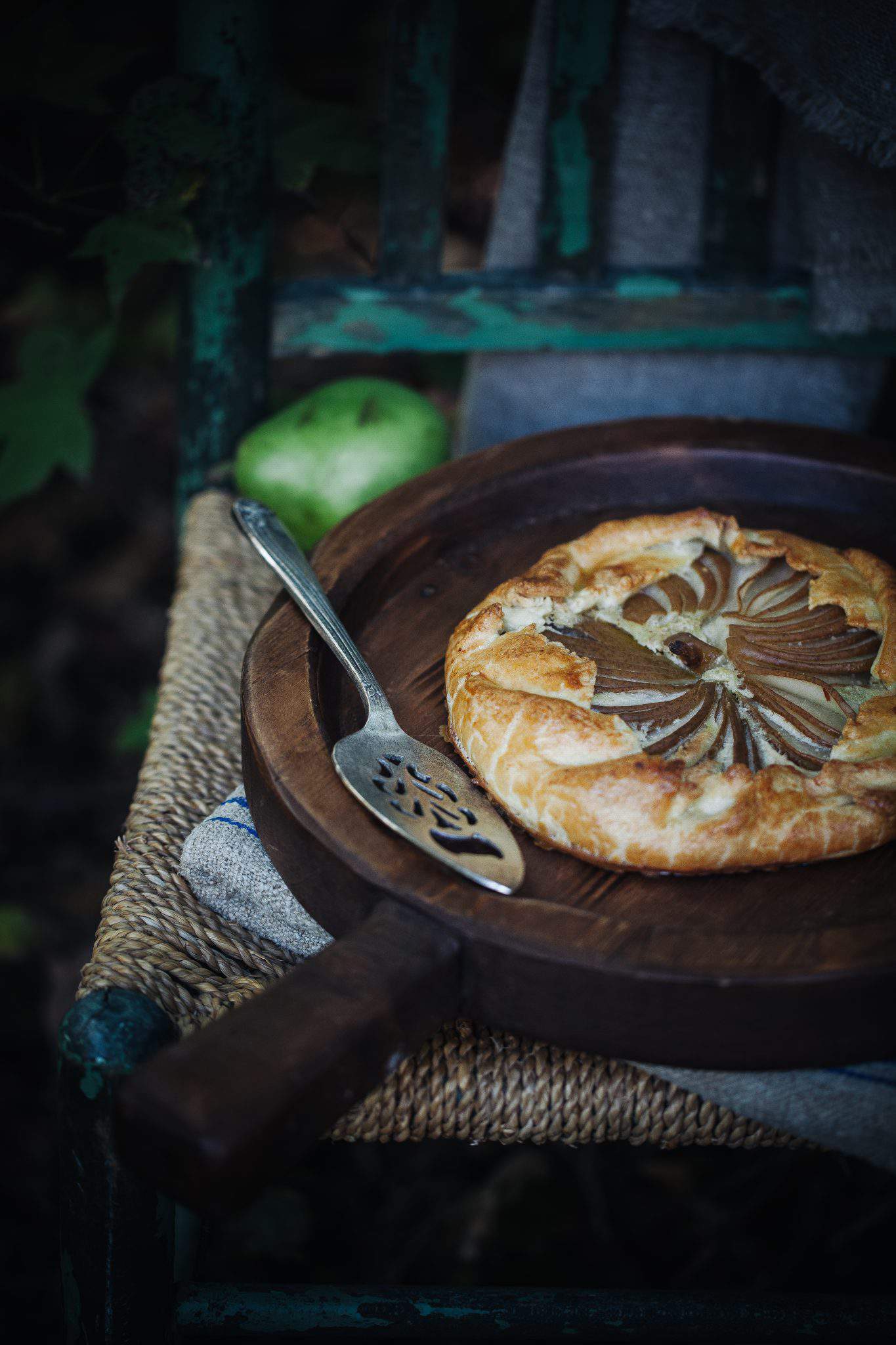 If you've never made a galette before, it is hands down one of the easiest desserts to make.
Galettes are a free-form tart that just needs to be filled with favorite fruit and baked.
You can see my earlier cherry-peach galette HERE.
My latest pear galette is as delicious as it is pretty and after you scroll through these next few pictures, I think you just may be inspired to make one yourself.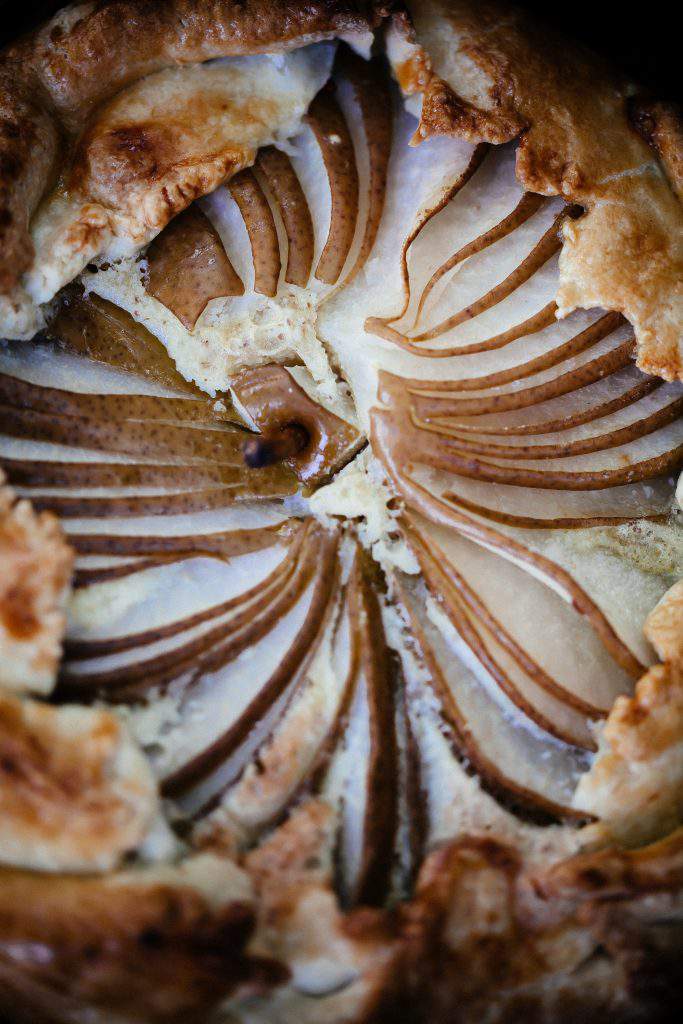 Ah, just look at these pretty slices.
This dessert has a bit of a rustic, country presentation to my eye.
Just look at all that delicious pear goodness.
Silly me, I didn't realize that green pears will turn brown when baked… but they do.
I used Anjou pears which are easy to find at just about any grocery store.
Anjous are actually considered an-all purpose pear and are especially good for baking, roasting and grilling.
They aren't as sweet as I expected but they do have a nice citrus kick and they're delicious in this pear galette dessert.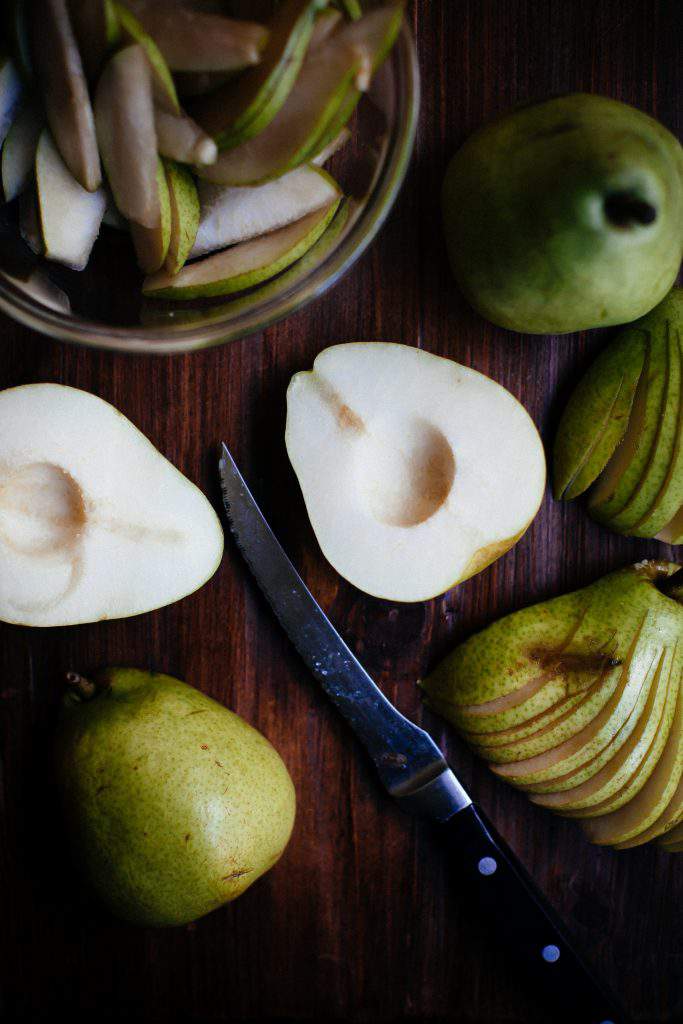 I think the key to the appearance of this pear galette is in how the pears are sliced.
Even though I used a sharp knife, I would have loved to have the slices even more thin than I was able to slice them.
A friend suggested using a mandolin to achieve uber-thin, uniform slices and I just may have to invest in one before my next galette.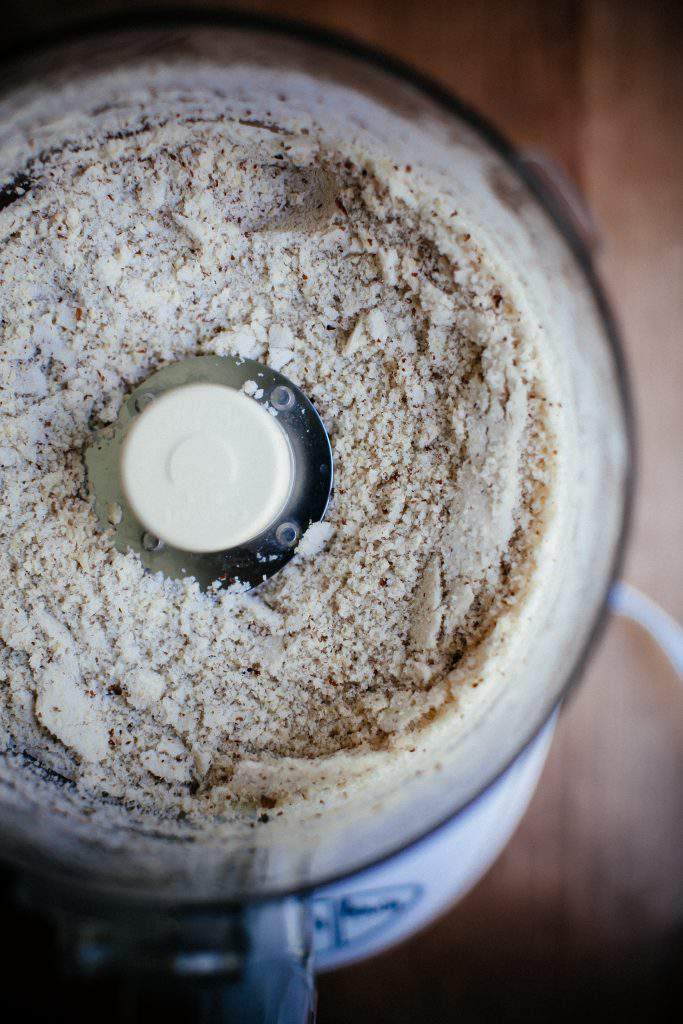 The pears are combined with a few other ingredients which gives the dish stability and even more tastiness.
There is a layer of something called "frangipane".
I had never heard of that before but it's a sweet pastry, almond-flavored cream made from almonds, vanilla, butter and eggs.
It's spread onto the flat dough just before arranging the pear slices.
Scroll down a bit further in this post for the full recipe and directions for this pear galette.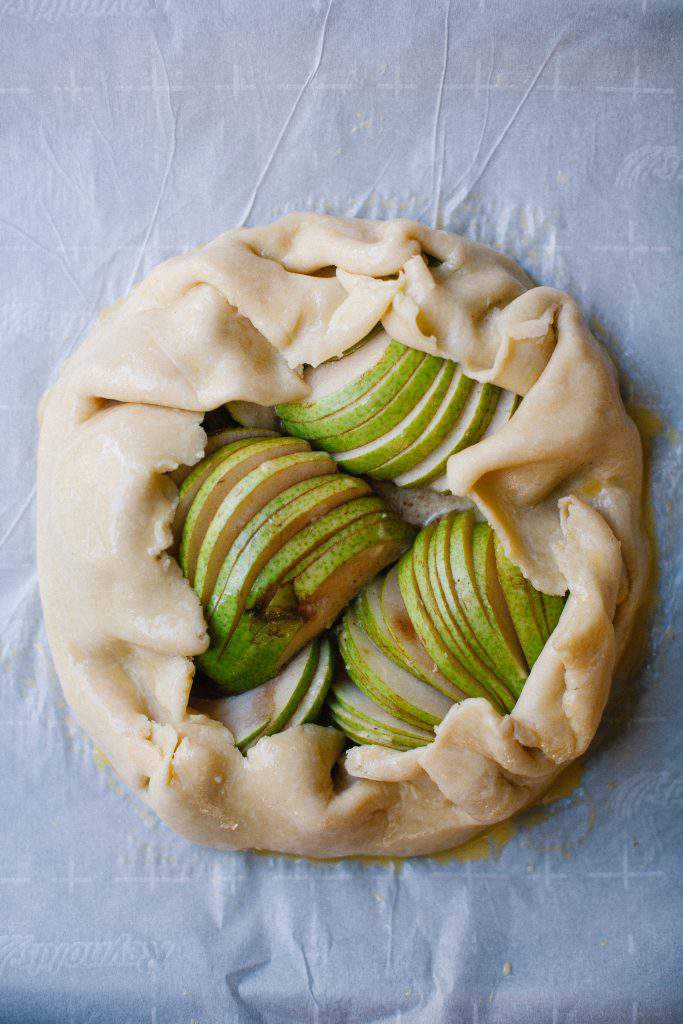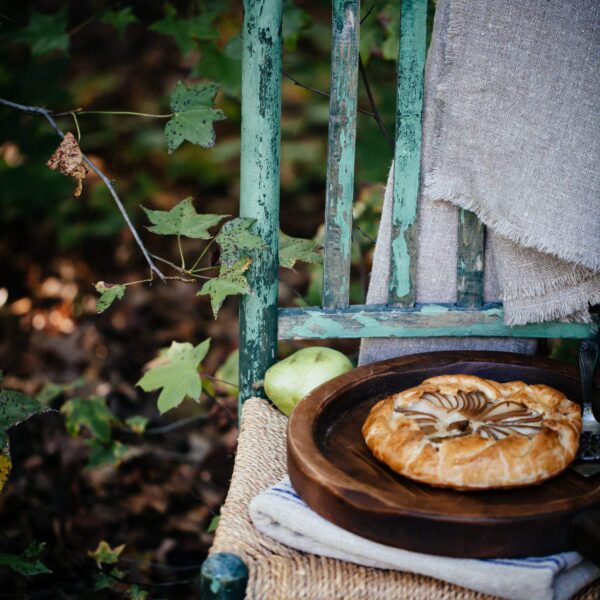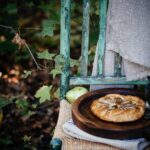 Pear Galette
Ingredients
1-1/2 cups sliced almonds
2/3 cup of granulated sugar
1/4 teaspoon salt
2 eggs
1 1/4 teaspoon vanilla extract
1 1/4 teaspoon almond extract
2 tablespoons unsalted butter melted
3-4 ripe pears
PASTRY DOUGH
1 favorite pastry dough I used King Arthur Flour Pastry Blend
1 egg + 2 teaspoon water
1/2 cut apricot jam or preserves
Instructions
Heat oven to 400 degrees

TO MAKE SWEET CUSTARD FILLING (Frangipane)

Combine almonds, sugar and salt in the food processor and pulse until fine.

Add eggs, vanilla extract and almost extract and melted butter.

Slice pears as thinly as possible.

Prepare favorite pie dough

Roll out dough between two sheets of parchment paper. Lightly flour one side.

Create 12-inch dough circle.

Spread a thick layer of the sweet custard.

Arrange pear slices in the custard, leaving a one inch clearance to the edge

Fold edges of pastry over toward the inside of the galette.

Gently push and shape the fruit-filled dough into as perfect a circle as possible.

Bake the galette for about 50 minutes until golden brown.

Cool galette on a wire rack.

Meanwhile, heat the apricot preserves on medium, stirring until liquefied.

Brush liquified preserves onto cooled galette.

Serve with whipped cream (optional)
Ah, straight out of the oven. I think these turned out beautifully.
Now, I do like to share what I've learned about every recipe so, here are a few thoughts:
I had some frangipane left over and I didn't use it because I initially thought it might end up oozing out of the dough.  However, looking back I should have used it all because it bakes into a type of pudding consistency which not only holds the pear slices in place but it's also oh-so delicious.
An egg + water wash is essential to getting a pretty, evenly baked dough. I've made pies before without brushing the wash and the pastry cracks and bakes unevenly. The wash is a must.
 This recipe also calls for a sweet apricot glaze. I don't know how I forgot to add it before snapping these pictures but the glaze is a gorgeous finishing, shiny touch to this delicious galette. Don't forget to add your glaze when you make this.
By the way, you may be wondering why my fruit and tasty galette are sitting outside in a chair in my backyard.
Well, as a food photographer, the beauty in the dish is also in the styling and presentation of the dish.
I'm always experimenting with different props, textures and settings in an effort to evoke a mood, feeling or sensibility.
Hopefully, when a person sees my food photos, I hope the image and locale resonate in some way, even if onlookers aren't quite sure why it does.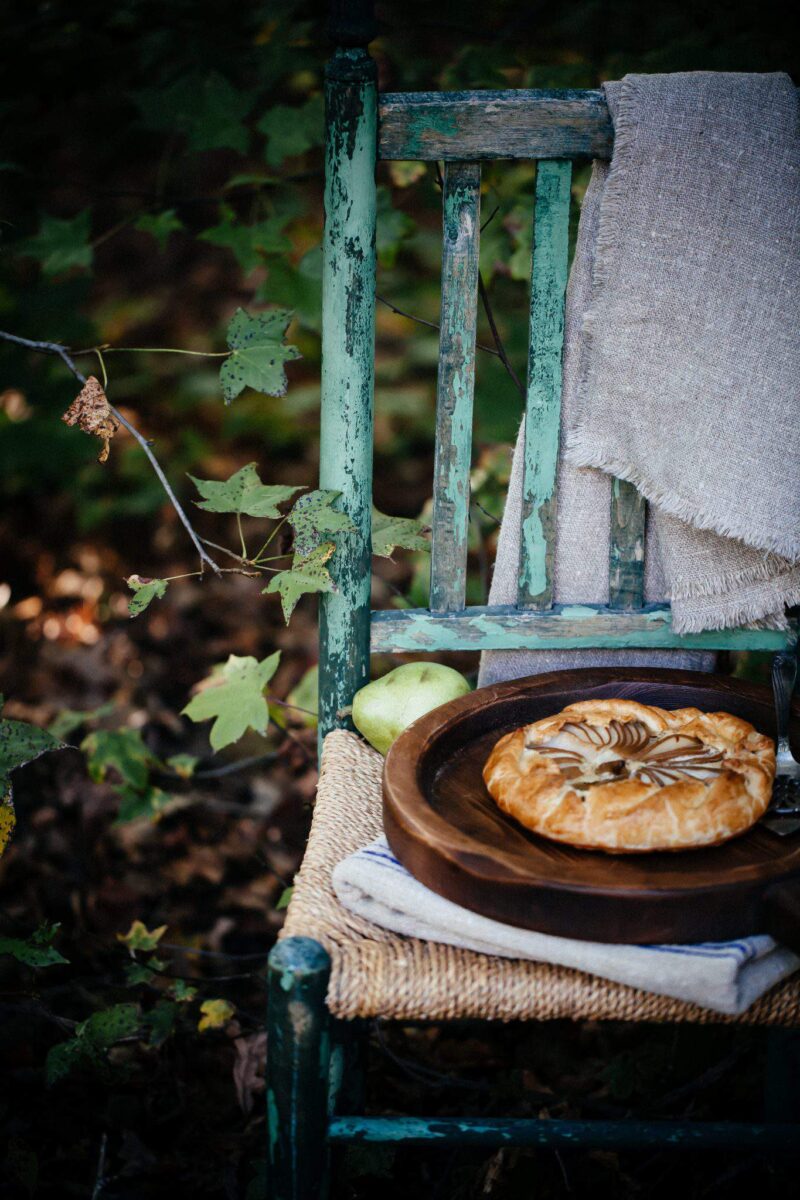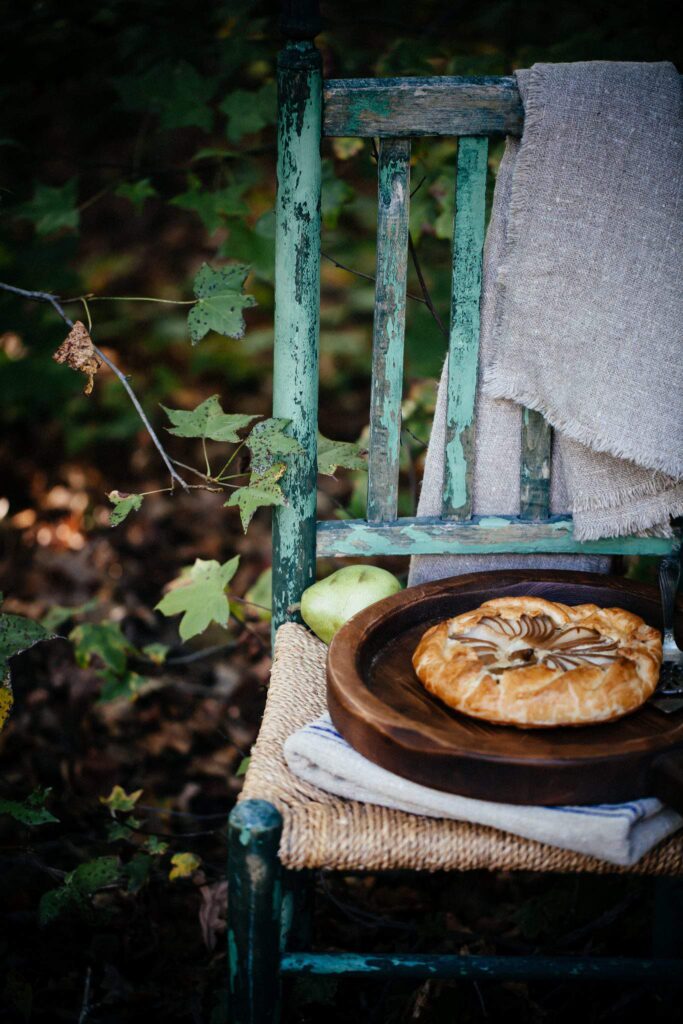 I want my photographs to elicit feelings of comfort, contentment and even a sense of whimsy or delight. I try to tell a story with each picture I share but it's icing on the cake (or pear galette, in this case) if my images inspire a totally different narrative or allegory drawn from the imagination of the observer.
And that's why every now and then… I shoot my food outside in a rustic chair under an old oak tree on a beautiful, clear fall day.
Thanks for stopping by.
See  you back here next time. ♥