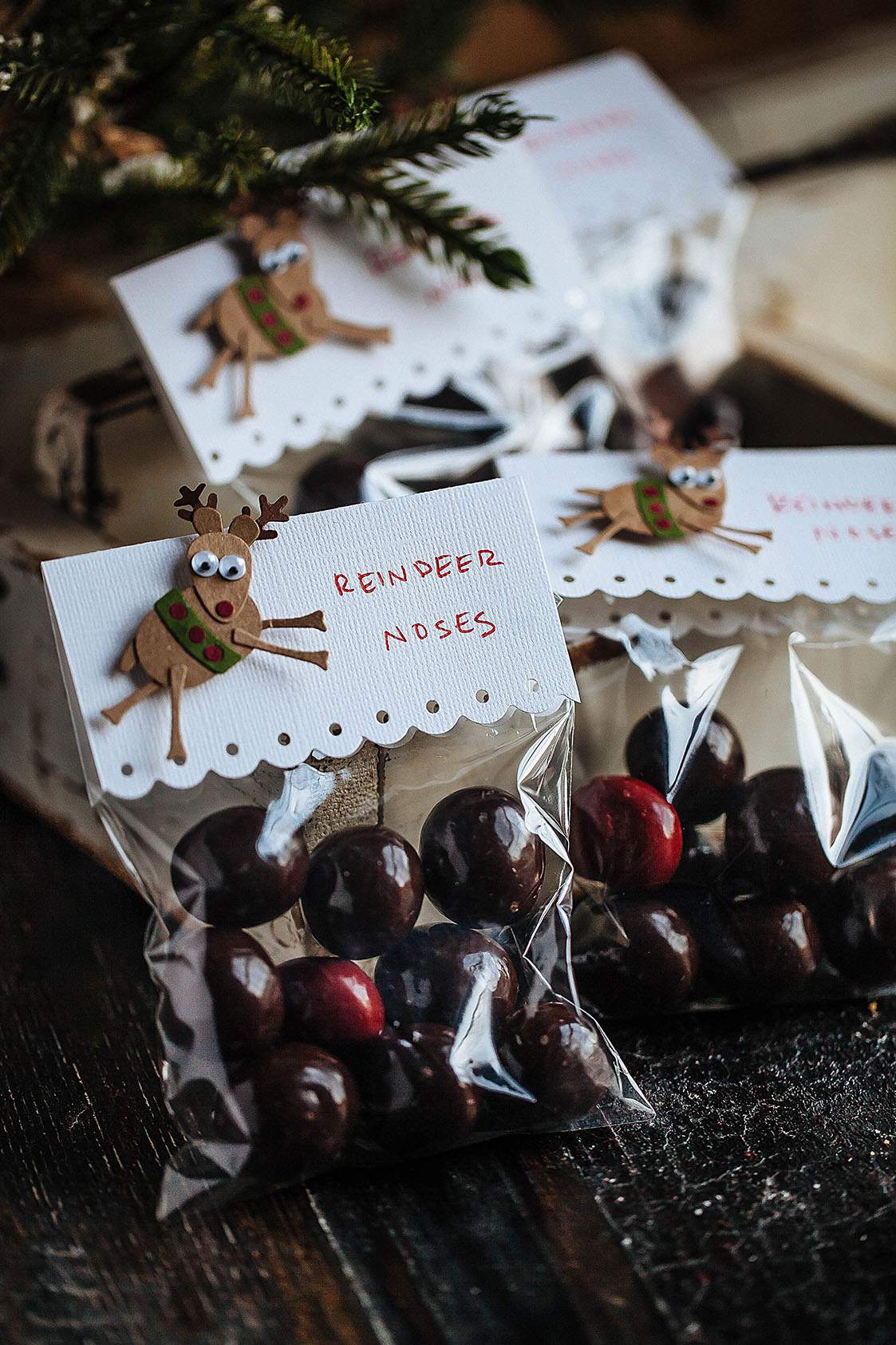 Over the years, I've made a point of making reindeer treats and crafts for the holidays.
I've baked up reindeer cookies that you can see HERE and adorable baby reindeer HERE.
My tree has been adorned with handcrafted reindeer ornaments which you can check out HERE.
And I've shared my 3-D reindeer gingerbread cookies HERE.
I'm skipping the whole reindeer today and switching things up just a bit…  with edible reindeer noses.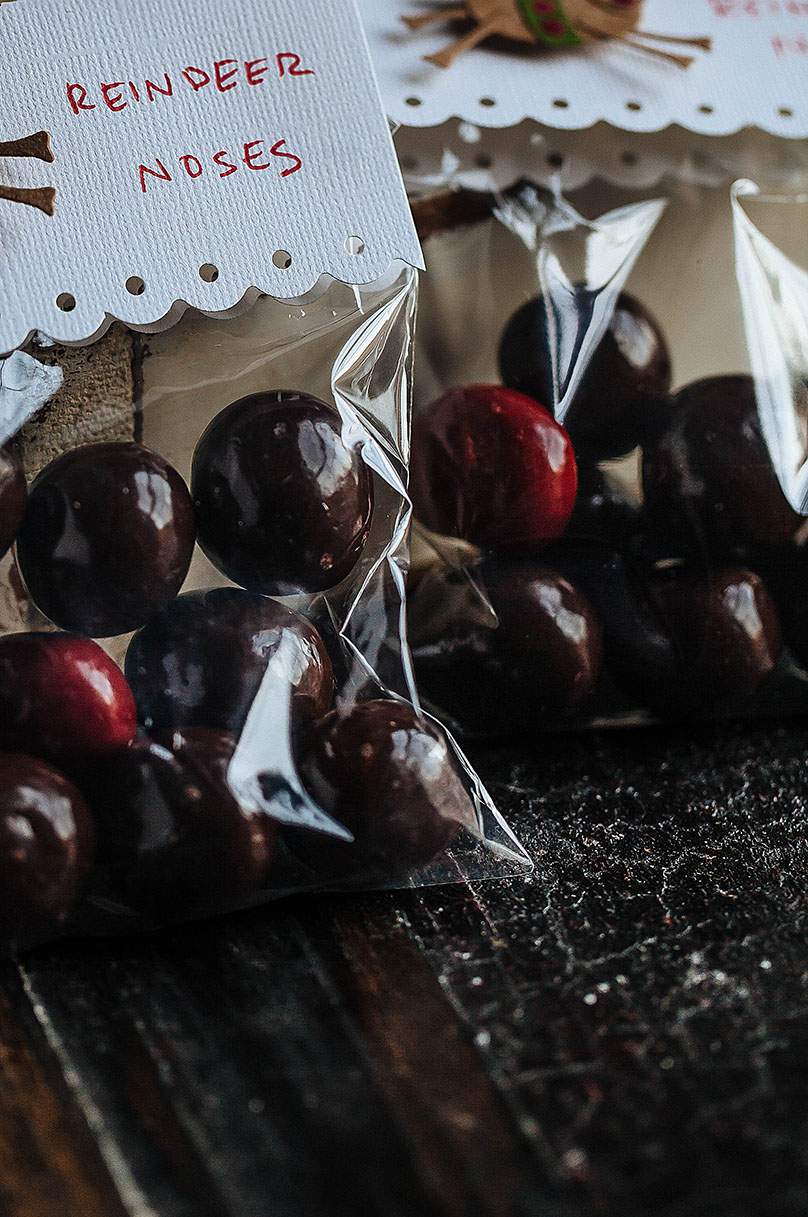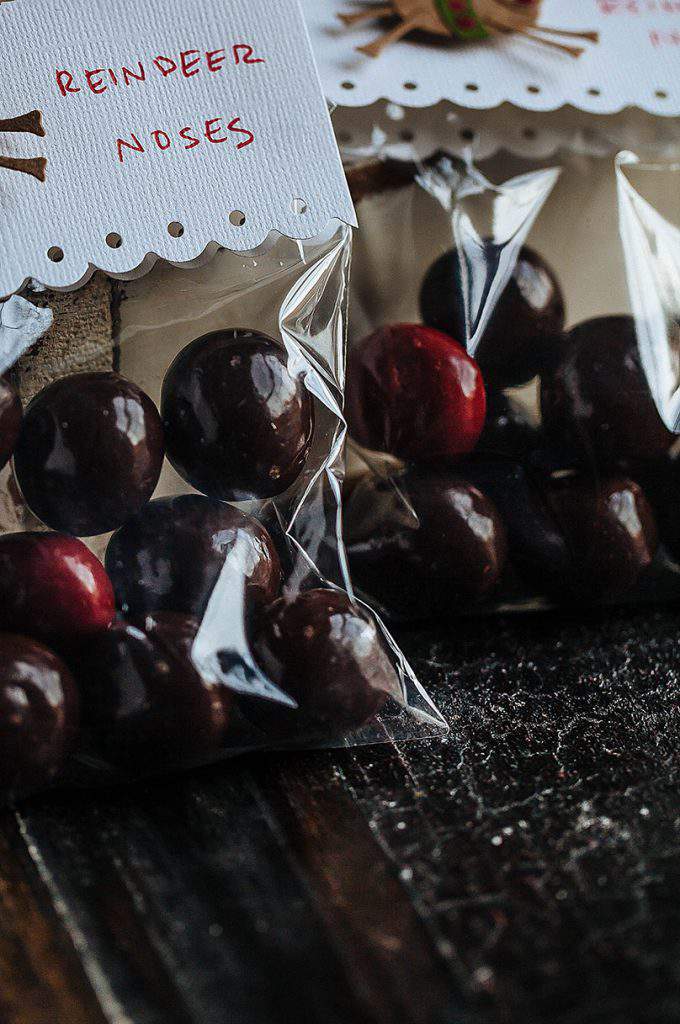 This is a simple, sweet gesture of a treat that would be ideal to gift to teachers or co-workers.
I think you'll also provoke a chuckle when you hand them out.
There's a nose in this bag for each of Santa's famous reindeer.
Jumbo malted milk balls represent Comet, Cupid, Dasher, Dancer, Prancer, Donner, Vixen, Blitzen.
And Rudolph's nose is represented by a giant chocolate-covered cherry.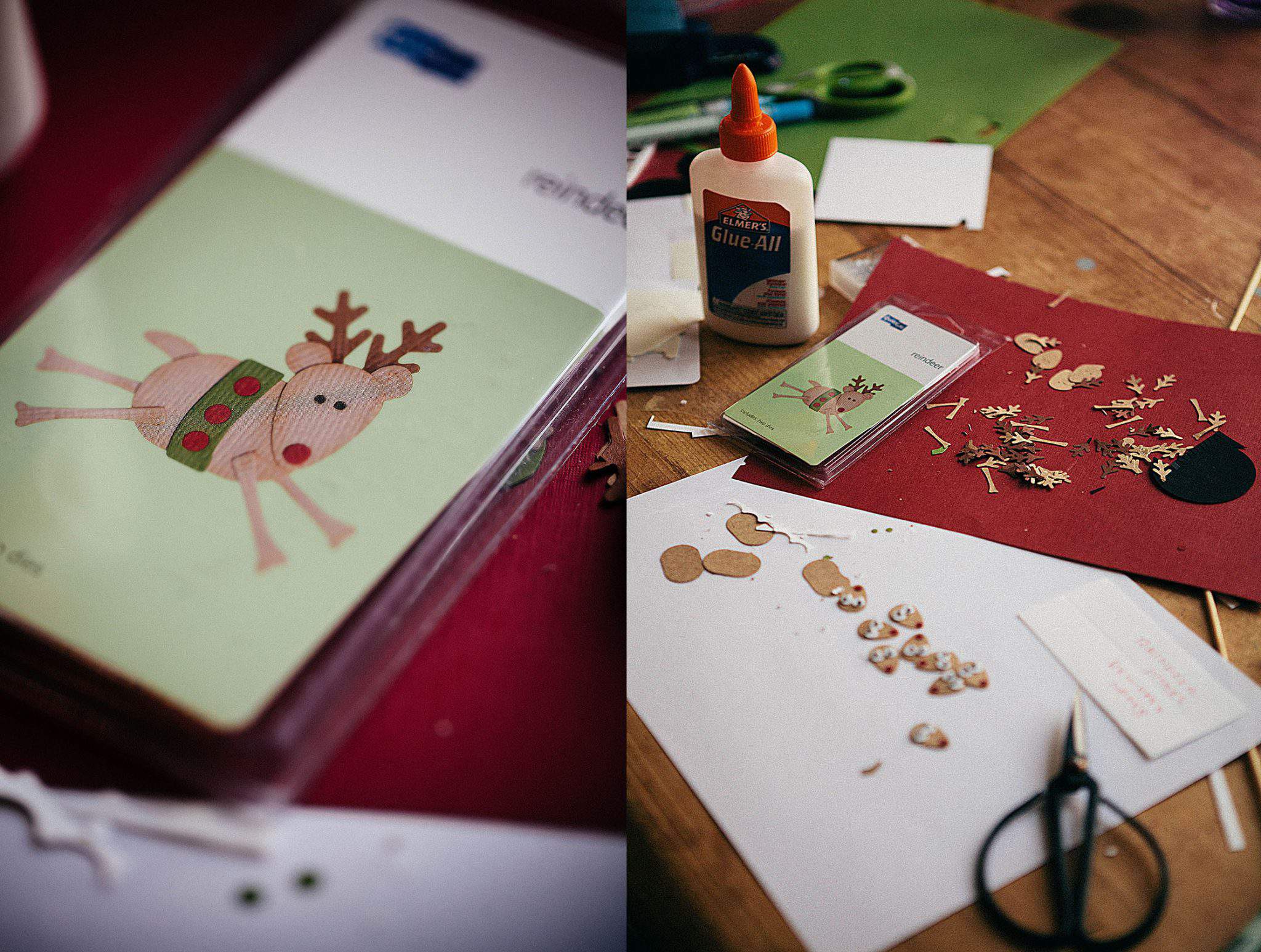 A few simple paper crafting supplies are all you need to pull this simple gift together.
I was an avid scrapbooker years ago and I still have a ton of supplies related to that hobby.
If you don't already have a reindeer die-cut in your stash, here's what you can do.
Pick up some pre-made reindeer stickers and remove the adhesive from stickers by brushing a little baby powder on the the tacky backside.
Then, use a small foam lift to elevate the sticker and add dimension.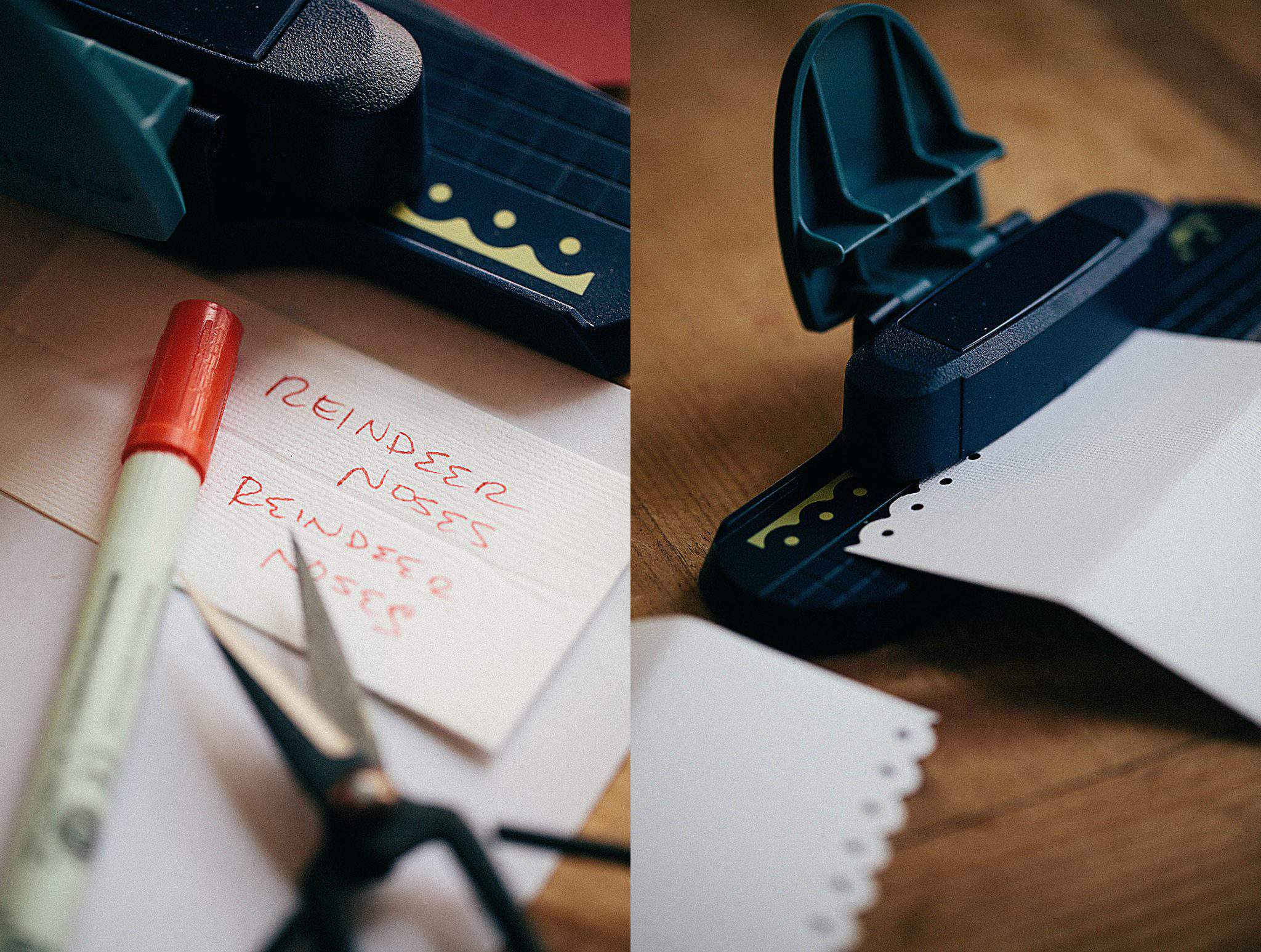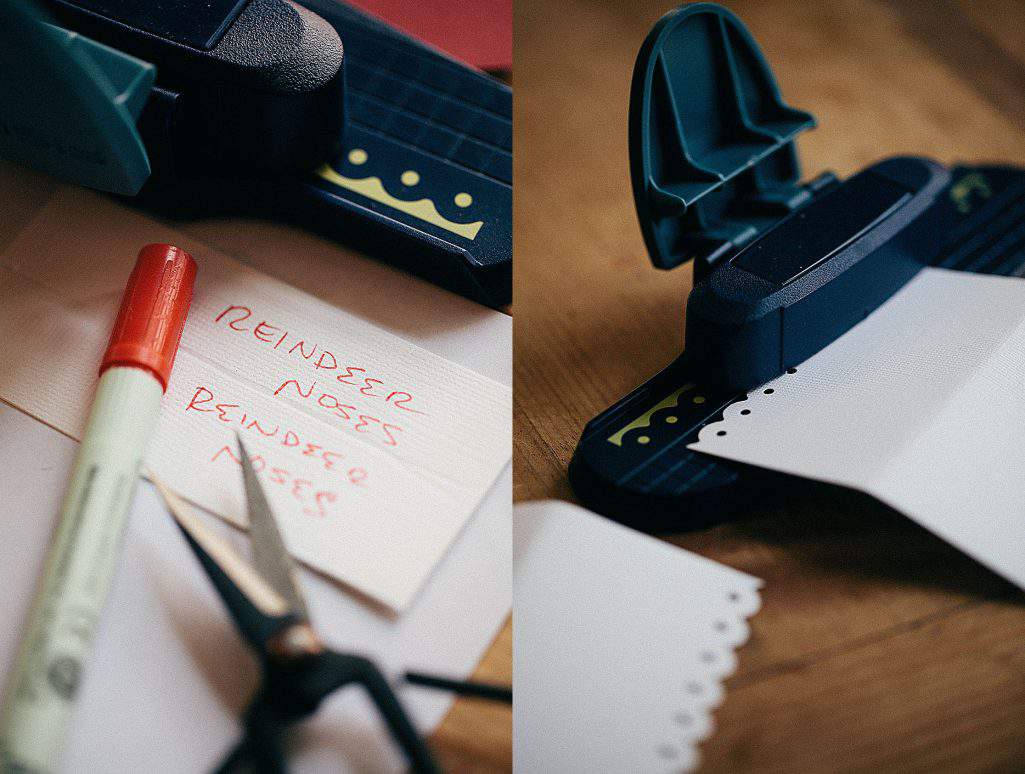 My penmanship can be so inconsistent sometimes.
If yours is too, practice a few sample lettering to get a sense for the placement of the handwriting.
This decorative edge cutter is another old scrapbooking tool that I'm happy to dust off and put to good use.
These cards could also be used to create table place name plates.
Now, how cute would that be?
Go ahead and add the lettering of the reindeer noses.
I think you could fill the goodie bags with any kind of circular candy as long as you have eight brown ones and of course, a red one.
These are malt balls and Marich chocolate covered cherries that I picked up in the bulk food aisle of my local Fresh Market.
Buy some extra ones because you will snack on them a bit as you're putting your gift candy bags together.
You may also find that some of the malt balls will not-so-mysteriously disappear… thanks to members of your household.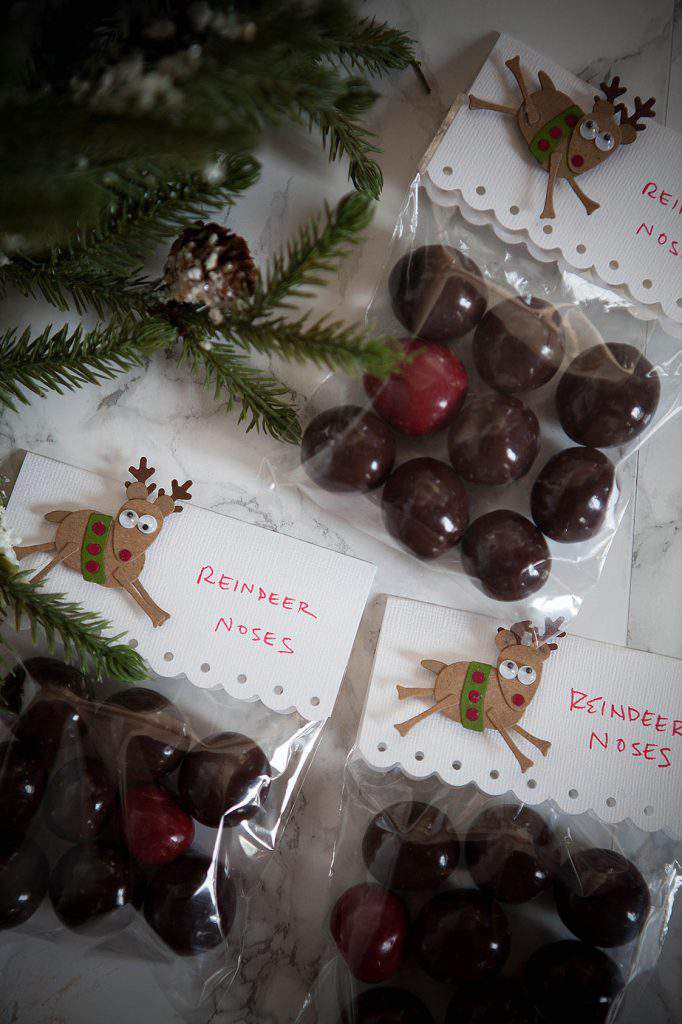 I've got to say my kids (AKA candy swipers) questioned whether or not this was an appropriate treat.
Daughter Cameron: "You know mom, if you are serving up reindeer noses that means you probably killed the reindeer and knocked off Santa too".
Son Jordy: "Yeah, that's right.  Not too nice mom . What are your readers going to think?".
Me: Silence at first and then,  "I guess they'll think I'm naughty this year", as I proceeded to bite into one of the malted milk balls.
And one of those nose cherries is next.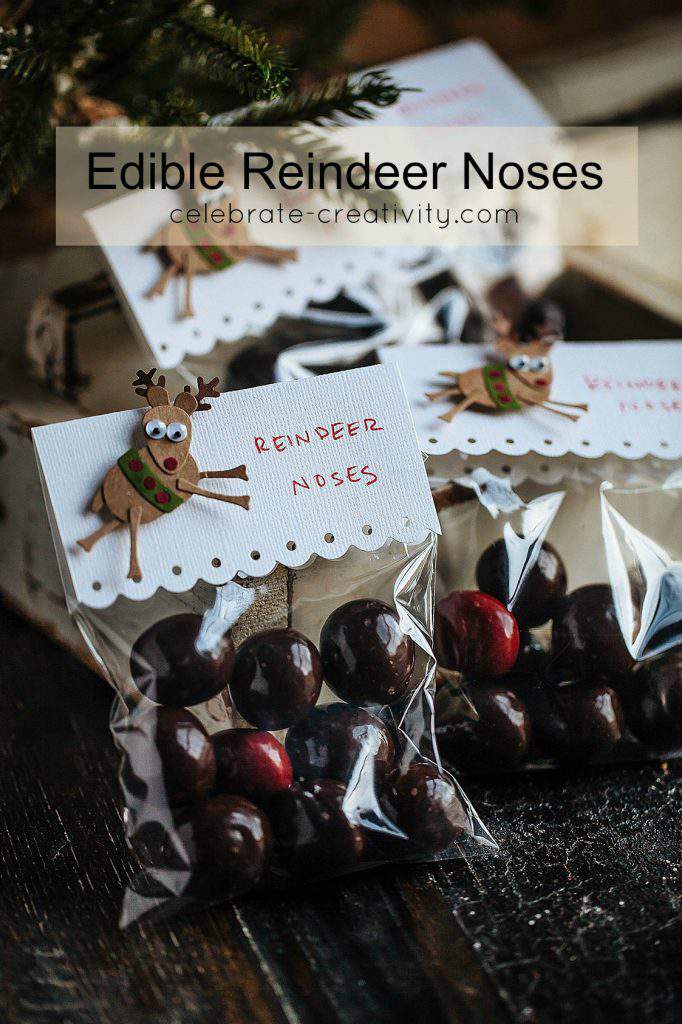 NOTE: No animals or humans were injured in the process of making these edible reindeer noses.  Also, real reindeer noses are just like antlers… they grow back even bigger. It's the magic.
Thanks for stopping by.
See  you back here next time. ♥
I'm linking this Edible Reindeer Noses project to the following: