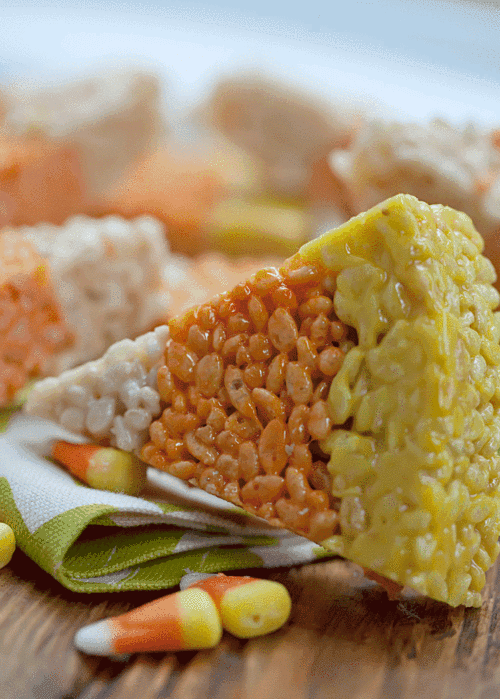 There may be no other sweet treat that symbolizes the Halloween candy season as much as CANDY CORN.  In my household treat lovers mix candy corn with peanuts for the perfect sweet and salty combination.
Throughout this post, I'll share a fun twist on candy corn rice krispee treats… along with  a colorful look on a few other tasty possibilities for the crunchy cereal.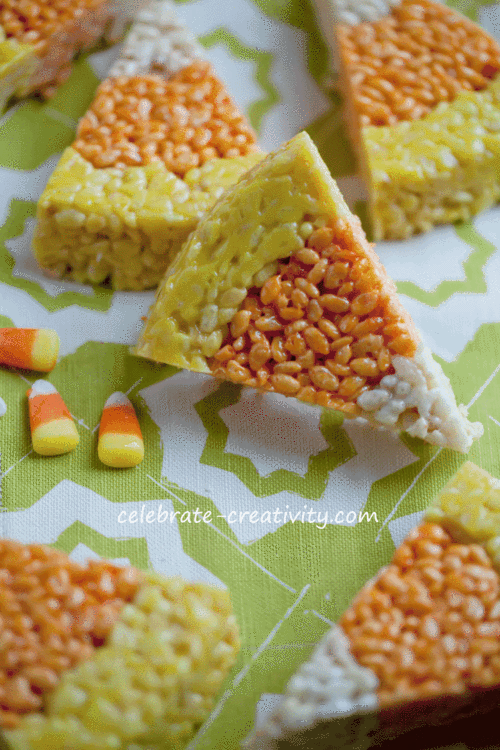 Oh, the things you can do with a bowl of Rice Krispees cereal and marshmallows.

For the candy corn, you'll also need yellow and red food coloring.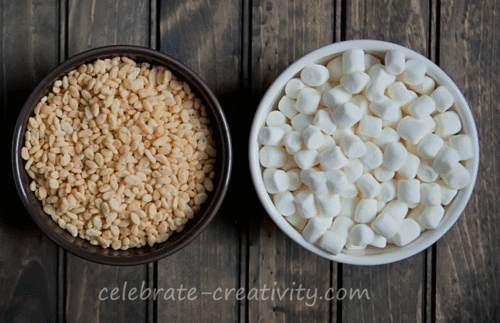 First, spray an 8-inch cake pan with baking spray and set aside.
Then, melt about 3-tablespoons of butter in a saucepan.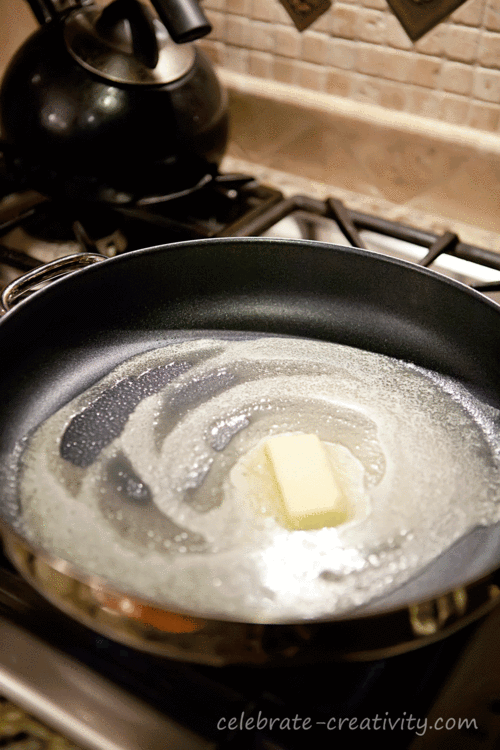 For the first layer, add about five cups of mini marshmallows and stir on medium heat until melted.
Then, add a few drops of yellow food coloring until you get the desired shade.
Once, desired color is present, add 4-5 cups of rice krispees.
Stir until all krispees are covered with melted marshmallows.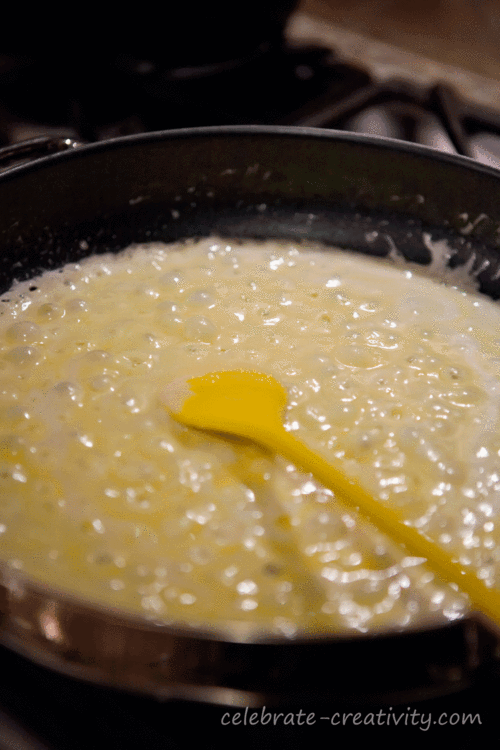 Pour the yellow krispees into the already-greased cake pan and work quickly to push the mixture along the sides until a ring is formed.
Be careful because initially , the krispees will be quite hot but they also cool pretty quickly.
You'll also have to work quickly to shape the krispees into a ring before the mixture hardens.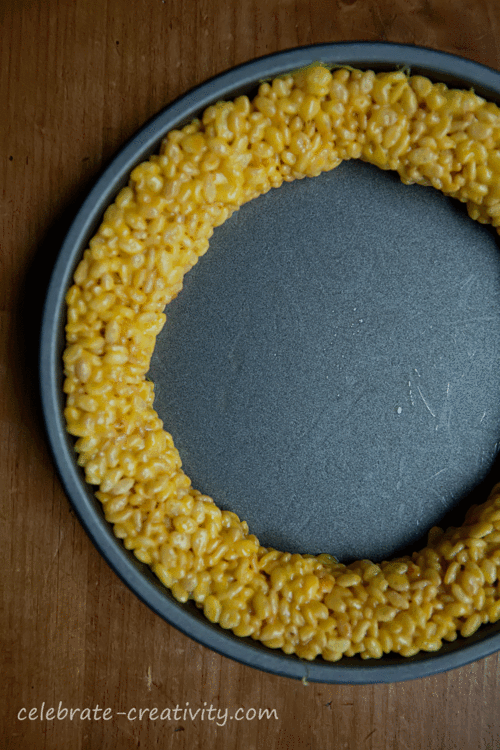 Repeat the same steps to make the next Rice Krispees layer.
You'll need yellow AND red food coloring to create the orange color.
NOTE: Red food coloring goes a long way and will dominate the yellow so only add one drop of red at a time to about 5-6 drops of yellow.  Continue with this approximate ratio until you get the desired color of orange.
I used the same ratio of Krispees and marshmallow as step one but I ended up with more than I needed.  I'll show you how I used the leftover orange mixture further down in this post.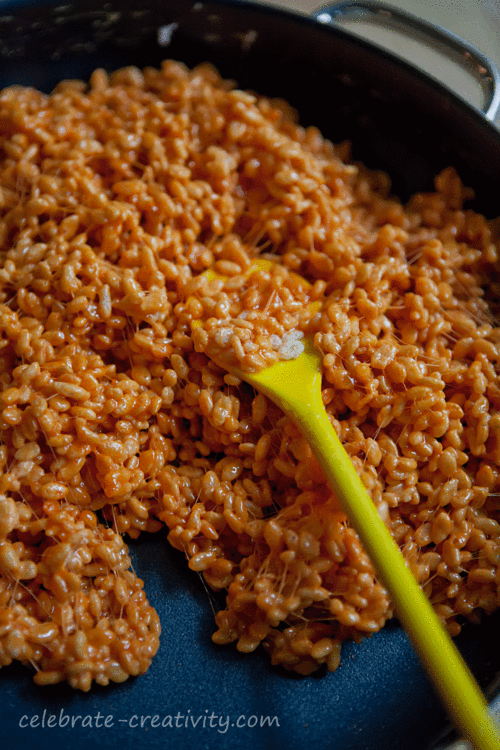 Shape the orange Krispees treat into the cake pan right up against the yellow ring.
Make sure the orange ring is about double the size of the yellow ring.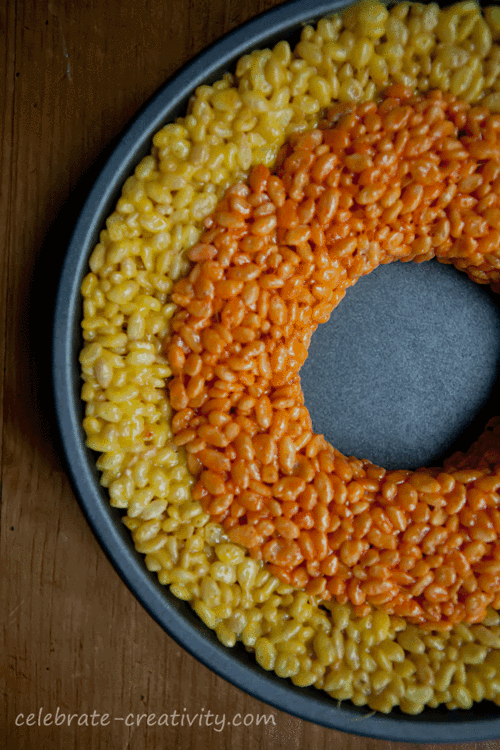 For the center, you'll need half the amount of krispees and marshmallows used for the first two layers.
No food coloring is needed for this final mixture.
Press the Krispees into the pan and fill the open circle.  Set aside and allow to harden for about 30-minutes.
This is why it's so important to thoroughly grease the cake pan.
The entire mixture will fall right out of the pan when you turn it upside down.

Looks must like a Krispees pie.
Use a large knife to carefully cut the Krispee pie in half, then quarters then cut the quarters again for a  perfect bite size, Krispie pie shape.You can serve right away or put the slices in small, individual goodie baggies to gift to the treat lovers you know.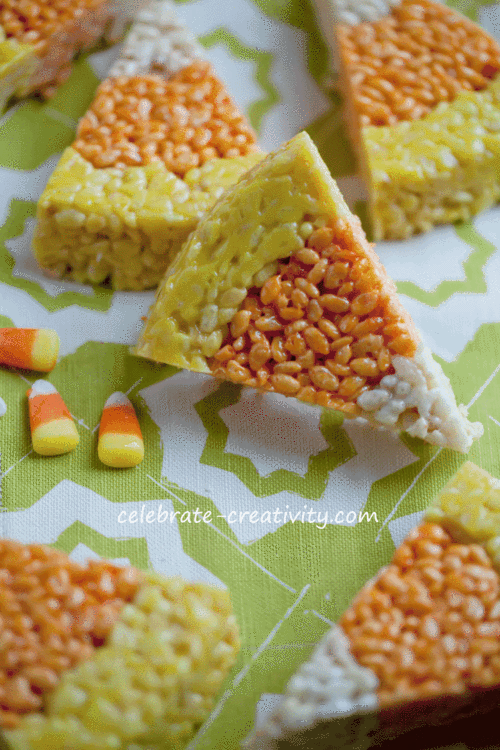 OK, remember the orange leftover Krispee mixture I mentioned earlier?
I decided to put it to good use rather than tossing it.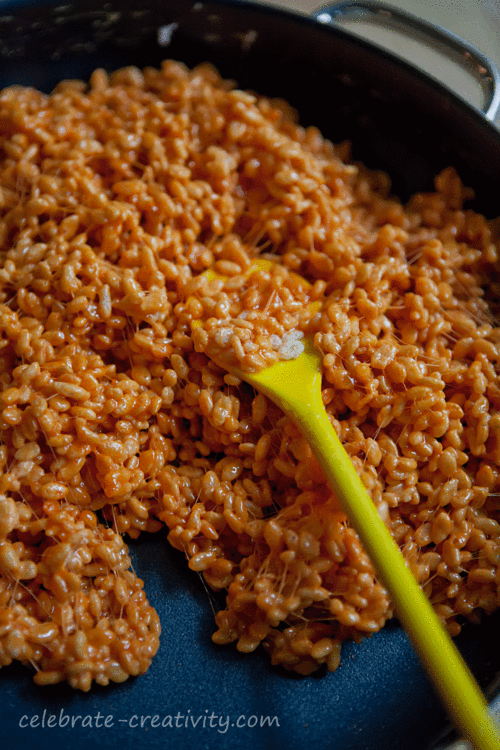 After using what I needed for the candy corn, I shaped the remaining mixture into small balls.
Add green food coloring to a small amount of fondant and roll it out.
Then, use a small leaf-shaped cutter to cut out the leaves.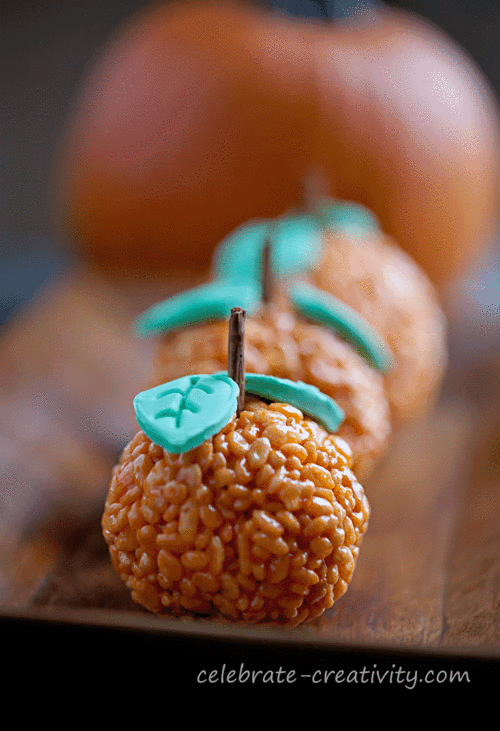 Gently press the leaves into the Krispee ball to adhere and top it off with a small piece of cinnamon stick.
Now, how easy is that?
KRISPEE PUMPKIN, anyone?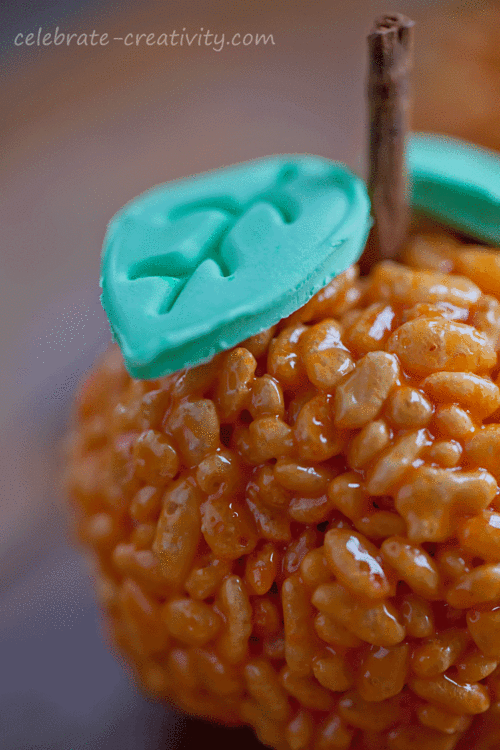 Here's another Rice Krispee treat that's super fun and easy to make with a little bit of creepy thrown in.
To make a KRISPEE FRANKIE, add green food coloring to the melted marshmallow, add Krispees and then pour into a square baking dish.
Once cool, cut into small rectangles and dip the top into melted milk chocolate.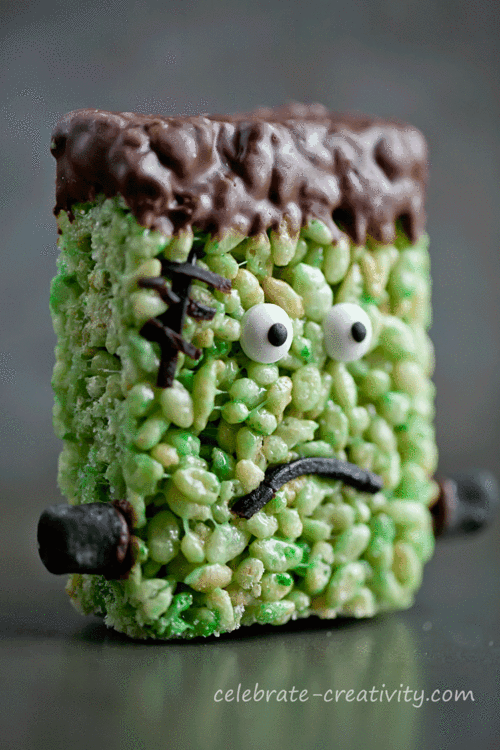 Add candy googly eyes and embellish with thinly-sliced licorice for the frown and stitches.
Gently push the licorice strips and eyes down into the krispees.  The treats are still sticky so everything stays in place.
I also dusted a few mini marshmallows with black, edible dusting powder to make the electric bolts.
Attach the bolts using a small dab of melted chocolate.
Serve this great goodies up on a platter or bag them up for tasty, individual gift giving.
Kids will love them (and a few adults will too).

So, grab a box of Rice Krispees, food coloring and a big bag of marshmallows and have fun. ♥
Also, be sure to check out my previous Halloween treat-making posts to see how to create my Mummy Cupcakes and Ghost-Shaped Boo Bread.
I'm linking this Rice Krispee Treat post to the following: