H
ome decorating is always a work in progress in my book. No matter how much you love a space, there's always room for improvement, tweaking and/or small adjustments.
Regular readers of this blog may remember this photo from an earlier post featuring my painted mirror makeover.
Lately, this arrangement (which is in our music room) has felt a little heavy looking and far too Fall season-ish.

Throughout this post, I'll share the small changes I made to this wall to freshen up the space and give this part of the room a lighter look for the Summer season.
First, allow me to share my inspiration behind this mini-makeover.
After spotting this arrangement at Pottery Barn  online I set out to find similar pieces so that I could make over my wall in comparable, airy fashion.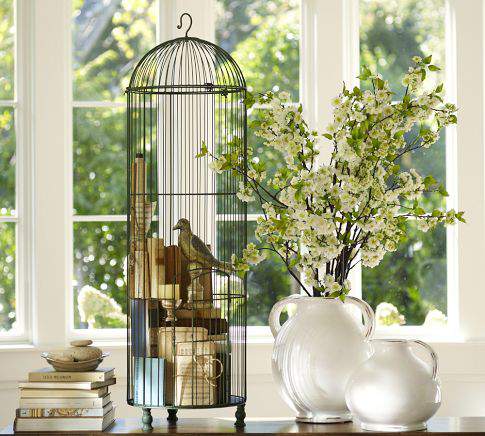 Photo source: Pottery Barn
I re-located the large grated horse to a ledge during a foyer makeover earlier this year.
This turned out to be a much better location for this clunky statue.

Now this is a pretty big jug, but I found it on sale for 1/2 price and it was the last one in the store.
I think it ties-in with the white furniture already in the room.  While I love it, my husband, Boris jokingly calls it a Hee Haw jug.
Does anyone remember that TV variety show?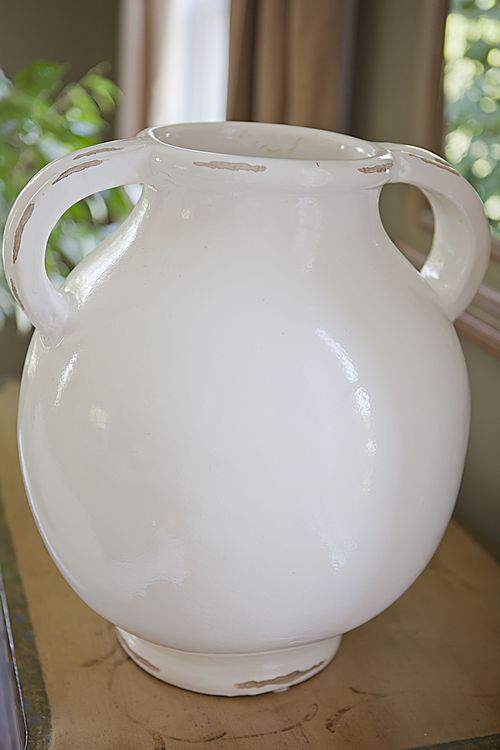 As much as I love my "Hee Haw" jug, I wish it did have a few more distressed areas just to tone down the white a bit.
Initally, I thought about using sandpaper to try to increase the amount of distressing but then thought better of it.  It's not worth running the risk ruining a good deal with a mis-guided attempt at alteration.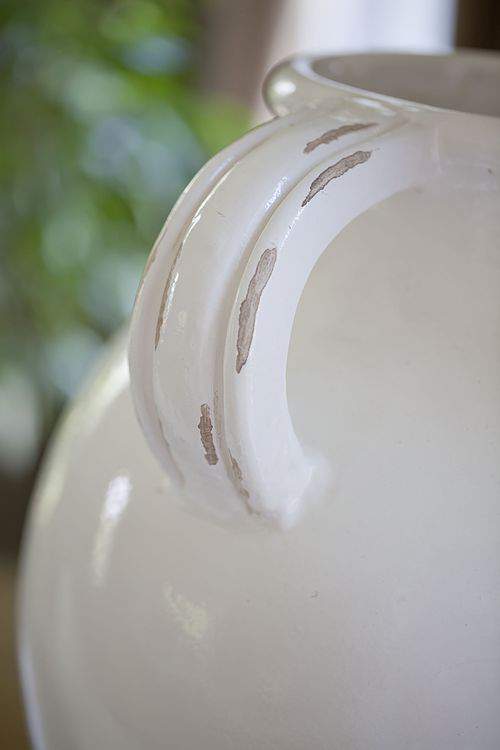 Meanwhile, great florals are usually pretty easy to find.
I love these faux, white cherry blossom branches.

When I spotted this wooden bird cage on a Home Goods clearance table, I noticed the base platform was missing and so was the knob on top.  There were a few broken dowels and several scratches along the back as well.
No wonder it was only $6.00.
The price tag won me over along with the knowledge that there's nothing a little hot glue and paint can't fix.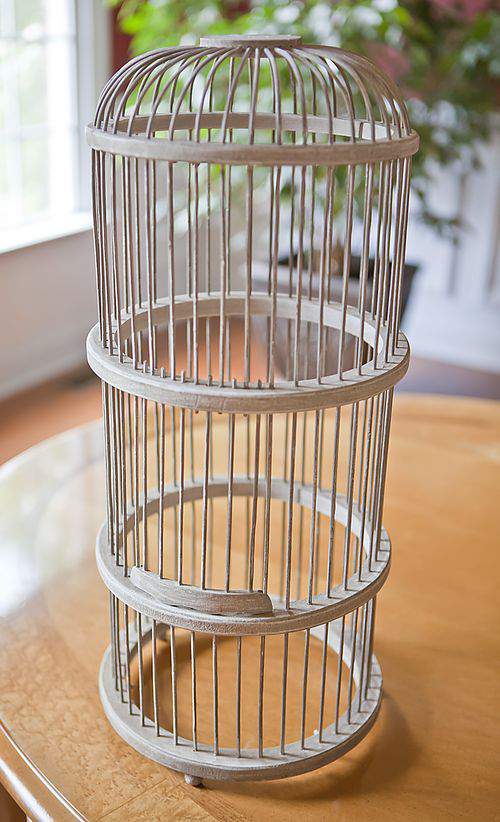 I repaired the broken dowels and then gave the cage three coats of antique white spray paint which thoroughly covered the scratches.
So far so good and almost good as new.

All the cage needs now is a wooden knob (.89-cents from Home Depot).
I spray painted it and then used hot glue to attach the knob to the top of the cage.

What was a ratty, wooden bird cage now looks better than than ever and serves as an example of how easy it is to turn trash into treasure.
At some point, I'll cut and paint a circular piece of thin plywood to replace the missing base.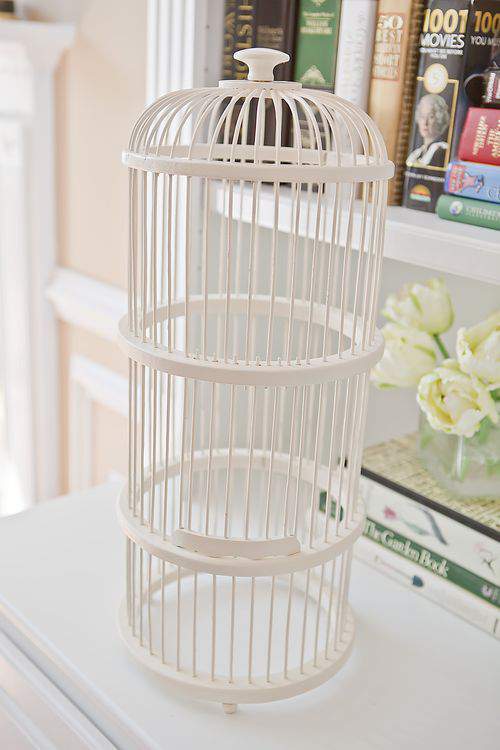 You'll recall, my inspiration photo included books inside the bird cage (interesting look but not very book-accessible).
I prefer to maintain easy access to all books so I decided to stack mine instead using these well-read and white-jacketed books.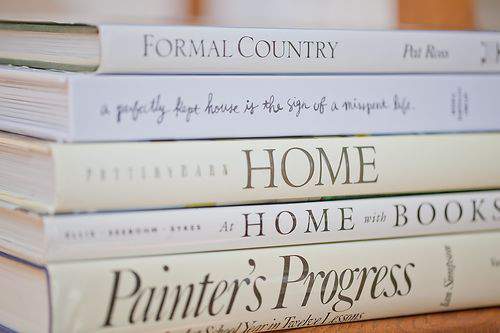 This little patina garden girl has been moved around my house multiple times and still has no permanent spot.
I love her flower-filled container.  For some reason, I've never been able to find the perfect location for this sweet statue.
We'll see if she works in this new arrangement.

OK, before I show you what the wall looks like now, here's another quick look at the space before I made the changes.
(You can see how to make these fringed, oversized pillow covers from an earlier post if you click here).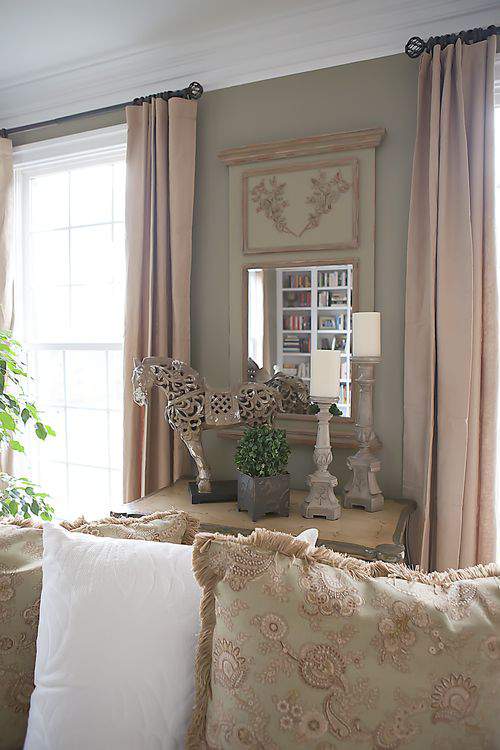 Here's a look at the wall now.
I think this is a much cleaner look and more appropriate for Summer.
(NOTE: A closer look at these photos reveals one detail I didn't notice in person.  I'll definitely have to move the mirror a little higher on the wall so it's not quite so obscured.)

Here's how the other side of this music room looks.
You can see how the rest of this room was slowly transformed in an earlier, makeover blog post entitled; At Home with Books.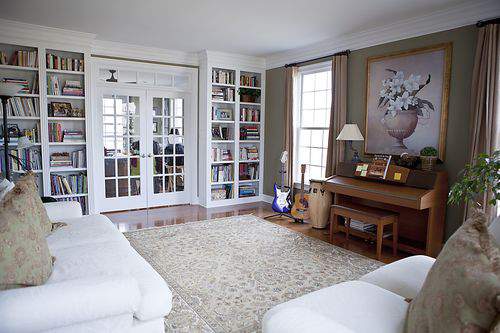 After finishing this latest mini-makeover, it occured to me that the pretty, floral handpainting on the side chest may need to be more visible instead of being hidden behind the love seat.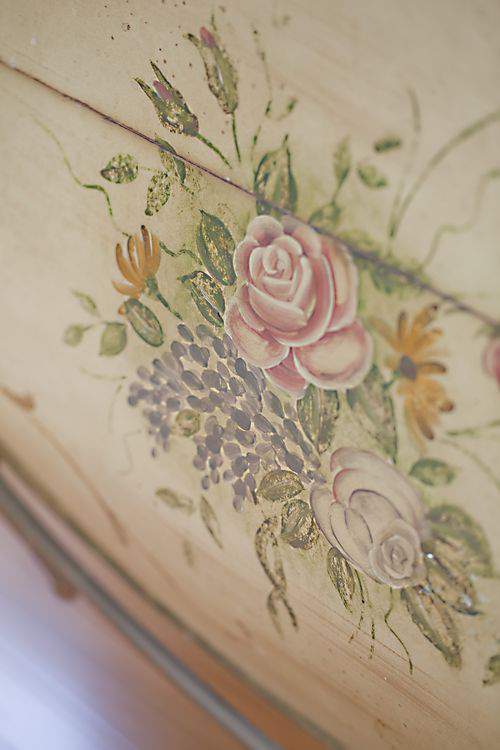 There is still a large white sofa in this room but here's a look at the wall without the love seat.
I think it opens up the room a bit more and revealing the handpainted chest finally gives this pretty piece of furniture some room to breath and shine.
What do you think?  Keep the love seat or re-locate it?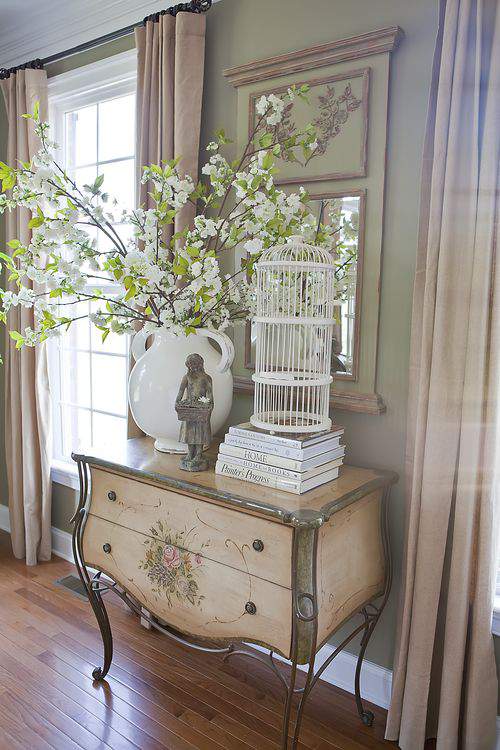 Love seat or no loveseat?  I'm still undecided on that but I am pleased with the new decorative elements on this wall.
It's gone from a heavy Fall look to a much lighter presentation, perfectly fit for Summer.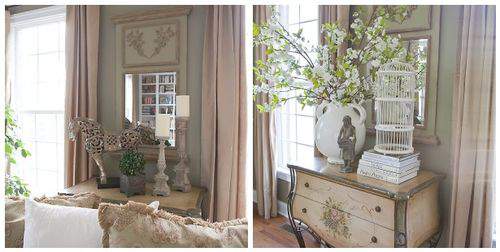 As the seasons change, I think it's nice to freshen things up and make small changes to home decor too.
I love it when I can pull together existing elements and combine them with a few new, inexpensive items to create a brand new look.
(NOTE: I think the little garden girl finally has a home base.)

The painted bird cage is my favorite new element here because I love the satin, antique white paint.  It's such a soft transformation from the original finish.
As you can see, simple touches and small details can go a long way.
So, what home decorating tweaks are you working on? ♥