R
ecently, while organizing my attic workspace, I came across  this heart-shaped wreath hiding (hanging) behind an apron rack.
I had forgotten it was there and when I pulled it out I decided it should be back in plain view.
This re-discovered wreath also provided the inspiration behind this post which is all about the color lavender. 

Throughout this post, I'll take a closer look at the color lavender and also share how I turned these cupcakes into lavender treats with crystalized, floral toppers.
Yum.

Lavender can be such a soothing color.
Take a look at how serene these lavender bedrooms look.  I really love the lavender, checkered canopy with matching head and foot board.
As lovely as lavender looks in home decor, it's equally beautiful when it appears in nature.
I've never seen a lavender field in-person, but I'd love to one day.
Once the lavender is cut from the fields, it's bundled and off to market.
Here's are a few photos I found on line of freshly cut lavender.
I can't wait for the opening of the outdoor summer markets so I can pick up fresh bundles of this fragrant herb.
If you love the shade of lavender as much as I do, perhaps you'll enjoy these books devoted to all things lavender and the wonderful things you can do and make with the herb.
The Lavender Lover's Handbook  This book has a little bit of everything from tips on growing lavender to recipes and craft ideas.  Pretty pictures and presentation.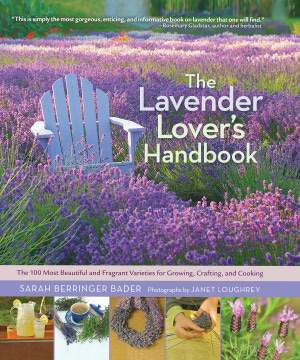 The Lavender Cookbook  You'll find more than 90-recipes in this cookbook which focuses on how to use the fragrant herb to enhance ordinary ingredients including soups, salads, baked goods and desserts.
With all this talk of lavender, I couldn't help but try my hand at growing my own small lavender crop.
I think it would be pretty cool to make my own lavender-filled sachets with a home-grown supply of lavender.  We'll see how this works out.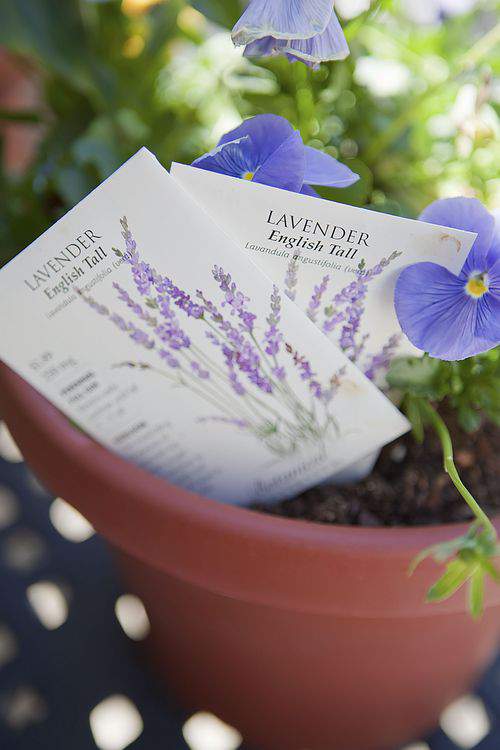 The planting instructions recommended 8-seeds in the soil every 15-inches.  I can barely see these seeds let alone count them individually.
In case you didn't already know, lavender seeds are about the size of an ant.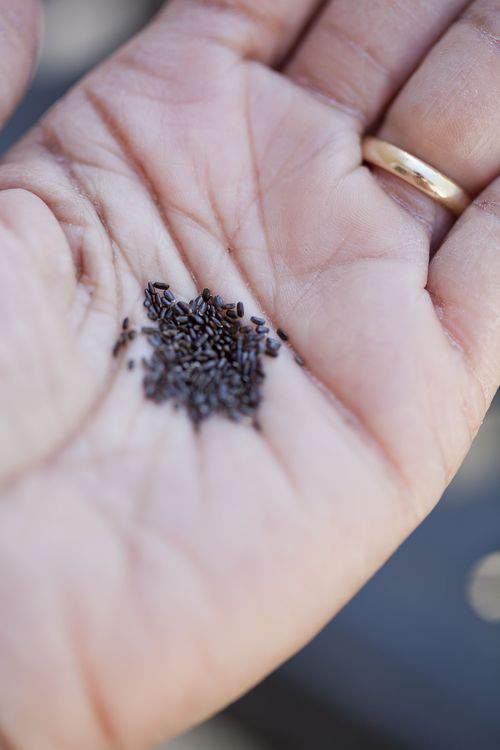 I'm sure there are more than 8 seeds in each of these little square, germinating pots but we'll see how well they do.
Keeping fingers crossed here.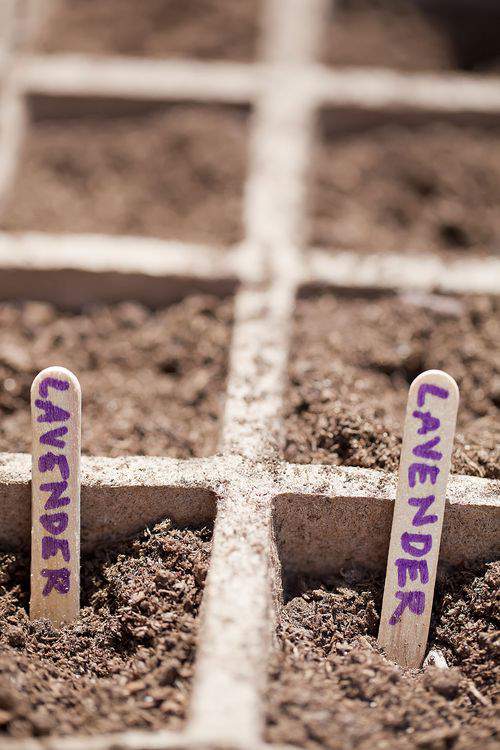 I'm still keeping an eye out for full-fledged lavender growth but after about six weeks in the soil, only a few sprouts have made an appearance so far.
Ever the optimist, I'm still hopeful that I'll have a small lavender harvest later.

Meanwhile, is there anyone who can resist lovely lavender pansies?
Did you know that lavender pansies can be used for much more than just landscaping?

While pansies look great in the ground, fresh pansies can also be used as cupcake toppers.
Yes, pansies are edible.
First, bake a batch of cupcakes and allow to cool completely.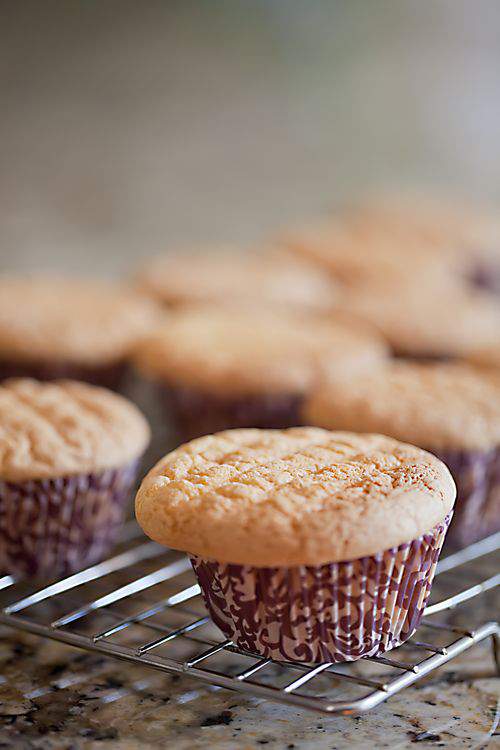 Grab some whipped icing (store bought is good) and add a very small amount of food coloring.
When it comes to food coloring, a little goes a long way so start with just a dot and mix to test to the shade.
Add more coloring if needed.  Remember, you can always add color but you can't take it away so always use small amounts at a time.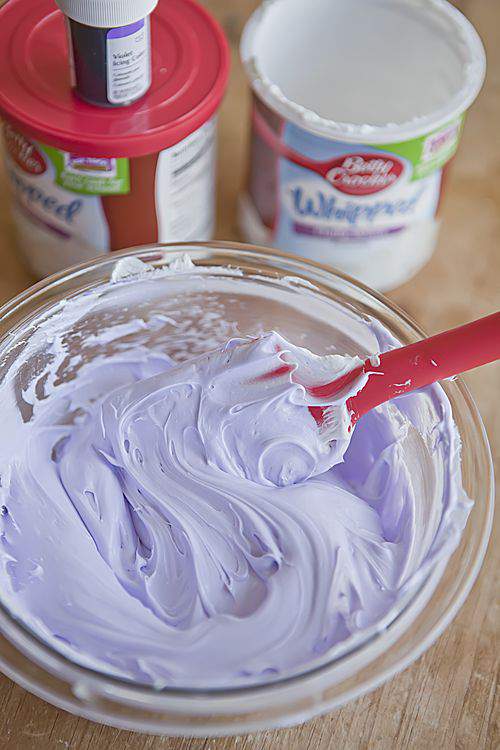 Pinch a few of the pansies off the stems and gently clean the bottom of the flower with a wet paper towel.
Use a pastry brush to carefully brush a small amount of egg white onto the petals with egg whites.
NOTE: Raw, uncooked egg whites can pose a health risk if consumed so it's a good idea to use pasteurized egg-whites for this step since this decoration will come in contact with food. 
Pasteurized egg whites come in a small carton and can be found at any grocery store next to the regular eggs.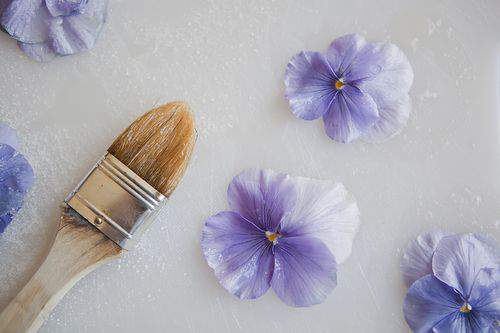 Sprinkle a small amount of fine sugar over the petals.
The sugar will stick to the egg white and crystallize.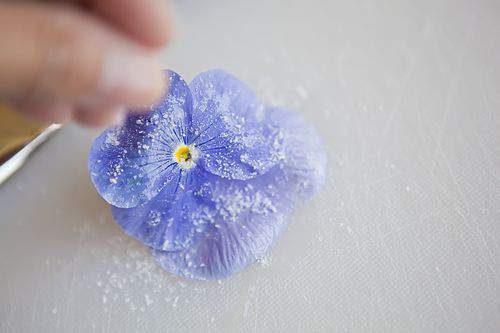 Pansies have a mild, minty-like flavor and unlike many other edible flowers, the entire pansy is edible.
NOTE: Not all flowers are edible so make sure you double check whether or not they are safe for human consumption.  Also, never use pansies that have been sprayed with chemicals or pesticides.
I think using a pansy as a cupcake topper creates a lovely (and quite unexpected) presentation.
Imagine how pretty these cupcakes would look on a dessert table.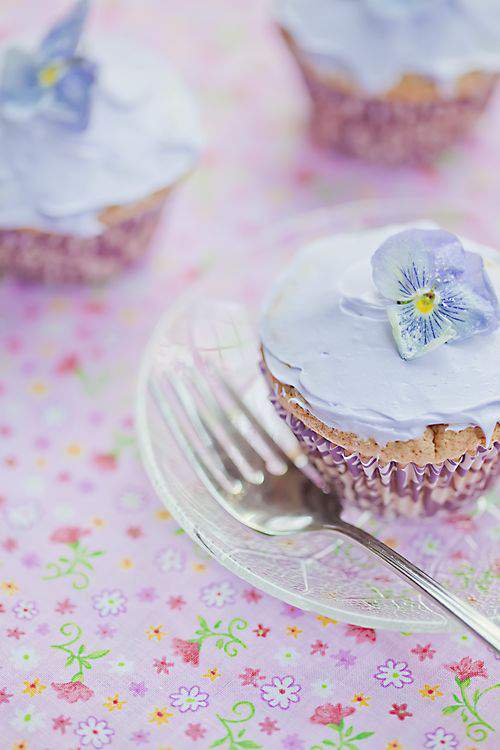 As you can see lavender can inspire just about anything from home decor to gardening to cupcake toppers.
So, how do you feel about the color lavender? ♥