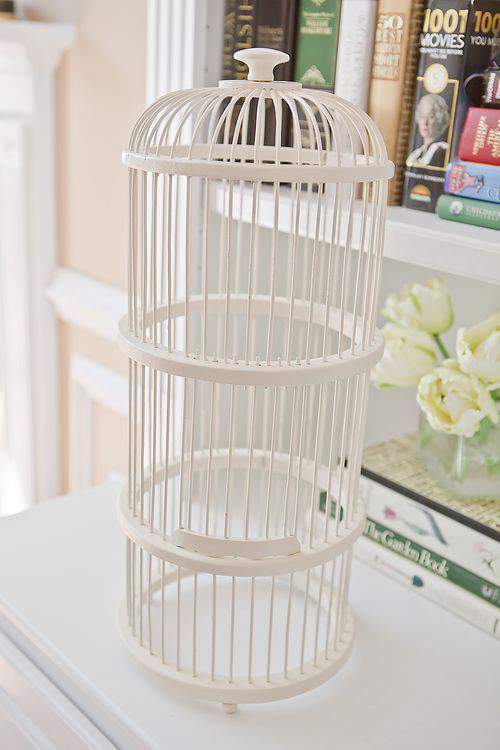 H ave you ever worked on a project that was so simple you wondered why you hadn't done it sooner?  Well, that's how I feel about this desk organizer which was the focus of a recent makeover project.
The transformation was super simple and it only required one small supply which packed a pretty big punch.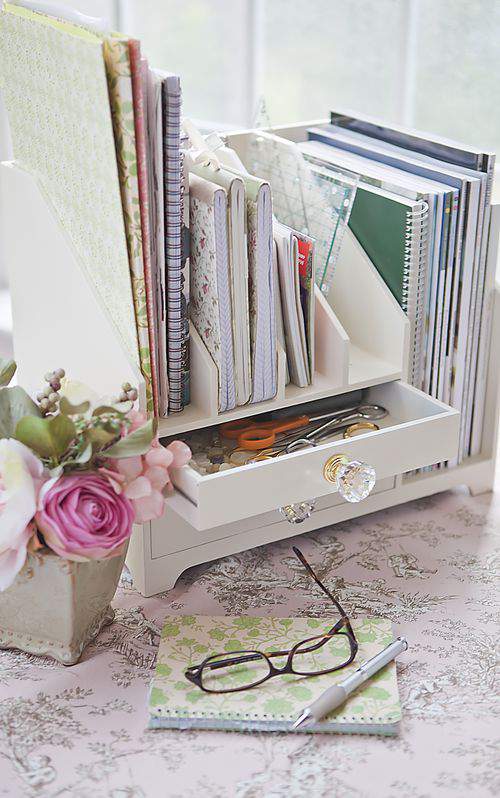 Before I get into the nuts and bolts of this easy-peasy project, allow me to share the inspiration behind it.  You may recall, I recently conducted a mini-makeover in my music room. 
The effort included transforming this ratty looking, wooden bird cage.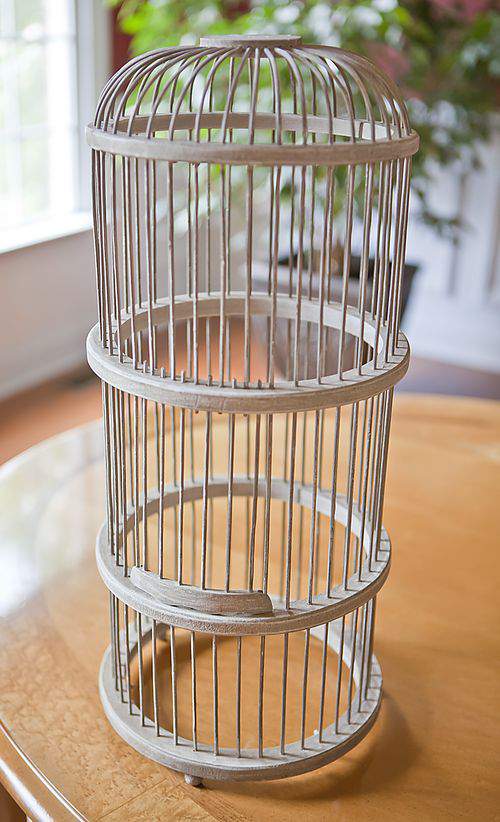 The wooden cage was transformed into a pretty accent piece and all I did was use a can of spray paint.
Almost immediately after spray painting this cage,  I started looking around my house for other small things that could use a little pick-me-up with ivory paint.
So, that's how this desk organizer came to my attention. 
With all the compartments it's quite useful, but I've never cared for the dark color (it used to belong to my husband, Boris). 
It definitely needs a lighter more feminine presentation and it's a perfect fit for my new penchant for lovely, ivory spray paint.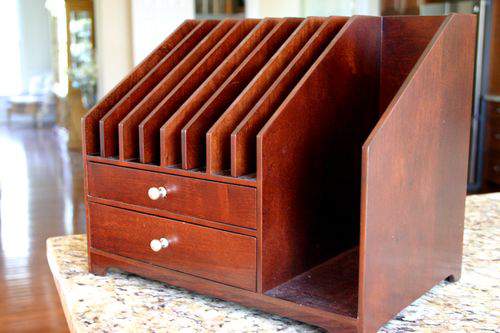 I didn't care much for the plain silver knobs either.
These must be replaced.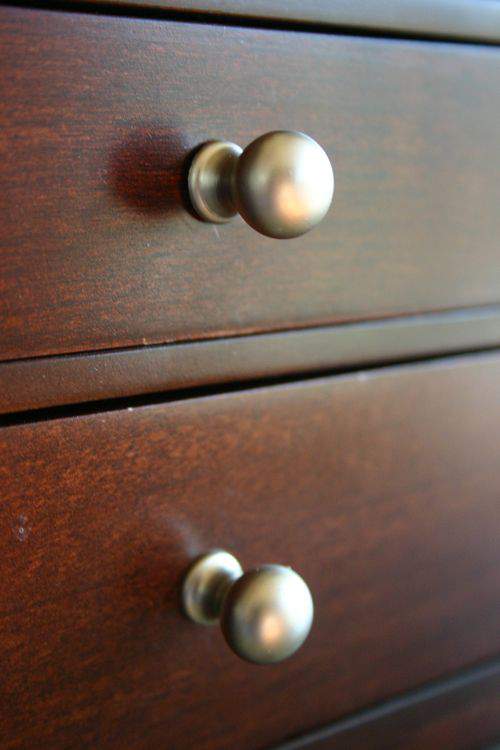 I picked up this satin paint from Home Depot for about $5 a can.  The color is called Heirloom White and it's the perfect vintage shade.
You should only need one can for a desk organizer project.  (I used the other can for the bird cage project).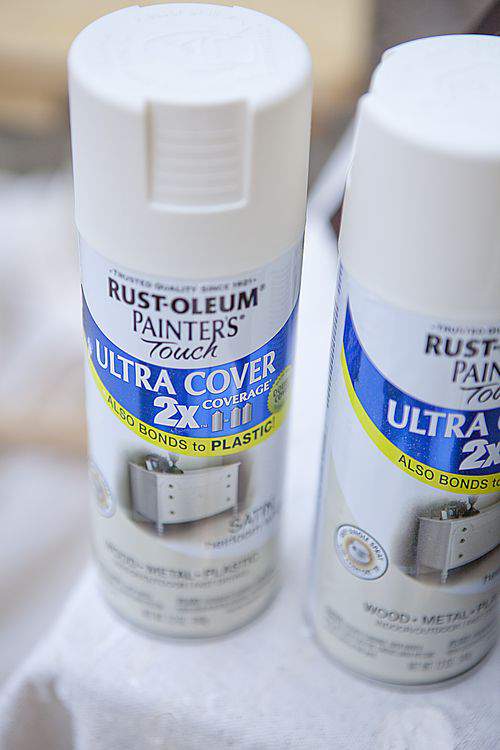 Rather than setting the organizer and drawers up outside on the ground, I elevated them on TV tables for better painting access.
Use a drop cloth to protect the tables and surrounding area.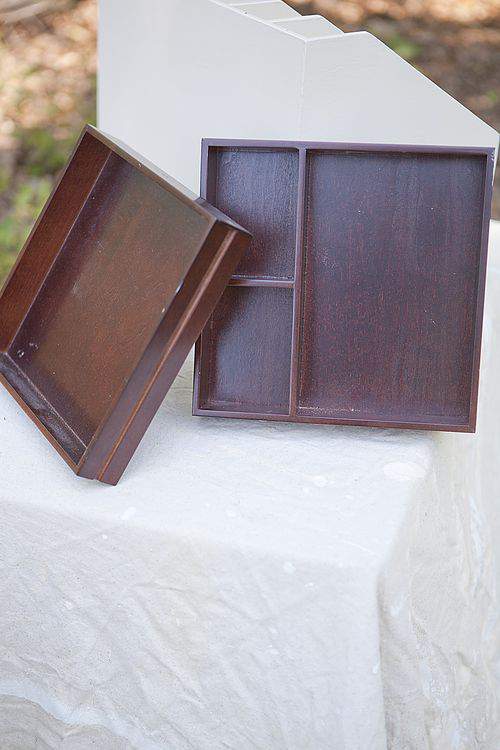 This particular paint brand provides excellent coverage.
I didn't need to prime any of the pieces before applying the spray paint.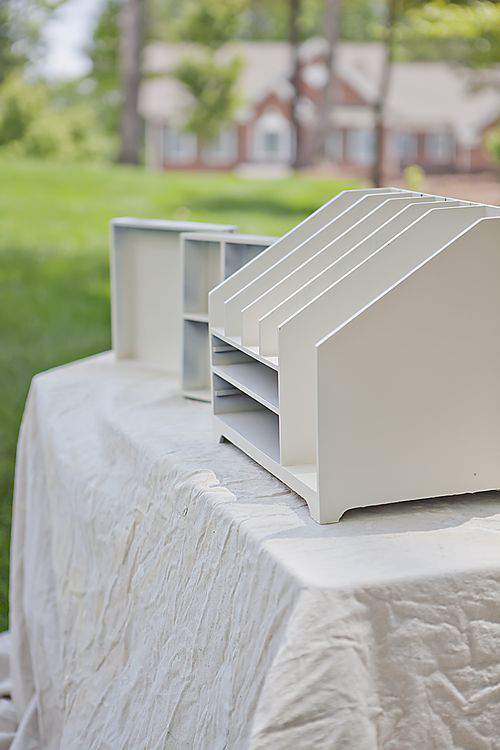 I applied three coats of spray paint to each one of the pieces.
Make sure you allow the paint to dry completely between coats.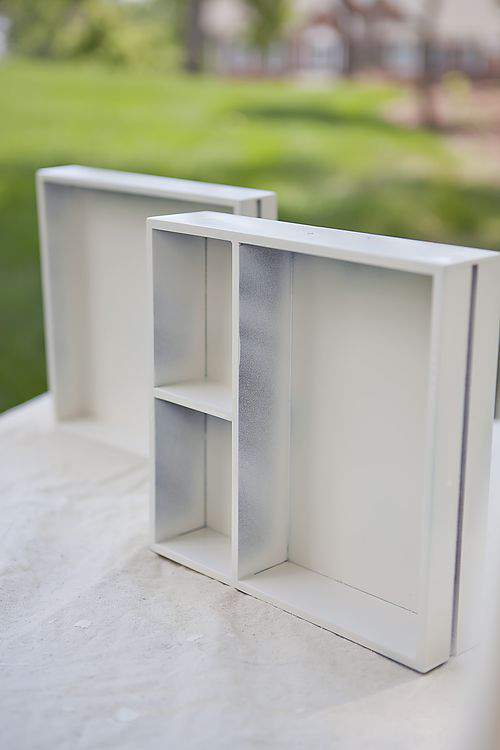 The original desk organizer had three extra wooden dividers which narrowed the slots to near-envelope size.
I needed larger slots so I decided not to use the dividers.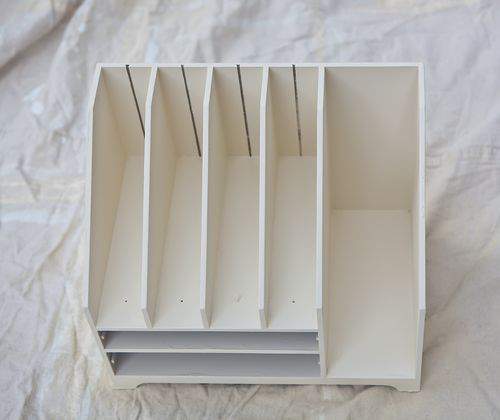 As you can see, a little paint goes a long way.
I absolutely love this new organizer and the new color is so soft and feminine. 
It definitely suits my personality much better than the old shade.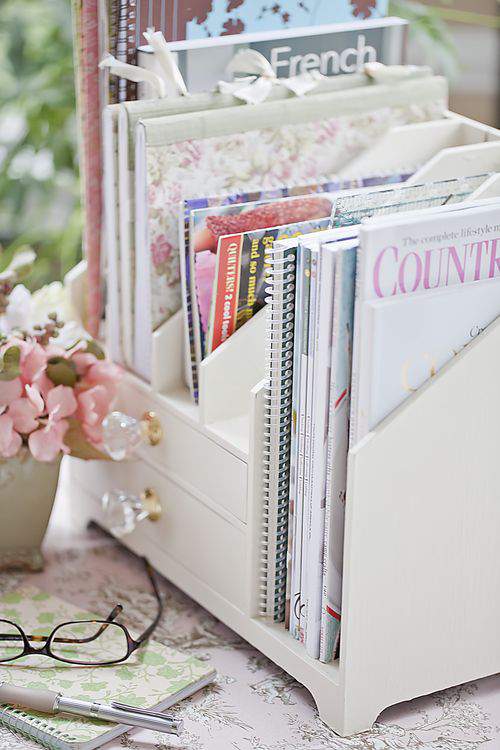 Take a look at how much better these glass knobs look compared to the original silver ones.
This is a grand improvement that nicely compliments the new ivory color.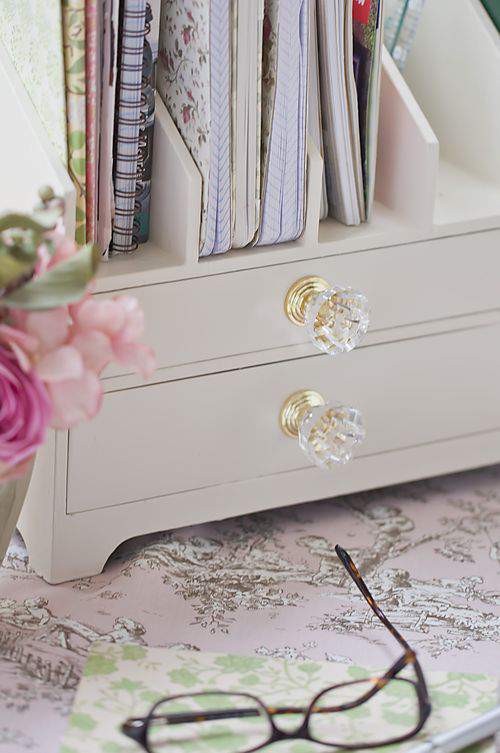 I reserved the largest slot for favorite magazines that are still on my "to-read" and "finish reading" list.
Hope I can get to these sooner rather than later.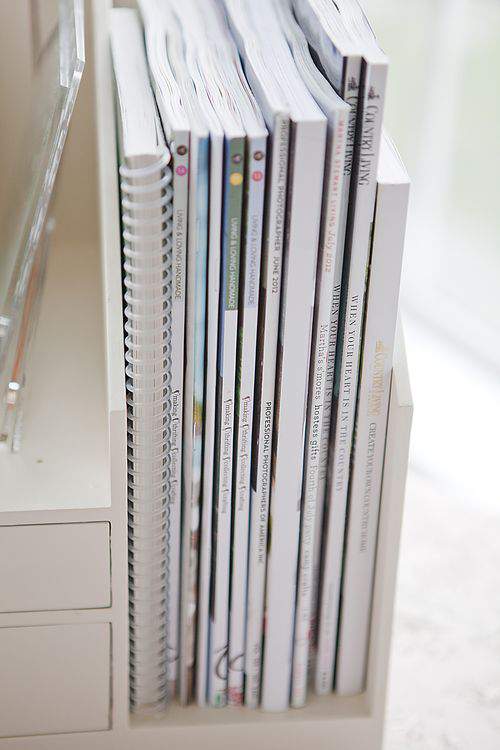 The top drawer now houses assorted scissors and other small embellishments. 
Nothing in the bottom drawer yet but give me time.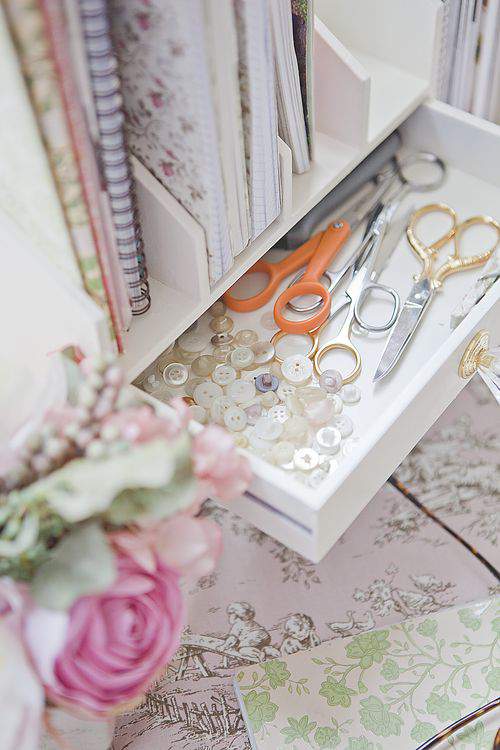 File folders, papers and hand-covered composition books occupy another slot.
I'll share a tutorial on how to cover and decorate these composition books later in an upcoming post.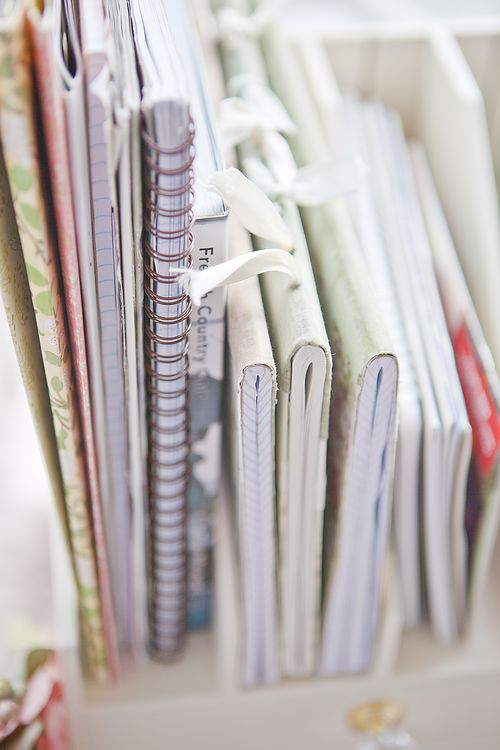 If you're looking for an afternoon makeover project this is the one to tackle.
For the cost of a $5 can of spray paint and less than two hours of your time you can turn something dark and old into something light, pretty and looking brand new all over again.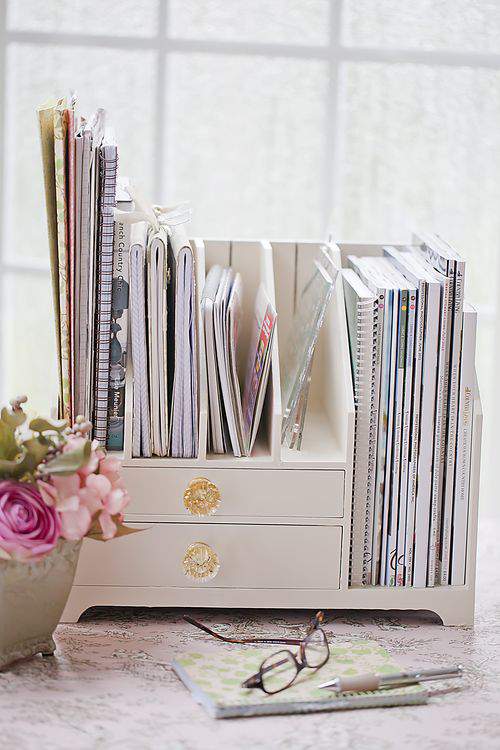 So, what have you spray painted lately? 
Are you working on any makeover projects using paint?
COMING THIS FRIDAY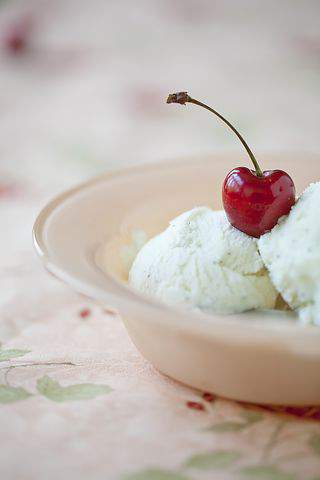 Cool off with this sweet treat.
Coming up this Friday (6/29) look for the latest edition of my delicious new, bi-weekly column, THE FRIDAY FOODIE.
I'll share more about this yummy dish of Vanilla Bean ice cream, talk waffle cones and share a few favorite books devoted to ice cream and other frozen treats.
Hope you pop by this blog again later this week for THE FRIDAY FOODIE. ♥