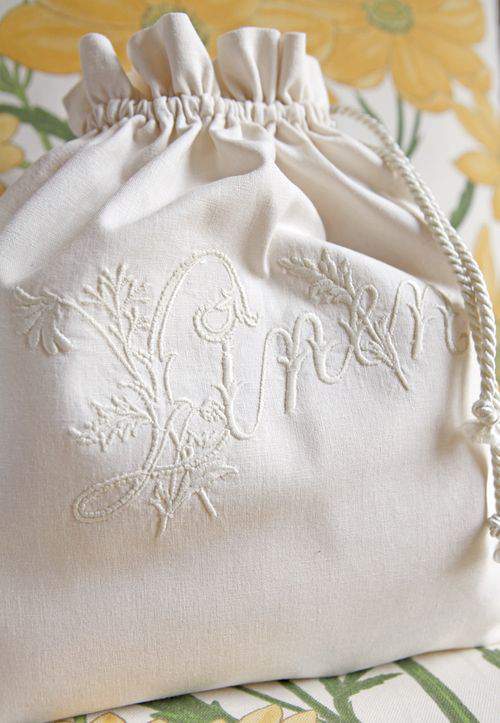 When it comes to pretty gift ideas, there's nothing quite like personalization.  I've found that gift recipients really love items that are made especially for them.
Nothing says "personalized" quite like monogramming.
I was inspired by vintage linens when I these antique monogram napkins.
Monogramming has never been easier with the help of embroidery machines.  When I purchased my  machine (about 10 years ago), my husband said, "Oh, you're never going to get much use out of that".
Well, not only do I get a ton of use out of my machine, it continues to take my gift giving to new heights as you can see in the photo below.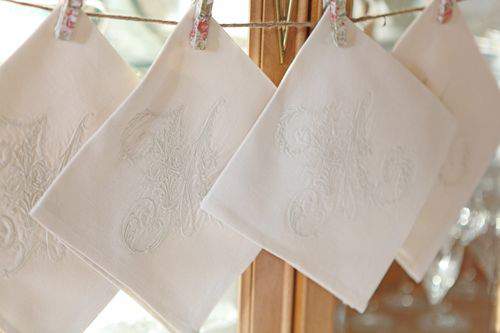 I love the subtle and soft tone-on-tone effect that's achieved when the embroidery thread color is matched with the fabric color.
An embroidery machine can even give an amatuer's handiwork, professional-looking results because the machine does most of the work.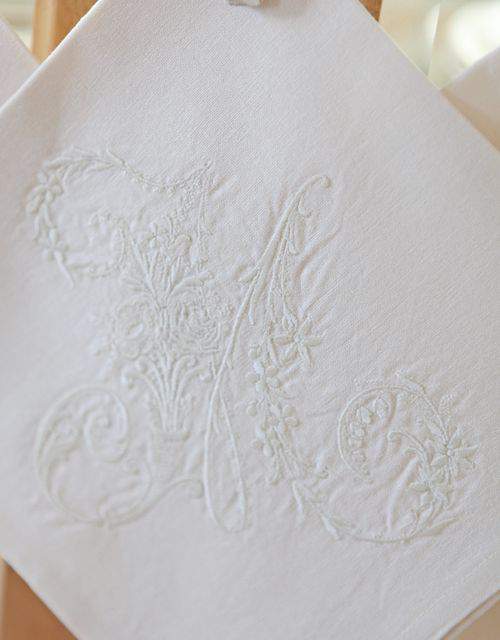 The covered clothes pins used in my display are another easy-to-make project that also make fun gifts.
You can see my previous tutorial on how to make these colorful, decorative pins if you click here.


Before I get into the nuts and bolts of this embroidered napkin project, allow me to share the inspiration for it.
I love to browse through books that feature pretty linens and lace and I have a nice little library built up.  One of my favorite reference books is called Glorious Linens.
While the book is filled with beautiful examples of vintage linens, I was particularly struck by the photos on the inside flap which you can see in the photo below.
These are some of the prettiest embroidered napkins I've ever seen.
During my effort to track down the exact embroidery disc used for these napkins, officials with the book publisher told me these were not machine embroidered but were antique, hand-embroidered napkins that were borrowed from a private collector just for the book, photo shoot.
Wow, these are hand embroidered?  I confess, this looks much more like machine embroidery to me than hand embroidery but I must take the book rep at her word.
 For the monogram portion of this project, I ended up using a vintage-looking design from a different embroidery collection I found on E-bay.
Note: This gorgeous alphabet in the print below is called Victorian Whitework Font.  If the bid date has ended for the link I provided above, simply do a search for it because it seems to be a regularly listed item on E-bay. 
I was one of two people bidding on this design at the time and I won it for $13.  However, immediately after I purchased mine the same collection was re-listed for $4.90 and the buyer I was bidding against picked it up for the cheaper price a few days later.  So, I think you'll be able to get it for a decent price.
Here's a closer look at some of the letters in the Victorian Whitework Font Collection from which I selected the letter "M".

OK, enough about embroidery designs, let's move on to the napkins.  Of course, you can always purchase a set of pre-made napkins but if you prefer to make your own, they're easy to construct.
First, determine the size of napkin you want to create.  I settled on typical, dinner-size.  I cut my linen fabric into four, individual 17″ X 17″ squares.
Cotton, linen or linen look-alike fabrics are all good choices for this project.
After the fabric squares have been cut, simply turn the edge over about 1/4-inch on all sides and iron.  Turn over another 1/4-inch and iron again, concealing the raw edge.
Then, stitch the lower edge in place all the way around the napkin.  Iron again to eliminate any wrinkles or creases.
Note: I didn't miter the corner of these napkins but it's worth noting that gift napkins look the absolute best when the corners are mitered. 
Look for a special tutorial on mitering techniques with examples of mitered projects later in an upcoming post.
Once the edges have been turned over and stitched into place, it's time to mark the fabric for proper embroidery placement.
Fold the fabric in half and then fold it into quarters and iron.  Leave a decent crease so that the folds in each quarter will be easily visible.
Always use a water soluble pen for any marking.
Mark the quarter section vertically and horizontally.  The point at which the two lines meet represents the center of this quarter.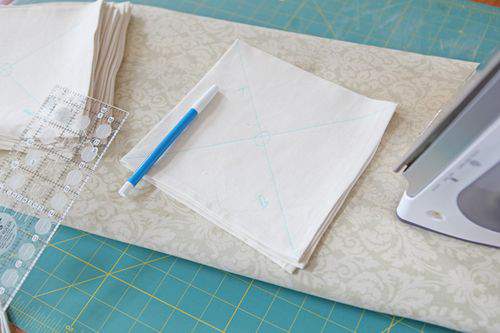 You may find it helpful to circle the center and also make a small reference to the top and bottom of the design to use as guides.
Remember, all markings can be easily and completely washed out after the project stitches out.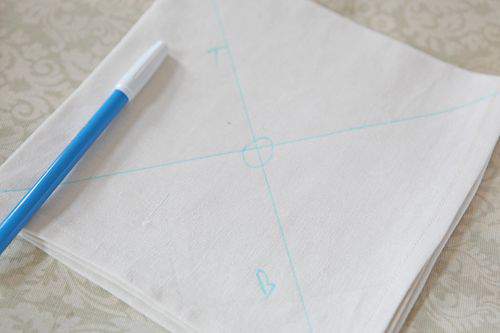 Use your monogram template to mark the position of the design along your marked lines.
If you don't have a paper template (or the software to create one) you can also stitch out a sample design and use that to help determine exactly where you want the design to fall within the marked area of your fabric.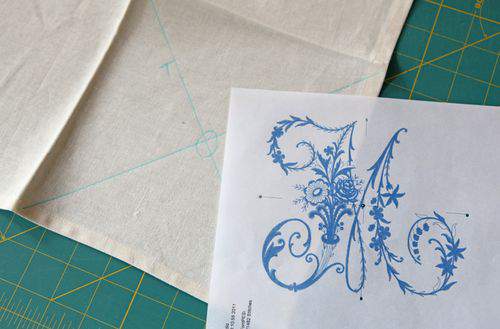 Once the quarter section of the napkin is marked, secure the fabric in the hoop and begin the embroidery.
Note: The extra layer you see on top of the fabric here is heavy duty water soluble stabilizer.  It helps ensure the design is stitched out without any shifting.  Even minor shifting within the hoop during the embroidery process can throw off the design giving you less than perfect results.
I use a small piece of water soluble stabilizer on top of the fabric as well as a piece under the hoop for maximum stability.  Once the design is stitched out, gently rinse out the stabilizer with warm water and hang project to dry before ironing.

For most embroidery projects, you should use embroidery bobbin thread which generally comes in white, black and beige.
Embroidery bobbin thread is thinner (and less expensive) than the colored embroidery thread.  Also, a lot more bobbin thread can fit onto the bobbin than regular embroidery thread.
It makes sense to use bobbin thread on most projects so you don't use up the more expensive colored thread for an area that mostly likely, will never be seen.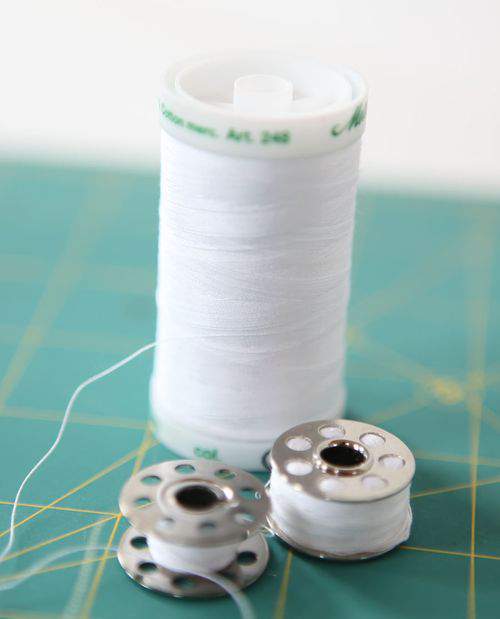 However, when monogramming a single-color project (like napkins) in which the backside will be clearly visible, I suggest you to use the same embroidery thread in your bobbin that you are using for the monogram.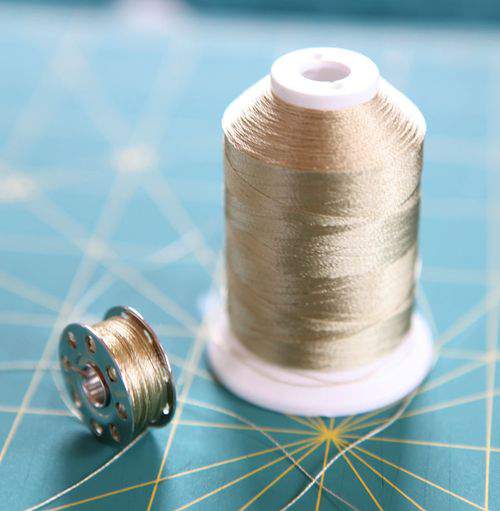 Take a look at the sample napkin in the photo below.  I stitched out the monogram using a Pistachio color in order to gauge the size and appearance of the design.
As you  can see, this particular embroidery design looks beautiful in whatever color it's stitched out in.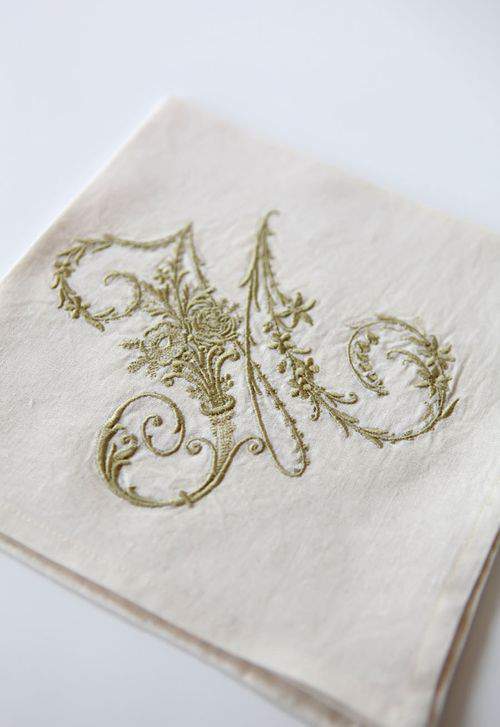 I used the same Pistachio color in the bobbin and you can see how nice the backside of the project looks.
This is a clean, top and bottom presentation because the wrong side looks almost as if it could be the right side.

Meantime, when it comes to gift giving, I try to package my projects in delightful and unexpected ways that add to the personalization of the gift.
While these napkins would look just as pretty wrapped in tissue in a small gift box, I decided to "bag" them instead and add a little extra embroidered touch.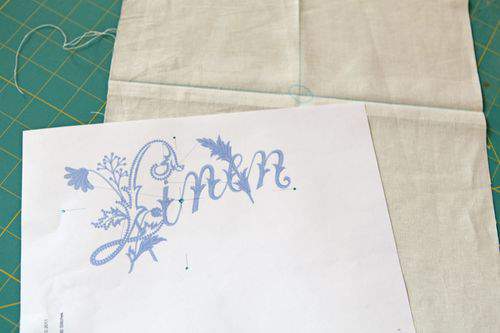 Here's a look at my completed, drawstring napkin bag.  This particular "Linens" design is included in the Glorious Linens embroidery collection I mentioned earlier.
You can see how to construct a slightly different version of this easy-to-make, gift bag in an earlier post if you click here.
You can find this twisted drawstring in various widths and colors in the piping or trim section of most fabric stores.
I think this is such an elegant and descriptive presentation.  The gift recipient will know exactly what's inside the bag without even opening it.
Here's a look at my khaki-colored linen bag effort which is still under construction.
Note: You could also add the monogramed letter on the back this bag to match the napkins inside which would give the gift additional personalization.
Here's another look at the contents of the linen bag.
While these finished embroidery designs are not as intricately detailed as the original designs that inspired this project, I think the finished result is still quite elegant.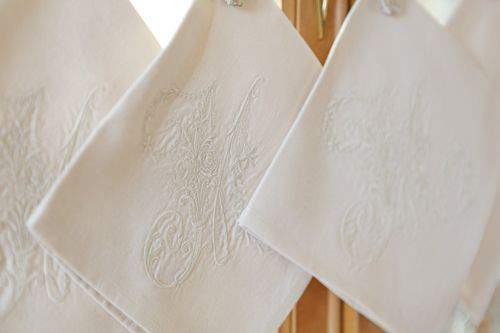 Vintage hand embroidery is often passed down from generation to generation.
You never know, after enough time has passed, perhaps these simple handcrafted machine-embroidered items will be considered an heirloom one day.
 Imagine how excited a gift recipient would be to recieve a pretty linen bag filled with pretty, personalized linen napkins. You just can't go wrong with a gift like this.
By the way, I made these magnificant monograms as a surprise gift to my twin sister whose married name begins with "M".
Shhh, don't tell. ♥