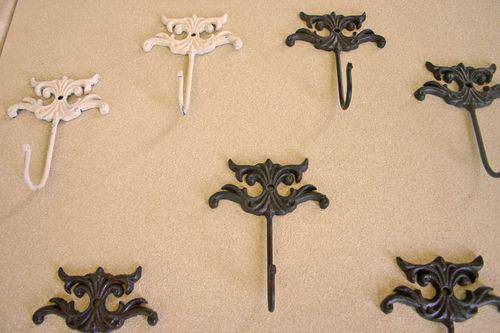 Pretty aprons don't grow on trees, but it sure would be nice if they did, wouldn't it?
I've had this collection of homemade aprons for a while but until recently, they were unceremoniously relegated to the back of a dresser drawer.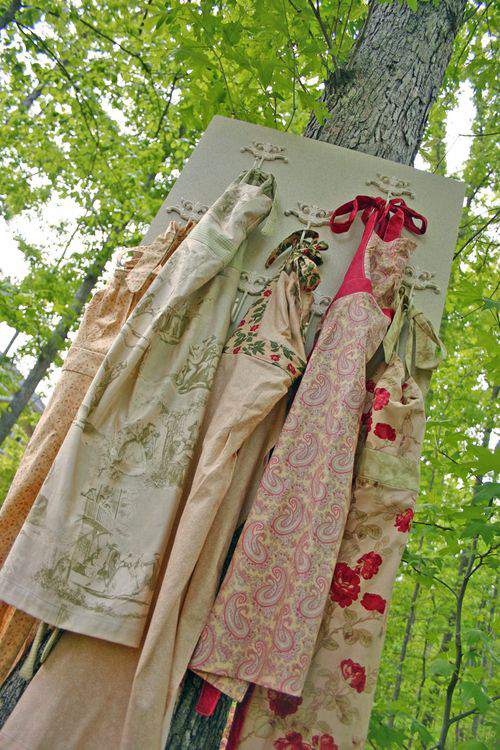 I decided to make this holder so the aprons would be more easily accessible when I need a cover-up for a paint project or some other potentially messy craft endeavor.
Throughout this post, I'll walk you through the simple steps involved in making this easy apron rack.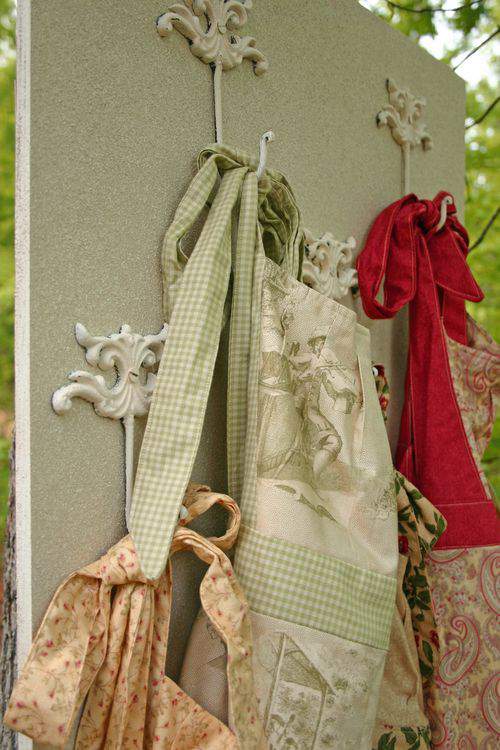 Start the project with pretty hardware.  I recently found these wonderful wrought-iron hooks for $2 dollars each.
With a deal like that, I grabbed a handful even before I knew exactly what I was going to do with them.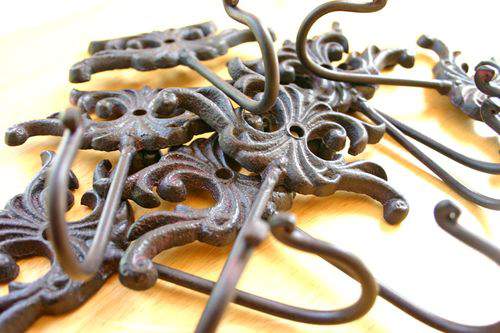 While I love the rustic, look of these hooks, once I settled on a project I realized this dark/heavy color wouldn't quite do.  My plan called for a lighter approach.
Of course, that's an easy enough fix.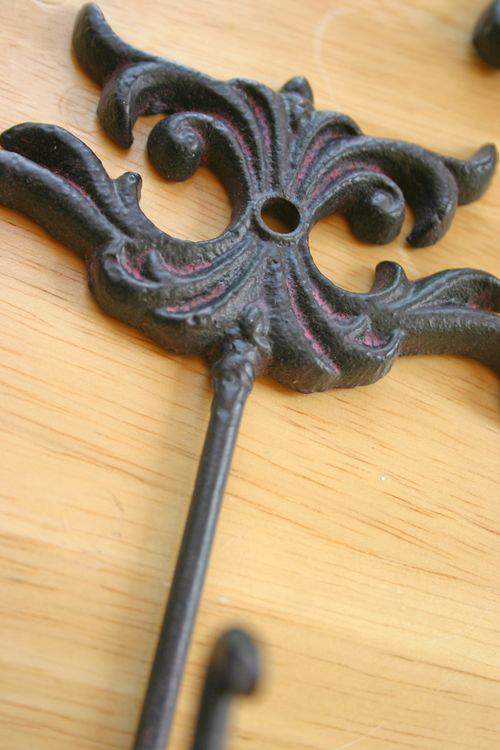 Enter a dab of wheat-colored latex paint into the picture and the hooks are quickly transformed.
Apply the paint in a stippling motion as if stenciling the wrought-iron.  By stippling the paint, little specks of the original dark color will still peek through the new color.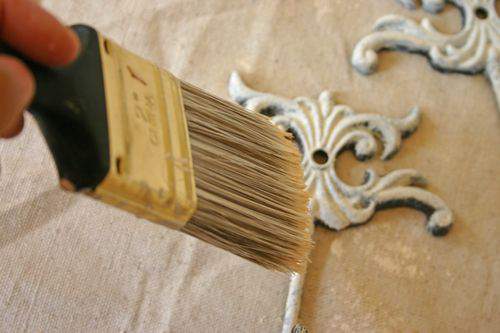 I think the addition of the wheat color definitely gives these hooks a softer, more vintage appearance.  I like it.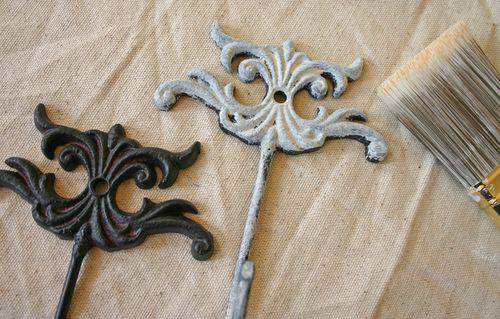 You only need a few other supplies for this project including, primer, a wood board, paint as well as picture-hanging hardware.
Because my hooks are wrought-iron I wanted the backboard to have a similar look so I used a textured paint.
This spray paint resembles stone when applied to a surface.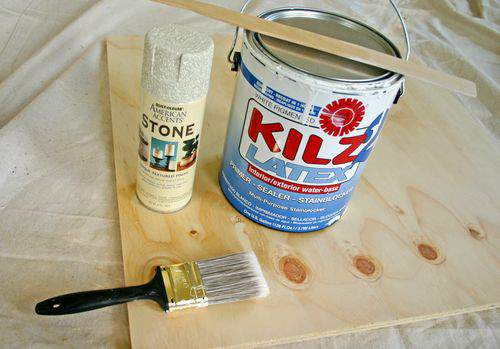 Before applying the textured paint, add a coat of primer to the project board surface.  This will help the paint adhere evenly to the wood board.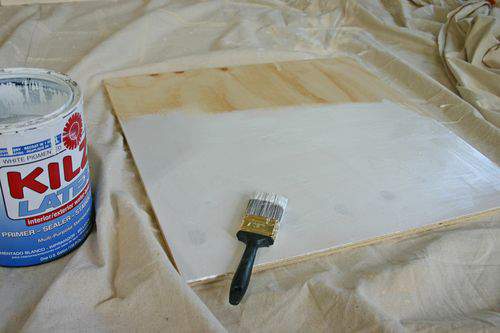 If you don't already own a drop cloth, this is a good item to have on hand.  You can pick one up at any paint or hardware store.
I use this drop-cloth all the time for various indoor paint projects and it provides perfect floor protection and eliminates the need to spread newspaper all over the place.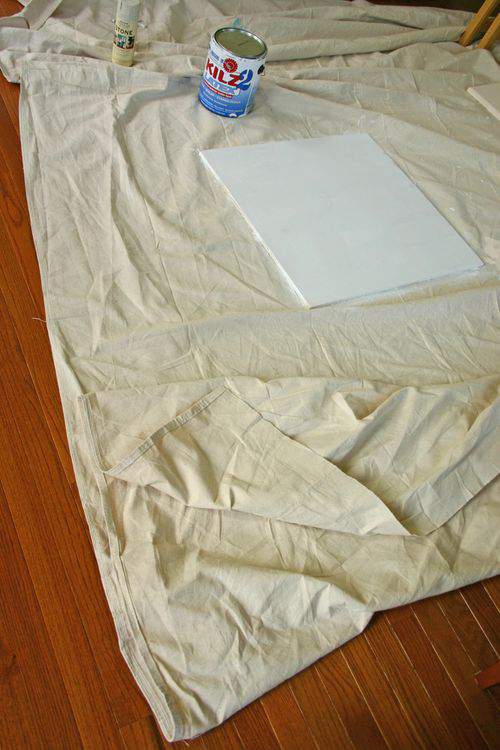 After the primer dries, apply the desired paint.  This project required several layers of the textured spray, but it was quick drying.
When using paint sprays, remember to always use them in a well-ventilated space, or better still outdoors if you can.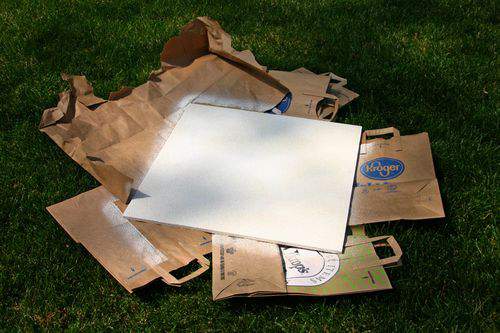 Here's a closer look at how the stone, textured paint looks.
I can think of lots of great ways to use the effect, including old flower pots or outdoor furniture just to name a few possibilities.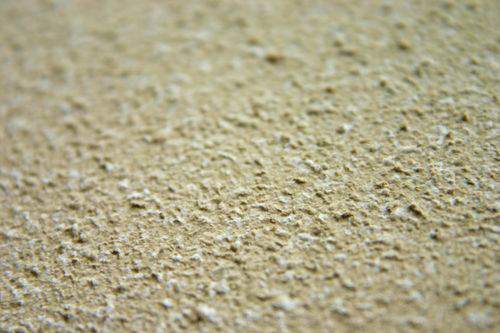 Once the board has dried, arrange the hardware to get a sense for the desired layout.  Try several different arrangements, keeping in mind how the board will be used.
Because this is an apron rack, I staggered the hooks in a way that would keep the pretty hooks visible even when the hooks are in use.
Finish painting the hardware and use wood screws to attach the hooks to the board. 
Note: When buying the screws, make sure they are long enough to secure the hook into the board, but short enough not to punch through the back of the board when screwed in place.  
Once the screws are in place, dab each one with the paint so they blend in with the painted hook.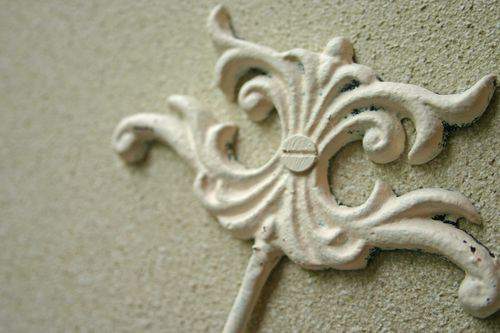 Applying picture-hanging hardware is pretty easy too. 
Just screw the hooks in place on both ends and add the wire.  Twist each wire end several times to secure.  Attach the hardware about mid-way on the back of the board to ensure it's invisible once it's hung in place.
 
When aprons (and other crafts supplies for that matter) are in plain view, I think they're more likely to get used.  Of course, that's precisely the point.
For now, this new apron rack looks fine right next to my homemade thread board which is another easy-to-make storage solution for assorted threads.
This apron rack is an all-in-a-day DIY project that's also pretty fun to put together.
There's no better time to get those craft aprons out of that old drawer or box and just hang 'em high. ♥