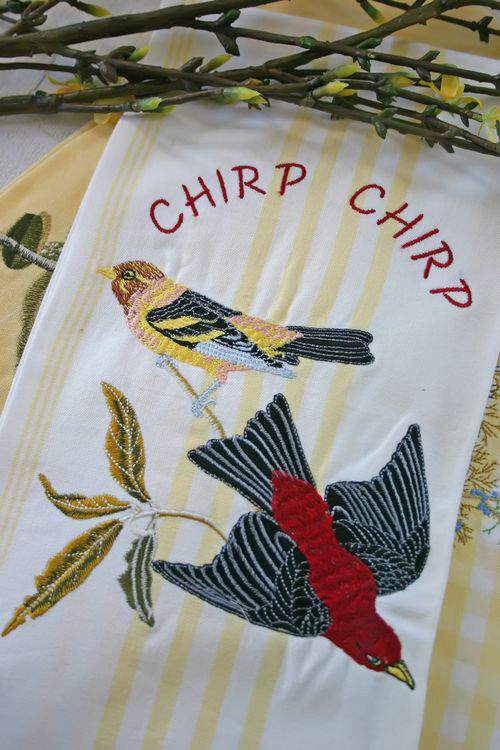 These days when you hear Tweet-Tweet, it usually  has something to do with Twitter.   However, this project has nothing to do with that popular social networking system.
This post is all about sweet looking feathered friends that come to life thanks to a little embroidery.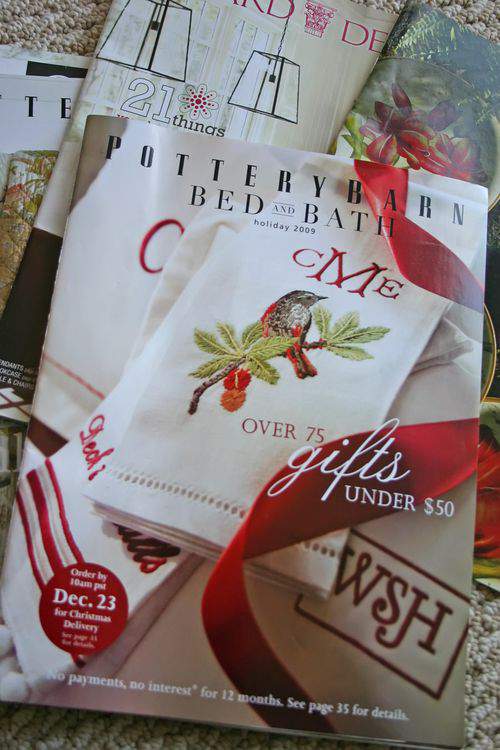 Sometimes inspiration for my various projects comes from a most unexpected source, as it did with this creation.
I was purging a ton of holiday catalogs a few weeks ago when this Pottery Barn cover caught my eye.  "What a pretty embroidered bird and branch", I mused.
Of course, I immediately had one of my "hmm, I can make that" moments as well as the idea for this blog post.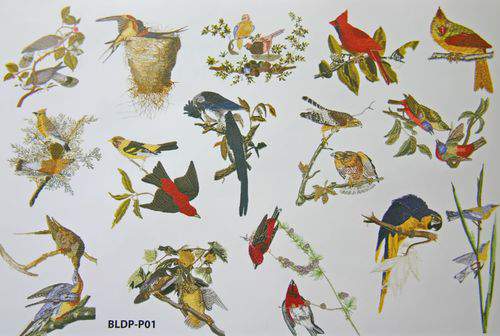 The embroidery disc I used for this project is called Scenic Birds and includes a nice variety of birds and their nests.  There are 15 different images in this collection which also includes a few designs that are nearly a foot tall.
I've had this embroidery disc for years but never did much with it.  I was pleased to pull it out and put it to good use after so long.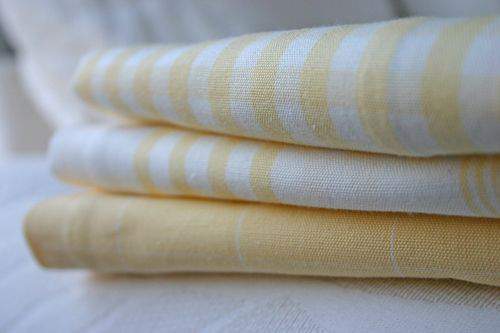 I'm always on the lookout for pretty linens and tea towels to use for embroidery projects.  You can find beautiful, inexpensive cotton pieces just about anywhere so keep your eyes peeled.
I try to keep a linen stash on hand so I'm ready when the embroidery bug hits me.  These creamy, lemon-colored and striped tea towels are perfect for this project.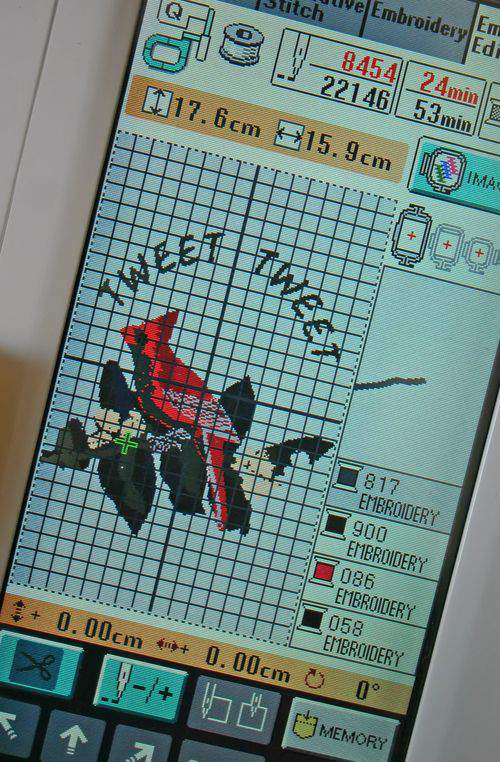 If you're considering purchasing an embroidery machine this year, there are wonderful systems on the market today to suit any need and budget.
One feature that most machines have in common is the ability to add text to the image and to view the project along with other important embroidery details including stitch count, thread color order, hoop size and estimated completion time.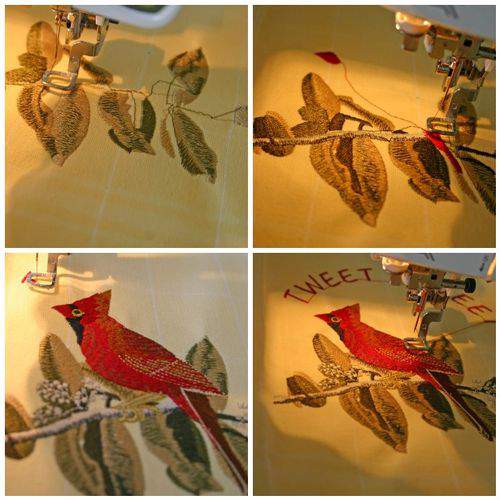 I love to watch the embroidered image slowly take shape on the fabric.  What starts out as a few nondescript stitches evolves with each subsequent thread change.
Eventually the beautiful, intricate image is revealed.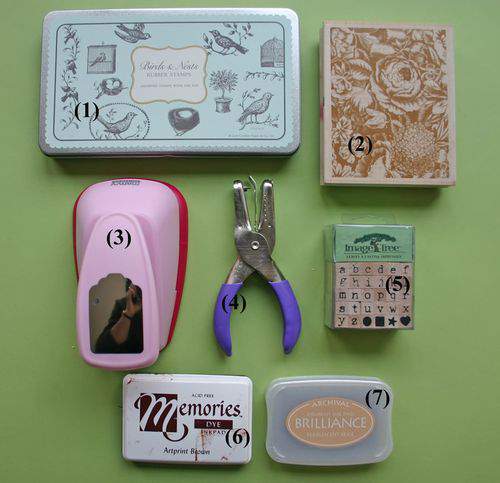 If you're making embroidered tea towels for a gift, the addition of a tag is a great finishing element.  I'm pretty big on handmade tags because they're fun to make and they add a nice touch to any project.
To make the gift tag you'll need the following supplies; 1-main stamp, 2-a background stamp, 3-a tag punch (minus my partial reflection), 4-small hole punch, 5-a set of mini alphabet stamps and 6/7-light and dark shade of rubber stamp ink.
Punch out several tag shapes.  Use the floral background stamp to cover the entire tag area.  I suggest you also stamp the back of the tag with the background stamp for a more uniform and finished look.
Using a darker colored ink, stamp the main image (in this case the bird) onto the front of the tag.
To personalize the tag or add a cute title, use the mini letter stamps to spell out a phrase, word or "tweet".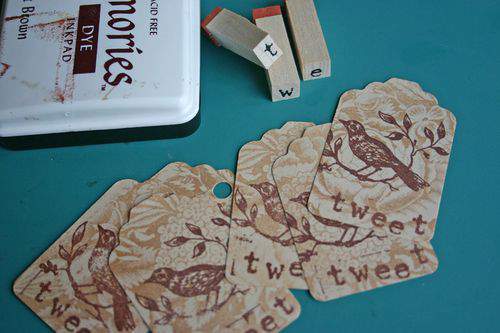 You can tie the tag with pretty ribbon or raffia.
Raffia is a multi-use fiber that's often used in basket making and it's available at in a variety of colors and is available at most crafts stores.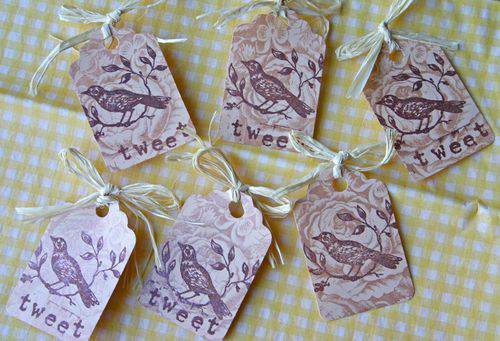 I'll get back to the tags in a bit.
First, here's a closer look at how each of the embroidery designs in this tea towel trio stitched out.
I think they all look nice but I've gotta say the red cardinal is my favorite design in this set.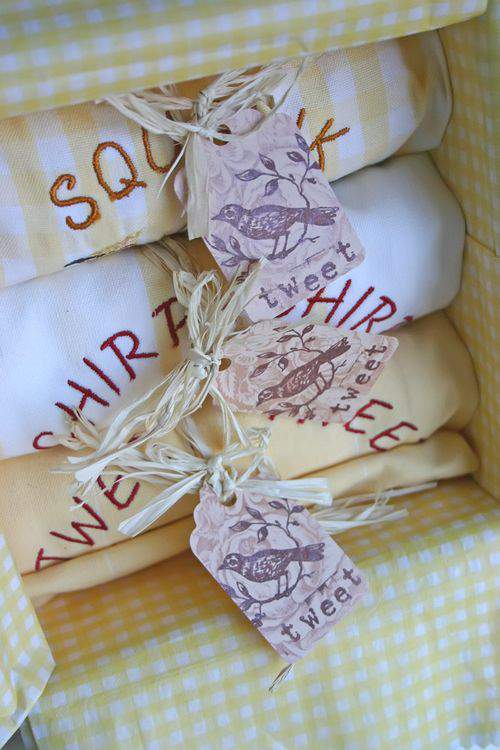 Stack the tea towels in a close-fitting box or tissue-filled gift bag for a great presentation and an equally great offering for someone special.
I really love how nice and neat these towels look all lined up like this and I think the little tweet-tags give the set a more boutique-like appearance.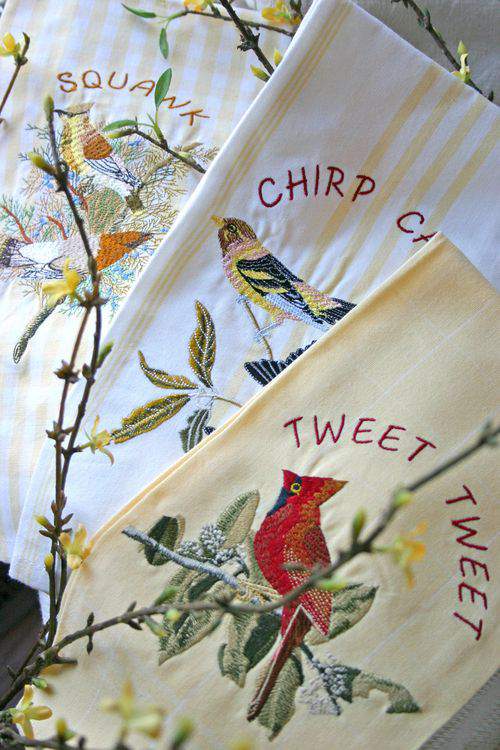 While on the subject of birds, the annual Great Backyard Bird Count is right around the corner.  For four days in February birdwatchers across the country will keep their eyes peeled on their own yards to help count birds.
The collected data is extremely useful to scientists to help understand where our feathered friends are actually located in real time.  Click the link above for more info on the free, online Great Backyard Bird Count event and how you can participate in your area.