How many times have you walked passed the window of a favorite shoppe, peered in, admired an item on display and then thought to yourself, "hmm, I'll bet I can make that"? 
I find inspiration for various projects just about everywhere including window displays.  I often come across things that I think would be really fun to at least try to make myself.  That's how I came up with this fun, colorful holiday project.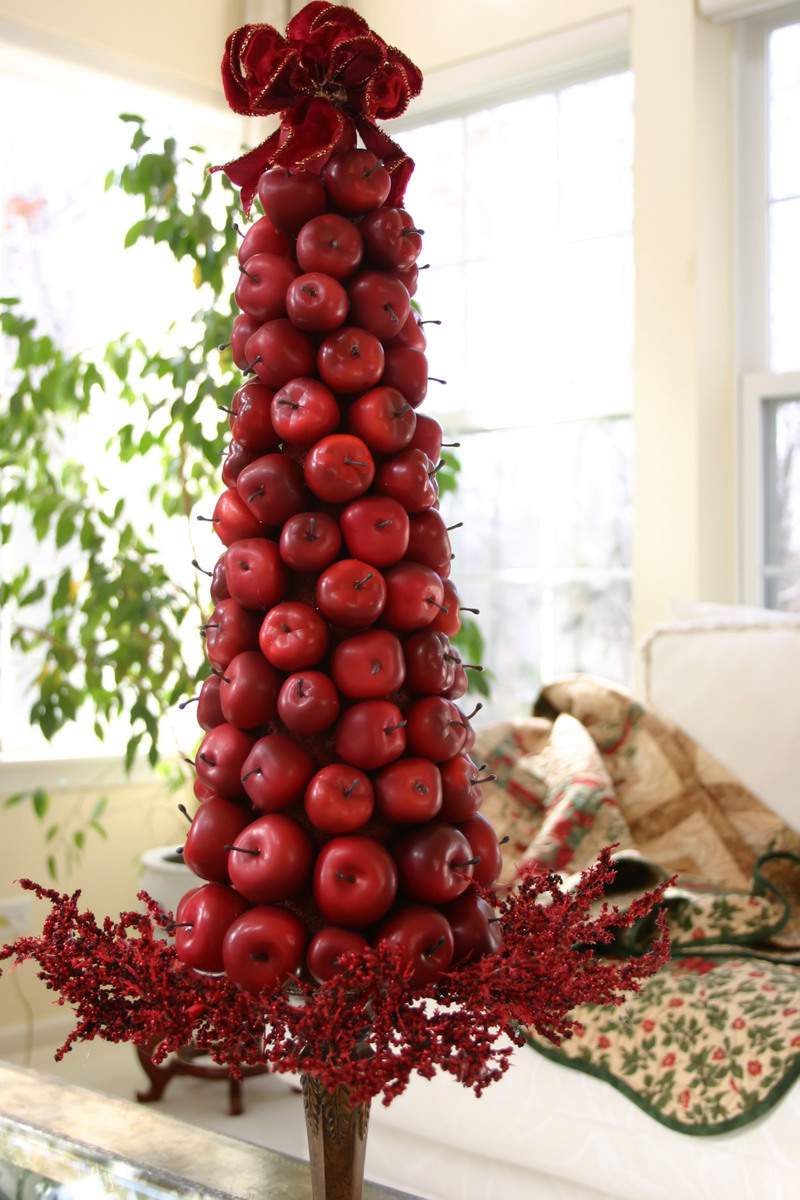 I spotted a similar cone-shaped holiday arrangement in the window of a fancy home decor store recently and decided to tackle the same project.  This was so easy too. You'll need only a minimum of supplies starting with acrylic paint and a Styrofoam cone.
First, paint your Styrofoam cone the same color as your embellishments.  Because of the irregular shape of the apples here, they didn't line up perfectly.  I didn't want the original green from the Styrofoam to show through so I painted it to help conceal the spaces between my embellishments.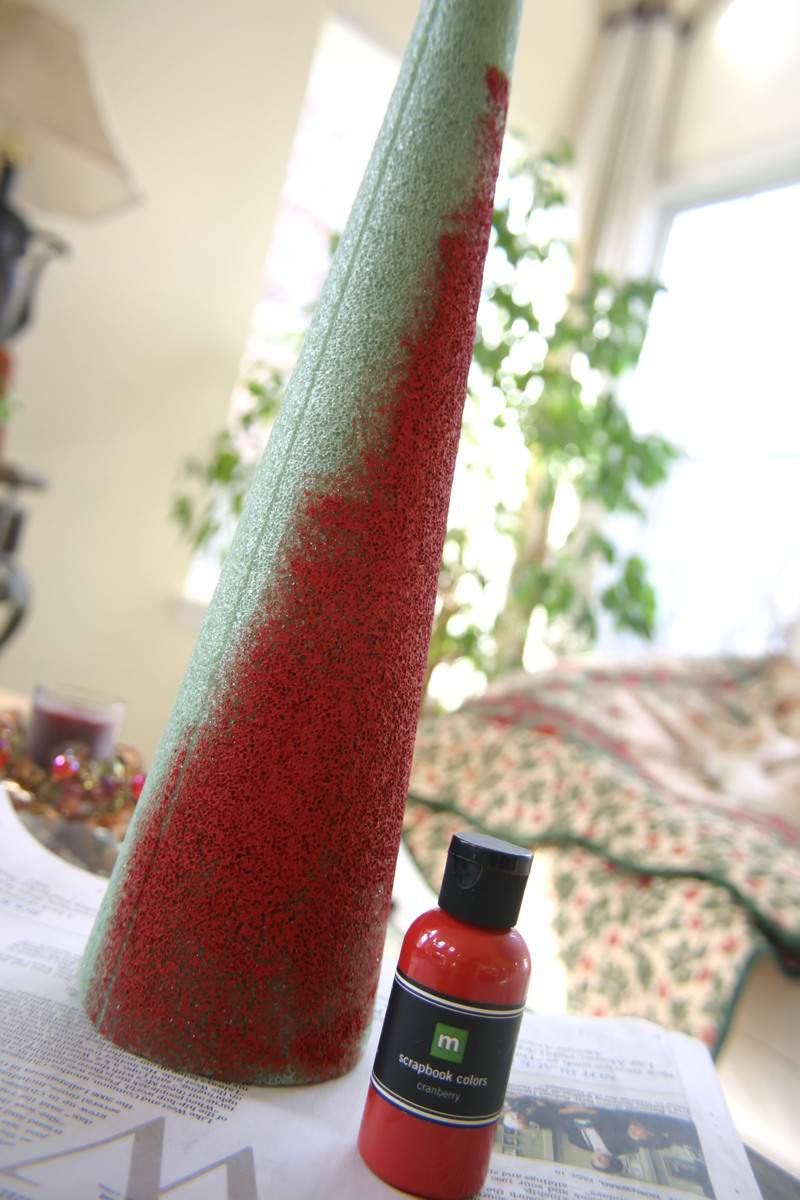 The original cone-shaped centerpiece in the store window, was decorated with tiny burgundy berries.  However, I decided to put my own personal twist on the project by using these cute little faux apples which I found at a craft store.
Consider how many apples you may need to cover the entire cone.  I initially underestimated how many I would need and ended up having to make a second trip to buy additional bags of apples.  Better to have too many than not enough.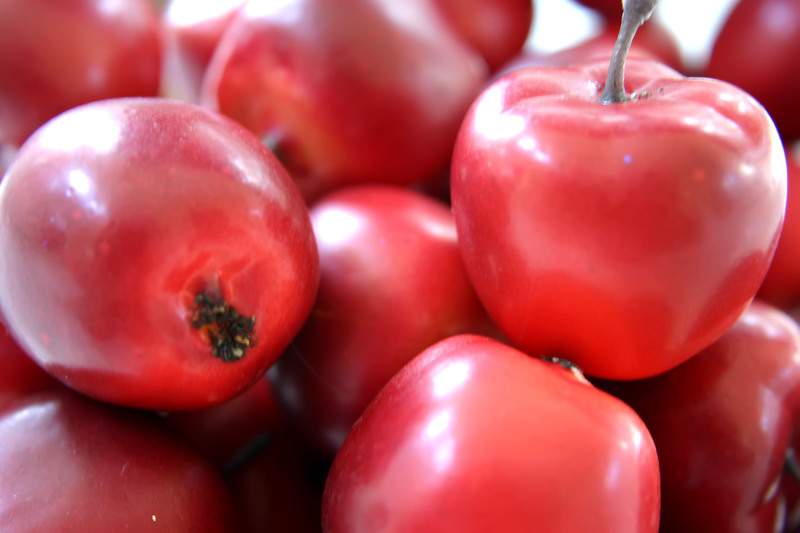 Use a glue gun to adhere the apples to the cone.  Start at the bottom and work your way up.  Make sure your apple stems are pointed outward.  In this case the bag of apples came in assorted sizes so I started with two rows of the larger apples as my base, and then adhered the smaller ones as I glued my way up the Styrofoam cone.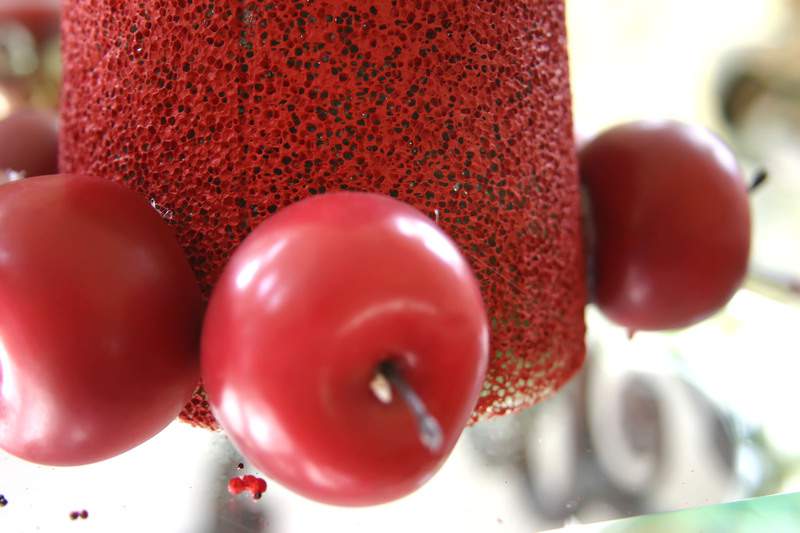 You'll also need to add a floral or leaf base. These red berry stems are perfect.  I'm sure you can also find these at any large craft store, especially this time of year.  These are typically used in wreath making but you can always find multiple uses for them.  I also use various wreath stems like this to decorate my Christmas tree, which I'll share later in a different post.
When you put the wire ends into the Styrofoam, make sure you angle the wire upward toward the top and center of the cone. If too many of the stems are implanted too close to the bottom of the Styrofoam, you run the risk of weakening the bottom of your cone and possibly chipping off chunks of the Styrofoam.
Use your glue gun to adhere the base of the cone to the rim of an old candlestick or even a new one.  I picked up this candlestick at Hobby Lobby craft store on a clearance shelf.  I had to do a bit of rummaging to find a keeper, but that's part of the fun of searching for something unusual and inexpensive at the same time.  I just love a good hunt for a bargain.  Don't you?
Finally top your cone off with a pretty velvet ribbon and VIOLA, you're finished!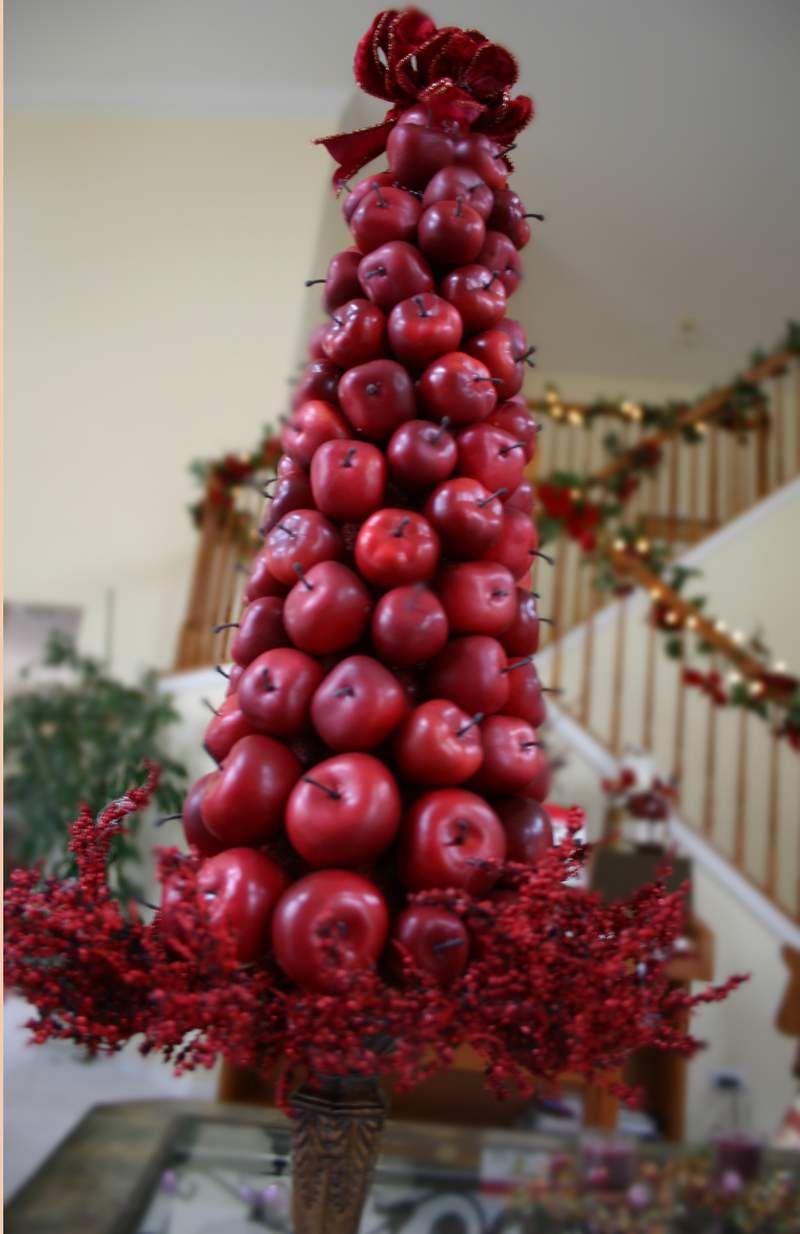 I'm really happy the way this project came out and I think I actually may tackle a second one, so that I can have two cone arrangements to balance my fireplace.  Glad I walked passed that home decor shoppe for this bit of inspiration.  This was a really fun and easy project. 
So if you're ever stumped for inspiration this holiday season, why not go a little window shopping.  You just may find a lot more than that cashmere sweater.  Happy creative holidays!