There is nothing quite like the smell of gingerbread cookies baking to remind me that the holiday season is upon us.
I love making gingerbread cookies and I make a ton of these traditional cookies every year in just about every shape of cookie cutter that I have.
However, this year… I made some with a bit of a twist in the form of sweater-shaped molded gingerbread cookies.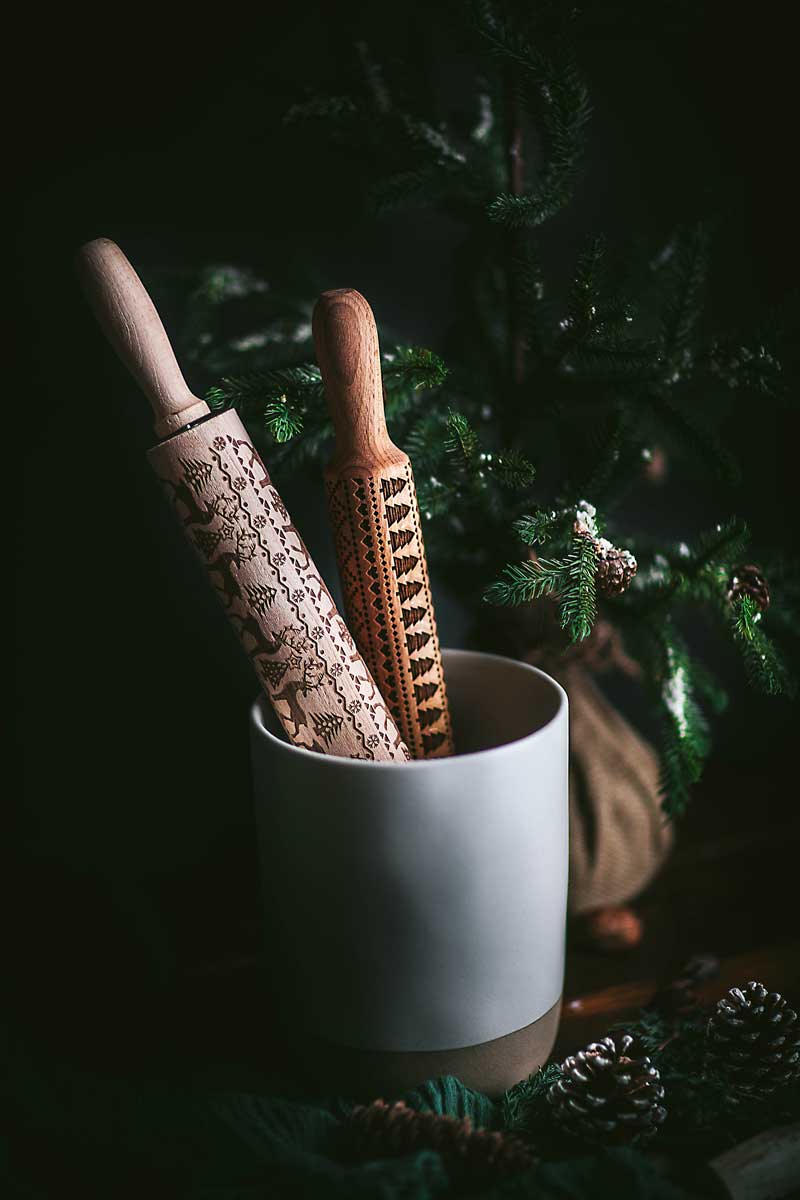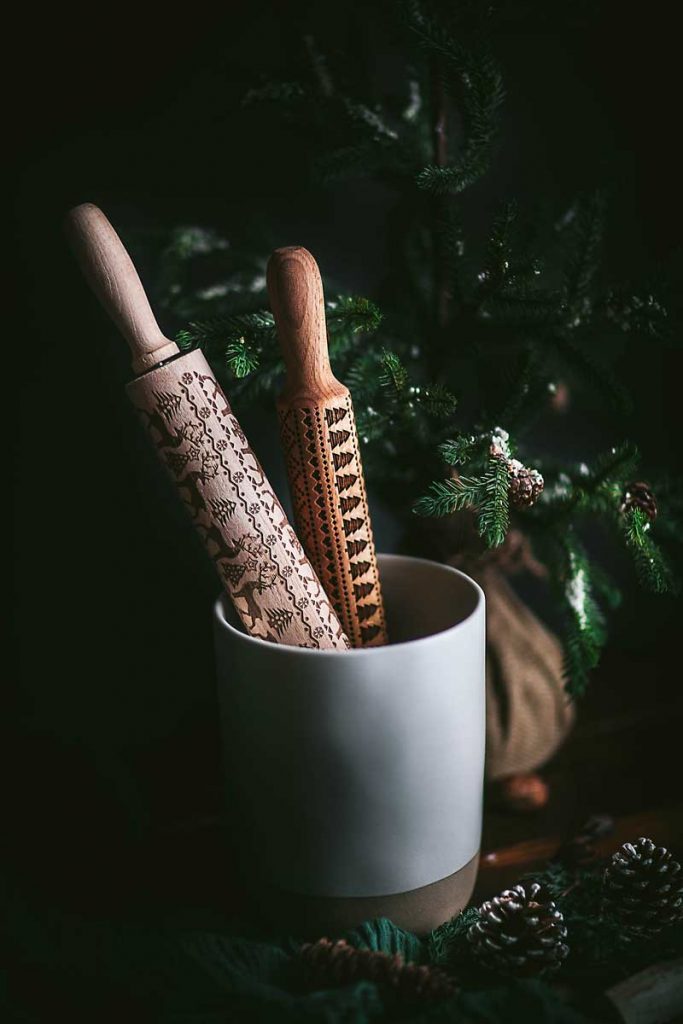 At the heart of molded gingerbread cookies are molded rolling pins.
While they're essential to this technique, you'll still also need a regular smooth-surfaced rolling pin.
IMPORTANT TIPS: You must also use a "molded cookie recipe" that is designed for molded cookies. I've included a downloadable recipe below. A regular cookie recipe or gingerbread recipe will not work. Also, before using the molded rolling pin, before to lightly dust with flour each time to help prevent the dough from sticking.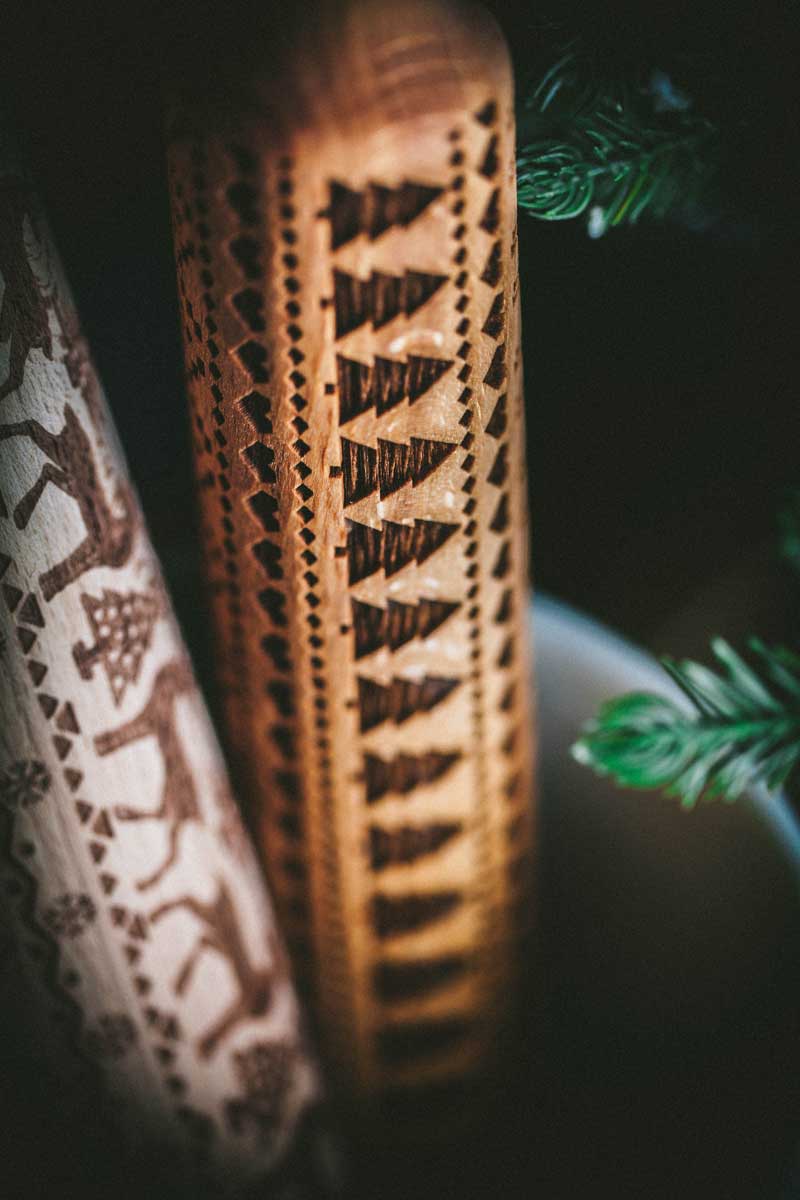 Molded rolling pins are made of wood and generally have the most stunning carved pattern.
When this carved rolling pin is pressed into the dough, the pattern is left imprinted in the dough.
And that creates a wonderful, overall pattern in the dough that can then be cut using regular cookie cutters.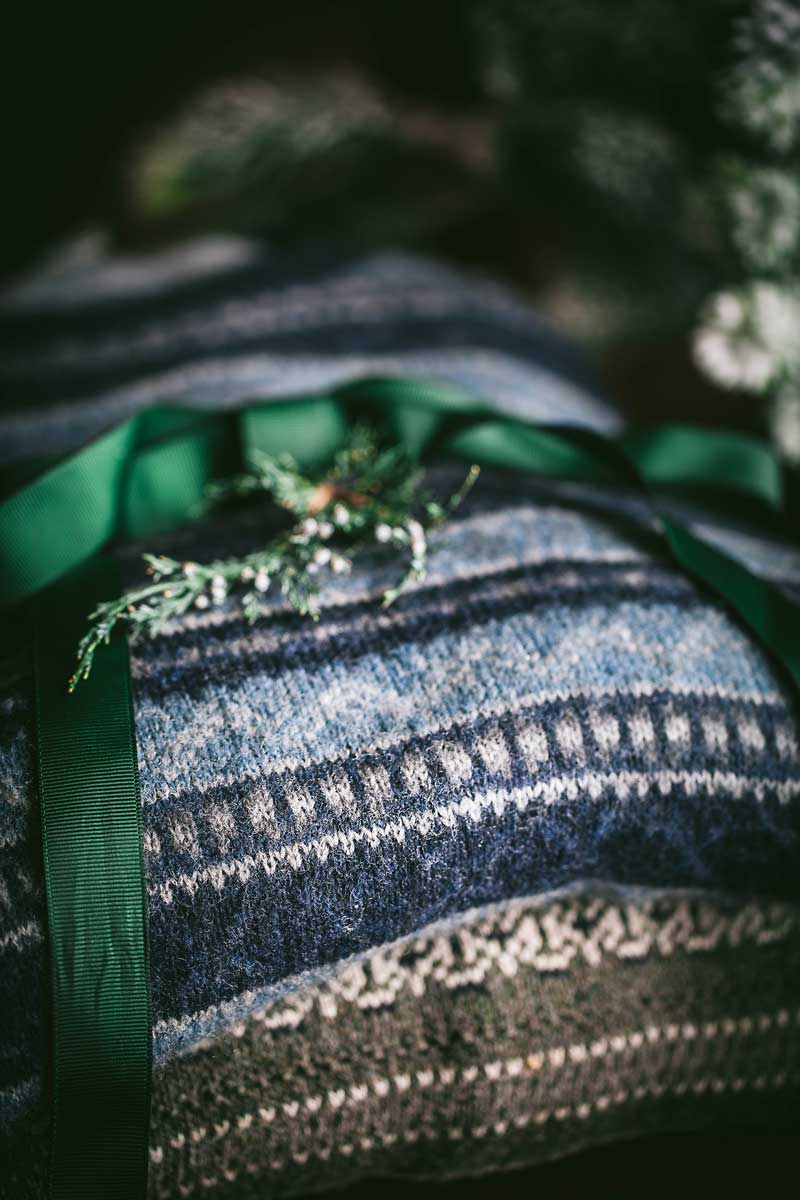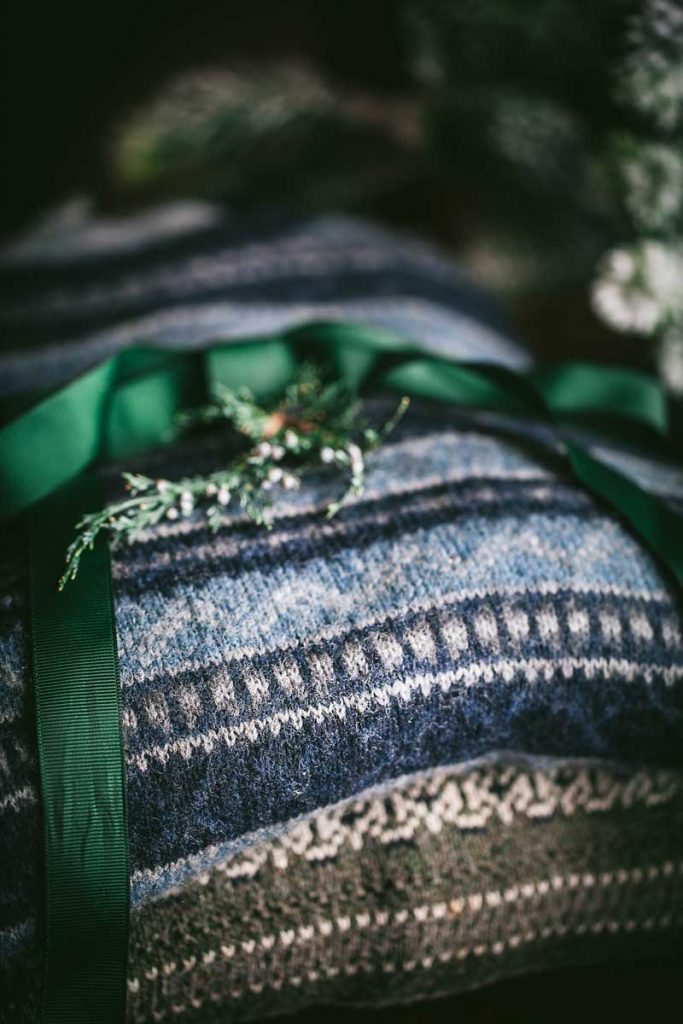 Molded rolling pins have always reminded me of old, Irish wool sweaters.
In fact, a found quite a few tucked away in my closet that I haven't worn in years.
It takes a special kind of cookie to remind you about vintage winter attire.
The following photo depicts the overall pattern created before I cut it up with a sweater-shaped cookie cutter.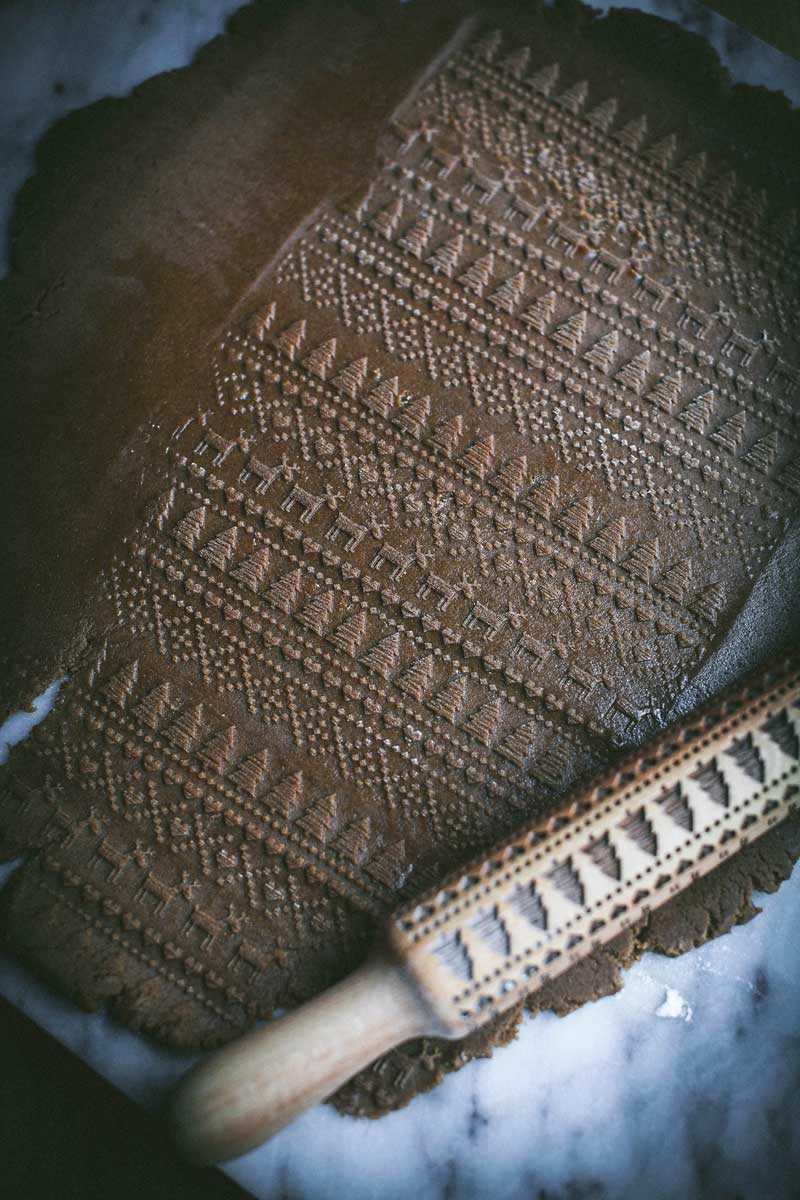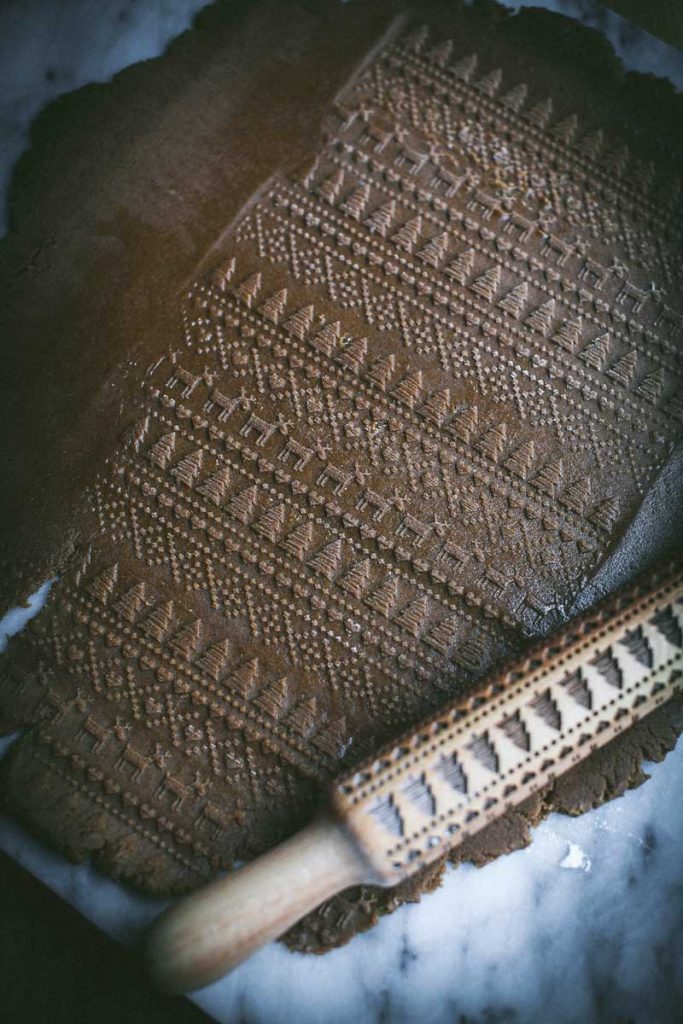 You first have to roll the dough out using a regular, smooth-surface rolling pin before using the molded pin.
This way, you'll have a nice blank slate to work the easy rolling pin magic.
Grip the molded pin and firmly press into the dough and roll the pin at the same time.
Be sure not to stop rolling until you get to the opposite edge of the dough or you're going to have to start all over.
The rolling process is pretty unforgiving. You can't start rolling and stop midway or you'll disrupt the overall pattern.
Once the design is created, use a sweater-shaped cookie cutter (or any other shape you desire) to cut the cookie.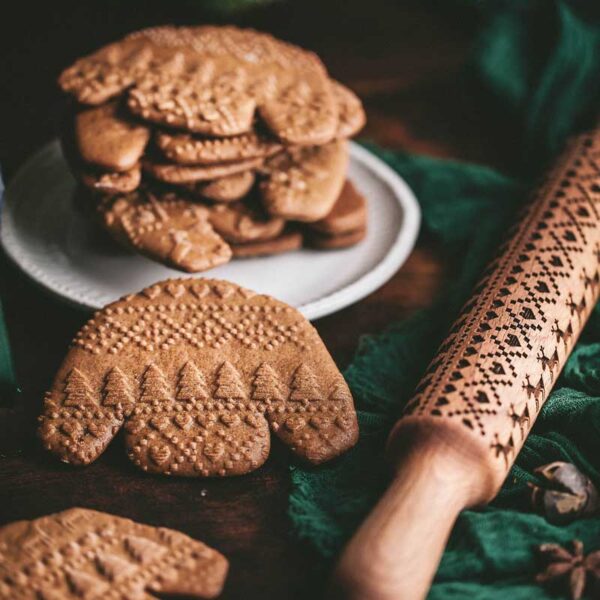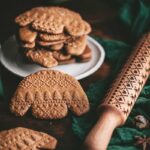 Molded Gingerbread Cookies
Ingredients
3 cups all purpose flour
3/4 teaspoon baking soda
1/2 cup granulated sugar
1-1/2 teaspoons cinnamon
1/2 teaspoon ground cloves
2 teaspoons ground ginger
1/2 teaspoon nutmeg
1/2 teaspoon salt
1/2 cup vegetable oil
1/2 cup molasses
1/2 cup dark corn syrup
2 tablespoons water
Instructions
In a large mixing bowl, whisk together flour, baking soda, sugar, cinnamon, cloves, ginger, nutmeg and salt.

In a separate bowl combine, vegetable oil, molasses, corn syrup and water. Use a whisk to mix thoroughly.

Mix liquid ingredients with the dry ingredients and mix slowly to combine thoroughly to form a ball.

Turn the ball out onto a lightly floured surface and roll the dough with a regular rolling pin to about 1/4 inch in height.

Firmly press the molded rolling pin into the already-rolled dough. Use long, unbroken rolling stroke to prevent the design from being disrupted.

Once overall design is created, use cookie cutter to cut out desired shape.

Bake in oven for 12-14 minutes or until edges of the cookie are slightly darker. Remove and allow to cool for a few minutes on the hot cookie sheet before transferring the cookies to a cooling rack.
You can find a really great selection of molded rolling pins on Etsy, Ebay and online. Just search for "molded rolling pin" or "springerle rolling pin".
I also have some source links listed at the end of this post.
Meanwhile, if you really want to make an impact, consider gifting a brand new Irish wool sweater along with your sweater cookies… for a gift that's both warm and delicious.
Now, that would be some gift under the tree.
Happy holiday baking.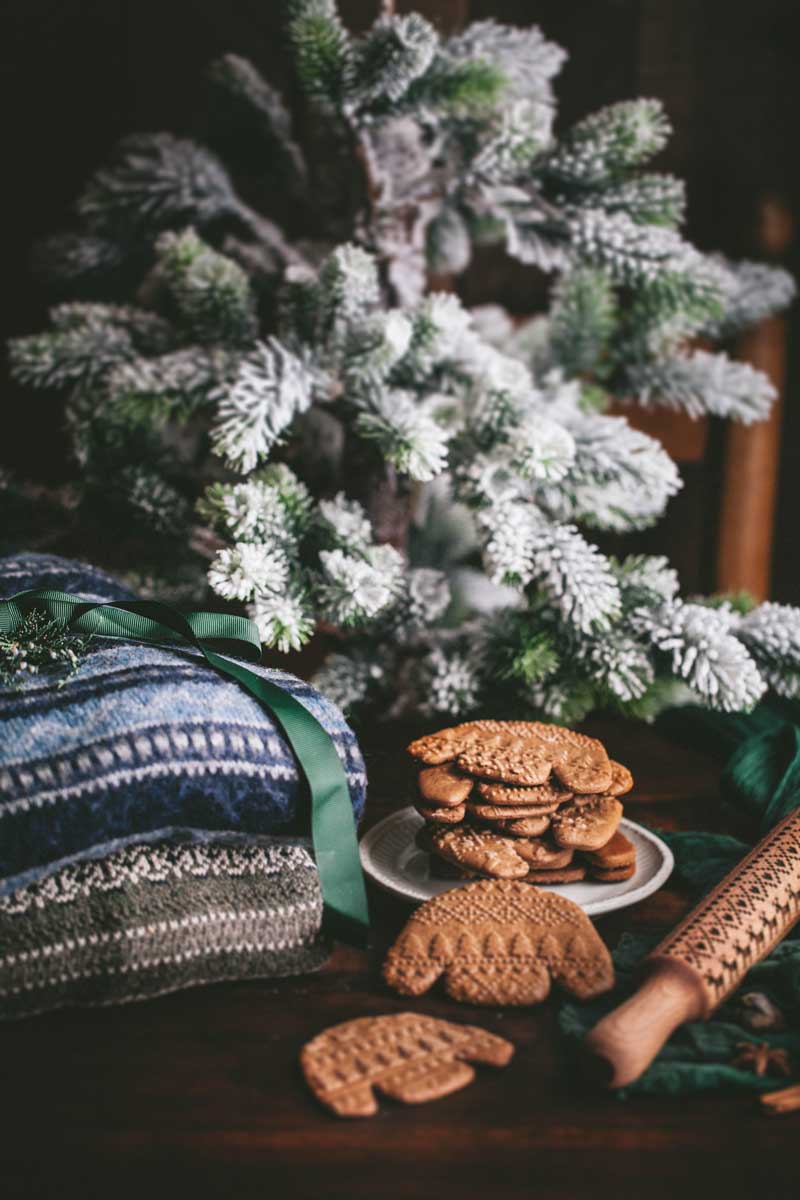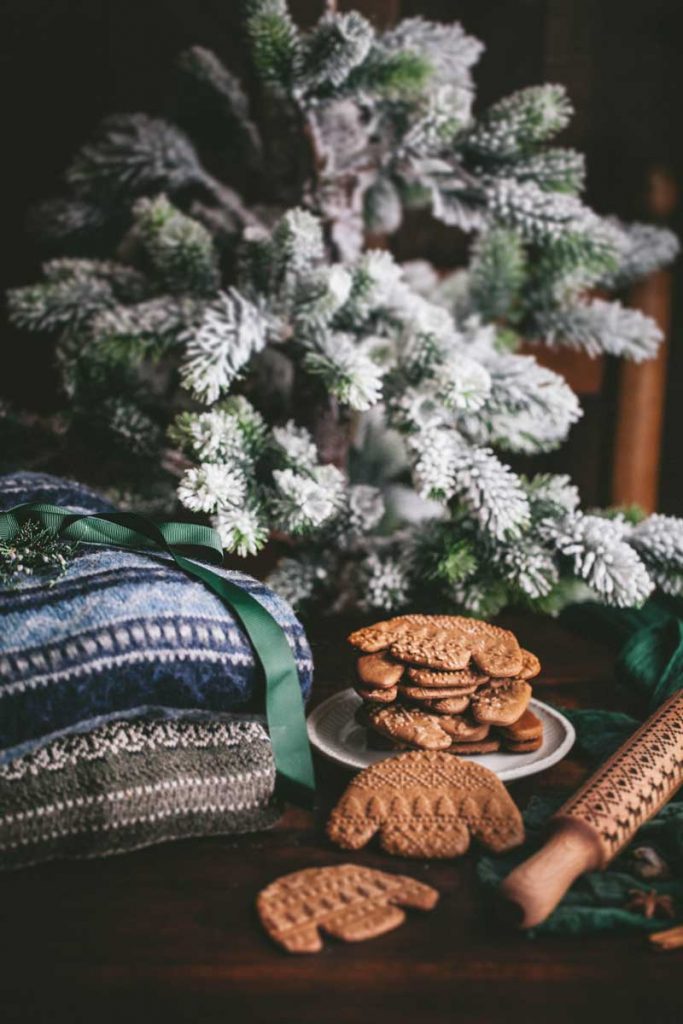 Thanks for stopping by.
See you back here next time.♥