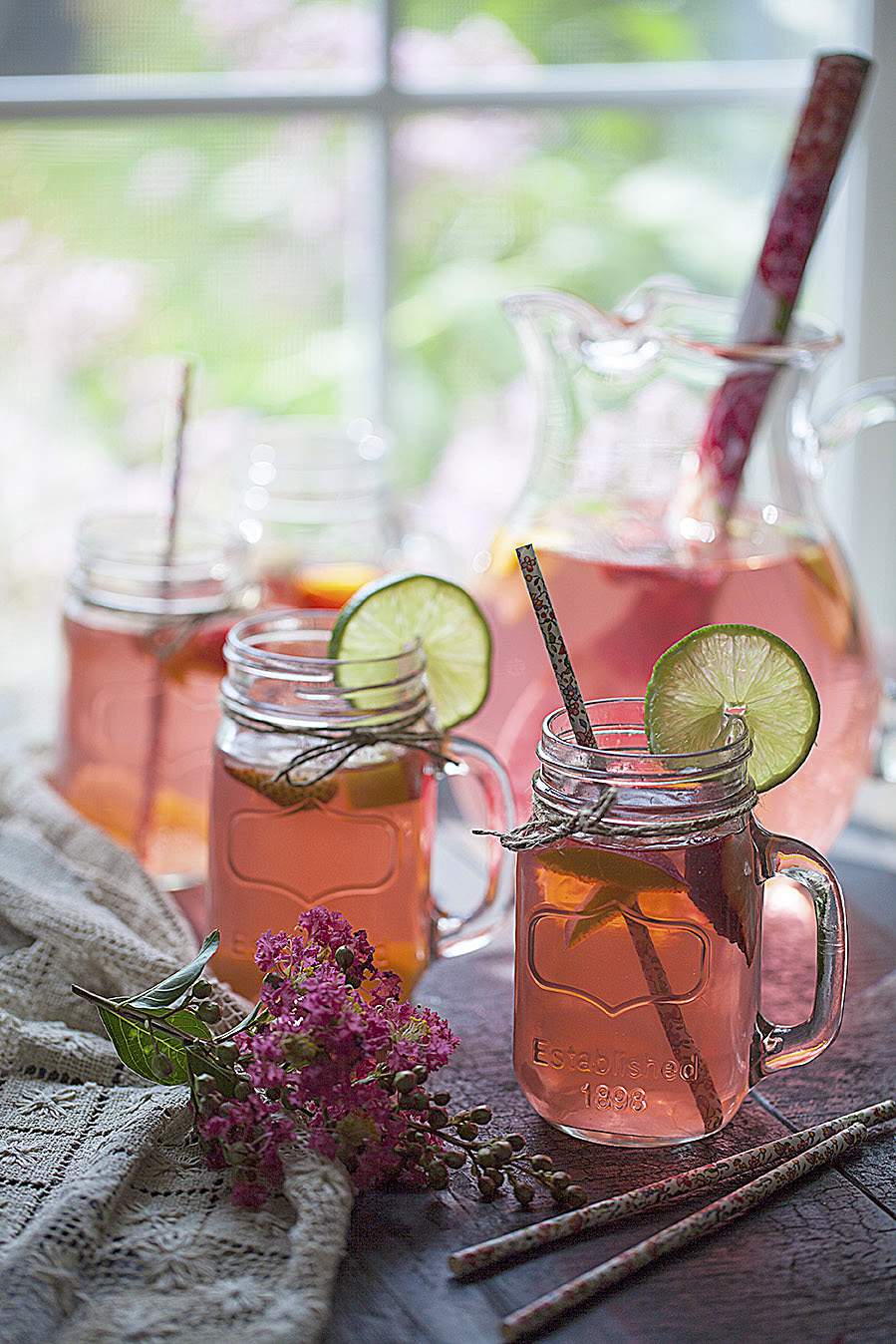 Anyone in the mood for an easy, sparkling fruit drink?
Truth be told, I'm never not in the mood for fruit-filled, sparkling beverages.  They're my favorite and over the years, have totally replaced any affection I ever had for traditional soft drinks.
I think you'll like this easy, recipe that will definitely quench your thirst.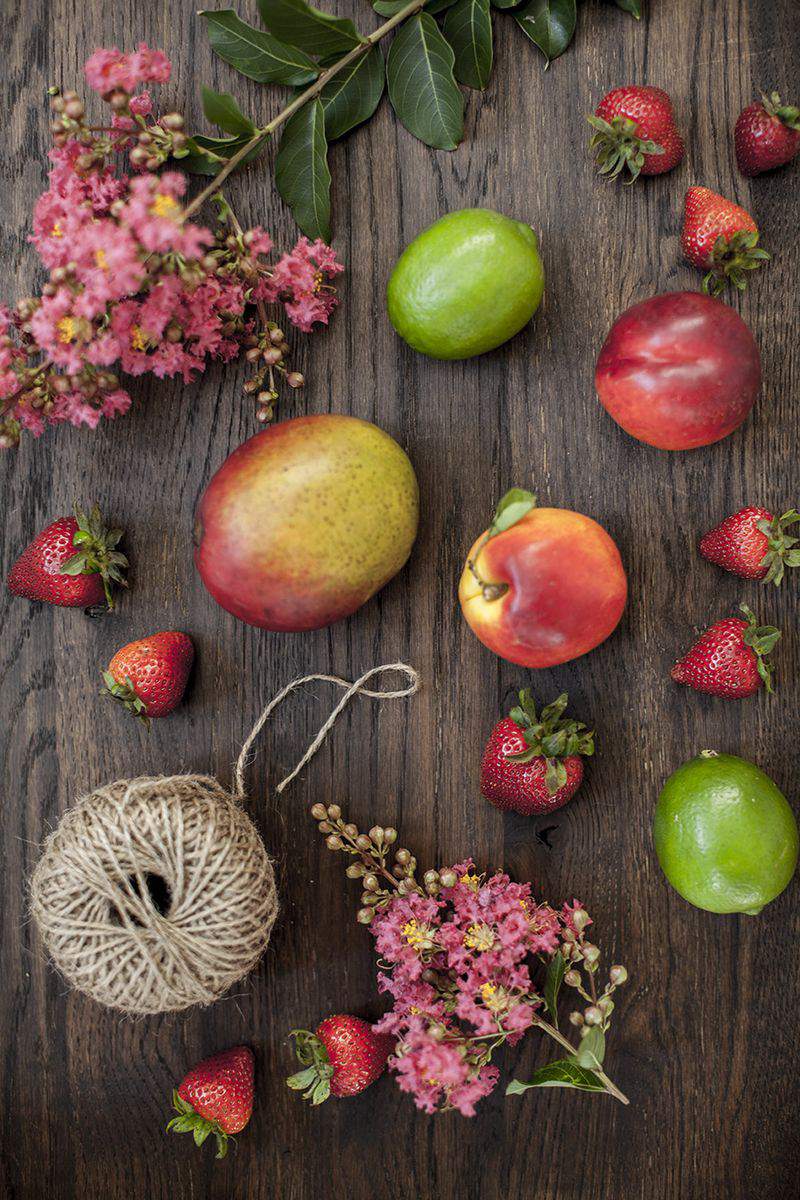 It may be hard to see the "sparkling" in my photos, but it's there.
This is one of those recipes where you can really add whatever fruit you like.  I'm partial to mangoes, nectarines and strawberries so that's at the heart of my version.
You'll also need a few slices of lime for decoration, apple juice, cranberry juice and frozen lemonade.
By the way, you can download the entire recipe a little further down in this post.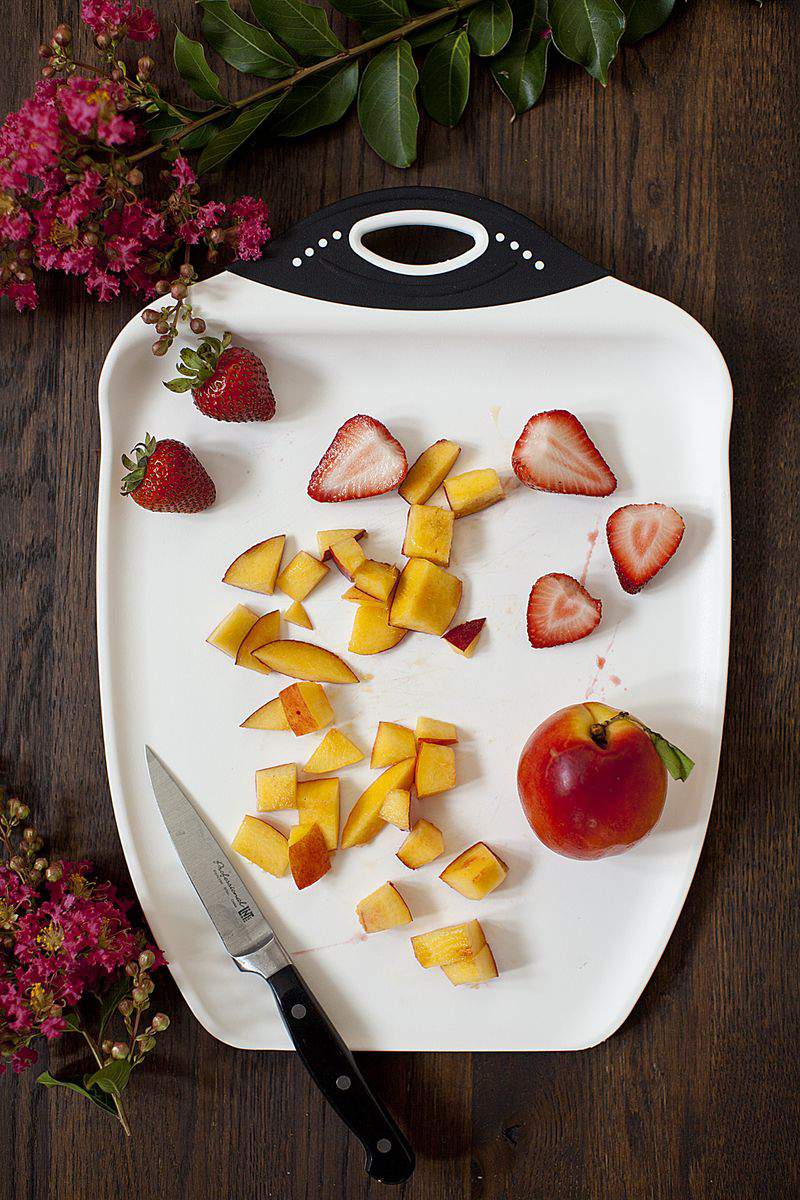 Even though I make this sparkling drink all year round, it really reminds me of Summer.
Although, I realize in some parts of the country it hardly feels like a warmer season right now.
My twin sister, Paula called me over the weekend to let me know that much to her chagrin, she was actually seeing snow flurries in her neck of the woods (Michigan).
It seems unseasonably cold everywhere, doesn't it?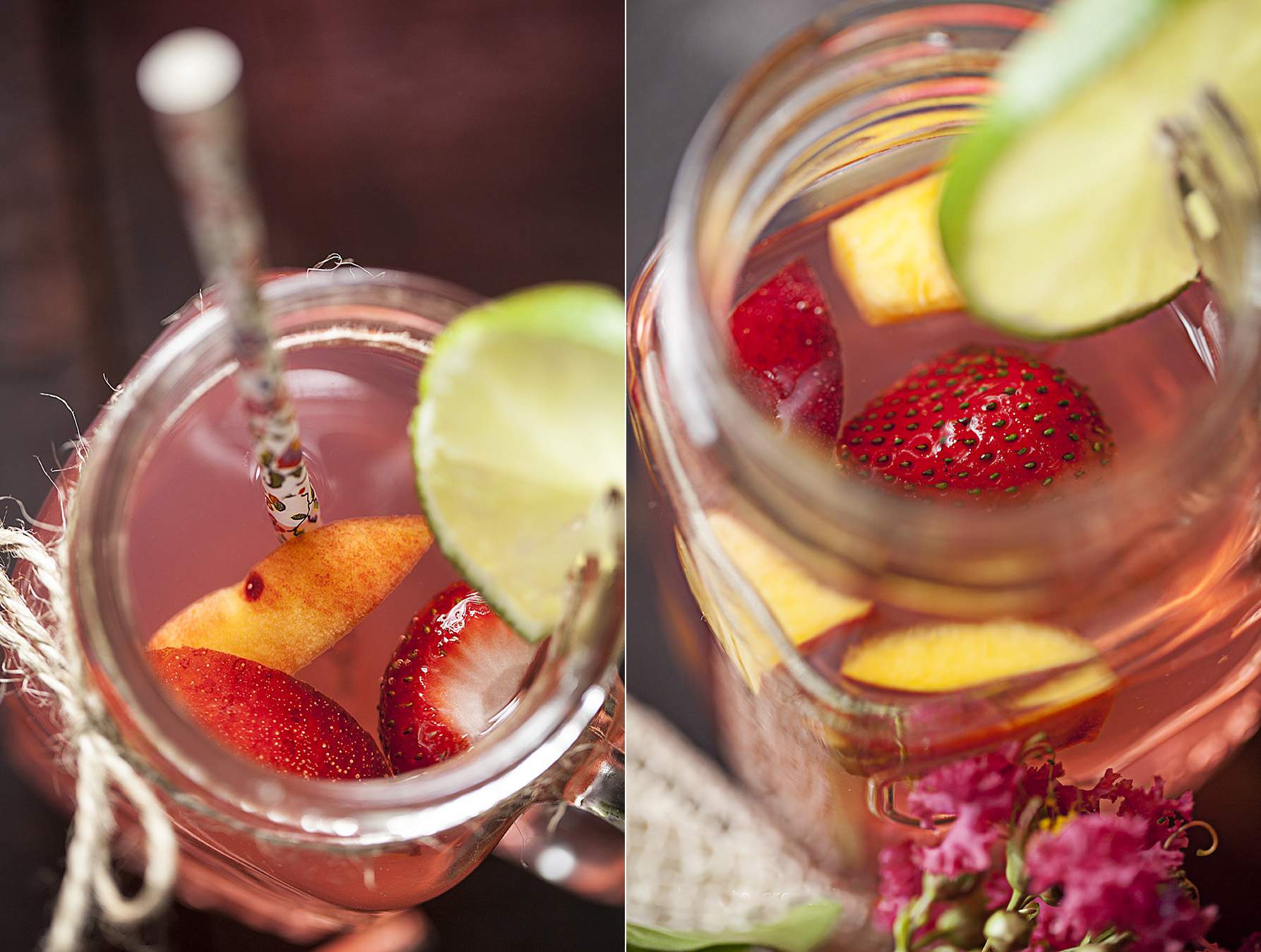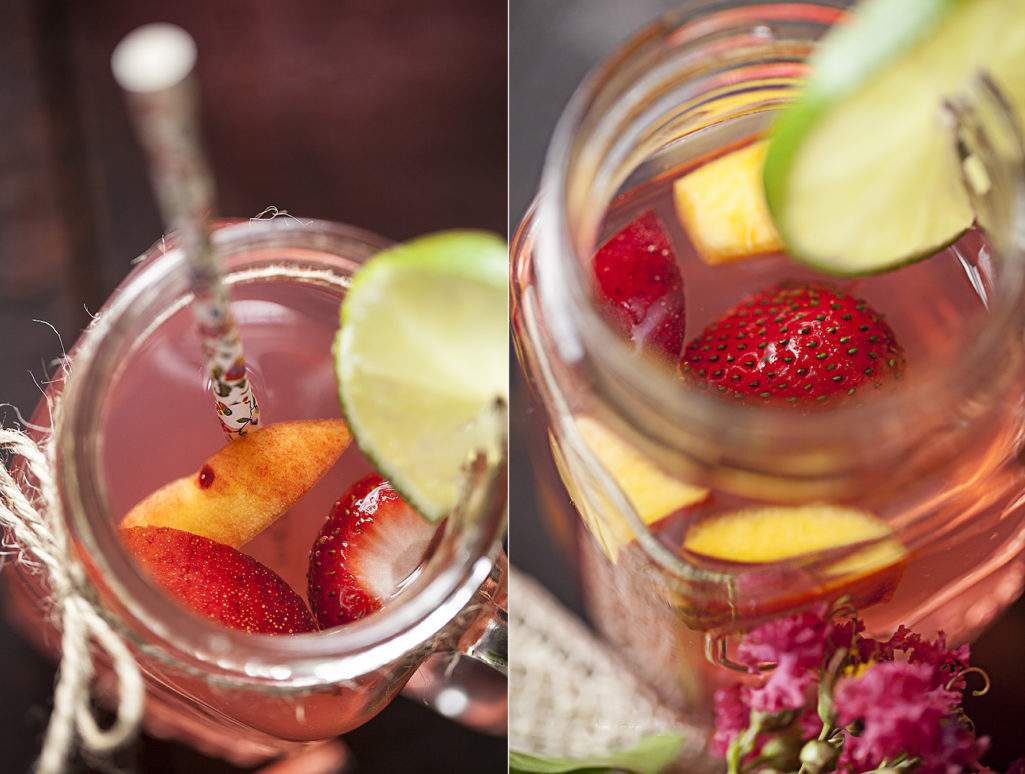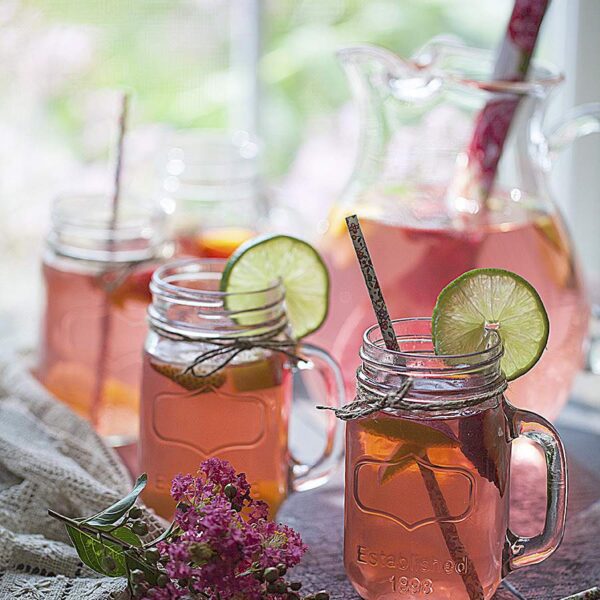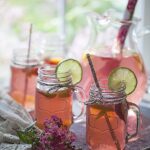 Sparkling Fruit Drink
Ingredients
1 can frozen concentrate pink lemonade
1 liter seltzer water plain or flavored
1 can apple juice
1/2 can cranberry juice
Assorted fresh chopped fruit
Instructions
Do NOT throw away the concentrate container because that's what you'll use to measure your apple juice and cranberry juice.

Mix frozen pink lemonade with the seltzer water until well blended and smooth.

Use the concentrate container to measure one can of apple juice and add to mixture.

Use concentrate container to measure 1/2 can of cranberry juice and add to mixture.

Stir thoroughly so that all ingredients are well-combined.

Chill.

Garnish with assorted, chopped fruit before serving.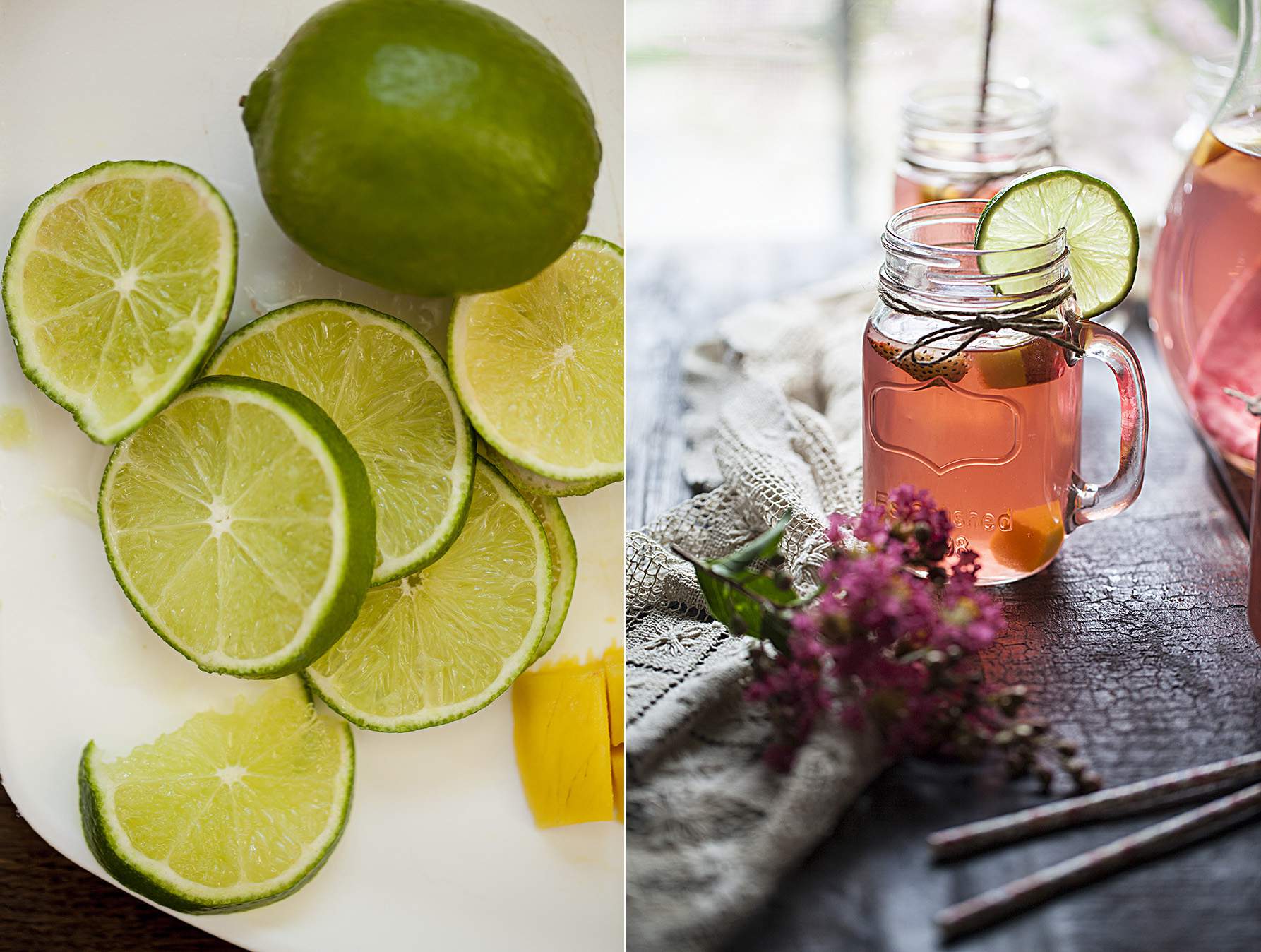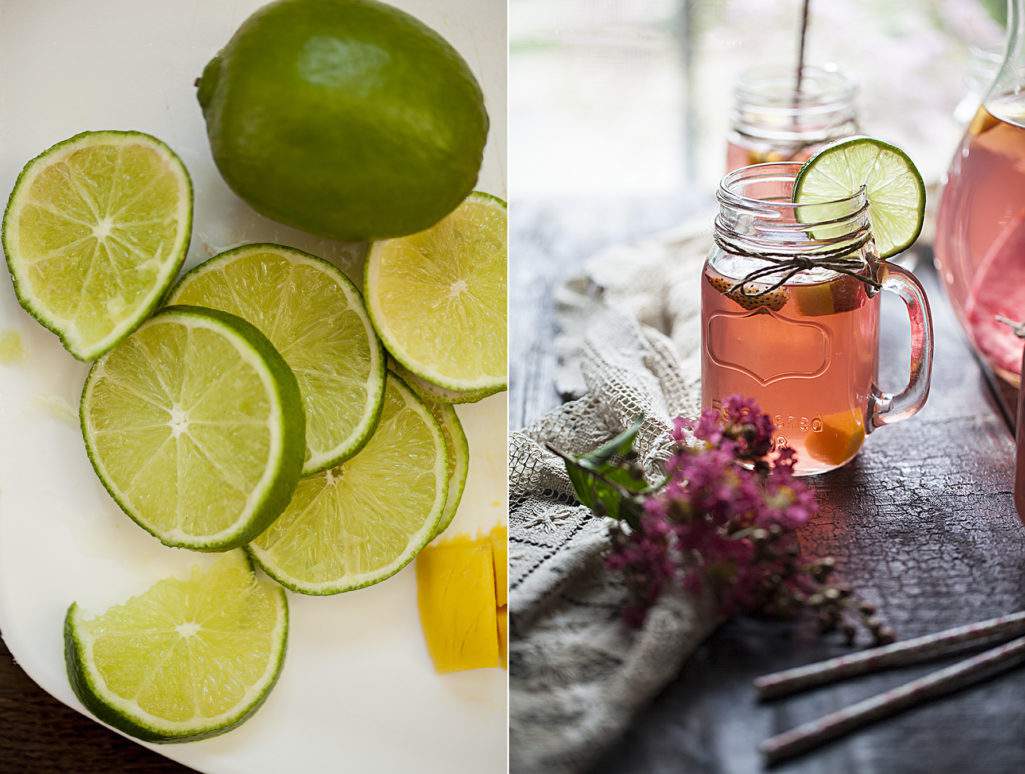 I think this drink just tastes better in a Mason jar.  That's gotta be the "country-girl" in me.
Something about Mason jars, right?  They're so versatile and these handled jars are adorable.
Presentation goes a long way in my book even with a simple drink.
Add a lime slice and a few extras to punch up the look.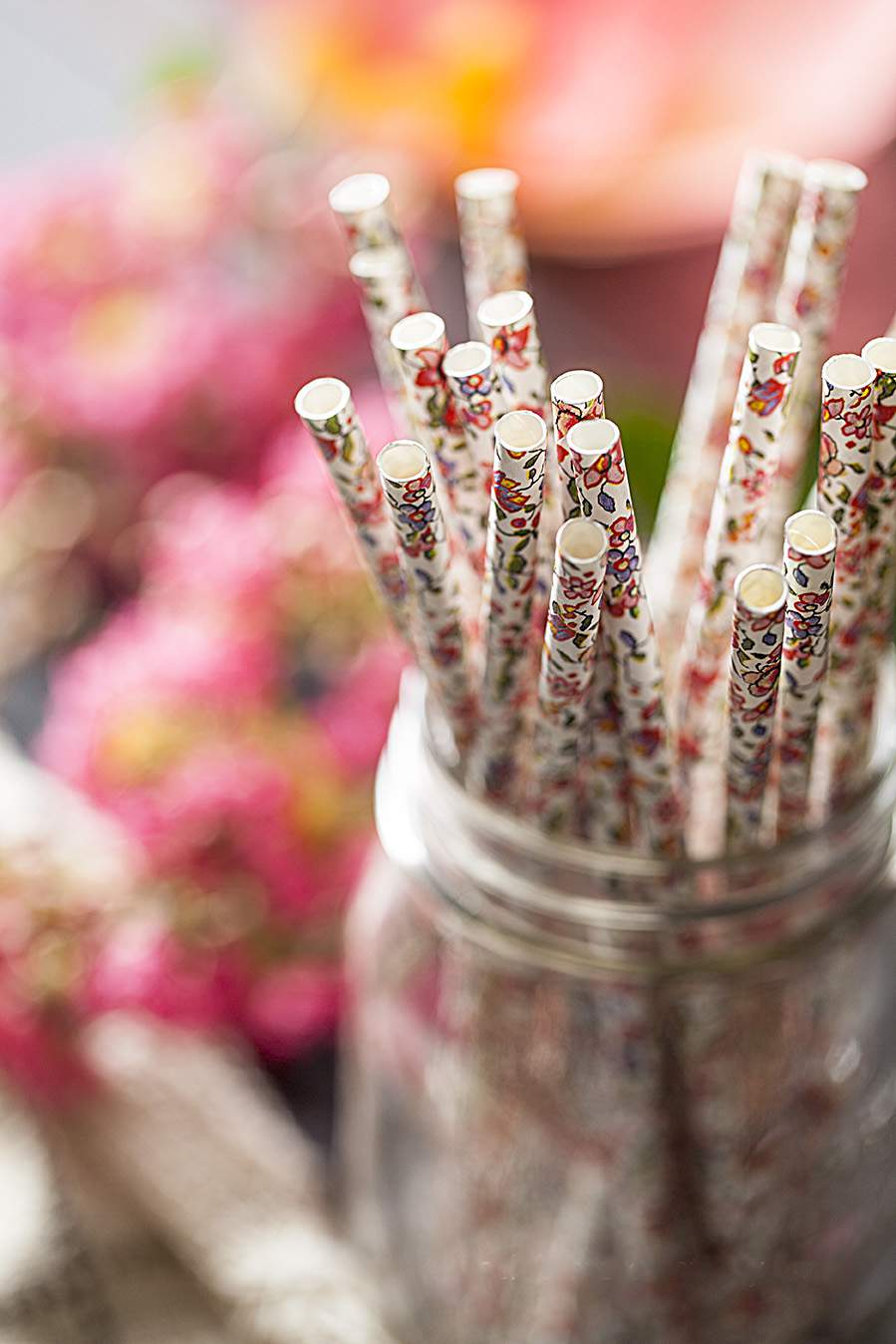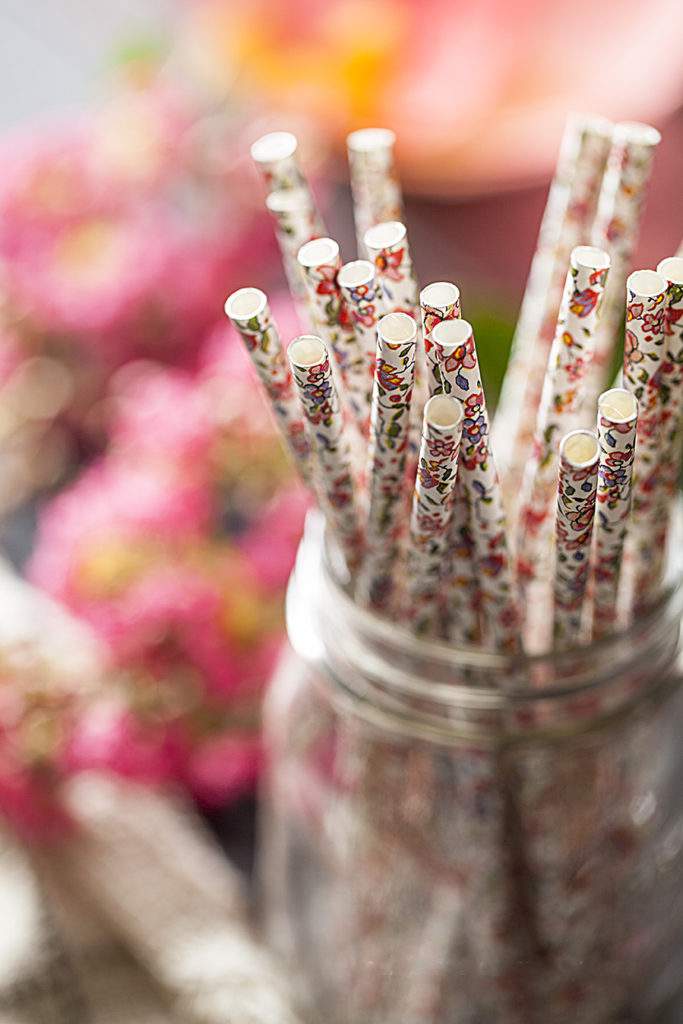 Paper straws are a fun touch and this drink cries out for one.
I found these floral straws online last year and I think they're so pretty and feminine with a vintage-inspired touch.
The florals are beautiful and I think they're also a nice change from the typical striped straws that are so popular.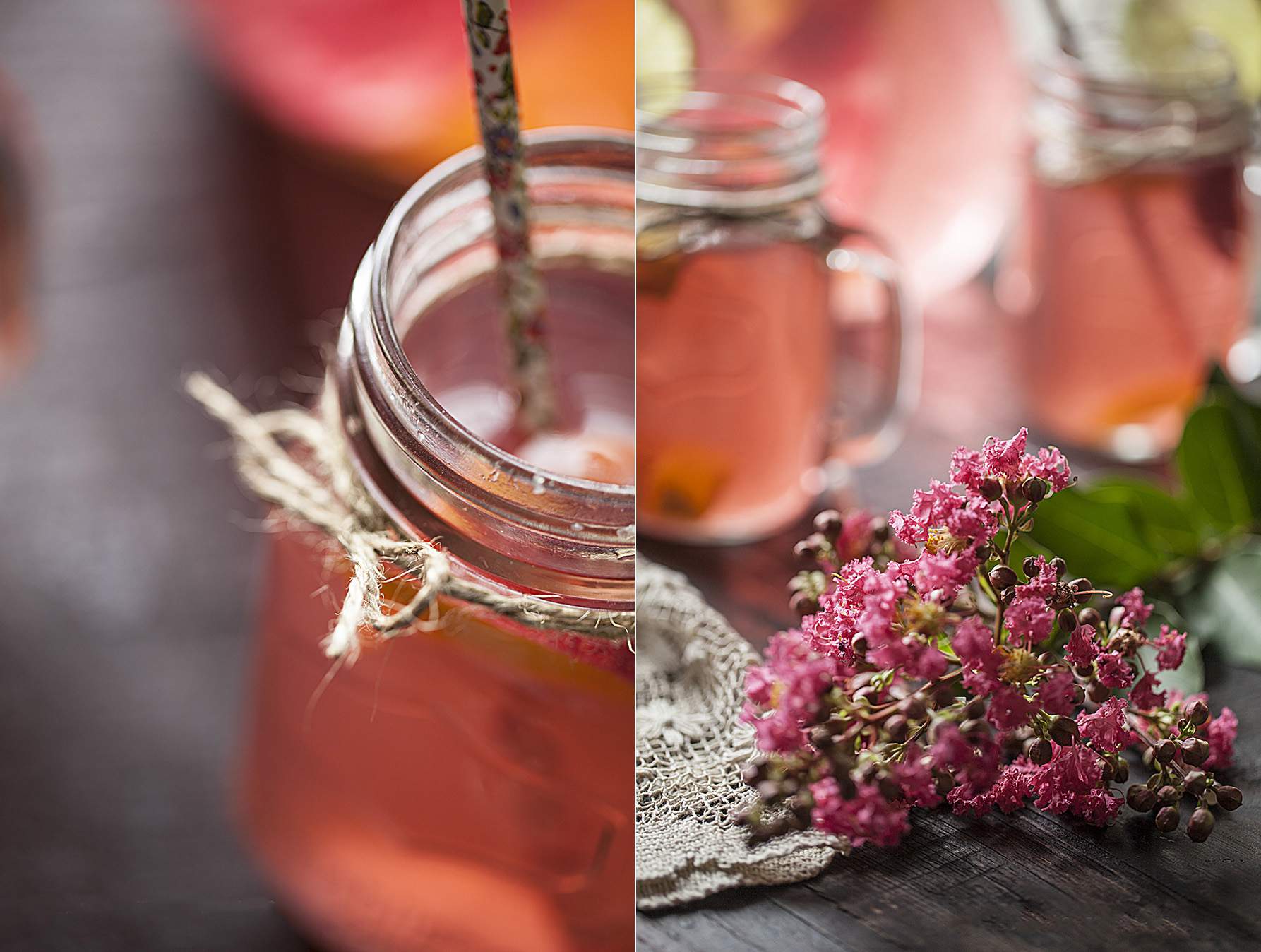 Add a final touch of rustic, country charm by tying a small piece of jute twine just under the ring of the jar.
This sparkling fruit drink recipe is simple and oh-so good.
Cheers to you… and here's hoping temps are warm (or soon warm up) wherever you're reading this from.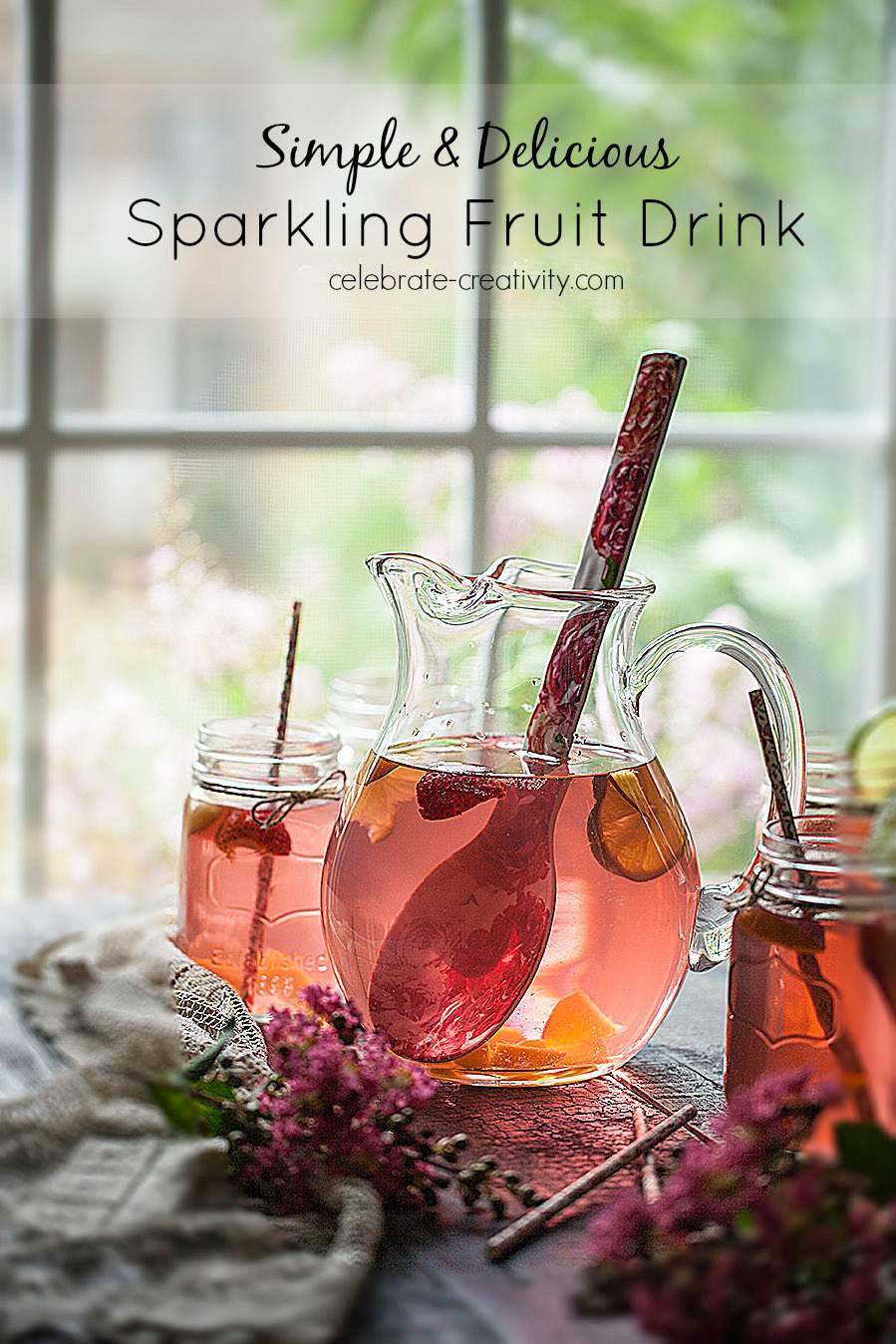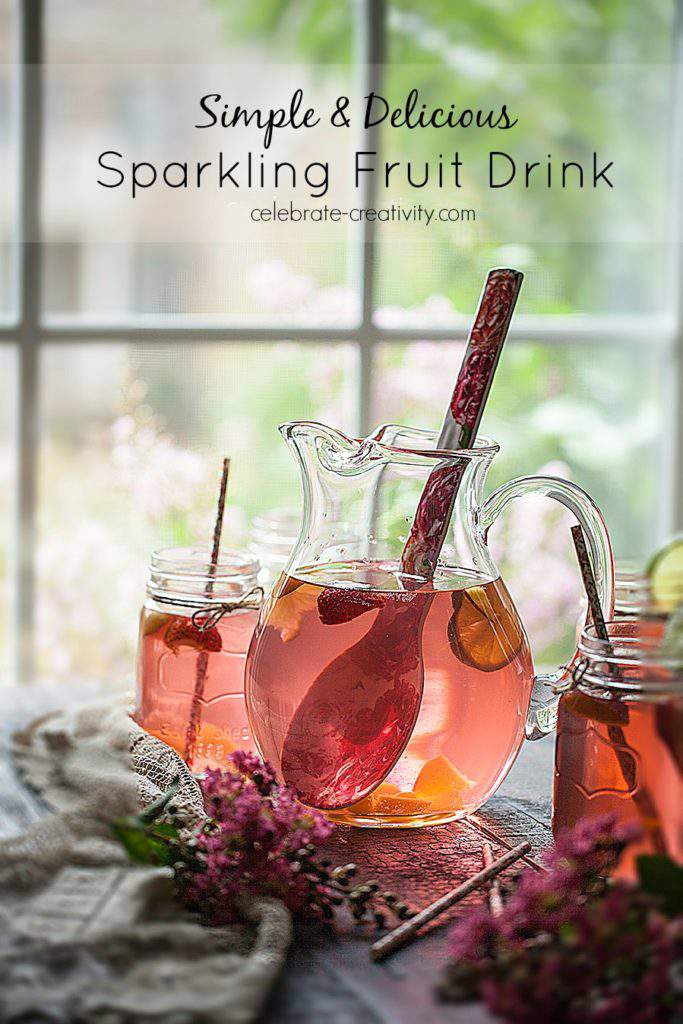 Thanks for stopping by.
See  you back here next time. ♥