How many of you have teenagers who still enjoy trick-or-treating?  As much as I think the tradition is for the under-12 set, my kids still like to dress up and go begging door-to-door for candy.
In fact, there are quite a few teens in my neighborhood who are equally un-ready to give up the Halloween costume tradition.
With that in mind, I thought you'd enjoy seeing the costume I made for my daughter.
I made this costume for Cameron last year but I didn't get a chance to share it here early enough in October for it to be useful to you (in case you decided to make it yourself in time for Halloween).
Now, this costume could go a bunch of different ways.  It could adorn a Medieval Maiden, a Renaissance Lady Solider, it could represent a Huntress of Artemis or my personal favorite… a Warrior Princess.
Well, Cameron is pretty fearless… so, Warrior Princess works.
Over the years, I've prided myself in making my kid's costumes myself.
I've gotta tell you, this preference was so much easier when they were younger because they would wear whatever I made for them with no fuss or push-back at all.
I love looking back at my various handmade costumes which as you can see, range from Dorothy from Oz to Cruella Deville to Minnie Mouse… just to name a few.
As Cameron and Jordy got older, they increasingly started rejecting homemade efforts in favor of store-bought Halloween attire.
Boo-hoo.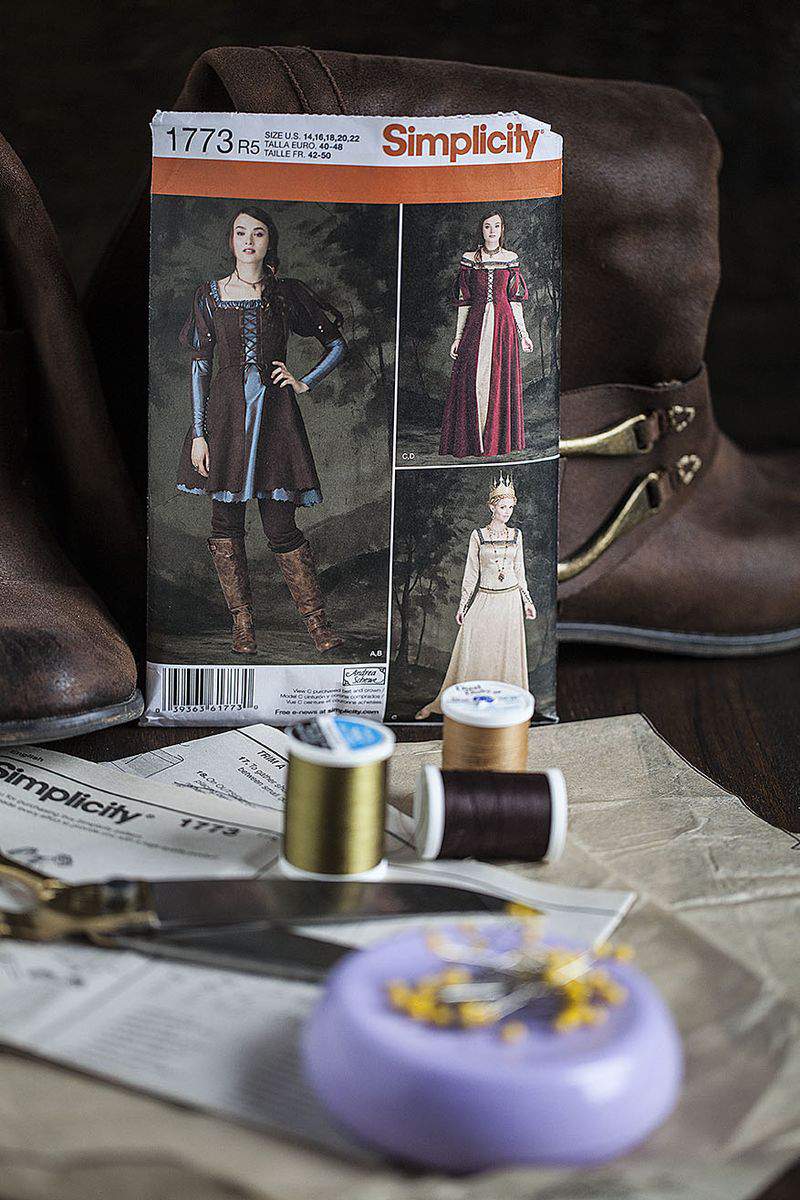 So, when Cameron asked me to make her a particular costume last year, I was excited about dusting off my costuming sewing skills.
I've always used a professional pattern for costumes and this one is made by Simplicity.
I used a simple polyester-blend for the dress and a faux-suede fabric for the overdress.
While this costume may look a little complicated, it was actually surprisingly simple to make.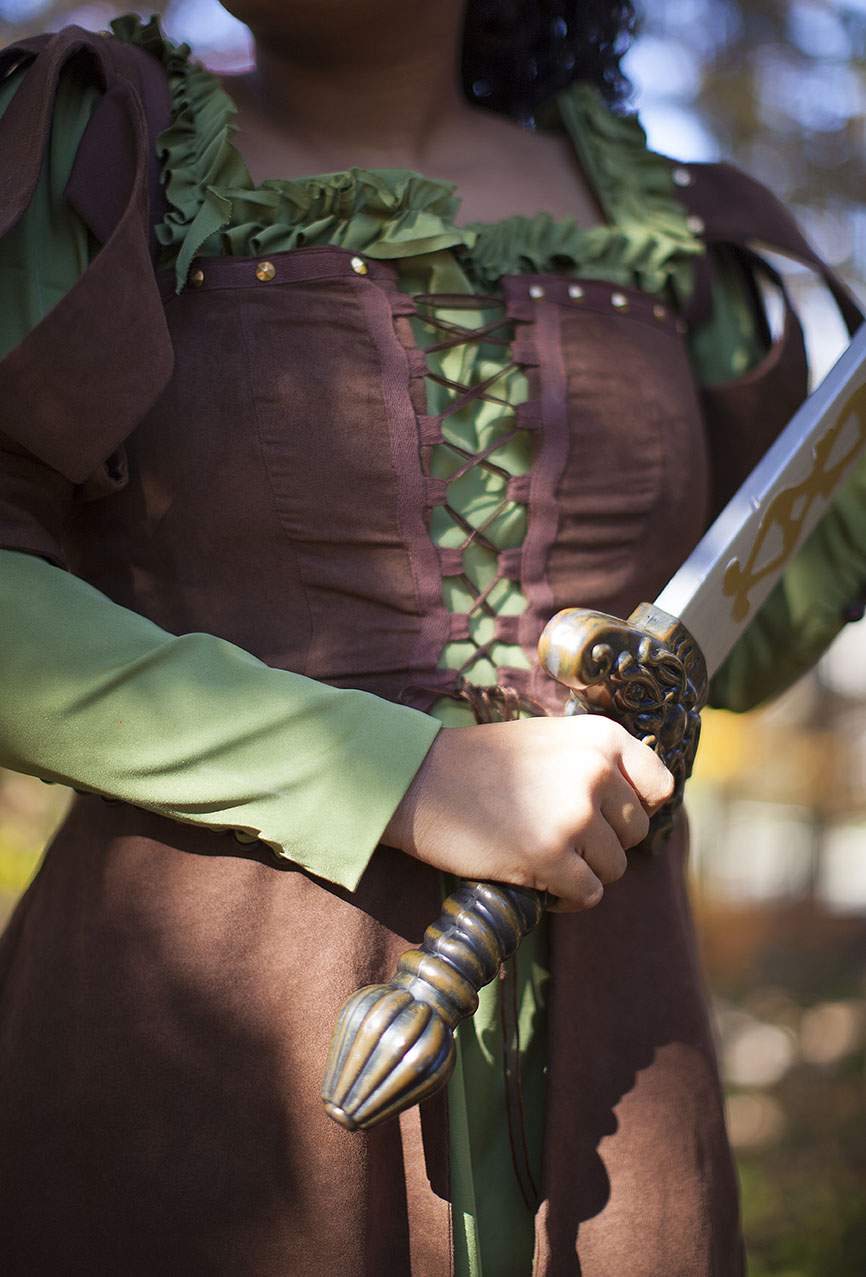 There are a lot of directions and quite a few pieces to sort out for the dress and overdress… but you can make this.
Remember, be fearless.
It took me about a week and a half working on and off (maybe about two hours a night) to finish it.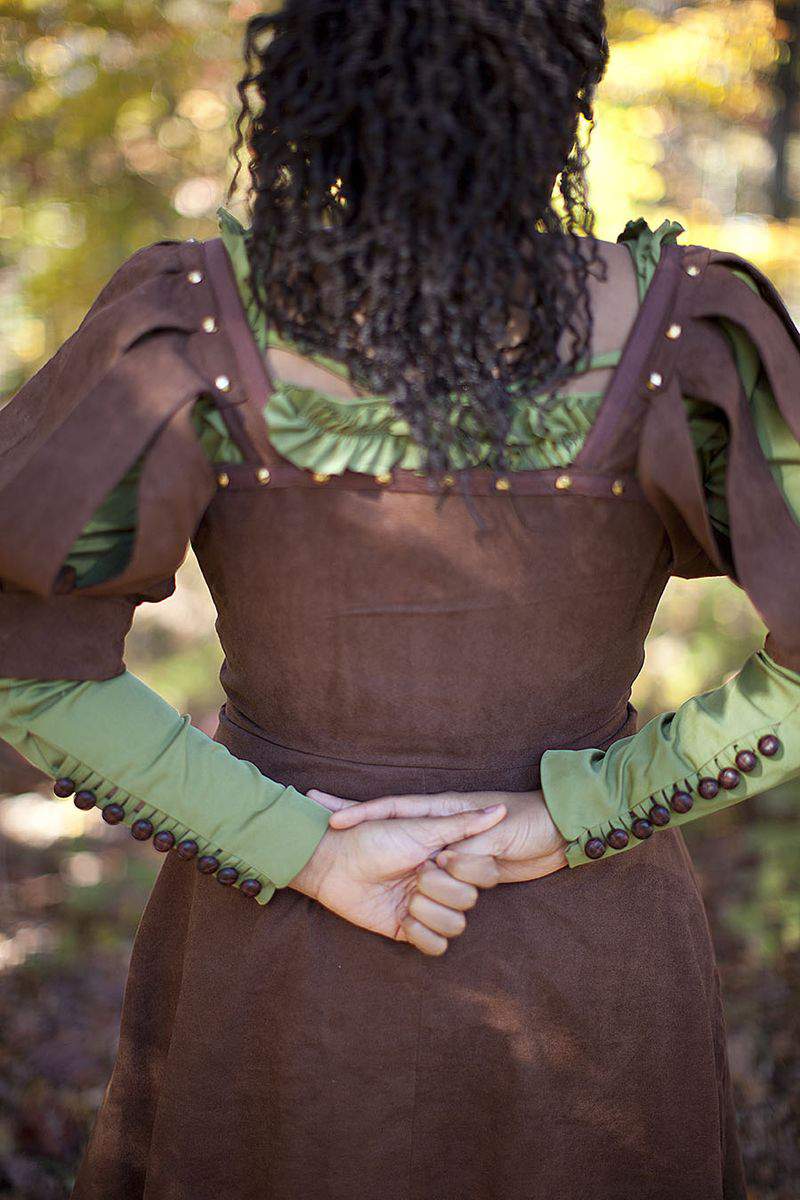 I thought you'd enjoy seeing more of this costume close-up to get a better look at all the little details that make this so special.
The suede overdress is my favorite part of this costume especially with the addition of the brass studs around the top edges of the bodice and sleeves.
Must be the Game of Thrones fan in me because I just love this Old World look.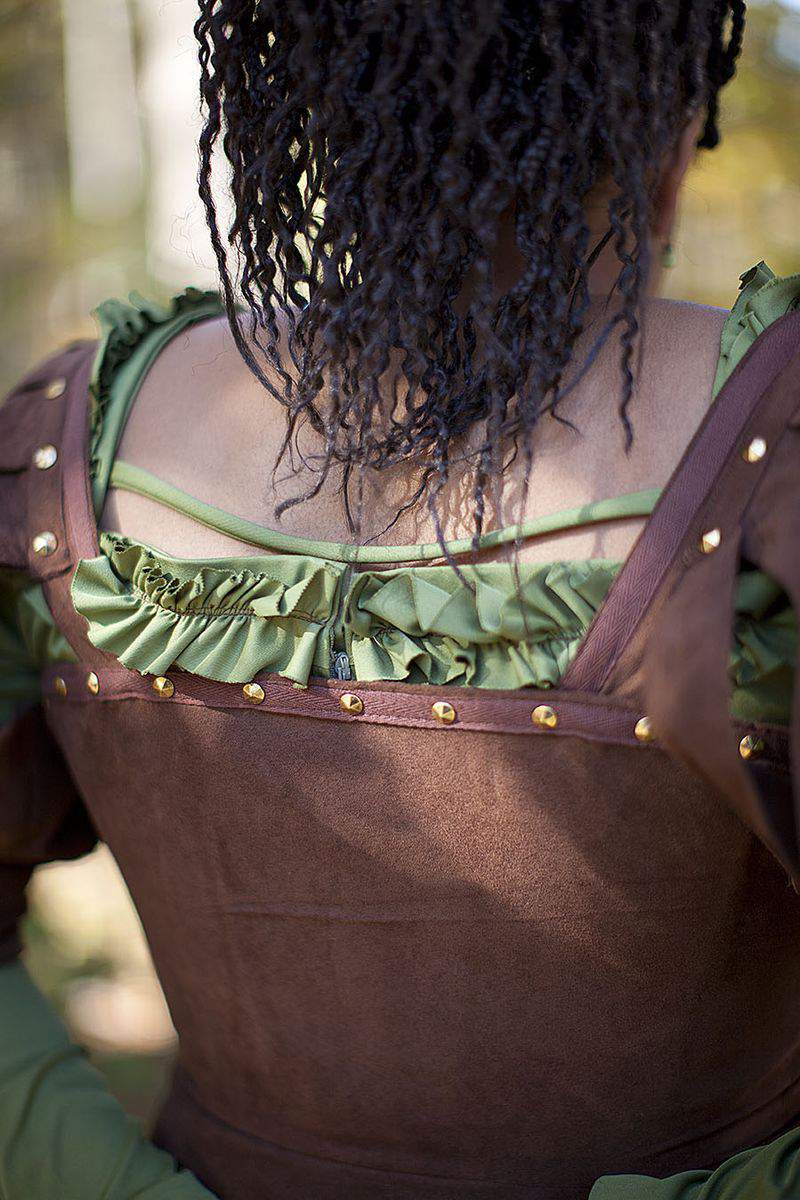 When Cameron first tried the finished dress on, it kept sliding off her shoulders.
That was easy fix that involved adding a little extra to the design.
I made a tube casing out of the same fabric and just attached it to either side of the lower shoulder area.
It worked perfectly to keep the everything on top of her shoulders.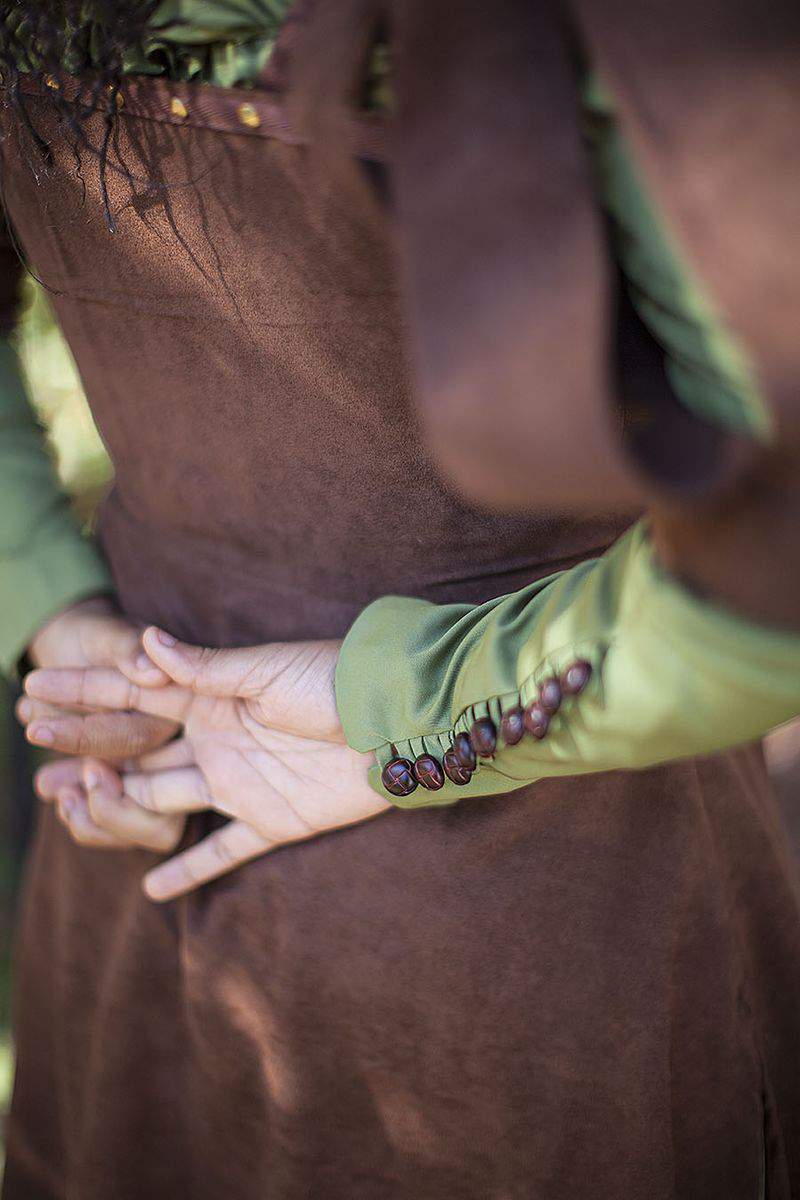 I found these old-fashioned, leather-like buttons at Jo-Ann Fabrics and Crafts and I think they're perfect for this dress.
Don't get discouraged by the 18-button loops you'll have to make.
It's worth it because it gives the dress sleeves a more authentic look.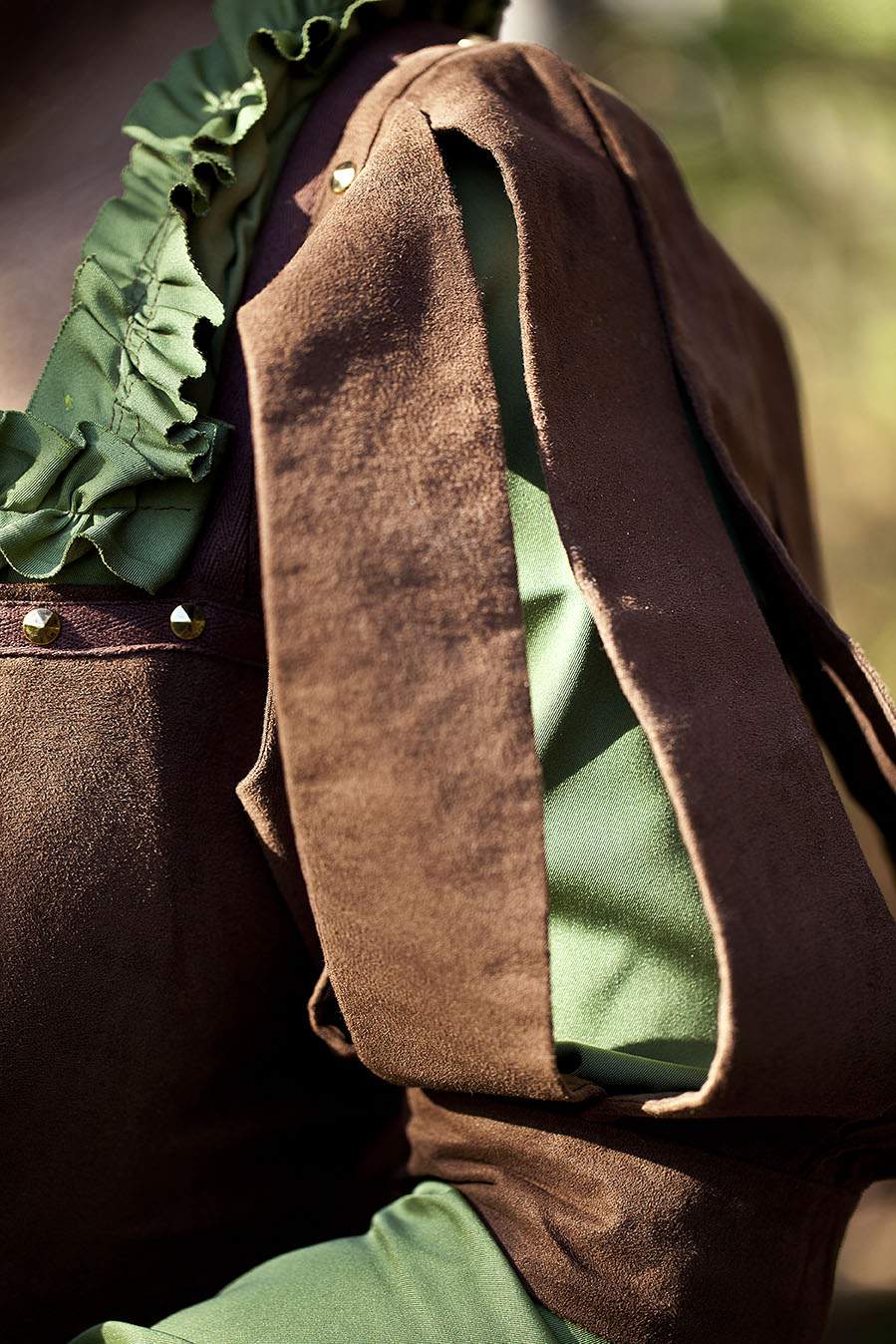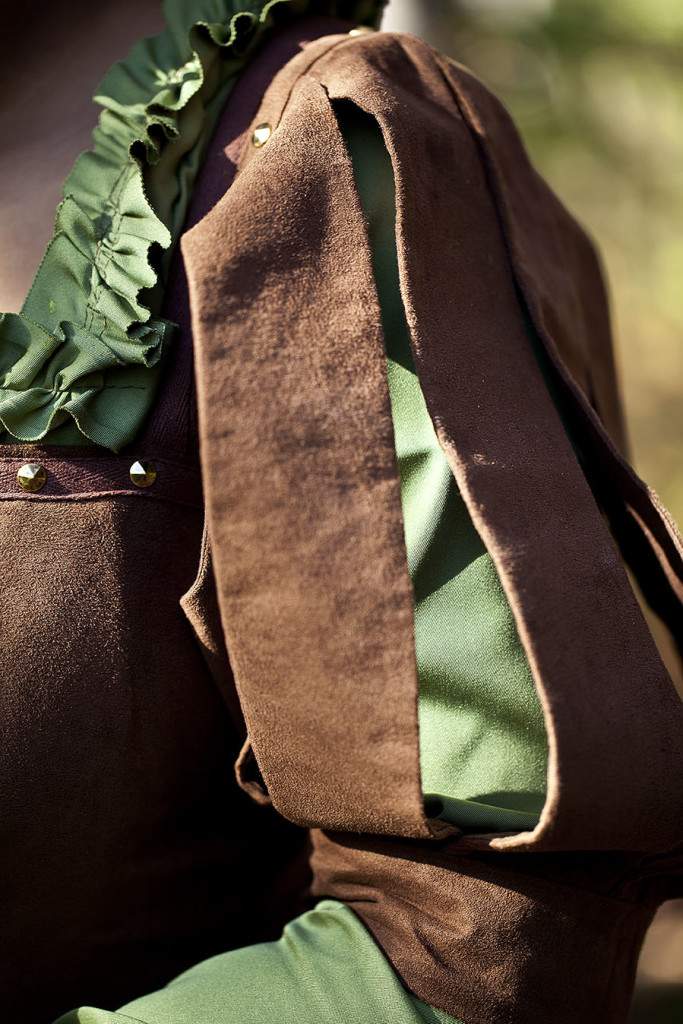 The sleeves of the overdress are oh-so cool.
Each sleeve is comprised of five, wide bands and each band is also lined. Like I said there are a lot of pieces to this costume.
The bands connect to one large fabric strip which attaches to the shoulder and is completely detachable which is a plus.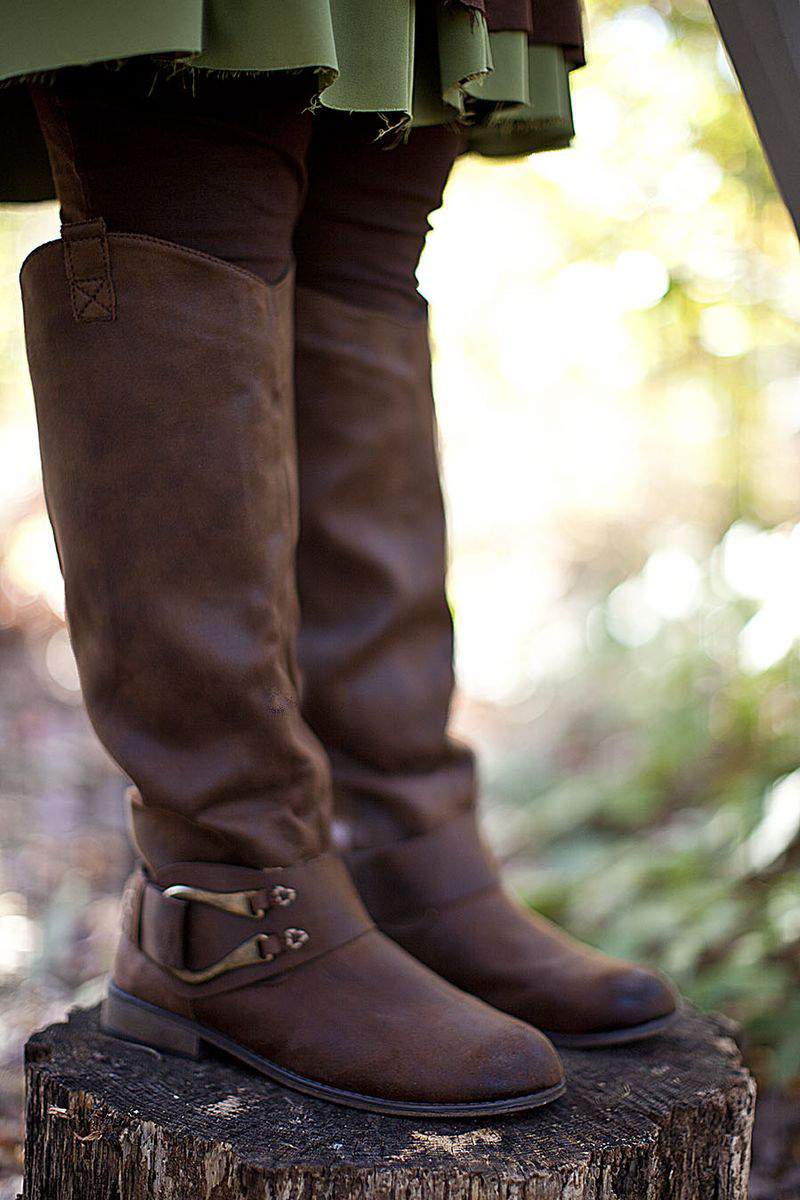 The original pattern directions called for the bottom edge of the dress and the overdress to be edged with a zig-zag or pinking shears but I didn't really like the way that looked so I just opted to just leave the edges raw.
We paired dark brown leggings with suede boots to complete the look.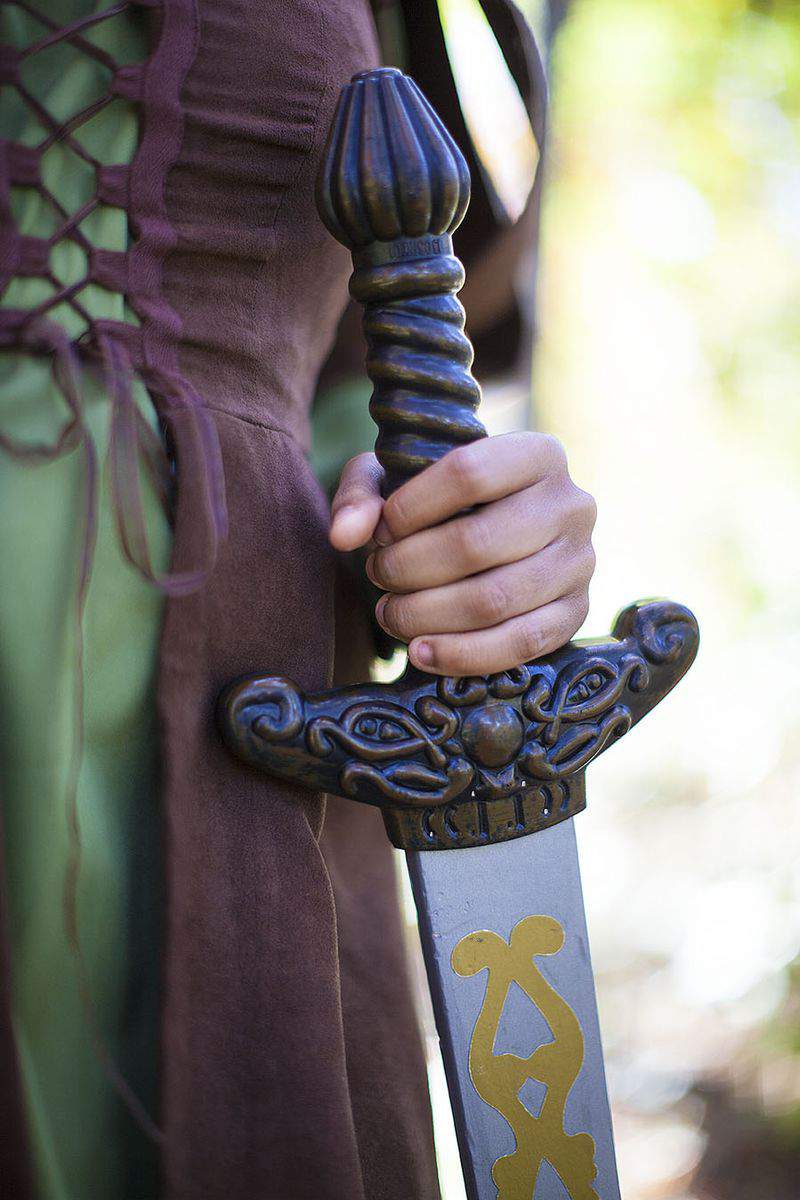 The final touch? This large sword.
It's heavy looking but super light and still quite imposing. Just what a Warrior Princess needs at her side.
Best of all, it only cost $10 bucks at one of those temporary, pop up Halloween stores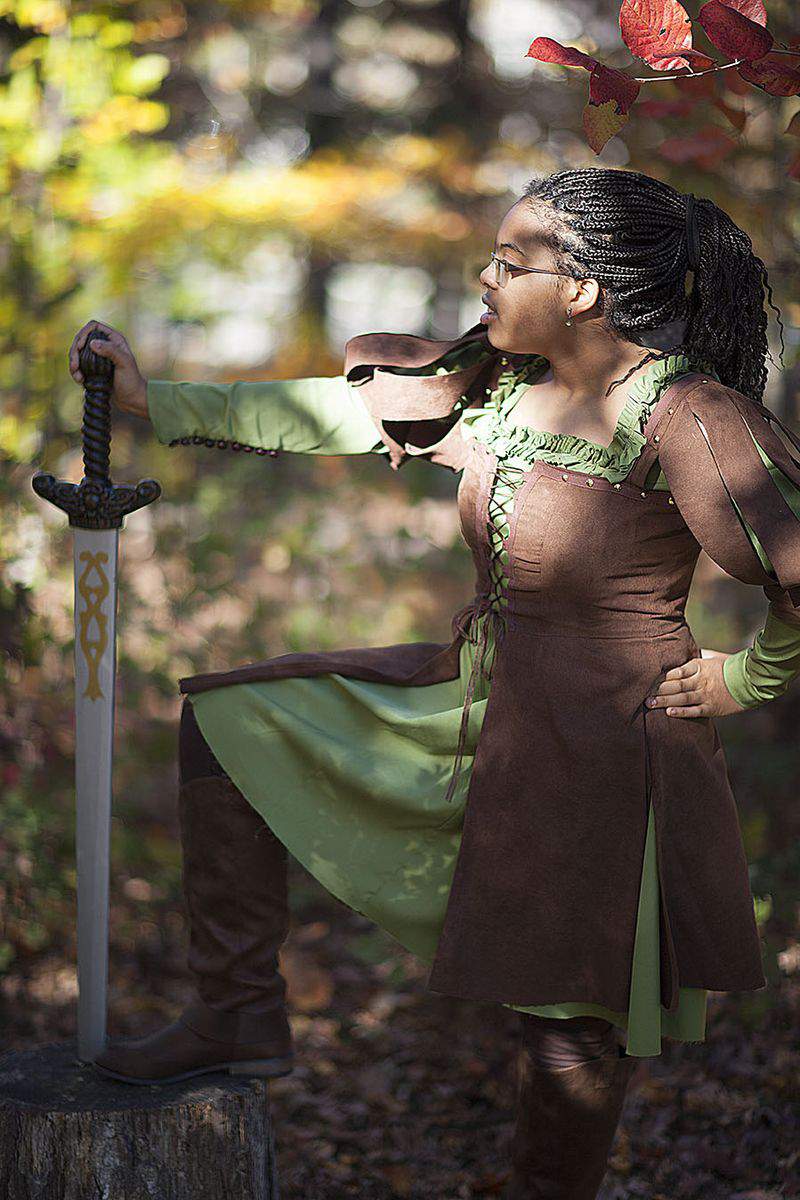 So, what do you think?
You know what I think?
I think Cameron the Warrior Princess is ready for just about any battle that comes her way. ♥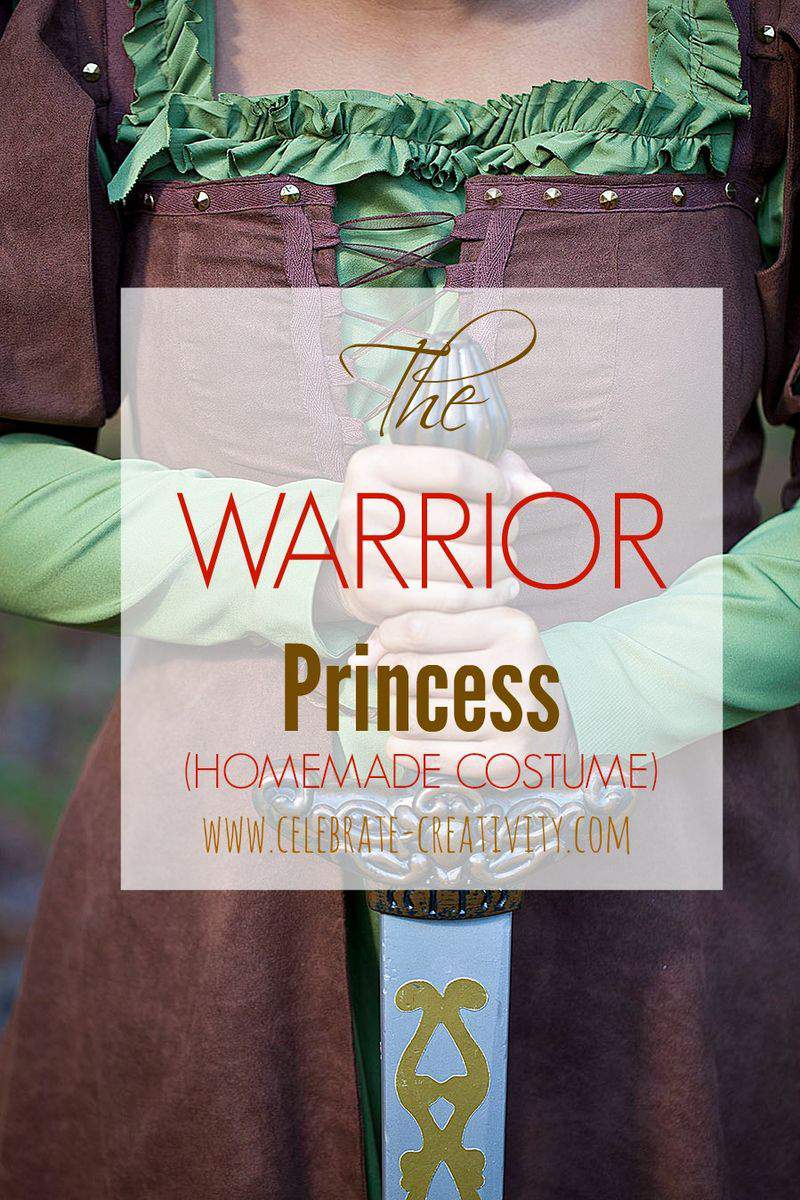 Thanks for stopping by.
I'll see you back here next time.
I've been busy on a very special project and I think you're going to love it.
STAY TUNED
I'll share the exciting news right here very soon.