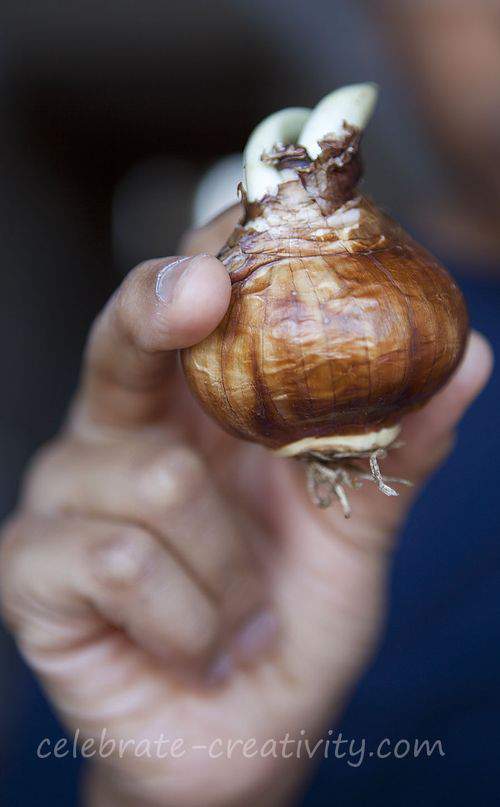 Just because it's cold outside doesn't mean you can't have fun gardening this time of year.  You just have to bring the green-thumb efforts inside.
That's an easy task when it comes to Paperwhites which are not only easy and fun to grow, but also a beautiful, fragrant addition to your holiday decor.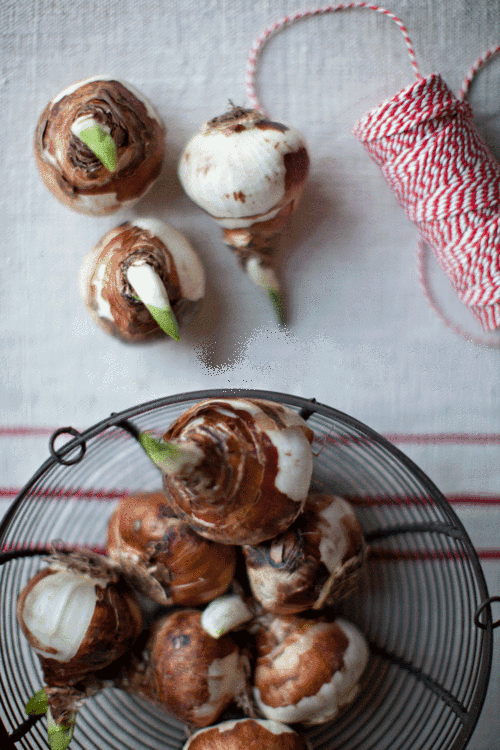 You can find Paperwhite bulbs in most nurseries this time of year. 
They are often packaged in boxes or small bags but I love to buy them in the bulk bins which are far more cost effective.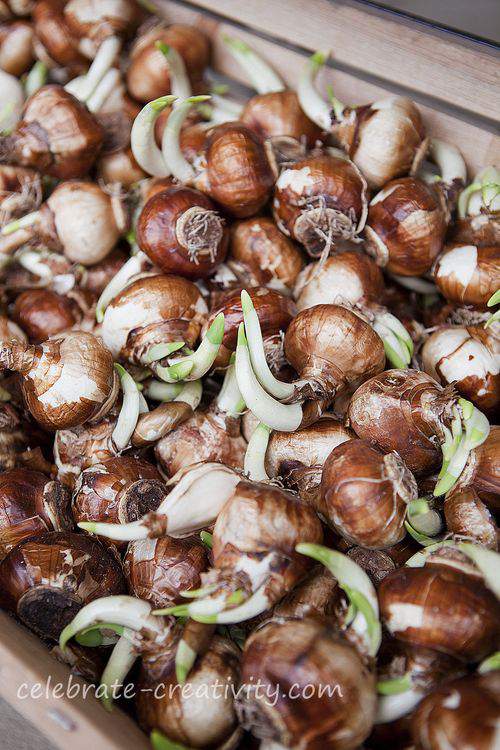 Here's a closer look at one of the bulbs.
You can see a few of roots are already breaking through the bottom of the bulb.
In no time at all these roots will really take off in length.
You can grow Paperwhites in water,  but I like to grow them embedded in pea-size pebbles.
Fill a dish with the pebbles and then push the bulbs down into them so that the lower portion of the bulb is covered.
These bulbs really love to soak up water, so you'll have to make sure you water them regularly (without drowning them).
It's OK to plant the bulbs close together because their proximity to each other will help to provide additional stem support once the Paperwhites start to gain some stem height.
In just a few short days you'll begin to notice the curved stems will begin to straighten and reach upward.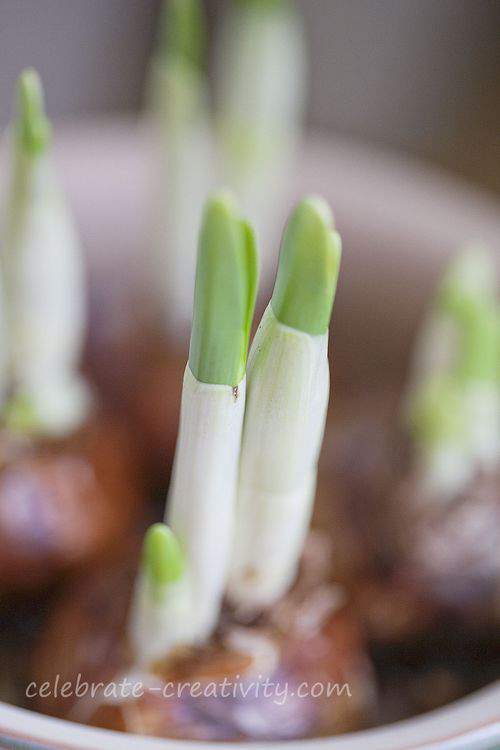 I briefly pulled these bulbs out of the pebbles just to give you a peek at what the root system looks like once it really starts to take off.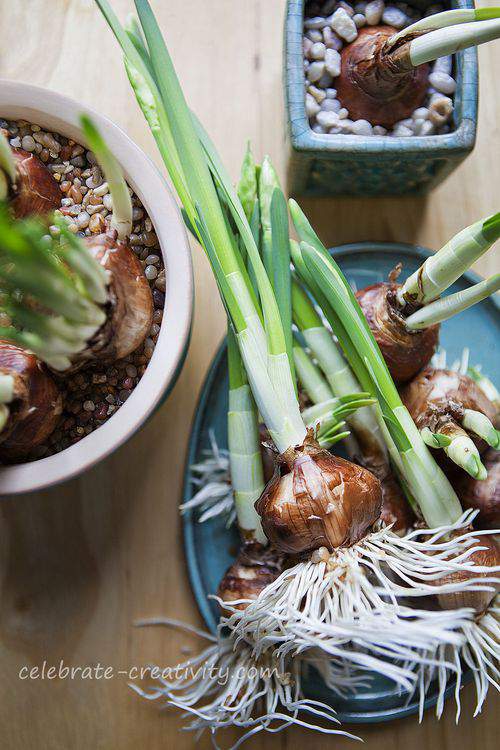 Paperwhites grow surprisingly fast with stems that can reach at least a foot and a half tall or more.
The blooms are a gorgeous winter white with a fragrance that will fill the room they're planted in.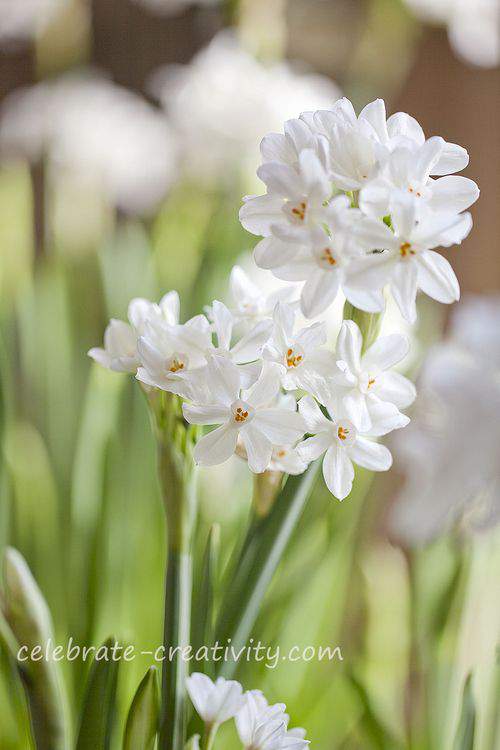 I love the look and smell of Paperwhites so much that I've decided to make growing them, an annual tradition.
Here's what my Paperwhite garden looked like last year.
Now, I'm starting from scratch again with fresh bulbs for the season.
Grab a handful of Paperwhite bulbs yourself and before you know it, you'll have a garden in winter with lovely blooms just in time for Christmas.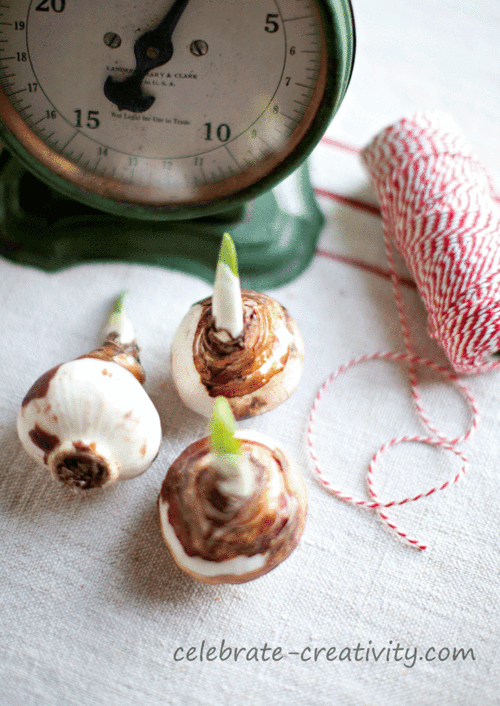 COMING UP ON SUNDAY
I hope you'll stop by for a new series I'm kicking off starting on Sunday, December 1st.
With the holiday season upon us, I'll be sharing a festive post every day right up until Christmas.
It's a bit of an ambitious undertaking for me but I'm excited about the holiday inspiration to come which will include creative home decor, fun crafts projects, sewing for Santa, and delicious holiday recipes just to name a few.
Pop by again on Sunday for Day 1 of my 25-Days of Christmas holiday series.
See you then. ♥