Over the years, I've often imagined cultivating a wonderful, storybook rose garden. 
 You know, the kind of rose garden with dozens of colorful, varieties which could potentially produce award winning blooms and also provide a steady supply of fresh, indoor floral arrangements.
Well, I'm far from having that kind of garden but, I have incorporated rose bushes into my home landscaping.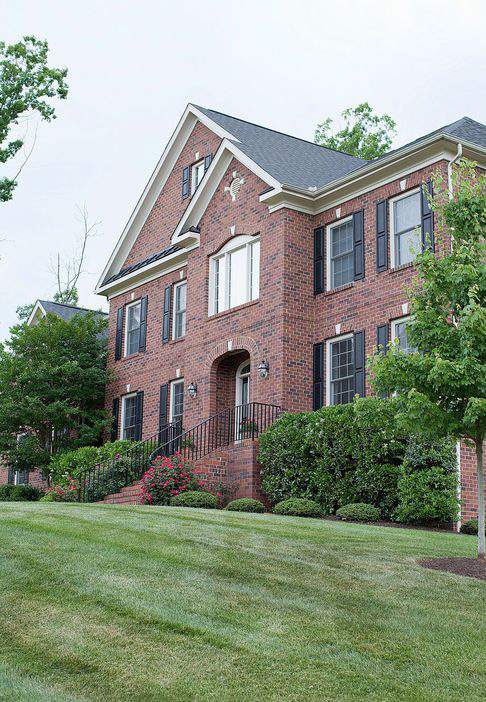 While many rose bushes have the reputation for being fragile, finicky and very high maintenance, this particular type of rose bush is super hearty and super simple to care for.
It's called a "Knockout Rose" and while they are a slight departure from the long-stemmed, fancy roses I used to dream about, these roses do have some distinct advantages over the hoity-toity type. 
First, they're pretty darn indestructable.  I've transplanted a few bushes and thought they wouldn't come back after the shock of the move, but they always come roaring back.
Knockout roses are available in several shades, most commonly in reds and pinks. 
They also grow with single blooms or what's considered a double bloom like in the photo below.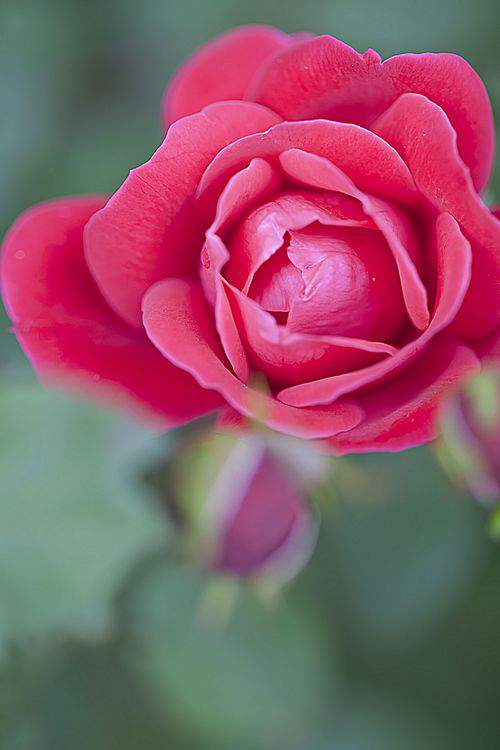 While Knockout roses don't require much special care at all, you may need to spray them in early spring to ward off small pests.
Here's a look at one of my bushes near my front steps just before it started to bloom. 
Look closer and you'll see why I advise a little bug spraying.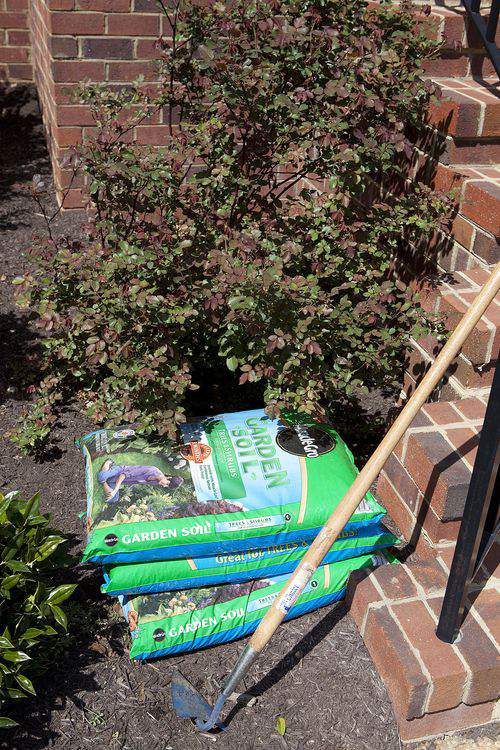 Inchworms love Knockout roses as much as humans do.
Aside from using inchworms to practice macro photography, they're of no use to me (or my roses).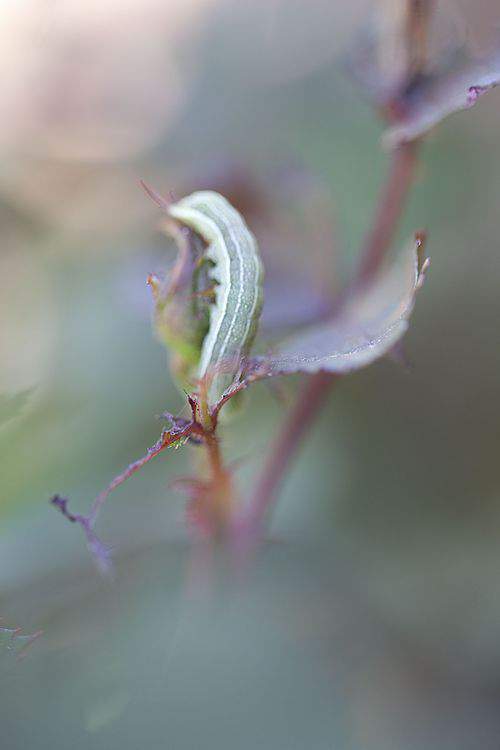 They're small but inchworms can do some big damage if you don't catch them in time.
Still, Knockout roses are very resiliant and bounce right back. 
I do regularly use a couple of products on my roses to kill pests and deter the deer (they love roses as much as inchworms).
This deer spray seems to act as a fertilizer too because everytime I use it, my rose bushes go through a bit of a growth spurt.
You can probably find both products at your local nursery.

With Knockout roses you could just as easily leave the watering entirely to Mother Nature and they'd be fine. 
Like I said, they're just that hearty.
I still like to give them a bit of a shower if the ground is particularly dry and Jordy likes to help with that task.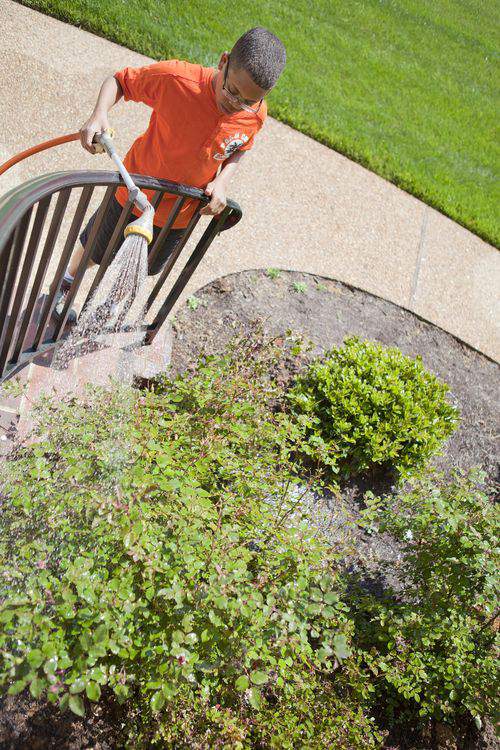 Again, they don't require much attention and they grow very quickly.
Most Knockout varieties will grow more than 5-feet tall and just as wide which makes them ideal for framing front porch steps.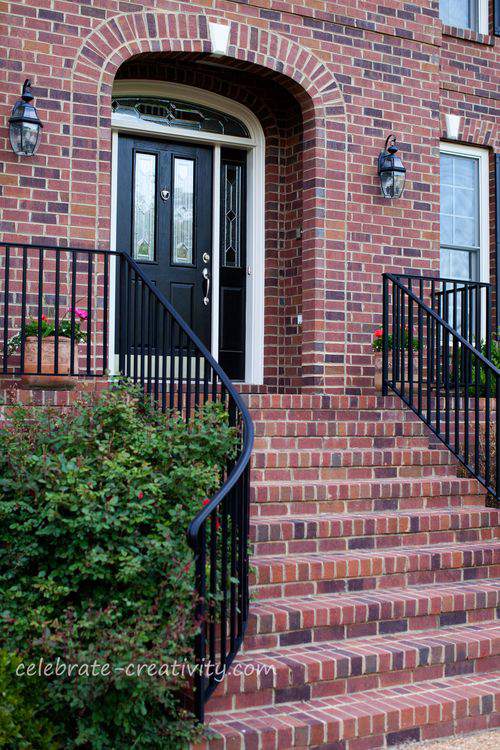 I love seeing the first new buds of the season which sets the stage for a whole summer of vibrant color wherever they're planted.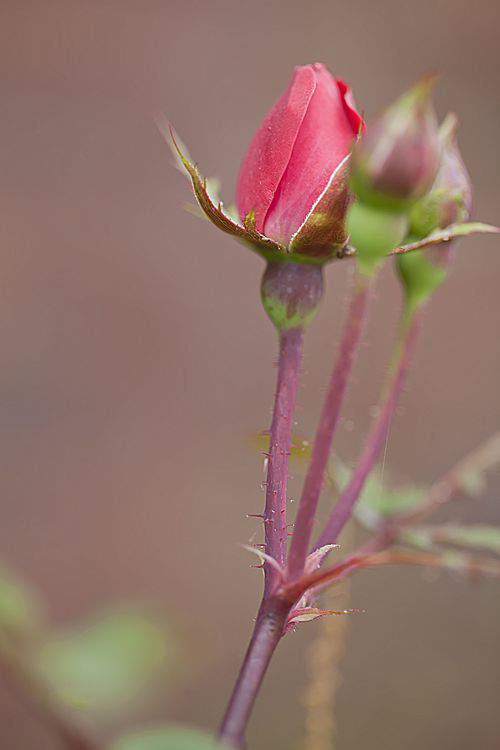 After that first bud, hundreds of others swiftly follow suit.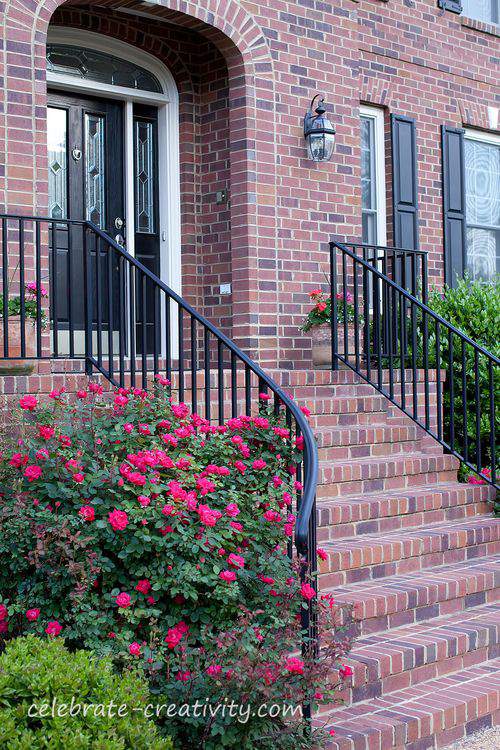 Every once in a while, these roses also reveal an unexpected treat beyond their pure color and beauty.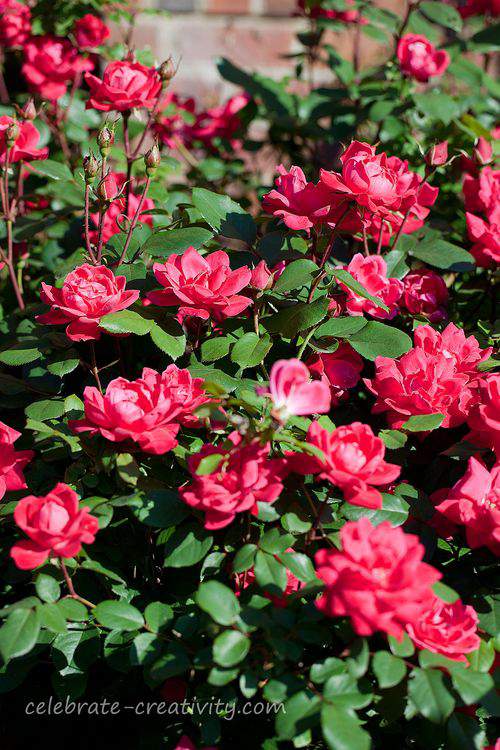 Look who I found sitting ever so still just inside the roses.
This little bird had been living in a nest in another bush adjacent to the roses when he/she hopped (or perhaps he/she was pushed) out of the nest and into the roses below.
While he/she barely moved despite my close proximity, the mother bird swooped overhead over and over again, chirping up a storm the whole time until I moved away from the area.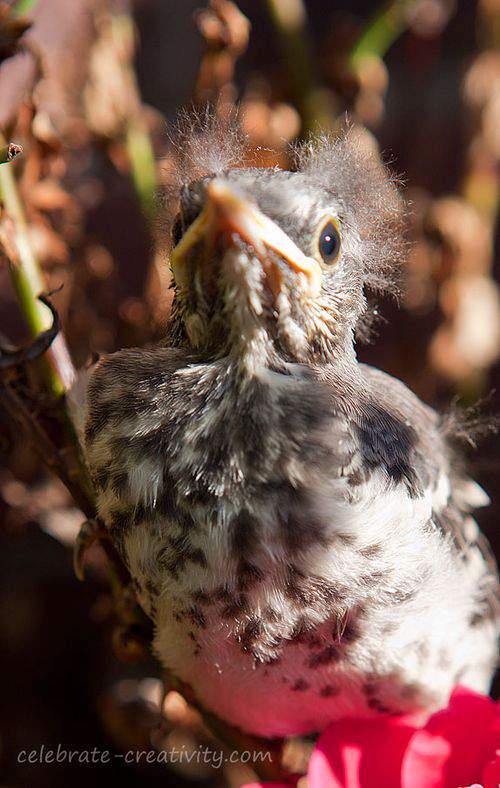 Meantime, in addition to the roses on either side of my front steps, I also have a  few bushes under a window on the opposite end of the house front.
I'll have to see how well these bushes grow in the shadow of this Crype Myrtle tree but so far so good.
Later this summer, this tree will have pretty lavender-colored blooms. 
Because Knockout roses are so rugged and grow so easily (and were on super sale at my local nursery), I recently picked up even more to help resolve a nagging landscape problem.
Here they are all lined up in my garage ready to be put into the ground.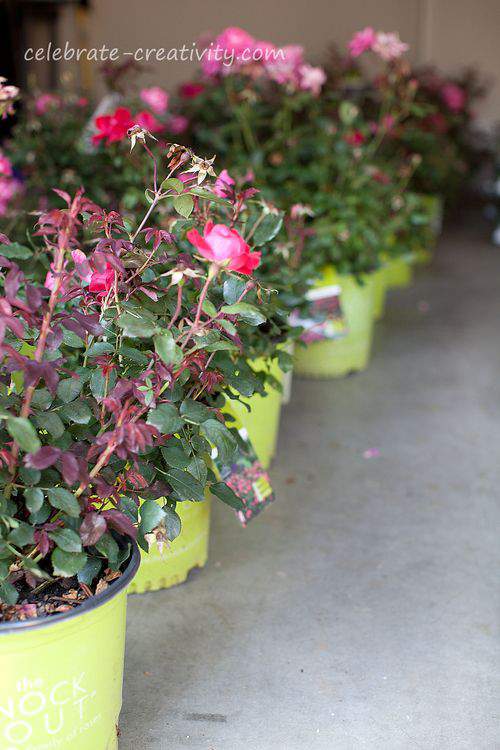 This patch of ground which separates my house from my neighbor's house was a bare and boring bed.
I recently decided to fill the space with the Knockout roses to eat up the space, add some color and ultimately create a thick, colorful hedge.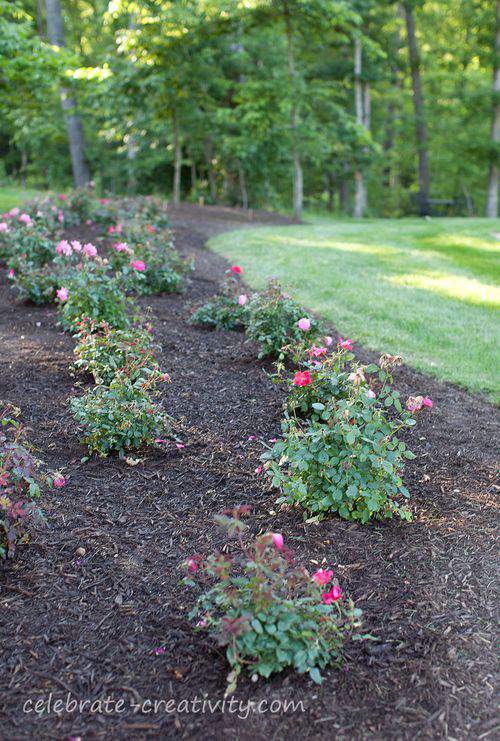 It won't be long before this new flower bed will be filled with tall roses in shades of fuscia a light pink.
You never know what other baby birds I may find down the road, playing hide and seek among the petals.
They're small now but imagine these rose bushes about 5-feet taller and just as wide.
This is going to be a wonderful hedge one day.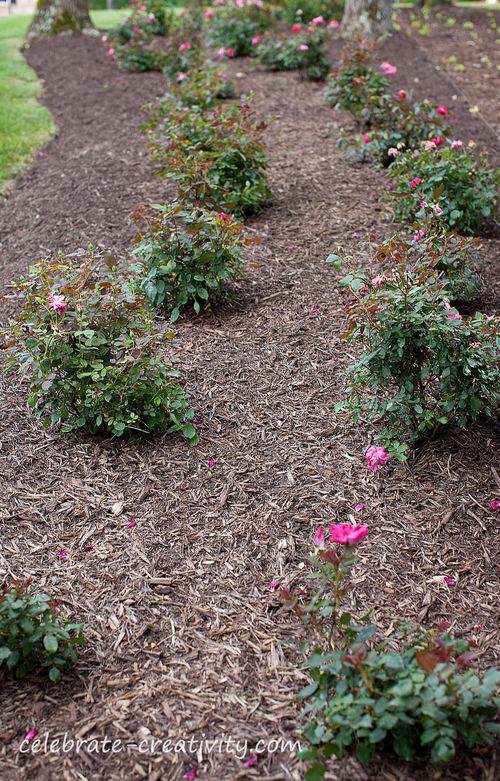 I hope this rose hedge ends up looking as good as it does in my mind's eye.
I'll be sure to share the growth later it in an upcoming post.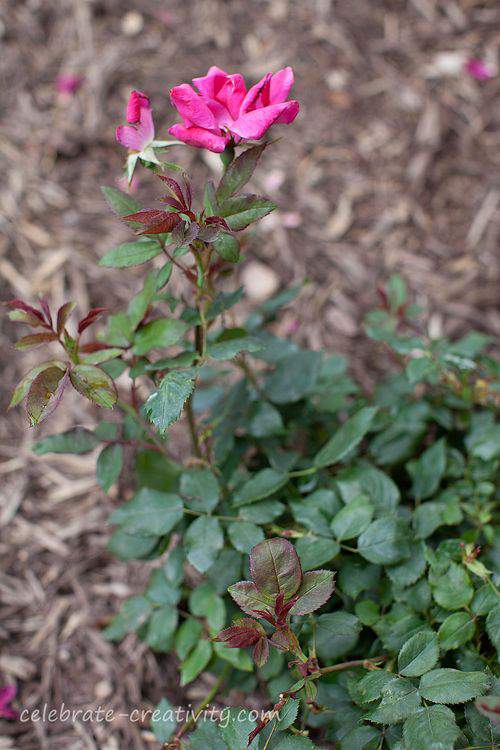 So, do you love roses as much as I do?  Have you planted any roses this year? 
Is this the first time you've heard of Knockout roses? ♥
COMING UP ON MONDAY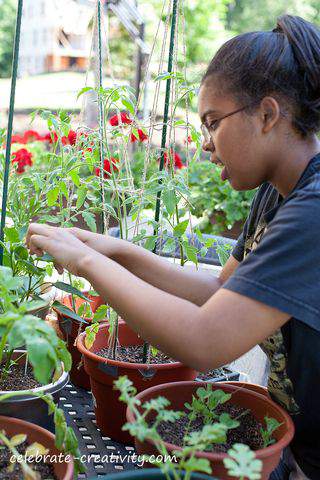 I'm sticking with my efforts to handle gardening issues around the house. 
While we encourage container gardening around here, my daughter's small pots of herbs, flowers and veggies have totally taken over our back porch. 
Coming up on Monday (6/10), I'm working on getting all of the containers under control with another simple solution.
Hope you pop by this blog again next week to see how it's all coming together.
See you then.