Imust admit, sometimes I bake up goodies just so that I can dress them up in sweet boxes like this.  Aren't you glad that I do?
Such is the case with this BEAUTIFUL BANANA BREAD.  
 I'll not only show you how to make this delicious loaf, but I'll share a sweet packaging idea that makes it a perfect gift for bread loving friends and family.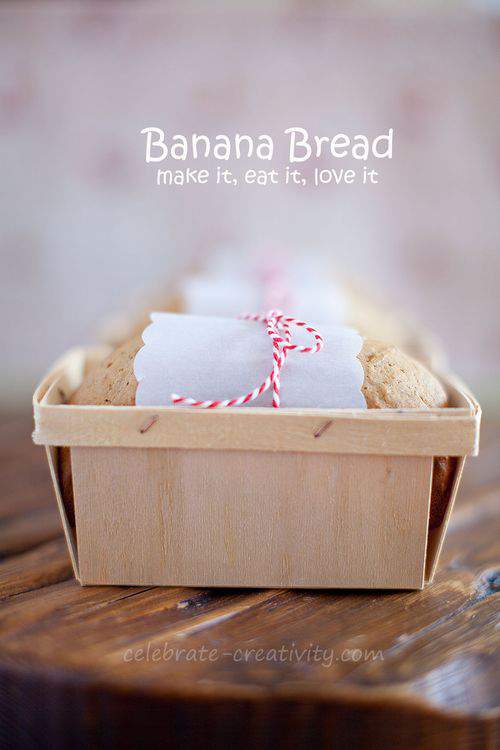 Oh-la-la.  Warm slices of banana bread are the best.
Years ago, I used to toss bananas that are too ripe.  Now, I use them to whip up banana bread and the kids love it.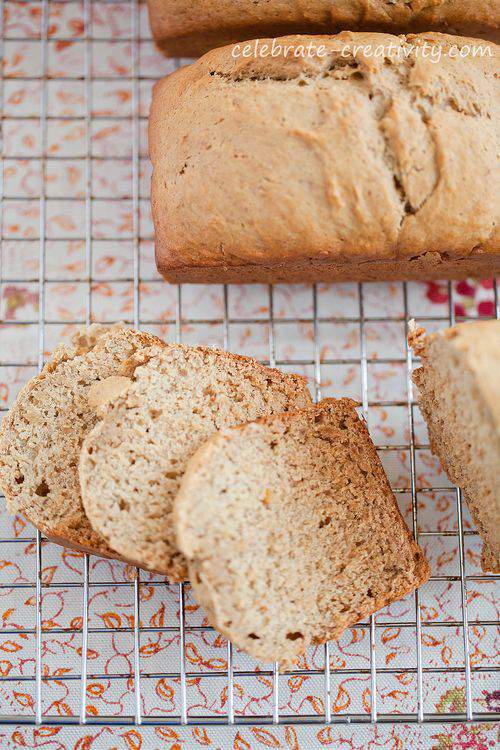 For your convenience I've created a downloadable PDF for this BANANA BREAD recipe.
You can make one large loaf but I prefer to make mini-loaves.  I think they're just so much cuter.
You can find these tiny tins at many discount retailers as well as crafts stores.  I found these at Michael's.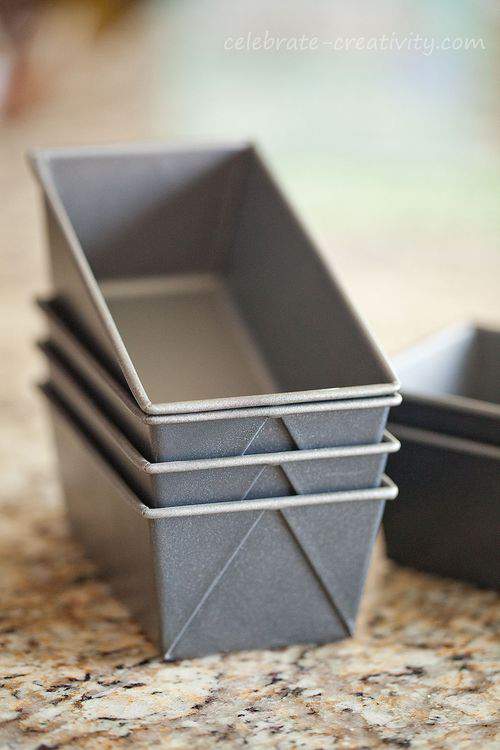 Give each tin an interior shot of baking/cooking spray to keep the dough from sticking to the sides.
The loaves are oh-so pretty when they just pop right out of the tins after baking.
Aren't these pretty?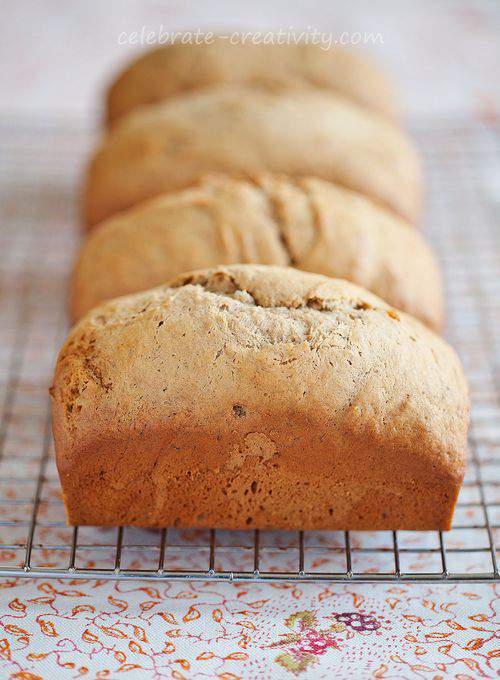 If you plan to give these loaves away to friends and loved ones, it's easy to dress up the banana bread a bit.
Grab your baker's twine (keep a spool in your kitchen stash), some parchment paper and a pair of decorative edged scissors.
NOTE: Decorative edged craft scissors can be found at most craft stores.
DOUBLE NOTE: You can see another cute packaging idea for banana bread that I featured here in a previous blog post entitled Monkey Business.   The kids (and my photos) have really grown since then.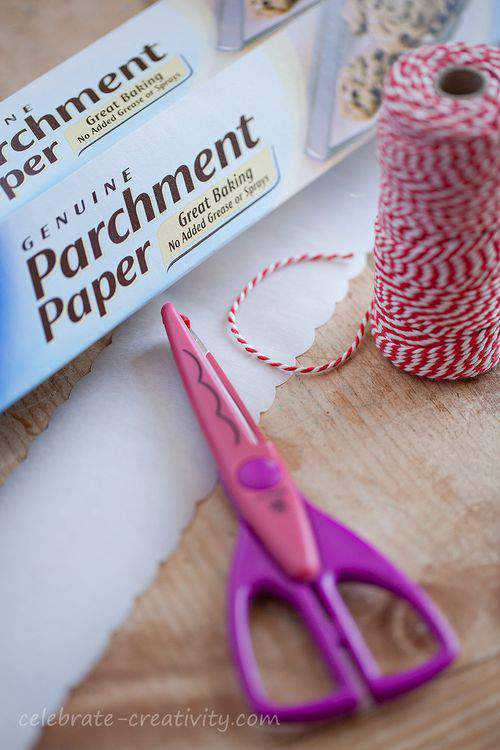 Cut a strip of parchment paper and cut along the edge of both side with the decorative scalloped scissors.
Tie the scalloped paper around each loaf and tie with Baker's twine.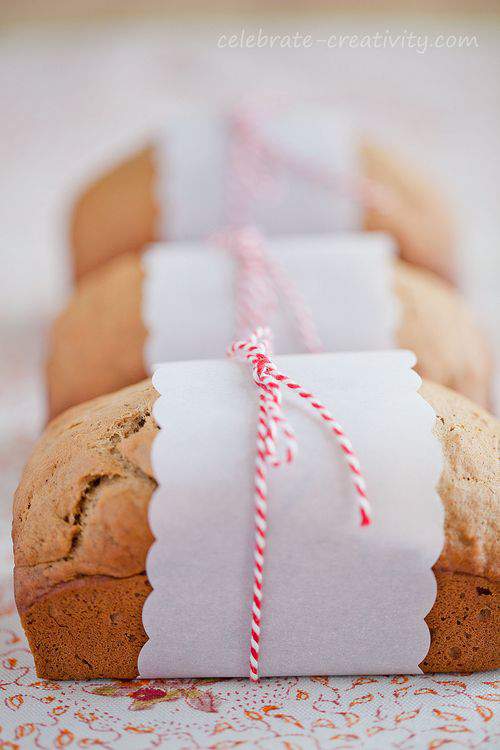 I found these delightful wood berry boxes at an on-line shop called Shop Garnish.
These boxes come in multiple sizes and are perfect for baked goods and for mini-loaves.
These are the rectangular, pint size option and as of this writing, they sell for only $.70 each. Nice deal.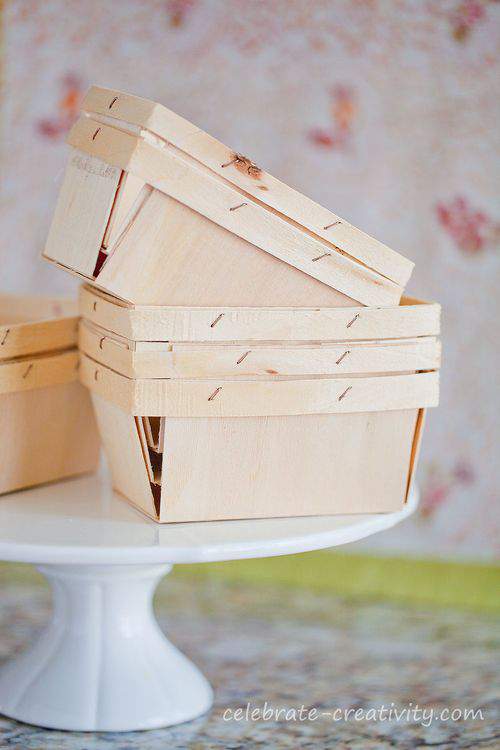 Drop a loaf into the wooden box and you're almost ready for gift giving.
NOTE: If making this banana bread for gifts, remember to keep in mind that many household members have nut allergies so you may want to skip the nuts altogether.  This recipe is tasty with or without nuts.
Wrap each loaf up in a large baking baggie which you can find at most crafts stores in the baking section.
Make sure you use a twist tie to securely seal the bag so these babies stay fresh on their way to their final destination.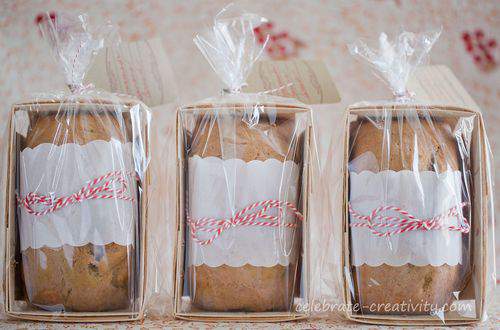 Add a handcrafted gift tag to finish off the presentation.
For this tag, I used a simple stamp to create a lined image on a tag.
Using your own handwriting (as opposed to computer writing) adds to the homemade flavor of the offering.
TIP: It's a good idea to keep a tag punch in your craft stash.  You'll use it a hundred times over.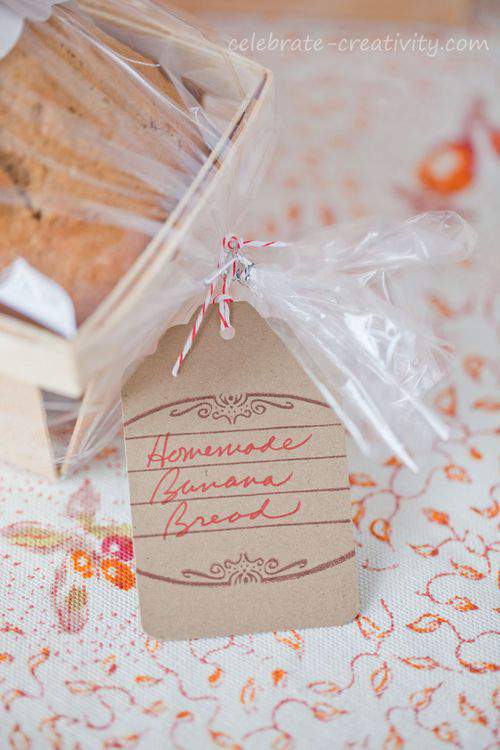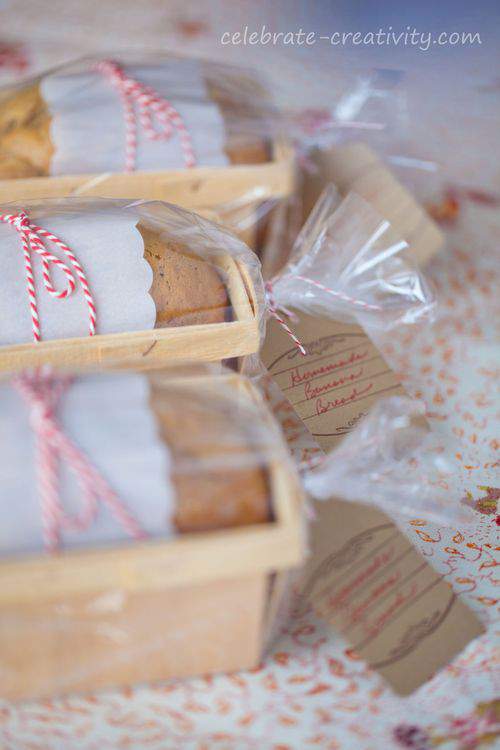 If you decide to make a few loaves to give away, I hope you consider trying out the scalloped parchment paper idea.
I think this looks lovely, don't you?
So, what are you whipping up in the kitchen this weekend?
Banana Bread, perhaps? ♥
WANT MORE DELICIOUS INSPIRATION?
Pop over to Kim's Link Party at Savvy Southern Style for a look at more tasty looking recipes and DIY inspiration.  You'll love all the great ideas and recipes featured at Kelly's link party over at Smart School House.  Be sure to spend some time overy at Lucy's party at Craftberry Bush for even more beautiiful projects, recipes and DIY fun.
COMING UP ON MONDAY 
Coming up next week, I'll have another quick and easy packaging idea. 
My daughter is the big environmentalist in the family and she regularly looks for ways to recycle or in this case upcycle.
I'm taking a cue from my teenager and upcycling my gift wrapping.
Hope you pop by this blog again on Monday (5/20) for a look at the pretty upcycled result.
See you then.