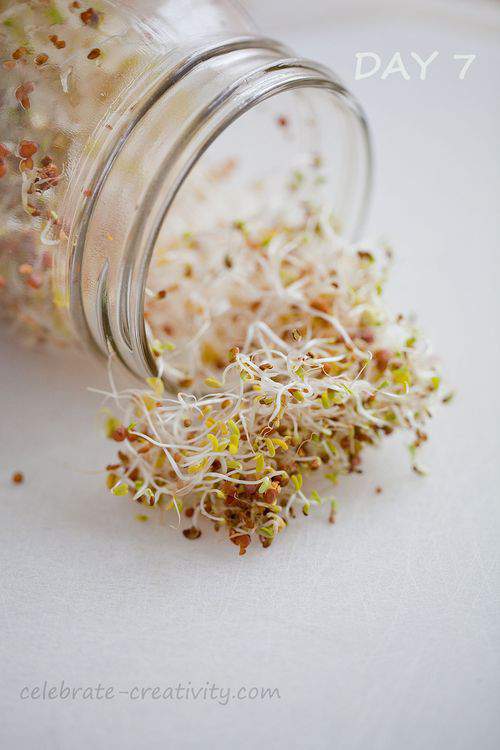 When it comes to sprouts on food, I'm a recent covert.  For the longest time, I considered sprouts to unusual looking to even give them a chance.  Needless to say, I've changed my mind.
If you already have an affinity for sprouts you don't necessarily have to wait for a trip to the grocery store to add them to your lunch plate.
You can grow them yourself.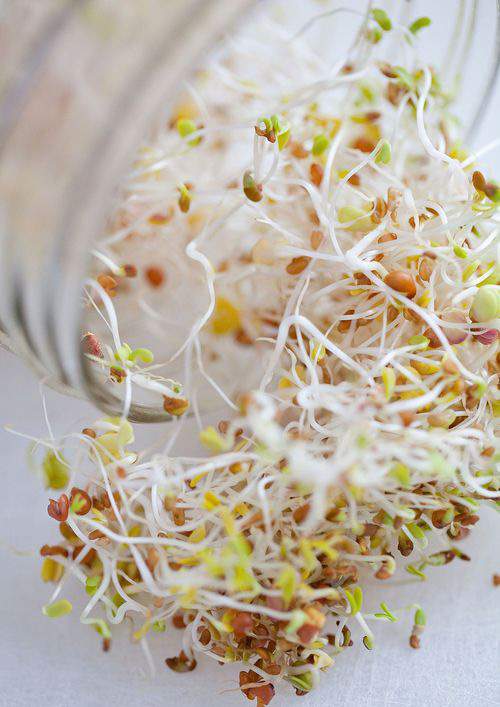 Throughout this post, I'll show you how easy it is to grow your own sprouts from home.
First, pick up Sprout seeds from just about any garden shop or store that carries seeds.
I actually found my sprout seed packs at my local Fresh Market grocery store.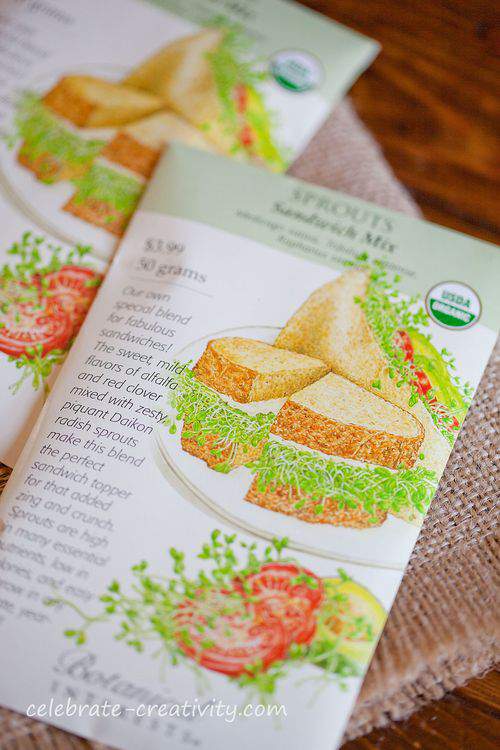 After opening the package you'll need to sterilize the seeds to make sure you're not working with any contaminated seeds. 
Sometimes certain seed-types can carry bacteria and because of the nature of how these sprouts are grown, it's a good idea to clean the seeds first.  Better safe than sorry.
Sterilize the seeds by soaking them in a light bleach solution made up of 1-cup of of water to 1-teaspoon of regular household bleach.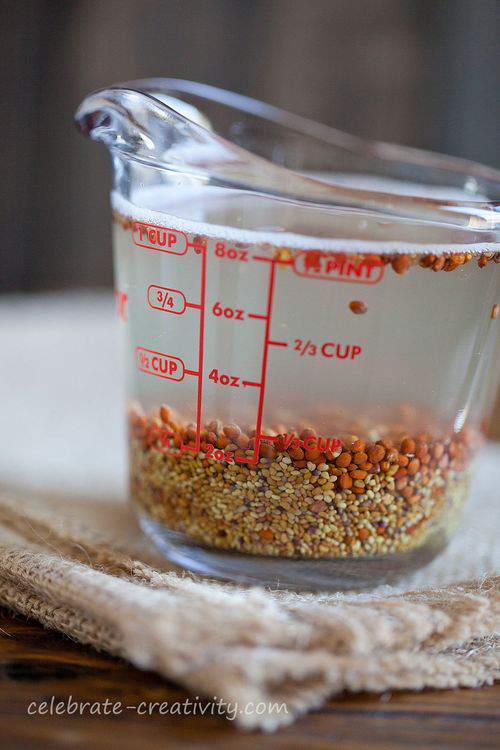 Soak seeds in the solution for about 15-minutes.
Rinse the seeds several times times in cool water. 
Then, rinse again.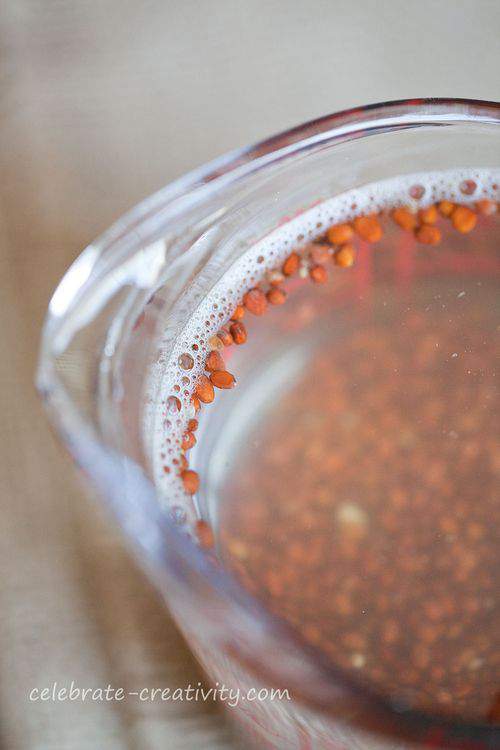 After all the seeds have been thoroughly rinsed, spread them out onto a paper towel.
It's a good idea at this point to pick out any broken husks or shells if you spot them.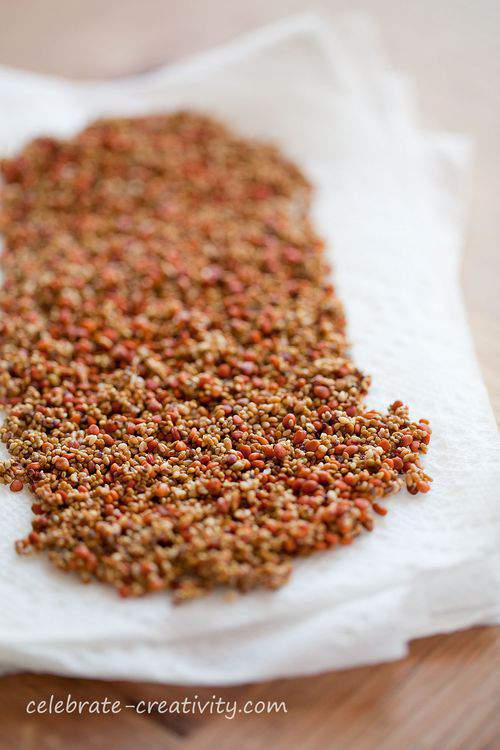 No need for soil in this gardening lesson.  You can grow your sprouts in regular Mason jars.
You'll also need a few small square cuts of cheesecloth for help with drainage.
Use the Mason jar lid rings (sans lids) or rubberbands to hold the cheesecloth in place over the jar when you get to the drainage step.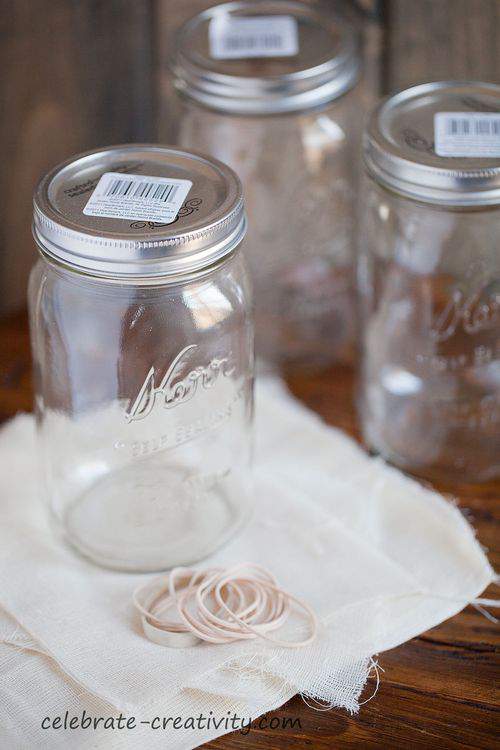 Divide the sprout seeds evenly and place into the Mason jars (I used three jars for one pack of seeds).
This may look like more jar than you'll need but trust me, the extra jar space is needed so the sprouts have room to grow.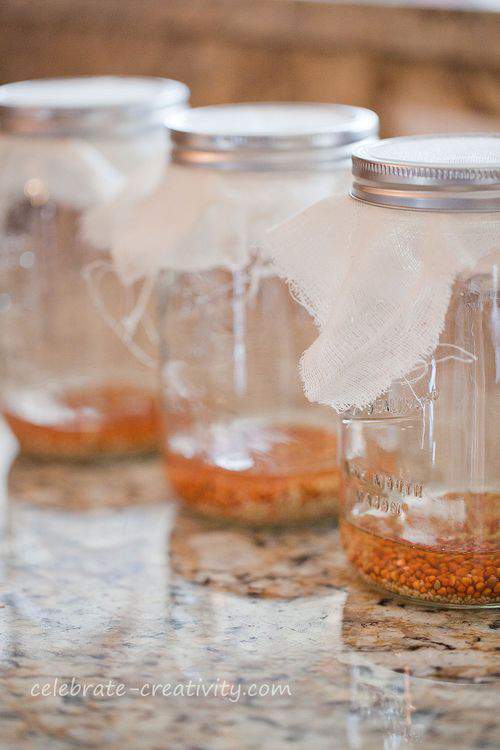 If you remove the circular Mason jar lids, the square cheesecloth cuts fit right over the jar opening.
Then, you can use the jar rings (sans lids) or rubberbands to hold the cheesecloth in place.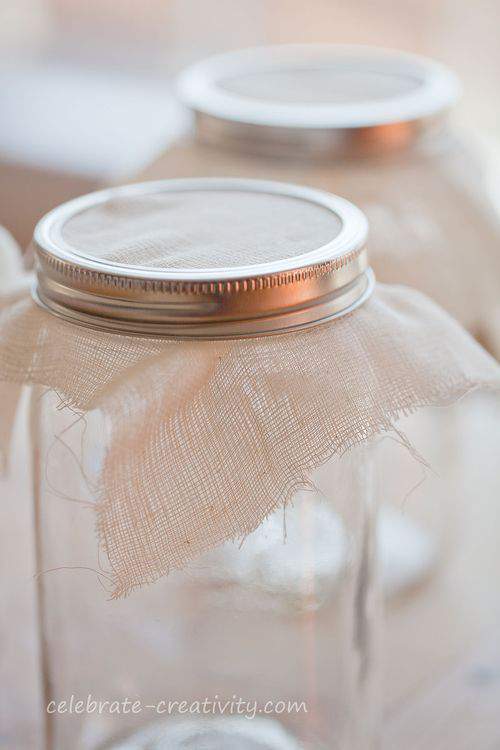 Add just enough water to cover the seeds and then swirl the water in the jar making sure that all the seeds get wet.
Gently swirl the seeds for a few minutes and then drain the water from the jar.
When pouring the water from the jar, make sure the cheesecloth is adequately secured to prevent your seeds from going down the drain.
Once the water has been removed, shake the jar so that the seeds are spread out inside the jar.
Set aside overnight.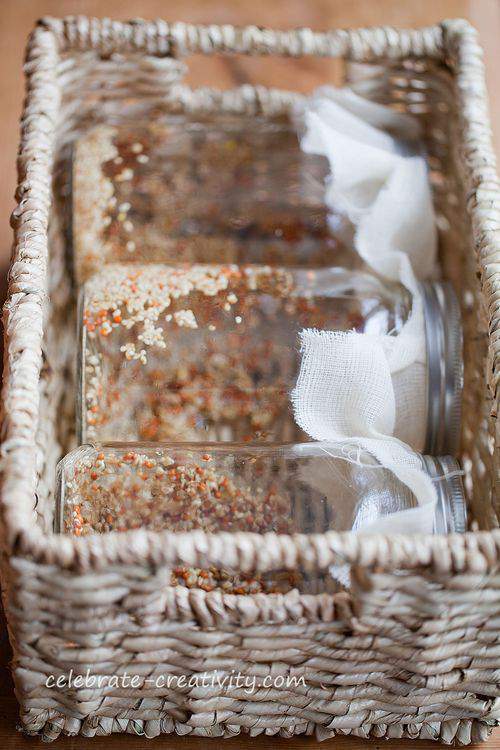 Repeat the watering step 2-3 times a day making sure the seeds are fully drained between each watering.
It won't take long at all before the first signs of growth begin to appear.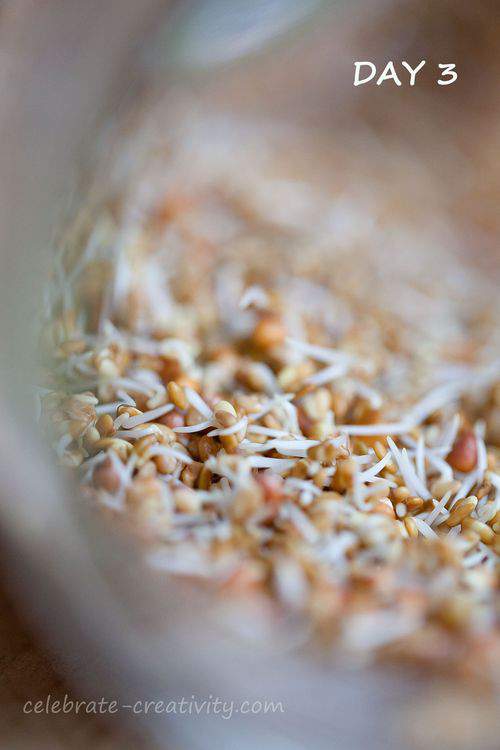 These sprouts need a few more days before they're ready for a plate but here's a look at the growth after just one week.
Once all the tips are green you'll know they're reader for harvesting (albeit, jar harvesting).

It's fun to see the little green buds appear so quickly.
Follow the watering procedure properly and in less than two weeks, you'll have your very own sprouts to add to your favorite sandwiches or salads.
Won't your lunch guests be impressed that you grew these yourself?
NOTE:  Directions may vary depending on the type of sprout seeds you purchase.  Make sure you double check the instructions and sterilization procedure on the back of whatever seedpack you purchase.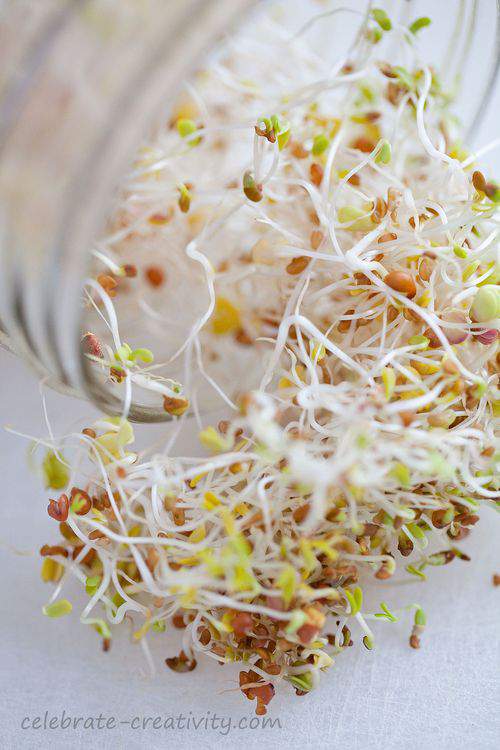 Sprout gardening couldn't be easier and you never even have to get your hands dirty.
I hope you're inspired to give it a try. ♥
 COMING UP ON MONDAY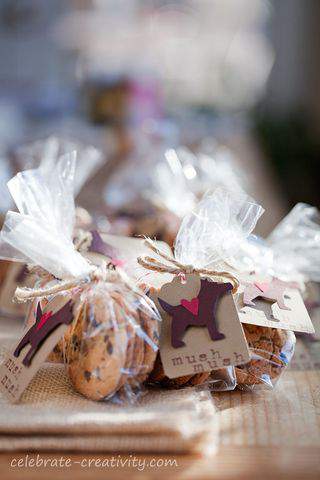 You're looking at doggie treats but they're actually for human consumption only.
Coming up next week, I'll show you a super easy way to dress up store-bought cookies for school events.
This Iditarod-inspired project is great for fundraisers, bake sales or any other event that requires the gift of cookies.
Hope you pop by this blog again on Monday(3/25) for a look at my easy-to-package Iditarod Doggie Treats.
See you then. 
Woof, woof.