W e're now just days away from the official start of Spring (3/20).   You can't wait, can you?  I sure can't and quick browse around blogland is proof positive that many bloggers are already on the same page.
In this latest edition of my regular column, AROUND TOWN, I'm sharing a few of the Spring Greens that I've run across from fellow bloggers who are clearly thinking about the Spring season ahead.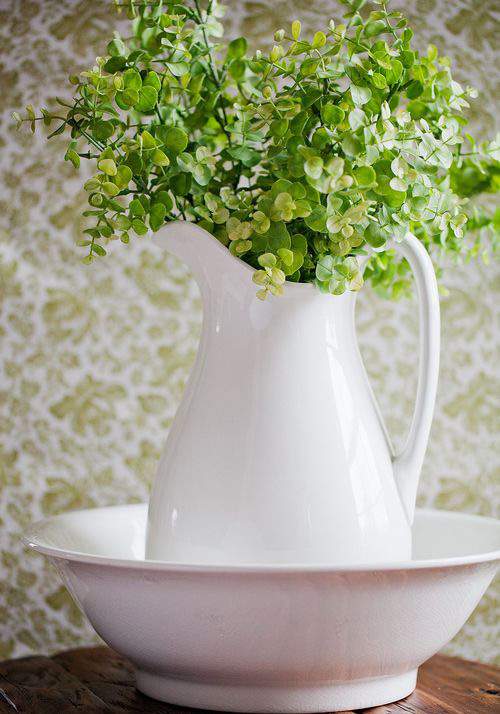 Let's start out with a fantastic Spring-themed wall display.  Now, how creative is this? 
Baskets are great for much more than carrying miscellaneous items.  This lovely display is thanks to Tonya from  Love of Family and Home.
Lots of moving parts here but they all work beautifully together.  Check out the moss covered alphabet.  Moss is definitely a big trend lately with lots of moss-covered projects popping up all over.
NOTE: I've never worked with moss before but I'm going to give it a try.  Stay tuned for what I come up with.  Meanwhile, more DIY moss covered projects further down in this Spring post.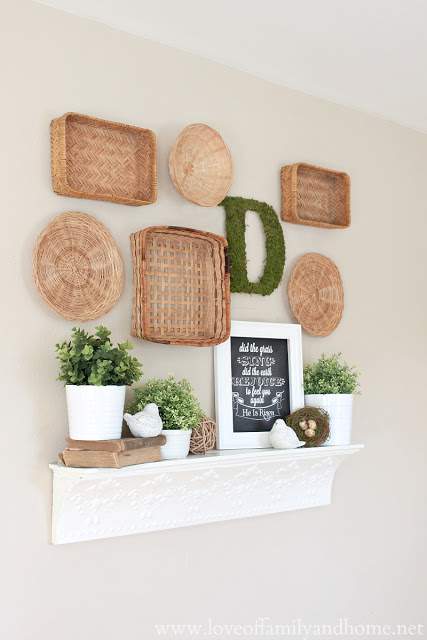 Photo source: Love of Family and Home
I think boxwood wreaths never go out of season and I love the way Bethany from This Little Estate used these square shaped boxwoods for a dramatic pairing on her china cabinet. 
The square shape is an unexpected tough that makes this dynamic duo that much more interesting to the eye.  I'm going to have to keep my eyes open for a few square-shaped wreaths.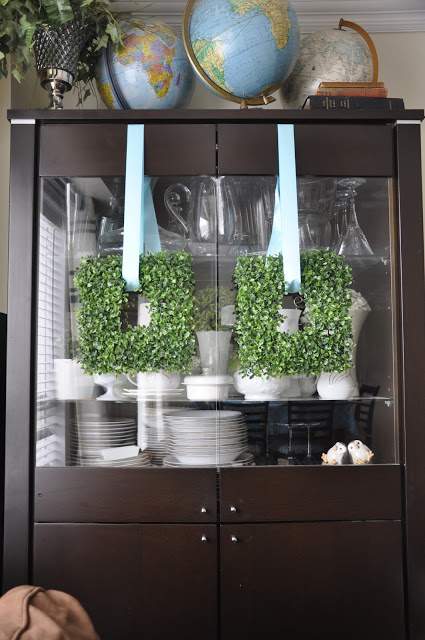 Photo source: This Little Estate
Are you hungry?  If not, you just may be after you take a closer look at Leigh Anne's roasted red pepper and chicken sandwich. 
Pop over to Your Homebased Mom to see how to build this yummy bite.
This sandwhich may very well be the answer to that age old but familiar query; "what's for dinner, Mom (or what's for lunch)?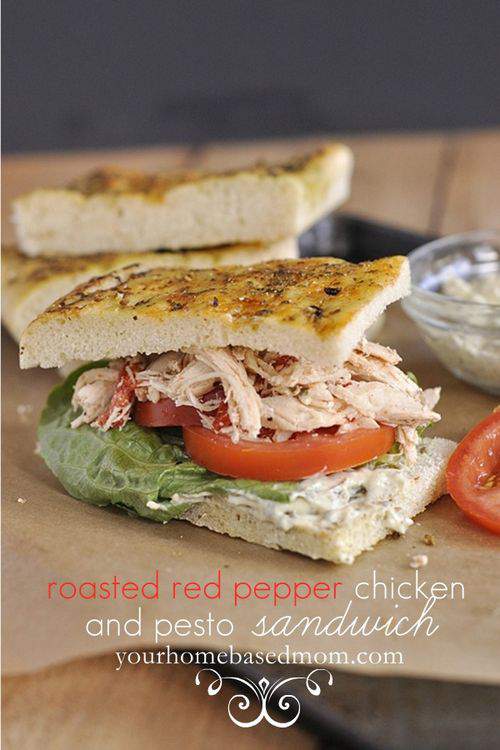 Photo source: Your Homebased Mom
Topiaries are getting more and more creative these days and Jennifer with Town and Country Living has a beautiful post on how to use topiaries around the home.
Jennifer walks you through a number of ways on how to incorporate this popular element into home decor just in time for the Spring season.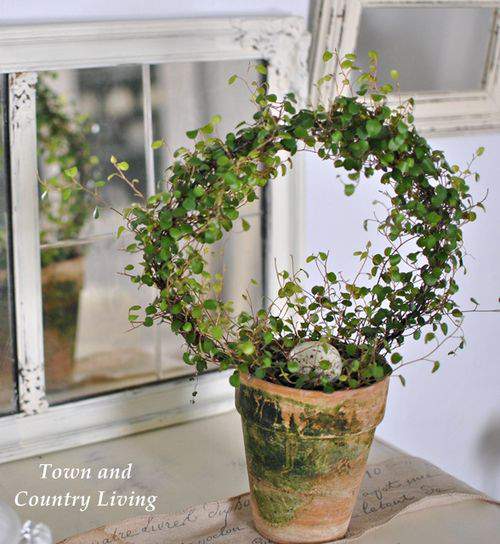 Photo source: Town and Country Living
Button up with these adorably decorated mint green eggs.  They almost look like little vests, don't they?
Bev with Flamingo Toes added a dash of lace and twine to top off for this sweet (and slightly Victorian) twist on egg decoration.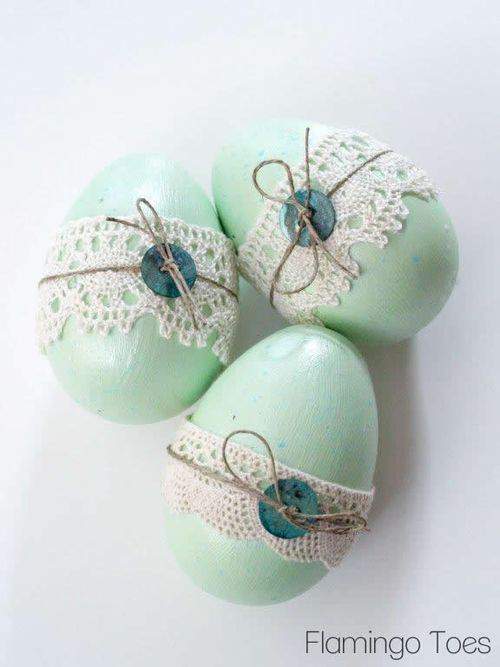 Photo source: Flamingo Toes
Back for more moss covered, marvels.
What a great looking presentation created by Liz Marie from the Liz Marie blog.  Liz opted for a grand scale here with a tall, three-tiered approach.
I also love how she arranged them to book-end the bedroom chest for even more of a WOW factor.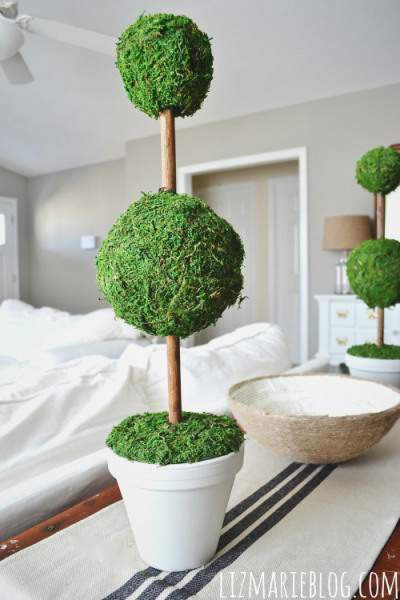 Photo source: Liz Marie Blog
Like I said, the blogosphere has exploded with moss covered projects.
Here's another wonderful project featuring moss thanks to Taryn from Design, Dining + Diapers.    
This monogrammed door sign combines a bit of whimsy with just the right amount of country charm.  
  Photo source: Design, Dining + Diapers
Chevron is another design that is popping up all over and this painted stool not only has the modern design but a weathered edge too.
Tanya over at Twelve O Eight is all about making pretty things on a budget and this stool is a great example of her wallet-friendly approach that produces goregous DIY results.
 Photo source: Twelve O Eight
The temps may be warming outside but that doesn't mean we have to stop drinking hot chocolate come Spring.
As Sarah with the WInthrop Chronicles can attest, homemade hot chocolate is not only super easy to make it's a great beverage to enjoy any time of year.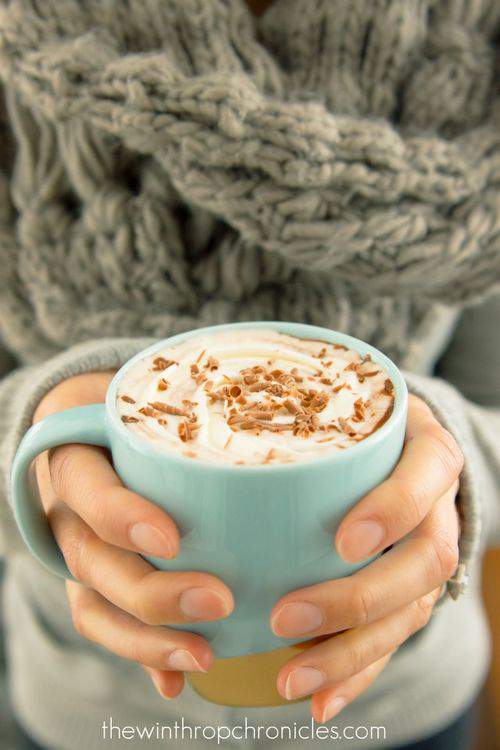 Photo source: The Wintrhop Chronicles 
If you have school age kids, then you probably have colored pencils in just about every corner of the house.  Jennifer from Monkey See, Monkey Do has the solution to keeping pencils organized with her easy-to-make pencil case. 
Don't worry, zippers are easier to install than you think and Jennifer shows you how in her colorful (and easy to follow) pencil case tutorial.  
Photo source: Monkey See, Monkey Do
I love guacamole but never thought of making it myself. 
This delicious looking spread is courtesy Christina from Christina's Adventures who shows you how to whip up guacamole in mere mintues with just a handful of ingredients. 
Yummy, I want to make this today.  Don't you?
Photo source: Christina's Adventures 
Seasonal mantels are all the rage these days and no one does them better than Lucy from Craftberry Bush. 
I've been a fan of Lucy's blog since I stumbled upon it earlier this year and it never disappoints. 
Her soft and soothing Spring mantel displays the perfect mix of distressed framing and green fauna to make us all ready for spring.
Now, this is another project I'm definitely going to try myself.
These salad dressing dispensers would make a great gift set and Christine with The DIY Dreamer really makes the project seem oh-so simple.
Yes, I'll make a set to gift but I'm definitely going to have to make an extra set for me to keep too.  
It may still be a little chilly to garden outside but that doesn't mean you can't get your green thumb on, inside.
This small balcony-like space provides just enough room for Meeha Meeha to create a garden oasis of green with this beautiful assortment of plants.  
What's old is new again and it's always fun to watch furniture transformations unfold.
You'll love seeing how Allison from Golden Sycamore took an old, dark chest and breathed new life into it with a little paint, stunning new hardware and a little love.
Perfect color, perfect Spring makeover.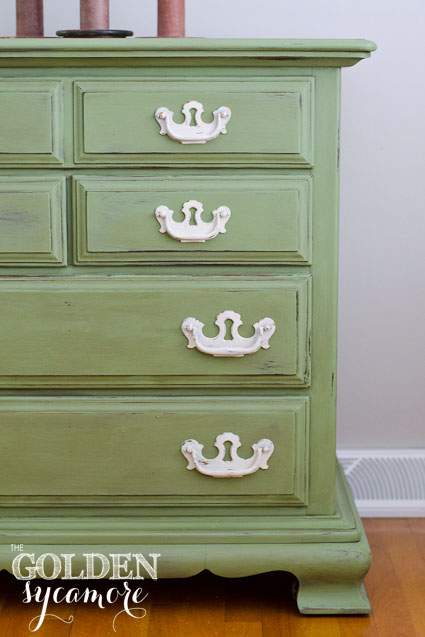 Photo source: The Golden Sycamore
Regular readers of this blog may recall my grain sack fabric post from a few weeks back.  Well, Kristine from The Painted Hive takes the concept to a different level with grain sack tea towels.
Kristine walks you through an easy tutorial on how to create this lumbar pillow that would look fantastic on any chair.  What a fun idea.
The sweet (but serious looking) dog is not included.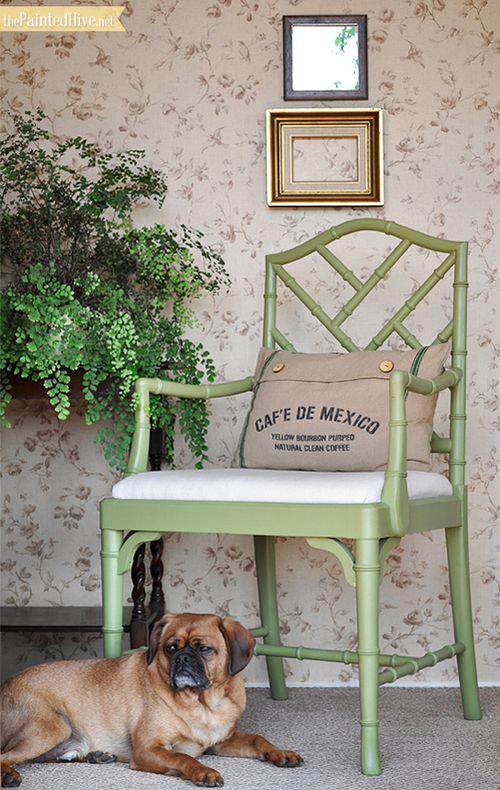 Photo source: The Painted Hive
So, that's a quick wrap up of what caught my eye AROUND TOWN.  
Stay tuned for another edition of this regular column featuring the creativity of fellow bloggers soon.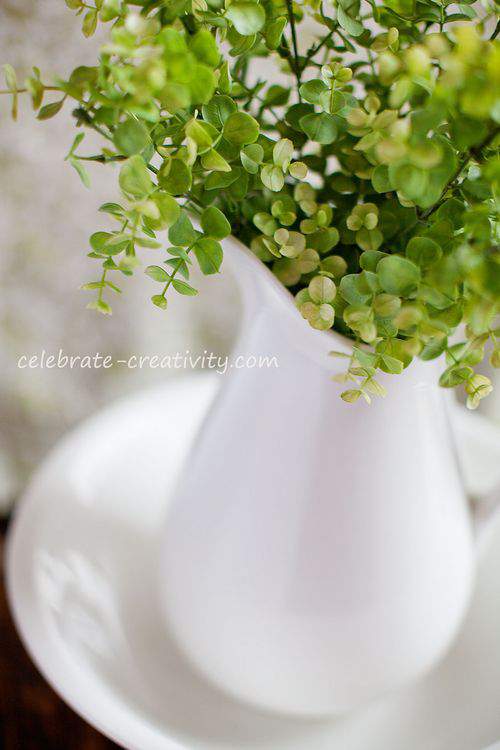 I'm definitely inspired to get to work on more Spring-themed projects and I hope after reading this post, you are too.
HAPPY SPRING EVERYONE. ♥
COMING UP ON FRIDAY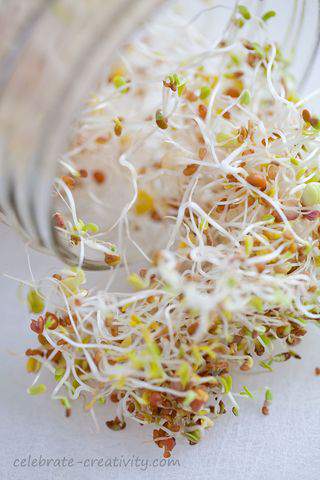 If you've ever enjoyed sprouts on your favorite deli sandwich, you're going to like what's ahead.
Coming up this Friday (3/22), I'll show you how you can grow your very own tasty sprouts from home.
You won't need much either.  Just some seeds, a Mason jar and a little H20.
Hope you pop by this blog again later this week forTHE FRIDAY FOODIE with a closer look at sprouting sprouts.
See you then.