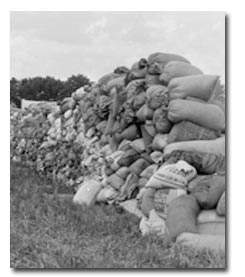 W hen it comes to fabric, I have a ton of it and I'm constantly adding more.  However, I must say my latest purchase of yardage has me really excited about the possibilities.
I recently purchased three different colors of grain sack fabric, 2 yards each.
If you're not already familiar with grain sack fabric, I'm happy to introduce you to it.  I think you're going to love it as much as I do.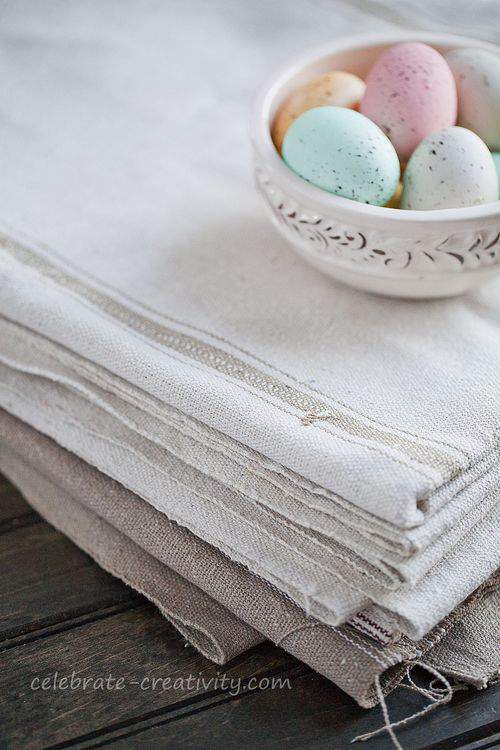 I must say, I'm a little obsessed with this fabric right now especially after seeing so many grain sack-inspired projects created by fellow bloggers.
Grain sacks have a fantastic heritage as well as an influence on modern-day fabric which makes it all the more interesting to aquire and work with.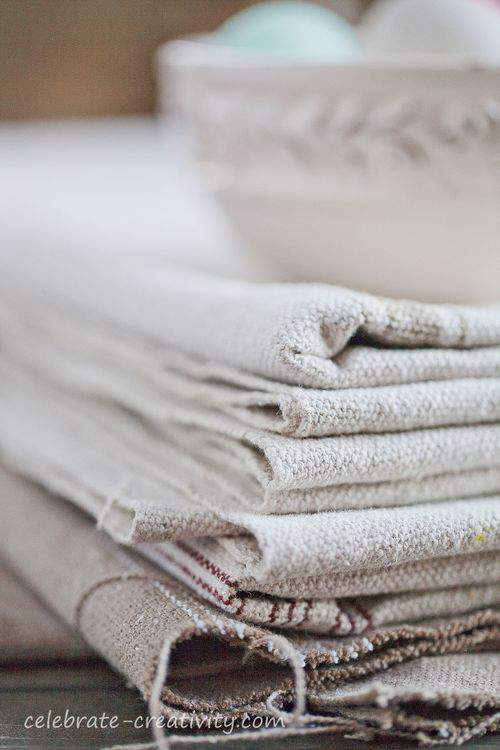 First, a bit of background on grain sacks which have been around since at least the 1800's. 
Early European grain sacks were made from hemp and flax and were handmade right on the farms on which the hemp or flax was grown.
After harvesting, the hemp was cleaned, spun into thread and subsequently woven into a heavy, durable fabric.
That fabric was used to make large bags for grain, feed and other agricultural products for efficient transport from farm to marketplace.  
Many sacks were branded with the logo of the farm and/or they were monogrammed with the owner's initials.
This way, the sacks and their contents could be easily identified and connected to a particular farm.
The distinct and familiar striping often seen on grain sacks was also a way for farmers to identify their sacks so the bags could be easily returned to their rightful origin.
Thanks to technology, grain sacks are for the most part no longer made by hand.  Instead they are more often made from machine woven burlap.
Of course, grain sacks are just as durable today albeit not authentically vintage.
However, you can still find "authentic" European grain sacks at small shops, markets and on line.
They're not only highly prized but can be quite pricey too as you'll see if you browse the subject on Ebay.
Meanwhile, modern day grain sacks continue to demonstrate their utilitarian value.
I spotted these coffee bean-filled sacks stacked against a wall at a favorite local cafe and couldn't resist a camera phone snapshot.
The rustic, vintage appeal of these hearty sacks has prompted a new generation of fabric production, inspired by the old fashioned, European grain sack.
These days, it's a fabric that is designed less for harvested crops and coffee beans and more for home decorating and DIY projects.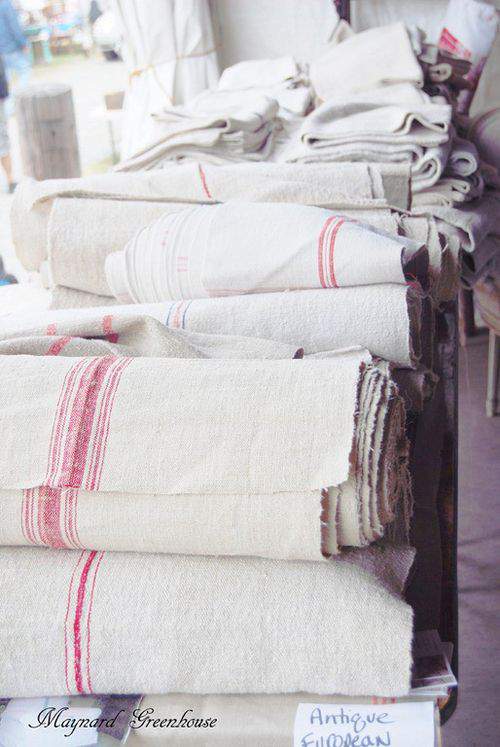 Photo source: Maynard Greenhouse
The blogosphere is filled with beautiful creations featuring grain sack-inspired fabrics.
Throughout this post, I'll share some of the favorites that I've stumbled upon including this table runner that is gorgeous in its simplicity.
Doesn't this tablescape make you want to just pull up a chair and sit a while?
This is so fresh and clean.
As you can see, grain sack fabric really adds a feeling of vintage elegance. 
I think these cushions would also be a cinch to make and I'll definitely keep them in mind for my new grain sack fabric.
In this project, I love how the strategically-sewn fabric pieces connect that distinct red striping.
This make for an even more eye-catching pillow design.
Cute doggie too.
Very often, you'll see grain sacks used as upholstery fabrics covering everything from chairs and sofas to lampshades.   
This chair is bold and rugged. 
I'm partial to the lighter softer shades of grain sacks and grain sack fabric and this chair turned out beautifully. 
One day I'm going to take an upholstery class so I can learn how to cover chairs like this with whatever fabric I choose.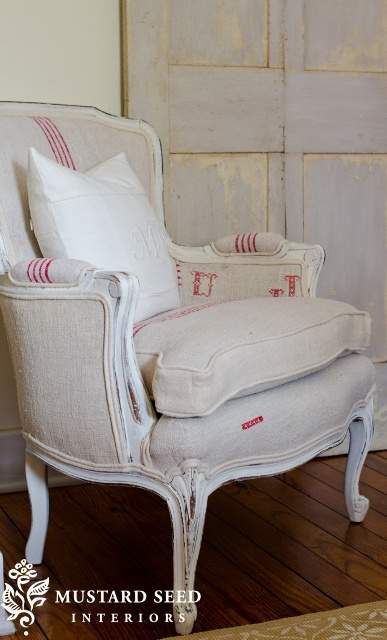 Photo source: Miss Mustard Seed
This stair runner is an unexpected way to use grain sack fabric.
While I do like how this looks, I'd be afraid to do this myself considering the heavy duty foot traffic in my house.  
Here's another example of grain sack fabric used on a staircase. 
I think this works nicely in this kind of mildy, country-styled home.
I love the Land's End canvas beach bag at the bottom of the steps.  I own the same bag.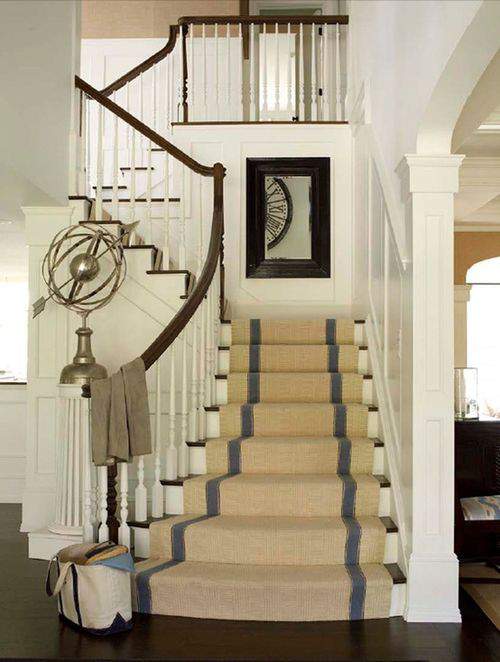 The Painted Hive
Oh, why oh why can't I find a flea market with a display like this?
I've read that flea markets are among the best places to find grain sacks and vintage fabrics.
So far, no luck at any of the flea markets I've hit but I'm keeping my eyes peeled.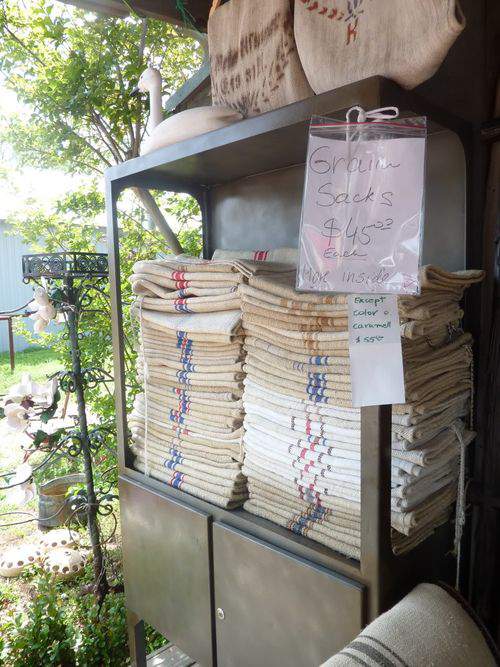 Photo source: Internet
As you can see grain sack fabric can be used in just about any space with endless home decor possibilities.
These pillows add a casual and comfortable look to the sofa.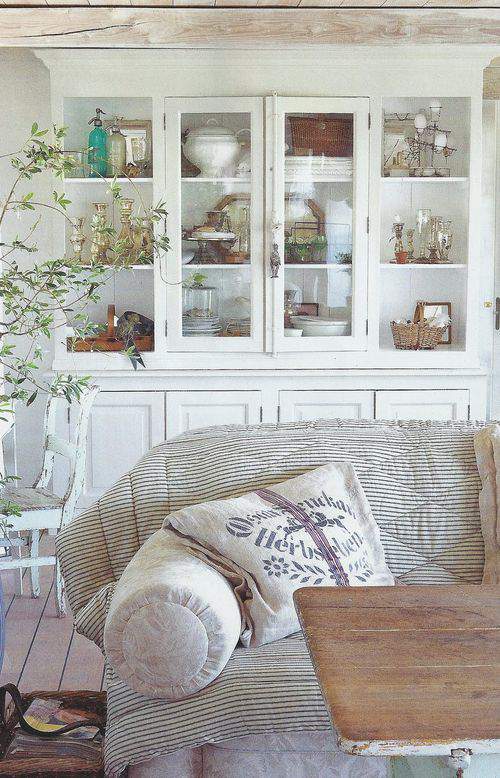 My Faux French Chateu
As I continue to scour the blogoshere for ideas on how to use my new grain sack fabric, these bags look like another easy DIY idea.  
Photo source: Omaroma
Hmmm, Mini pillow sachets? 
I'll keep these in mind too. 
Meantime, here's a final shot of my new grain sack fabric all rolled up and waiting for special instructions from me.
I'm not sure what I'm going to do with this yet, but I can't wait to put my six yards of fabric to good use. 
My scissors are standing by.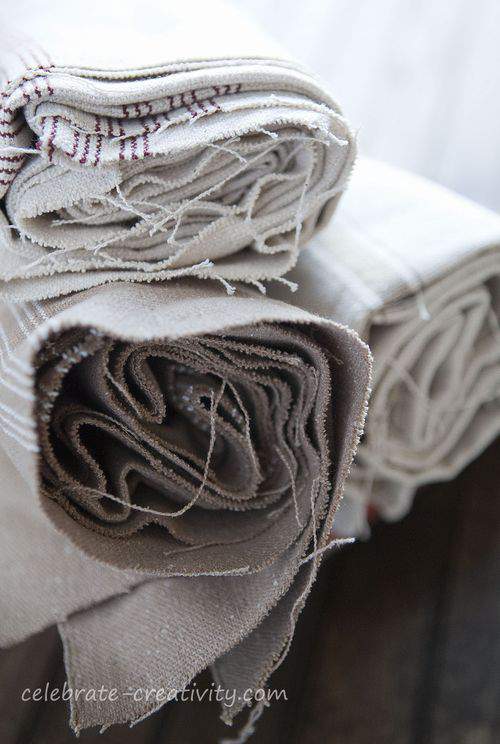 So, that's a quick look at grain sacks and grain sack fabric.  Can you see why I'm suddenly obsessed?
Have you ever used grain sack fabric?  If so, what did you make with yours?
Any suggestions on how I should use mine?  ♥
COMING UP NEXT MONDAY 
Oscar night is right around the corner and if you love a good movie as much as I do, you're going to enjoy next week's post.
Coming up on Monday (2/11), I'm going to share a few movie reviews in honor of the upcoming Academy Awards cermoney.
I'll share a handful of my favorite silver screen gems that just may prompt you to head to your nearest video store, ASAP.
I hope you pop by again next week for my list of great films for movie night. 
Don't forget your popcorn.
See you then.