I f you're in the mood for an easy, delicious dessert that takes mere minutes to prepare for the oven, then this recipe is for you.
I'm not sure there is any pie (other than pumpkin) that screams the Fall season quite like Pecan Pie.

You'll only need a handful of ingredients for this recipe including, pie crust, butter, sugar, confectioners sugar, brown sugar, flour, milk and of course, pecans.
Click to download a PDF of the complete recipe for this PECAN PIE RECIPE.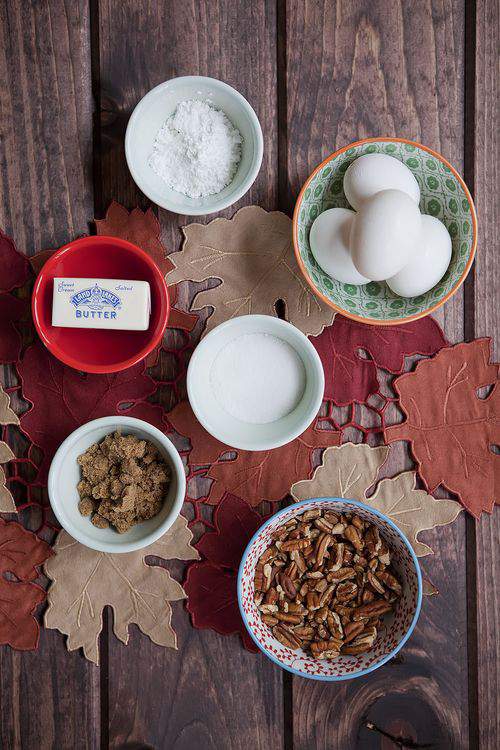 First, spread pie crust (frozen, box mix, or make your own from scratch) into a 10-inch cast iron skillet.  Sprinkle with confectioners sugar.
I didn't own a cast iron skillet before I made this recipe and it's nice to finally add a piece of cast iron to my kitchen hardware.
Picked this one up at Walmart for under $15.  Good price and made in the USA to boot.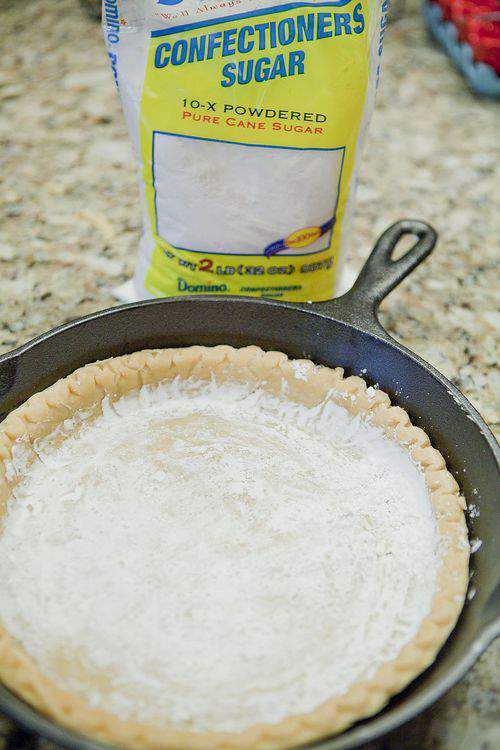 Use a whisk to whip up the eggs until they become foamy.
Then, add all sugars, butter, flour, milk, vanilla and 1/2 cup of chopped pecans.
Mix thoroughly.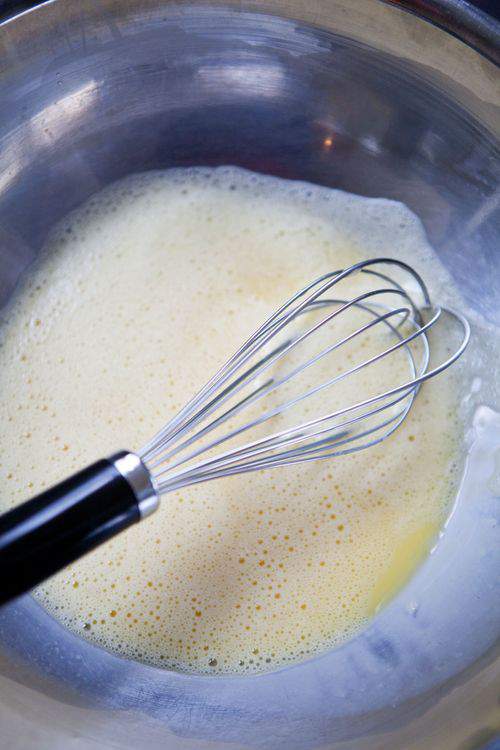 Pour mixture into the pie crust and you're almost done. Pop in the oven for 30 minutes, reduce heat and bake for another 30 minutes.  Check my PDF for complete recipe and directions.
Yes, it's that easy.  Not sure why I didn't try to make pecan pie sooner.
NOTE: I actually made this pie twice over the last few weeks.  The first time I used a frozen pie crust which didn't quite fit into the cast iron skillet perfectly.  The second time around, I used a pie crust that I made from a boxed mix.
The one with the boxed mix allowed me to customize the size of the crust so I was able to spread it into the skillet in a way that was more form fitting.
I ended up with a little bit of extra pie filling mixture so rather than toss it, I decided to use it to put it to good use.
Waste not, want not, right?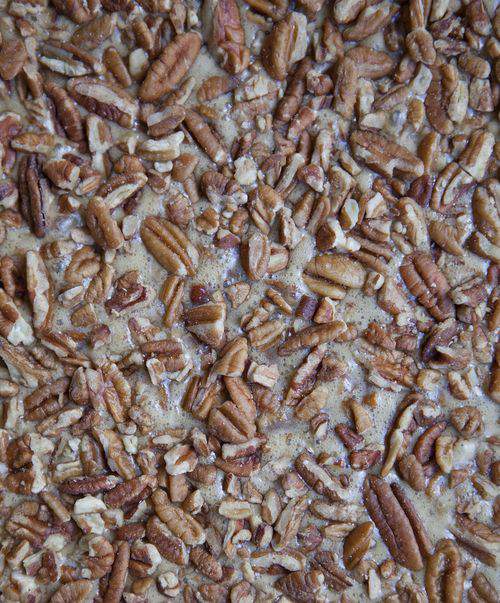 Using a small amount of pie crust, I used my tartlet pan to make mini versions of pecan pie.
I found this pan at Williams Sonoma a while back and it makes the most adorable, versatile mini treats.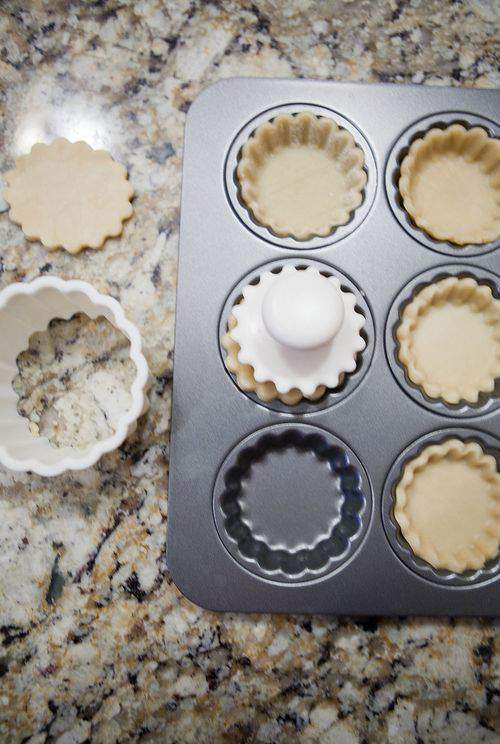 Pop the pan in the oven for about 35 minutes and afterwards you'll have beautiful bite-size desserts that will get gobbled up in no time at all.
How delicious do these look?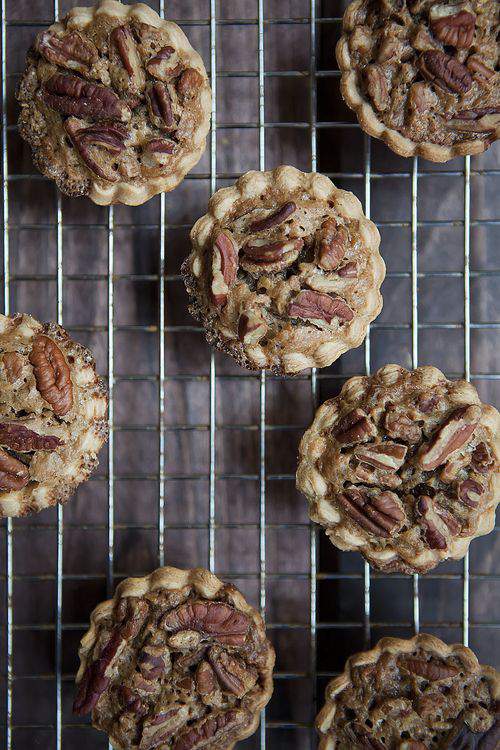 You're going to pop more than one of these in your mouth.
Trust me, these are going to disappear pretty quickly.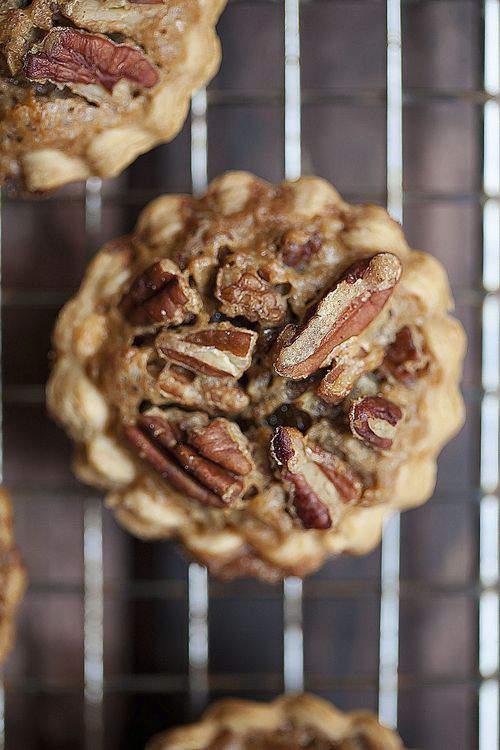 I've always loved Pecan pie but for some reason, I always assumed it was a difficult pie to make.
As you can see, quite the contrary.
Click to download a PDF of the complete recipe for this PECAN PIE RECIPE.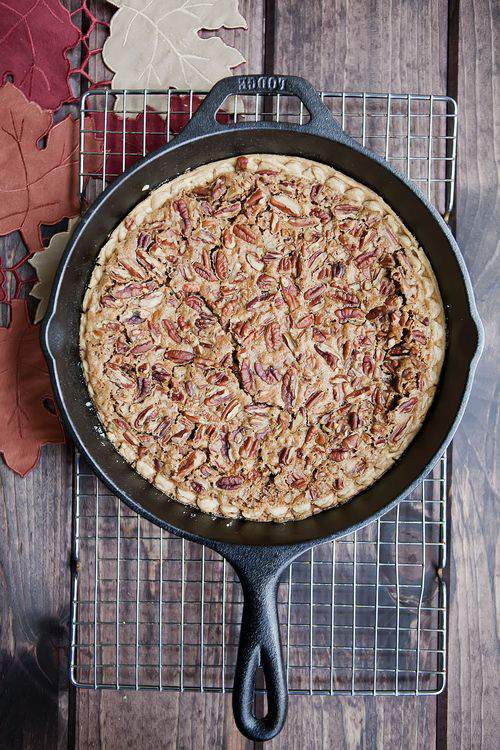 Instead of transferring this pie to a more decorative dish, I kind of like the country/rustic look of serving it right out of the skillet.
NOTE: If you plan to transfer the pie, it's a good idea to use baking spray on the skillet before putting the crust in place.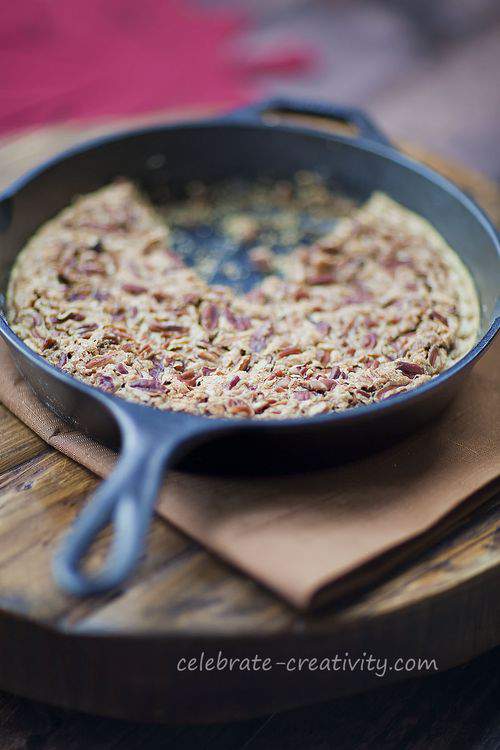 Of course the slices will look regardless of the kind of dish it's served from.
Ice cream or whipped cream are optional but this pie is really over the top when you add a tasty toppings.
I'm so glad I finally decided to try my hand at making a pecan pie.  Hope you give it a try too.
Enjoy.
WANT MORE TASTY RECIPES?
I'm participating in a delicious linky party over at Kate's at Centsational Girl.  For a look at more delicious recipes, pop by the soiree for a ton of tasty inspiration.
COMING UP ON MONDAY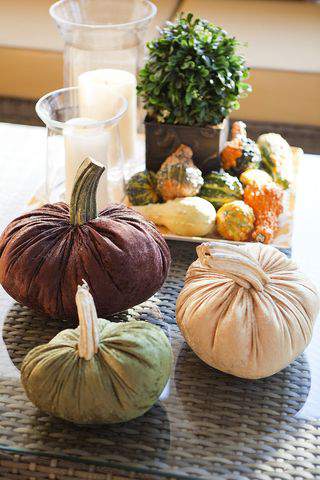 I'll finish up my two-part series on creating a velvet harvest with a look at how to make these gorgeous soft pumpkins in this photo.
Just like the real caps on my soft acorn project from Part 1, these pumpkins also sport a real pumpkin stem.
Coming up on Monday (10/8) I'll walk step-by-step through this easy construction process that may make you want to start making your own pumpkins right away.
Hope you pop by this blog again for Part 2 of creating a VELVET HARVEST.
See you then.  ♥